The Ring Road is famous for a reason: The loop is a convenient way to see the best of Iceland's nature, starting with the most popular attractions on the Golden Circle and South Coast to Húsavík and Kirkjufell. I've build a customizable 10-day itinerary with food, hotel, and activity recommendations as you drive Iceland's Ring Road.
---
Pro Tip: It's easier to organize your trip when you have all your resources in one place. Bookmark this post along with our article on the best restaurants and the top things to do in Reykjavík, plus what you should do in Iceland in the summer.
The Ultimate Guide to Driving the Ring Road and What to See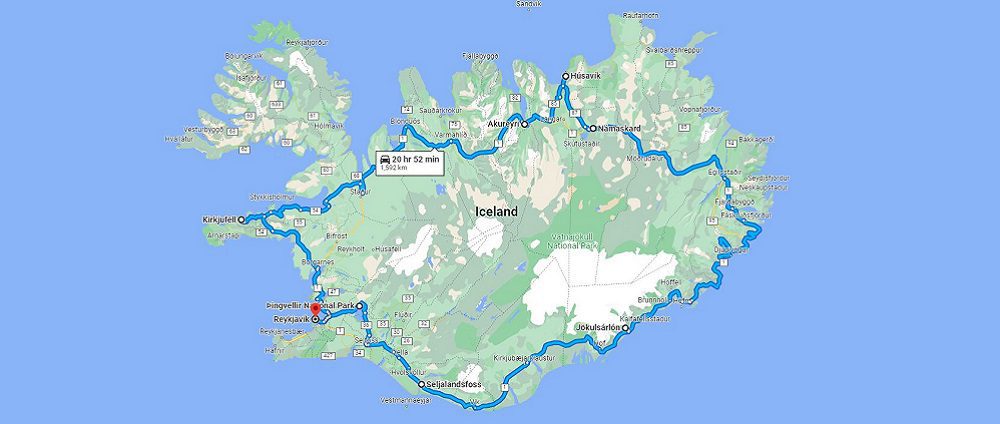 There's only one way to do Iceland right if you have the time: drive the famous Ring Road to see it all. Whether you have 4 days or 10 days in Iceland, the best use of your time is to see as much as possible without backtracking too much. You can do my full suggested itinerary or pick and choose your interests to tailor your trip for fewer days.
Summer is the most popular time to undergo a Ring Road trip as the weather is most favorable and the landscape is lush and green. It's the best time to drive the Ring Road to see Reynisfara, Godafoss, Jökulsárlón, and so much more!
Pro Tip: I've included food recommendations below, but accommodation and restaurants can be scarce in the countryside, so it's best to book hotels in advance and have a loose plan about meals (and bring snacks in the car!). If breakfast is offered at your hotel, I recommend eating there since Icelanders aren't big on eating out for breakfast.
Is the Ring Road Safe in the Winter?
As for the winter, snowfall, ice, high winds, and road closures can make driving challenging and dangerous, so I don't recommend it (Nov-Feb). It's important to frequently check the weather forecast and road conditions as windstorms can strike, making driving hazardous especially in the north and east side of the country. (Use www.road.is and www.vedur.is for travel info.)
Day 1: Arrive in Iceland
If you're coming from the U.S., you'll probably arrive in the early morning at Keflavik Airport, Iceland's only international airport. Collect your baggage and rental car and begin your Iceland adventure!
Pro tip: Don't forget to visit the duty-free shop if you want to pick up some wine, beer, or spirits. Alcohol prices in local shops can be shocking to visitors.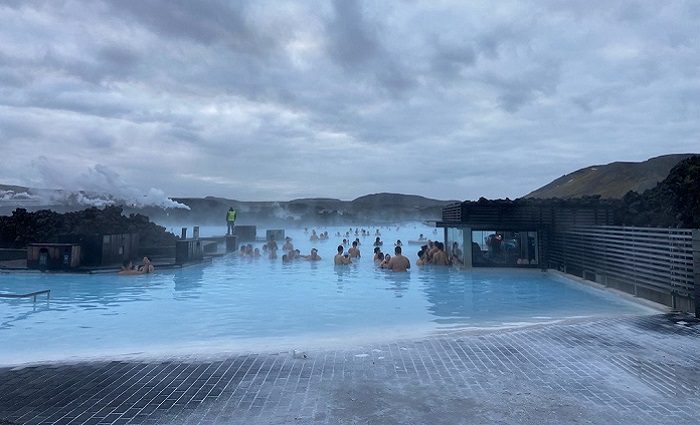 Blue Lagoon
The airport is close to the Blue Lagoon, so I definitely recommended stopping here first. Spend a few hours enjoying the lagoon, get an in-water massage, and relax among the striking scenery. If you get hungry, the restaurants on-site are spectacular.
Location: Blue Lagoon
Evening in Reykjavik
Spend your late afternoon/evening in Reykjavik to get a taste of the capital. You can walk along Tjörnin pond before visiting the harbor and Grandi. See the glass-paneled Harpa concert hall and the Sun Voyager sculpture, which resembles a Viking ship before standing beneath the amazing Hallgrimskirkja.
Where to Eat
Breakfast: Blue Lagoon Spa Restaurant | $$ | Reykjanes | Try the salmon omelet here
Lunch: Blue Lagoon Lava Restaurant I $$$ I Reykjanes I Their lobster soup is divine
Dinner: Grillmarkaðurinn I $$$ I Reykjavík I The ribeye never disappoints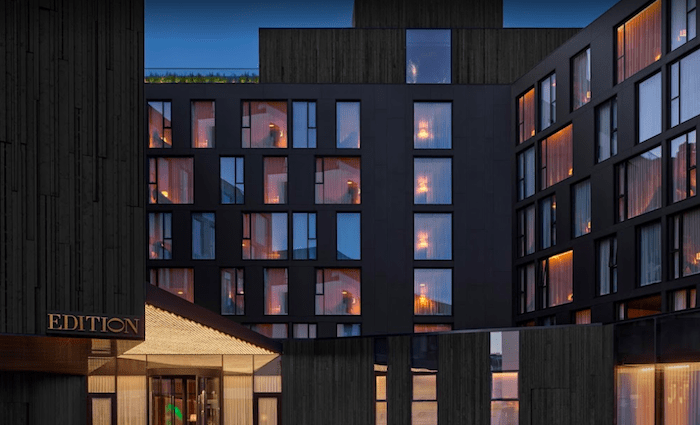 Hotel in Reykjavik
The EDITION | $$$$ | Swanky luxury
Looking for a luxury hotel experience in Reykjavík? This is it. This 5-star hotel is located right next to Harpa, with stunning ocean and mountain views. Rooms feature design elements curated by the world-renowned hotelier Ian Schrager, with bespoke furniture, lush rugs, and Icelandic art.
Day 2: Start Your Golden Circle Drive
The Golden Circle is the most famous tourist route in Iceland and I can't think of a better way to start your second day on your Ring Road trip. First, visit Þingvellir National Park, where you can enjoy the park, learn about the history and geology of Iceland, or take a snorkeling tour of the crystal-clear water at the Silfra fissure.
Next, check out Iceland's bubbling geothermal activity at Geysir before getting a look at the mighty waterfall Gullfoss. Three stops in a day makes for a full day of adventure!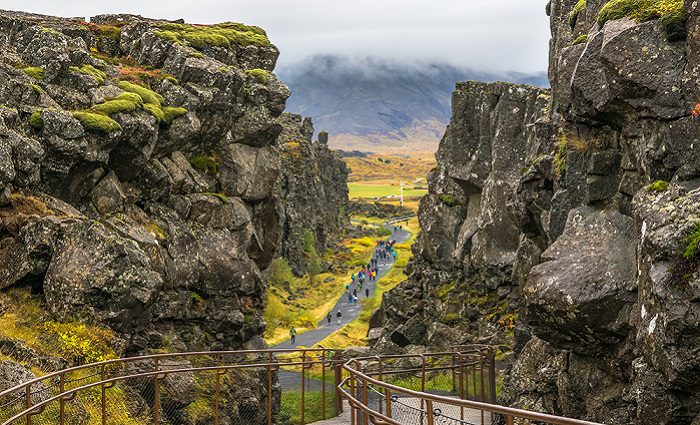 Þingvellir National Park
Þingvellir National Park (also written Thingvellir) is a geological wonder and also the birthplace of democracy in Iceland. (Weird combination, I know.) The Þingvellir Interpretive Center gives a great overview of the national park's history and geographical significance, along with maps for hiking trails.
If you have the time, I recommend a snorkeling tour of the Silfra fissure where you can swim—yes, swim—between the North American and Eurasian tectonic plates. It's amazing!
Location: Þingvellir National Park | 45 minutes from Reyjkavik
Geysir
Iceland's geysers powerfully demonstrate the island's natural geothermal energy, and historically, Geysir is the country's most famous example of the phenomenon. Geologists theorize that in the 13th-century, earthquakes stirred up the underground workings of the natural hot springs here, causing them burst their pressure and shoot steam and water up to 66 feet into the air. Geysir goes off fairly often, so be sure to capture a selfie video of it!
Location: Geysir I 55 minutes from Þingvellir National Park
Gullfoss
The thundering, roaring waterfall of Gullfoss tumbles into the Hvíta (White) River, which is a perfect name given the turbulent white water. There are three levels of water at the falls, ranging from 36 feet to 69 feet, meeting at a 230 foot gorge. Walk to the upper lookout and around the trail here to see how the views change.
Pro Tip: Don't miss stopping by the Friðheimar greenhouses for some fresh produce like tasty tomatoes. They have a small café set up for snacks and some of the best Bloody Marys (with or without alcohol) on the island! This is a great stop before heading to Selfoss, where you should stay for the evening since it's a good-sized town.
Location: Gullfoss I 15 minutes from Geysir
Where to Eat
Breakfast: Sandholt I $$ I Reykjavík I Try a coffee and kleina
Lunch: Restaurant Geysir Glima I $$$ I near Geysir I Unforgettable pizza
Dinner: Ingólfsskáli Viking Restaurant | $$ | Selfoss | Mead from a horn and incredible lamb
---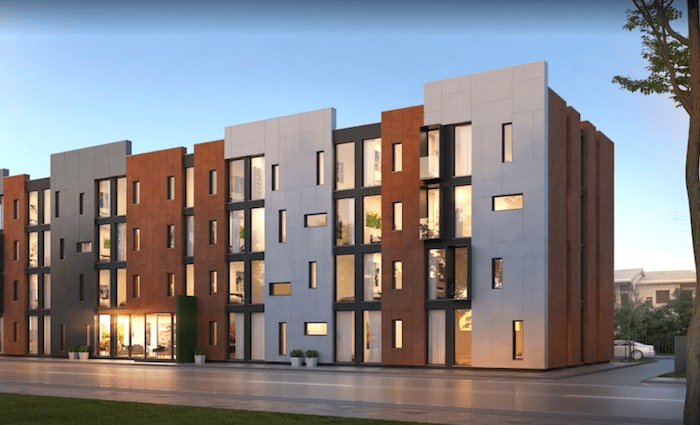 Hotel Near the Golden Circle
Hotel South Coast I $$$ I Contemporary & Convenient
The Hotel South Coast is a brand new 4-star 72-room hotel located next to the new city center of the town of Selfoss. You are close to shops, museums, restaurants, and a chic food hall and just minutes from the striking nature of the Golden Circle.
Day 3: Your South Coast Adventure
Get ready for the most majestic waterfalls today! Your departure from Selfoss will have you standing in a truly majestic spot in just an hour. Seljalandsfoss is that breathtaking waterfall that you can actually walk behind for those Insta-worthy photos!
From here, you should head up to stunning Skógafoss to soak up the beautiful atmosphere, snap some selfies, and climb the staircase to the top. That view is unmissable. After, head to the most famous black sand beach in Iceland, Reynisfjara, where you should touch the basalt columns rumored to be trolls turned to stone.
---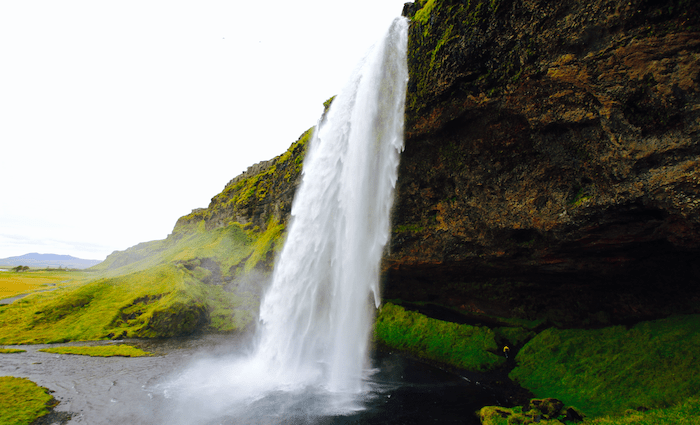 Seljalandsfoss
Your first stop today is at Seljalandsfoss, a beautiful waterfall about an hour east of Selfoss. It goes without saying that you should definitely walk behind the falls on a footpath at the base of the waterfall. Everyone does it—but it's totally worth it.
Location: Seljalandsfoss I 1 hour from Selfoss
---
Skógafoss
Skógafoss is another dramatic waterfall—one of the biggest in the country as it looms 82 feet high and has a drop-off of 197 feet! The sheer width of the falls makes it unique, as well as the option to scale a set of stairs to the top, which is what I recommend you do if you have sturdy shoes.
Location: Skógafoss I 30 minutes from Seljalandsfoss
---
Reynisfjara
Reynisfjara is probably the most famous and most photographed black sand beach in Iceland. Maybe it's the stark contrast of white waves crashing on the black sand or the towering rock formations. Whatever it is, you have to see it to understand the hype, then you'll be glad you came.
Pro Tip: As the sun starts to dip around 11 pm in the middle of summer, I love taking a short walk to nearby Dyrhólaey, an arch that overlooks the ocean and Reynisfjara.
Location: Reynisfjara I 35 minutes from Skógafoss
---
Where to Eat
Breakfast: Almar Bakari I $ I Selfoss I A great selection of pastries and sandwiches
Lunch: Skool Beans I $$ I Vík I The cutest cafe in all of Iceland (closed in Jan and Feb)
Dinner: Drangar RestaurantI $$$ I Vík I Try the local lamb here
---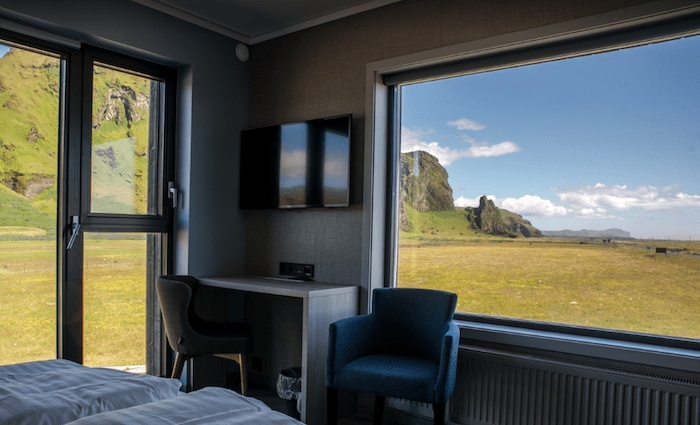 Hotel on South Coast
Hotel Kría I $$$ I Fantastic views
This modern hotel on the edge of Vík is an ideal place to lay your head after a day of exploring the south coast. Rooms are cozy and tastefully decorated, and many rooms offer gorgeous mountain views. The in-house restaurant, Drangar Restaurant, is where I recommended you eat at dinner.
Day 4: Explore the Southeast Glaciers
Iceland's gorgeous glaciers are awaiting your arrival today as you continue following Iceland's Ring Road! Glaciers cover around 11% of Iceland and the largest of them all is Vatnajökull. The total size is almost 3/4ths of the size of the Big Island in Hawaii! This is also where you'll find the famous Diamond Beach with the ice blocks sitting on the black sand beach.
Pro Tip: Just outside the town of Höfn are hidden geothermal hot springs (Glacier World at Hoffell). This is a heavenly, little-known spot that's also inexpensive, just $7 (1,000 ISK) to visit!
---
Vatnajökull National Park
Vatnajökull National Park is the home of Europe's largest ice cap, specifically Skaftafell, the southern part of Vatnajökull, which used to be its own national park. I recommend going on a guided glacier walk where you can experience the actual ice in Iceland at any time of year.
Location: Vatnajökull National Park I 2.5 hours from Vík
---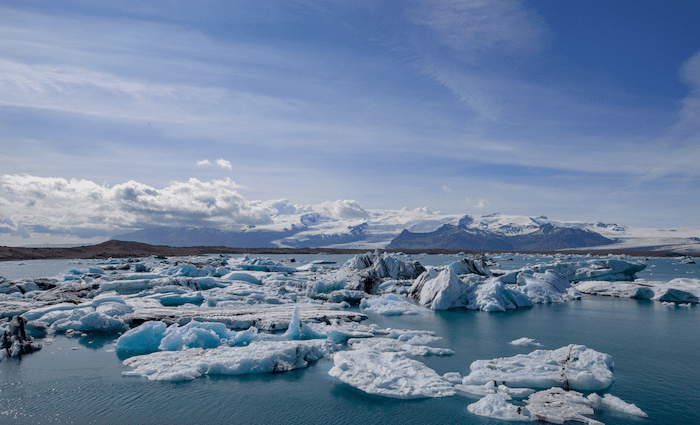 Jökulsárlón Glacier Lagoon
Jökulsárlón is where you will see huge chunks of ice floating in the water, and if you're lucky, a curious seal or two. I recommend taking 40-minute boat tour of the lagoon (which you should book in advance) to get closest to icebergs and even get a chance to taste the ice! Don't come here without stopping by the Diamond Beach, which is just next to Jökulsárlón.
Location: Jökulsárlón I within Vatnajökull National Park
---
Where to Eat
Breakfast: Lava Bakery & Coffee I $$ I Vík I Try a skyr smoothie here
Lunch: Cafe Vatnajökull I $$ I Öræfi I Great for soup and sandwiches
Dinner: Pakkhús I $$$ I Höfn I If you don't try the langoustine here, you're missing out
---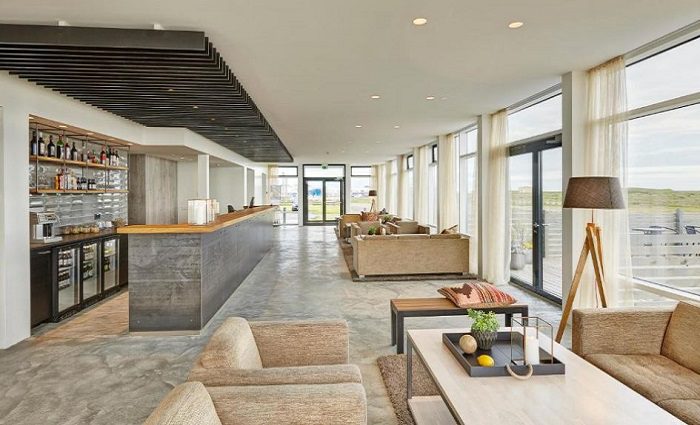 Hotel in the Southeast
Berjaya Iceland Hotels Höfn I €€€ I Comfortable & close to town
Berjaya Iceland Hotels – Höfn is my favorite pick for its secluded setting on a small peninsula in the town of Höfn. The rooms are minimalist, and they have a breakfast buffet, which is super handy for starting your next day. Definitely sit at the floor-to-ceiling windows with a drink at the end of your day!
Day 5: Hikes and Wildlife in Mývatn
Don't think you can skip Mývatn. It's one of the most popular regions in the north. It has gorgeous hiking trails, rich birdlife, activities along Lake Mývatn, and the soothing Mývatn Nature Baths. Mývatn is ideal for soaking in the rugged landscape next to the lake that's home to scores of fish and bird species.
---
Krafla
Krafla is super cool for adults and kids! The Krafla lava fields are home to Víti, one of the best-known craters in Iceland. Víti is enormous, about 984 feet in diameter, exposing interesting formations that resulted from lava flows and hydrologic forces. The crater was formed during a massive volcanic eruption in 1724 that continued for five years, and Víti's bubbling cauldron of mud boiled for more than a century after that.
Location: Krafla I 5 hours from Höfn
Námaskarð
Námaskarð is a big draw because of its sheer otherworldly atmosphere. The yellow and brown colors of the clay, along with the gray mud pools, make it look like a movie scene from another planet. A short path loops around the area. Please be sure to stay on it for safety reasons, as the mud pools can reach temperatures of 212°F.
Location: Námaskarð I 12 minutes from Krafla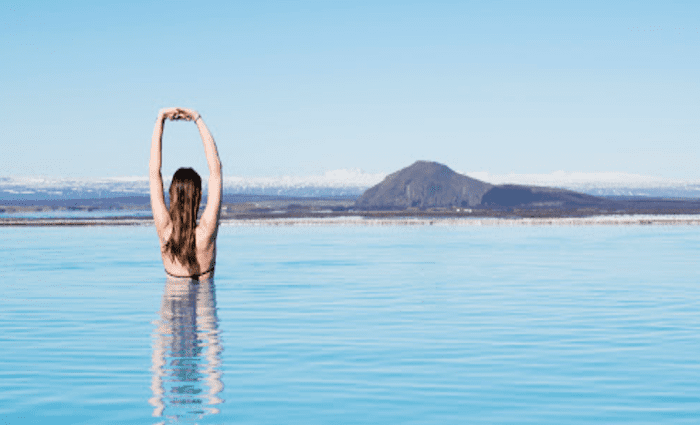 Mývatn Nature Baths
Despite obvious comparisons to the Blue Lagoon, the Mývatn Nature Baths have their own unique personality and atmosphere. The views of the landscape are striking, with the volcanic crater of Hverfjall and the edge of Lake Mývatn in the background.
Pro Tip: The Mývatn Nature Baths are less crowded after 7 pm. In the summer, you have more daylight, so you're not sacrificing the view by visiting the lagoon later in the day.
Location: Mývatn Nature Baths I 5 minutes from Námaskarð
Where to Eat
Breakfast: Hafnarbuðin I $$ I Höfn I Pancakes are out of this world
Lunch: Skálinn Diner I $$ Egilsstaðir I Kitschy diner with great food
Dinner: Vogafjós Restaurant I $$$ I Mývatn I Delicious burgers and fish of the day
---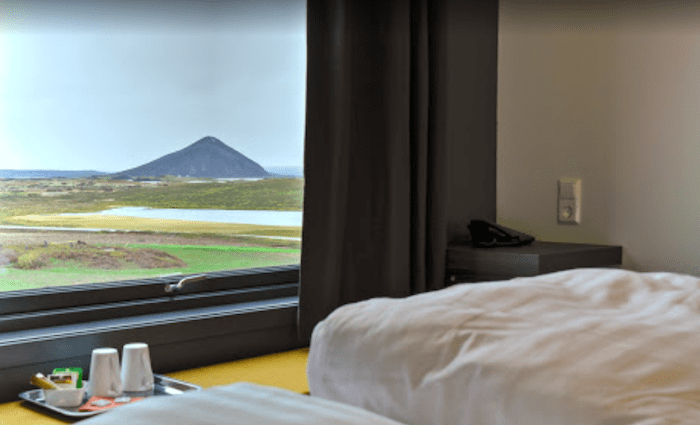 Hotel in Mývatn
Hotel Laxá I $$$ I Stunning views
Hotel Laxá is a stylish 80-room hotel that is modern, convenient to the major attractions in the region, and gets high points for service. During the winter, you can request wake-up calls from the front desk if the northern lights appear! Rooms are spacious with large windows, wood furnishings, and modern accents.
Day 6: Whale Watching Capital: Húsavík
Húsavík is known for some of the best whale-watching opportunities on the island and one of the most popular stops on the Ring Road drive in the north. Home to less than 3,000 people, Húsavík's population soars during the summer months as Icelanders from other towns, tourists coming in on bus tours, and independent travelers converge on Húsavík's harbor.
Pro Tip: If you are a fan of Eurovision, Húsavik is the place for you! The town recently opened a museum dedicated to all things Eurovision; it was inspired by the 2020 Will Ferrell movie, which took place in Húsavik. It's so kitschy and very fun!
---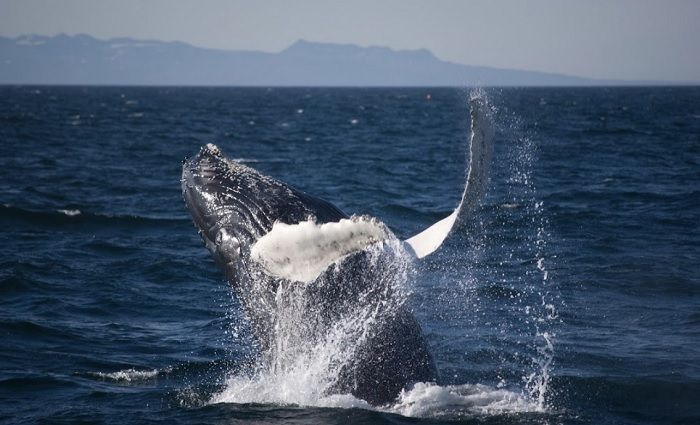 Whale-watching in Húsavík
You're missing out if you leave Húsavík without getting on a whale-watching boat to view the gentle giants up close. The primary whale-watching season runs from the middle of May to the end of October, but the high season is June and July.
Location: Húsavik harbor I 50 minutes from Mývatn
---
Ásbyrgi Canyon
Ásbyrgi is an enormous canyon full of interesting rock formations, lush grass, well-maintained walking paths, thriving birdlife, and several bodies of water, including rivers and waterfalls. The horseshoe-shaped canyon measures roughly 2.2 mi in length and 0.7 mi across. This is an excellent spot to experience nature if you're not up for strenuous hiking. The trail is flat, quick, and easygoing.
Location: Ásbyrgi I 55 minutes from Húsavik
---
Where to Eat
Breakfast: Hotel Laxá Restaurant I $$ I Mývatn I Good continental breakfast
Lunch: Salka Restaurant I $$ I Húsavik I Excellent pizza
Dinner: Gamli Baukur I $$ I Húsavik I The grilled cod is scrumptious
---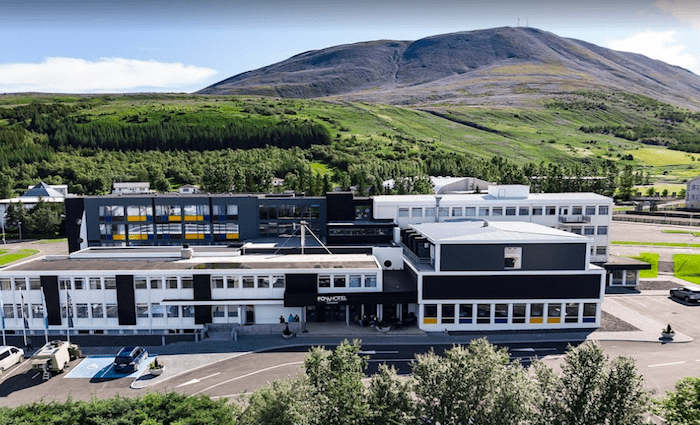 Hotel in Húsavik
Fosshotel Húsavik I $$$ I Close to harbor
Fosshotel Húsavík is a 70-room hotel decorated in nautical accents—some rooms have a fun whale theme too. The hotel's bar and restaurant are appropriately called Moby Dick, serving fresh fish and other traditional Icelandic cuisines.
Day 7: Head to Charming Akureyri
Akureyri is easily my favorite town to visit in northern Iceland. It's frequently referred to as Iceland's "second city," which is hilarious since its has barely 18,000 people. The town has its own personality too—it's more low-key and relaxed than Reykjavik. Akureyri is an excellent base for exploring the north.
---
Góðafoss
In a country full of spectacular waterfalls, what sets Goðafoss apart is the sheer width of the tumbling falls. White water surges over the rim, thundering down and crashing into rocks and water. The water of the Skjálfandafljót River falls from a height of 40 feet over a width of 98 feet. Curved like a horseshoe with a rock that splits Goðafoss in two, it's quite a show to watch the waters surge over the rocky ridge.
Location: Góðafoss I 40 minutes from Húsavik
---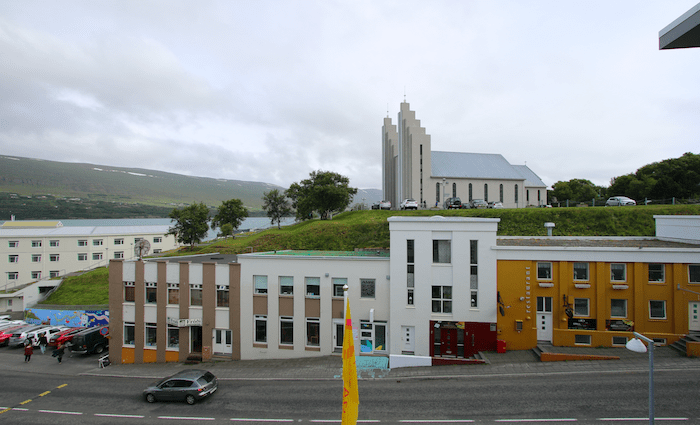 Explore Akureyri's Town Center
There are gorgeous gardens, charming museums, paddleboats littering the fjord in the summer months, and a booming art scene to explore here. I highly recommend visiting the botanical gardens, Akureyri Museum, Akureyri Church, and the architecturally significant Hof Concert Hall. Be sure to stop at try the coffee or strawberry soft ice cream at Brynja, my favorite spot in the north!
Pro Tip: Just a 10-minute drive from Akureyri, you will find a Christmas Garden (Jólahúsið) open year-round. Head inside Santa´s house and a Scandinavian-inspired sweet shop. Don't leave without getting a candy apple treat!
Location: Akureyri I 35 minutes from Góðafoss
---
Where to Eat
Breakfast: Heimabakarí I $ I Húsavik I Baked goods and sandwiches
Lunch: Berlin Akureyri I $$ I Love their avocado and smoked salmon dish
Dinner: North Restaurant I $$ I Akureyri I Nordic-inspired dishes with locally foraged ingredients
---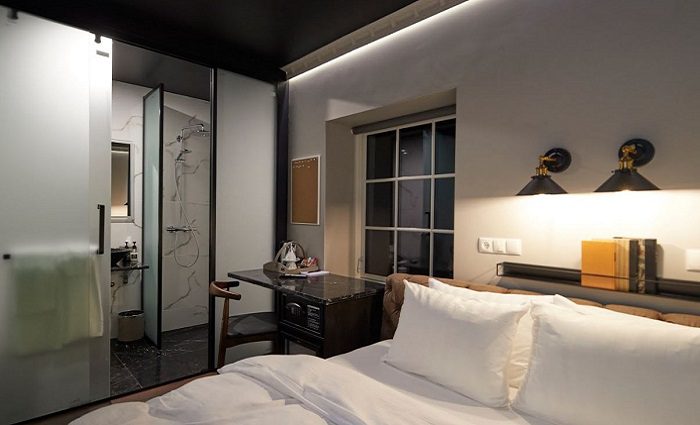 Hotel in Akureyri
Hótel Akureyri I €€€ I Close to the town center
Hótel Akureyri is a boutique hotel that can be overlooked from the outside. All rooms are comfortable and designed with a modern Scandinavian aesthetic. Award-winning Icelandic chef Gunnar Karl Gíslason recently opened his restaurant NORTH at Hótel Akureyri, and it's spectacular.
Day 8: Game of Thrones Day in Snæfellsnes Peninsula
Game of Thrones, anyone? Yep, you'll recognize this area if you watched the show. Snæfellsnes is considered the jewel of the western coast of Iceland, in part because the region has a taste of everything: mountains, glacier walks on Snæfellsnesjökull, dramatic black sand beaches, and lava fields. Many locals refer to the area as "Iceland in miniature" because there's a little of everything here.
---
Horseback Riding Tour in Sauðárkrókur
Skagafjörður is known as the horse capital of Iceland due to the number of breeders and stables in the area. Stop off in the town of Sauðárkrókur for a 1-hour horseriding tour among beautiful mountainous landscapes. It's definitely the best place to go horseback riding in Iceland.
Location: Skagafjörður I 1.5 hours from Akureyri
---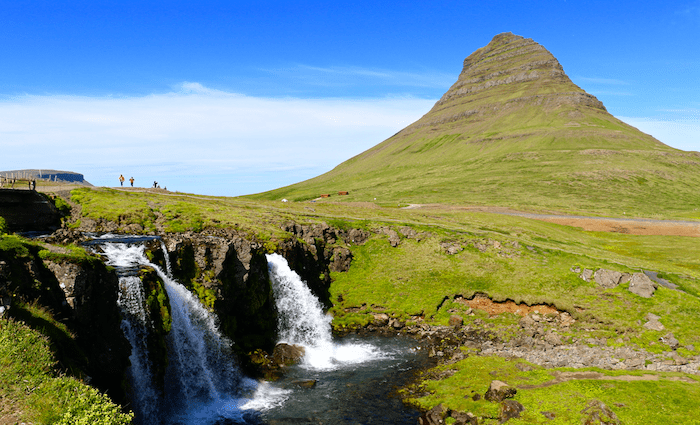 Kirkjufell Mountain
Visit the beautiful mountain of Kirkjufell near Grundarfjörður; a mountain popular with photographers in Iceland thanks to its unique shape. When viewed from the south, the mountain looks very thin, coming to a point at the top like a fin. Wander the picturesque beaches around the mountain and take pictures of it from every angle. I recommend walking down the stairs next to the waterfall for a great view.
Location: Kirkjufell I 3.5 hours from Sauðárkrókur
---
Where to Eat
Breakfast: Ketilkaffi I $$ I Akureyri I Fantastic coffee and pastries
Lunch: Grána Bistro I SS I Skagafjörður I Casual eatery
Dinner: Bjargarsteinn Mathús I $$$ I Grundarfjörður I Exquisite fish dishes
---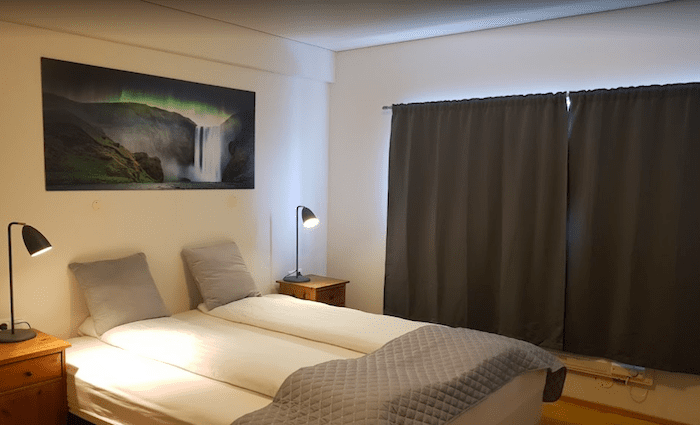 Hotel in Snæfellsnes
Kirkjufell Hotel I $$ I Close to Kirkjufell mountain
Kirkjufell Hotel offers 29 rooms in the town of glorious Grundarfjörður close to the striking Kirkjufell mountain. The hotel is convenient to attractions, in the center of town and some rooms have stunning views of the mountainous landscape.
Day 9: Snæfellsjökull and Return to Reykjavík
Your last full day driving the Ring Road continues on the Snæfellsnes peninsula in the morning. If you haven't gotten your "Game of Thrones" fill already, you can finish up today before heading back to Reykjavík. Seals, mythology, and more await you here today!
Snæfellsjökull National Park
The Snæfellsjökull glacier became world famous after author Jules Verne described it as the starting point for the titular journey in "Journey to the Center of the Earth." There is plenty to explore inside the park like beaches, cliffs, and views of the glacier. I recommend trying to spot seals at the golden Ytri Tunga beach and getting to know Icelandic mythology in Arnarstapi village.
Location: Snæfellsjökull National Park I 50 minutes from Grundarfjörður
---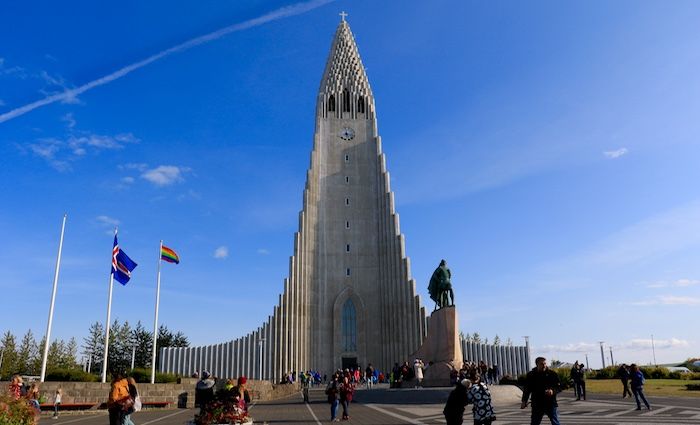 Late afternoon/evening in Reykjavík
Spend the rest of the day in Reykjavík, exploring sites you missed on your first day like Tjörnin, museums, and shopping for souvenirs. I recommend Hafnarhús Art Museum for art lovers, the Punk Museum for something quirky, and the National Museum for Icelandic history. If you want to pick up some Icelandic records or CDs, stop by 12 Tónar, and for a traditional Icelandic sweater, visit the Handknitting Association.
---
Where to Eat
Breakfast: Harbour Café I $$ I Grundarfjörður I Great for a quick bite
Lunch: Gilbakki Kaffihus I $$ I Hellissandur I Close to the park
Dinner: Fiskfélagið I $$$$ I Reykjavík I Best fish in town
---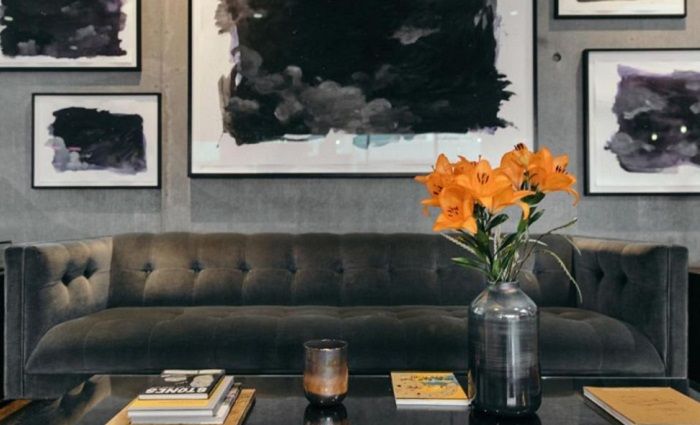 Hotel in Reykjavík
Sand Hotel I $$+ I Located on Laugavegur
I love how modern this hotel is! Rooms have that Scandinavian chic feel with a mix of elegance. The hotel boasts an unbeatable location on the main street, Laugavegur, and directly above one of the best bakeries in the city: Sandholt.
Day 10: Departure Day
Most flights going to the U.S. depart around 5 pm, and since it's recommended to arrive at the airport 2 hours before departure, you don't have much time today. Use our list of things to do in Reykjavik to fill your morning and to make sure you've grabbed that authentic Icelandic sweater!
I recommend spending a little time in downtown Reykjavík after checking out of your hotel before you drive to the airport. Also, make sure you give yourself some time to return your rental car. Have a pleasant flight home!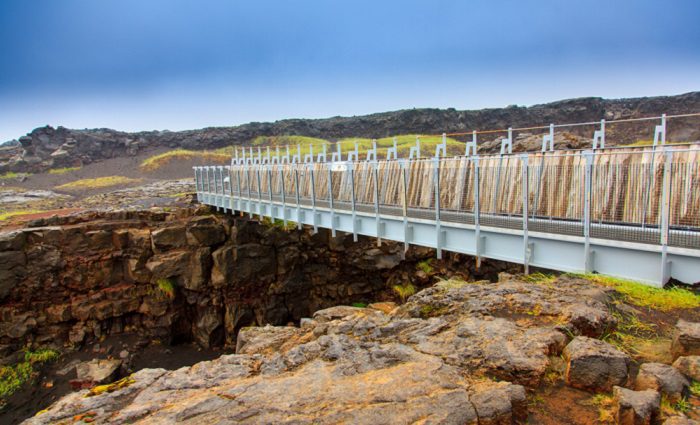 Pro Tip: If you want to head to the airport in Reykjanes early, I recommend stopping by the Bridge Between Continents which symbolizes the connection between Europe and North America. It's just 20 minutes from Keflavik Airport and is a great photo op!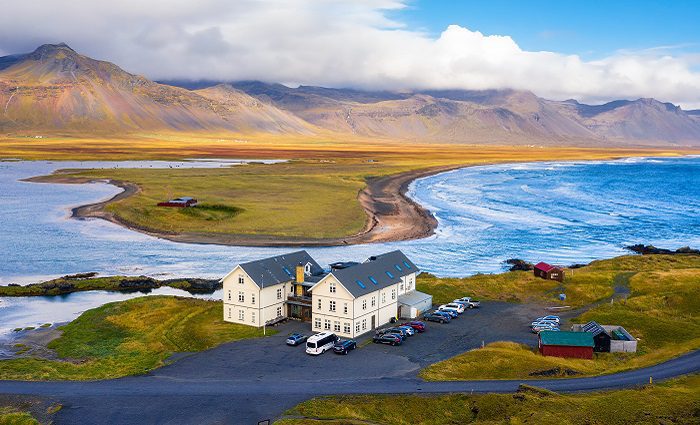 Find the best places to stay
Where To Stay in Iceland
Planning to explore the breathtaking country of Iceland? Then use our guide to the best hotels and towns to stay in Iceland from Selfoss to Akureyri.