So, you've made it to the land of fire and ice, but you're unsure where to eat in Reykjavík. We have you covered! While Reykjavík is small for a capital city, there are so many restaurants to choose from, from traditional mainstays to new hotspots. We know exactly where to find the best restaurants in Reykjavík.
---
Pro Tip: Planning your trip to Reykjavík, Iceland? Bookmark this post in your browser so you can easily find it when you're in the city. Also, check out the Icelandic foods you must try and the top things to do in Reykjavík.
The Top 11 Places To Eat In Downtown Reykjavík

Before Reykjavík became a popular travel destination, there wasn't much variety in available cuisines. Seafood and lamb have long been a staple here, so seafood lovers will enjoy those options. The restaurant scene, however, has blossomed over the past 10-15 years, with innovative chefs leading the way.

Now in the heart of the city (101 Reykjavík), you will find tourists and locals feasting on everything from local fresh fish and lamb to tacos and sushi. The most helpful part? Every restaurant, café and bar has menus available in English! You'll feel confident ordering food here, so keep reading to discover our top picks of the best restaurants in Rekykjavík for your upcoming trip!
Fiskfélagið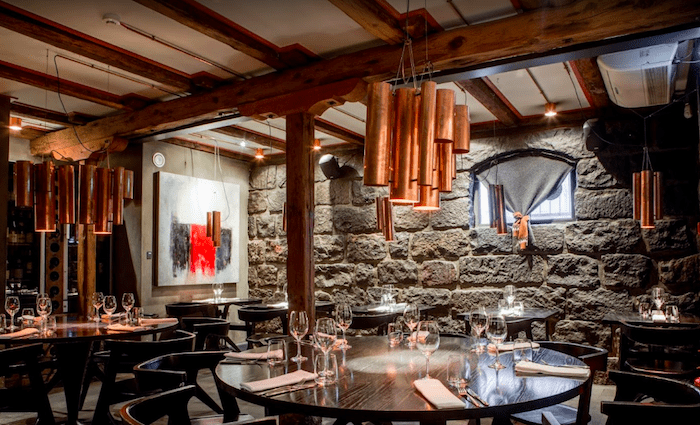 $$$$ I Seafood I Cozy with Great Service | Near Reykjavík Art Museum
Seafood fans should check out Fiskfélagið (Fish Company) for its flawless fish, including Arctic char, cod, and langoustines. It doesn't get much fresher than this, as the catch of the day comes straight from local fishermen. You can't go wrong with any entrees, but our favorite is the sushi feast that comes with tons of options from crab to tuna.
Fiskfélagið is close to Hafnarhúsið (the Reykjavík Art Museum), making it an ideal spot to dine after checking out the local art scene, especially the permanent exhibition from Icelandic artist Erró.
Address: Vesturgata 2a, 101 Reykjavík
Mat Bar
$$$ I Nordic-Mediterranean Fusion I Modern Bar & Restaurant | Near Bío Paradís

Are you looking for small plates and an excellent selection of wines? This is your spot! Here you see locals catching up with friends while sampling delicious bites like lobster tacos and smoked haddock mousse. Mat Bar just has that neighborhood haunt feel to it.
It's close to the art house cinema Bío Paradís, making it a great spot for locals to stop before seeing an independent film. Our favorite dish is grilled mushrooms with chili and salted lemons—it's so light and fresh. We recommend the Icelandic black licorice mousse with raspberry sorbet for dessert.

Address: Hverfisgata 26, 101 Reykjavík
Hlemmur Mathöll
$$ I Food Hall I Hip and Casual Atmosphere
Food halls are relatively new to Iceland, and several have sprung up in the last couple of years—welcome additions to the restaurant scene. Hlemmur Mathöll was the first and is worth a stop for quick, delicious bites.
The building used to be the main bus station in Reykjavík before being completely refurbished. It's now home to Flatey Pizza, taco masters Fuego, and our favorite: the experimental bar and restaurant Skál!
We love their baked arctic char infused with fennel. This is an ideal outpost to sample different small plates and have a glass of natural wine from Skál! If you have a sweet tooth, stop by Gaeta Gelato for a scoop of pistachio. You won't regret it!
Address: Laugavegur 107, 101 Reykjavík
Bæjarins Beztu Pylsur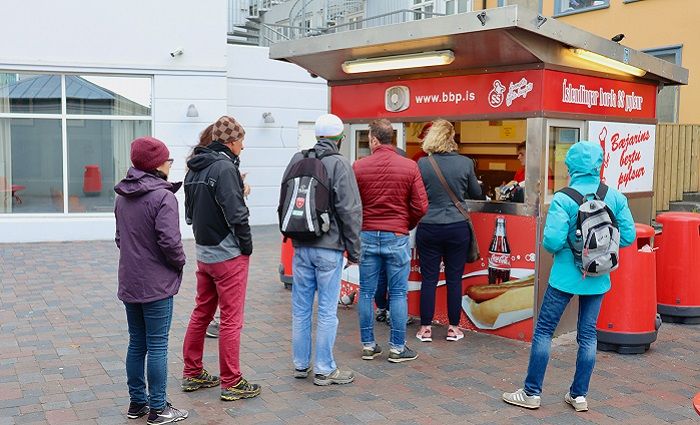 $ I Hot Dogs I The Most Famous Hot Dog Stand in the World (Maybe)

If you're in Reykjavík and like hot dogs, you must visit Bæjarins Beztu Pylsur (meaning, The Town's Best Hot Dog). Even if you don't like hot dogs, you should get a glimpse—and a photo—of the tiny shack that has fed thousands of locals and tourists for decades. Even former U.S. president Bill Clinton stopped by on a trip to Iceland! It's said that he order a hot dog with only mustard, and it's been coined "the Bill Clinton."

Located close to the harbor, the hot dog stand serves hot dogs with fresh buns and an array of toppings. If you want to eat like a local, order "Ein með öllu", which means "one with everything." You'll get ketchup, sweet mustard, raw and fried onions, and remoulade. Yum!

Address: Tryggvatagata 1, 101 Reykjavík
Grillmarkaðurinn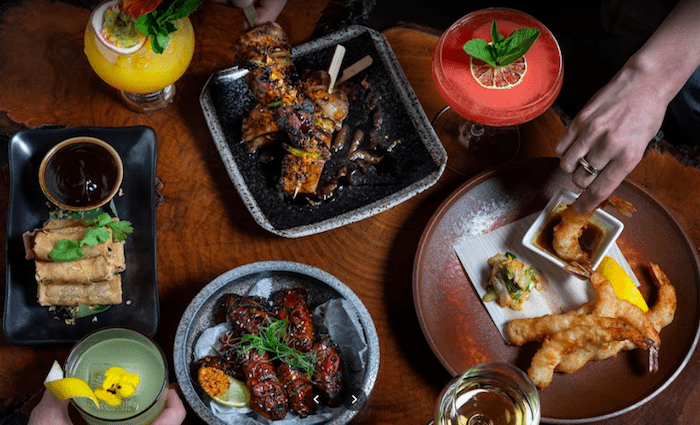 $$$$ I Steakhouse I Modern Decor

Grillmarkaðurinn (Grill Market) is an upscale restaurant specializing in—you guessed it—meat. Expect mouthwatering dishes like smoked pork belly and grilled rack of lamb. Our favorite is a medium-rare rib eye, the flavor of which makes this one of the best restaurants in Reykjavík.
This is your place if you're up for a top-notch carnivore dinner. The restaurant, which used to house a cinema until it was renovated about 10 years ago, is on two floors. If you can get a table on the ground level in one of the booths, it's the best seat in the house. And, if you have room for dessert, their chocolate tart is rich, decadent goodness.

Address: Lækjargata 2a, 101 Reykjavík
Þrir Frakkar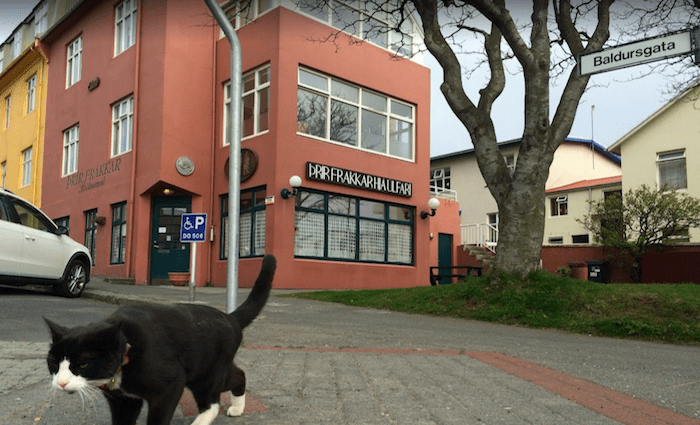 $$$ I Divine Seafood Dishes I Local Favorite

Þrír Frakkar (Three Coats) has been cooking classic Icelandic food for more than 30 years, and it continues to draw crowds. The menu is heavy on the seafood. You will find options like creamy fish soup, fried cod cheeks, grilled halibut, and pan-fried salted cod.
And for the adventurous, the restaurant also offers a taste of local delicacy of "rotten shark" if you dare. Rotten shark, or hákarl as it's known in Icelandic, is fermented Greenland shark meat that has an ammonia-like smell and an extremely fishy taste. If you want to live like a Viking for a moment, have a taste!

Address: Baldursgata 14, 101 Reykjavík
Kastrup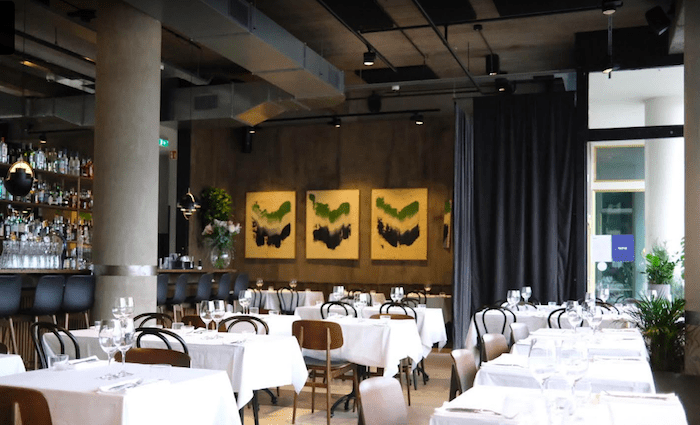 $$$ I Scandinavian Bistro | Exquisite Seafood

Kastrup is a welcome addition to the Reykjavík restaurant scene. The modern bistro is Scandinavian chic with a perfectly curated menu, impeccable design, and a warm and knowledgeable wait staff that can suggest the perfect wine pairing for your meal.
Open for lunch and dinner, the menu features delicious open-faced sandwiches ranging from langoustine and caviar to beef tartare to smoked salmon. We highly recommend Kastrup's lemon sole for an entree, served with potatoes, capers, and lemon. The restaurant is a short walking distance from Harpa Concert Hall.

Address: Hverfisgata 6, 101 Reykjavík
Sægreifinn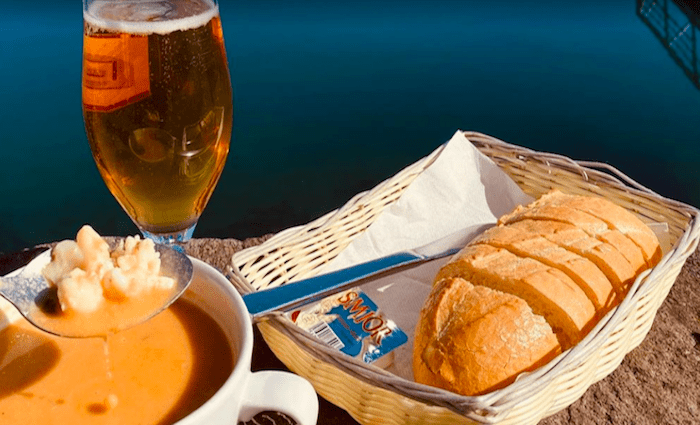 $$ I Seafood I Charming and Historic | By the Harbor

Sægreifinn (The Sea Baron) has been another Reykjavík institution for years. With its central location by the harbor, the Sea Baron is known for its tasty lobster soup, which comes with freshly baked bread and butter. The restaurant also serves eight kinds of fish on skewers, including local Cod, Monkfish, and Arctic Char.
Sægreifinn opened nearly 20 years ago by retired fisherman Kjartan Halldórsson who proudly served fresh Icelandic fish to tourists and locals, while regaling them with stories of the sea. Kjartan died a few years ago, but his memory lives on as the new owners maintain his welcoming attitude and high standards.

Inside, you will find a hut-like atmosphere with fishing relics, photos, and knickknacks. It has a kitschy feel to it, but the food is no joke. We always go for lobster soup when we visit.

Address: Geirsgata 8, 101 Reykjavík
Le Kock
$$ I Casual Neighborhood Haunt I Burgers with a Side of Dive Bar

Imagine a diner and a dive bar had a baby—that's Le Kock. This place is a party with chefs constantly playing with flavor combinations. We love their chicken wings with Korean BBQ sauce and their fish and chips with mango mayo and wasabi.

Housed in the same building is Tail (Le Kock's bar), which offers beers on tap and unique cocktails like the Italian Fairy (our favorite) with absinthe, basil, and lime. Located close to Reykjavík harbor, this is a great spot to visit before or after a whale-watching tour.

Address: Tryggvagata 14, 101 Reykjavík
Sushi Social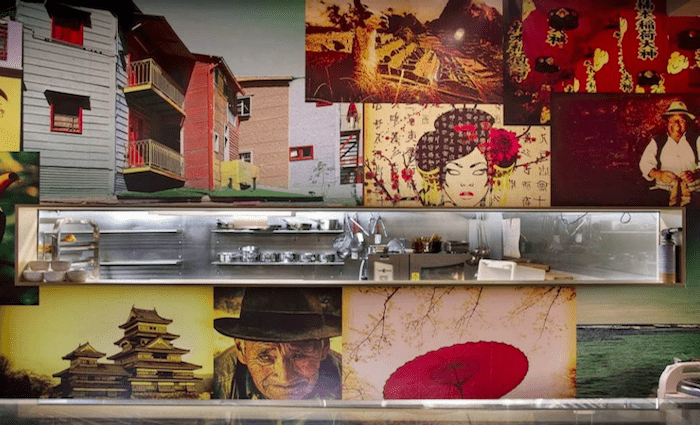 $$$ I Sushi I Japanese and South American Fusion

For another delicious seafood spot that's a transplant from other countries, head to Susi Social. They serve up delicious sushi rolls and entrees that combine Japanese and South American cuisine. Yep, you saw that right: South American cuisine. Yum!
You can choose from set menus with three to seven courses, but the locals love the sashimi and grill options. For instance, our favorite is grilled octopus served with a sweet potato puree, and their arctic char sashimi is divine.

Address: Þingholtsstræti 5, 101 Reykjavík
Posthús Mathöll
$$ I Food Hall I Amazing Space | Fun Atmosphere
Reykjavík's newest food hall opened its doors in November 2022, and it quickly became the coolest place to hang out with friends and eat great food. Here, you can see local actors, musicians, and other well-known Icelanders mixing with locals and tourists.
The building used to be Reykjvaík's main post office until it was converted to house food stalls and seating for 50 guests. We haven't sampled every offering yet as the space is so new, but the Yuzu burgers and Djusi Sushi offerings are top notch. This is also one of the best restaurants in Reykjavík to have a couple of drinks since Drykk Bar offers wine, beer, and cocktails.
Address: Pósthússtræti 5, 101 Reykjavík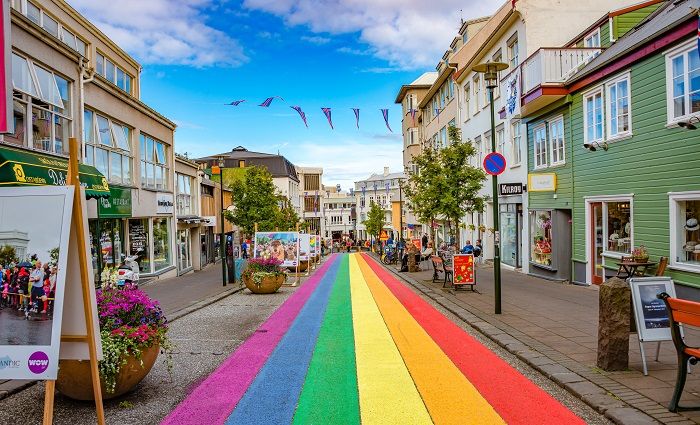 Find the best places to stay
Where To Stay in Reykjavík
Iceland's capital city may be small but it has plenty to offer visitors. Discover Reykjavík's best hotels and neighborhoods for a memorable trip.