When you think about Iceland, food may not be the first thing that comes to mind. We have breathtaking glaciers and wondrous waterfalls that draw crowds, but local Icelandic cuisine is quite good too! You may have heard about some odd stuff like "rotten shark," but it's all part of the experience! Get ready to eat like a local with these top drinks and foods to try in Reykjavík.
---
---
Pro Tip: Planning your trip to Reykjavík, Iceland? It's easier to organize when you have all your resources in one place. Bookmark this post along with the top things to do and the best restaurants in Reykjavík.
---
13 Best Reykjavík Foods and Drinks You Have to Try
Get ready to eat your way through the beautiful city of Reykjavík. Here you'll find everything from fresh fish to local lamb, sweets, soups, and pastries.
Having lived in Iceland for more than 10 years, I've tried everything at least once—and súrsaðir hrútspungar (sour ram testicles) didn't make the list!
But, everything I did include really is delicious. The only exception is hákarl, but it's a novelty you should try at least once when you're in Iceland. For great places to eat, be sure to check out the best restaurants in Reykjavík.
---
13. Have a Blueberry and Licorice Snúðar or a Kleina with Your Coffee
If you're looking for a local pastry to enjoy with your coffee, go for a kleina or a snúðar (or both)! One could argue that pastries are good in just about every country, but Icelandic specialties are the best! I love getting a kleina, a twisted doughnut fried to perfection, at one of the downtown bakeries like Sandholt to enjoy with a cup of coffee. It's classic, delicious, and hits the spot.
Meanwhile, snúðar are buns that come in various flavors like vanilla, cinnamon, caramel, and blueberry. They're reminiscent of Swedish buns but so much better! However, if you're feeling adventurous and want to snack like a local, try the blueberry and licorice flavor at Brauð og Co.
Where to get kleina and snúðar: Sandholt and Brauð og Co.
---
12. Snack on a Slice of Toast with Síld (Pickled Herring)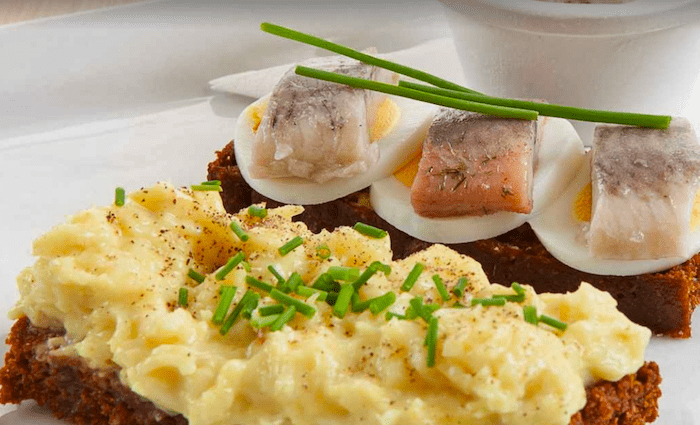 Pickled herring is a popular food in Nordic countries, and Iceland is no exception. Síld is herring cured and marinated in brine. You'll find it in restaurants, typically as an appetizer, or in grocery stores in small jars. The best way to enjoy this local favorite is on a slice of toast—it's lovely.
Iceland's waters used to be rich in herring, especially in the north of Iceland, but around 1970, herring began to decline due to overfishing. Also, there's a fascinating museum dedicated to all things herring in the northern town of Siglufjörður called the Herring Era Museum.
Where to get síld: Jómfrúin and Café Loki
---
11. Say Skál with a Shot of Brennivín, If You Dare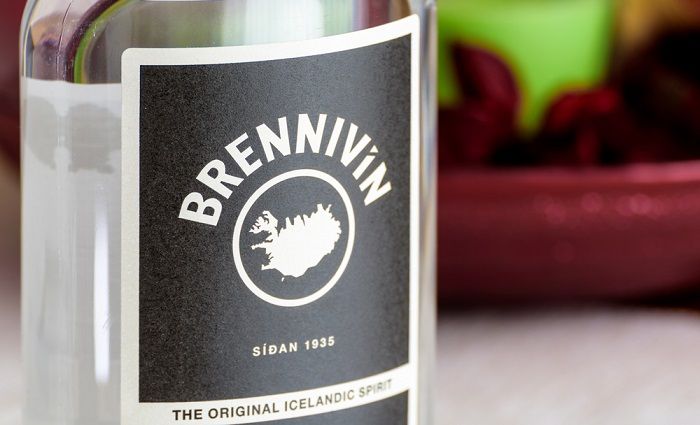 Brennivín, nicknamed Black Death, is a strong spirit akin to aquavit. It's made from fermented potatoes and flavored with caraway seeds. Brennivín is typically enjoyed chilled in a shot glass. Basically, you can sample Black Death at just about every bar in Reykjavík.
Brennivín has a long history in Iceland, as the spirit was produced in 1936 after centuries of prohibition; beer remained illegal in Iceland until 1989. Today, the spirit is typically used as an ingredient in cocktails or paired as a shot with a cold beer. Raise your glass and say skál, Iceland's version of "cheers."
Where to get Brennivín: Kaffibarinn and Gaukurinn
---
10. Prove Your Viking Strength with a Bite of Hákarl (Fermented Shark Meat)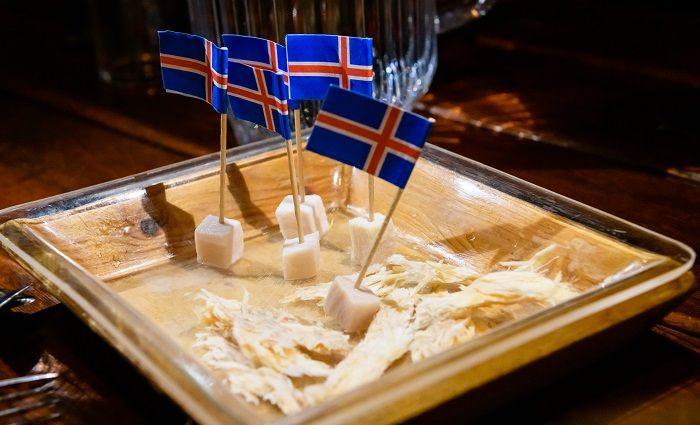 Want to test your strength and see if you can eat like a Viking? Try Hákarl, nicknamed "Rotten Shark." To make Hákarl, Greenland Shark meat undergoes an 8 to 9-week fermentation process and is then hung outdoors for six months to dry.
What's it like? It's chewy, has an aroma akin to ammonia, and is quite strong. The meat is cut into cubes and sold in small containers in grocery stores. It's also offered in some restaurants for curious tourists. Get a toothpick, pick your piece, and give it a go. Go ahead and earn your Viking stripes!
Where to get Hákarl: Íslenski barinn
---
9. Join Generations of Icelanders and Snack on Harðfiskur (Fish Jerky)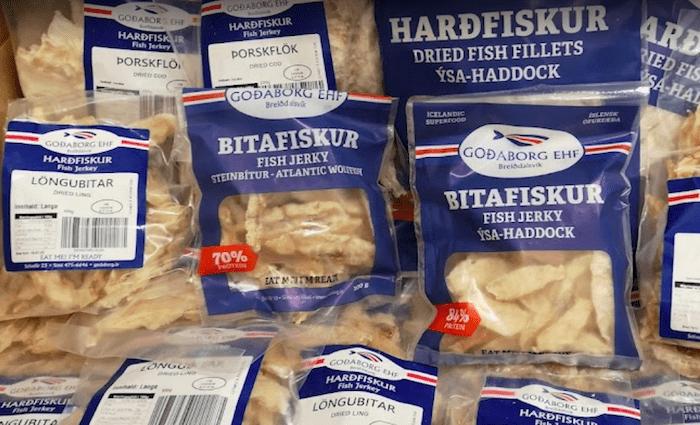 Harðfiskur is a delicious snack of dried fish, typically cod or haddock, and best enjoyed with a smear of butter. But, some Icelanders prefer it plain. The fish is dried outdoors and it turns from white to yellow while it hardens. This has been a staple food in Iceland for generations!
Harðfiskur has been described as a "fish jerky," but it has more of a woody texture. Most importantly, this high-protein food is tasty! It's great to have a pack on hand when hiking and you can pick up a bag at any grocery store.
Where to get hardfiskur: Bónus
---
8. Get in Line for the Popular Pylsa (Hot Dog)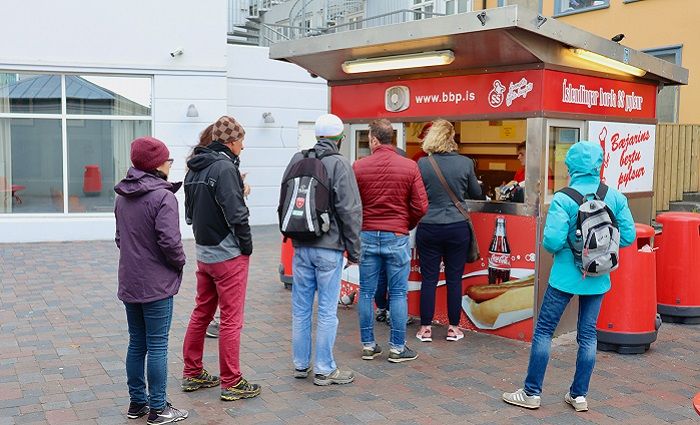 Hot dogs are the original Reykjavík street food and Bæjarins Beztu Pylsur is the most well-known hot dog stand in the city. If you're close to the harbor, stop by and join the fast-moving queue for a great bite. It's a tourist attraction in itself and famous patrons have even had a hot dog named for them.
Like your hot dog with just mustard? Order "the Bill Clinton." It's said that's what former U.S. president Bill Clinton ordered when he stopped by on his visit! It's the condiments that make these hot dogs special.
You can choose to top your pysla with ketchup, mustard, remoulade, and fried onions. If you want the works, order an ein með öllu, one with everything. In Iceland, they make hot dogs from lamb, beef, and pork meat, and they're served on a warm bun. Delicious!
Where to get pylsur: Bæjarins Beztu Pylsur
---
7. Warm Up with a Creamy Bowl of Humarsúpa (Lobster soup)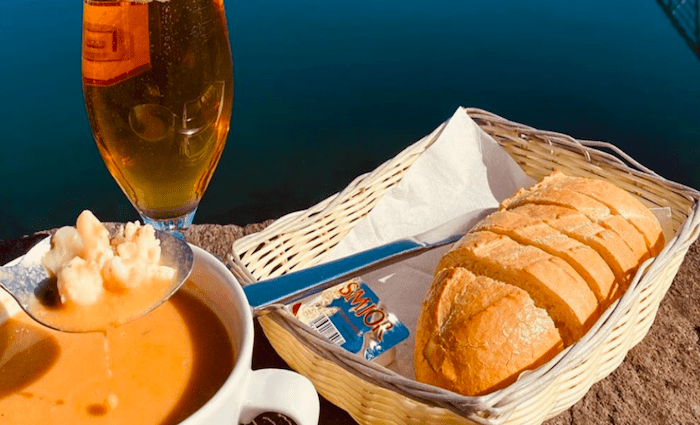 Lobster soup on a cold winter's day really hits the spot. It's creamy, salty, and filled with large chunks of langoustine meat. Pairing it with fresh bread and soft butter is one of the best Reykjavík foods to have for lunch.
It's a simple soup with cream, broth, and salt, but with lobster! Local restaurant Sægreifin put it on the map. If you love seafood, visit the harborside eatery. Come for the soup and, if you have the room, enjoy a kebab of fresh fish.
Where to get lobster soup: Sægreifinn
---
6. Taste the Local Bjór (Icelandic beer)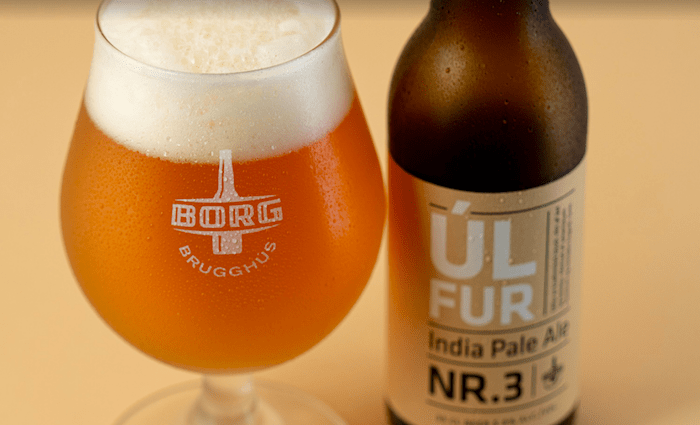 Beer was illegal in Iceland until 1989, and boy have Icelanders made up for lost time. There are more than 15 breweries on an island that just 360,000 call home, most of them craft breweries. They brew everything from pale ale to stout and Icelanders are enthusiastic consumers.
My favorite is Úlfur Úlfur Nr. 17 Double IPA from Borg Brugghús, which is sweet with notes of honey, citrus, and peach. Keep in mind that outside of bars and restaurants, you can only purchase alcohol at state-run liquor stores called Vínbuðin.
Where to get Icelandic beer: Skúli Craft Bar
---
5. Embrace Comfort and Tradition with a Bowl of Kjötsúpa (Meat Soup)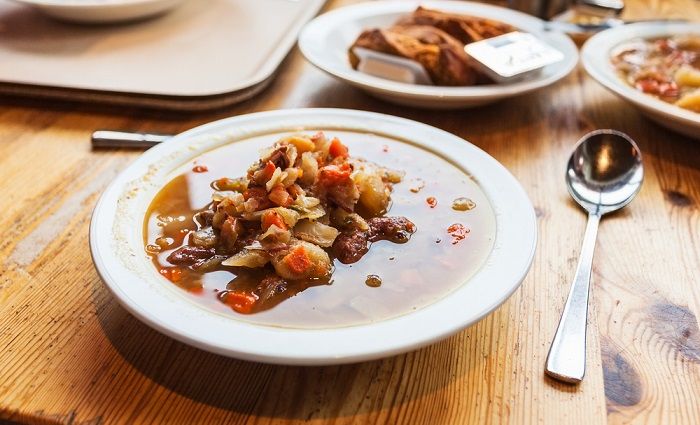 Kjötsúpa is Icelandic comfort food at its finest. Lamb meat, on the bone, is the star of this hearty, rustic soup, along with a lot of carrots, potatoes, onions, and turnips. The secret ingredient is dried Icelandic soup herbs, which are sold in packages in grocery stores.
This dish is said to have been around since the days of settlement and it's so beloved that it's celebrated on the first day of winter on Skólavörðustígur street in downtown Reykjavík. Steaming bowls are handed out to guests on "Meat Soup Day."
Where to get kjötsúpa: Icelandic Street Food
---
4. Try the Local Candy Lakkrís (Black Licorice)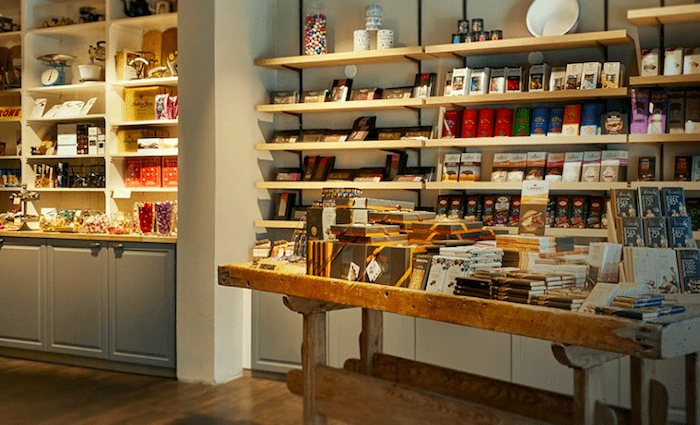 All Nordic countries seem to have their version of lakkrís, and Icelanders love it on its own, with chocolate, in pastries, and even in ice cream. The saltiness of the licorice pairs really well with sweets and my favorite is the licorice ice cream at Valdís.
For centuries, there were restrictions on which foreign food products made it to Iceland. Black licorice was one of the few sweets imported. As such, Icelanders have been enjoying this nammi, candy in English, for generations. It's rare to find an Icelander that doesn't indulge in licorice.
Where to get lakkrís: Vínberið
---
3. Have a Breakfast Smoothie with Skyr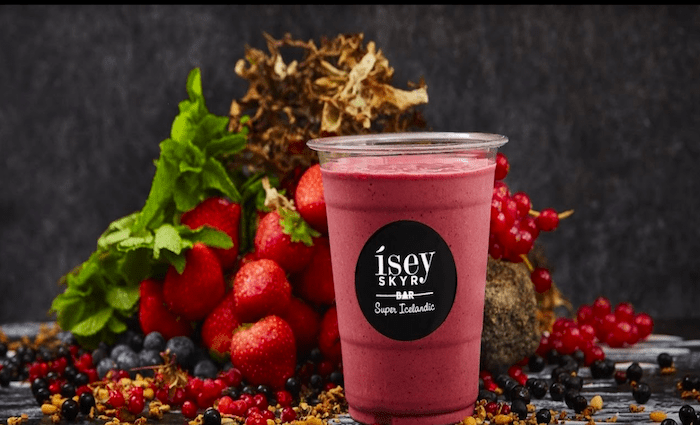 Skyr is described as yogurt, but it's more of a soft cheese. Typically enjoyed in the morning, it's a quick and easy breakfast food. The taste is a little sour, so it's common to add oats, some sugar, or fresh berries to a bowl of skyr.
Also, you can purchase containers of skyr in grocery stores; plain or in flavors like vanilla, blueberry, and peach (my favorite). You'll find Skyr in restaurant desserts and boost bar smoothies. It's creamy and delicious!
Where to get skyr: Ísey Skyr Bar
---
2. Order Iceland's Melt-in-Your-Mouth Lambasteik (Lamb steak)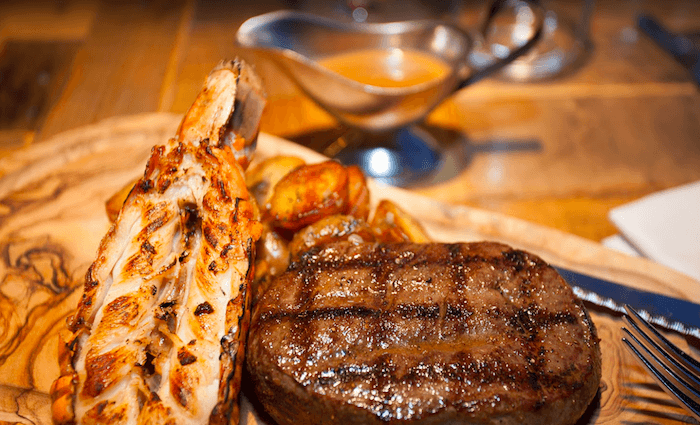 Lambasteik is Iceland's favorite red meat and, while I may be biased, the lamb here is the best. Settlers brought sheep with them from Norway in the year 874 and they've been roaming the land ever since. It's not a meat I regularly ate back in my native New York, but when I want red meat in Iceland, I go for lamb and so should you.
Some say the local lamb is so good because of the climate of clean air and seawater, as well as the organic way they raise the animals. In the summer, Icelanders love to grill lamb steaks. Restaurants like Grillmarkaðurinn and Steikhúsið have outstanding lamb dishes on their menus.
Where to get lamb steak: Grillmarkaðurinn and Steikhúsið
---
1. Eat Local Fresh Fish Like Arctic Char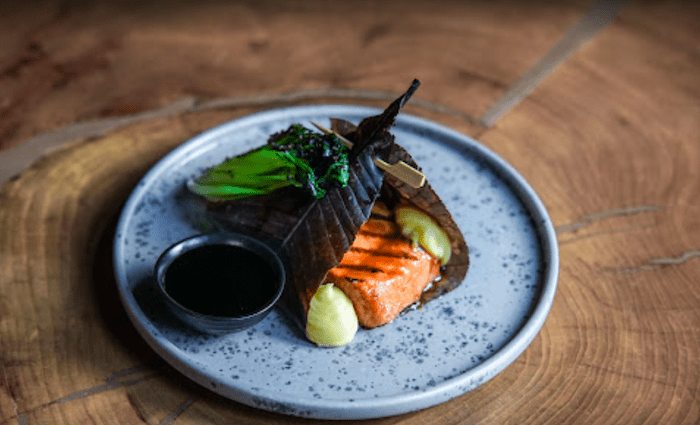 Don't leave Iceland without trying the local fresh fish. Fish is the lifeblood of Iceland, sustaining the locals since settlement and serving as the island's number one export. Fish remains a staple in Icelandic diets, and the waters are rich with species like Atlantic cod, ling, salmon, haddock, halibut, monkfish, wolfish, mackerel, and my favorite: Arctic char.
There are numerous ways Icelanders prepare fish, from boiled to mashed, sauteed to grilled. It's all great, and the local catch-of-the-day is the way to go at seafood restaurants.
Where to get local fresh fish: Fiskfélagið and Grillmarkaðurinn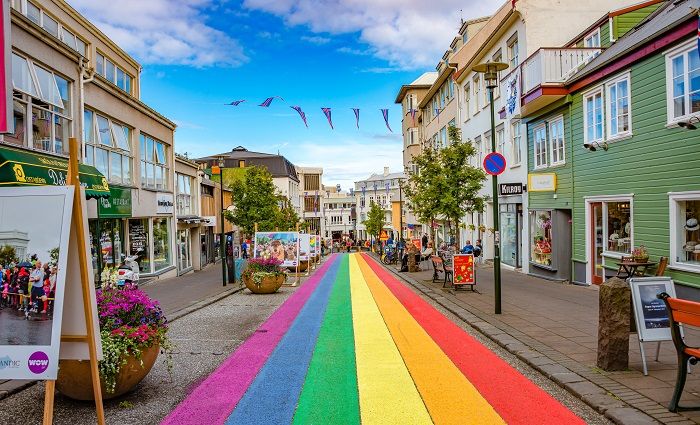 Find the best places to stay
Where To Stay in Reykjavík
Iceland's capital city may be small but it has plenty to offer visitors. Discover Reykjavík's best hotels and neighborhoods for a memorable trip.