Winter is a great time to visit Iceland! The winter days may seem short, as there are just five hours of daylight around the solstice, but this is the time of year to see the northern lights! You can book exciting tours, chase auroras, and do all kinds of cool stuff. As a long-time resident of Iceland, trust my list of activities to try in the winter in Iceland to fall in love with this breathtaking country.
---
---
Pro Tip: It's easier to organize your trip when you have all your resources in one place. Bookmark this post along with our Iceland Guide for more resources, the best restaurants, and where to stay in Reykjavík.
---
17 Amazing Things To See And Do In Iceland in Winter
The land of fire and ice has a lot of cool things to do in winter whether you're looking to see the landscape or adventure on a snowmobile. You can take tours around the country, relax in geothermal pools, explore natural ice caves, visit remote towns, and soak in the local culture.
Hands down, the most popular thing to do in Iceland in the winter is to hunt for the northern lights. The elusive lights appear when the conditions align with solar activity and no cloud cover. There are also glaciers you can only explore in Iceland in the winter!
What You Have To Know About Traveling in Iceland in the Winter
You should know that Iceland in the winter is very different from the summer. In fact, the snowstorms are downright dangerous sometimes. There are areas that become inaccessible even to locals, so be sure you have a sturdy vehicle and strong winter driving skills. Otherwise, do as the locals and book a tour to that adventure activity, or use this list of my favorite things to do in winter in Iceland.
---
17. Fly to Akureyri and Explore Goðafoss Falls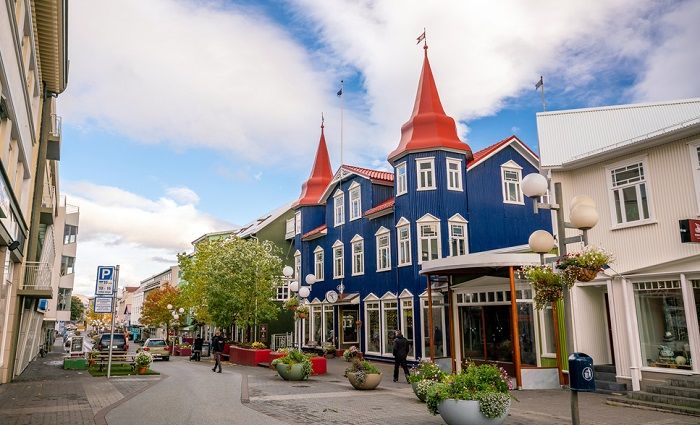 Sightseeing I Akureyri & Góðafoss I North Iceland
Akureyri is frequently referred to as Iceland's "second city," an amusing moniker given its small size of just 18,000 people. Yep, Iceland isn't well populated. In the winter, many tourists choose Akureyri as their home base when exploring the north, opting to spend nights in the town while booking day tours to places like Mývatn and Húsavik.
One attraction you can´t miss in the north is Goðafoss, the waterfall of the gods, which is among the most beautiful falls in the country. Though it is not very tall, the cascade is divided into two horseshoe-shaped falls, making it unique among Icelandic waterfalls. It's my favorite to see as some of the falls can freeze during deep winter.
Location: Akureyri I Cost: Tours from $166
---
16. Walk Deep Inside A Glacier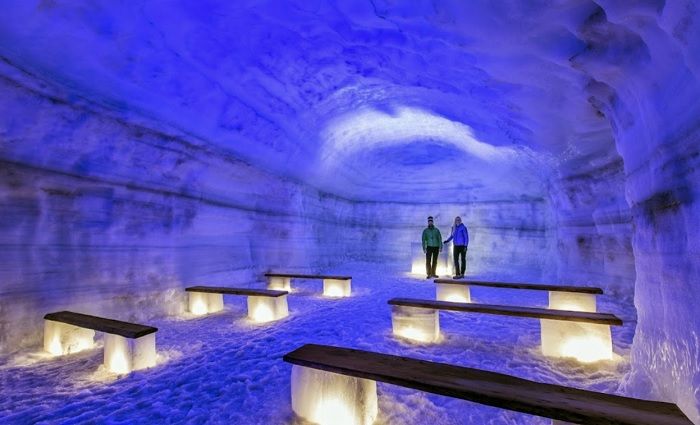 Ice Tunnel I Guided Tour I Langjökull (West)
Get up close and personal with the actual ice in Iceland! The Into the Glacier tour leads guests into the world's largest manmade ice cave on Langjökull glacier.
And what an adventure it is! A super truck will pick you up in the west Iceland town of Húsafell (or Reykjavík if you're not driving) for a stunning journey across Langjökull to the ice cave. If you've ever wanted incredible views of crevices and the chance to run your fingers along smooth ice walls, delve into the ice cave!
The walls are illuminated with LED lighting, and information about glaciers is posted throughout the tunnel. It's not only a very cool experience (pun intended) but also very enlightening. I highly recommend doing this tour if you're traveling with kids!
Location: Into the Glacier I Cost: Tours from $163
---
15. Ride Horses Across Iceland's Distinctive Terrain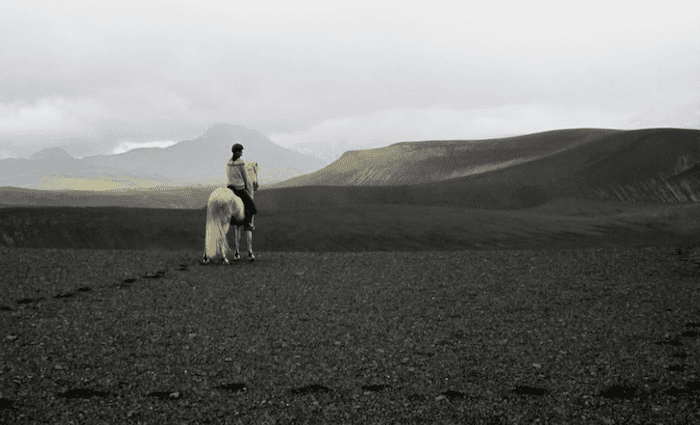 Horse Riding I Afternoon Outdoors I South Iceland (Hafnarfjörður)
Sure to take your breath away, heading out on Iceland's iconic native horses is a fantastic way to explore the rugged landscape of the land of fire and ice. The horses are an adorably stocky breed but don't call them ponies—they're horses.
These iconic purebred horses are easy to spot, not just by their short stature but their fluffy manes and thick coats. The first members of the breed came over with the early settlers and are a celebrated part of the Icelandic culture and landscape.
Incredibly gentle, Icelandic horses are perfect for riders of every level, and tours are appropriate for all ages. They can be booked year-round, but there's nothing quite like riding Iceland's native horse against a backdrop of waterfalls or lava fields in winter.
Location: Ishestar Horse Riding Center | Cost: Starts at $90
---
14. Attend Iceland Airwaves Music Festival
Music Festival I Early November I Reykjavík (Southwest)
Iceland Airwaves rocks! The annual music festival takes place every November across multiple venues in Reykjavík; Airwaves is the biggest music festival of the year, and locals love it. In fact, you'll see several musical recommendations on our list of activities to try in Reyjkavik. Icelanders love their music.
The Airwaves festival showcases artists ranging from up-and-comers to headline-status musicians. You get everything from established international acts to Iceland's rich melting pot of domestic talent.
Past Icelandic performers include Björk, Daughters of Reykjavík, Vök, Hatari, and GusGus. The festival also attracts some of the biggest international acts, and in past years hosted Kraftwerk, Flaming Lips, Arlo Parks, and Nation of Language.
Location: Iceland Airwaves I Cost: Tickets from $125 (usually happens in November)
---
13. Stand Beneath (or Above) Skógafoss and Seljalandsfoss Waterfalls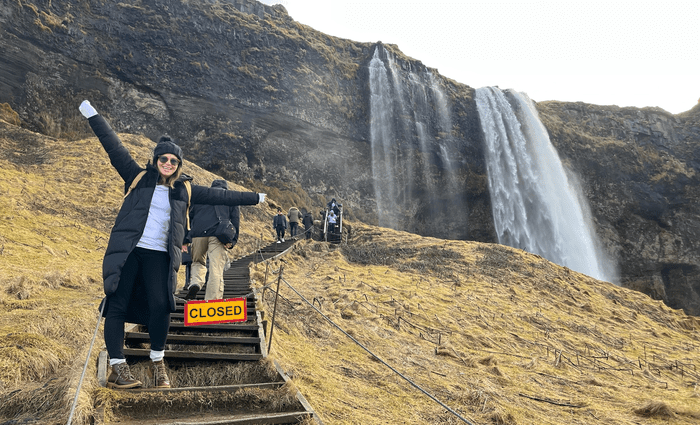 Breathtaking Nature I Guided Tour I South Iceland
After the Golden Circle, the South Coast is the most popular region in the south of Iceland. Here, you will see the gorgeous waterfalls Seljalandsfoss (pictured above) and Skógafoss. I actually like these just as much in the winter since the surrounding landscape has cool tones as opposed to the lush greens of summer.
While a tour is recommended, this is one area that you could opt to drive on your own. Make sure you are familiar with winter driving, have a sturdy SUV, and pay attention to weather reports.
Location: Seljalandsfoss waterfall | Skógafoss | Reynisfjara Beach | Cost: Tours from $187
---
12. Warm Up with a Hearty Icelandic Lamb Stew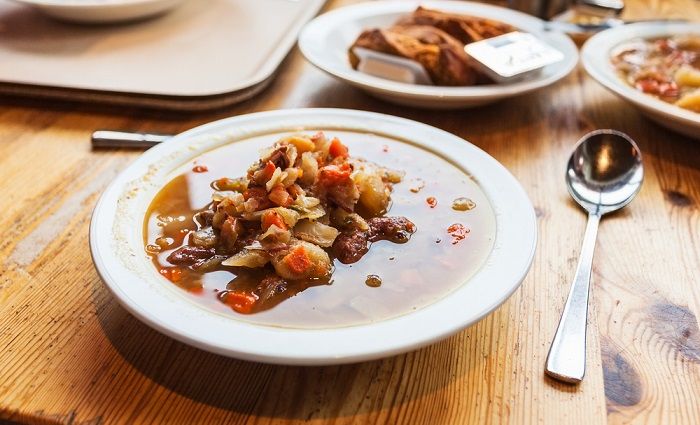 Local Food I Guided Tour I Reykjavík (Southwest)
Are you curious about Icelandic cuisine? There's no better way to become acquainted with Iceland's food culture than on a Reykjavík food tour! A local guide will delight you with fun stories while enjoying the city's landmarks like Tjörnin and Hallgrímskirkja. It's the perfect way to get to know Reykjavík a little better than just exploring on your own!
This food tour visits local haunts (no tourist traps!), allowing guests to try Icelandic food staples like hearty lamb meat soup (pictured), as well as pastries, ice cream, and a pylsa from the famous Icelandic hot dog stand. We recommend showing up hungry for this tour!
Prefer to try other Icelandic food without a guided tour? No problem. Check out what foods we recommend trying to get to know Icelandic's food culture.
Cost: Tours from $115
---
11. Go Snowmobiling on a Glacier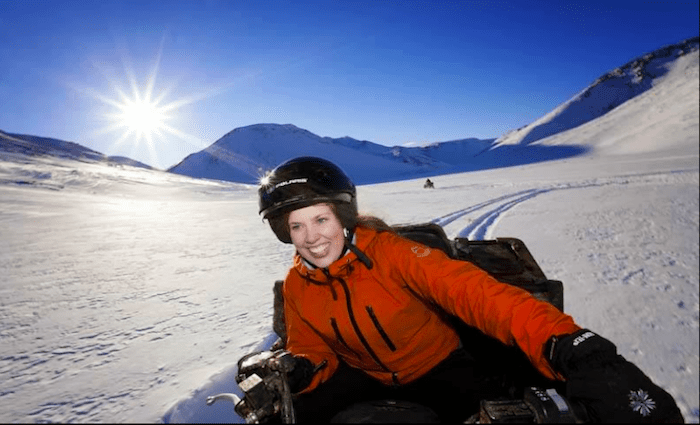 Snow Adventure I Guided Tour I Langjökull (West)
Hopping on a snowmobile and gliding along pristine ice on Langjökull glacier feels like a once-in-a-lifetime experience. It's an adventure you'll never forget. It's exhilarating to ride on the snow and icy slopes, with blue skies and the stark whiteness of the snow.
Tours pick you up in Reykjavík, transporting you to west Iceland on the second largest glacier on the island, Langjökull. A super truck takes you to base camp, where your adventure begins. If you are looking for a thrilling activity that still allows you to enjoy the landscape, this is it!
Pro Tip: Wear thermals, warm socks, gloves, a hat, a weatherproof top layer, and hiking or snow boots.
Cost: Tours from $210
---
10. Join In Reykjavík's Epic Nightlife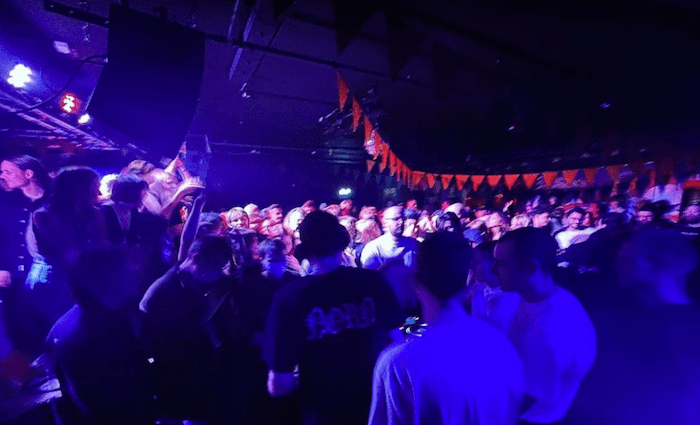 Local Culture I Bar Crawl I Reykjavík (Southwest)
Reykjavík may be a small capital city, but its nightlife is not something to miss. For such a small city, you can't help but be impressed by the number of hot spots catering to different interests.
Laugavegur's main drag is ground zero for the hottest bars in town. If you are up for dancing, Kiki Queer Bar is your spot. More interested in headbanging to some rock music? Check out Lemmy, Dillon, or Gaukurinn. If you want to catch a hot Reykjavík band performing live, see who's playing at Húrra (pictured) or Mengi.
If a more refined or quiet evening night out is more your speed, I recommend the wine bar Port 9 or the cozy Luna Flórens. For cocktails, you can't go wrong at Jungle Cocktail Bar and Slippbarinn for the expert mixologists on staff and the fun atmosphere.
Pro tip: Be prepared for a super late night out. The locals don't venture out until around midnight!
Address: Kiki Queer Bar or Jungle Cocktail Bar or Húrra
---
9. Watch the Surf Crash on Reynisfjara Beach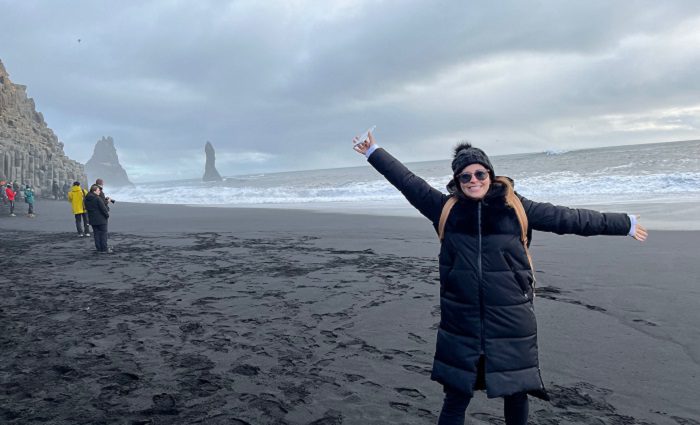 Must-Do Activity | Mythical Legends | Free
No tour of the south coast is complete without a stop at Reynisfjara, probably the most famous and most photographed black sand beach in Iceland. The contrast of the white waves crashing on the stark black sand and pebbles is beautiful, with towering basalt columns along the shore next to a small cave. It's especially striking when there's a fresh dusting of snow!
What else makes this a cool stop in the winter (no pun intended). The myth behind that towering column of rocks. It's said that they were formed when two trolls we caught in the sunrise as they tried to pull their ship onto the shore. It makes for a fun story as you explore the beach.
Location: Reynisfjara Beach
---
8. Float Like an Iceberg at the Majestic Glacier Lagoon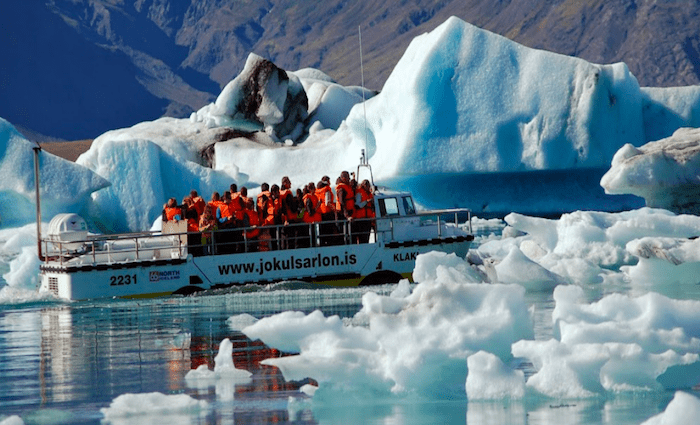 Icebergs I Guided Tour I Southeast Iceland | Open Seasonally
Jökulsárlón is where you will see huge chunks of ice floating in the water, and if you're lucky, a curious seal or two. Take a 40-minute boat tour of the lagoon, which you should book in advance to get close to icebergs. (Only runs in spring and autumn into November) What I think is really cool? You get a chance to taste the ice!
And you'll stop by the Diamond Beach, which is just next to Jökulsárlón. With its gigantic, ancient icebergs breaking off from the mighty Vatnajökull glacier, this glacial slice of Iceland is a sight you simply cannot miss.
The lagoon produces a feeling of incredible tranquility as the 1500-year-old ice silently drifts into the lake and slowly melts away. The lagoon covers 7 square miles and reaches more than 814 feet at its deepest point.
Location: Jökulsárlón I Cost: Tours from $45
---
7. See The Northern Lights Above Hallgrímskirkja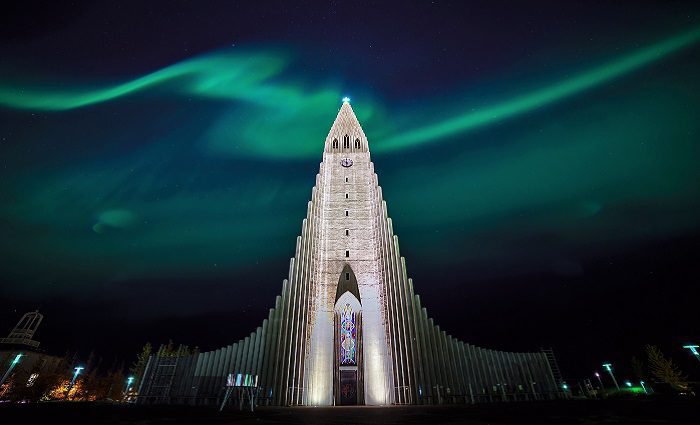 Architecture I City Center I Reykjavík (Southwest)
When you live in the land of fire and ice, you can expect the architecture to compete. Case in point: Hallgrímskirkja is one of the most photographed and visited sites in Reykjavík for excellent reasons.
And if you're here in the winter, you'll get what I think is the best view of all. With longer nights, you'll have more time to find that perfect picture of Hallgrímskirkja with our stunning northern lights above it. I mean, just look at that photo! You can't quite guarantee a shot like that in the summer, so winter is your best bet.
After admiring the exterior, head inside to see the gorgeous organ constructed in Germany, as well as beautiful stained glass windows. There are frequently held concerts ranging from choirs to organ performances, as well as mass. For many, the highlight of a trip to Hallgrímskirkja is a visit to the top of the tower, which has spectacular views of the city, especially under a coat of snow.
Location: Hallgrímstorg 1
---
6. Explore Gullfoss, Geysir, And Þingvellir On the Golden Circle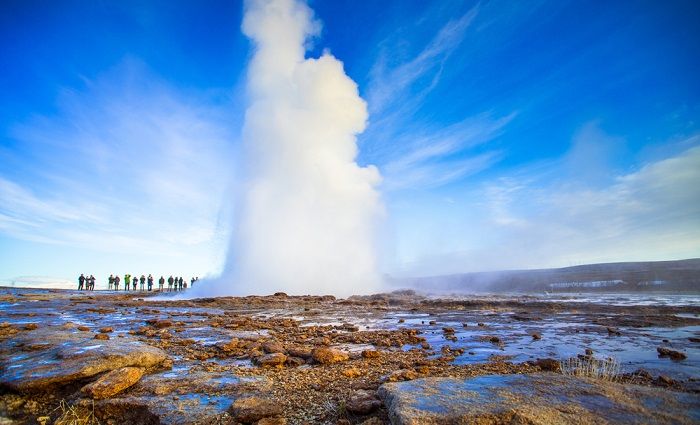 Golden Circle I Sightseeing I South Iceland
Want to know which tour locals would likely recommend for a taste of Iceland? It's the Golden Circle. The tour will give you a slice of Icelandic history at Þingvellir, a view of Iceland's gurgling geothermal activity at Geysir, and a look at a roaring, powerful waterfall at Gullfoss.
The sights are classically Icelandic and postcard-perfect in the summer, and, best of all, the route is typically driven in one day. If you get the chance, check out the Secret Lagoon and the tomato greenhouses and restaurant at Friðheimar, which are near the Golden Circle.
This is one of the other few routes that tourists could do on their own, but again, only if you're comfortable with winter driving and rent a great SUV. Honestly, even us Icelanders book a tour sometimes just to avoid the hassle and because the guides really do know the best spots.
Location: Geysir | Gullfoss Waterfall | Þingvellir National Park | Cost: Tours start at $67
---
5. Channel Your Inner Viking While Drinking Mead from a Horn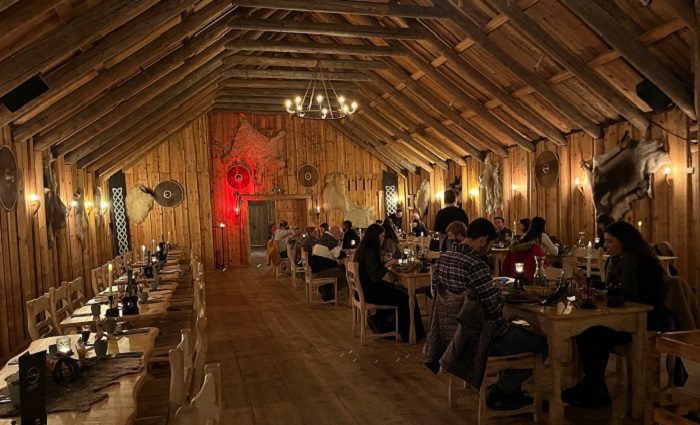 Authentic Viking Lodge I Rustic I Selfoss (Southwest)
When in Iceland, do as the ancestors did: drink from horn. Why? Because you can. Order mead with your meal and feel yourself become like a Viking as you drink from the horn of an animal.
Combined with the rustic decor inside this authentic Viking restaurant near the Golden Circle, you'll definitely feel like you've stepped back in time. As for food, I loved the crab and seafood soup as well as the main dish Iceland is known for: lamb. There's a reason it's on our list of top foods to try!
Location: Efstaland, 801 Sveitarfélagið Ölfus
4. Celebrate New Year's at a Bonfire in Iceland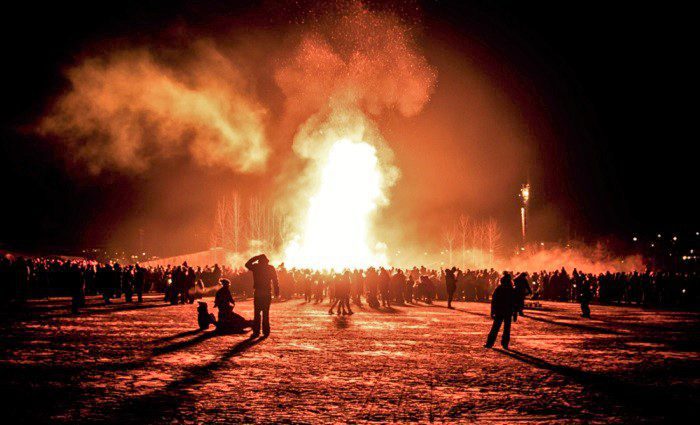 Fireworks I New Year's Eve I Reykjavík (Southwest)
New Year's Eve in Reykjavík is pretty epic. It's celebrated with a huge fireworks display and bonfires across the city. The bonfires are my favorite since that's where Icelanders meet with their friends and family and sing together to ring in the new year. Join in!
In recent years, locals have created walking tours to help you experience New Year's Eve with the locals, taking you to bonfires, providing you with sparklers, and explaining the customs.
As midnight approaches, the fireworks begin, lighting up the skies across the city. I recommend walking over to Hallgrímskirkja to watch the display. It's a great time!
---
3. Wander Through the Inaccessible Crystal Blue Ice Cave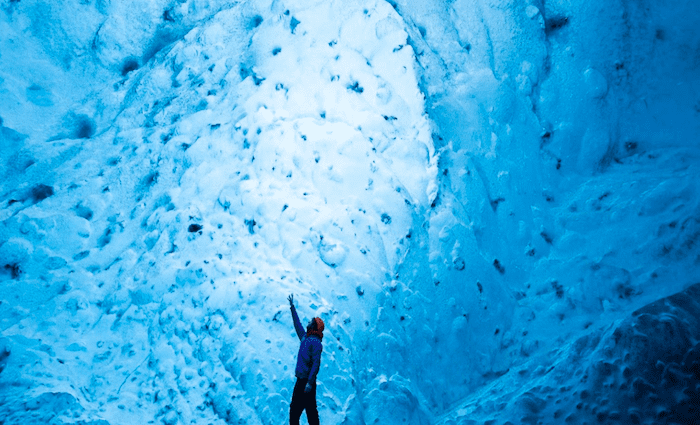 Ice Cave I Guided Tour I South or West Iceland
Natural ice caves form when the water underneath a glacier freezes, creating new ice tunnels every year. For that reason, natural ice caves, like the Crystal Blue Ice Cave, are only accessible during deep winter since they become unstable and melt in warmer temperatures.
The only way to see these caves is through a guided tour, as searching for them on your own is extremely dangerous. On a tour, you are equipped with the right gear and given a safety briefing before heading out with your trained guide.
Once inside an ice cave, you can see the different colors of the ice and run your fingers along the shapes and crevices. The light from outside can expose deep blue crystal hues, and it's incredible! This will truly become one of your most favorite winter memories of Iceland!
Cost: Tours from $141
---
2. Rejuvenate Yourself at the Heavenly Blue Lagoon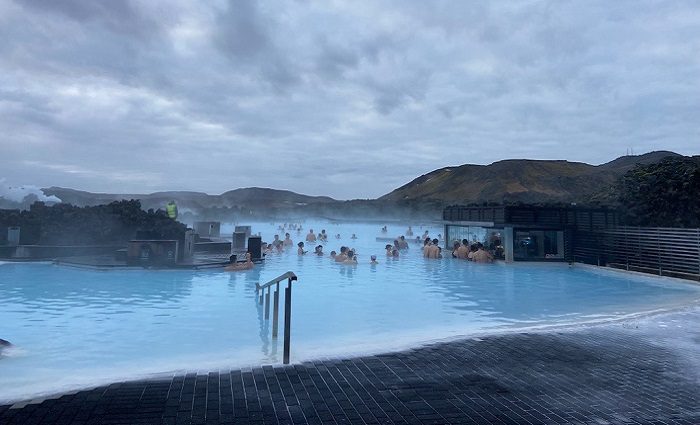 Geothermal Spa I Half-Day I Southwest (Reykjanes)
A trip to Iceland isn't complete without a visit to the Blue Lagoon. The geothermal waters are healing and rejuvenating against the backdrop of wintry lava fields.
Spending the afternoon or evening soaking in the stunningly relaxing pools here will be an unforgettable experience. Soak away that jet lag, the tired legs from your day tours, and the worries of work. You'll probably even forget to use your phone for selfies with the obsidian rocks against the steaming blue waters. And that's ok.
Nothing else will matter as you rejuvenate yourself in 100-degree Fahrenheit temperatures, soak in those mineral-rich muds, or book a full-body massage. You might even decide to stay the night and enjoy another day (or two) at this incredible lagoon.
---
1. Search the Skies for the Otherworldly Northern Lights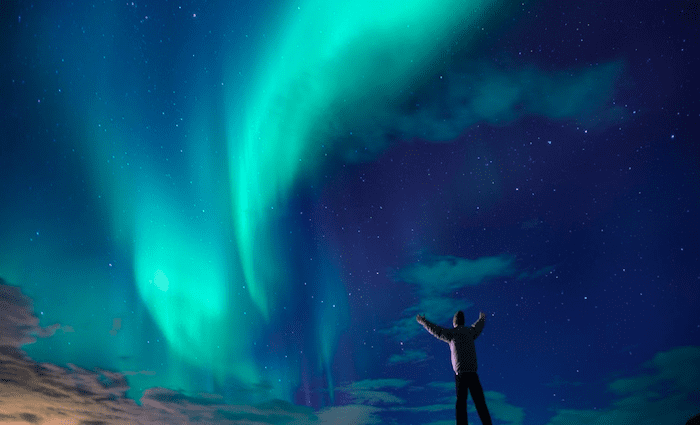 Aurora Borealis I Awe Inspiring I Across Iceland
You shouldn't be surprised by our #1 thing to do in the winter in Iceland! It's a favorite thing even for us locals. The aurora borealis is a natural phenomenon of glowing emissions of dancing, colorful lights easily visible on clear winter nights.
There's nothing quite like seeing the lights move and change colors in the sky, and it draws tourists from around the world who hope to get a vibrant glimpse. If the activity is powerful that night, you won't just see green displays but also hues of blue-violet, white, and even red colors! Iceland is an ideal place to see auroras, as locations above the Arctic Circle have the greatest frequency and intensity.
Northern lights season: The northern lights season is typically between October and March, with peak visibility from December to February. However, it varies and can change from year to year, so use our guide to the northern lights to plan your trip.
Pro Tip: Dress as warm as possible as it is very cold while you wait, then prepare to be amazed!
Cost: Tours from $53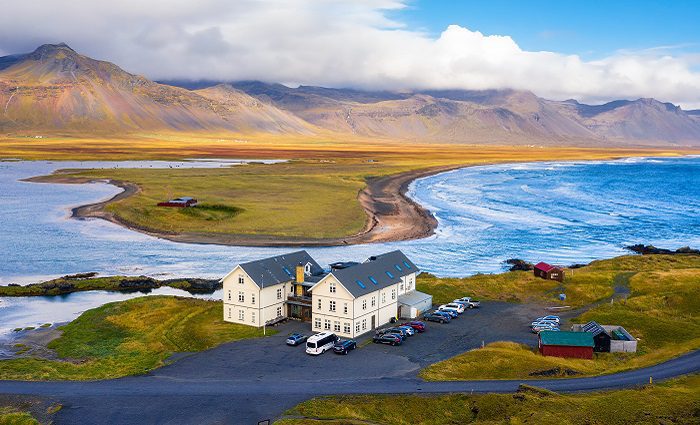 Find the best places to stay
Where To Stay in Iceland
Planning to explore the breathtaking country of Iceland? Then use our guide to the best hotels and towns to stay in Iceland from Selfoss to Akureyri.