Almost everyone knows Greece as one of the best destinations for their summer holidays. However, if you wish to have a winter vacation, give Greece a try. You will be amazed by the numerous beauties of Greece in the winter. So, let's discover the top winter destinations in Greece in the article below.
---
Pro Tip: Bookmarks are certainly the key to organizing a great trip. Bookmark this post in a "Greece" folder in your browser. This way you can circle back to it while you are traveling.
Best Winter Destinations and Things to Do In Greece
Although Greece is famous for its sunny summer, the mountainous parts are much more beautiful than you might realize. Here you will discover high mountains with lakes, beautiful forests, and breathtaking landscapes.
You can spend your time hiking or even skiing. On the other hand, even if you aren't a sports lover, there are many towns to spend your winter holidays in. Either way, get ready to discover picturesque places, museums, and great archaeological places at a time when there are fewer crowds too.
We gathered some of the top winter destinations in Greece. You can choose your favorite and start exploring a different way to see this country.
11. Metsovo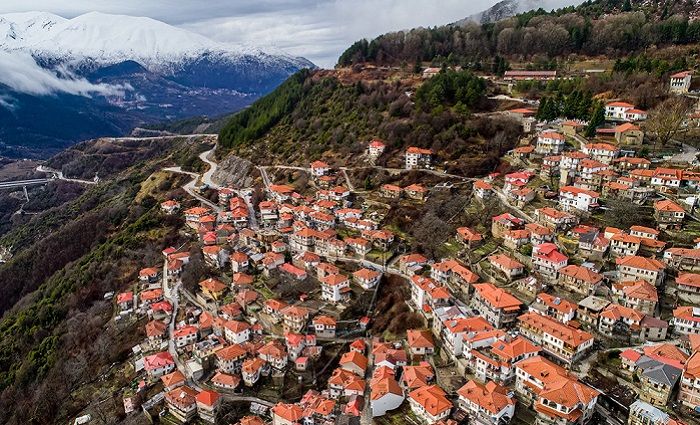 Picturesque Village | Ski Resort Nearby | Local Cheese (Metsovone)
Metsovo is one of the most popular winter destinations in Greece. It is a large traditional village on the Pindus mountain range (1,160 meters high) in Epirus. In Metsovo, you can have a great time admiring the traditional architecture of the village that dates back several centuries. There are many cafes and restaurants to spend your day in, and the view is picturesque when the winter fog rolls in.
In addition, if you wish for some winter sports, then you can visit the ski center of Metsovo and have fun on the slopes. There are also many options for trekking in the summer. For example, you can explore the Aoos artificial lake or the waterfall in Anilio village. You can approach both by car through a wonderful route. You'll want to have plenty of storage space on your camera!
How to get to: Metsovo
10. Litochoro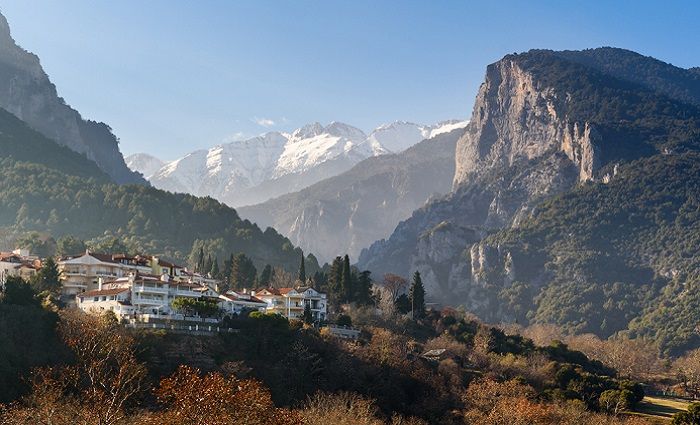 Small Village | At the Foot of Mount Olympus | Ideal for Mountaineering
Litochoro is a small and picturesque village at the foot of Mount Olympus, so it is the ideal destination if you like climbing mountains. On Mount Olympus, you will discover many beauties, such as small waterfalls and beautiful routes. It is no coincidence that the 12 gods of antiquity chose this mountain as their abode. From this great height, you can even view the Aegean Sea!
However, you need to know two things. If you are going to climb Mount Olympus, it would be better to work with a tour agency such as Trekking Hellas, so as to organize your climbing with safety.
Secondly, although there are enough hotels in Litochoro, there aren't many things to do. So, if you aren't a hiking lover, this place may not be for you, but the view of Mount Olympus is worth checking out anyway.
How to get to: Litochoro
9. Trikala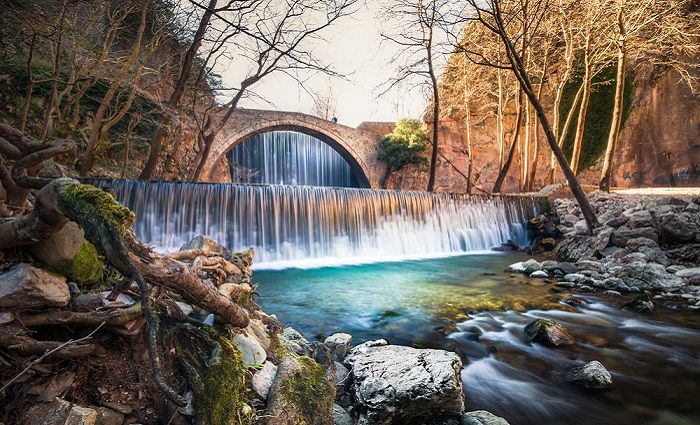 Sustainable City | Natural Landscapes | Bicycle Friendly
Trikala is a fairly large city in central Greece. In recent years, it has become really popular for many reasons. For starters, it is a bicycle-friendly city. So, if you decide to visit it, you can rent a bicycle and enjoy cycling into the city and along its river. Yes, you read right! A beautiful river passes through the city of Trikala. Not far outside the city is the Paleokarya old stone bridge, so don't miss seeing it!
In this city, you won't get bored since it is a really lively city with many cafes, restaurants, and bars. And if you have enough time, you could also visit the cliff-top monasteries at Meteora. It is certain that you have already seen photos from Meteora as it is one of the most famous places in Greece. It's only a 30-minute drive to Meteora, then you can travel to the popular monasteries from there.
How to get to: Trikala
8. Edessa
The City Of Waters | 12 Waterfalls | Natural Landscapes
Edessa is another amazing city that you can certainly visit all year round. It is located in central Macedonia. What's impressive about this city is its 12 waterfalls that make for some unforgettable experiences.
As there are so many waterfalls in Edessa, you will discover a hydropower museum to explore. Moreover, this city is a great option for the winter holidays since it's close to other cool places to visit.
If you choose Edessa as the base for your winter holidays, then you have the chance to visit many amazing places. For example, you can spend a day of your holidays at Paleos Agios Athanasios, a really picturesque village. Moreover, you may also feel like visiting the Voras Ski Center at Kaimaktsalan Mountain.
Above all, a place that I really love next to Edessa is Loutraki Arideas. There, you will discover Pozar Thermal Baths. It is an amazing chance to spend a cold day having a hot spa.
How to get to: Edessa
7. Kastoria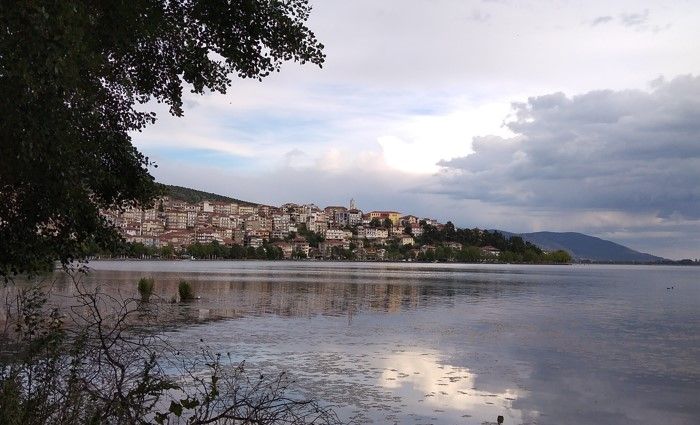 Natural Landscapes | Bicycle Friendly | Lake Boating
Kastoria is a beautiful city in Macedonia. It isn't a big or noisy city but there are many things to do to spend a great time during your holidays. And there are enough hotels to stay at and many cafes, restaurants, and bars to enjoy.
If you visit Kastoria city, we recommend having lunch or dinner at To Steki Tis Pareas. Kostas, the friendly owner of the restaurant, will certainly help you decide which dishes to choose from.
In this city, you will certainly love walking or cycling around its lake. Moreover, there are some interesting museums to visit such as the Folklore Museum of Kastoria. If you have enough time, you can also visit the really cool Dragon's Cave and the Prehistoric Settlement of Dispilio.
How to get to: Kastoria
6. Karpenisi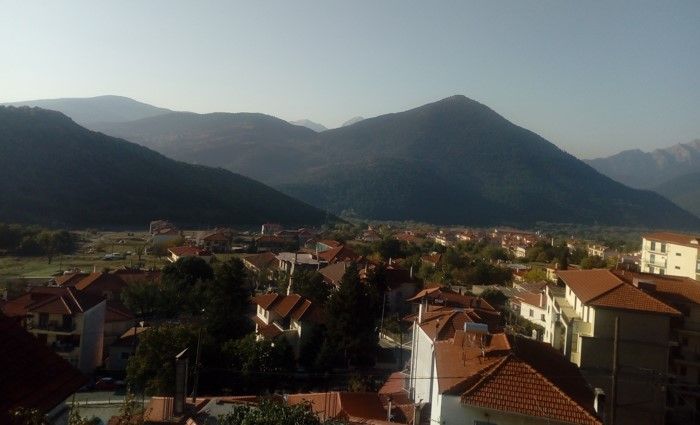 Beautiful Landscapes | Picturesque Town | Mountainous Destination
If you are looking for a place full of fir trees in a mountain valley, then the traditional but lively Karpenisi is one of the best options. Karpenisi is a picturesque mountainous town. It is the ideal place to relax and enjoy the Greek natural environment.
As it is one of the most popular winter destinations in Greece, you can be sure that it will be really easy to find enough hotels. Moreover, there are some quality restaurants where you can try many traditional or even local dishes.
Finally, near Karpenisi, there are some very significant and beautiful places to visit if you spend your holidays there. For example, you will certainly be amazed by the Panta Vrehi Canyon. You can trekking along the river until you approach the official Panta Vrehi spot.
The scenery that you will discover is certainly a great surprise that's worth snapping photos. You can also visit Prousos Monastery and the Velouchi Ski Center.
How to get to: Karpenisi
5. Volos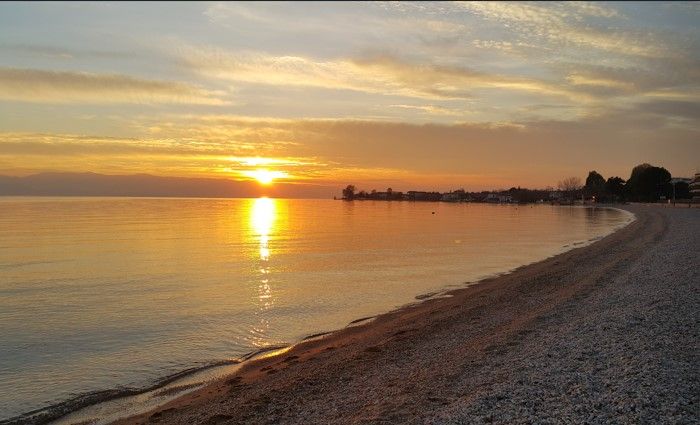 Seaside Destination | Mountainous Villages | Nightlife
Um, yes, Volos is a winter destination. Actually, you can visit Volos either in the winter or in the summer. What's really amazing about this destination is that there are many mountainous villages to visit in the winter and admire the sea view from up above. On the other hand, you have the chance to also visit this place in the summer and enjoy swimming in crystal clear seawater.
Volos is a big enough city that you will enjoy its nightlife. Also, it is the ideal place for starting road trips in Pelio villages where hiking is also popular in the summer. All of the villages are built in mountainous areas.
Each village is unique, and you have the chance to taste their local cuisine. For example, you can try a spetsofai dish, which is a dish based on local sausage. Above all, in every village, you will admire the beautiful natural landscape.
How to get to: Volos
4. Arachova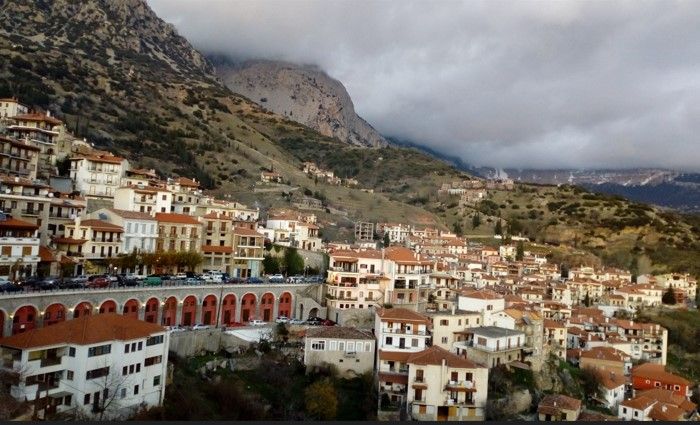 At The Foot Of Mount Parnassos | Cosmopolitan Destination | Breathtaking View
Arachova is a cosmopolitan winter destination. Get ready to discover traditional but luxury restaurants, cozy cafes, and unique hotels. What you may want to know is that Arachova may be a more expensive destination, especially during the Christmas season.
During the winter, it is always very crowdy and lively. Here you can also admire the traditional architecture along the narrow streets and roads in this mountainous town.
Of course, if you organize a winter trip to Arachova, you must pay a visit to Parnassos Ski Centre. The route to the ski center is amazing, as you can admire the snowy landscape. On the other hand, if you want to get even more familiar with the Greek history and culture, you may want to spend a day visiting Delphi archaeological site.
How to get to: Arachova
3. Ioannina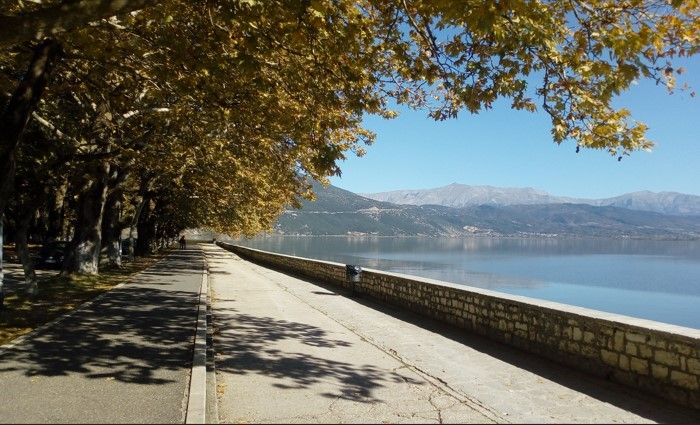 Natural Landscapes | Cultural Attractions | Traditional Cuisine
I can say with confidence that Ioannina is my happy place in Greece. Here, you will enjoy a long walk by the lake under beautiful plane trees and see the fully habitable island in the middle of the lake. You will also love the city center with so many amazing spots to meet locals and see beautiful buildings.
Also, a visit to the Byzantine castle will make you feel like you're traveling in time. Finally, you can enjoy tasting traditional cuisine, especially pies, in so many restaurants.
Ioannina is a really big place where everyone can find what they're looking for. There are many museums and archaeological sites to visit, bars, and also taverns with live music to spend the night.
You may also want to visit nearby villages or even do some extreme sports like rafting in rivers or climbing the second-highest mountain in Greece (Smolikas). If you do, you'll find the dragon lake on the top!
How to get to: Ioannina
2. Thessaloniki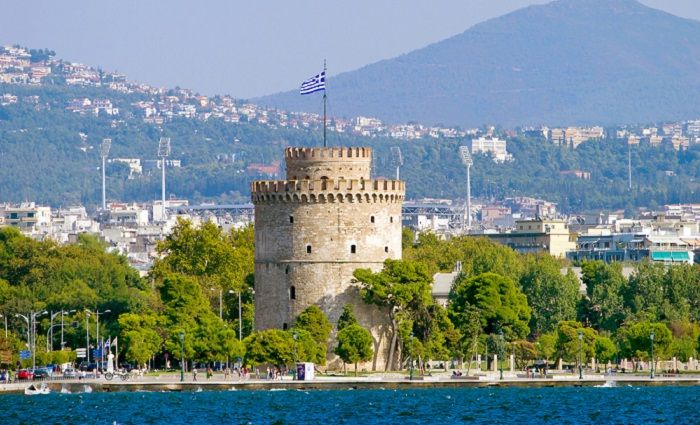 Timeless Beauty | Traditional Cuisine | City Destination
Thessaloniki is one of the best winter destinations in Greece. It is a big city where you can enjoy your winter vacations. There are many attractions to see and many activities to do.
For example, a great idea is to enjoy a walk by the sea. The best area is named Nea Paralia (New Beach). Locals really love to start their day jogging or just walking this area. The most famous attraction in Thessaloniki, however, is the White Tower. We could say that it is the trademark of the city.
Moreover, in this city, you will certainly enjoy traditional and local cuisine and delicious sweets. Most people who visit Thessaloniki, have a few extra pounds by the end of their holidays there. If Thessaloniki makes your list, you can also take a look what we recommend to do in Thessaloniki. Moreover, you can find some really amazing hotels to stay at.
1. Athens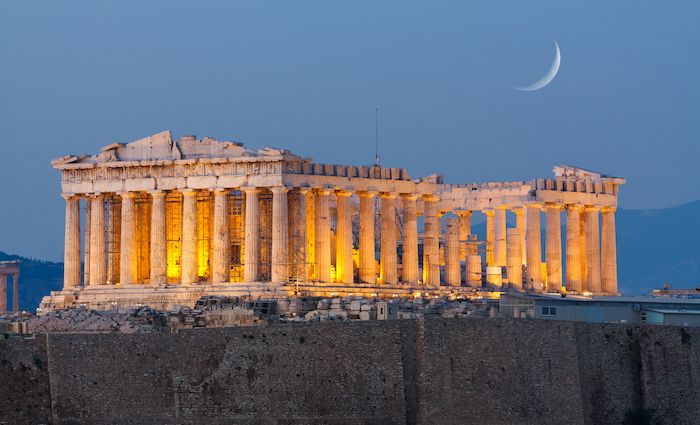 Capital Of Greece | Numerous Museums To Visit | Luxury Hotels, Bars & Restaurants
Of course, Athens couldn't be missed on our list of the top winter destinations in Greece. This city is an all-time classic destination in Greece.
As you already know, Athens has many significant archaeological sites like the Parthenon and museums like the New Acropolis Museum. You will also enjoy walks in picturesque Plaka. You can taste traditional or modern dishes in different restaurants—many of which have views of the Acropolis. And at night, get ready to have fun until early in the morning.
For you who love city destinations for your winter holidays, Athens is the ideal option. Besides, it is the biggest city in Athens. During the winter, locals prefer visiting the very center of Athens rather than the Athenian Riviera. In this city, you will never get bored as there are always interesting attractions to see and activities to do.
You can also consult our recommendations of what you must do in Athens and take some ideas on how you can spend your holidays in this big city. Moreover, if you wish to stay at a luxury hotel on your vacation, then don't miss our favorite luxury hotels in the city.
How to get to: Athens