Thessaloniki is the second biggest city in Greece, so there are many activities to do and places to visit. But where to start? Try our list of the top 13 fun things to do in Thessaloniki, whether you're looking for cultural, food, or active things to do.
---
Pro Tip: Bookmarks are the key to organizing a great trip. So, bookmark this post in a "Greece" folder in your browser. This way you can circle back to it while you are traveling.
Our Partnership with Booking.com. If you like our content, please book by clicking on our Booking.com links. The price is the same for you and we get a small commission that helps support our blog. We've partnered with Booking.com because they have the most options, great prices, and a solid loyalty program.
The Best Things To Do and See In Thessaloniki
Thessaloniki is one of the most beautiful cities in Greece. It's a city where time seems to stand still, and you'll feel so relaxed and content in this magical old city. In Thessaloniki, you will feel what Greek philoxenia means. It's the philosophy that the Greeks are ready to help foreign travelers with what you need, offer you information, and make you feel at home. In addition, you are going to discover many wonderful spots and attractions. That's why, in Greece, there are numerous songs about Thessaloniki.
We have gathered the top things to do in Thessaloniki, so you can easily plan your visit to this unique destination. You'll find cool monuments to visit, food to try, and places to take photographs to last a lifetime.
14. Walk in Nea Paralia (New Beach)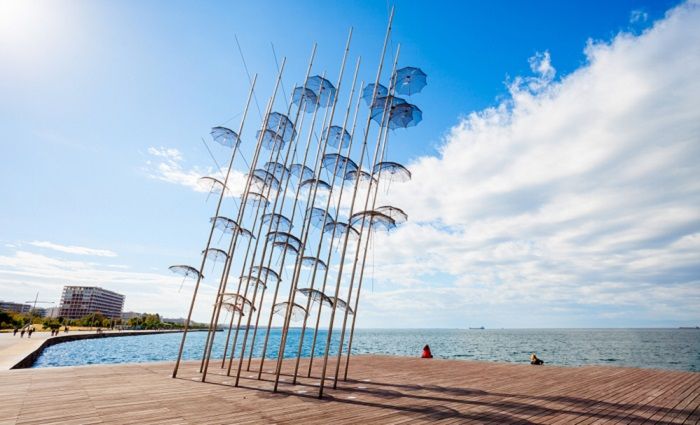 The first thing that anyone should do after arriving at Thessaloniki is taking a stroll at the Nea Paralia (New Beach). Actually, Nea Paralia in Thessaloniki is a new boardwalk by Thermaikos Gulf. It is certainly the best place to spend your very first evening in Thessaloniki. Both locals and visitors love going for a daily walk there either in the morning or in the evening.
The view of the sea will help you relax your body and your mind, and you'll meet cool people here. Don't forget to make a stop at the umbrella sculpture. These Umbrellas are such an Instagrammable spot in Nea Paralia of Thessaloniki. So, turn your camera on and start creating memories.
How to get to Nea Paralia
13. Visiting Ladadika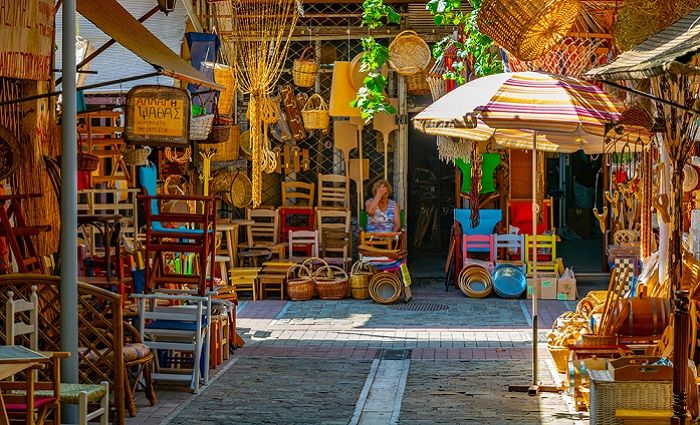 Ladadika is a well-known and popular district in the center of Thessaloniki. Its name comes from the oil traders who originally inhabited it. Even today it is an important shopping center, so it's a great place for a walk, coffee, or delicious food. Here, you are going to discover big squares and also beautiful streets with buildings designed with inspiring architecture.
After finishing your walk, there is a great variety of taverns to enjoy a meal. One of the best choices is the Palati tavern. What's really fun about this restaurant is the fact that you will have the chance to enjoy live Greek music. Believe me, it will be an unforgettable experience. Moreover, you will find a great variety of special Greek dishes to taste.
How to get to Ladadika
12. Coffee At OTE Tower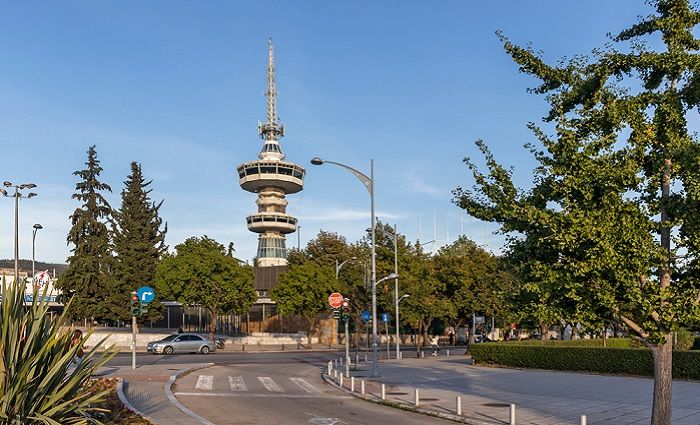 One of the most impressive spots in Thessaloniki is certainly the OTE Tower. The OTE Tower is an emblematic construction located in the heart of the International Exhibition and Conference Center of TIF HELEXPO, which you'll find in the center of Thessaloniki.
On the top floor, there is a cafeteria where you can enjoy a tasty coffee and admire the city view. The best of all is that this tower makes one complete rotation in 60 minutes. This means that you can enjoy and admire the panoramic view of Thessaloniki. From there you can see from above all the important sights of the city, which makes it an iconic thing to do in Thessaloniki.
How to get to OTE Tower
11. Enjoy the Seaside View from Your Hotel Room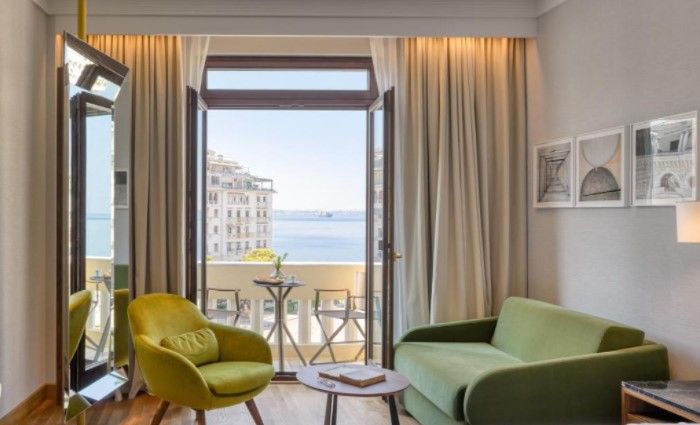 €€ | 5 Star | Family Rooms | Multiple Pools
Electra Palace Thessaloniki is certainly one of the greatest hotels in the center of the city. Most importantly, it provides comfortable and modern rooms with an amazing view. Also, you will have the chance to enjoy a relaxing spa or spend your daytime by the pool.
Most of the hotels in the city provide beautiful views either of the city, the White Tower, or the sea. It's amazing to stay in a hotel room with a great view and have the chance to wake up with a breathtaking view.
10. Sail and Drink on a Greek Pirate Ship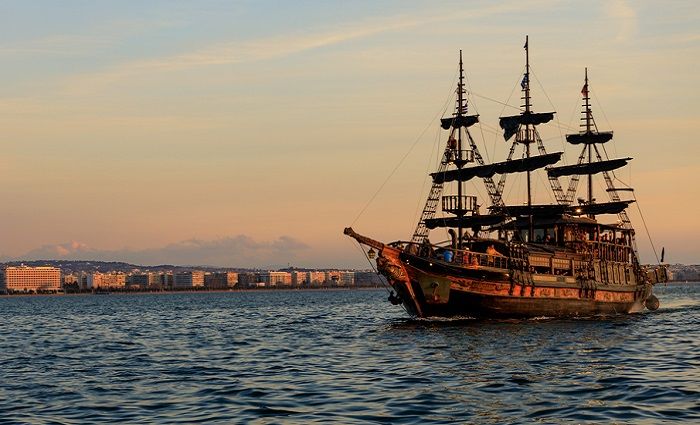 For a unique experience, we recommend booking a short sailing cruise around the bay area of Thessaloniki. Arabella Cruises has a famous pirate ship that makes for a fun time for adults who want to enjoy drinks and a sailing adventure. The cruises are only 30 minutes, so it's not expensive and easy to add to your list of things to do in Thessaloniki.
Kids are also welcome to come on this sailing adventure, so it's sure to be a fun family trip. There is also a shop full of pirate goods to buy, and you'll see many characters dressed like pirates to take fun pictures with. It's an unusual but fun activity for everyone. They depart throughout the day from the White Tower, but we recommend a sunset trip for adults and a day cruise with kids.
How to get to Arabella Cruises
9. Walk in the Covered Market (Bezesteni)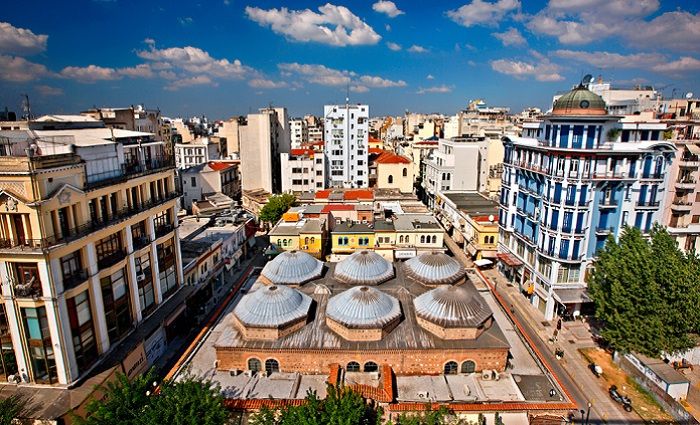 The Covered Market Bezesteni is certainly a great option for a morning activity. It is one of the most famous monuments of Muslim architecture in Thessaloniki, and it is located in the heart of the city. Here, you will have the chance to admire a different architectural style than typical Greek architecture.
The Bezesteni covered market has shops that sell fabrics, flowers, hand-made dishware, etc. You'll even find tailors who can fix or sew clothing quite quickly. It's a wonderful opportunity to spend your day as locals do. Not to mention, this attraction will transport you to ancient times.
How to get to Covered Market (Bezesteni)
8. Visit to MOMus (Contemporary Art Museum)
Another great place to visit in Thessaloniki is the Contemporary Art Museum. Thessaloniki is a city that loves culture and arts, so you have a unique opportunity to spend some time visiting interesting places like MOMus.
The Macedonian Museum of Contemporary Art is the first museum of contemporary art founded in 1979 in Greece, based in Thessaloniki. It covers all areas of contemporary art. So, if you love modern art, it is certainly a good idea to pay a visit here.
How to get to MOMus (Contemporary Art Museum)
7. Admire the Rotonda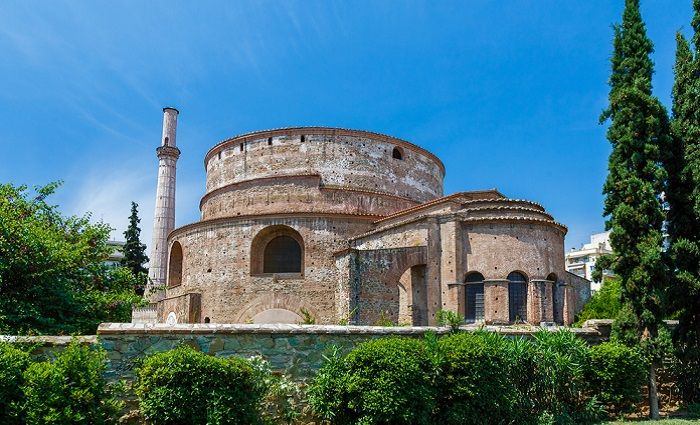 Rotonda is one of the most popular attractions in Thessaloniki, so we recommend adding it to your first day here. Rotonda is a circular building that was built in the 4th century as a temple of the god Zeus and later converted into a Christian temple.
Above all, you will admire its unique architecture. Inside there are some murals that have been preserved over the centuries. Rotonda is a unique construction in Greece because its circular shape refers to and follows exactly the style of the Pantheon in Rome.
Next to Rotonda, you will find several restaurants to enjoy your lunch. One of the best is Naftiliaki, where you'll love its traditional Greek dishes and enjoy a glass of ouzo. As we say in Greek, "stin iyia su" (cheers)!
How to get to Rotonda
6. Taste Traditional Cuisine at Dia Lauta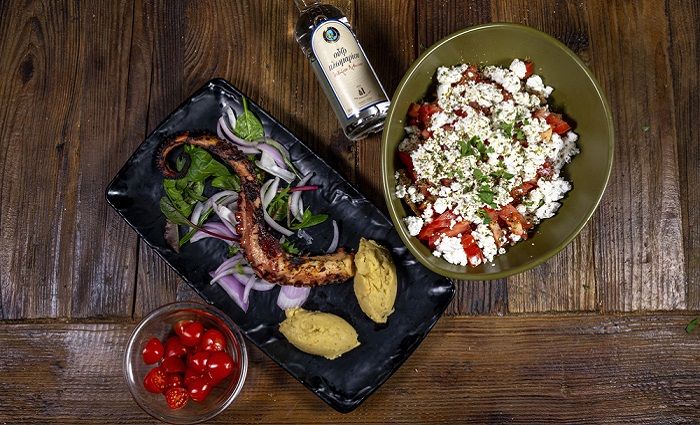 Get ready to enjoy tasty traditional Thessalonikian dishes. It is sure that anyone who visits Thessaloniki gains weight. However, it isn't just about the food. More than that it is the Greek philosophy that locals love to please visitors. Offering delicious and rich dishes is certainly a way to make people happy.
In Thessaloniki is really easy to find either modern restaurants or traditional taverns to taste and enjoy Greek cuisine. A great option is Dia Tauta restaurant. If you are a cheese lover, don't hesitate to try bouyiourdi.
How to get to Dia Tauta
5. Book a Day Tour to Vergina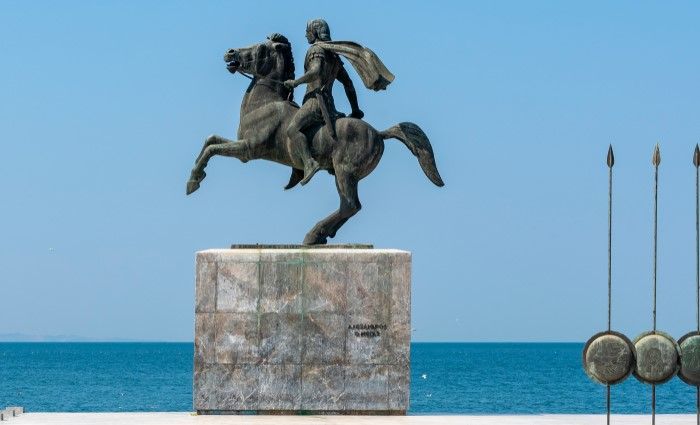 In Greece, you can find numerous significant archaeological sites to visit. One of them is certainly Vergina. Vergina is the city where Alexander the Great was born. Also, Aristotle came here to teach Alexander the Great. So, if you are going to visit Thessaloniki, don't miss the opportunity to organize a day trip to Vergina.
The best and easiest way to see the important attractions in Vergina is with the help of a local tour company. Most importantly, you will have the chance to be accompanied by experienced tour guides and also visit the museum and the archaeological site of Pella plus the Vergina museum.
How to get to Vergina
4. Walk in Aristotelous Square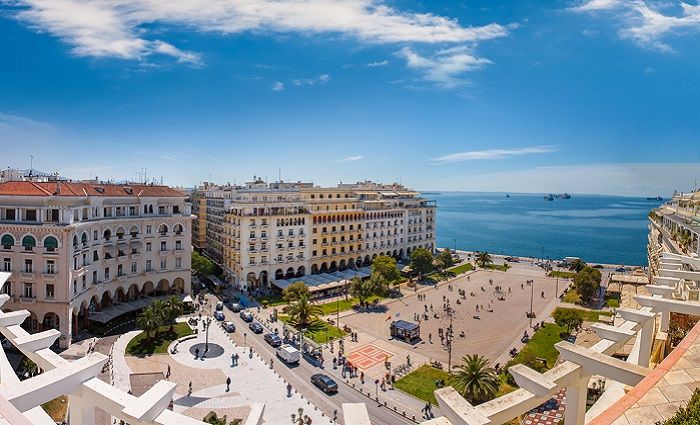 You certainly haven't seen a more beautiful square than this one. Aristotelous Square is one of the most famous meeting points in Thessaloniki. It is a wide square with beautiful buildings with arches all around.
You can spend some time here taking great photos. After this, you may want to walk along the Nea Paralia (New Beach). So, if you want to discover Thessaloniki, Aristotelous Square is a great spot to start from.
How to get to Aristotelous Square
3. Indulge in the Sweets of Thessaloniki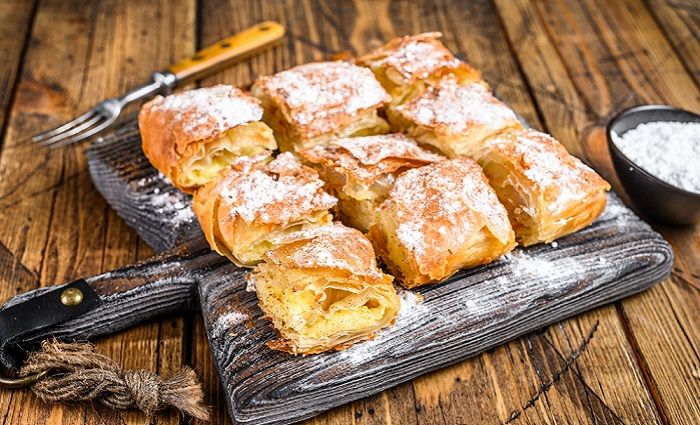 While we mentioned food, sweets is another chapter in the guide of this city. In Thessaloniki, you will certainly discover some of the most delicious sweets that you have ever tasted. For example, you must try bougatsa with creme, especially as breakfast.
Moreover, remember to ask for tsoureki, which is something like sweet bread. We recommend heading to Terkenlis to find the best quality and delicious tsoureki.
How to get to Terkenlis patisserie
2. Enjoy the Popular Nightlife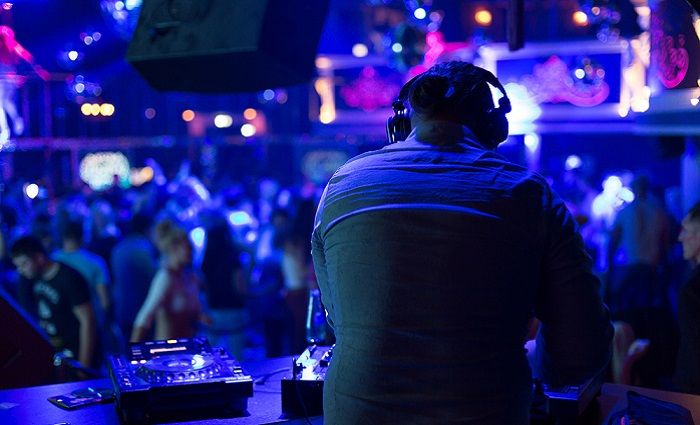 As a big city, Thessaloniki is known as a popular city for nightlife. That is to say, you will easily discover bars, clubs, concerts, live music events, etc. Thessaloniki is great for people who enjoy the nightlife and like to stay up until early in the morning. You will find many fun nightclubs and concerts to visit so that you can take a taste of Thessalonikian nightlife.
A good option to start the night is the Menta bar where you'll find tasty signature cocktails. Then head to a club like Eightball, LUVIN, or Lotos Music Bar. You'll find disco clubs and rock music bars to suit your taste.
How to get to Menta, Eightball, LUVIN, or Lotos Music Bar
1. Take Pictures at the White Tower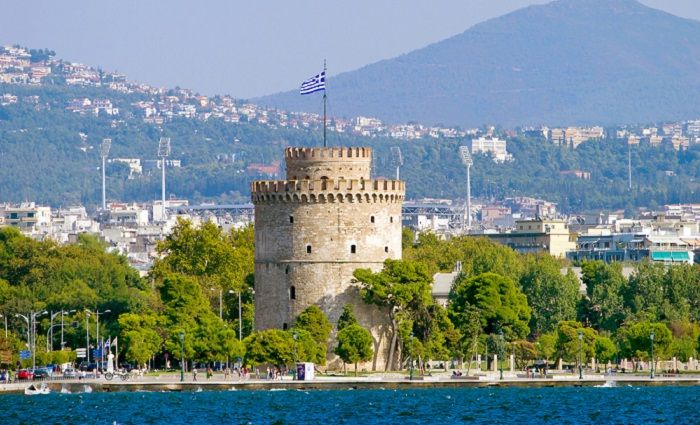 Of course, you couldn't leave Thessaloniki without visiting the White Tower. The White Tower is the symbol of the city and was built in the 15th century. It is such an impressive building that it also operates as a museum. It is a good idea to pay a visit here as you will see many interesting exhibits.
However, even if you don't feel like visiting another museum, you can just admire this wonderful building. As you walk along the Nea Paralia (New Beach), you will arrive at the White Tower. It's a beautiful place for a sunset stroll too.
How to get to the White Tower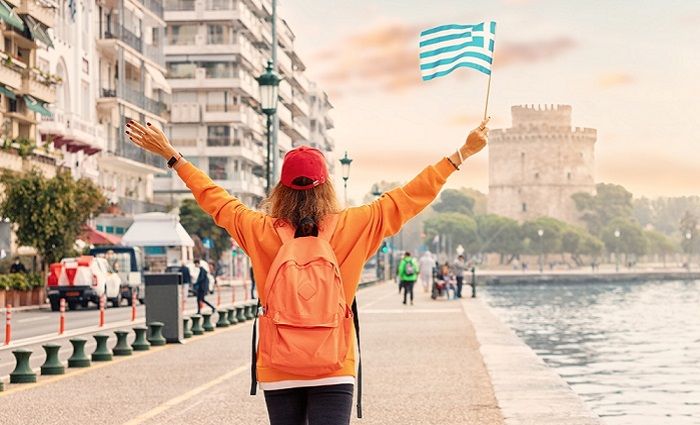 Where to Stay in Thessaloniki
If you're not sure where to stay in Greece's second largest city, hop into our guide to discover the best areas to stay in Thessaloniki.