If the borough of Brooklyn were its own city, it would be the fourth largest in the entire country. While it used to be a mere satellite location to Manhattan, Brooklyn is now its own cultural hub — a center of fashion, art, and the hipster lifestyle. Discover what makes it so popular with our list of the top things to do in Brooklyn!
---
Cool Things to Do and See in Brooklyn, New York City
Curious about the Bushwick art scene? Dying to try one of those infamous Coney dogs? Brooklyn must be calling your name. From sprawling green spaces and top-notch beaches to bustling bowling alleys and world-class museums, Brooklyn is a borough for everyone.
Less crowded than Manhattan — but with just as much to do and see — this outer borough should be on everybody's bucket list. Read on for our list of the best this borough has to offer.
Our Partnership with Booking.com. If you like our content, please book by clicking on our Booking.com links. The price is the same for you and we get a small commission that helps support our blog. We've partnered with Booking.com because they have the most options, great prices, and a solid loyalty program.
16. Lounge Poolside at the Uber-Popular William Vale Hotel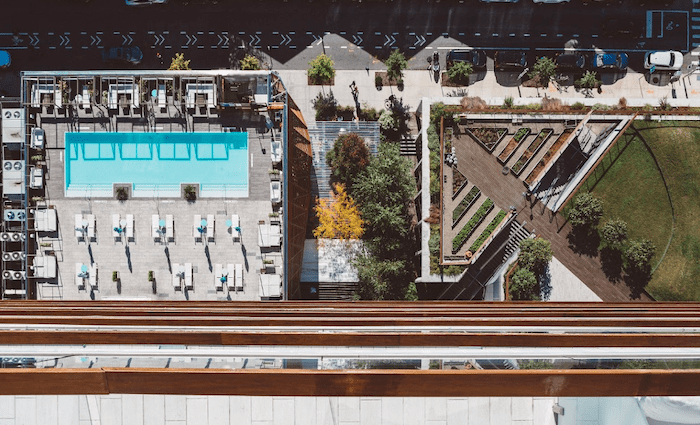 The William Vale is that elusive sweet spot: a boutique hotel that also serves as a neighborhood gathering point. With several on-site eateries, a spa during the warm months, and an ice rink in winter, this hotel draws a crowd from both near and far.
Locals love to frequent the hotel, while visitors are treated to a luxurious stay. Clean, modern rooms and a great location in the ultra-hip Williamsburg neighborhood make this a great overnight option. But the best part is most certainly the rooftop pool, which can attract quite a crowd in the summer.
Here at one of the best swimming spots in the entire city, it's a great place to soak up some rays, have a poolside cocktail, and enjoy the view of the city skyline. Looking for more NYC hotels with pools? Check out our recommendations here.
15. Grab a Square Slice at L&B Spumoni Gardens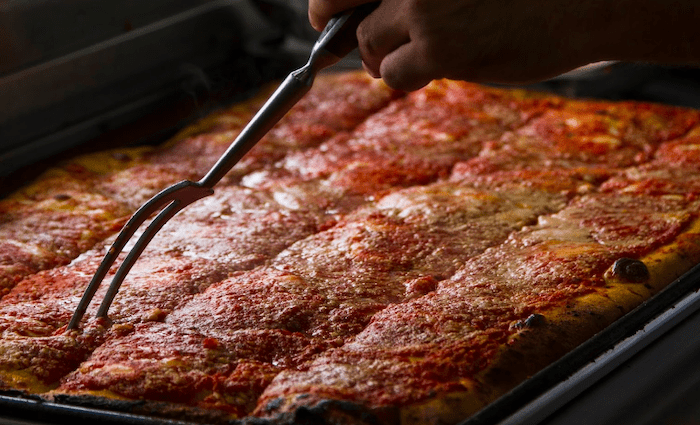 There are a lot of competing opinions about pizza in Brooklyn, but for many, L&B is the holy grail. Some even argue that it serves up some of the best slices in the country. We'll let you decide.
L&B's pizzas are Sicilian-style, which means the crust is nice and thick, and the pies are square with the sauce spread on top of the cheese — not under. A staple of southern Brooklyn since the 1930's, L&B is a both a local favorite and a place that tourists flock to.
The reason, of course, is the 'za. The base of this pizza is to die for. It's chewy and doughy while still maintaining a crispy outer layer. The cheese is more of a garnish than a main ingredient, as the real pièce de résistance is the sauce — sweet with a zing and wholly delicious.
Address: 2725 86th Street, Brooklyn, NY
14. Let Loose at Brooklyn Bowl
Hanging at Brooklyn Bowl is a night-on-the-town hotspot that locals love. Throw some rental shoes on and hope for a lucky strike at one of their 16 bowling lanes or dance until dawn to the songs of a live band. Brooklyn Bowl hosts a variety of musical acts throughout the week, from blues bands to funk, rock to soul and a mix of everything.
The food is also top-notch since it's catered by Blue Ribbon, and the menu is upscale bar food with a twist. Think French bread pizza or French fries with a chicken and gravy sauce. Keep an eye out for upcoming special events or concerts. And if you're coming with a large group, be sure to book in advance. Brooklyn Bowl fills up fast.
Address: 61 Wythe Avenue, Brooklyn, NY
13. Explore Brooklyn Bridge Park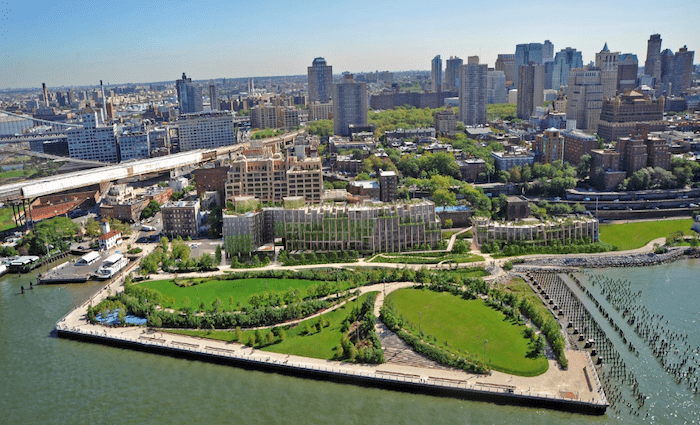 Located on the Brooklyn side of the East River, Brooklyn Bridge Park stretches from Dumbo down through Cobble Hill. The parkscape includes sweeping lawns, turf fields, basketball and handball courts, playgrounds, an ice rink, and even a marina. There are also dedicated bike lanes for cyclists plus a walking path that runs the entire 1.3-mile length of the park.
Public art installations rotate through different areas of the park each year, and there are also many restaurants within its boundaries. From Fornino's pizza to Pilot's upscale seafood and cocktail bar on an old-fashioned schooner, there is an eatery for everyone. And for the grill masters among us, picnic tables and public grills are also dotted throughout the park.
Address: 334 Furman Street, Brooklyn, NY
12. Have Dinner at The River Cafe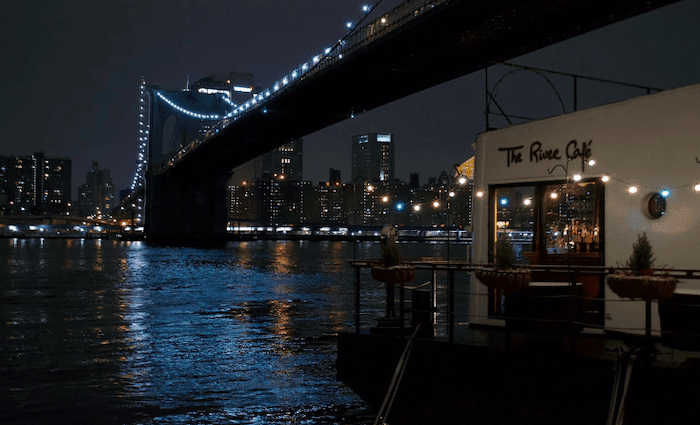 Any meal at The River Café is a full-fledged dining experience. The waitstaff wear white dinner jackets and a dress code is enforced for all guests. The venue, a barge anchored below the Brooklyn Bridge, makes the dining room feel as if it's floating in the East River. The meals are multi-courses and the service is exceptional with special attention given to the smallest of details.
All of this and more make The River Cafe one of the best restaurants in all of New York City and probably the best in Brooklyn. For those looking for something truly special, a meal at this Michelin-starred institution will certainly fit the bill.
For more restaurant ideas, be sure to check out our list of the best restaurants in New York City.
Address: 1 Water Street, Brooklyn, NY
11. Get Thrifty at Brooklyn Flea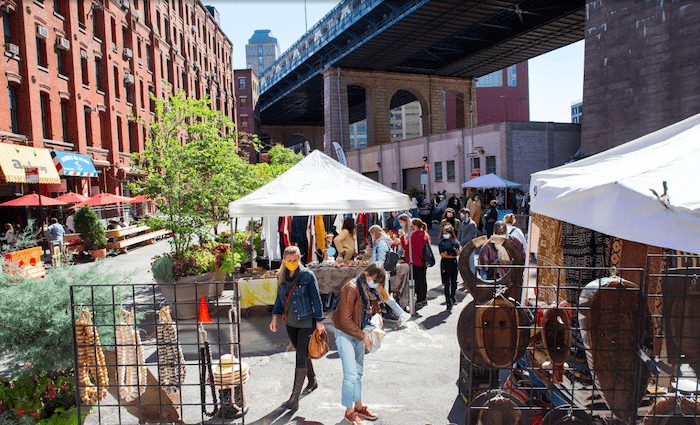 Brooklyn Flea — which has locations in both Williamsburg and Dumbo — is one of the biggest outdoor markets in the entire city. A much-loved epicenter of all things vintage, Brooklyn Flea is a weekly market where thrifty shoppers can find old records, refurbished furniture, antique jewelry, clothing and everything in between. It's an absolute must on our list of things to do in Brooklyn.
Hundreds of vendors show up every weekend to sell a host of well-curated goods to discerning shoppers. The market is seasonal and does close for the winter. In the spring, summer and fall, however, it is open on Saturdays and Sundays. Entry is free, and the show goes on rain or shine.
Address: 80 Pearl Street, Brooklyn, NY and 51 N 6th Street, Brooklyn, NY
10. Stroll along the Brooklyn Heights Promenade
Brooklyn Heights is one of the most beautiful neighborhoods in Brooklyn. Its quiet, residential streets and picturesque brownstones are an ideal place to walk and take in the historic setting.
At the far west side of the heights is the Promenade, a pedestrian walkway that floats over the BQE and offers unbeatable views of downtown Manhattan, Governor's Island, the Statue of Liberty, the Brooklyn Bridge and more. The promenade stretches from Remsen to Orange street, with other entrances at Clark, Montague and Pineapple.
It's an ideal place to take a walk, sit on a bench and enjoy the scenic vistas and find some quiet moments in this bustling city. Walking the Promenade is one of the best things to do in Brooklyn when you need a minute to enjoy a quiet view.
Address: Montague St & Pierrepont Place, Brooklyn, NY
9. Discover Industry City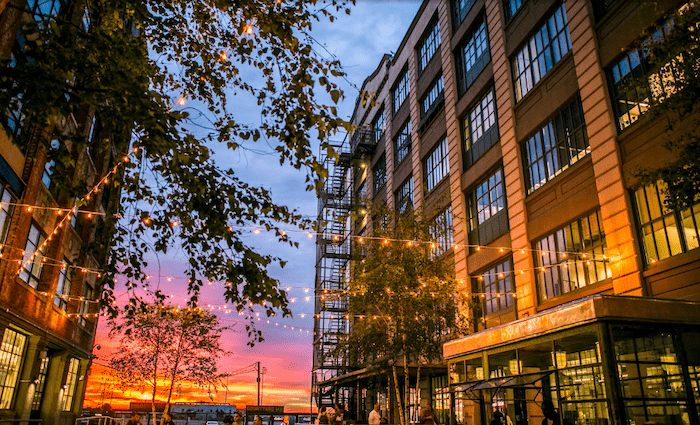 Industry City is located in the Sunset Park neighborhood of Brooklyn. The vibe is like an upscale outdoor shopping mall…but better. Industry City is housed in renovated warehouses along the water and encompasses 16 buildings spanning 35 acres. It has an abundance of restaurants to enjoy. We recommend dessert spots like Colson Patisserie and lunch and dinner options such as Taco Mix and Filament gastropub.
There's also a huge retail scene here. High-end stores like Design Within Reach rub shoulders with smaller businesses such as Flavor Paper and Arcade Vintage. Beyond all of this, however, Industry City is best known for being an experimental art hub. Outdoor public installations abound, as do murals on and around the warehouse walls.
There are also open studio events, seasonal exhibitions curated by the Dedalus Foundation, and plenty of opportunities to explore the creative boom of this once-forgotten area.
Address: 220 36th St, Brooklyn, NY
8. Take a Tour of Green-Wood Cemetery
Green-Wood Cemetery is rife with historical significance. It's the burial spot of many famous icons including Leonard Bernstein, Louis Comfort Tiffany, and members of the Roosevelt family. Though it is a burial ground filled with over 600,000 graves, many Brooklynites treat this 478-acre spot as a public park due to it's natural beauty.
There is plenty to enjoy outside of perusing the mausoleums and tombstones. Nature abounds, including an arboretum, diverse wildlife, and beautifully landscaped gardens. Visitors can also trek up to Battle Hill, the highest point in Brooklyn and an important site during the Revolutionary War, or take in the imposing Gothic Revival gates at the cemetery's entrance.
Guided tours are available for visitors and can include a trip to the catacombs or a walking history of the cemetery. For those who aren't interested in the potentially grim subject matter, it can also serve as a nice spot to relax, slip away from the bustle of the city, and seek some quiet.
Address: 500 25th Street, Brooklyn, NY
7. Experience Bushwick's Street Art Scene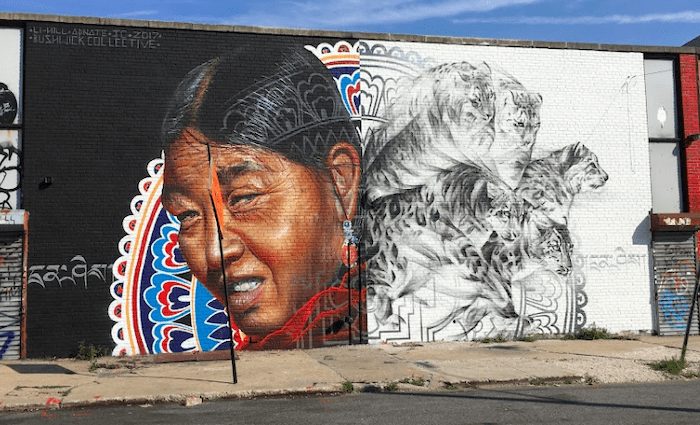 Bushwick is a burgeoning center of creativity in the borough, particularly for street art and graffiti. The epicenter of this movement is Bushwick Collective, an ever-growing outdoor street art exhibition.
The Bushwick Collective taps established, internationally recognized artists as well as local creatives to paint temporary murals throughout the neighborhood. The murals typically stay up for one year and are free to view any time of the day or night.
One of the best ways to experience the street art phenomenon is through walking tours with local experts or by downloading an online map that pinpoints specific murals and their background information.
Address: 427 Troutman Street, Brooklyn, NY
6. Frolic in Prospect Park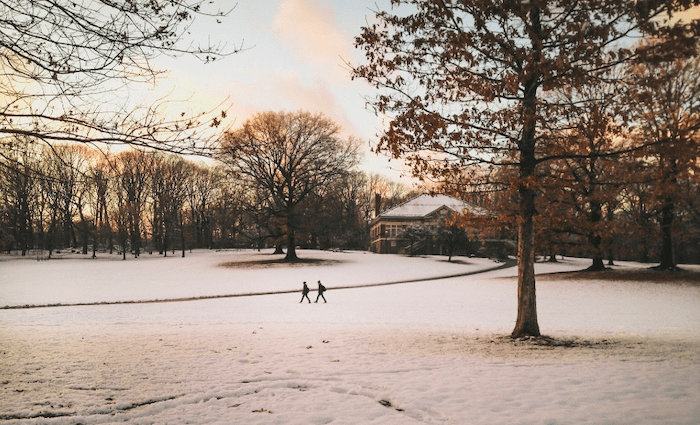 Famously designed by the same team behind Central Park, Prospect Park is Brooklyn's answer to that famed Manhattan green space. Spanning 526 acres, the park encompasses tennis facilities, a skating rink, a beautiful Beaux-Arts style boathouse, running and biking trails, farmers markets, volleyball courts, and so much more.
There are also plenty of special events that happen on a regular basis such as Molière in the Park, free stagings of works by the French playwright, and various ever-changing public art installations. Prospect Park is a place to take in the beauty of nature, rub shoulders with locals and get a feel for the diversity of things to do in the borough.
Address: Prospect Park, Brooklyn, NY
5. Spend the Day in Red Hook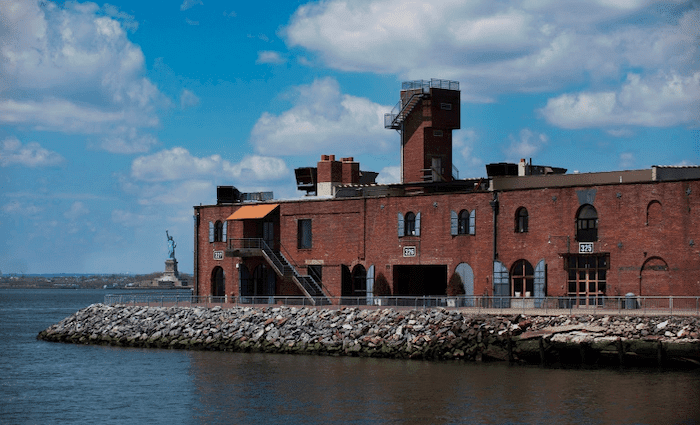 Red Hook feels more like an old European fishing town than a piece of Brooklyn. Situated on a peninsula parallel to Liberty Island, this neighborhood is relatively isolated. Given this and its lack of accessible public transport, Red Hook is a destination you need to plan to end up at. But once you do make it, there is no shortage of things to do.
Red Hook is an easy place to spend several hours, and there is something for every kind of traveler to appreciate. The local distillery, delicious eateries (many dedicated to seafood dishes), well-heeled dive bars, the famous Steve's Key Lime Pies, and the unassuming charm that is part industrial outpost, part hipster influence all make this a worthy destination. Spend the day playing outdoor games at Brooklyn Crab, fishing on the piers, or taking in the art at Pioneer Works.
In terms of things to do in Brooklyn, this is a great option for families or those who love off-the-beaten path places to have fun.
Address: Red Hook, Brooklyn, NY
4. See a Film, Play, or Performance at the Brooklyn Academy of Music (BAM)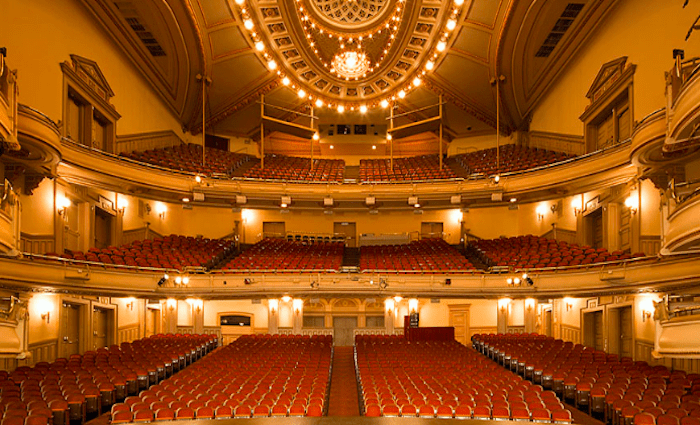 The Brooklyn Academy of Music, also known as BAM, is the Lincoln Center of Brooklyn. With multiple venues located in Fort Greene, BAM hosts world-class musicians, artists, dancers, and actors throughout the year. Their robust programming includes contemporary dance festivals, film screenings, operas, specially curated talks, and many more art-related events.
Not to mention, the beautiful theaters are spectacles unto themselves and boast landmark status. In the Howard Gilman Opera House, the upstairs café is a wonderful place for a cup of coffee or pre-show cocktail. BAM is also a family-friendly institution that offers education initiatives and after-school programming that kids of all ages will enjoy.
Address: 321 Ashland Pl, Brooklyn, NY
3. Get in Touch with Nature at the Brooklyn Botanic Garden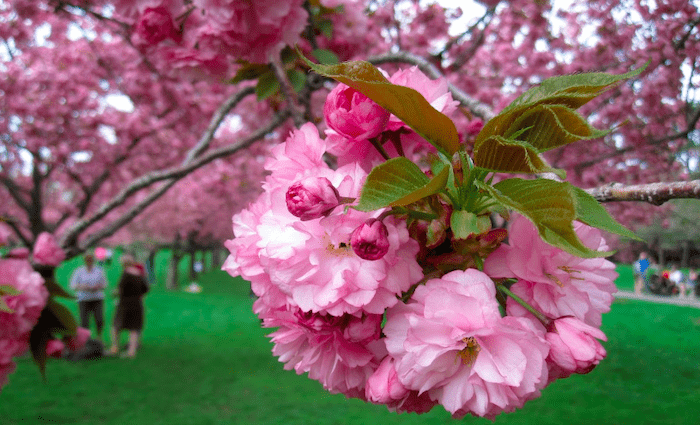 Founded in 1910, the Brooklyn Botanic Garden is a 52-acre oasis that houses over 14,000 species of plants. Each year, the garden welcomes visitors year round and hosts an array of events and special exhibits. Permanent garden features include a Japanese Hill-and-Pond Garden, a Bonsai museum, rose garden, cherry esplanade and water garden, among many others.
No matter the weather, it's a wonderful place to walk around, commune with nature, and escape the concrete jungle. Come here for a lovely afternoon excursion after exploring the nearby Prospect Park.
Address: 990 Washington Avenue, Brooklyn, NY
2. Indulge in the Eccentric at Coney Island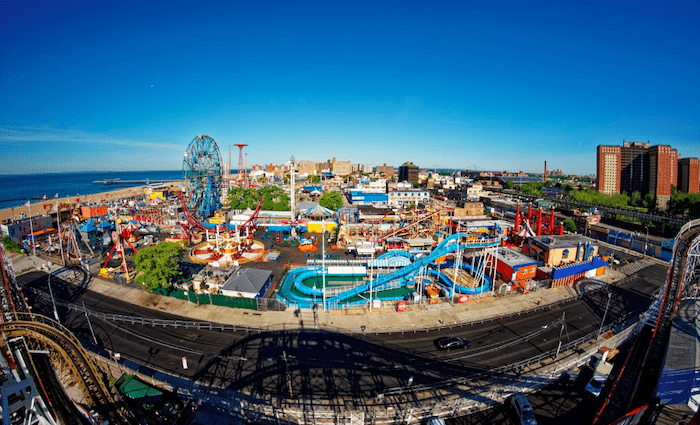 Coney Island is the permanent fairground of New York City. Daredevils can have a day of fun at Luna Park, which is the home of the iconic Cyclone and Thunderbolt roller coasters, as well as more modern rides including the Luna 360, Circus Coaster, and Soarin' Eagle. Less intrepid travelers can enjoy a host of games and side shows all along Surf Avenue.
Those looking to relax while the kids play can spend the day lounging on one of the city's best beaches. For food, you'll find famous and long-standing restaurants like Nathan's or Paul's Daughter that serve up no-frills hot dogs, chicken tenders, and fries along the beachfront boardwalk.
Other activities abound here, including the Coney Island Brewery tasting room and a trip to MCU Park, home of the minor league baseball team: the Coney Island Cyclones. No matter what activity you choose to partake in, the best part of Coney Island is simply the experience of being here. From the people watching to the ocean views, this is a place full of whimsy and fun, which is why it's such a fun thing to do in Brooklyn.
Address: Coney Island, Brooklyn, NY
1. Enjoy World-Class Art at The Brooklyn Museum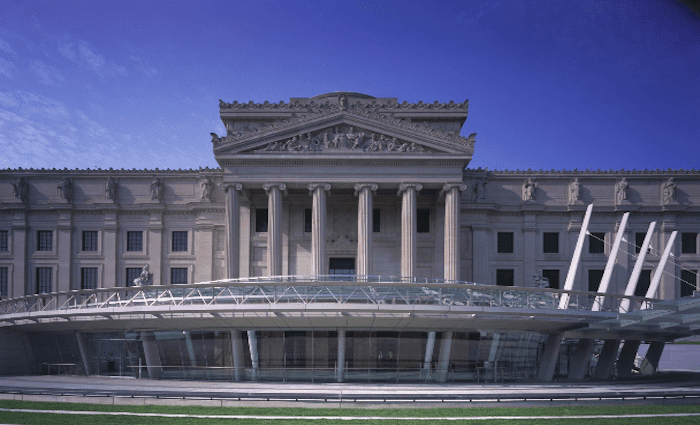 Located next door to the Brooklyn Botanic Garden and Prospect Park, the Brooklyn Museum is another cultural gem of the borough. The encyclopedic collection is home to 500,000 objects, including a 5,000-square-foot visible storage study center.
Along with its permanent exhibitions that encompass everything from ancient artifacts to contemporary installations, the museum also hosts many blockbuster exhibits each year. This museum is definitely worth spending the day, and it's usually much less crowded than its counterparts in Manhattan.
You really can spend the day here. Enjoy a meal at the on-site restaurant or grab something quick at the casual café in between gallery visits.
Address: 200 Eastern Pkwy, Brooklyn, NY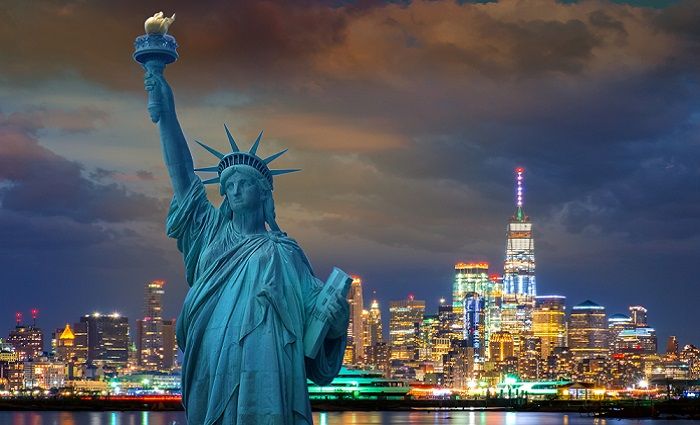 Find the best places to stay
Where to Stay in NYC
New York City is the center of the universe to those who adore this iconic city. Choose the best neighborhood to stay in as you plan your upcoming trip to the Big Apple.