Heading to the National Archaeological Museum in Athens? Great choice, but the massive collection could make you feel like everything is Greek to you. Don't miss the highlights! Check out this overview written by a Ph.D. historian!
---
This article isn't meant to replace a guided visit to the museum – quite the opposite! Reading up on the history and culture behind any attraction will make a guided tour more memorable and interesting! You will impress your travel partners and engage more with the guide. Check out our guided tours of Athens, Greece! Also, bookmark our article on where to stay in Athens which we update annually.
11 Must-See Archaeological Treasures in Greece's landmark national museum
Located a short walk or metro ride from the central tourist area of Athens, the National Archaeological Museum is a must-see on any Greece trip. The museum's collection transports visitors through the history of Greek art from 7000 BCE to 500 CE. In addition, there are galleries of ancient Egyptian and Cypriot antiquities.
A visit to the museum serves one of two critical purposes. On the one hand, it offers a crash course in the best Greek antiquities for those without much time to explore different areas of Greece. Alternatively, the museum's collection is a great place to learn about ancient civilizations and archaeological sites you will visit on your Greece itinerary.
Either way, this museum is a must-visit when in Athens. But the collection is huge. In fact, there are thousands of pieces in storage because of the lack of space in the exhibition galleries. Even still, it could take 3 or 4 visits to appreciate everything that is on display. So, where to start?
Here are the 11 top things to see at the National Archaeological Museum.
11. The Jockey of Artemision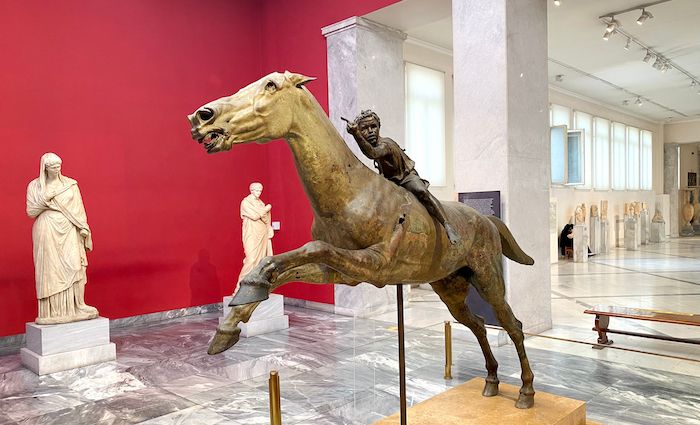 Majestic | Racing | Ancient Triple Crown
So lifelike this statue is bound to make you think Kentucky Derby, mint juleps, and fascinators. The Jockey of Artemision dates from 140 BCE. You can still see the emblem of Nike (the goddess, not the company) on the horse. This was a common form of branding in antiquity.
While they're not exactly racing for the Triple Crown, you can see the stress and emotion from both horse and young jockey. Thus, you have a sense of people's competitive spirit from all those years back.
Moreover, rarely did such bronzes survive through the centuries. In fact, archaeologist Despina Ignatiadou says that most statues like this one became objects slated for melting down and reuse. Thus, the Jockey of Artemision is exceptionally rare and a centerpiece of the museum's collection. You'll find it in the statuary collection displayed in room 34.
10. Mycenaean Warrior Vase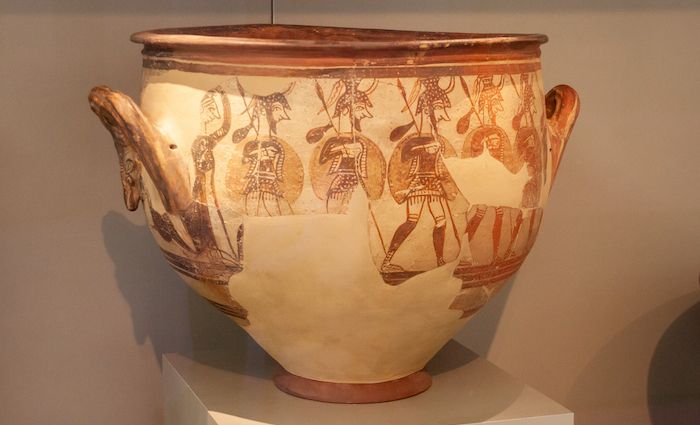 Martial | Expressive | Timeless
As historian Jeremy Black explains, Mycenaean Greece was a warrior society that served as the backdrop for the story of Homer's the Iliad. Hence, this 12th century BCE vase depicts an important scene from their civilization: soldiers marching off to war while loved ones wave farewell. At the same time, you could say this martial scene is timeless, from the 12th century BCE to our own 21st century.
Archaeologists Christopher Mee and Anthony Spawforth point out that the concerned look on the crowd's faces on the vase suggests their unease at the army's fate against their rivals (depicted on the reverse side).
According to archaeologist Elisavet Stasinopoulou, the piece itself likely had the function of mixing wine with water. Moreover, this was considered a marker of sophistication in the Ancient Greek world when drinking wine to avoid intoxication. In other words, the Greeks would not have been fond of spring breakers or the summer party season in the Greek islands.
9. Bronze Statue of Emperor Augustus found in the Aegean Sea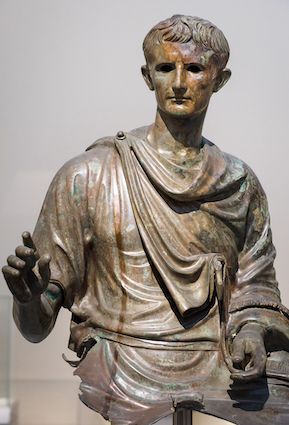 First Roman Emperor | Conqueror | Lawgiver
The man is formerly known as Octavian. According to historian Christopher Kelly, in 27 BCE, the adopted son of Julius Caesar assumed a new moniker- Augustus – "the divinely favored one." Augustus brought stability to the Roman world (including Greece) and presided over massive imperial expansion.
Indeed, to list all his titles and achievements would take up the rest of this page. Suffice to say, he was kind of a big deal. Augustus himself certainly thought so. If you don't believe me, you can check out the Res Gestae divi Augusti (his autobiography).
The statue you'll see here is meant to convey the impression of a powerful and accomplished ruler. According to archaeologist Despina Ignatiadou, this is the only extant life-size equestrian statue of Emperor Augustus. However, only the upper part of the emperor's figure is preserved, and the horse is absent. Archaeologists date this statue to c. 12-10 BCE.
Check Out Our Best Food Tours of Athens
Going with a guide adds substance to your experience and will make it more memorable. Our groups are small and our guides are knowledgeable!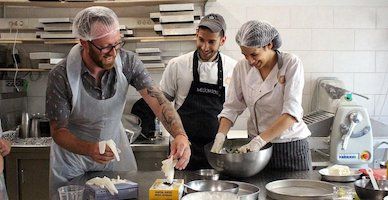 Top Rated Tour
Athens Cooking Class with Dinner and Rooftop View of the Acropolis
From delicious baked spanakopita to classic tzatziki sauce, join this cooking class to prepare authentic Greek recipes with an expert chef. With stunning views looking over the Acropolis, enjoy a 3-course dinner of your creations on this memorable experience in the Greek capital. Bring home the recipes and show your newfound culinary skills, along with amazing photos of the food and views.





Starting at €71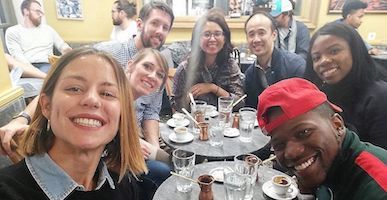 Likely to Sell Out
Athens "Locals" Food Tour in Monastiraki

Explore the gastronomic world of Athens through the city's central market. Enjoy homemade pastries, authentic wines, cheeses, honey-soaked donuts and much more. Your local guide will lead you through the best spots in the lively Monastiraki neighborhood for a delicious experience in Athens.





Starting at €68
8 Marble Statue of a Sphinx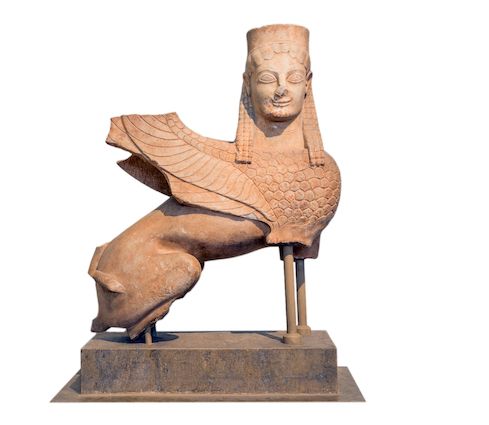 Mythological Monster | Fierce | Oedipus
When we think "sphinx," our minds generally go to Ancient Egypt and the Great Pyramids of Giza. However, Greek mythology is also full of tales involving a sphinx. For example, the treacherous sphinx is featured in legendary tragedian Sophocles' drama Oedipus Rex. Furthermore, as scholar Greg Woolf points out, the sphinx in Greek mythology is depicted as a female monster.
For instance, Archaeologist Eleni Kourinou says this marble sphinx statue likely featured as part of a funerary monument. According to the museum's catalog, archaeologists believe the sculpture dates to c. 570-550 BCE. It was discovered at an archaeological site in Spata, Attica, near the Athens' Eleftherios Venizelos International Airport.
7. The Boxers Fresco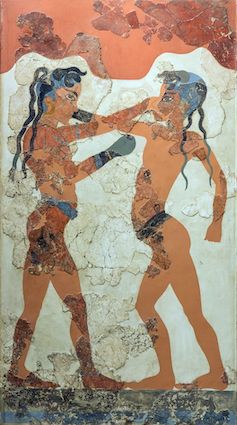 Athletic | Bold | Competitive
This striking fresco depicts two naked boys wearing belts and boxing gloves. Archaeologist Demetra Kokkevi-Fotiou explains that they are from the Minoan civilization once dominant in the Aegean. Boldly displayed in vibrant color and quite lively in their motion, the boys are likely engaged in ritual sport. However, this fact does not take away from their competitive nature.
According to the museum's catalog, archaeologists trace the fresco back to the 16th century BCE. It arrived at the museum via the archaeological site of Akrotiri on the island of Santorini. Furthermore, Christopher Mee and Anthony Spawforth tell us that Akrotiri had been buried in a massive earthquake that rocked the island in the late 17th century BCE.
You'll find the fresco along with other examples like a fisherman with his catch in the Thera collection, located in room 48.
6. Nestor's Cup or Dove Cup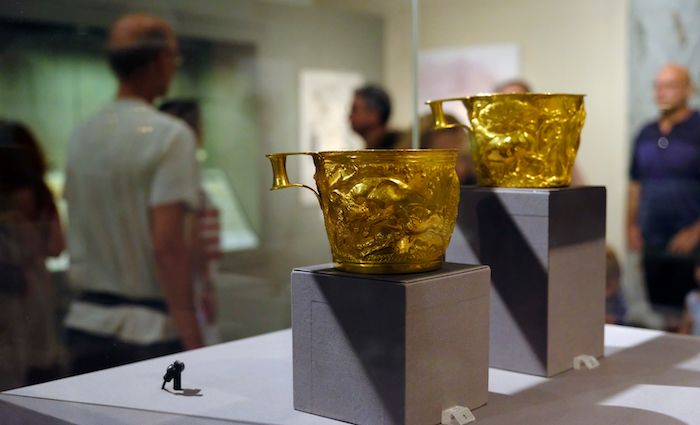 Homeric | Decadent | Fit for a King
An ornate golden goblet fit for a king. Hence the name Nestor's Cup, after the mythical Nestor of Gerania, king of Pylos. As a result, the cup also has a connection to the legendary poet Homer. Moreover, scholar J.T. Hooker reminds us that Nestor played a central role in Homer's Iliad and had a similarly designed cup in the story.
At the same time, some refer to this piece as the dove cup because of the manner of decoration. For example, the handles are designed in the shape of birds. Furthermore, according to the museum's catalog, this cup is estimated to have been created in c. 1600-1500 BCE.
5. Colossal Portrait Head of Emperor Hadrian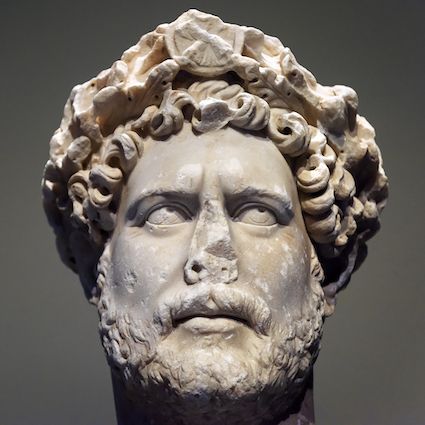 Soldier | Emperor | Greekling
Christopher Mee and Anthony Spawforth tell us that Roman emperor Hadrian's soft spot for Athens and Ancient Greek culture, in general, earned him the nickname "Greekling" (Graeculus). In fact, Hadrian took no less than three extended trips to visit Greece during his reign (117-138 CE). Historian Christopher Kelly notes Hadrian's first imperial visit took place in 124 CE.
Afterward, Hadrian showered Athenians with the gift of impressive buildings. Several monuments remain in the city today, including Hadrian's Library and Hadrian's Arch.
Thus, it is not surprising that this colossal portrait head of Emperor Hadrian once stood in Roman Athens. Made of Pentelic marble, Hadrian wears a wreath of oak leaves that end above his forehead in a medallion representing an imperial eagle. According to archaeologist Eleni Kourinou, this monument dates from c. 130-138 CE. If you saw it back in the 130s CE, Hadrian would have had shiny golden leaves on his head.
On your visit, you'll find Hadrian (or his head, to be more precise) in the Roman collection in room 32.
4. Marble Statue of Kouros Kroisos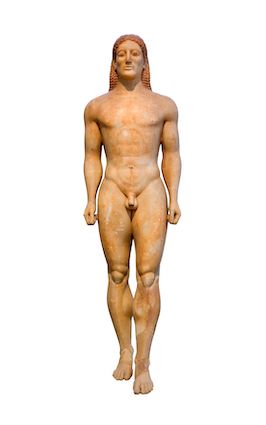 Stoic | Somber | Innovative
The marble statue of Kouros Kriosos is one of several kouroi (youths) and korai (maidens) on display in the statuary collection. These statues generally graced temples or served as funerary markers for Ancient Greek VIPs. According to archaeologist Despina Ignatiadou, Kouros Kriosos dates from c. 540-515 BCE and is a funerary marker.
The Greek world's transition from clashing warrior tribes (Archaic period) to powerful city-states (Golden Age) to intercontinental domination (Hellenistic) is also reflected in the evolution of Greek sculpture like the kouroi. As you wander through the museum, note the transformation of statues from rigid (Archaic) to balanced (Golden Age) to dynamic (Hellenistic).
What accounted for this transformation? It is because Golden Age Greek sculptors mastered the technique of depicting people in motion. The classic pose they perfected is contrapposto, referring to the position of resting weight on one leg. In contrast, the other leg is relaxed or moving slightly.
As you might have guessed, the term contrapposto is actually Italian and became associated with Ancient Greek sculpture during the Italian Renaissance. Thus, statues like the kouroi are forerunners of legendary masterpieces from later periods of European art.
3. Marble Statue of Poseidon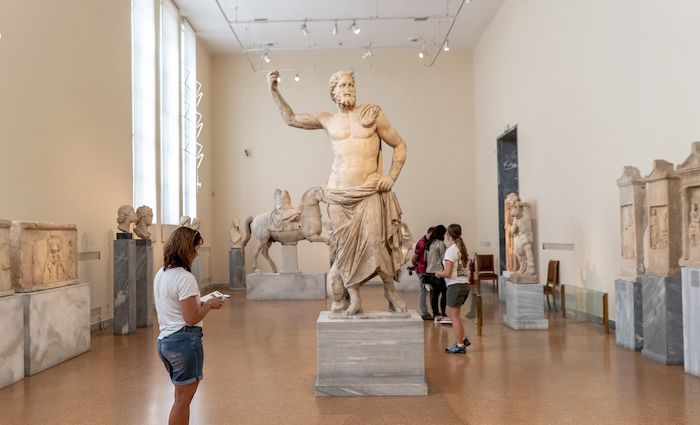 Angry | Forceful | God of the Sea
Holding court in the statuary hall is the god of the sea himself, Poseidon. This Parian marble statue was discovered in 1877 off the coast of the island of Melos (Milos). According to the museum's catalog, archaeologists believe this statue of Poseidon dates from c. 125-100 BCE.
Poseidon in this marble statue certainly has a get off my lawn (or seabed) attitude. He is depicted nearly nude and would have been holding a trident in his raised right hand. By his right leg is a support in the figure of a dolphin.
Poseidon is widely known as Zeus' grumpy brother. Frequently jealous of his siblings and other residents of Mount Olympus, Poseidon scrapped with other gods for control of various places. For example, historian David Abulafia reminds us of Poseidon's beef with Athena for influence in Athens and Dionysus in Naxos.
Check Out Our Best Athens Tours
Going with a guide adds substance to your experience and will make it more memorable. Our groups are small and our guides are knowledgeable!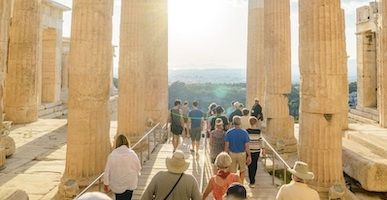 Top Rated Tour
Skip the Line Acropolis Tour with Parthenon and Museum

Towering above the modern city of Athens, explore the ancient forum home to the relics of Classical Greece. From the world's oldest theatre to the iconic Parthenon, the Acropolis is a beacon of civilization and philosophy. Head back in time to the time of Plato and Socrates on this Skip-the-Line tour.





Starting at €80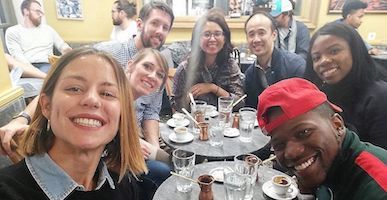 Likely to Sell Out
Athens "Locals" Food Tour in Monastiraki

Explore the gastronomic world of Athens through the city's central market. Enjoy homemade pastries, authentic wines, cheeses, honey-soaked donuts and much more. Your local guide will lead you through the best spots in the lively Monastiraki neighborhood for a delicious experience in Athens.





Starting at €68
2. Bronze Statue of Zeus or Poseidon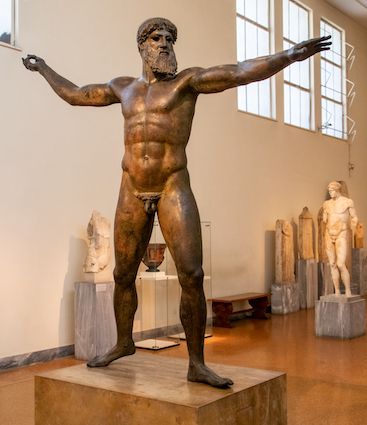 Mystery Identity | Action Pose | Fear His Wrath
Zeus or Poseidon? Is he holding a thunderbolt or a trident? This fine example of a bronze sculpture is an archaeologist's version of the #the dress social media controversy. And unlike the dress, we may not know the answer to this debate for another millennium.
But surely, the mystery won't detract from your impression of this mysterious bronze. The god (your choice) is poised to throw either a thunderbolt or trident at some unlucky soul. According to archaeologist Roza Proskynitopoulou, this piece dates from roughly 460 BCE.
It was discovered at sea off the coast of Cape Artemision on the island of Evia. Proskynitopoulou, the museum's metalwork collection director, says this piece, along with bronze statues like the Jockey of Artemision, are works of unparalleled archaeological and artistic value. You'll likely agree.
1. Gold death-mask, known as the Mask of Agamemnon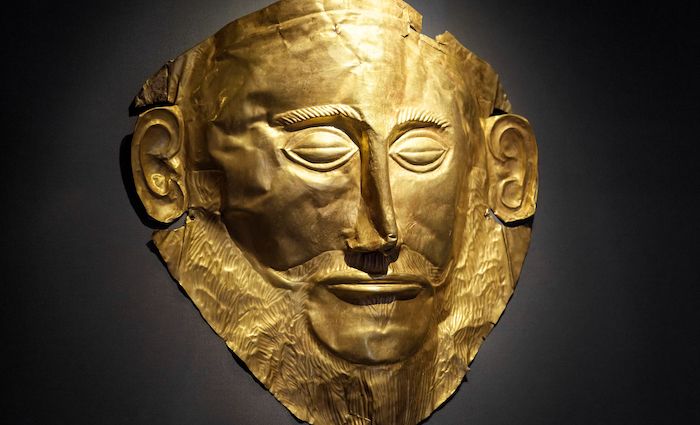 Iconic | Legendary | National Treasure
One of Greece's great archaeological and cultural treasures from the bronze age. Today, you will see it in room 4 with other finds from Mycenae excavations. Famed archaeologist Heinrich Schliemann discovered the gold mask at the archaeological site of Mycenae. Made of a hammered gold sheet, it depicts the face of a bearded man who was presumably a king.
As archaeologist Despina Ignatiadou points out, two holes near the ears indicate that the mask was held in place over the face with twine. Scientific tests date the mask back to the 16th century BCE. Therefore, it pre-dates the life of Agamemnon. Nevertheless, it is still commonly referred to as the Mask of Agamemnon. So, why the gold death mask?
According to historian David Abulafia, The kings of Mycenae were buried in what is called Grave Circle A. The hammered gold masks copied their bearded features, suggesting an attempt to imitate deceased Egyptian pharaohs' gold masks.
Furthermore, historian Paul Cartledge expands on the connection between Mycenae and ancient Middle Eastern and North African cultures. He points out the famous Lion Gate in Mycenae is reminiscent of structures from the Hittites or even Babylon.
Now you have a primer to approach this vast museum. After exploring the National Archaeological Museum, you'll be ready to set out for Greece's archaeological sites and bring all that ancient rubble to life!