Acropolis is certainly one of the most recognizable archaeological sites in the world. Every year millions of people arrive in Greece to visit the archaeological site of Acropolis. In this guide, we'll walk you through everything you have to know about how to visit the Acropolis from hours, how to get tickets, where it is located, a brief history, and what to see. This way you are prepared for a solo visit or ideally a guided tour of the Parthenon and Museum.
---
Pro Tip: To avoid planning in circles, bookmark helpful articles like this one in your browser so you can circle back to it when you are in Athens.
How to Visit the Acropolis: What We'll Cover
There's more to see "at the Acropolis" than just the iconic Parthenon itself. The area included in most Acropolis admissions covers quite a bit of ground with ruins including the Ancient Agora, Hadrian's Library, museums, and much more. We've put together a list of the most important information you need as you plan how to visit the Acropolis in Athens.
Acropolis Opening Hours and Admissions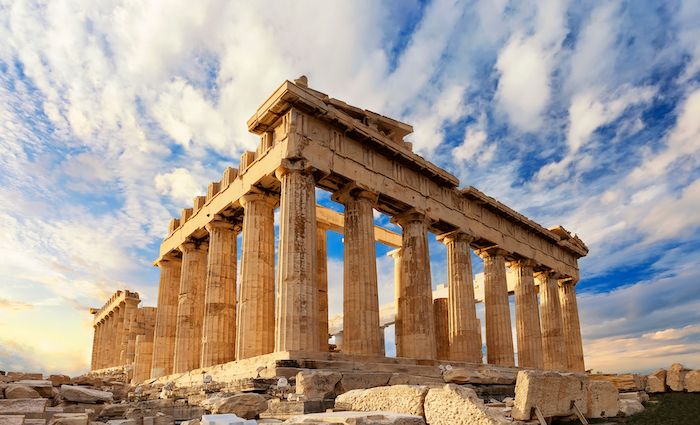 Above all, what you need to know before planning anything else is the Acropolis hours. Acropolis is open almost every day of the year from 8:00 a.m. to 7:30 p.m. in the summer. The last entrance to the site is at 7:00 p.m. However, concerning winter, the opening hours haven't been announced yet.
However, you have to keep in mind that there are several days that the archaeological site of Acropolis is closed.
1 January: closed
25 March: closed
1 May: closed
Easter Sunday: closed
25 December: closed
26 December: closed
Tickets to the Acropolis and the slopes of ruins cost €20 with a reduced ticket for €10.
The ticket is valid for Acropolis of Athens, Ancient Agora of Athens, Ancient Agora of Athens Museum, Archaeological Museum of Kerameikos, Hadrian's Library, Kerameikos, Lykeion Archaeological Site, North slope of the Acropolis, Olympieio, Roman Agora of Athens, and South Slope of Acropolis.
Finally, keep in mind that there are some free admission days:
6 March (in memory of Melina Mercouri)
18 April (International Monuments Day)
18 May (International Museums Day)
The last weekend of September annually (European Heritage Days)
28 October
Every first Sunday from November 1st to March 31st
Pro Tip: If you can, try to visit Acropolis either in the morning or in the evening. To clarify, the weather isn't very hot and the sun doesn't burn as much as at noon. It is even better if you decide to visit Acropolis early in the morning when it isn't that busy. So, you will be able to enjoy the tour.
How Much Time To Budget For The Acropolis
Short Answer: about 2 hours
If you are going to visit Acropolis then you need to know that it isn't only the Parthenon that you are going to see. On Acropolis Hill, you will find some of the most important monuments of ancient Greek history. Each one of them has its own history and architecture. So, try to spend some time carefully to see the details of each monument. You are certainly going to be impressed.
Pro Tip: Every time I visit the Acropolis, it seems different to me. I always feel that there is something new and exciting to know about it. So, every time, I see it from a different point of view and I certainly spend some time taking photos either close and detailed or far. Therefore, a 2-hour tour is enough for both to meet the Acropolis' monuments and to take wonderful photos.
Famous Monuments At Acropolis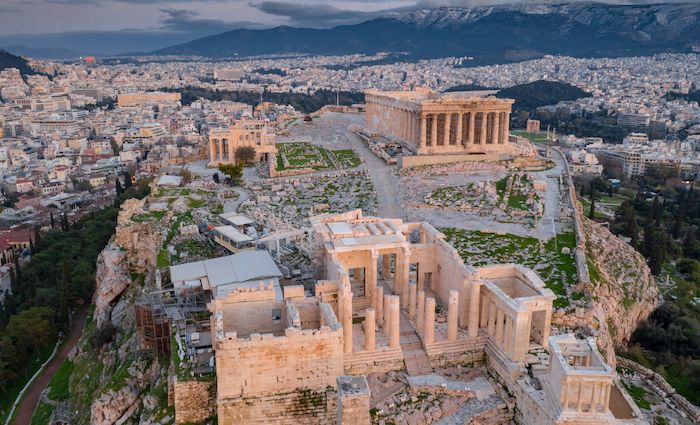 Parthenon
Temple of Athena Nike
Erechtheion
Odeon of Herodes Atticus
Statue of Athena Promachos
Propylaea
Sanctuary of Asclepius
Theater of Dionysus
Conservatory of Pericles
Altar of Athena
Click the link to see our full list of things to see at the Acropolis with explanations.
Acropolis Tour Options
If you are planning a trip to Athens, you should highly consider a guided tour of the Acropolis. Of course, the line-skipping benefits are remarkable. However, a guided tour certainly offers more than that. In other words, you will have the chance to learn the most important points of ancient Greek history while walking through all these great monuments.
Check Out Our Best Athens Tours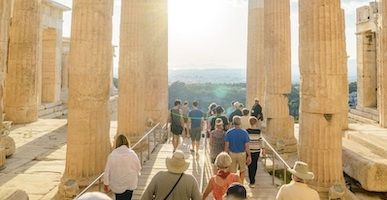 Top Rated Tour
Skip the Line Acropolis Tour with Parthenon and Museum

Towering above the modern city of Athens, explore the ancient forum home to the relics of Classical Greece. From the world's oldest theatre to the iconic Parthenon, the Acropolis is a beacon of civilization and philosophy. Head back in time to the time of Plato and Socrates on this Skip-the-Line tour.





Starting at €80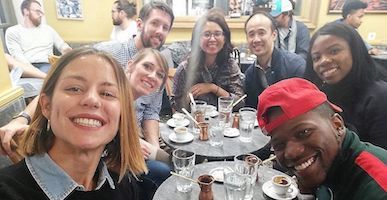 Likely to Sell Out
Athens "Locals" Food Tour in Monastiraki

Explore the gastronomic world of Athens through the city's central market. Enjoy homemade pastries, authentic wines, cheeses, honey-soaked donuts, and much more. Your local guide will lead you through the best spots in the lively Monastiraki neighborhood for a delicious experience in Athens.





Starting at €68
Places To Eat Nearby
There are numerous restaurants and cafes nearby the Acropolis. So, whenever you plan to visit the Acropolis, you will certainly find a beautiful place in order to enjoy your breakfast, lunch, or even dinner. You can see a shortlist below or our full article on over 10 places to eat in Athens. Among these restaurants, there are several which are really close to the Acropolis.
Kitchen Lab Corner
A tasty option for your breakfast or brunch before visiting the Acropolis. Especially your children will certainly love it.
Address: Romvis, 9 | Hours: Wed – Sun 9 am – 5 pm & Mon – Tue Closed | €€
Bairaktaris
After this tour, it is a great choice to try some traditional Greek souvlaki, especially as lunch.
Address: Mitropoleos, 71-88 | Hours: 9 am – 3 am, Daily | €
GB Roof Garden Restaurant And Bar
You will enjoy your dinner at the rooftop restaurant of the Hotel Grande Bretagne. Above all, the view of the Acropolis is wonderful.
Address: Vasileos Georgiou, A1 | Tel: +30 21 03 33 00 00 | Hours: 10 am – 12 am, Daily | €€€€
Facts & History Of The Acropolis
The name "Acropolis" actually means the "edge of the city" (in Greek "akro=edge + polis=city")
The Parthenon was built in 5th century BC and it is a monument – symbol of Democracy
During the Byzantine era, it was converted into a Christian church, during the Frankish rule it became a catholic church, while during the Turkish occupation it became a mosque
The monuments survived by fires, earthquakes, invasions, wars and conquerors during all these years
Lord Elgin removed many important parts of the Acropolis monuments, in 1801
In 1987, the Acropolis was inscribed in the UNESCO's catalogue
The process of restoration of the Parthenon Temple, as well as the other monuments of the Acropolis began, in 1975