The Hoover Dam is one of the greatest engineering feats in the United States. What's more, according to the National Park Service, the dam sees around 7 million tourists per year. This makes it the most-visited dam in the entire world! But you might be wondering, is a guided tour of the Hoover Dam worth it? This article will help you decide if a guided Hoover Dam tour is right for you!
---
Pro Tip: It's easier to organize your trip when you have all your resources in one place. Create a browser folder and bookmark this post along with our Las Vegas Guide for more planning resources, our top Hoover Dam and Las Vegas tours for a memorable trip, and check out other cool things to do around Las Vegas.
Why You Should Take a Hoover Dam Tour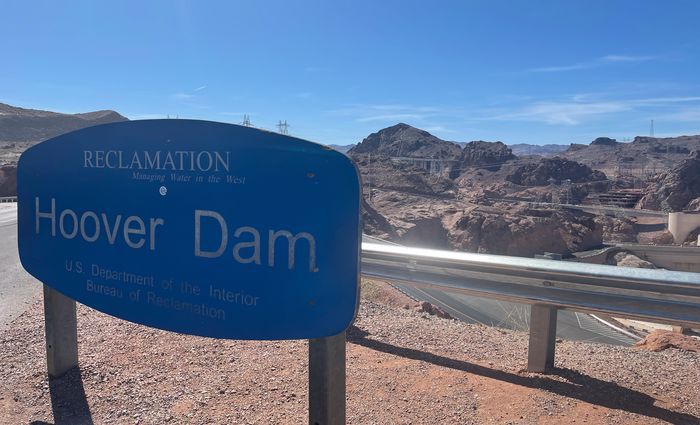 One of the biggest dams in the United States is the Hoover Dam, and it sits right on the Colorado River between Nevada and Arizona. For those who don't know, a man-made dam is a barrier that stops the flow of a body of water to create a reservoir of water and hydro-electric power. In 1931, the creation of the Hoover Dam across the Colorado River formed Lake Mead!
According to the Bureau of Reclamation website, the Hoover Dam is 726 feet high. There's a power plant located at the base of the Hoover Dam, which provides electricity for both Nevada and Arizona, as well as California. This power plant generates enough power to serve 1.3 million people!

You can't go inside the 590-foot-deep dam, but you can marvel at it by walking or driving across it. At the dam, there's a visitor's center, as well as a café. There's also a lookout point with binoculars that people can use to look out over the dam.
The Hoover Dam is around a 40-minute drive from the Las Vegas Strip, but there are many interesting stops along the way to make a trip to the dam even more interesting. For this reason, many people chose to take a guided tour to the Hoover Dam. Let's take a look at what a Hoover Dam tour includes.
Not ready to book a tour? Find out how to visit Hoover Dam from Las Vegas.
Top Areas You'll Visit During a Hoover Dam Tour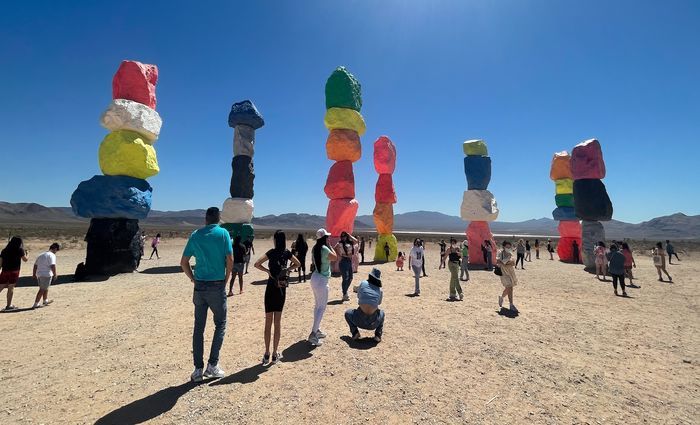 Seven Magic Mountains and Boulder City
There are several interesting stops between Las Vegas and the Hoover Dam. One of them is the Seven Magic Mountains, a desert art installation that's a unique photo op! Another stop between Vegas and the Hoover Dam is Boulder City, a small town that was built specifically so that the construction workers building the dam would have somewhere to live during construction!
According to the tour guide, workers only made $1.83 a day building the dam! Today, Boulder City is home to 17,000 people, and is one of the very few cities in Nevada that doesn't allow gambling.
The Desert Bighorn Sheep at Hemenway Park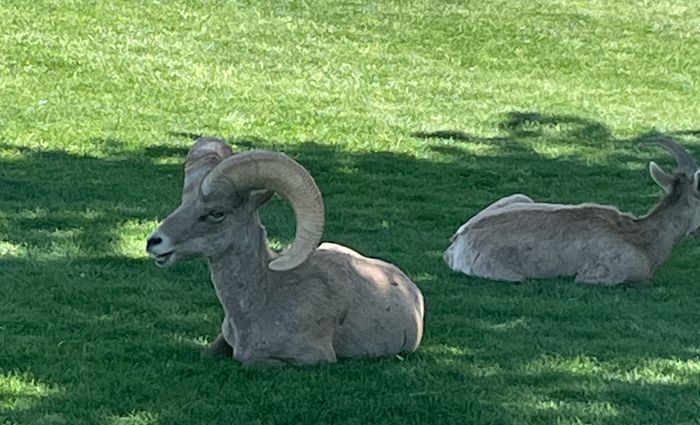 Hemenway Park is a park in Boulder City where families used to camp out in the 1930s while waiting for members of their family to be admitted into the Hoover Dam project. They stayed here because if a family member received approval to work on the Hoover Dam, they would be given a place to live in Boulder City.
Today, Hemenway Park has a playground and is a fun place for kids to play. However, the best part of Hemenway Park is that it's home to free-roaming bighorn sheep! The state animal of Nevada roam freely all over the park. They make for great photo subjects; however, be careful not to get too close, because they are wild animals!
Lake Mead Panoramic Lookout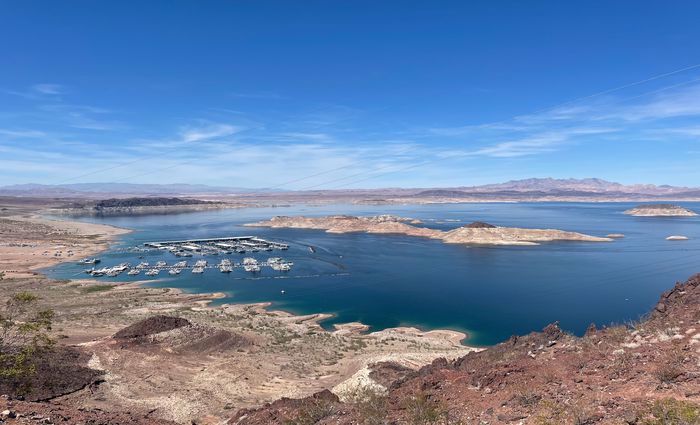 Lake Mead is the largest reservoir in the United States. To get there, you'll drive on the same road the original builders used to get to the Hoover Dam! The panoramic lookout over Lake Mead was originally built for people to stand and watch the lake fill up. Unfortunately, it's kind of the opposite these days, as the water level is low due to frequent drought.
The Colorado River is 195 feet lower than usual, but despite this, the view is still lovely and good for photos. If you look closely, you may be able to see the many tiny antelope ground squirrels that call the area home. In fact, your tour guide might even give them some water so you can see them up close!
Cross the Hoover Dam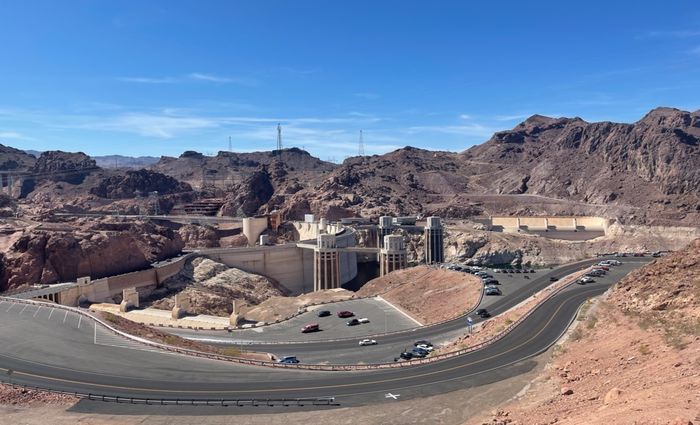 Since you're in a small group with a climate-controlled van, you'll be able to drive right up to the dam. Big tour busses are not allowed near the dam so this is a huge perk on our small group tour! Once you're there, you're free to walk across the Hoover Dam and get to learn all about its history. And you might enjoy using the binoculars to get a better look at the vista.
Hoover Dam Bypass Bridge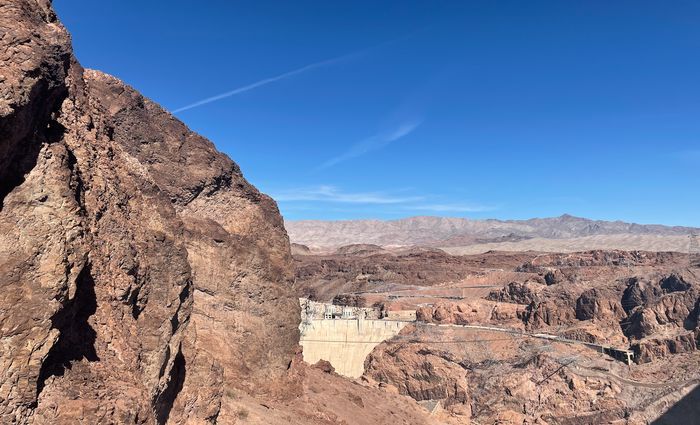 Although the Hoover Dam was constructed in the 1930s, the Mike O'Callaghan-Pat Tillman Memorial Bridge was only recently built in 2010. The intention was so cars can drive to Arizona over Interstate 11 and alleviate the traffic over the dam. It also made it safer for pedestrians to explore the dam.
The cool thing about the overlook bridge is that pedestrians can also climb up the bridge by using the stairs or the ramp. Once on top of the bridge, there's an amazing view of this desert country.
Benefits of a Guided Hoover Dam Tour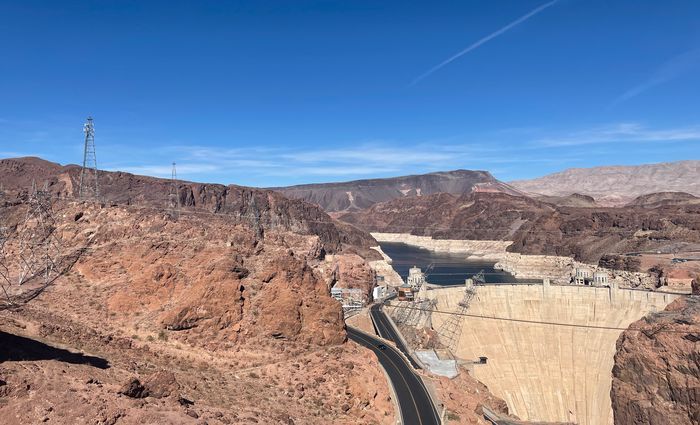 Okay, so now you may understand more about the Hoover Dam and why it's important. But why should you take time out of your Las Vegas trip to go see the Hoover Dam? We have a few reasons!
It's Close to Vegas
The Hoover Dam is a just short drive from the Las Vegas Strip. How often do you get to say that you're less than an hour away from one of the greatest engineering feats in the country? The whole tour from pickup to drop-off takes around 4 hours. This means you can visit the Hoover Dam in just a half-day trip and still be back in time for your dinner reservations on the Strip!
It's an Engineering Masterpiece 
Not only does this enormous dam supply the water and electricity for three different major U.S. states, but it also helps protect southern California and Arizona from floods. It was truly a feat of engineering when it was constructed in 1931, and it remains so today.
Tours Make It Easy to Visit
There are several ways to visit the Hoover Dam from the Las Vegas Strip. However, going with a guided tour is the easiest way to see the dam and learn all about it. Instead of having to navigate your way there and back, all you have to do is meet your friendly driver/guide at the designated pickup on the Strip! What's more, going with a tour will ensure you learn all the intricate facts about the dam and surrounding areas you likely would not have discovered otherwise.
The View Is Better Than You Think
Both of the views from the Lake Mead Panoramic Lookout and from the Mike O'Callaghan-Pat Tillman Memorial Bridge are quite impressive! They make for some amazing photo ops and are unlike anything you can see anywhere else.
It's a Family-Friendly Activity 
While not every popular activity near Las Vegas is family-friendly, this one certainly is! If you're planning on visiting Vegas with the kids in tow, visiting the Hoover Dam is interesting for the whole family. What's more, it's educational! If you'll be in Vegas with the fam, and you're unsure where to stay, check out our list of the best family-friendly hotels in Las Vegas.
Not ready to book a tour? Find out how to visit Hoover Dam from Las Vegas.
Why Hoover Dam Tours Are Worth It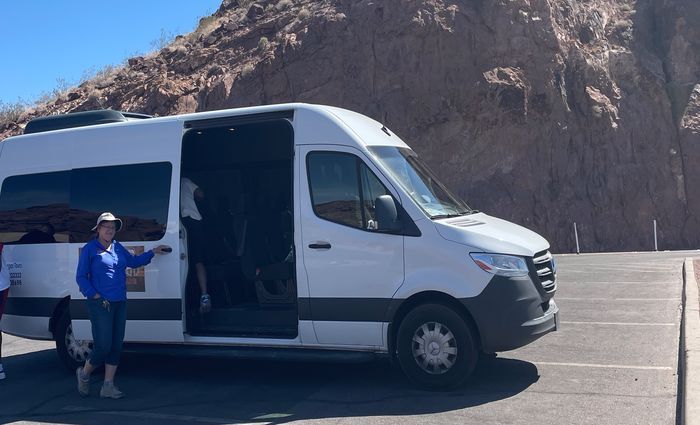 So now you're convinced how cool the dam is, but is it worth taking a guided tour there? The answer is: Absolutely, yes! There are several reasons why taking a guided tour to the Hoover Dam is much better than going on your own.
Hotel Pick-up Included
You don't have to worry about getting to the Hoover Dam yourself or figuring out where to meet your guide. The Hoover Dam tour picks you up from any of the major hotels on the Strip. They'll send you a text the day before so you know exactly where to meet them! They are very organized and make sure not to leave anyone behind! Your tour guide will drop you off at the end of the tour as well.

What's more, the luxury tour van has chargers for iPhones! The driver (who doubles as the tour guide) will also give you cold water bottles when you get on the bus. Make sure to bring a cash tip for the driver to give them at the end!
Two-for-One Experience
Not only does this tour take you to the Hoover Dam, it also takes you to the Seven Magic Mountains for some unusual photos. We actually think the tour is more of a four-for-one experience, because you also get to stop at Hemenway Park to see bighorn sheep, and stop at the beautiful Lake Mead Panoramic Lookout!

It's worth mentioning that the Seven Magic Mountains is free to visit as of the writing of this article. However, the state is thinking about making the Seven Magic Mountains a paid attraction. If they do this, they will start requiring tour companies to have a permit in order to visit. Therefore, if you're considering taking this tour, you should make sure to do it soon!
See and Understand More 
When you're with a knowledgeable driver and guide who knows so much about each of your stops (and also where the three bathrooms are on the tour), your trip is so much more stress free. Plus you learn much more about the Hoover Dam, Boulder City, and the other stops than you would if you went on your own. For example, the our tour guide's grandfather had personally worked on the Hoover Dam and lived in Boulder City! This definitely gave a unique perspective to the tour.
Small Group Tour 
The tour van holds 14 people or fewer, so it's not a massive 52-passenger bus of strangers. This means you'll get the chance to interact with the guide more and learn more useful facts about the Hoover Dam and surrounding areas. You'll be able to ask your guide questions about what you're seeing and double-check about any factoids you missed.
Stories and History 
Not only do local tour experts know a lot of information about all of the stops on the tour, they are also a lot of fun! For example, at the Lake Mead Panoramic Lookout, our tour guide poured water from water bottles on the cliff so the antelope ground squirrels would come out to drink the water that's so hard for them to find in the desert. We got an up-close view of these cute critters. That's probably not something we would have thought to do otherwise!
Good Value
With a guided tour, you don't have to through the trouble of renting a car. You also won't have to wonder what you're looking at or why it's significant. Perhaps most importantly, you won't have to personally deal with the traffic heading back into Las Vegas. Let your driver handle it with ease. All in all, a Hoover Dam tour is more than worth it for the price!
Not ready to book a tour? Find out how to visit Hoover Dam from Las Vegas.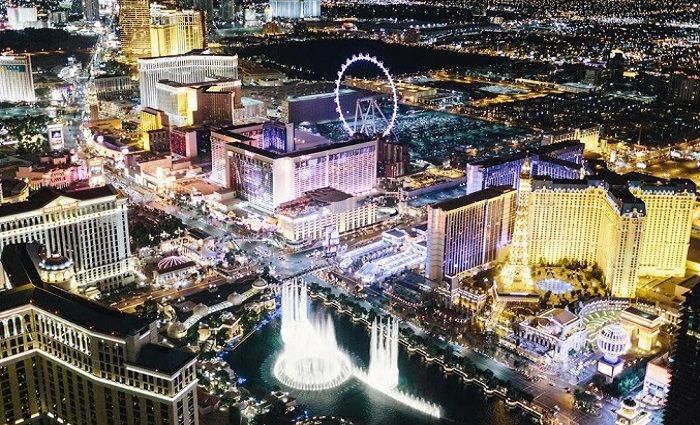 Find the best places to stay
Where to Stay in Las Vegas
Discover some of the most iconic and best places to stay in Las Vegas to make this trip the most memorable of all your trips to the Strip