The mesmerizing canal city of Venice is an iconic destination to visit in Italy. From foods to the iconic Rialto Bridge and the famous St. Mark's Square, there are amazing activities for anyone to enjoy. Find out our favorite things to do in Venice that you just can't miss.
---
Pro Tip: If you're planning a trip to Venice, bookmark this page in your browser. This way you can easily circle back and find it when you're ready to set things in stone. Otherwise, check out our dedicated page on Venice and our tours and activities in Venice.
The Best Things To See and Do in Venice, Italy
Venice is an incredible city that almost doesn't feel real as you walk through it. The city began when a number of Romans escaped to the small island to evade barbarian tribes who were ransacking the Italian peninsula. In Roman fashion, they built up the island cluster and became one of the most prosperous trading communities in all of the world for hundreds of years.
There are tons of touristy things you can do here in Venice, but that doesn't make them any less incredible for first-time or long-time visitors to Venice. For instance, a walk across Rialto Bridge is practically a must just to appreciate its historic beauty.
And of course, other top things to do in Venice include enjoying an evening at Lido Beach, finding tasty cookies, and visiting the stunning Doge's Palace. Don't stop now—keep reading to discover the top things to do in Venice that must be on your list.
View more videos on our Youtube Channel!
19. Eat Tons of Cicchetti on a Food Tour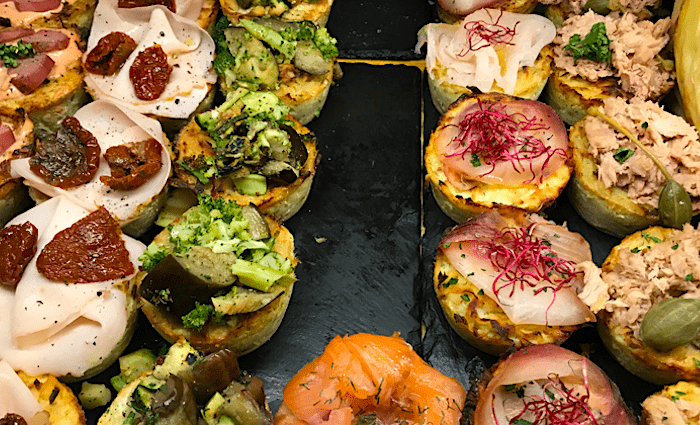 For starters, cicchetti are typical Venetian small plates or finger foods accompanied by a glass of wine or spritz. They are a combination of bread, vegetables, and usually some sort of seafood, which makes sense since Venice is an island.
You can get these little dishes almost anywhere, but cicchetti are not all created equal! Venice can be a bit touristy, so knowing where to go is extremely important. We designed an ideal food tour in Cannaregio as we believe it is the most authentic neighborhood for tasting food and wine in Venice. You can also check out our guide to eating in Cannaregio for great places to eat.
Not ready to book a tour? Check out our article on the best Venice tours to take and why.
18. See the Most Unique Bookstore on Earth: Libreria Acqua Alta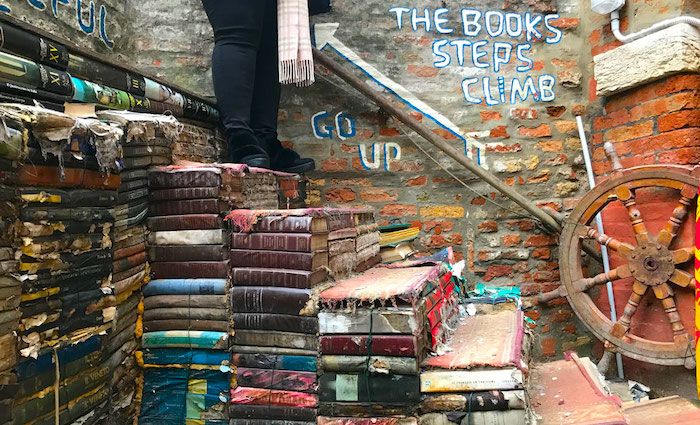 The name Libreria Acqua Alta translates to the "Library of High Water". This bookstore has been internet famous for years and attracts droves of visitors who love to see the creative way they store these treasured books from the constant risk of flooding in Venice. All their books are situated far above ground level, which is pretty normal, but they are all inside waterproof containers.
If you are thinking, oh, a boring container store—think again. This library went true Venetian and uses a full-sized gondola to hold many of the books for you to look through. They pack their store with interesting reads and titles from all over the world. Out back (pictured above), you'll find a staircase made out of books that allows you to see into the canal behind the store.
Despite the quirkiness, they have cool vintage books in what is probably the most beautiful bookstore on Earth. I've purchased old Italian children's books for my kids here as well as postcards and other fun stuff. It's nice to support a business whose shop has become a free tourist attraction.
Address: Calle Lunga Santa Maria Formosa 5176b
17. Stop at a Local, Authentic Artisan Shop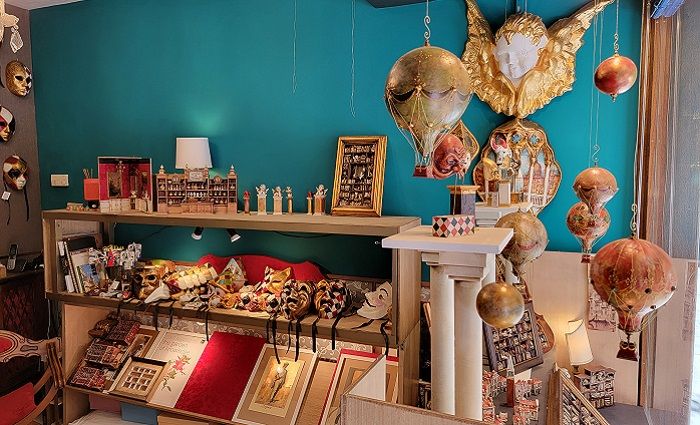 Just down the street from Libreria Acqua Alta is a little shop that makes some of the most authentic Venetian gifts and crafts you can find on the main island. Each is handmade by the shop owner in the shop. Head inside to get to know him and watch him while he works!
Venice is a city overrun by tourists, so we always recommend supporting the true local businesses who have been here for years and handmake their crafts rather than ordering them like bulk souvenirs. Here at La Bottega di Pre, you can find the most charming magnets, crafted picture frames, vintage hot air balloons, and more.
Address: C. Longa Santa Maria Formosa, 5239
16. Eat Granseola alla Veneziana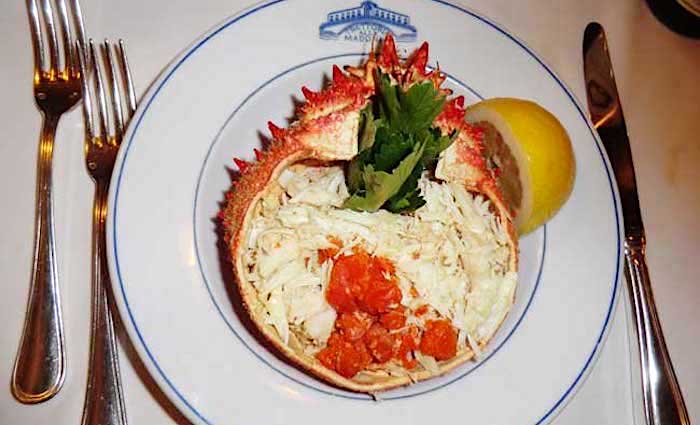 If you go to Venice and order your usual spaghetti with meatballs or chicken parm (neither of which exist in Italy), you're making a big mistake. Even pizza in Venice is a no-no since it actually originated some 600 miles south in Naples. One of the saddest things I hear from travelers is that they didn't enjoy the food in Venice, when really, the poor experience was down to expectations that don't fit the city (or country).
The food in Venice is most definitely unique compared to the rest of Italy, but there are still many great foods to try. Granted, there are lots more seafood options here than in other areas of the country, but that makes the gastronomic experience all the more memorable.
For example, graneseola alla veneziana is a dish based on the famous spider crab. The word granseola comes from the Venetian words granso (crab) and seola (onion). Spider crabs are quite big and many believe the taste to be on par with lobster.
Where to get it: Trattoria alla Madonna
15. Walk Up the Giant's Staircase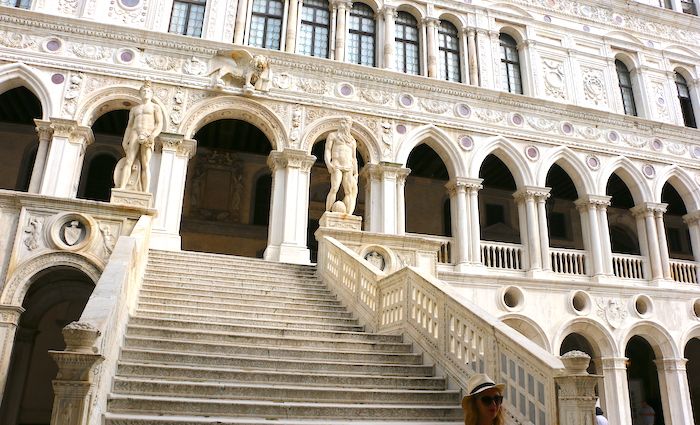 The Doge's Palace was the original home and political center for the Duke of Venice. It's located just off of St. Mark's Square and is larger than life. The two-tier gothic colonnades wrap around the building—both inside and out—giving it an impressive look and feel. Once inside, there is a massive courtyard where you'll find the famed Giant's Staircase.
Statues of Mars and Neptune stand tall at the top left and right of the staircase, setting the mood for all who climb the stairs. The architecture is built to show the power and economic prowess of the Kingdom of Venice. There's a lot more to do and see at the Doge's Palace, but the Giant's Staircase is so iconic, that it deserved its own spot on our list of things to do in Venice.
Not ready to book a tour? Check out our Doge's Palace Guide for more resources.
14. Drinks in Campo Santa Margherita (Dorsoduro)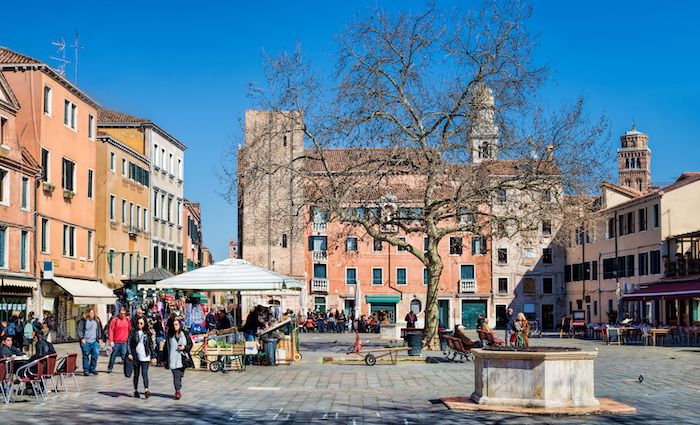 Campo Santa Margherita is the largest square in the Dorsoduro district of Venice. It is a long square with many bars and restaurants throughout, which makes it a great place to have an evening drink or plate of pasta. It also happens to be the largest open space in Dorsoduro—one of my favorite neighborhoods in Venice.
Why? Dorsoduro has more of a local feel that really comes out at night. Here you'll often find lots of local students coming to decompress at the end of their day or week of studies. I definitely recommend dinner in Dorsoduro!
Address: Campo Santa Margherita
13. Taste Delicious Coffee at Florian Caffe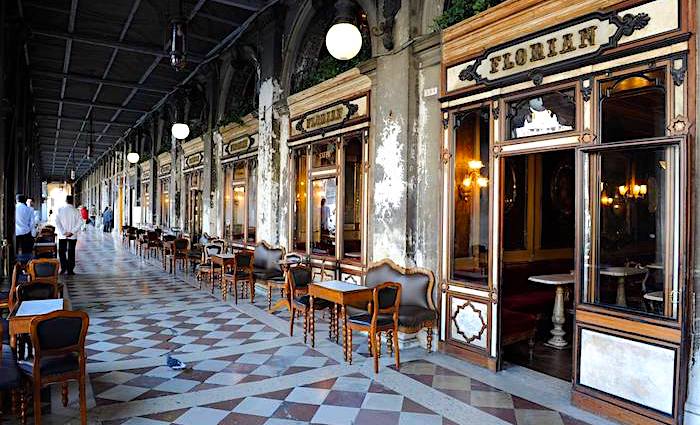 This is the most famous and oldest café in Venice. You might have heard about the €20 cup of coffee you can grab when sitting in St. Mark's Square? Well, I think we are selling the place a bit short if that's all we think of Caffé Florian. On a trip to a place as iconic as Venice, it's worth splurging a little for an epic coffee (or drink) at an epic café with an epic view.
Sipping a drink at the famous Caffé Florian means you have an amazing view of the most amazing square in the world. Plus, you'll be enjoying it in a place with a history of around 300 years. The café was founded back in 1720 by Floriano Francesconi and is widely regarded as the oldest café not only in Italy but in all of Europe. Years after its opening, the name of the establishment changed to honor the owner himself.
Most people choose to sit outside and people watch, but there are also multiple rooms inside that have a history of their own. If you choose to sit inside, ask the waiter to tell you the history of that particular room. You'll be amazed at how interconnected this café is with world events. So, sit back and splurge just this once on a coffee or an aperitivo and enjoy life the way it was meant to be enjoyed.
Address: P.za San Marco, 57
12. Visit the Island of Burano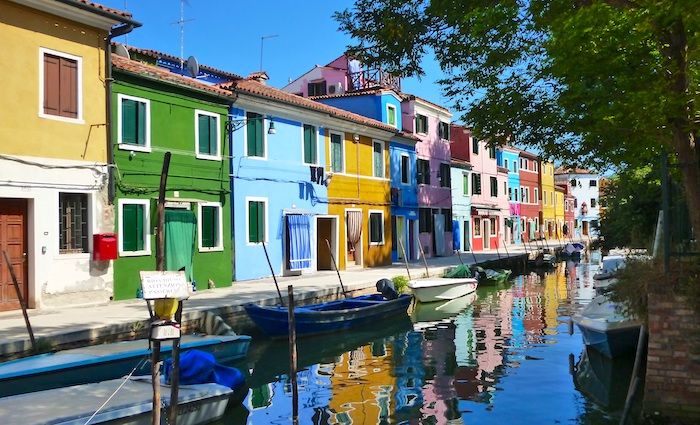 There are four things you need to know about Burano. Lace, risotto de gò, a leaning bell tower, and really colorful houses. The island is super photogenic and full of culture. I highly recommend stopping by when in Venice if you're here for multiple days.
You can get there by vaporetto (Venice's floating transport) or by joining one of our tours. The biggest benefit of taking the tour is that planning is so much easier and you'll learn and see more than you expect. The tour also goes to Murano island to see the glass-making factories, which is pretty cool. Island-hopping is definitely a cool thing to do in Venice.
Not ready to book a tour? Find out the best ways to visit Murano and Burano.
11. See the Pinault Collection: Punta Della Dogana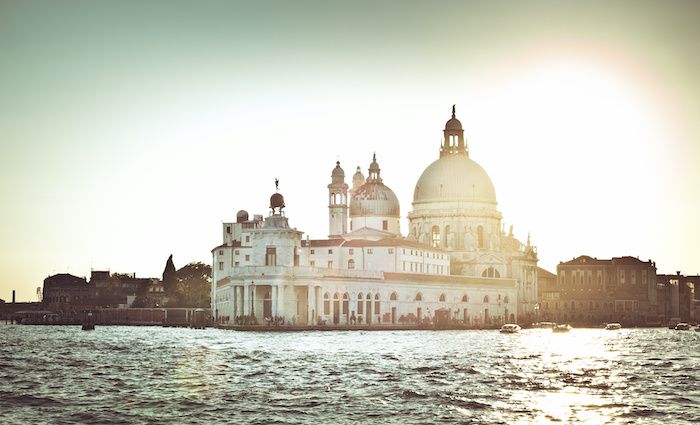 François Pinault is a French billionaire and a cool example for any ambitious entrepreneur. He grew up in a rural area and started a timber trading business, which grew out of cutting down trees for his father. Now, he is one of the leading art collectors in the world.
The Pinault Collection has not one but two museums in Venice. They also restored a famous theatre named Teatrino, which had been closed since the early 1980s. We recommend a visit to the Pinault Collection in Punta della Dogana for one very important reason: The location is really cool!
If you speak Italian, you know punta della dogana translates roughly to "customs checkpoint." The structure is built on the very tip of the Dorsoduro neighborhood, which helps form the opening of the Grand Canal. It is an epic location that offers amazing views for a museum.
Even if you are not a fan of modern art, I still recommend visiting this art collection in Venice as it may change your opinion. The entire building is also a work of art restored by Tadao Ando.
Address: Dorsoduro, 2 | Admission Cost: €18
10. Pop Over to Isola San Giorgio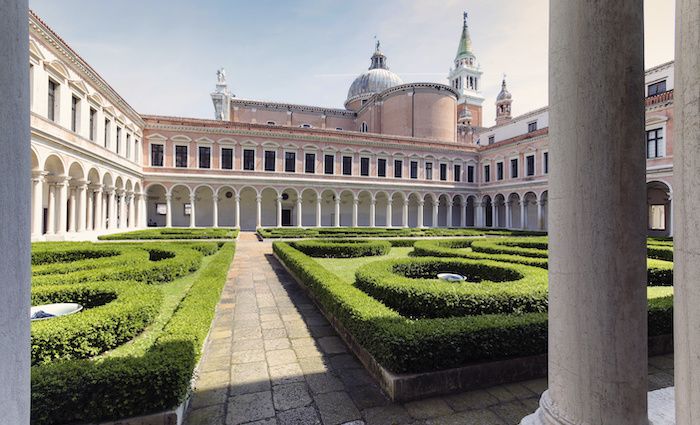 The key to a great trip to Venice is getting off the main island at least once during your trip. Venice is great—don't get me wrong—but many of the treasures are off-the-beaten path, which means you'll need to hope on a vaporetto.
The main attraction on Isola San Giorgio is the church of San Giorgio Maggiore. It has beautiful architecture and an amazing cloister with a manicured garden that's very serene.
Another main highlight is San Giorgio Café, which has amazing waterfront seating. You get a cool view of Venice and the San Giorgio Marina. In fact, you can see St. Mark's Square, which makes it really picturesque! And the other bonus? This island is surprisingly empty as most tourists don't know about it. But now you do, so hop on over.
To get there, take vaporetto (ferry) number 2 from San Marco-San Zaccaria E ferry station. It is one stop to San Giorgio ferry station and the best open space away from the main cluster of Venice.
Address: 30100 Venice
9. Walk Across the Rialto Bridge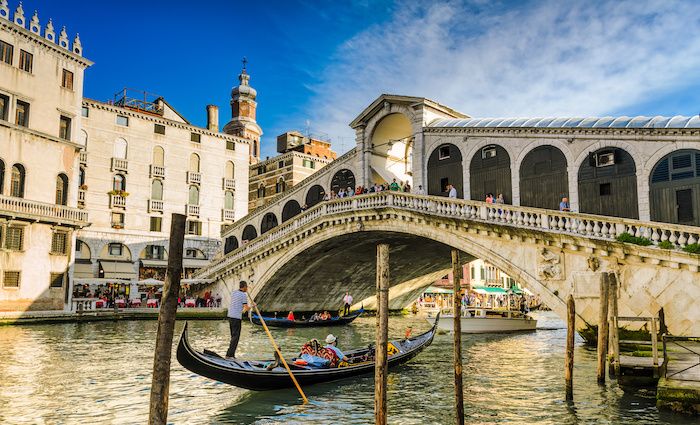 The Rialto bridge is a decorative bridge crossing the Grand Canal in Venice. It is easily the most recognizable bridge in Venice and one of the oldest, so it's an obvious must-do activity in Venice.
The original bridge was a floating pontoon bridge built in 1181. In 1255, they replaced it with a wooden bridge that lasted quite a while, considering it was a wooden bridge in a humid area. It partially burnt down in 1310 and eventually collapsed in 1444, then was rebuilt and collapsed again in 1524. The idea of building the Rialto Bridge out of stone came up in the 16th century and many great artists were considered, including Michelangelo.
In the end, they chose a local named Antonio da Ponte to build the bridge. Construction began in 1588 and finished in 1591 with what you see today. Antonio's last name translates to "of the bridge" in English, which is perfectly ironic.
The bridge is one of the most recognizable bridges in the world and definitely something that cannot be missed while in Venice. It's free to visit and walk across. If you want to get a little more in-depth, we offer a guided tour that explores the area, Rialto Bridge, and St. Mark's Basilica. It is a great way to help you understand and enjoy Venice!
Address: Sestiere San Polo
Popular Venice Tours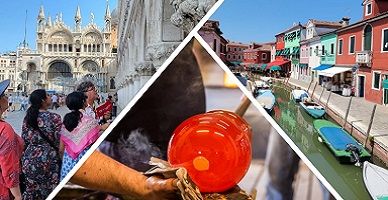 Best-Selling Tour
Ultimate Venice in a Day with Murano and Burano
The ultimate tour of Venice. You'll get skip-the-line access to the most important buildings in Venice, plus a gondola ride, and private transportation to the islands of Murano and Burano. It's a full day of touring that will make for the best memories in Venice ever.





See Prices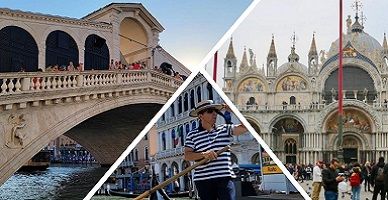 Top-Rated Tour
Venice in a Day Combo Tour with Gondola Ride
Only have a day in Venice and want to explore the best places? You'll love this tour that includes skip-the-line access to St. Mark's Basilica and the Doge's Palace so you don't waste time! Not to mention, you'll wander through the Cannaregio district and learn about Rialto Bridge before floating through the canals on your own gondola.





See Prices
Not ready to book a tour? Check out our article on the best Venice tours to take and why.
8. Shop and Check Out the Views at Fondaco dei Tedeschi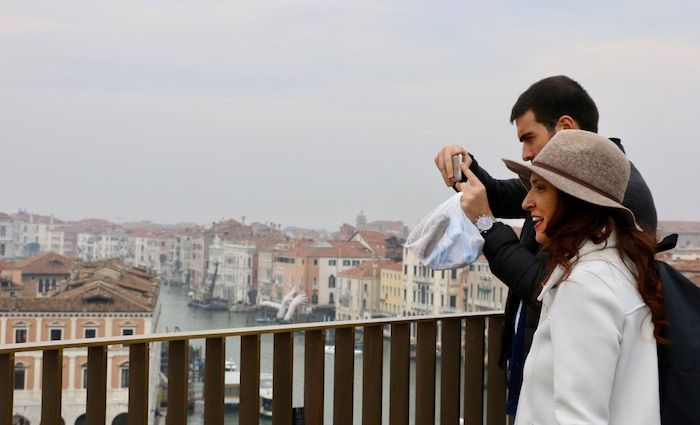 What is better than a shopping mall with rooftop views from an ornate 800-year-old building? Ok, there are a few things we can think of, but this is a great thing to do in Venice.
The modern structure of this building is a shopping mall where you'll find lots of luxury goods as well as fantastic dining. The crowning jewel is its rooftop terrace view which you must book in advance. Don't worry, the rooftop is free to visit, but they do limit visitors to avoid a crowded experience.
Address: Calle del Fontego dei Tedeschi
Not ready to book a tour? Check out our article on the best Venice tours to take and why.
7. Eat Cookies at Nino & Friends
It's never a bad time for a sweet treat, and Nino & Friends is, without a doubt, my favorite producer of sweets. People come here for their chocolate but I also love that their store feels magical in addition to the delicious cookies. The brand is originally from Naples, and you might see these stores all over Italy. My wife and kids go nuts for their cappuccino cookies. I highly recommend stopping by their Venice location in between activities.
Address: Salizada S. Lio 5576
6. Drink a Shadow (Ombra)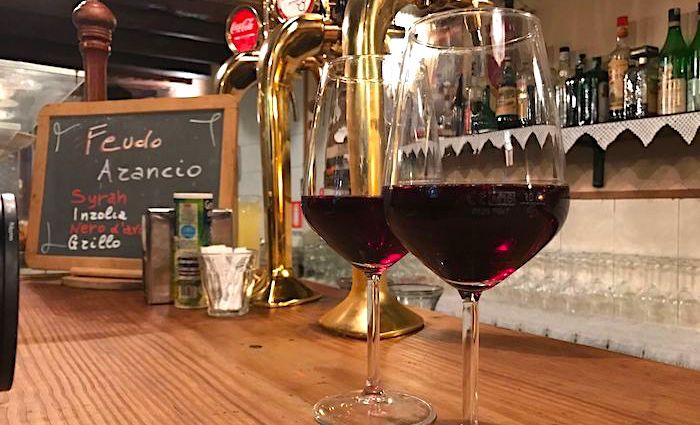 If you go into a bacaro (local bar in Venice) and ask for an ombra, you'll have firmly established yourself as a local. In popular culture, the bell tower's shadow (ombra) is the term they use to describe a glass of wine in Venice.
Where did it originate? Fishermen would come back from fishing at midday and have a glass of wine in St. Mark's Square. To hide from the sun, they'd stand in the ever-moving shadow that the bell tower casts across the piazza. When you ask for an ombra, you should also say bianca (white) or rossa (red). At that point, the bartender will bring you a glass of house wine.
Where to get it: Osteria al Portego
5. Walk Through St Mark's Square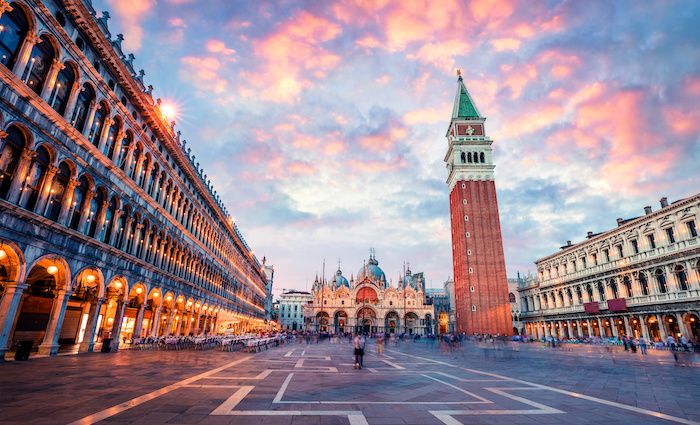 St. Mark's Square is named after the Basilica of St. Mark, which is named after the biblical apostle, Mark. His relics rest inside the basilica. St. Mark's Square is absolutely one of the top things to see in Venice despite the crowds of tourists.
However, what you see at Piazza San Marco today looks nothing like what you would have seen in the ninth century when the area was just being developed. As you walk through the square, imagine you are walking through an orchard full of lush fruit trees. Centuries ago, an orchard thrived here with a small canal running through it.
And if you're thinking, gosh, it's just a beautiful square, what could I learn, then you'll definitely want to book a tour of the piazza and basilica. It's the ideal way to get the most out of this visit and be blown away.
Not ready to book a tour? Check out our St. Mark's Basilica Guide for more resources.
4. Spend an Evening at the Opera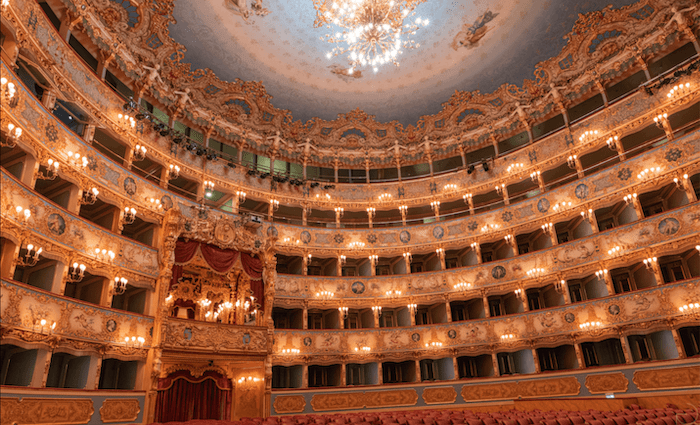 Teatre La Fenice is one of the most beautiful opera houses in the world with a deeply difficult past. All of the information below was provided by the opera house.
It was first built in the late 18th century but burned down in 1771. They rebuilt it partially on the land of the Venier family who did not appreciate the theatre. The owners had to sell it and built a new opera house that they named Le Fenice, which means "the phoenix." The name obviously points to the story of the phoenix rising from its ashes.
They completed it in 1792 and opened with the symphony I Giochi d' Agrigento by Giovanni Paisiello, which brought fame to the house. In 1836, the opera house burnt down for the second time. After two fires and one lawsuit, the owners decided to rebuild the house for the third time. The opera house opened again in 1837 and patrons described it as even more beautiful than ever before. The third time was the charm!
Famous composer Verdi had a bit of a residence there between 1844 and 1857 where he composed five operas. Many famous composers would follow, including Rienzi, Richard Wagner, Stravinskij, and music by the famed Pavarotti.
It is easily one of the most ornate opera houses on Earth and a treat to visit. You can view their lineup for a fancy night out at Le Fenice opera schedule.
Address: Campo S. Fantin 1965
3. Get Your Sun on at Lido Beach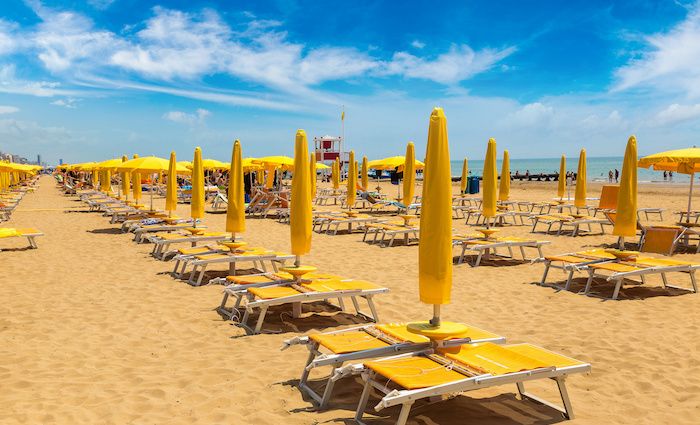 When you think of Venice, you normally don't think of beautiful Italian beaches, but it is still an island with beaches—if you can get to them. The municipality of Venice extends past the main cluster of islands to include many other satellite islands like Murano, Burano, Giudecca, and the barrier island of Lido.
Lido happens to have some great beaches for an afternoon under the warm Italian sun. It's clear water, nice sand, and lots of restaurants and beach clubs in pure Italian fashion.
To get here, you can take Vaporetto number 1 from St. Mark's Square (Vallaresso) and get off at Lido (S.M.E). From there, you walk across the island (10 minutes) to the beaches.
Address: Lido Beach
2. Visit Murano Glass Factories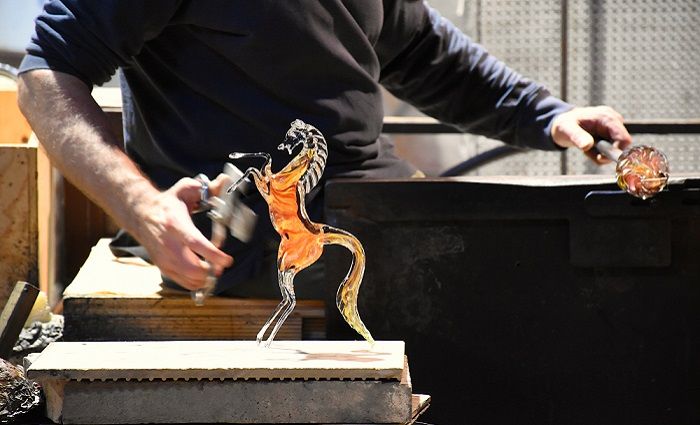 I don't know if I've ever had a conversation about Venice without someone bringing up Murano and the famous glass blowing there. If you weren't aware, glass blowing has been a defining part of Venice's identity for centuries.
Historically, the glass blowers were forced to move to Murano due to concerns about their furnaces burning so hot in the main city of Venice. It sounds like a demotion of sorts, but these artisans were actually treated like royalty. And you can still witness the evolution of glass at the Murano Glass Museum.
Unfortunately, it's an island and not walkable from Venice. But it is easy enough to reach Murano Island by vaporetto, which is Venice's floating mass transit service.
Reservations are recommended to visit the glass factories, which is why we offer high-quality options for you to visit Murano without hassle or stress. Our island-hopping half-day trip visits both Murano and Burano island.
Address: Fondamenta Marco Giustinian, 8 | Admission Cost: €12
Not ready to book a tour? Find out the best ways to visit Murano and Burano.
1. Take a Tour of Doge's Palace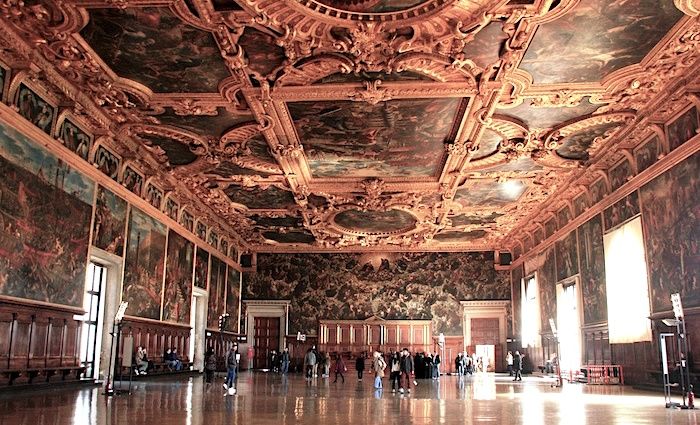 The Doge's Palace (Palazzo Ducale) was first built in Venice in the ninth century for the Duke of Venice but almost nothing remains of that structure today. The majority of what you see today is still ancient—from the 13th and 15th centuries when Venice's wealth and status grew renowned.
This abundance happened largely due to their trade routes with India and China. Venetians brought back goods like spices and silk that became luxury goods throughout Europe and were mainly distributed through Venice.
The palace is incredible but the behind-the-scenes stories are really what makes it a compelling place to visit. The Dukes of Venice were terrible people, yet somehow dodged the bad reputation. Want to know more? Joining a knowledgeable guide is absolutely the way to go to discover more than you'd ever expect in a palatial building like this.
You can see these key areas within the Doge's Palace:
Giant's Staircase
Great Council Chamber
Bridge of Sighs
Chamber of Torment
Doge's Apartment
Prisons
Armory
Museo Dell'Opera
Golden Staircase
Address: Piazza S. Marco, 1 | Admission Cost: from €25 for adults, depending on the type of ticket/access you purchase
Not ready to book a tour? Check out our Doge's Palace Guide for more resources.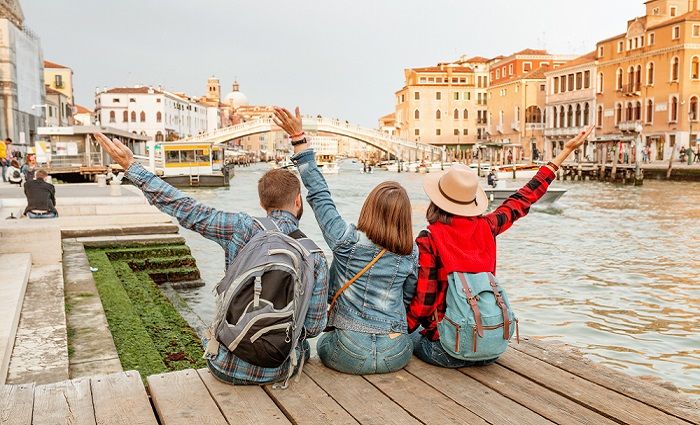 Find the best places to stay
Where To Stay in Venice
Despite the size of this little island, there are endless hotel options to choose from. We've picked the best neighborhoods and hotels to stay in whether you prefer Italian luxury or quiet serenity—or both!