Cannareggio is one of the most happening areas in Venice for food. Locating them can be difficult, so we have picked the brain of our top, local guides in Venice to create a list of the Best Restaurants in Cannaregio. Below are the places they have recommended.
---
Pro Tip: Planning what to eat on your trip to Venice? Bookmark this post in your browser so you can easily find it when you're in the city. See our comprehensive guide to Venice for more planning resources, our top Venice tours for a memorable trip, and how to see Venice in a day.
11 Top Places To Eat And Drink in Cannaregio, Venice
Cannaregio is a happening part of Venice, known for its eateries of every type. It's such a great area for foodies looking for a taste of authentic Venetian cuisine that we run one of our top-rated Venice local food tours in Cannaregio.
This part of Venice sees fewer tourists but that doesn't mean you can't land in a tourist trap. To help you find the best places to eat in Cannaregio, we've asked our local Venetian guides to put together a list of their favorite spots when they're in this part of town. Here are the best restaurants in Cannaregio. Buon appetito!
Not ready to book a tour? Check out our best Venice tours to take and why.
Antico Gatoleto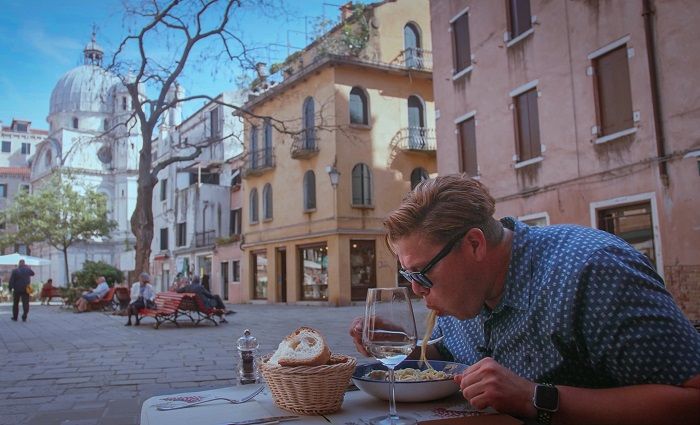 €€ | Classic Venetian Cuisine | Hidden Gem | Quiet Square Setting
For classic Venetian dishes away from the crowds of tourists, Antico Gatoleto is the place to go. It's a gem of a restaurant set in a lovely, quiet square serving good food. Try the clams and spaghetti together with a glass of prosecco.
Featured in our video on how to see Venice in a day, you won't regret stopping by for a meal here. In fact, many come back more than once on the same trip to Venice! The food and service are that good.
Address: Cannaregio, 6055
Cantina Azienda Agricole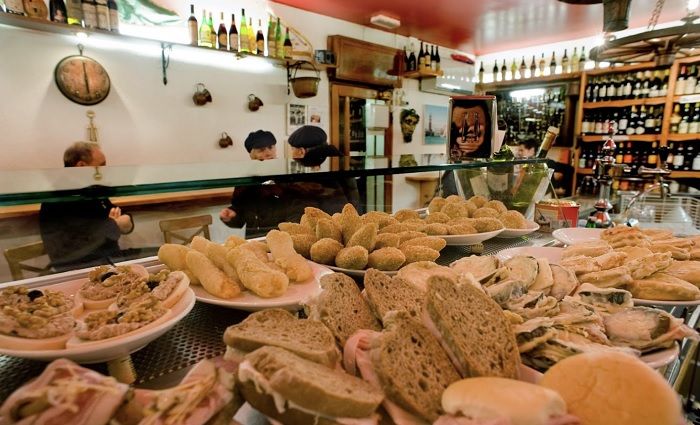 € | Cichetti | Snacks | Wine Bar
Cicchetti and bacari are two very important words to learn when visiting Venice. In the Venetian dialect, cicchetti means "a small savory snack." They're served at various little bacari (local wine bars) and come in many delicious varieties. The tradition of going to bacari goes back to at least the 1300s!
After walking around this cool neighborhood for a while, I highly recommend stopping for a snack and a drink here. Cantina Azienda Agricole is also one of the stops on our Cannaregio food tour.
Address: Rio Terà Farsetti, 1847/a
Popular Venice Tours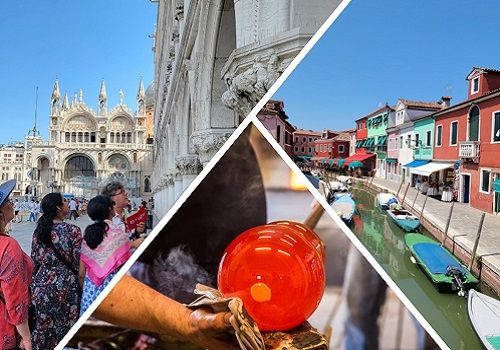 Best Selling Tour
Ultimate Venice in a Day with Murano and Burano
The ultimate tour of Venice. You'll get skip-the-line access to the most important buildings in Venice, plus a gondola ride, and private transportation to the islands of Murano and Burano. It's a full day of touring that will make for the best memories in Venice ever.





See Prices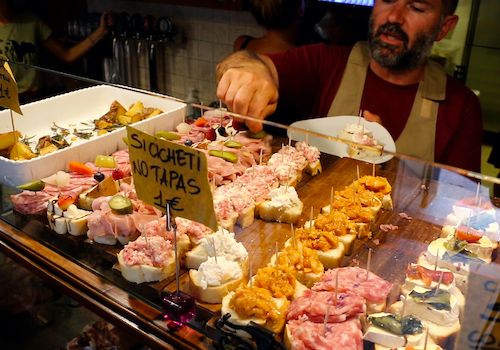 Authentic Experience
Venice Evening Food Tour in Cannaregio District
People who say Venice is too touristy have not done enough research. Cannaregio is an amazing break from the crowds, and our food tour is the most authentic way to experience it. Taste cicchetti and other Venetian specialties including wine. You'll leave with a full stomach and a love for Venetian food!





See Prices
Not ready to book a tour? See our best Venice tours to take and why.
Trattoria Ca' Dolfin
€€ | Home Cooking | Family Style | Seafood | Locals' Spot
This little gem welcomes tourists and locals alike. Their ingredients are super fresh and they specialize in seafood dishes. I highly recommend trying the spaghetti alle vongole (clams). You won't regret it!
Address: Cannaregio, 5903
El Magazen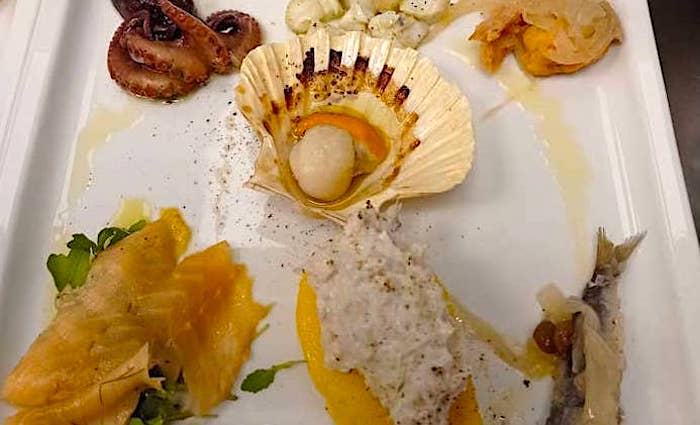 €€ | Modern Style | Restaurant and Bar | Local Flavors | Canalside
El Magazen identifies itself as a ristobacaro, which is a combination of ristorante (restaurant) and bacaro (typical Venetian bar). They've combined the two to create something amazing and delicious.
When you walk in, you'll notice the modern style as opposed to many of the old-school places in Cannareggio. Feel free to pop in just for a glass of wine and some snacks or have a sit-down meal. If you get a table by the beautiful window, you'll get a view of the canal and maybe even watch the gondolas glide by.
Address: Calle Larga Giacinto Gallina, 5402
Osteria ai Promessi Sposi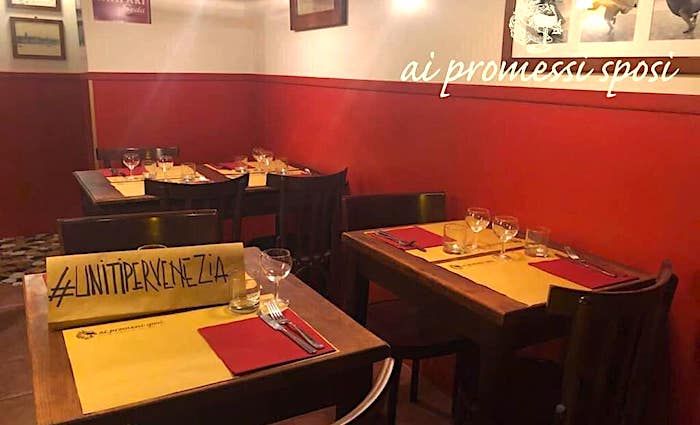 €€ | Local Favorite | Meat and Fish | Quiet Street Setting
The name of the restaurant translates to "Restaurant to the Betrothed". When I was there, I never saw anyone proposing, but I assume it must happen.
Osteria is the name given to a place that's laid back, without the pomp of a restaurant—just good ol' food. And true to form, that's what you'll find here. No excessive flavors or anything over the top, just a casual spot (a favorite among locals) with good food. So, sit back and enjoy this restaurant.
Address: Calle dell'Oca, 4367
Al Timon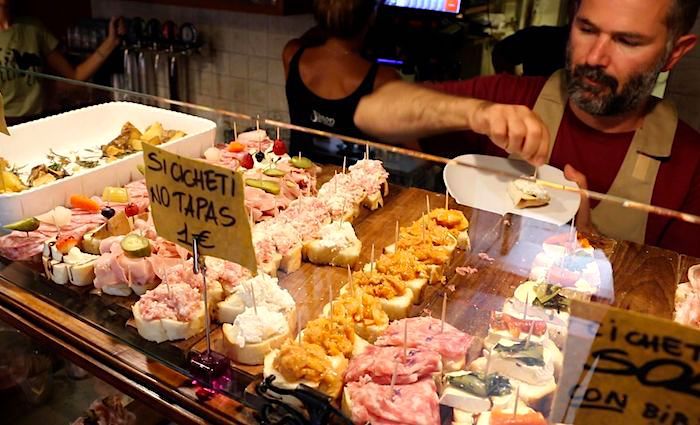 €€ | Aperitivo | Steakhouse | Canalside | Casual Vibe
Have you ever walked up to a bar and seen lots of people hanging out without a care in the world? That's what you'll find when you go to Al Timon. The establishment is on a canal and they have boats out front so that you can sit on them and have a chat with your friend.
So, you have two options when you come here. You can grab some snacks and a glass of wine and head outside, sit on a boat, and enjoy the super chill atmosphere. Or, if you're hungry, you can head inside and have a sit-down meal. I highly recommend the steak here. Enjoy!
Address: Fondamenta dei Ormesini, 2754
Cocaeta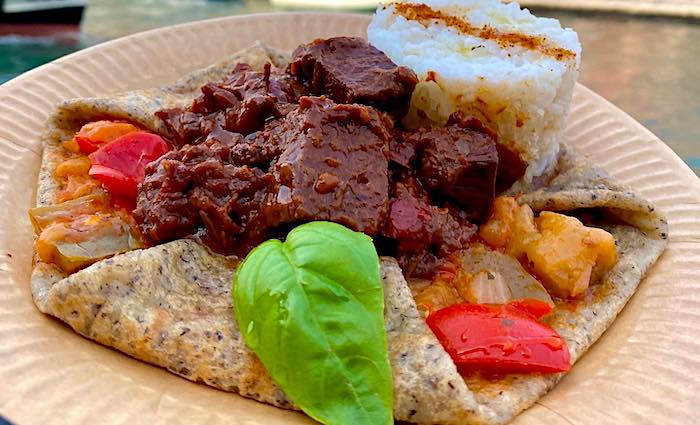 € | Crepes | Hole in the wall | Canalside | Snacks
Most people associate crepes with a sweet dessert after a meal and they wouldn't be wrong. However, it's also possible to get savory crepes and Cocaeta is the best in the business!
You have to be careful or you might walk right past it, though the line should be a good indicator. Once inside, it's a one-man show and the owner is super friendly. You can tell he's passionate about what he does. Pop in for a snack or a hearty crepe that'll keep you full for hours.
Address: 549, Fondamenta S. Giobbe
Popular Venice Tours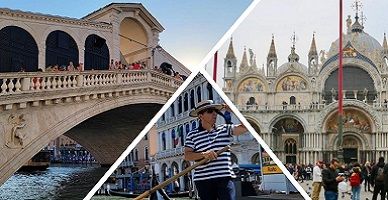 Best-Selling Tour
Venice in a Day Combo Tour with Gondola Ride
Only have a day in Venice and want to explore the best places? You'll love this tour that includes skip-the-line access to St. Mark's Basilica and the Doge's Palace so you don't waste time! Not to mention, you'll wander through the Cannaregio district and learn about Rialto Bridge before floating through the canals on your own gondola.





See Prices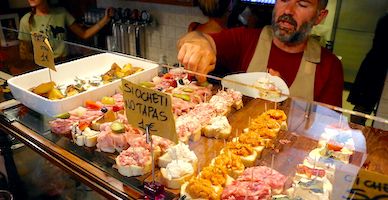 Authentic Experience
Venice Local Evening Food Tour in Cannaregio
People who say Venice is too touristy have not done enough research. Cannaregio is an amazing break from the crowds and our food tour is the most authentic way to experience it. Taste cicchetti and other Venetian specialties with wine. You'll leave with a full stomach!





See Prices
Not ready to book a tour? Check out our Venice Guide for more info.
Trattoria Misericordia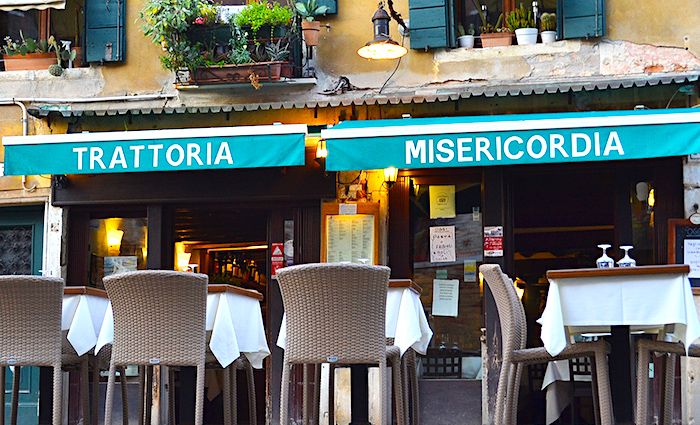 €€ | Family Run | Garden Dining | Canalside
A trattoria is a typical family-run restaurant. It's no-frills home cooking without a complex menu and that's what you can expect at Trattoria Misericordia. Coming to a place like this takes you back to a time when things were simpler.
Here, you can enjoy your meal inside, dine in their interior garden, or opt to sit outside along the canal. Overall, the menu is seafood-based, like most typical establishments in Venice.
From the starters to the main courses, the menu is varied enough that everyone in your group will find something to enjoy. This is a great spot to take a relaxing deep breath and enjoy a good meal.
Address: Fondamenta Misericordia, 2515
Osteria al Cicheto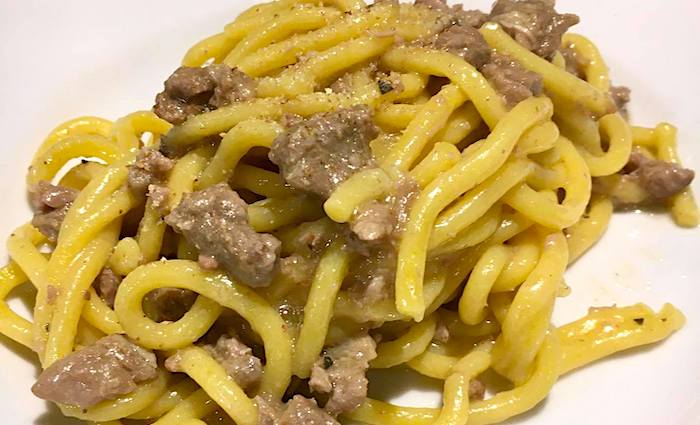 €-€€ | Intimate | Snacks or Sit Down Meal | Tucked Away
Cicheto is a Venetian word that means "snacks". The closest thing to compare it with would be tapas. But whatever you do, do not call them tapas—you might send the locals into a rage!
This popular osteria gives you the option to either have a cicheto at the bar with a glass of wine or sit down for a more substantial meal. Order both pasta and meat dishes from traditional Venetian recipes at this tucked away spot.
Address: Calle de la Misericordia, 367/A
La Colombina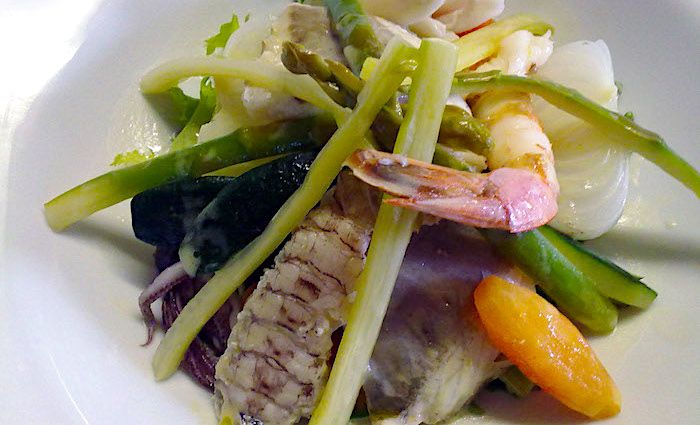 €€€ | Refined Cuisine | Seafood
When you come here, you come to eat fish. The first thing you'll notice here is the freshness of their ingredients. They try as much as possible to source locally-grown food from around the area.
Prices are higher than many of the other selections on this page, but the quality-to-price ratio is very good. A feast for the eyes and the tastebuds, come and enjoy artfully presented and delicious dishes.
Address: Sestiere Cannaregio, 1828
Osteria l'Orto dei Mori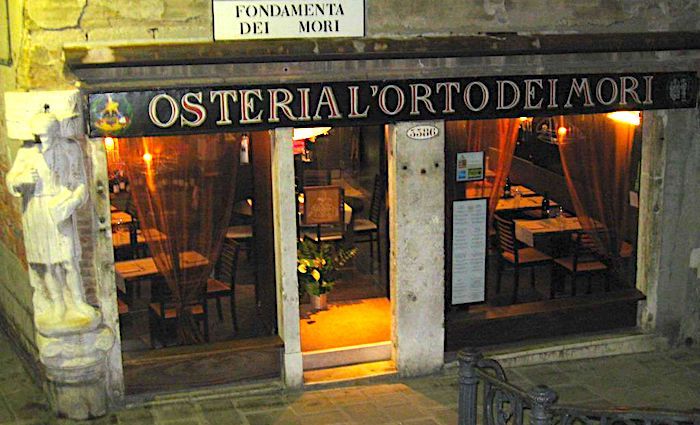 €€€ | Artistic | Candlelit Outdoor Seating
As you walk into the restaurant, you'll be shocked by the quirky artwork surrounding you on all sides. It creates this modern, eccentric flair that's definitely different for Venetian standards. But it doesn't feel over the top. Come for something different!
The menu varies from typical seafood to meat dishes like duck and steak. There's something for everyone here and you're sure to have a fun evening. For the romantics, there's also outdoor seating by candlelight.
Address: Campo dei Mori, 3386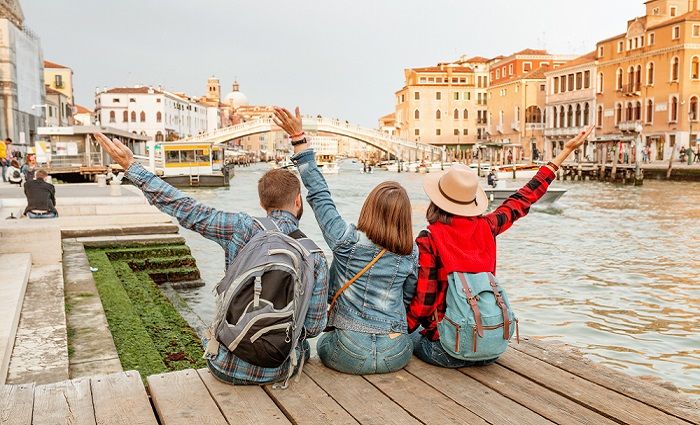 Find the best places to stay
Where To Stay in Venice
Despite the size of this little island, there are endless hotel options to choose from. We've picked the best neighborhoods and hotels to stay in whether you prefer Italian luxury or quiet serenity—or both!