Murano and Burano are two of the original islands that founded what we know as Venice, back in the 5th century. Today they are lovely islands to visit for the day for their glass blowing and lace making artisans respectively. But where to eat when you are there? We got you covered with our local guides mapping out the best restaurants in Murano and Burano.
---
10 Best Places To Eat And Drink In Murano & Burano, Venice
Murano and Burano are super cool islands to visit during your stay in Venice. From glass blowing to lace workshops to brightly covered houses, these two islands have it all. But what about the food? Since this area is full of tourists where do you eat?
Since nobody likes tourist traps ( myself included) we have asked our local Venetian guides to put together a list of their favorite places when they are in this part of town. We hope it helps you take the guesswork out of your decision and focus on enjoying your vacation. Buon Appetito!
Ostaria ai cacciatori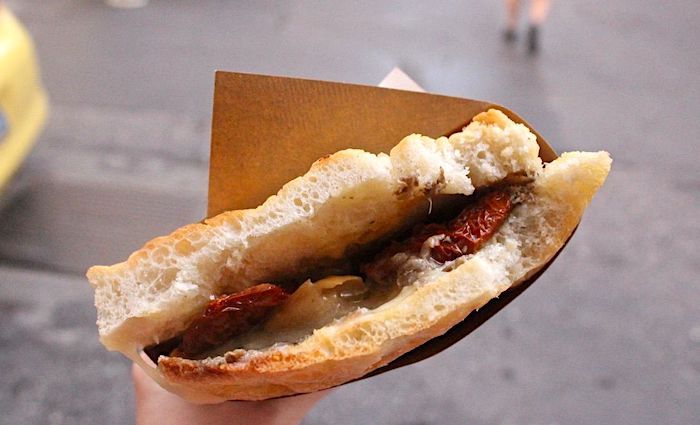 € | Hidden Gem | Sandwiches
Sometimes you are not looking for a sit down meal and need something to grab on the go. You have found your place. The place is very unassuming and is mostly frequented by locals. Have no fear however since the staff are super friendly and ready to help in any way they can.
You will find a full array of tasty sandwiches on display. What to wash it down with? Why Prosecco of course! Grab your sandwich and glass of Prosecco and head outside to sit along the canal and watch the boats go by. What more could you ask for?
Address: Fondamenta dei Vetrai, 69, 30141 Venezia
Hours: 6 AM – 9 PM. Always open
Osteria Acquastanca- Murano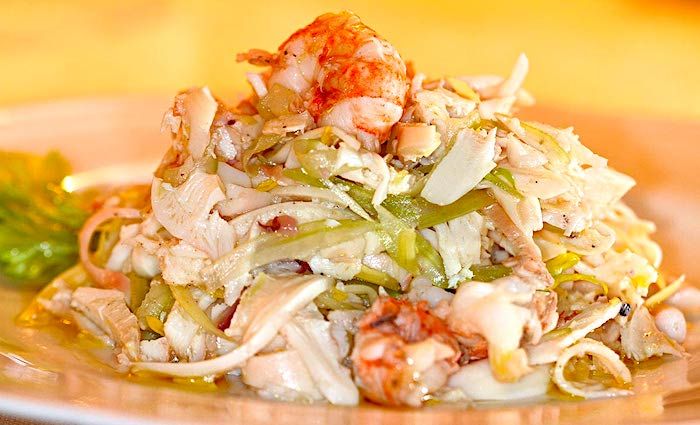 €€ | Seafood | You'll Be Back
This cozy restaurant is all about seafood. The name of the restaurant translates as " Tired Water" which is a naval term for the area in the tides that doesn't move.
You will find good, quality food at a decent price. While they have on their menu the typical Venetian dishes such as pasta with the black squid ink, you can also find gnocchi with vegetables and fried cod and a delicious chocolate cake with raspberries. Enjoy!
Address: Fondamenta Manin, 48, 30141 Venezia
Hours: 10 AM – 4 PM, 7 PM-10PM. Closed Sundays
Check Out Our Best Venice Boat Tours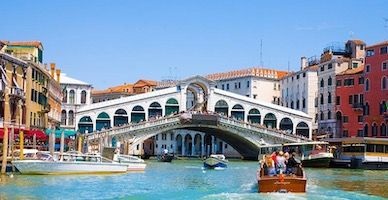 Top Rated Tour
Hidden Venice Tour with Secret Gardens and Grand Canal Boat Cruise
Venice is most famous for being a city of canals. On this tour, you will take a luxury boat through the Grand Canal and smaller hidden canals before touring the Cannaregio neighborhood and Marco Polo's birthplace on foot. With an expert local guide see Venice beyond the tourist spots discovering elaborate secret gardens.





Starting at €94.95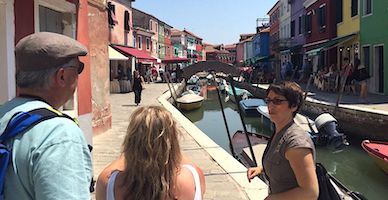 Top Rated Tour
Murano Glassblowing & Burano Lace-Making Tour

Discover the two most famous islands in Venice with a licensed tour leader- Murano and Burano. Your small-group experience will allow you to have an unforgettable experience as you coast from island to island in a private boat. Watch live glass-blowing and the intricate art of lace making. You will also have free time to shop and explore.





Starting at €39
Trattoria Valmarana- Murano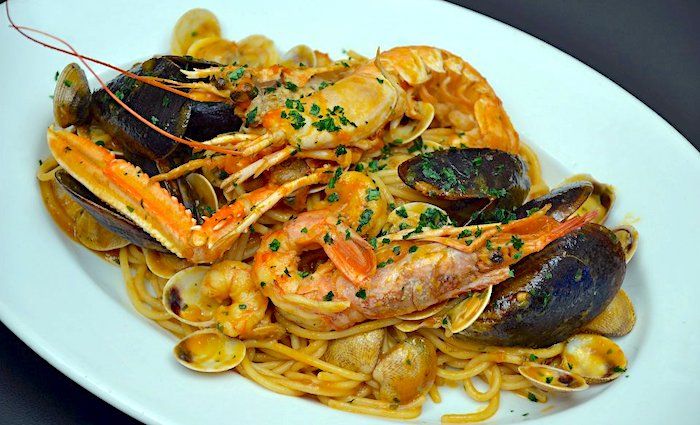 €€ | Local | Outdoor Seating
Trattoria Valmarana is a place you go when you want to go back in time a bit when life was simpler. A trattoria traditionally denotes a family run, little restaurant with simple food and here is no different.
You can get all the typical Venetian specials like Sarde in Saor ( deep fried sardines with onions and vinegar), but they also run various specials with different dishes such as Swordfish carpaccio and pasta with scampi and sun dried tomatoes. Feel free to eat in their garden area as well to escape the crowds.
Address: Fondamenta Andrea Navagero, 31, 30141 Venezia
Hours: 8 AM –3 PM. Always Open
B Restaurant alla Vecchia Pescheria- Murano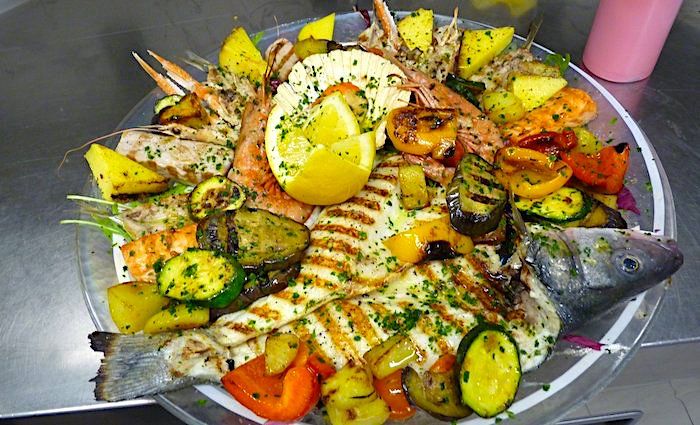 €€ | Something for everyone | Great lunch spot
As with most places in Murano the main specialty is seafood. However, their menu is a bit more varied than other places which means there is something for everyone. It is located in a square, tucked away from the main strip of tourists so you can enjoy some quiet as well.
As a starter tried the fried Calamari and season them just with a squeeze of lemon as your mouth will explode with taste. IF seafood is not your thing, as a starter go with a heaping plate of fresh cut prosciutto, small mozzarella balls and a boiled egg on top! For those more adventurous try the raw scampi or filet of Branzino.
Address: Campiello della Pescheria, 4, 30141 Venezia
Hours: 11:45 AM- 3:30 PM, 6:00 PM- 9:30 PM ( Evenings only Thurs, Fri., Sat.) Always Open
Versus Meridianem- Murano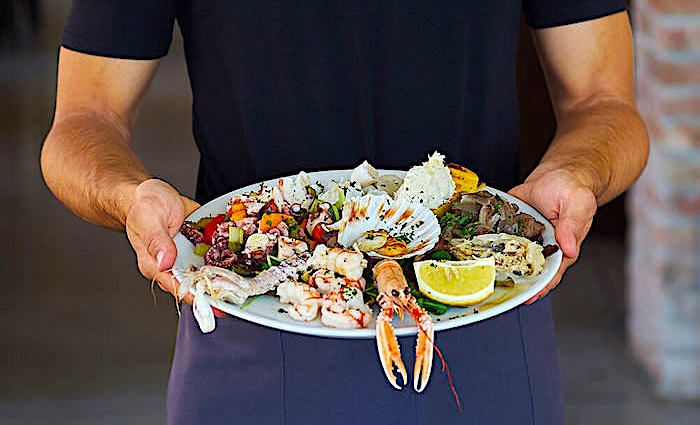 €€€ | Amazing View | Great Atmosphere
Ever wanted to eat at place that has waterfront views? Well you have found it! The restaurant has huge windows to allow tons of light into the restaurant and since the windows are overlooking the lagoon, you get a great sea-view!
For the menu itself, they offer both seafood and meat dishes. For those of you who, at this point, are tired of pasta they also offer many pizza options. As always, I highly recommend the mixed grilled seafood dish. Ask them what's the catch of the day or something off-menu- you might be surprised!
Address: colonna, Fondamenta Manin, 1, 30141 Venezia
Hours: 12 PM- 2:30 PM, 7:00 PM- 10 PM Always Open
Trattoria Da Primo- Burano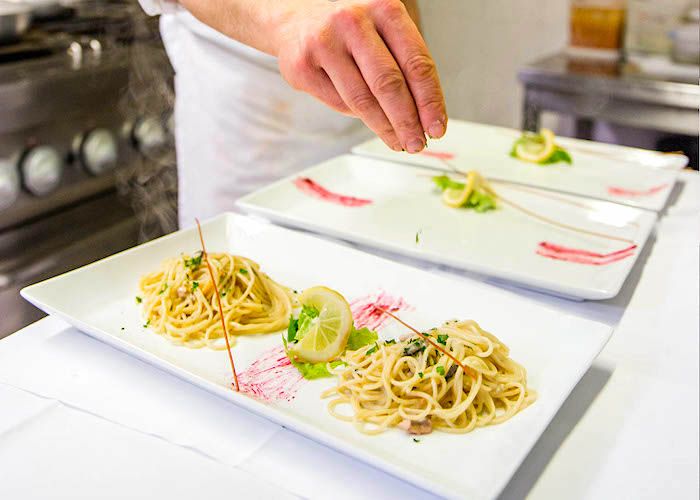 €€ | Family Owned | Something for everyone
As I have mentioned before, a trattoria is traditionally a family owned restaurant and no place epitomizes this as Da Primo. The owner Paolo works the restaurant together with his wife and three daughters. A great place to get a home cooked meal.
As for the menu you can try some typical Venetian starters like the sardines with onions or the famous fish dish in Burano Risotto di Gó ( a risotto made with a local fish Ghiozzo). If you want to avoid seafood then they have plenty of vegetarian options and also plenty of options for meat lovers. Here you will find it all and also feel at home!
Address: Via Baldassarre Galuppi, 285, 30142 Venezia
Hours: 12 PM- 4 PM, Monday Closed
Riva Rosa Ristorante – Burano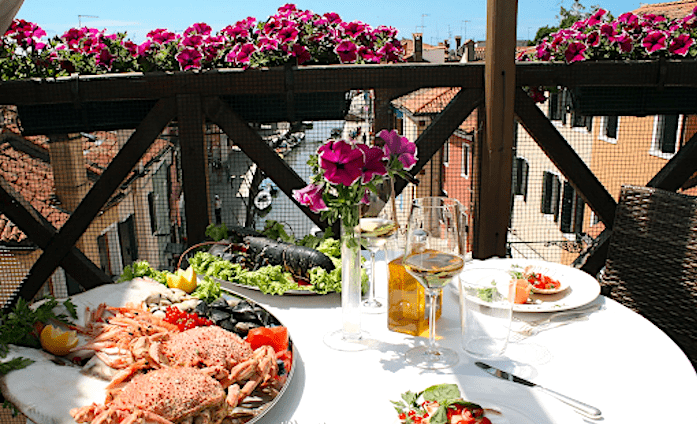 €€€ | Michelin Starred | Rooftop Special Experience
Sometimes you have the desire to splurge on a meal. But don't let the Michelin star scare you away as this is a very unassuming Michelin star restaurant. That means that the quality is top of the line, but it is not overbearing and stuffy. It is also not overbearing on your wallet.
The pasta is homemade, the fish are caught fresh from the sea on a daily basis and the wine list is long and inviting. If you are looking for a truly special experience you can reserve an exclusive dining experience on the roof of the property which only has one table. You will have a special tasting menu and your own private waiter!
Address: Via San Mauro, 296, 30142 Burano
Hours: 12 PM- 4 PM, Wednesday Closed
Osteria Al Fureghin- Burano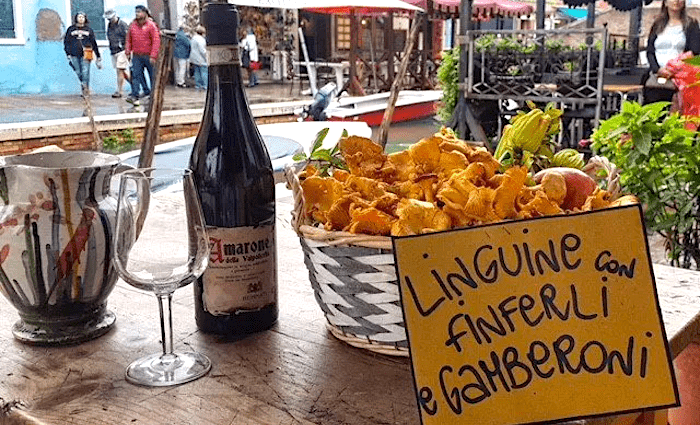 €€ | Cozy Atmosphere | On the Canal
The restaurant is located only a few steps away from the main square in Burano. As a result you will find many tourists that come here, but locals as well. The owner is super nice and looks to accomodate as much as possible. They are open not only for lunch and dinner, but also as a breakfast spot and a bar for before dinner- you got it all here!
As for the menu this is a restaurant for typical Venetian food and fresh caught fish. For starters enjoy some fresh oysters or octopus carpaccio. For main course try the gnocchi with scallops and pumpkin or risotto with lime and shrimp. And of course always go for the grilled seafood platter!
Address: Sestiere S. Martino Sinistra, 888, 30142 Burano, Venezia
Hours: 12 PM- 5 PM, Always Open
Osteria Al Museo- Burano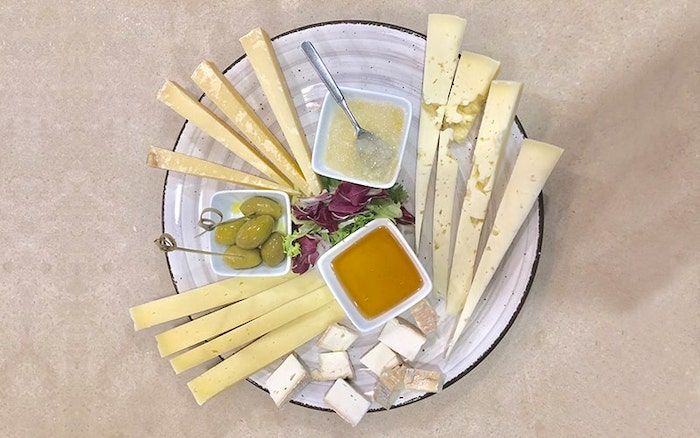 €€ | Outdoor Seating | People Watching
The name of this restaurant comes from the fact that it is next to the Lace Museum of Burano. It is situated right in the main square. Therefore when the weather is nice, you can enjoy a great lunch, eating in the square and people watch at the same time.
Their menu is delicious from raw shrimp as an appetizer to my favorite, the mixed seafood grill. They also have a fixed 3 course menu that costs 35€ or 5 course menu that costs 50€- wine excluded.
Address: Piazza Baldassarre Galuppi, 113/115, 30142 Venezia
Hours: 12 PM- 5 PM, Closed Tuesday and Wednesday
Trattoria da Romano- Burano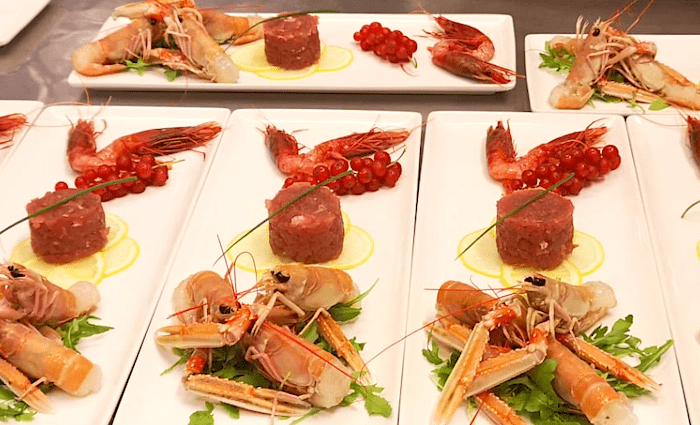 €€€ | Historical Restaurant | Seafood
When a restaurant has been around since the late 1800's and has spanned four generations than you know they are doing something right. In this case, it is the Barbaro family who are a cornerstone of Burano and the culinary scene. Yes, there are no avoiding tourists when you come here, but one of those tourists might be a famous actor like De Niro.
Can you guess what the restaurant specializes in? Yup, seafood and their menu is big. The culinary guidebook Gambero Rosso claims that they are " One of the Best Fish Restaurants in Venice". So who are we to argue? When you come to Burano stop by and have some delicious seafood.
Address: Via Baldassarre Galuppi, 221, 30142 Venezia VE, Italy
Hours: 12 PM- 3 PM, 6:30 PM- 8:30 PM Closed on Tuesdays and Sunday Evening
Popular Venice Tours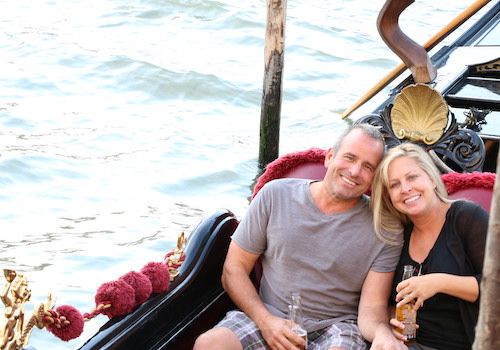 Best Selling Tour
Venice Highlights Tour with Gondola Ride
This is the perfect tour for Venice which is why it is so popular. Visit St. Mark's Square and Basilica before taking a gondola ride for 30 minutes. You'll also visit the famous Rialto Bridge and more with a licensed English speaking guide. All admissions and transport included.





See Prices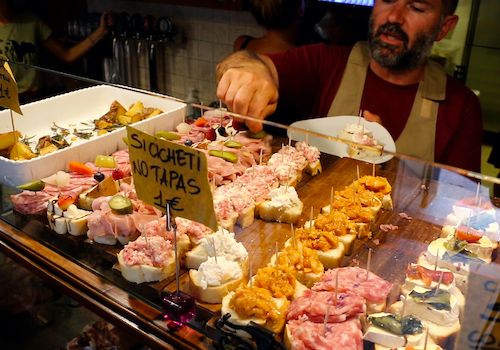 Authentic Experience
Venice Evening Food Tour in Cannaregio District
People who say Venice is too touristy have not done enough research. Cannaregio is an amazing break from the crowds and our food tour is the most authentic way to experience it. Taste Cicchetti and other Venetian specialties with tons of wine! You'll leave with a full stomach!





See Prices