Venice has some of the most amazing regional cuisines in the world. Their recipes are steeped in deeply held traditions that have been passed down the multitude of generations. But which to choose? Get ready for our ultimate list of the best restaurants in Venice.
---
Pro Tip: This article will come in handy when looking for authentic eats in Venice so bookmark it in your browser on your phone so you can circle back to it. Also, check out our Venice tours and recommendations on where to stay in Venice.
The 16 Absolute Best Restaurants in Venice for 2021
Let's face it, 2020 happened. The good news is that we can hope for the better in 2021. Let's get back out there and explore again starting with Venice. If you are already planning your trip you are in for a treat. The culinary scene is booming in Venice and there is a ton to discover. Here are our top restaurants and places to eat in Venice for 2021. It's going to be legendary.
The word "best" is very cut and dry in most uses except with food. Your best meal in Venice could cost you 10€ at Cocaeta eating a savory crepe or 300€ at Oro Restaurant at the famed Cipriani hotel. While these restaurants sit on opposite sides of the spectrum in terms of cost they could rank equally in terms of flavor. In our list of the best restaurants in Venice, you'll find beauty and beast seated next to each other. Cichetti & Street Food will be next to fine dining. Next to the name of the restaurant, you will see the district that is located in parentheses.
Oro Restaurant (Giudecca)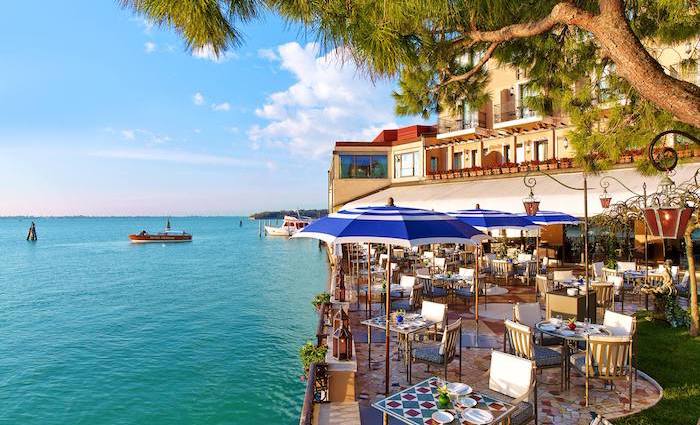 €€€€ | Michelin Star | Fine Dining
The Oro restaurant ( which means Gold in Italian) is located inside the famous Cipriani hotel. The hotel is extravagant and so is the restaurant. Sometimes you have to splurge when you are on vacation. This is definitely a place where you will splurge with a tasting menu running around 300€ a person. This is definitely one of the best restaurants in Venice, so splurge if you can.
The menu consists mainly of seafood, but for those who prefer meat, there are plenty of options as well. The views are beautiful and the ambiance is chic. Even if a super expensive meal is not on your agenda, you should definitely stop by and check out the premises and maybe have a drink. It is worth it.
Address: Giudecca, 10, 30133 Venezia
Hours: 7:30 PM- 9:30PM Mondays and Tuesdays closed
Lineadombra (Dorsoduro)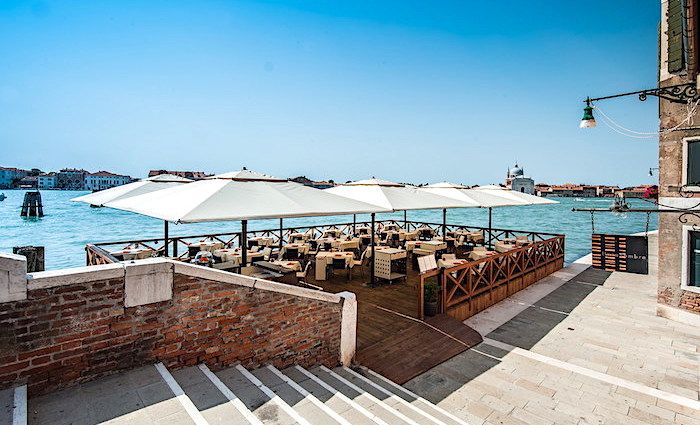 €€€€ | Fine Dining | Best Dining View Ever
It is not very often that you are able to say that you dined on the water, literally! Lineadombra created a floating terrace that allows you to have a unique dining experience directly on the lagoon. How can you pass that up?
Their specialty is seafood. There are some typical Venetian dishes, but they have put their own twists onto them, allowing different flavors to excite your palate that you might not taste otherwise. Come float on water and enjoy paradise.
Address: Dorsoduro, 19, 30123 Venezia
Hours: 12PM – 3 PM, 7 PM- 10:30 PM Closed Wednesdays
Riva Rosa Ristorante (Burano Island)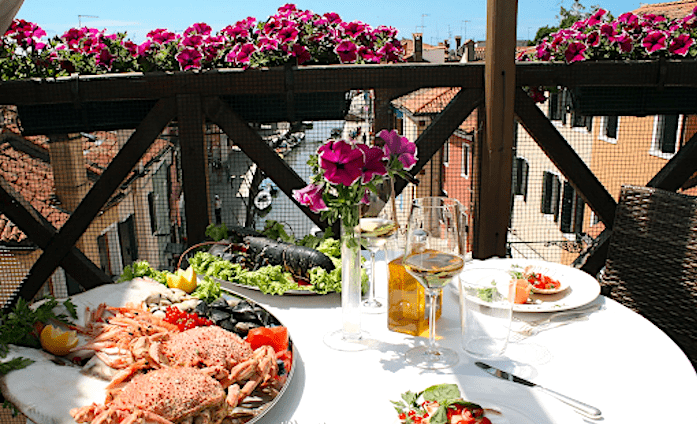 €€€ | Michelin Starred | Rooftop Special Experience
Sometimes you have the desire to splurge on a meal. But don't let the Michelin star scare you away as this is a very unassuming Michelin star restaurant. That means that the quality is top of the line, but it is not overbearing and stuffy. It is also not overbearing on your wallet.
The pasta is homemade, the fish are caught fresh from the sea on a daily basis and the wine list is long and inviting. If you are looking for a truly special experience you can reserve an exclusive dining experience on the roof of the property which only has one table. You will have a special tasting menu and your own private waiter!
Address: Via San Mauro, 296, 30142 Burano
Hours: 12 PM- 4 PM, Wednesday Closed
Want to explore Venetian food culture with a local? Join our Venice food tours and experiences and open your mind to different cultures!
Osteria Enoteca San Marco (San Marco)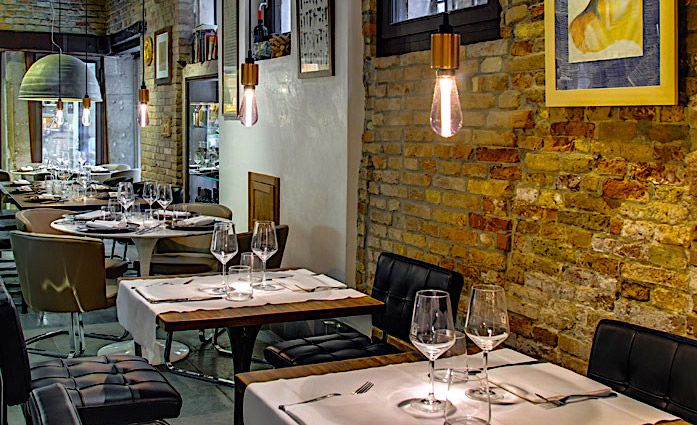 €€ | Wine bar | Great atmosphere
While you can drink wine in pretty much any establishment in Venice, an enoteca will give you that local feel. Many enoteca's started off as just straight up wine bars, then over time starting serving food because, well… when you drink wine, you then want to eat. Makes sense, right?
What they have done here is broken down the place to be the best of both worlds. So you can walk in and just have a glass of wine with a snack at the bar or you can have a sit-down meal and enjoy one of their classic dishes like Spaghetti with tiger prawns or roasted lamb. Whichever you choose, you will understand why this is one of the best restaurants in Venice.
Address: Calle Frezzaria, 1610, 30124 Venezia
Hours: 12:30 AM – 11 PM
Versus Meridianem (Murano Island)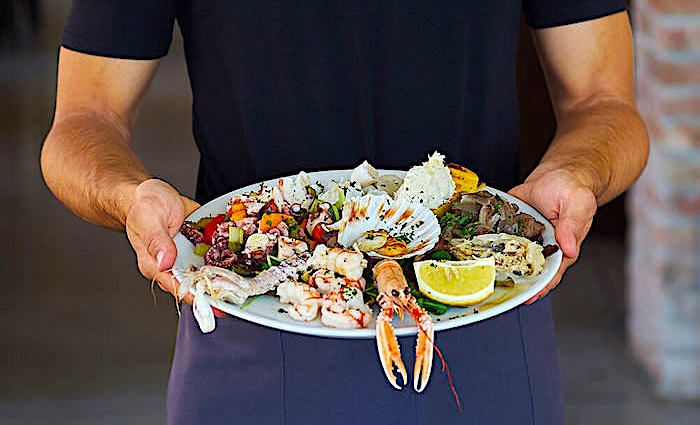 €€€ | Amazing View | Great Atmosphere
Ever wanted to eat at place that has waterfront views? Well you have found it! The restaurant has huge windows to allow tons of light into the restaurant and since the windows are overlooking the lagoon, you get a great sea-view!
For the menu itself, they offer both seafood and meat dishes. For those of you who, at this point, are tired of pasta they also offer many pizza options. As always, I highly recommend the mixed grilled seafood dish. Ask them what's the catch of the day or something off-menu- you might be surprised!
Address: colonna, Fondamenta Manin, 1, 30141 Venezia
Hours: 12 PM- 2:30 PM, 7:00 PM- 10 PM Always Open
Al Timon (Cannaregio)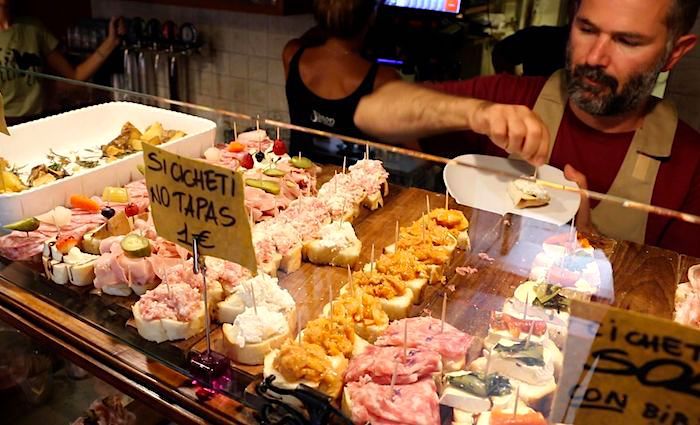 €€ | Aperitivo | Steakhouse
Have you ever walked up to a bar and saw lots of people hanging out without a care in the world? That's what you will find when you go to Al Timon. The establishment is on a canal and they have boats out front so that you can sit on them and have a chat with your friend.
Therefore you have two options when you come here. You can grab some snacks and a glass of wine and head outside, sit on a boat, and enjoy the super chill atmosphere. If you are hungry, then you can head inside and have a sit-down meal. I highly recommend the steak here. Enjoy!
Address: Fondamenta dei Ormesini, 2754, 30121 Venezia
Hours: 11 AM- 6 PM. Open every day
Cocaeta (Cannaregio)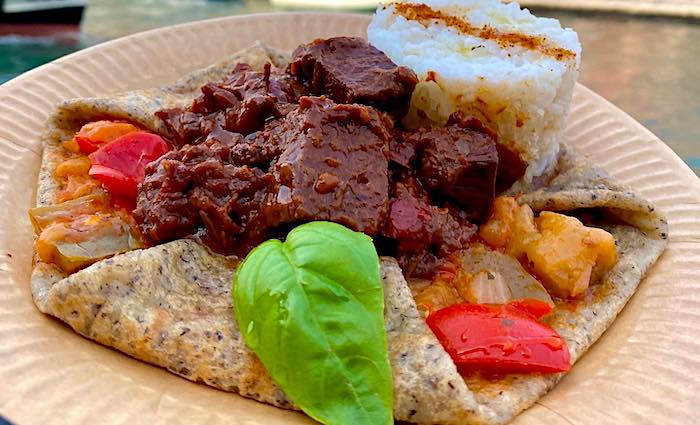 € | Crepes | Hole in the wall
Most people associate crepes with a sweet dessert after a meal. And they wouldn't be wrong. However, it is also possible to get savory crepes which are simply amazing. And that is why Cocaeta is one of the best restaurants in Venice.
You have to be careful or you might walk right past it, although the line should be a good indicator. Once inside, the owner is a one-man show and super friendly. You can tell that he is super passionate about what he does. Pop in for a snack or a hearty crepe that will keep you full for hours.
Address: 549, Fondamenta S. Giobbe, 30121 Venezia
Hours: 12 PM – 4 PM, 6 PM-9 PM. Closed Thursdays
Ai Gondolieri ( Dorsoduro)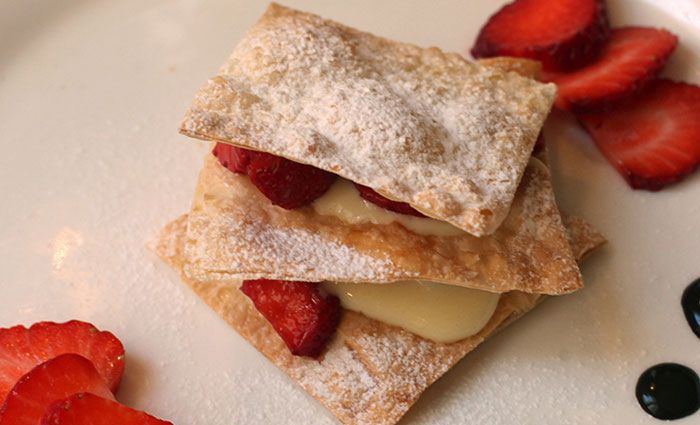 €€€€ | Fine Dining | Rub with celebrity
There are sometimes restaurants that you can visit if you want to rub elbows with politicians and the elite. Come to ai Gondolieri if that is your thing. Or if you happen to have just finished a visit to the Guggenheim and are hungry, then it is also a good reason to stop by.
As for the cuisine, you can go with local favorites such as Fegato alla Veneziana ( Liver with onions) or something more unique such as Cream of Pumpkin with toasted almonds. The menu is varied enough between meat and fish to find something for everyone. They even have vegetarian and vegan options.
Address: Calle S. Domenico Dorsoduro, 366, 30123 Venezia
Hours: 12PM – 11:30 PM Open Every Day
Bacaromi (Giudecca)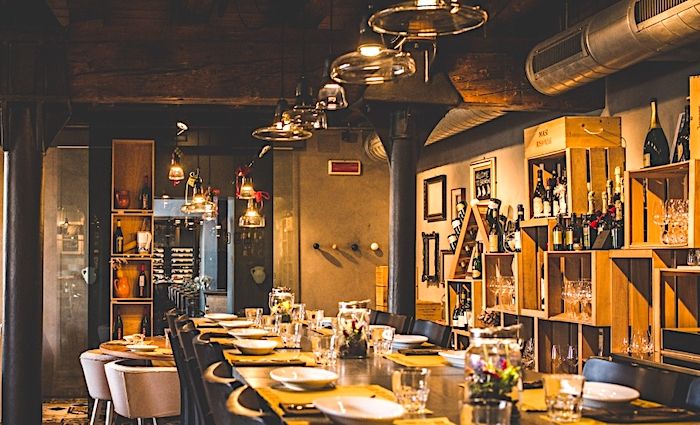 €€€€ | Hotel Restaurant | Beautiful Terrace Seating
As with ORO above with Cipriani, this restaurant is connected to the Hilton which is on the other side of the island. The idea is a set up like a typical Baccaro ( typical Venetian bar) but with a contemporary style. As you can imagine, the price will be higher than at a typical Baccaro as well!
The menu is mostly seafood and the service is impeccable. When dining here make sure you sit outside with a view to the sunset. There is nothing more epic ( or romantic) than looking at a sunset over the lagoon in Venice enjoying a great meal.
Address: Giudecca, 810, 30133 Venezia
Hours: 7:30 PM- 10:30PM Always open
Osteria Al Merca (Lido Island)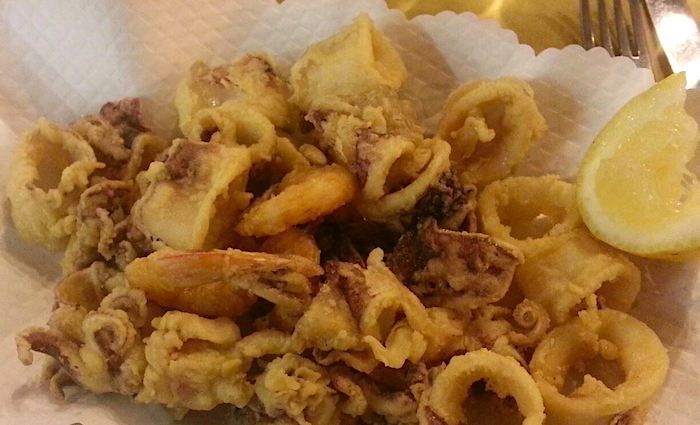 €€ | Busy Spot | Local
This Osteria is extremely popular with locals so if you are planning to go on the weekend I highly recommend that you reserve in advance. During the week it shouldn't be a problem.
Their specialty is typical seafood recipes that are local. One of my favorites here is the fritto misto, which means a mix of various seafood that is fried. You spray some lemon on it and go to food heaven. For nonseafood lovers, you can get some pasta with pesto or lasagna among other treats.
Address: Via E. Dandolo, 17B, 30100 Venezia
Hours: Noon- 2:30 PM, 6:45 PM- 9:30 PM Open every day
Trattoria Da Primo (Burano Island)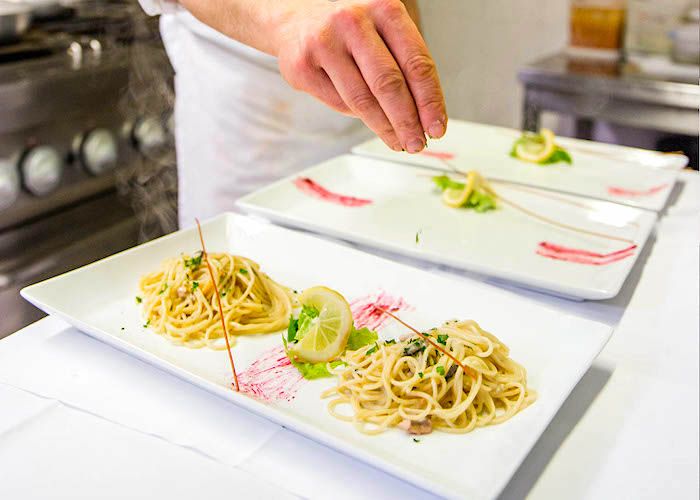 €€ | Family Owned | Something for everyone
As I have mentioned before, a trattoria is traditionally a family-owned restaurant and no place epitomizes this as Da Primo. The owner Paolo works the restaurant together with his wife and three daughters. A great place to get a home-cooked meal and one of the best restaurants in Venice.
As for the menu you can try some typical Venetian starters like the sardines with onions or the famous fish dish in Burano Risotto di Gó ( a risotto made with a local fish Ghiozzo). If you want to avoid seafood then they have plenty of vegetarian options and also plenty of options for meat lovers. Here you will find it all and also feel at home!
Address: Via Baldassarre Galuppi, 285, 30142 Venezia
Hours: 12 PM- 4 PM, Monday Closed
Want to explore Venetian food culture with a local? Join our Venice food tours and experiences and open your mind to different cultures!
Ristorante La Bitta (Dorsoduro)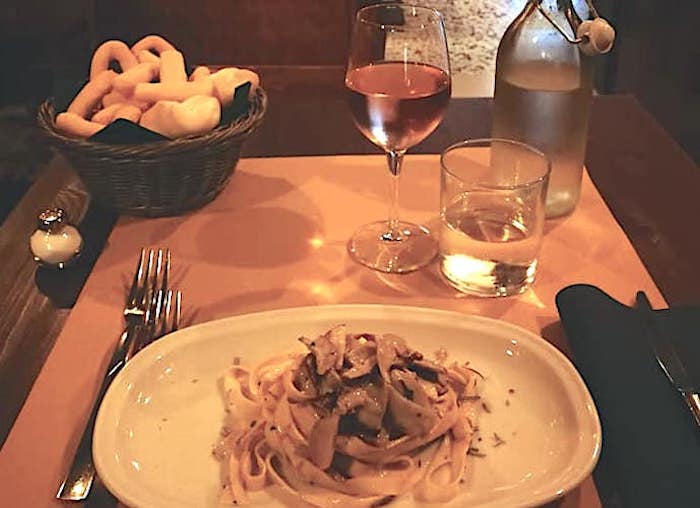 €€ | Homestyle | No seafood!
People come to La Bitta when they want a meal that feels homemade. It is a quaint establishment that has a cozy atmosphere and puts you directly at ease. I can say that there are very few places like this left in Venice, which is why we have added it as one of the best restaurants in Venice.
As for the menu, there is no seafood! I know that this is very strange to say, but it is true. Instead of seafood, sit down to enjoy radicchio in a cream sauce or the artichoke salad. Then move on to the pasta and meat dishes. If you are tired of seafood or want to be a bit more local, come on down!
Address: C. Lunga S. Barnaba, 2753/A, 30123 Venezia
Hours: 7 PM – 10 PM. Closed Sundays
Majer (Giudecca)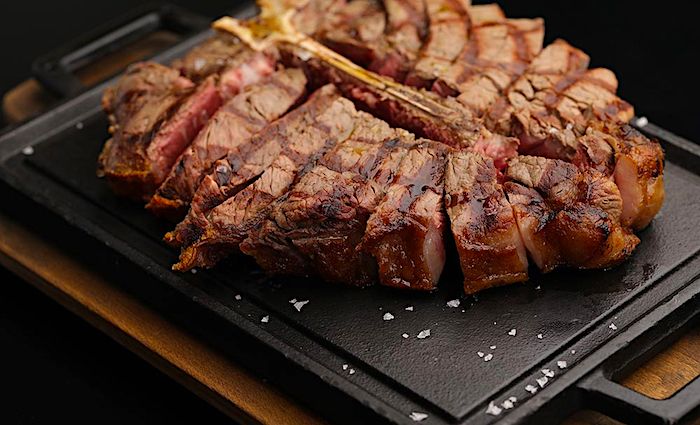 €€ | Modern | Breakfast, Lunch or Dinner
As you are walking around the city of Venice you might see Majer in a few places, but they will only be serving breakfast. At the Majer in Giudecca they have decided to experiment a bit and bring a modern style experiment by offering lunch and dinner at this location.
In almost every restaurant that you will visit in Venice, their specialty will be seafood. Surprisingly when you show up here for dinner, the main courses are almost all meats! From a Waygu ribeye to a Florentine steak, if you are a meat eater they got you covered. Of course, you will also find the catch of the day- this is Venice of course.
Address: Fondamenta Sant'Eufemia, 461, 30135 Venezia
Hours: 7 AM- 10 PM Open Every Day
La Tavernetta (Lido Island)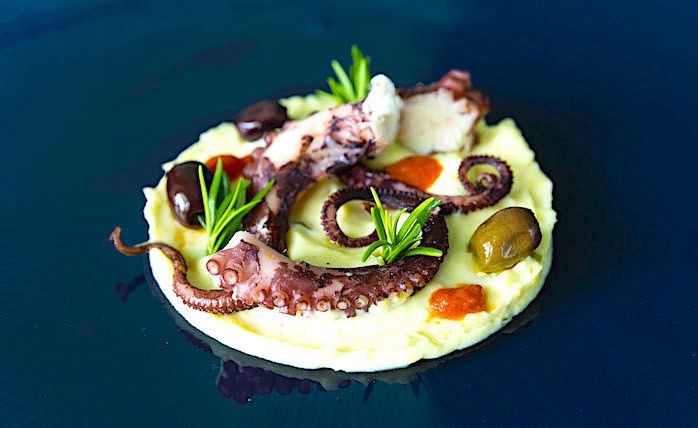 €€€ | Historical Establishment | Modern Cuisine
This restaurant is an interesting mix of Venetian and Tuscan cuisine. That's because the owners come from both places, creating a unique twist of flavors. You will find this restaurant a favorite among the locals and one of the best restaurants in Venice.
How about a scallop tartar with mint and coriander mousse? Or maybe a risotto with San Marzano tomatoes, burrata and pesto? Wash it down with one of their 200 labels of wine and have an awesome night.
Address: Via F.Morosini, 4, 30126 Lido
Hours: 12:30 PM- 2:30 PM, 7PM- 10 PM Open every day
Antico Martini (San Marco)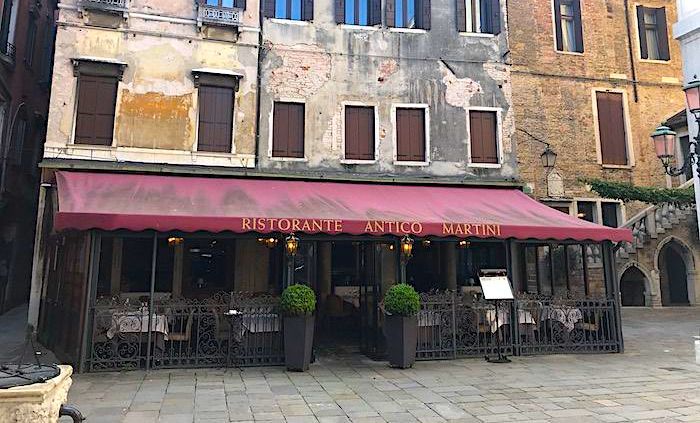 €€€ | Truffles | Fenice Theater
While this restaurant doesn't look like anything special when you walk past, this historic restaurant has been welcoming guests from all over the world since 1720. Enjoy high-class local cuisine on the idyllic Teatro Fenice square, home to the cities most important opera house La Fenice.
Specialties in this restaurant include the black truffle pasta and the celery and coriander fish soup. You will get all this, in just 5 minutes from Saint Mark's square. The unique characteristic of this place is the romantic atmosphere on the piazza while still being sheltered from the sun.
Address: Campo Teatro Fenice, 2007, 30124 Venezia
Hours: 11:30 AM – 11:30 PM
Ristorante Favorita (Lido Island)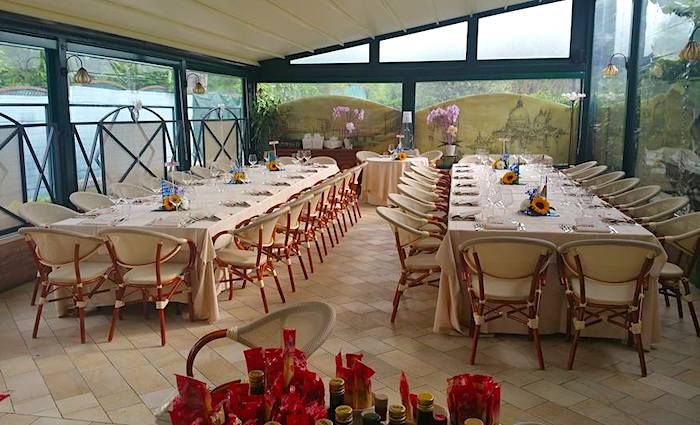 €€€ | Outdoor Seating | Favorite among Locals
If you ask many people from Lido what is the best restaurant on the island, many of them will say Ristorante Favorita. It has been here many generations and is a family run restaurant. You can choose to eat inside or sit outside on the terrace.
They specialize in seafood from the lagoon as with all typical Venetian restaurants. The fresh is always very fresh and the quality to price ratio is fair. If you are looking for a meal that everyone will like, come on down!
Address: Via Francesco Duodo, 33, 30126 Venezia
Hours: Noon- 2:30 PM, 7 PM- 10:30 PM Closed Mondays
---
---