Sorrento is technically where the Amalfi Coast begins. There are beautiful panoramic views of the coast and needless to say that brings in many tourists. So where to eat when you are there? We got you covered with our local guides mapping out the best restaurants in Sorrento, Amalfi Coast
---
Brandon's Pro Tip: When traveling to a different country the planning stage can be stressful. By bookmarking helpful articles it is a great way not to forget some vital info that you pick up. Bookmark this post so you know where to eat!
10 Best Places To Eat And Drink In Sorrento, Amalfi Coast
Everyone has seen pictures of the Amalfi Coast. It is hands down, one of the most beautiful places on earth. As a result, many people want to come and visit, which makes sense. When you have a lot of tourists you are bound to see many tourist trap restaurants, so you need to be careful.
Since nobody likes tourist traps ( myself included) we have asked our local guides to put together a list of their favorite places when they are in this town. We hope it helps you take the guesswork out of your decision and focus on enjoying your vacation. Buon Appetito!
Don Pedro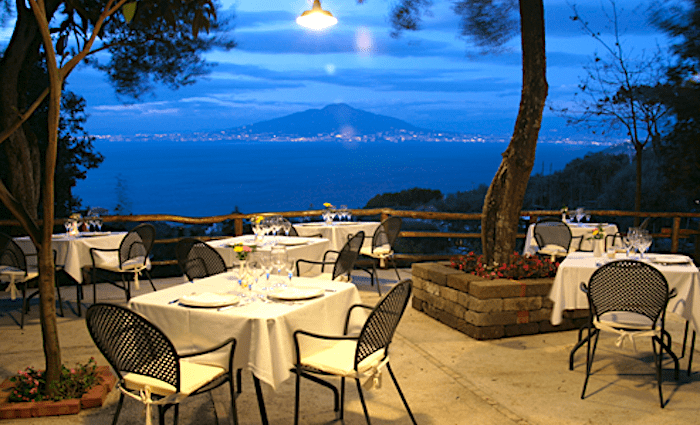 €€€ | Amazing Views | Seafood
The owner of this restaurant, Pietro Cacciaviello decided that he wanted to dedicate himself to traditional Mediterrean cooking. Together with chef Carmelina Pontecorvo's experience and the help of his children, he has created a simply wonderful place to dine.
Their specialty, as most in Sorrento, is seafood. Due to the size and location, they are very popular with hosting weddings but don't let that stop you from going and sampling their delicious food. Try the lobster and you will understand why this is one of the best restaurants in Sorrento.
Address: Via Nastro Verde, 77, 80067 Sorrento
Hours: Noon- 11 PM Always open
Trattoria Da Emilia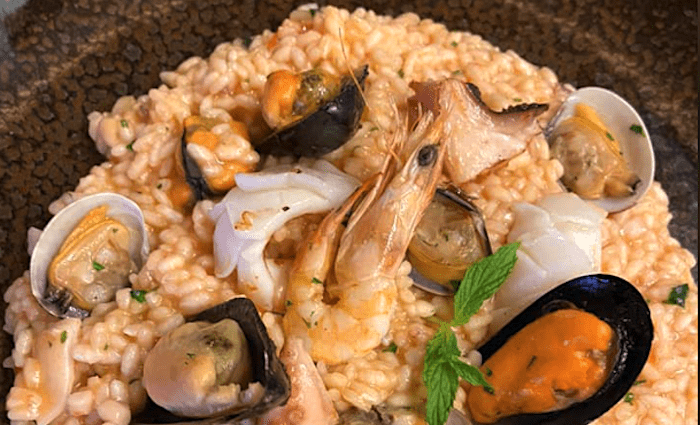 €€ | Family run | Seafood
Risotto with seafood is a rice dish with various kinds of shellfish and a touch of tomato. The history of the dish probably started one day when they went into the kitchen and only had rice and shellfish. At that point they decided to just throw it all together and the rest is history!
The restaurant is directly on the Marina Grande and at certain points, you can even see the fish being unloaded fresh to the restaurant. Therefore if you like seafood, come here and eat to your heart's content.
Address: Via Marina Grande, 62, 80067 Sorrento
Hours: Noon- 2:45 PM, 6:30 PM- 10:30 PM Always open
Tours of Capri & Pompeii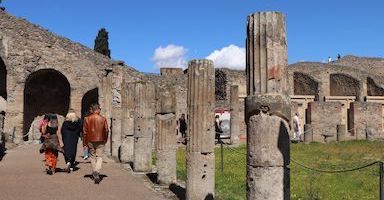 Best Selling Tour
Join us on an adventure from Rome to Pompeii and stunning Sorrento with comfortable, round-trip transportation. Skip the line access with an expert guide and make the most of your time in Italy and leave all the details to us. All you have to do is enjoy yourself!





See Prices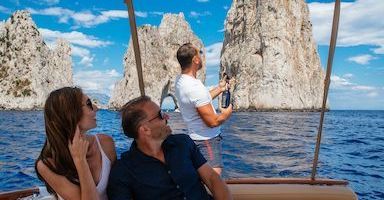 Amazing Experience
A full-day private boat tour to Capri from Amalfi, including the Island of Capri, is the best way to experience this world-famous coastline. Arrange a personalized boat tour along the Amalfi Coast and create unforgettable memories of Italy.





See Prices
Pizzeria da Franco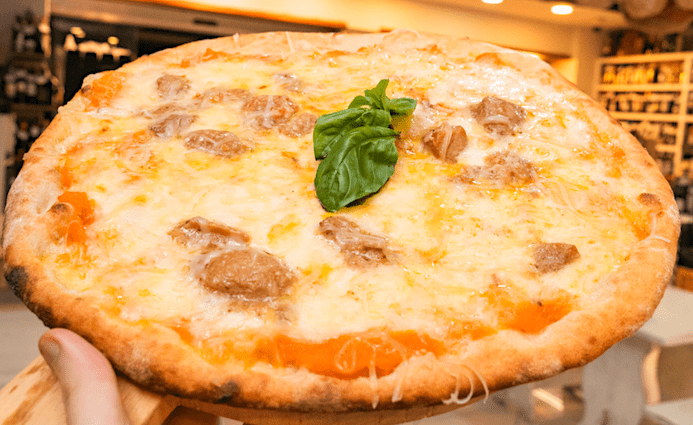 € | Fun atmosphere | Pizza Napolitana
While it is true that you can eat pizza anywhere in the world, pizza as we know it was invented in Naples. And since the entire Amalfi Coast makes pizza in the Neopolitan style, you need to try it here.
As the story goes, by the late 18th century, poor families around Naples were adding tomatoes to their yeast- based flatbread. It became an instant success and visitors coming to the city starting going into these poorer parts of town to try this specialty.
Make sure you stop at a pizzeria and try the Pizza Napolitana since it is a food to try in the Amalfi Coast!
Address: Corso Italia, 265, 80067 Sorrento
Hours: 11 AM- 2 AM Always open
Inn Bufalito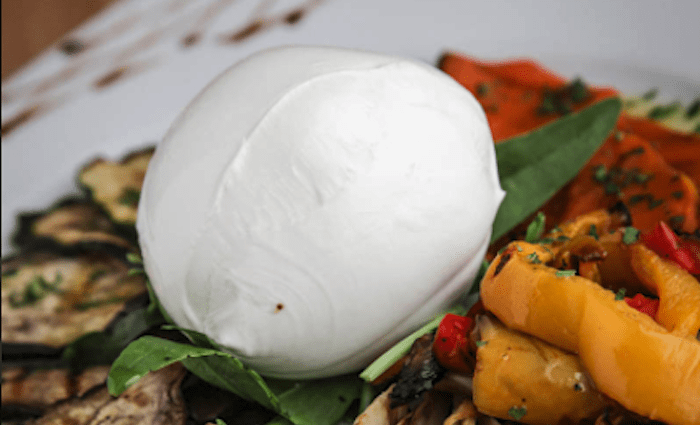 €€ | Off- beaten track | Mozzarella di Bufala!
There is a saying that the farther south you go in Italy, the better the food gets. It is hard to argue this point as I most definitely tend to agree. One of the major products from the south is Mozzarella di Bufala. Another saying is that it doesn't travel very well, so better to eat it locally. So here you go.
Besides all the mozzarella products they have, you can also get seafood and steak. Therefore coming to the Inn Bufalita means that you will find something for everyone… but remember the Mozzarella di Bufala!
Address: Vico Primo Fuoro, 21, 80067 Sorrento
Hours: Noon- 4 PM, 6 PM- Midnight Always open
Il Leone Rosso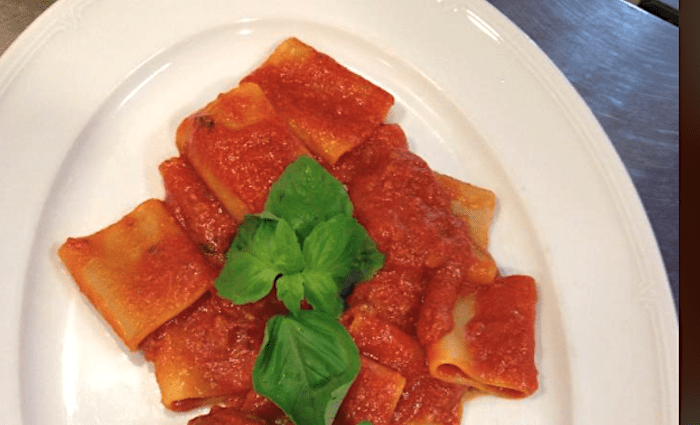 €€ | Fun Atmosphere | Outdoor Seating
This restaurant is tucked away a bit from the main hustle and bustle, so you will enjoy a bit of the laid back traditions here. The ratio of quality to price is fantastic and you will find the staff to be super friendly in helping you out with what to eat. As I always recommend, don't take the menu, let them choose for you.
They have something for everyone here. From pasta to pizza to seafood. I would also recommend you to try one of their many desserts. Which one? Try all of them, because I have never been disappointed!
Address: Via Marziale, 25, 80067 Sorrento
Hours: Noon- Midnight Always open
Bagni Delfino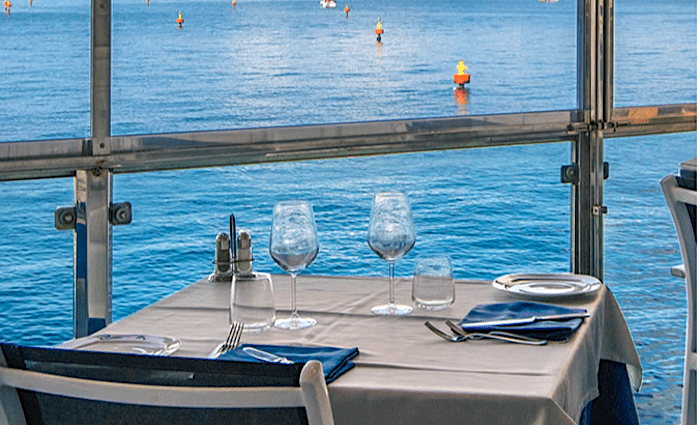 €€ | Amazing Seaview | Seafood
There are some restaurants that you visit just for the food. And there are others that you visit and pay just for the view. Happily at Bagni Delfino you can enjoy both! This family owned restaurant since the 1960's have set up the restaurant in a way so that almost every table has a sea view. In the far distance you can even see Mt. Vesuvius.
When you come to eat here you will dine with tourists and locals alike. Seafood is their main specialty so I highly recommend that you order something from the sea and wash it down with some Vino Bianco!
Address: Via Marina Grande, 216, 80067 Sorrento
Hours: Noon- 2:30 PM, 6:30 PM-10 PM Always open
La Lanterna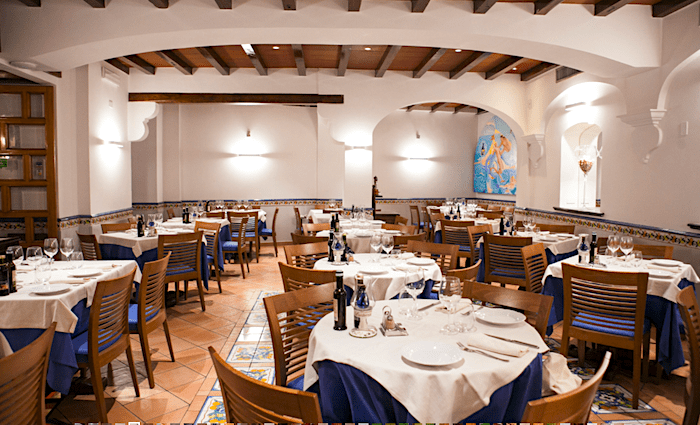 €€ | Cozy Atmosphere | Traditional Food
You have to be careful, because you might walk right past this restaurant and never know it's there. It is in a side alley and is very popular with locals. Staff is super friendly and remember to ask them what to eat, they know better than you.
I would start with the oysters to get your appetite going. After, I would definitely order pasta with seafood ( again ask the waiter what is fresh). I would finish off with any dessert on the menu and a cold glass of limoncello. You have now gone to food heaven.
Address: Via S. Cesareo, 23/25, 80067 Sorrento
Hours: Noon- Midnight Always open
Il Buco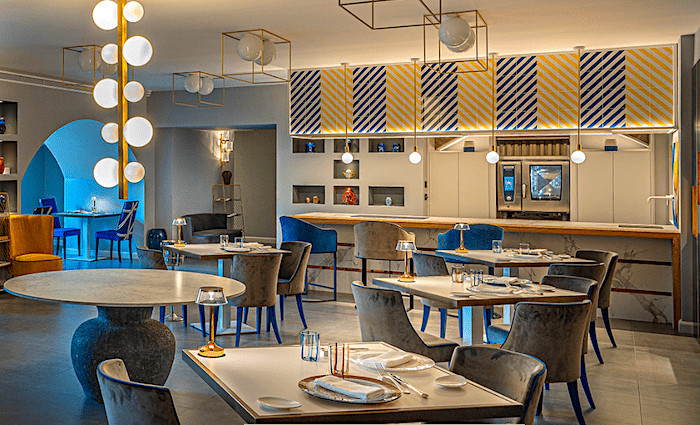 €€€€ | Modern Cuisine | Michelin Star
This super modern restaurant in the heart of Sorrento has breathed new life and bucked the trend of the typical and traditional restaurant in the south. Their motto is that they bring passion and life to Italian cuisine.
Unlike many Michelin restaurants where you cannot pronounce many of the things you are eating, il Buco has kept things real with actual dishes you would eat in any Italian restaurant, but with some twists. How about past with fish marinated in lemon ( Sorrento is known for lemons), bottarga and dried tomatoes. That is what I am talking about!
Address: 2ª Rampa Marina Piccola, 5 (Piazza S.Antonino), 80067 Sorrento
Hours: 12:30 PM- 2:30 PM, 7:30 PM- 11 PM Always open
Ristorante 'O Parrucchiano La Favorita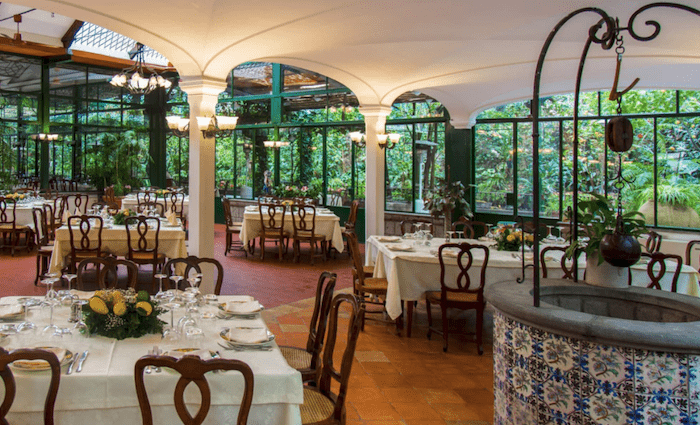 €€€ | Garden Seating | Old Style Vibe
The magic of any place is the ability to make it seem like they are not there. That is what happens when you find La Favorita. You are pretty much right in the center of the city and then you enter this oasis of food heaven. It is like walking into a cloister of church in a city. As the doors close behind you, everything gets quiet and in this case you can meditate on the food!
This restaurant has been operating for more than 100 years, so they must be doing something right! They specialize in pasta from pasta with seafood, to pasta with meat, to cannelloni stuffed with cheese. There is something for everyone. Enjoy.
Address: Corso Italia, 71, 80067 Sorrento
Hours: 12 PM- 3 PM, 7 PM- 11:30 PM Always open
Tours of Pompeii & Amalfi Coast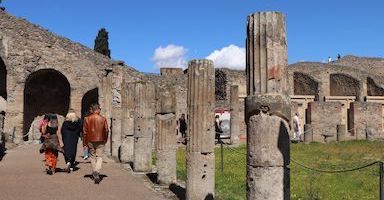 Best Selling Tour
Rome to Pompeii Day Trip with Stunning Sorrento
Join us on an adventure from Rome to Pompeii and stunning Sorrento with comfortable, round-trip transportation. Skip the line access with an expert guide and make the most of your time in Italy and leave all the details to us. All you have to do is enjoy yourself!





See Prices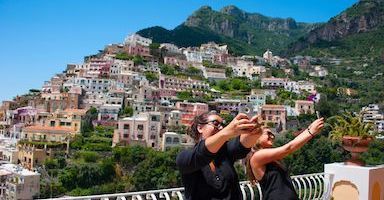 Amazing Experience
Pompeii and Amalfi Coast Tours
There are many options for your trip to the Amalfi Coast, whether you're taking a full trip or just a day trip from Rome. One of the best archeological sites on earth, Pompeii was destroyed by Mount Vesuvius in 79 AD. The combination of plunging cliffs, history, and charm make the Amalfi Coast one of our favorite places in Italy.





See Prices
Ristorante Museo Caruso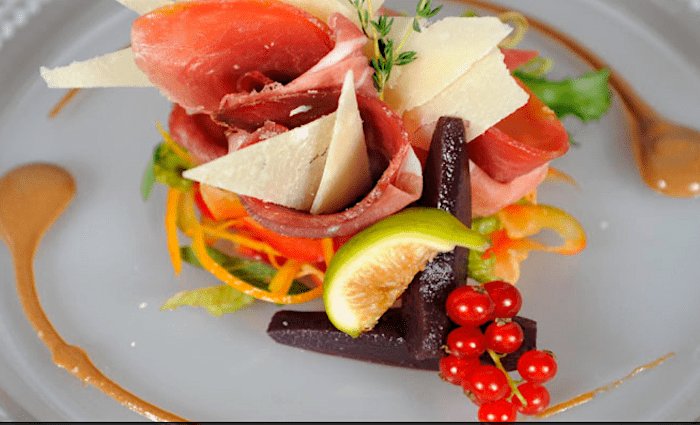 €€€€ | Old School | Eccentric
So I have to say from the getgo that this restaurant might not be for everyone. It has a very special feel to it. Let me explain… The owner loves the Italian opera singer Caruso. The walls are lined with photos of him and while you eat, you will listen to music by him. The waiters will also probably tell you some stories about Caruso.
How is the food? Delicious! You will start with some prosecco, then jump into a pasta dish and then eat seafood. What more could you want? If you are looking for a special experience that you can go home and tell your friends about, then make a reservation for one night here.
Address: Via Sant'Antonino, 12, 80067 Sorrento
Hours: 12 PM- 3 PM, 6 PM- Midnight Always open