Lisbon is an eclectic patchwork of cultures and history. From a trendy riverside to a maze of medieval streets, a Bairro (neighborhood) suits every traveler. But which neighborhood is right for you? I've been living in Lisbon and leading tours here for nearly a decade, so I'm here to guide you through where to stay in Lisbon this year.
Pro Tip: Planning a trip to Portugal? Organizing your trip is easier when you have all your resources in one place. Bookmark this post along with our Portugal guide for more planning resources. Also, check out our Top Things to Do in Lisbon and Top Things to Do in Sintra, or if you fancy exploring Lisbon but enjoying a beach holiday then check out our Where to Stay in Cascais.
Where To Stay in Lisbon: Best Hotels and Neighborhoods
The American art critic Mary McCarthy once said, "Any Portuguese town looks like a bride's finery – something old, something new, something borrowed, and something blue." It is hard to find a better description of Lisbon.
With over 2700 years of history, every Bairro has its own story, its own vibe, and culture. There is something for everyone in Lisbon. Whether you want great bars and restaurants, antique markets, food halls, museums, or music, one of the neighborhoods is sure to fit your needs.
So, how do you choose the perfect area in Lisbon? Then keep reading for tips about the best places to stay in Lisbon, with recommendations for neighborhoods and hotels in this guide.
---
Best Hotels in Lisbon at a Glance
Best Areas and Neighberhoods in Lisbon
Alternatively, you can enjoy a country retreat in Sintra or a beach holiday in Cascais.
Our Partnership with Booking.com. If you like our content, please book by clicking on our Booking.com links. The price is the same for you, and we get a small commission that helps support our helpful blog content. We've partnered with Booking.com because they have the most options, great prices, and a solid loyalty program.
---
Alfama- Neighborhood Guide

Romantic and picture-perfect, Alfama is one of the only neighborhoods to survive Portugal's devastating 18th-century earthquake. It is a beguiling medieval maze.
Even though Alfama is one of the biggest tourist destinations in the city, as long as you step off the well-trodden path to the castle, it can be a quiet oasis compared to the claustrophobic Baixa.
Be forewarned – this area is not ideal for cars, families with kids in strollers, or those with mobility issues. However, with its small taverns, fado houses, meandering streets, and small boutique hotels – It is perfect for couples and friends looking to explore Lisbon's true soul.
---
Why I Love Alfama
Romantic vibes
Quiet evenings
Lots of history
Fantastic views of the city
Attractions In and Near Alfama
---
The Best Hotels in Alfama:
Solar do Castelo – Lisbon Heritage Collection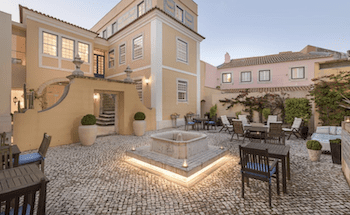 €€€ | 4 Star | Iconic Hilltop Location | Oasis
Want to stay within the walls of the Moorish Sao Jorge Castle? You can at Solar do Castelo! Set in an 18th-century mansion, the hotel is a quiet oasis with great views. It's furnished with beautiful decor, making you feel like you've stepped back in time without sacrificing comfort.
The Santiago de Alfama – Boutique Hotel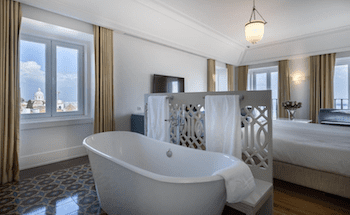 €€€+ | 5 Star | Great Location | Views | Restaurant | Spa
In the heart of Alfama, this hotel is perfect for those who love to step outside a hotel and immediately explore a neighborhood. The rooms have an airy elegance, and there's no question you'll enjoy great food in the restaurant and have a relaxing stay here. The views are amazing too!
The Lisboans Apartments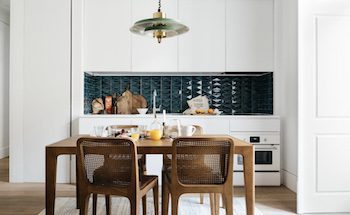 €€€ | 4 Star | Apartments | Kitchen | Great For Families
On the border of Alfama and Baixa, these apartments offer guests an elegant self-catering option close to transportation, the cathedral, and the Praça do Comércio. It's perfect for anyone looking for a home away from home in Lisbon, with exceptional design and the option of two bedrooms.
Chiado – Neighborhood Guide

---
Lively and bustling Chiado has been a go-to spot in Lisbon since the 19th century. Here is where Lisbon's bohemian literary set used to hang out.
Awash with history, restaurants, cafes, and great shopping, Chiado is a fantastic location to stay in Lisbon. Accommodation runs from high-end to great family-friendly options.
This neighborhood is steep, like most of Lisbon; however, it is ideal for most travelers; taxis and transport links are plentiful, and it's easy to eat well.
---
Why I Love Chiado
Trendy and bustling part of town
Buzzing nightlife is right around the corner in Bairro Alto, but far enough away not to disturb your sleep.
Great shopping
Where to Stay in Chiado:
Bairro Alto Hotel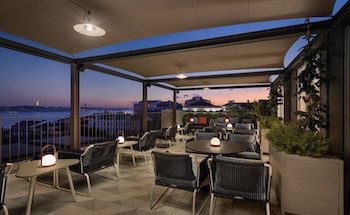 €€€€ | 5 Star | Modern Luxury | Restaurant | Rooftop Terrace
I am always reticent to recommend staying in Bairro Alto as it is so loud in the evening, but despite its name, the Hotel Bairro Alto is actually just outside of the neighborhood. Closed for over a year for renovations, this is one of Lisbon's most beautifully designed hotels. With its signature restaurant and fantastic rooftop terrace, it is a must on any list of Lisbon.
Hotel do Chiado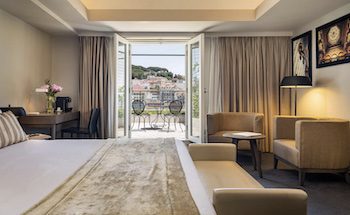 €€ | 4 Star | Bustling Location | Great Views | Rooftop Bar
If shopping in Chiado is at the top of your to-do list, this hotel is in the thick of things. Rooms are spacious and bright, with great views of Lisbon's typical terracotta rooftops. You'll also enjoy discounts at their popular Entretanto Rooftop Bar.
Martinhal Lisbon Chiado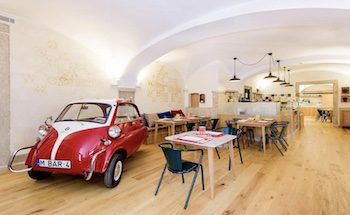 €€€ | 5 Star | Family specialist | Baby-sitters | Kids Club |
Martinhal originally opened in Sagres, in the Algarve, and has since spread. They are the best family resorts in Portugal. They are the trendsetters that others have followed. Their Chaido hub is no different. The hotel is modern and sleek but also offers on-site babysitting, kids' clubs, indoor playgrounds, family apartments, and suites. Perfect if you want at least one romantic meal without Peppa Pig playing in the background.
The Ivens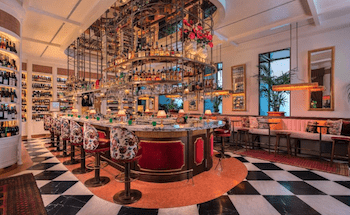 €€€ | 5 Star | Great Location | Amazing Restaurant | Beautiful Decor
Voted one of the best new hotels in the world in 2022, the Ivens continues to set trends. Its bar and restaurant are amongst the most popular in the city. The rooms are modern and beautifully designed. I can vouch for the staff's friendliness and the bar's quality, as I've spent many an afternoon exploring the cocktail menu here.
Cais do Sodré – Neighborhood Guide

Originally Lisbon's gritty dock-side neighborhood, Cais de Sodré is now one of Lisbon's most trendy and Instagram-worthy spots. "Pink Street" and the infamous TimeOut market are among the area's big draws, but there's much else to explore.
There are few quality places to stay here, but away from the hum of the nightlife, there are a couple of first-class addresses worth exploring.
This area is flat and connected by the metro, train, and tram, so good for those with mobility issues.
---
Why I Love Cais do Sodré
Buzzing nightlife
Riverside location
Train to top attractions beyond the city center
Attractions Near Caid do Sodré
Where to Stay in Cais do Sodré
---
Corpo Santo Lisbon Historical Hotel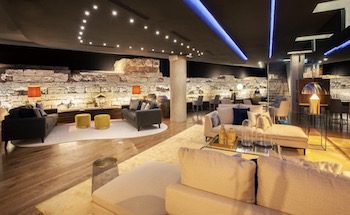 €€€€ | 5 Star | Modern with History | Spa | Free Walking Tours
This new and modern hotel is a restful retreat in a lively area. You'll be able to relax in the spa and have guests-only access to the Fernandina Room, a lounge area with exposed wall ruins! The hotel also runs two free walking tours of Lisbon daily, starting in their own museum area.
Príncipe Real- Neighborhood Guide

---
This neighborhood translates as the "royal prince," and nothing could be more true about this area. The bolthole of 19th-century aristocrats, Príncipe Real, is still an affluent and fashionable area.
With beautiful parks, independent boutiques, and some of Lisbon's most fashionable dining options, Príncipe Real is a relaxing spot to explore Lisbon from.
Like many of Lisbon's most classic neighborhoods, Príncipe Real is not very well connected. However, there is one metro stop, and the streets are more accessible for taxis. Bonus points – everything you want to visit is downhill!
One of my favorite places in Lisbon, even if to visit our friends at Black Sheep Wine Bar, who have one of the most wonderfully curated natural wine lists in Portugal.
Why I love Príncipe Real
A quieter area close to the main attractions
Slower-paced nightlife with a different vibe
Luxury and affordable hotels
Attractions in Príncipe Real
Where to Stay in Príncipe Real:
Memmo Príncipe Real – Design Hotels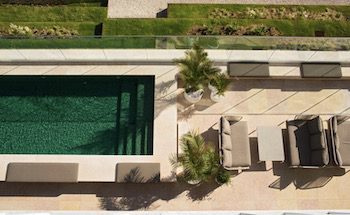 €€€€ | 5 Star | Upscale Design | Rooftop Pool | Spectacular Views
This chic hotel is designed for comfort and style, which makes it a top choice for luxury honeymooners. It has a rooftop pool and restaurant with gorgeous views. Rooms come in a variety of configurations with perks, like a balcony with an outdoor fireplace in exclusive rooms or a private living room in the junior suite.
1869 Príncipe Real House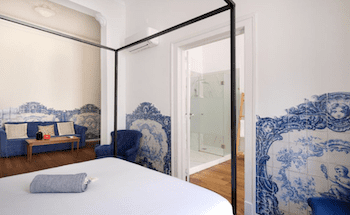 €€ | 4 Star | B&B | Beautiful Design | Family Friendly
Set in a restored building that dates back to 1869, this B&B offers guests incredible comfort in beautifully designed rooms and suites. This is a great choice for families looking for some space, as the suites have a living area.
Alegria A Lisbon Boutique Hotel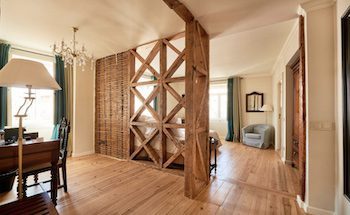 €€ | 3 Star | Great Location | Excellent Breakfast
Overlooking the Praça de Alegria garden, this hotel features spacious rooms with interesting architectural details and an eclectic design. It's perfect for travelers looking for a restful place to stay on their trip to Lisbon.
---
---
West Lisbon (Santos, Estrela & Alcântara)- Neighborhood Guide

---
This area covers several neighborhoods, which are as diverse as they are beautiful. They meander down along the river, taking in sites like the National Museum of Ancient Art and smaller hidden treasures and viewpoints.
This area is for you if you fancy exploring a modern but authentic Lisbon. There are small museums, galleries, and cafes galore. In addition, you can drink your fill and feast on seafood in one of Lisbon's old-school authentic cervejarias (beer halls by name, but really they specialize in seafood) in Alcântara.
And don't forget the LX factory for your hipster fix – despite its popularity, it's still an excellent area for a stroll to see the street art and indulge in a cocktail or three.

Side note: I live in Alcântara, so you shouldn't actually come here. Leave it all to me! Alternatively, you'll find me propping up the bar in Quimera Brew Pub most nights ending in a Y.
---
Why I love the West of Lisbon
It's my home
Fantastic and affordable food
Pre-Hype Lisbon
Attractions in the West of Lisbon
Luxury and affordable hotels
---
Where to Stay in West Lisbon
Palacio Ramalhete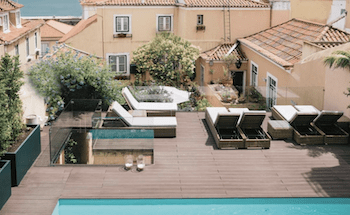 €€ + | 4 Star | Great Location | Madonnas old pad
Ever wanted to live like a rock star? Or how about the Queen of Pop? Well, Madonna made Palacio Ramalhete her home for the last two and a half years, and the four-star boutique hotel, with a fantastic swimming pool, is back on the market for holiday rent. Voted one of the top five sexiest hotels in Europe by readers of the Times, it also gets my seal of approval.
---
As Janelas Verdes Inn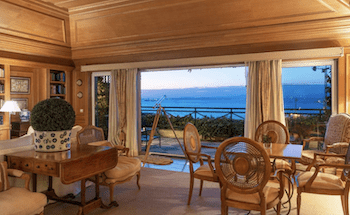 €€€ | 4 Star | Great Location | River Views
Sitting on Rua Janelas Verdes, 500 yards away from the super hipster Santos with its brunch cafes and wine bars, As Janelas Verdes is a slice of the old world surrounded by modernity. Santos has rapidly gentrified in recent years, but if you want that old-world charm of Lisbon, this is for you. The library/sitting room has stunning docks and river views.
---
The Explorer's Home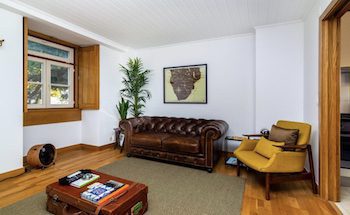 €€ | Apartment | Free Parking| River Views | Family Friendly
Beautifully designed, with a fully equipped kitchen and fantastic views of the 25th April bridge, this is perfect for families. The second bedroom makes it even better for Mum and Dad. Throw in free off-street parking (gold dust in Lisbon), its proximity to the Tapada Necessidades (my favorite park in the city), and many great restaurants nearby make this a great option.
---
Baixa- Neighborhood Guide

---
Baixa is Lisbon's downtown. This central river-side neighborhood is the most tourist-dense area of Lisbon. Personally, I hate it down here. In the last ten years, it has become incredibly vanilla.
Today this neighborhood is a hub of shops, restaurants, and hotels, most of which are very touristy – although there are a few gems to discover.
Laid out in an orderly grid of wide streets, Baixa was rebuilt in the 18th century after a devastating earthquake in 1755 destroyed much of the city.
Lisbon's most iconic square, Praça do Comércio, opens onto the river here, and is a must-visit on your list. It's also where the only hotel I'll happily recommend in Baixa is located.
Baixa is a convenient area if you have a brief time in Lisbon and want a central location to explore from. It's flat, well-connected, and quiet in the evening, as there aren't many bars here.
---
Where to Stay in Baixa
---
Pousada de Lisboa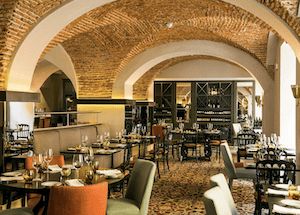 €€€€ | 5 Star | Monumental views | River Views | Luxury | Historic
The golden facades of Praça do Comércio (Commercial Square) are one of Lisbon's most stunning sites. While the lower levels of many buildings today are used as museum spaces and overpriced restaurants, the upper levels comprise most of Portugal's governmental ministries. Today with one of the beautifully designed rooms, you can survey the whole square without leaving. Oh! The spa, indoor pool, and rooftop sunbathing lounge don't hurt either.
---
Avenida da Liberdade – Neighborhood Guide

---
Lisbon's Avenida da Liberdade is a chic wide avenue modeled after Paris' grand boulevards. Centrally located, this area is ideal for a first-time visitor to Lisbon. Many main attractions are within walking distance, with easy access to the metro and taxis.
Most of Lisbon's larger luxury hotels are here – with all the extra facilities you might want.
It's also a shopper's paradise and home to Lisbon's many high-end boutiques. In addition, there are plenty of dining options, with everything from traditional Portuguese fare to international flavors and high-end cuisine.
The area is very family-friendly. Being one of Lisbon's flatter areas, you can easily use a stroller. And from here, you have easy access to Parque Eduardo VII, a great space to let the kids run wild.
---
Best Hotels on Avenida da Liberdade
---
The Tivoli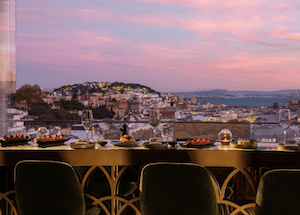 €€€€€ | 5 Star | Monumental views | River Views | Luxury | Historic
I mean, look at that picture. Do I really need to explain why this place is so wonderful? Spa? Check. Swimming pool? Check. Possibly the best rooftop bar in the city? Check. This is resort-style living in the center of the city. Footballers, fashionistas, global leaders, and my father-in-law have all stayed at the Tivoli Lisboa, and it is hard to find a reason not to.
---
The Four Seasons Hotel Ritz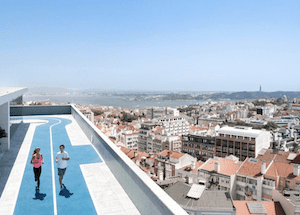 €€€€€ | 5 Star | Monumental views | River Views | Luxury | Historic
In the years that followed WWII, the Portuguese dictator, António de Oliveira Salazar, wanted to capitalize on the new wave of tourism that was gripping Europe by building Portugal's first truly luxurious hotel. In 1997 it was bought by the Ritz Hotel group, and it comes with all the modern amenities you can imagine. Including a rooftop running track, where you'll never get tired of the views.
---