You already know that there are catacombs in Paris but where exactly are they? Under the Louvre, outside the city, or somewhere in between? This quick read will spell out where they are and how you can see them.
---
On the Map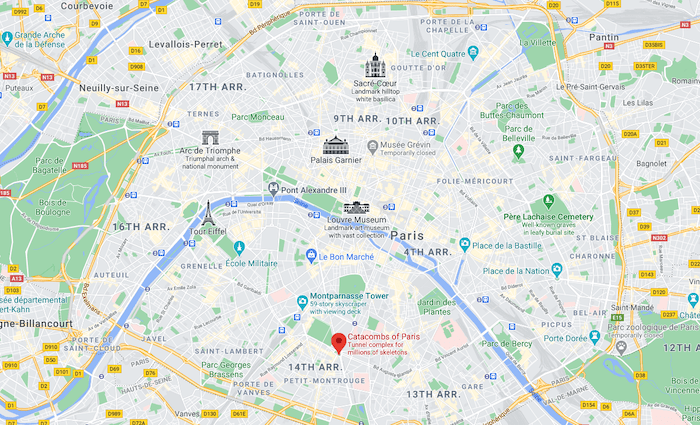 Neighborhood: 14th Arrondissement
Metro Station: Denfert-Rochereau (RER & M)
Address: 1 Avenue du Colonel Henri Rol-Tanguy
Where are the Paris Catacombs? They are nestled into the calm, quite and residential 14th arrondissement of Paris. They are a 18 min walk south from Luxembourg Gardens which is the closest major attraction.
If you walk there I recommend you pull up directions on your phone will you have wifi and use the GPS tracker built into your phone to navigate. If you take the metro, the catacombs are just across the street from the exit. You'll see a sign or two as well as a little park just behind them.
This side of the river is known as the Rive Gauche or Left Bank. Historically it is a less expensive and more artistic side of Paris but while that may have been true in the 1920s, today all of Paris is expensive and artistic! You can read more about Paris' right bank and left bank here.
Paris Catacombs Hours
Hours: Tuesday – Sunday | 10:00 AM until 8:30 PM.
Closed: Mondays, January 1st, May 1st, January 25th
Note: The ticket window closes at 7:30 PM so make sure if you are going late to get there before then.
Paris Catacombs Tickets
Paris Catacombs tickets are incredibly expensive in respect to other museums which is something to consider and most of the reason why tours tend to be priced closer to 100€ per adult. That said, it is a really cool experience well worth the money. How often do you get to see millions of skeletons? We all have a dark side!
Admissions:
Adult- 29 euros
Reduced ( 18 years old and under) 5 euros
Note: They also sell tickets the day of for a reduced price of 14 euros for adults, but they don't last long so you need to be fast in the morning. Under 18 years old stays the same.
Great Paris Tours
We are a tour company, so we recommend doing a tour, of course. We started this business for two reasons. First, we love history and learning about our world and culture. Second, we wanted to rid the world of boring tours.
We believe art is much more than just oil on canvas. It's about the life of the artists and how they were affected by the dramatic changes of their time period. Join one of our tours and you won't be let down! Admissions are always included, we always skip the lines for admissions. Plus you're guaranteed to hear interesting stories and history you won't learn by visiting on your own.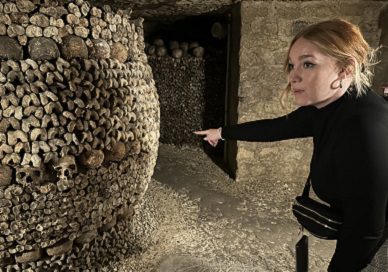 Likely to Sell Out
Paris Catacombs Tour with Secret Rooms & Privileged Access
Discover the darkness beneath the city of light. Leave the crowds behind and let your guide enlighten you with the mystical folklore surrounding the medieval tombs.





See Prices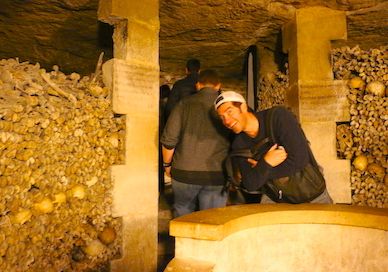 Likely to Sell Out
Skip the Line Paris Catacombs Tickets
While we recommend a guided tour, our goal is to provide customers with as many options as possible. Skip the line Paris Catacombs tickets are a great value!





See Prices
Not ready to book a tour? Check out our helpful Paris Guide for more resources.
Overview of the 14th
The area is definitely more "residential" in nature than say the 1st or the 5th. Families with children going to school and normal Parisian life. That means plenty of great places to eat and casual atmosphere.
The catacombs attract about a half a million visitors each year which does make it a little touristy, but if you walk a block or two away you will find plenty of local fare.
I definitely recommend dinner or lunch after your visit as it will be less costly than the neighborhood bordering the Seine river.