La Sagada Família is one of the most iconic monuments in Barcelona, and one can easily become overstimulated when visiting it. But don't worry! Here are some amazing facts to help you understand La Sagrada Família, written by a historian.
---
11 Things You Should Know About La Sagrada Familia in Barcelona
La Sagada Família is one of the most recognizable sites in Barcelona and receives thousands of tourists each year. It is in the Eixample district of Barcelona, not far from the Agbar Tower (or Torre Glories), La Monumental building, and the villa de Gracia. Read on to know everything possible about one of the most authentic gothic cathedrals in the world since the middle ages.
Reading up on an attraction will make a guided tour more memorable and interesting! You will impress your travel partners with your vast knowledge and engage more with the guide. To improve your travel experience, check out our guided tours of Barcelona!
11. It's Unfinished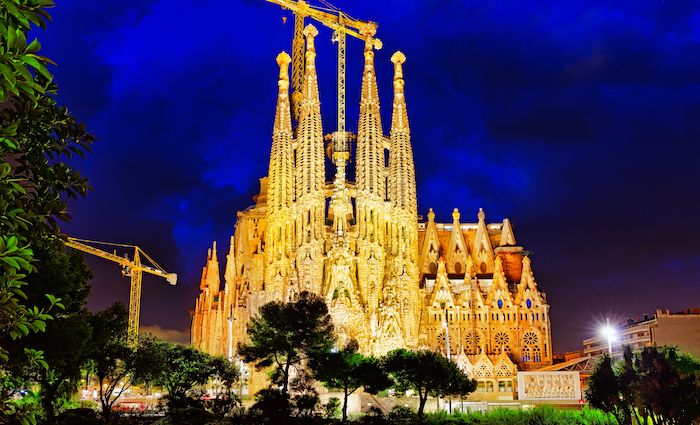 It is not unusual to visit historical monuments that have scaffolding around them. This is because they require a lot of maintenance. However, in the case of La Sagrada Família, the scaffold has been permanent since the very day when the construction started in 1882. In fact, the building hasn't been finished yet: the predicted finishing date is 2026.
One of the reasons for such a slow construction is that Sagrada Família relies purely on donations for funding. La Sagrada Família was also affected by the death of Gaudí in 1926, the Spanish Civil War, and the lack of certain materials during the 20th century. All of these issues have caused delays.
10. It is NOT the Main Cathedral of Barcelona!?!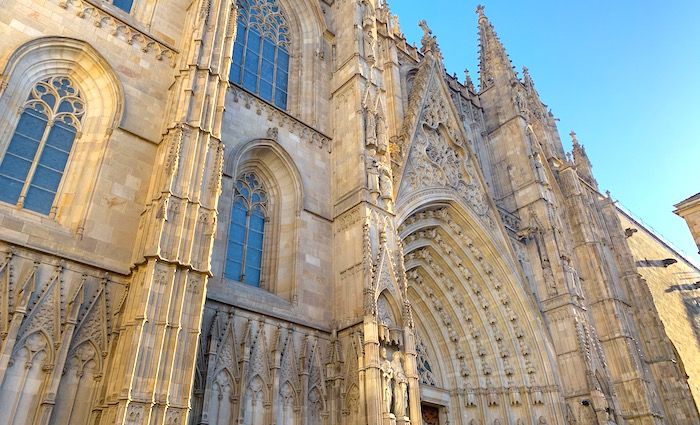 A lot of people confuse it with the cathedral, but it is not. The only cathedral in Barcelona is la Catedral de Santa Eulàlia which is a late medieval church. Originally, La Sagrada Família was conceived as an "expiatory temple": a religious building to atone for sins. In 2010 La Sagrada Família became a basilica, which means the church has a privileged status directly given by the Pope to perform special ceremonies. Moreover, if we were to make a church ranking, a basilica would only be outranked by a cathedral. So, although not a cathedral, it is a very important religious building.
Planning a visit to Barcelona?
Another incredible fact is that there is almost always a line to enter and a local guide makes the experience far more memorable. Check out our tours of Sagrada Familia!
9. Victim of the Spanish Civil War
During the Spanish Civil War, the construction work at La Sagrada Família stopped. The Spanish Civil War saw the burning of many places of worship at the hands of anarchist factions. And the crypt in La Sagrada Família suffered this same fate. Unfortunately, the crypt contained the construction plans and sketches many of which caught fire.
8. Built by Gaudi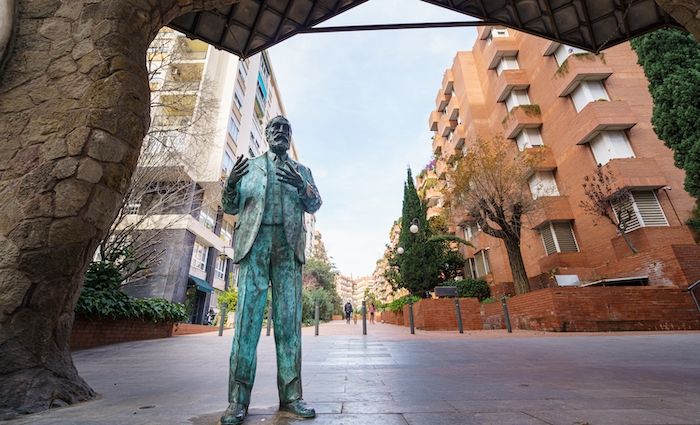 Antoni Plàcid Guillem Gaudí i Cornet was born in 1852 in Reus: a town in the province of Tarragona, Catalunya. He came from humble origins: his father was a coppersmith and, his family faced financial hardship throughout his lifetime. Thanks to the historical record, we know he wasn't a particularly good student at any point in his life. Yet, he qualified as an architect in 1878 and started working on many projects around Barcelona. He started working in La Sagrada Família after the previous architect quit in 1883 and spent 43 years working on this project.
His contemporaries called him either genius or madman. For modern historians like myself, Gaudí was, in fact, a visionary that opened new doors for the world of art and architecture. He was avant-garde, a revisionist, an innovator, and uncannily conservative. Gaudí received the patronage of the Güell family, who was one of the driving forces behind Catalan industry and economy. This relationship built in a strong admiration for Catalan culture will be crucial for Gaudí's success and legacy as an artist.
Gaudí died in 1926. A tram hit him while walking not far from La Sagrada Família itself. As an elderly man, Gaudí became incredibly insular and let himself go. Unfortunately, this meant that he looked to the pedestrians like a beggar when he suffered an accident with the tram, so no one came to his aid. As a result, he was eventually taken to a hospital for the poor where he died unidentified and alone. His remains lie in the crypt at La Sagrada Família.
7. Symbol of Catalan Modernisme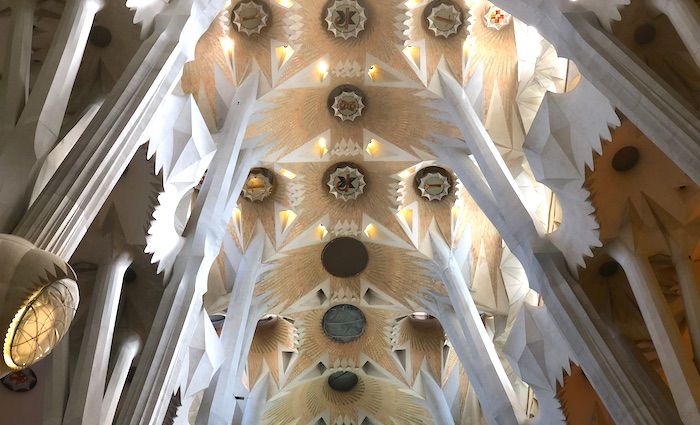 Originally, Francesc de Paula del Villar i Carmona designed La Sagrada Família as a traditional gothic church. However, when Gaudí took over, he changed his style. Gaudí found inspiration in Goethe and Ruskin to reproduce natural forms in his work. He wanted to break away from previous historical styles and develop his own. He mastered plasticity and structural forms. This means art shapes that could be easily shaped and structures that are solid pieces of strong material. The combination of these elements created a lot of dynamism and contrast.
During this time, Gaudí style became an icon of a new type of art: Catalan modernism. This style developed as a reclamation of Catalan culture and identity in the early 20th century. At this time, Catalunya was embracing its roots as well as modernity. Catalan modernism was a movement of unification of all the Catalan people, arts and crafts, and architecture was its champion. Although Gaudí wasn't trying to follow specific styles, he did embrace Catalan identity and culture, which shows in his work, including La Sagrada Família.
6. No Right (90°) Angles
There isn't a single exact right angle in any of the features of La Sagrada Família. This is because of the fluid style and formations that Gaudí favored. Moreover, he took inspiration from nature, where 90-degree angles don't exist, so they shouldn't have been incorporated in such a piece of art.
5. Spires with Stories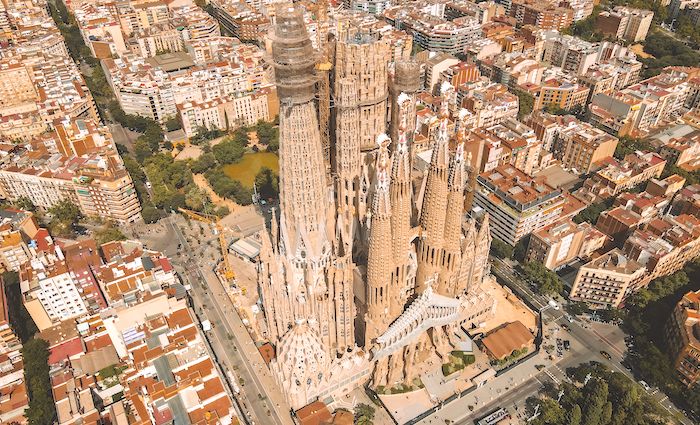 La Sagrada Família should have 18 spires. These would have representations of the 12 apostles, the 4 evangelists, the Virgin Mary, and Christ. However, it only has 9 so far. Besides, to get to the top, you need to use a spiral staircase with over 400 steps. So, if you are planning on going up, beware! These spires are 100 meters tall. In addition, in November 2021, they added a huge 12 pointed star to the Virgin Mary Spire, which now illuminates this beautiful building at night.
4. Consecrated by Pope Benedict XVI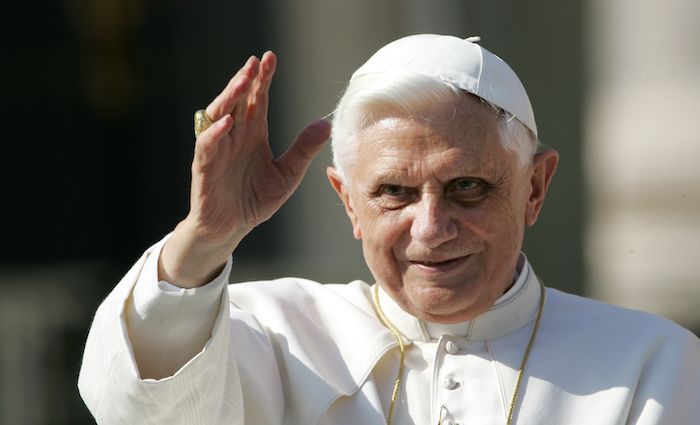 La Sagrada Família was not consecrated until 2010, despite being a church since the 19th century. In that year, the church finally had a completed nave, which was sufficient for the consecration mass done by Pope Benedict XVI.
3. A Quest for Stones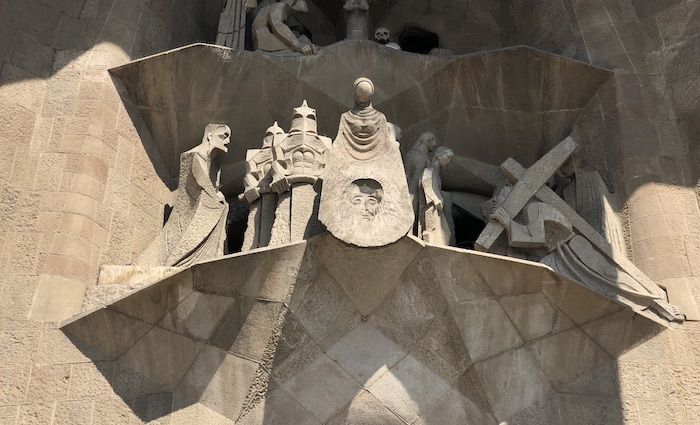 As you can imagine, La Sagrada Família requires a lot of materials and resources for its construction, which is a current issue for the technical team. The main stone used for building the church is Montjuïc stone, which is only found in Montjuïc Mount (Barcelona). Unfortunately, the quarries there were nearly depleted by the early 20th century. This type of stone is special because as a siliceous sandstone, it is not the most abundant type of sandstone in Catalunya.
Therefore, the technical team went on a quest to find similar sandstones elsewhere. Although the search is still ongoing, they now use sandstones coming from Galicia and Cantabria (Spain), Scotland, and England. However, new stones and materials are incorporated from faraway places: the ever-expanding list includes blue granite from Brazil and red porphyry from Iran.
2. Special Mass
La Sagrada Família is not only a tourist attraction; it is also a religious community. In fact, it provides some masses that you wouldn't be able to find in any church. For example, La Sagrada Família now caters to the international community! Every Sunday at 9 AM the archdiocese of Barcelona provides this special mass, which is available in multiple languages. They also host extraordinary masses that require you to have a special visitor ticket. Moreover, some of these masses are also available for people to view over the internet, so if you can't make it, you can still enjoy it through a screen!
Planning a visit to Barcelona?
Another incredible fact is that there is almost always a line to enter and a local guide makes the experience far more memorable. Check out our tours of Sagrada Familia!
1. UNESCO Heritage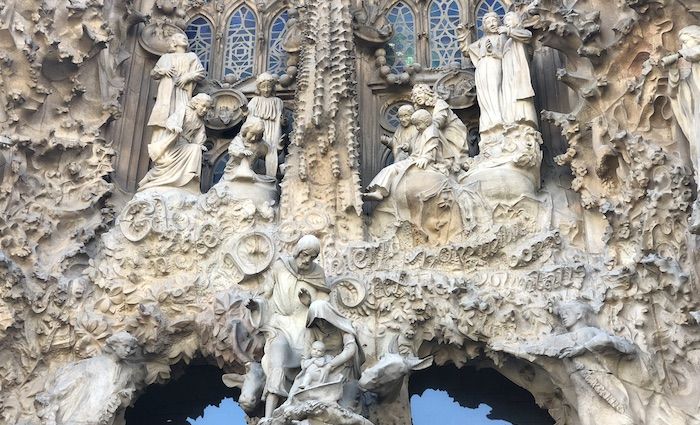 La Sagrada Família is part of the UNESCO World Heritage list since 1984 alongside other works by Gaudí. However, only the crypt and the Nativity Façade are part of the list. Furthermore, these were the only 2 items of the church that were mostly finished when Gaudí died. The crypt was already in the works when Gaudí joined the project, so it still displays the neogothic style proposed by the previous architect.
The Nativity Façade was created by Gaudí, although it was finished in 1930, 4 years after his death by a new architect that followed his designs. It shows the birth of Jesus, and it displays the best of Gaudí's naturalistic style. When he started constructing this part of the building, he knew that he would not see the whole project finished. Therefore, he chose this because he believed this façade would resonate better with the public. In Spain, the birth of Jesus is still an important celebration. For instance, we traditionally display a nativity scene for Christmas and celebrate the 6th of January when the 3 Wisemen supposedly went and performed the adoration of the newborn saviour. Therefore, the Nativity Façade was a message of hope and celebration.
Now that you know all this, you are ready to enjoy La Sagrada Família. See you in Barcelona!