Heading to Barcelona and want to know why people go "crazy" for an unfinished church? I asked the same question prior to visiting it myself. That is why I created this article, the top see things to see in Antonio Guadí's unfinished Sagrada Familia.
---
Pro Tip: Bookmark this article if you are planning a trip to Barcelona and want to see Sagrada Familia because it will come in handy. We even have a full page dedicated to Sagrada Familia with even more useful resources. Also, the best way to visit is by taking a guided tour – you won't have to worry about tickets and your guide will make sure you see it all!
Top 9 Things to See at Sagrada Familia
Gaudí became the Chief Architect and Director of works of the Sagrada Familia in 1883. Today, well over 100 years have passed and the original artist is no longer with us but construction moves forward. The Basilica is a wonder of modern architecture that has few rivals. Yes, there are other structures such as St. Peter's Basilica that could be argued as more impressive but Sagrada Familia stands out as the greatest basilica and stone construction of the modern era.
9. Jesus Presented to the Crowd by Pontus Pilate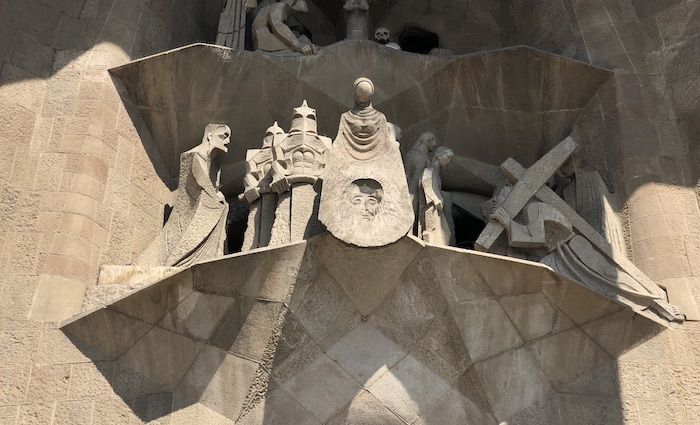 On the western facade, that of passion, Josep Maria Subirachs carved around 100 figures including Jesus being presented to the crowd by Pontus Pilate.
Jewish elders were frustrated with the "fanatic" prophet claiming to be the son of god and demanded his death. Pilate would most of all be looking for peace as the Romans didn't care as much about the local religions in the provinces and focused more on control. Subirachs does a great job keeping in line with Gaudí design but implementing his own style.
8. The Nativity Facade (Eastern Side)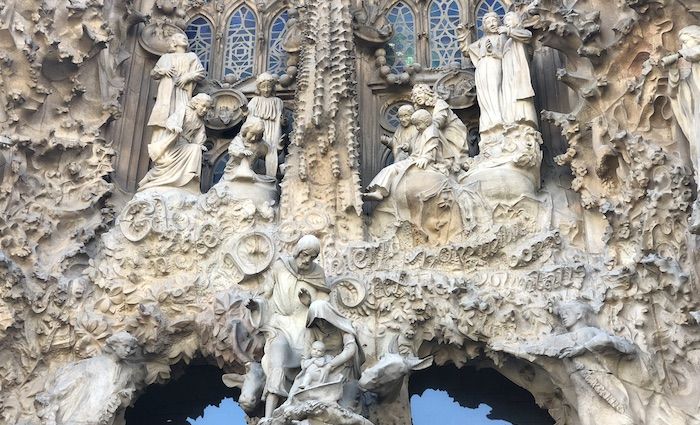 Also known as "the Birth of Christ", this facade was completed first and contains a completely different stylistic feel from the rest of the church. There are three entrances, aka portals, named "hope", "mercy", and "faith". The facade is intended to have a rough and almost confusing look. The idea is to play up the power and lack of understanding of God the creator as a being. If it is confusing to understand it is because we are not intended to understand.
There is also more detail than only the birth of Christ as a human being. This facade includes animals and plants as part of the "birth" of God's world as a whole creation. You will notice as well that the angels are without wings, since Gaudí believed they were unnecessary.
Popular Barcelona Tours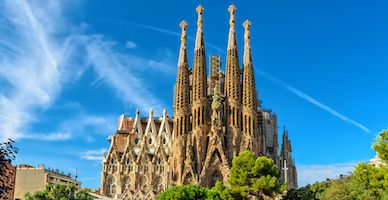 Best Selling Tour
Barcelona in a Day Tour with Sagrada Familia, Park Güell & Casa Batlló

Our Barcelona in a Day tour covers all the major attractions plus hidden gems. This walking tour includes Sagrada Familia, Casa Batlló, Casa Mila, the Gothic quarter, Park Güell, and a coach ride to reach the more remote sites.





See Prices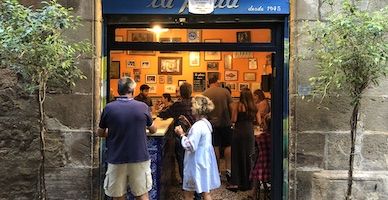 Most Popular Tour
Barcelona "Locals" Food Tour in the Gothic District
We can't think of a better way to explore a city than to eat your way through it, and there will be enough tapas and wine to discover a lot of Barcelona! Join us on a delicious discovery of the Gothic quarter – one of Barcelona's most vibrant areas!





See Prices
7. Passion Facade (Western Side)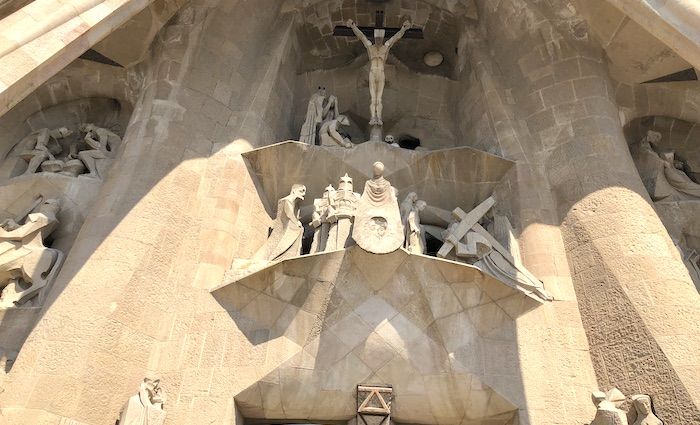 If you have read the Bible or gone to church you know that the Passion of Christ refers to the period of suffering and up to his death. The very word passion comes from the Late Latin word to mean suffering or enduring. Therefore, representations of the Passion of Christ usually display a crown of thorns and Jesus carrying the cross.
This facade has a very modern feel with clean lines on the structure. Gaudi and Josep Maria Subirachs, the person who sculpted many statues on this facade, integrated a lot of interesting details on this side. For example, the cryptogram is a four by four square with sixteen total numbers that add up to 33 on every side and a linear combination including diagonals.
6. The Facade of Bliss
The yet to be completed Facade of Bliss is the last of the three facades. It is the third evolution of Christ as well as a mark of the holy trinity (father, son, and holy spirit). The use of sets of three in Christian artwork is common. However, don't let the name fool you as the Facade of Bliss features some less than blissful symbolism.
This third and final facade features the Last Judgement, Hell and Heaven (eternal bliss). The Last Judgement is something that we all will face according to Christian dogma and it won't be pretty for anyone. Prior to ascending to heaven, if you are lucky, you will face some turbulent circumstances according to artists like Michelangelo who depicted this day fiercely in the Sistine Chapel.
Next you have hell and heaven which are more straight forward. Expect this facade, like the others, to have a very unique design with matching geometric forms.
5. The 18 Towers
Currently, eight of the 18 towers/spires originally designed by Antonio Gaudí are completed. Four of the eight completed towers are on the passion facade and four are on the nativity facade. All eight completed spires are dedicated to eight of the 12 apostles are completed. The remaining four towers will be seen on the third facade once completed.
The remaining six towers will be dedicated to Jesus, the Virgin Mary and the 4 Evangelists (Matthew, Mark, Luke, and John). All towers/spires are over 300 feet tall (91+ meters). The tower dedicated to the Virgin Mary will rise 404 feet (123m) off the ground.
Why didn't he build more while still alive? Since he knew the building would take a lot longer, he decided to build vertically instead of horizontally. By focusing on the all his efforts on the Nativity facade, he was able to see a completed bell tower free of scaffolding. This took place a few months before his death.
4. Illuminated Christ on Cross (Gloria A Deu, A Dalt Del Cel)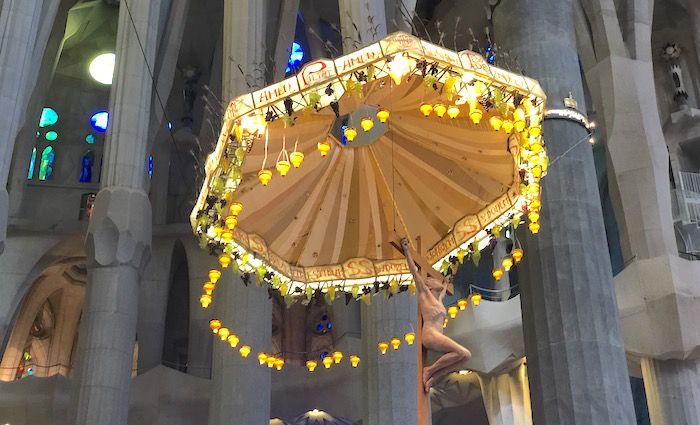 It is hard to describe this feature without offending the extremely religious so I will put it as lightly as possible. The feature in which christ is suspended would look more appropriate at a beach-side bar rather than suspended over the dramatic sculpture of Jesus on the cross yet it feels right.
It has Spain's cultural feel and again, the extreme amounts of illumination inside the structure give the scene a more joyous feel. It is a must-see element inside the church.
3. Stained Glass Windows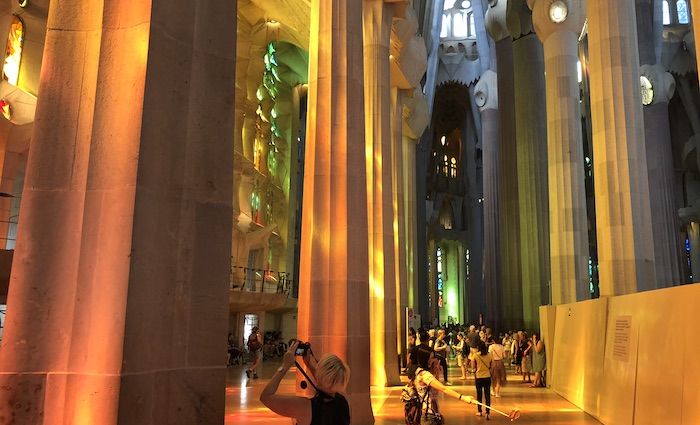 Like any large construction that spans centuries, Sagrada Familia's design, construction, and conception will be credited to more than one person. The stained glass windows were created by Joan Vila-Grau. Vila-Grau was born 6 years after Gaudí's untimely death which means he never had the chance to formally meet him. That said, Vila-Grau understood his vision and was creative within the constraints Gaudí left.
In an interview with Margaret Martlew, Vila-Grau described that he worked within small descriptive phrases that summarized the artistic feeling one should get when observing. For example, one window was summed up simply by, "I am the water of life" and so he made that. Other guidelines were more rigid.
For example, Gaudí wanted the highest glass in white and the lower glass in color. This achieved two things. First, it would allow the natural sun into the building to project itself upon the columns. Second, it would be different than what is commonly practiced which was very much Gaudí's style. The photo used above is of the effects of stained glass windows which is described to be more powerful than the windows theme-selves.
2. Buttresses and Flying Buttresses
Or should I say the lack thereof! When you think buttress or flying buttress you should think Notre Dame. I don't downplay the greatness of Notre Dame and don't intend to do so. That said, Gaudi eliminated the practice altogether and his basilica stands! Well, the part that has been completed stands.
According to Sagrada Familia's official website, Gaudí looked at these mechanical forms as crutches and not elevating or beautifying elements. Therefore, he eliminated them giving Sagrada Familia the extremely unique baroque look and feel you see today which may very well be the last great stone structure ever built.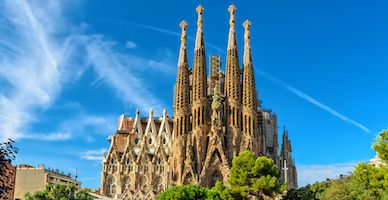 Best Selling Tour
Skip the Line Sagrada Familia Tour with Tower Access
Sagrada Familia is a three-sided gothic masterpiece designed by visionary Antonio Gaudí which has yet to be finished. The church is nearing completion and a wonderful display of color and architecture. Visit with a passionate local guide and skip the lines for admission!





See Prices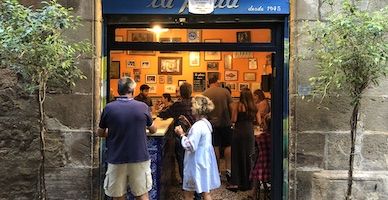 Top Rated Tour
Barcelona "Locals" Food Tour in the Gothic District
We can't think of a better way to explore a city than to eat your way through it, and there will be enough tapas and wine to discover a lot of Barcelona! Join us on a delicious discovery of the Gothic quarter – one of Barcelona's most vibrant areas!





See Prices
1. Inside Nave/Vaul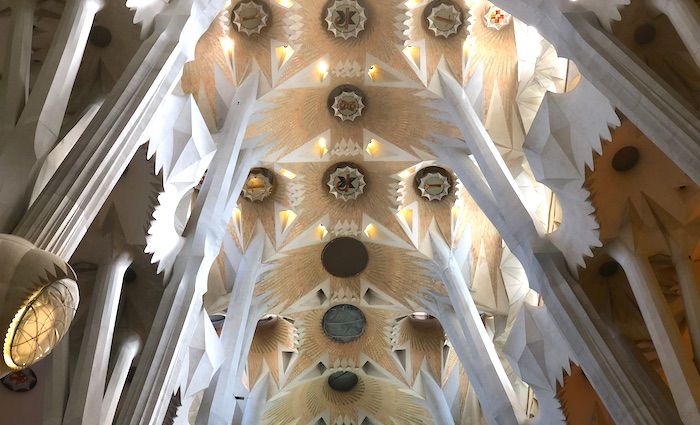 The central nave of Sagrada Familia is almost 150 feet tall (45m) and without argument the most eye-catching feature of the interior church. Much of the allure is that the ceiling appears as if it is floating. This is mostly due to the thin columns that look like the branches of a tree. Notice that a few of these columns are split on the end which gives the interior a very organic feeling as if it is alive.
Unlike the Renaissance churches of Italy, Sagrada Familia is bursting with bright colors much like the rest of Barcelona. The appearance is as if a renowned architect, sculptor, and Dr. Seuss all got together and built the interior of the church.
Sagrada Familia's Completion Date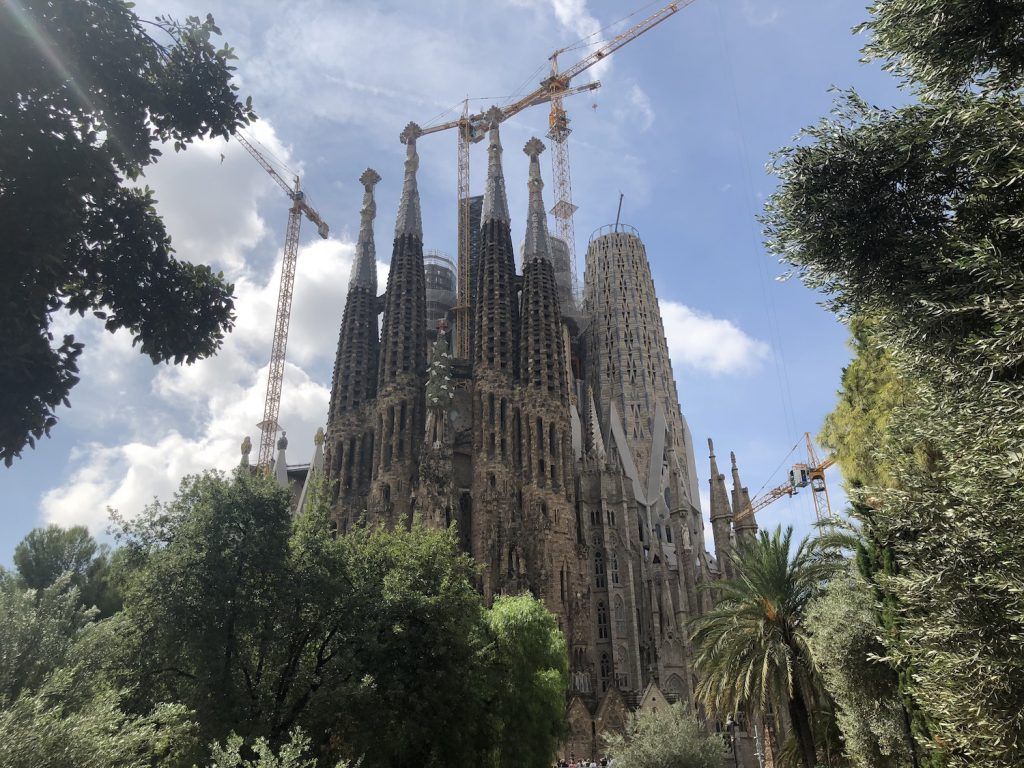 Ironically, the most visited building in Barcelona had been building without a legal permit from the municipality. After 134 years of construction, Sagrada Família recieved a legal construction permit in April of 2019.
Following this new agreement, the company leading the erection of Sagrada Família announced the beginning of the construction of the last five towers which is the beginning of the end.
The year of completion of Sagrada Família has become almost a guessing game due to its monumental dimensions and complexities. I once read 2022, but later read 2025. It seems likely construction will end before 2030 which puts it in the same league as St. Peter's Basilica in terms of construction time.
Admission Price, Hours & Locations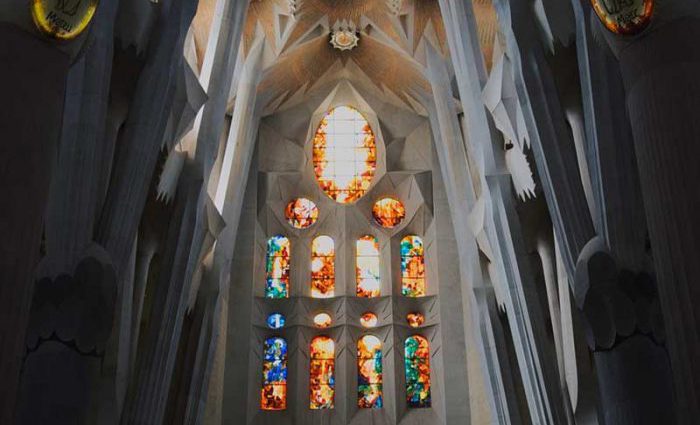 Admission Cost: 20€
Visiting Hours:
November to February: Mon – Sun | 9am – 6pm
March & October: Mon – Sun | 9am – 7pm
April to September: Mon – Sun | 9am – 8pm
25th & 26th Dec, Jan 1st & 6th: 9am – 2pm
Location: Carrer de Mallorca 401
---