Have you been exploring the Sagrada Familia in Barcelona and your hunger snuck up on you? Not to worry, we're here to serve! That's why we created the best list of restaurants, bars, and places to eat near the Sagrada Familia of Barcelona that has ever existed.
---
Pro Tip: Bookmark this page in your browser or our dedicated restaurants in Europe page which details the best places to eat by city and then by neighborhood and attraction. Also, don't forget to check out our tours in Barcelona including some amazing food tours!
The 10 Best Places To Eat And Drink Near The Sagrada Familia in Barcelona
The Sagrada Familia is the most iconic monument in Barcelona. The artist Gaudi was a mad genius whose particular style has people flocking by the millions to see his unfinished church. As a result, many people want to come and visit, which makes sense. When you have a lot of tourists you are bound to see many tourist trap restaurants, so you need to be careful.
Since nobody likes tourist traps ( myself included) we have asked our local guides to put together a list of their favorite places when they are in this part of town. We hope it helps you take the guesswork out of your decision and focus on enjoying your vacation. Buen Provecho!
Bodega Monumental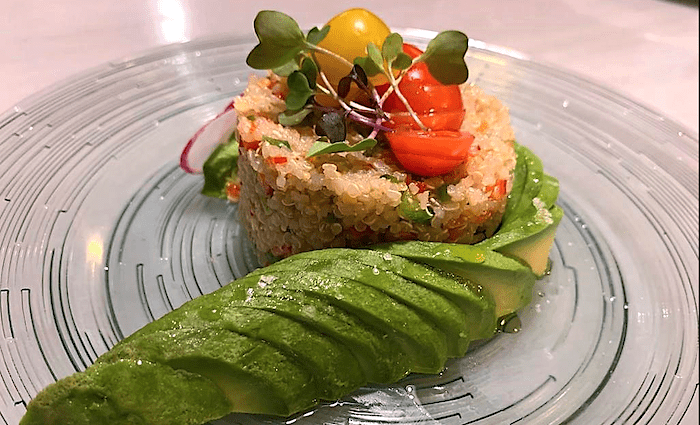 €€ | Historic Restaurant | Friendly Staff
This tavern is located less than a 10-minute walk from Sagrada Familia. This is one of the most historical taverns still in this area, and here you will find very typical dishes as well as innovative cuisine that mixes very well with traditional food from Barcelona.
You will also find all sorts of local drinks, from non-alcoholic to local beers and regional wines. Of course, if the other drinks don't appeal to you, the sangria here is great!
Address: Carrer de la Marina, 183, 08013 Barcelona
Hours: Noon-Midnight | Monday's Closed
Zed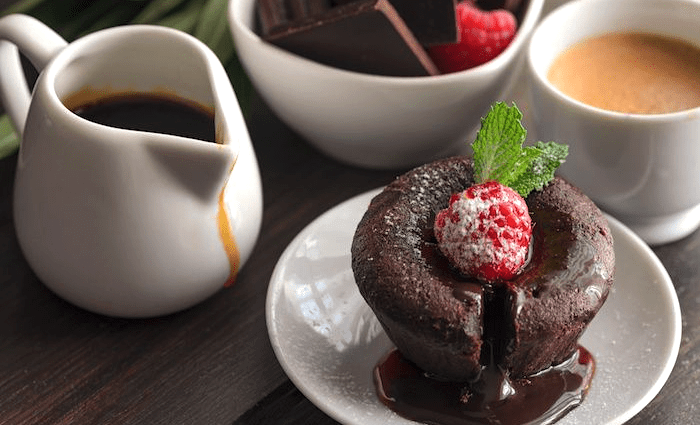 €€ | Healthy Eating | Vegan Friendly
A hidden treasure, this cozy restaurant is a little bit of a gem hiding just next to Sagrada Familia. Zed offers diverse healthy options cooked with seasonal products from the local markets.
They praise themselves for using fresh food and no microwaved nor frozen products, and it shows on their amazing menu. They offer changes through the year to adapt to the seasonal fresh products that they use and they always have a variety of really tasty salads. If you want to end your meal with a sweet memory, make sure to try their chocolate coulant.
Address: Carrer de València, 399, 08013 Barcelona
Hours: 12:30 PM-3:30 PM, 7:30 PM-10:30PM | Mondays & Sundays Closed
Popular Barcelona Tours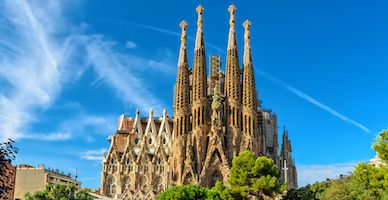 Best Selling Tour
Barcelona in a Day Tour with Sagrada Familia, Park Güell & Casa Batlló

Our Barcelona in a Day tour covers all the major attractions plus hidden gems. This walking tour includes Sagrada Familia, Casa Batlló, Casa Mila, the Gothic quarter, Park Güell, and a coach ride to reach the more remote sites.





See Prices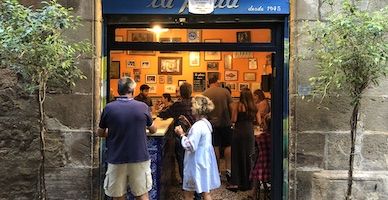 Most Popular Tour
Barcelona "Locals" Food Tour in the Gothic District
We can't think of a better way to explore a city than to eat your way through it, and there will be enough tapas and wine to discover a lot of Barcelona! Join us on a delicious discovery of the Gothic quarter – one of Barcelona's most vibrant areas!





See Prices
La Granota Sagrada Familia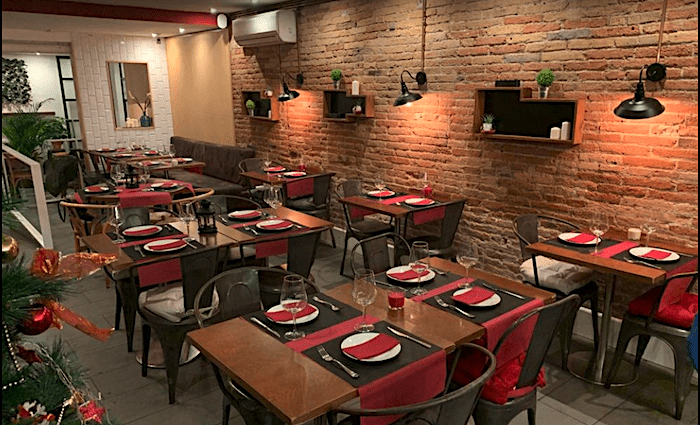 €€ | Outdoor Seating | Mediterranean Cuisine
This is the opportunity to immerse yourself in Mediterranean cuisine. Even the name of this restaurant is directly connected with Barcelona's most famous church as it is placed just two streets from Sagrada Familia, not even 10 minutes by walk. La Granota Sagrada Familia is a restaurant that offers a great opportunity both for lunch or dinner with a diverse option of Mediterranean cuisine.
While visiting La Granota you should not leave without trying their Spanish omelets. You can choose between the traditional one and also some others fulfilled with some delicious ingredients. Its small terrace, perfect to start with a few drinks, is the preamble of the large avant-garde decorated dining room. In their plates, they pay close attention to taste, detail, and presentation.
Address: Carrer de Padilla, 250, 08013 Barcelona
Hours: 1 PM-11 PM | Closed Sundays
Clandestino Café Bar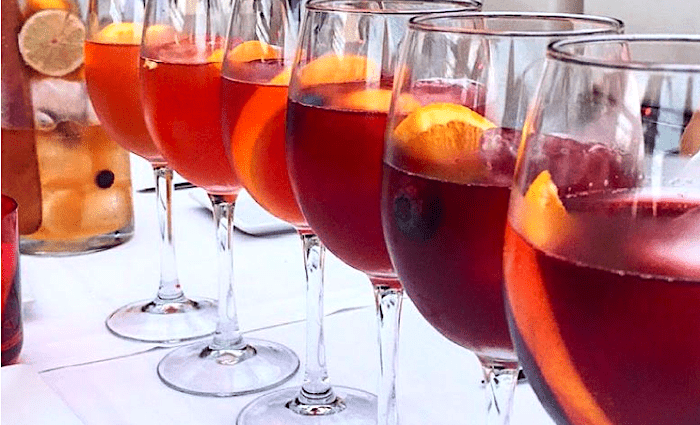 € | Brunch | Tapas
Clandestino Café Bar is the perfect place for the morning people. The little stylish bar just around Sagrada Familia is well known for its breakfast, brunch, and drinks. When it comes to the drinks, they have some national treasures like their craft vermouth and sangria.
Clandestino also has very friendly and kind staff. They offer some tapas on their menu, for those who want to stick on their immersive trip on Spanish food, but if you want to take a different road, there is a twist on their options with their Mexican plates, which are also delicious.
Address: Carrer del Rosselló, 378, 08025 Barcelona
Hours: 9 AM-11PM | Sundays Closed
La Ramona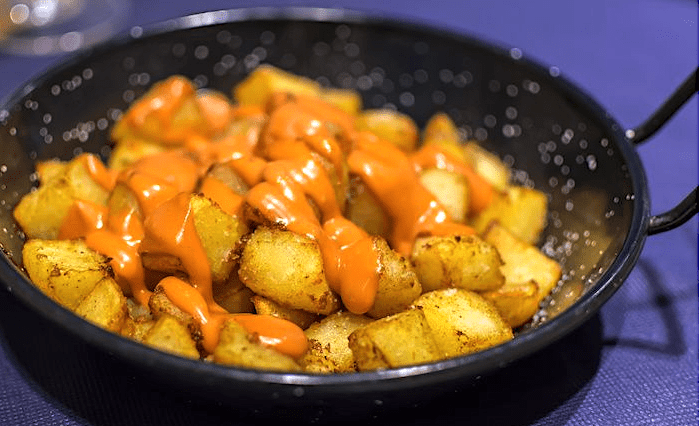 €€ |Outdoor Seating | Tapas
If you are looking for a friendly environment and a place to try some delicious tapas, La Ramona is the bar that you are looking for. La Ramona combines traditional Spanish tapas with some innovative ones that they keep adding and updating on the menu.
This tavern is a great place to try the typical Spanish 'patatas bravas', a plate of potatoes with a tasty red sauce, and 'croquetas', some of their best dishes. If you prefer to visit La Ramona at lunchtime, they have their 'Menu del día' (today's menu); another Spanish extended tradition, many restaurants offer a different set of starters and second dishes at a fixed price as a lunch option, changing it daily as the name suggests.
Address: Carrer de Roger de Flor, 262, 08025 Barcelona
Hours: 1 PM-Midnight | Sundays Closed
Restaurante Seoul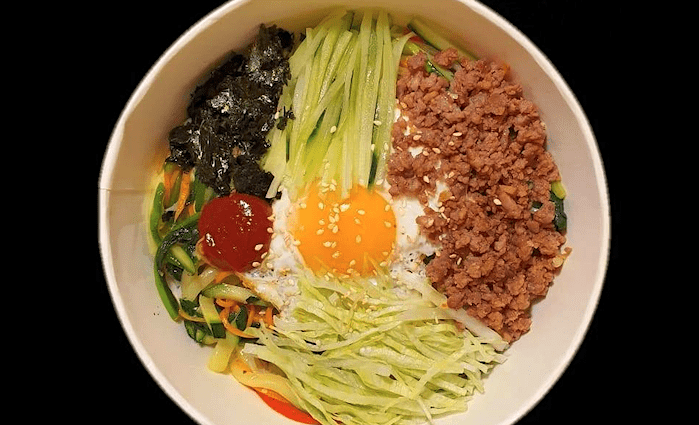 € | Korean Food | Vegan Friendly
Do you want to find some international flavors in Barcelona? Seoul Restaurant is always a winning bet. If you are looking for something different while visiting Barcelona, and you are a passionate advocate for Korean food, you cannot miss the Seoul Restaurant and its tasty dishes.
Their menu is based on this ancestral cuisine full of flavors, and we want to also warn you that it can be quite spicy, so be sure to ask when ordering. This discreet and calm restaurant has been opened for over 15 years offering what many have named as the best Korean food in Barcelona.
Address: Avinguda de Gaudí, 70, 08025 Barcelona
Hours: 1 PM-4 PM, 7:45 PM-Midnight | Monday's Closed
La Cantina Mexicana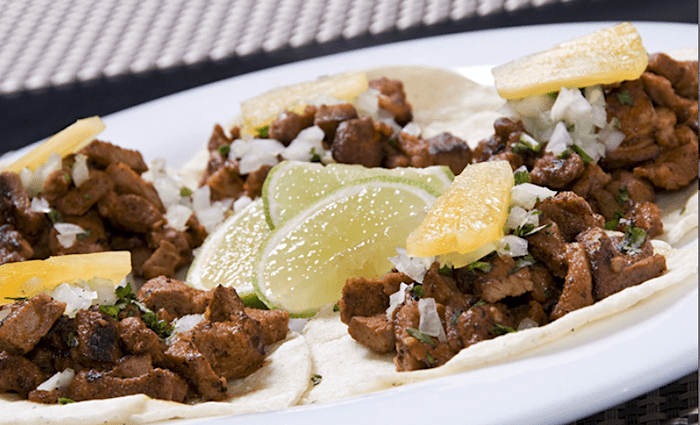 €€ | Great Lunch Spot | Friendly Staff
La Cantina Mexicana is right next to Sagrada Familia. This restaurant has a very welcoming environment and the food served is traditional Mexican food. Food is tasty and plentiful, so you will not leave this place hungry.
You will find all the classics here including nachos, tacos, and chile con carne. To make things easier they have set menus as well which are a good deal and allow you a great variety. For Margherita lovers go with their different flavors, You won't regret it.
Address: Carrer de València, 427, 08013 Barcelona
Hours: 1 PM-Midnight | Always Open
Alain Pizza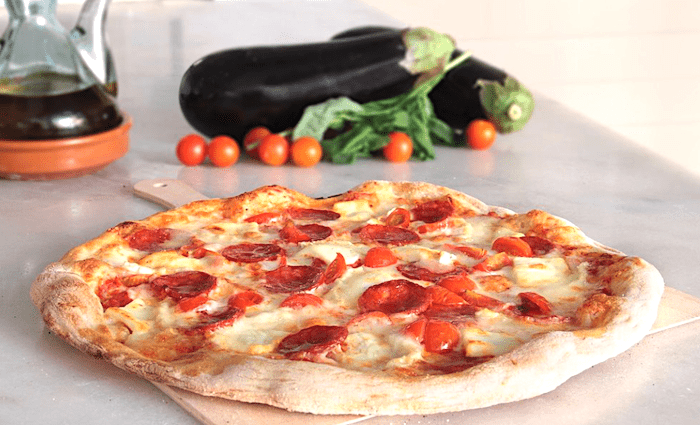 € | To go | Great Service
If you want to taste one of the best pizzas in Barcelona while visiting Sagrada Familia, you should pass by Alain Pizza. This place is one of the most popular pizza makers in Barcelona, and you might have to wait a little bit before getting served. Although you can sit inside, it's better to do takeout, since there isn't a ton of seating.
Address: Carrer de Provença, 548, 08025 Barcelona
Hours: 7 PM-10:15 PM | Closed Mondays
InterTapa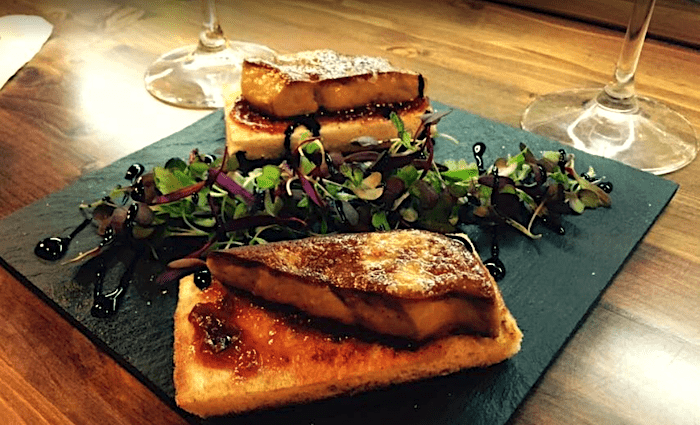 €€ | Homecooking | Something for everyone
Sometimes you want to choose a place where you are not limited on the menu. Inter tapa is that kind of place. The restaurant has been around for more than 20 years under the constant gaze of the Sagrada Familia. It's the perfect place to fill your belly after a tough day of sightseeing.
As the name suggests, you can eat tapas. You can also eat about anything else. The menu varies from hamburgers to paella. It is also known for its various kinds of beers, so eat, drink and be merry!
Address: Avinguda de Gaudí, 11, 08025 Barcelona
Hours: 9 AM-1 AM | Always Open
El Rincón de la Abuela Venezolana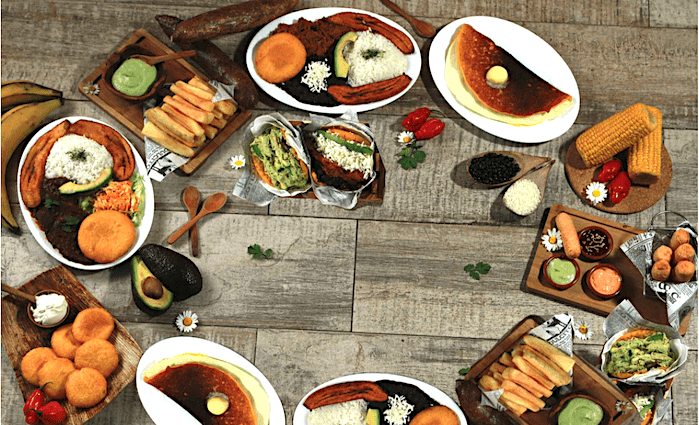 € | Venezuelan Food | Geat Atmosphere
During the last 20 years, a lot of people from Venezuela have migrated to Spain, bringing with them their traditions and cuisine. Close to Sagrada Familia, there is this family restaurant where you can eat amazing "arepas", the most famous Venezuelan dish, which is made of a type of bread and filled with cheese and different types of meat.
Address: Carrer de Mallorca, 470, 08013 Barcelona
Hours: 11 AM-9:30 PM | Closed Monday's
---
I Want More Barcelona!
If you want us to arrange the entertainment in Barcelona (and beyond!), contact our Trip Planning Team to coordinate an unforgettable Italian experience.
Check out our step-by-step guide about how to do Barcelona in a Day. If you'd rather let us guide you, check out our guided Barcelona tours.