1883, Antoni Gaudi took over the building project for the newly commissioned Sagrada Familia. Today, 140 years later, construction on the site continues. Five generations of architects have left their mark, telling their story through artwork and architecture. With so much history, a visit can feel overwhelming, so what are the best tours to take of the Sagrada Familia and why? I have the lowdown on it all right here.
---
Pro Tip: Planning ahead will help your trip run smoothly, so consider bookmarking this page in your browser. Also, check out our guide to Barcelona—it has helpful information about restaurants, hotels, and activities.
Should You Take a Tour of Sagrada Familia?
---
The Sagrada Familia is one of the architectural wonders of Europe and, in turn, one of Barcelona's busiest sites, with around 5 million visitors per year. This year, tourism numbers have skyrocketed, and tickets to visit the Basilica sell out for weeks in advance. If you manage to get a ticket, a combination of sun and crowds can quickly dampen any visit, and that is where a guided tour can elevate any visit to a higher level. Not only do you get to know the quiet nooks and the shady crooks, but more importantly, you'll hear stories of the building's construction and its magnificent history.
There are a number of great tours of Sagrada Familia that allow you to really get to grips with its history, but which is best and why? We cover that all below!


The Best Barcelona Tours of Sagrada Familia
Barcelona is a city of many treasures. The food, the art, and the architecture are all astounding, but nothing quite takes the breath away like Gaudí's masterpiece. There are many tours to choose from, but here we have listed our best tours of Sagrada Familia and why we love them so much. From group tours to private tours, there's something for every traveler and every budget.
---
1. Unbeatable Barcelona in a Day Tour (6.5 Hours)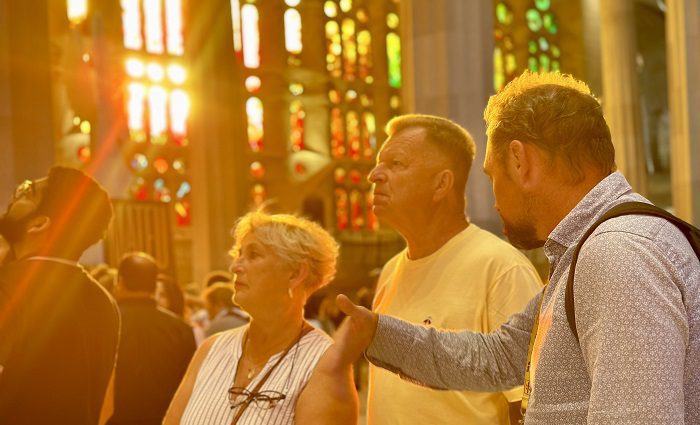 ---
Have a limited amount of time in Barcelona? No problem. This tour combines our Park Güell and Sagrada Família tours to make sure you get a jam-packed, best-of-the-best excursion of the most popular sites.
In just a few hours, you'll stroll around the beautiful Gothic Quarter and see celebrated architect Antoni Gaudí's greatest works, including skip-the-line tickets to Casa Battló and Sagrada Família. This small group day tour is the perfect option to check every Barcelona must-see attraction off your itinerary list.
---
Highlights
Gothic Quarter walking tour
Skip-the-line entry and guided tour of Park Güell
Local jamón (ham) and cheese at the market
Break for lunch (not included)
Skip-the-line entry and guided tour of Sagrada Família
Climate-controlled vehicle for certain stops
A fun, English-speaking local guide
Maximum group size of 18
---
Not ready to book a tour? See our Barcelona Guide for more resources.
2. Skip the Line Sagrada Familia Tour (1.5 Hours)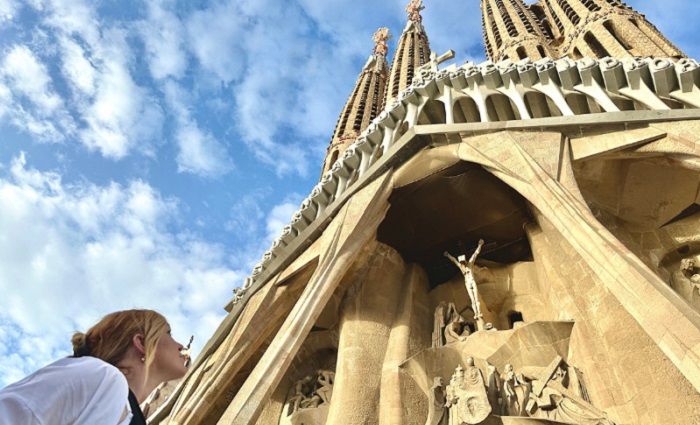 ---
The Sagrada Família is not only one of the most celebrated buildings in Barcelona but in the entire world. With its highly decorative towers, this church is one of the most visited buildings due to its unique design. You can look at the architecture and have no idea the stories behind it, or you can go with a super knowledgeable guide who brings it to life.
Due to its popularity, the tower is typically plagued by long lines and even longer waits. What's worse is that tickets often sell out quickly, meaning you might waste time in line for nothing. The solution is to book ahead with a tour group to ensure guaranteed access and a memorable visit. Best of all, with us, you'll skip the line and save your vacation time!
---
Highlights
Skip-the-line tickets for Sagrada Família
Guided tour of Gaudi's famous church
Super-knowledgeable, English-speaking guide
A maximum group size of 18
---
Not ready to book a tour? Check out some great accommodation options instead.
---
3. Private Barcelona in a Day Tour (6.5 Hours)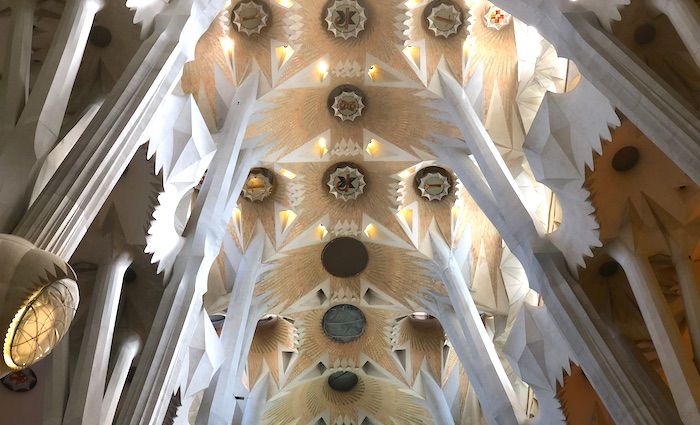 ---
Private tours have many benefits over group tours. Large group tours often end up feeling like a stage performance. The guide rattles their lines in the same style and pattern they have used for visit after visit.
Our guides are chosen not just for their knowledge but also for their enthusiasm. With a private tour, it becomes less street theatre and more of an ongoing conversation. Ask questions, press for more details, ask for stories on particular pieces, and don't be shy. Our guides are experts and will be glad to escape their daily routine.
On this tour, like our group Barcelona in day tour, you will visit many of Gaudi's masterpieces, visit emblematic neighborhoods, and come away with a deep understanding and appreciation of Barcelona's many wonders.
Not only will your tickets be sorted, but you'll also be able to skip the long lines and be expertly guided through the security lines. While the price is higher, the VIP treatment makes it all worthwhile.
---
Highlights
Private walking tour of the Gothic Quarter
Local jamón (ham) and cheese tasting at the market (closed Sundays)
Skip-the-line entry and private tour of Park Güell
Free time for lunch (not included)
Skip-the-line entry and private tour of Sagrada Família
Climate-controlled vehicle for certain stops
Your own expert English-speaking guide
---
Not ready to book a tour? See our Barcelona Guide for more resources.
---
4. Private Tour of Barcelona by Electric Tuk Tuk (2 Hours)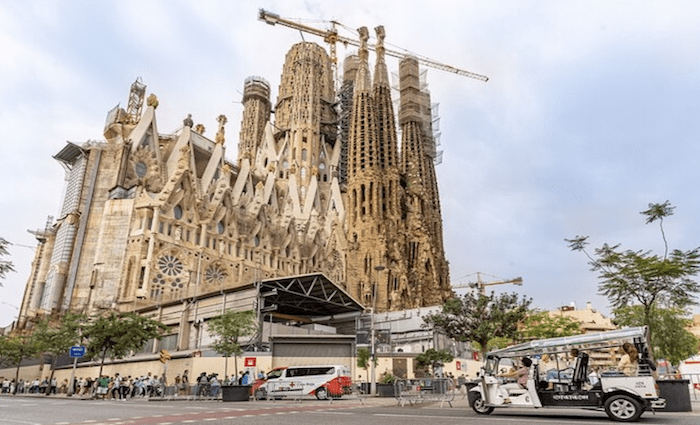 ---
If you are planning to visit the interior of the Sagrada Familia and have pre-purchased tickets, then expect to put aside at least two hours to clear security and explore the interior. If time is pressing and you want to understand and see a lot of Barcelona's wonders quickly, then this E-TukTuk tour is a great option.
On this tour, you won't explore the interior of Gaudi's masterpiece. However, you will learn its history, see its majestic towers, and explore Gaudí's other masterpieces around the city. It's a fun way for the whole family to see large tracts of Barcelona quickly and enjoyably. It's especially useful for any visitors with mobility issues.
---
Highlights
English-speaking, expert guide
Private Electric tuk tuk for four people
See top Barcelona landmarks
Admire Gaudí buildings
Spain Square and Montjuic
The Gothic Quarter
See the Old Port and Ciutadella Park
---
Not ready to book a tour? See our Barcelona Guide for more resources.
---
5. Barcelona in a Half Day by Electric Bike (4 Hours)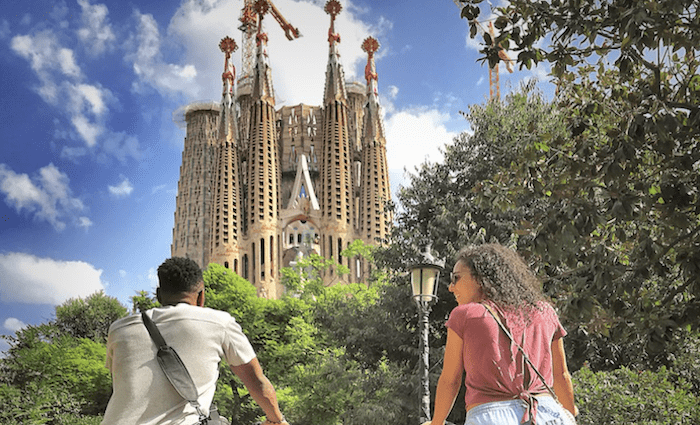 ---
Want to see the best of Barcelona in just a few hours and get a little exercise, too? This e-bike tour is a great way to explore many of Barcelona's key sites in a quick and fun way. Plus, you'll be burning plenty of calories to replace guilt-free with some wonderful local food, maybe even take a food tour to fill that void.
Strap on a helmet and hop on board a modern electric bike to embrace Barcelona in all its beauty. Soon, you'll be whizzing past the Sagrada Familia (exterior only), La Rambla, Casa Mila, Casa Batlo, the old Olympic Village, Barcelona Harbor, and much more. The beauty of this tour is that you will see so much in just half a day. Its perfect for getting to grips with the city's layout before a deeper exploration.
---
Highlights
Modern electric bike rental with helmet (kids' sizes available)
Guided e-bike tour of Barcelona
Famous sites, neighborhoods, and hidden gems
See Sagrada Familia (exterior only), the Olympic Village, the Gothic Quarter, and more!
Tapas and drinks at a local restaurant
Friendly English-speaking tour guide
Maximum group size of 8
---
Not ready to book a tour? Check out the best places to eat in Barcelona to whet the appetite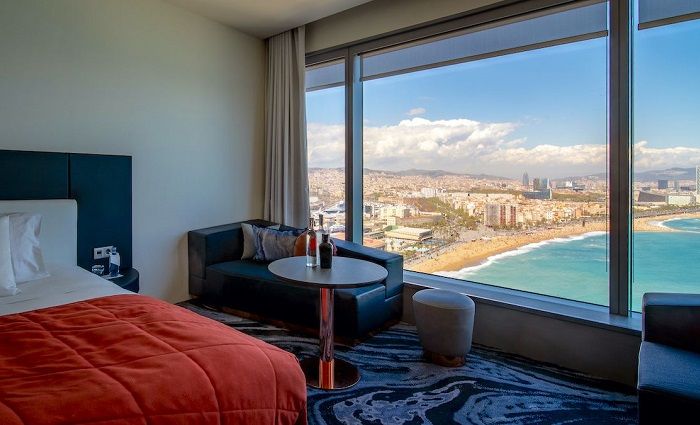 Find the best places to stay
Where To Stay in Barcelona
A great hotel at a great price has become the norm in this internet era. Our article explains what areas are the best in Barcelona so you can get a great deal in the perfect location!