In your home country, Uber is probably pretty easy. You take out your phone and minutes later a driver pulls up ready to cart you to your destination.
Does it work like that everywhere? How about Paris?
---
Last Updated: August 20, 2020
Pro Tip
Planning a trip to Paris? You're going to want to dedicate time to sitting at a cafe and people watching but you can't do it your entire trip. Make your trip more memorable by reserving a
tour in Paris
with us!
Uber in Paris?
Yes, you can Uber in Paris. Once you have downloaded the app, all the usual options will be available to you, day and night.
UberX – this is your run of the mill Uber.
UberPool – Another popular option is Pool, which is a shared ride, taking you to a spot near your destination for a lower price, making it the cheapest option.
Berline – (i.e. Sedan), for a high-end vehicle and services.
UberPool – If you are a group of 5 to 6 people, Uber Van is available as well.
Do Uber Drivers in France Speak English?
There are no requirements from Uber that your driver needs to speak English. There may not even be a requirement that they speak French. These are the only requirements:
At least 21 years old
Valid drivers license from France
Vehicle registration
Vehicle insurance (Commercial)
Uber drivers also have to go through a criminal background check and are checked for clean drivers record.
So, it is not definite that your Uber driver will speak English but luckily you don't have to speak if you don't want to. Everything takes place on the app!
Do I Need to Download a New App or Pay Exchange Fees?
No. Your Uber app that you use at home is universal everywhere you go. Well, at least on Earth.
You also can use your home-currency and payment method. According to Uber.com, "Toll payments are given in local currency and calculated in accordance with the bank's current exchange rate. While your bank may sometimes charge additional fees, the Uber app will never charge any extra fees for traveling overseas."
Do You Tip Your Uber Driver in Paris?
The short answer is no, but they definitely won't be mad if you do.
France and most of Europe doesn't really have the same tipping culture that you'll find in many other countries.
That said if you are used to tipping and have the resources to do so, please do. It always helps the person in a service job when you tip. It helps them beat the hourly earning curve. It also will give that person a positive impression of your nationality and the world needs more positivity.
Is an Uber Cheaper Than a Taxi in Paris?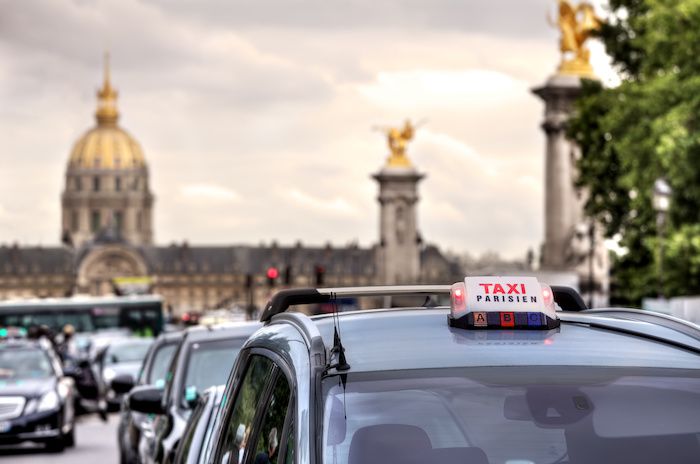 Short answer, no. What does Uber cost?
Uber is definitely not cheaper than a taxi but you are probably talking a euro or so for a 10-minute ride. It is up to you if that euro is worth it to go looking for a taxi.
If there is a stand outside my hotel, I am probably taking a taxi. If I am at an Airbnb on a side-street I am going to open my app.
Uber is not definitely more expensive either. There are a lot of factors that come into play when deciding your rate. Uber also has a minimum which apparently fluctuates with demand.
Uber or Mass Transit?
Metropolitan (Subway)
In short, it depends. I would likely use mass transit during the day and Uber at night when going out.
In Paris, the majority of locals use the subway or the bus to get around Paris. However, You should know that most of the subway lines stop functioning around 1 am until 5:30 am.I
Busses 
Paris has such a comprehensive underground subway system I have never gotten on a bus there.  A bus system does exist and I am sure there are some local routes which makes more sense than the subway.
If you are going as a visitor, the Paris Metropolitan system is part of the journey. Skip the bus for this trip.
Scooters Everywhere
I love Paris for many reasons but one is all the scooters lying around!
You can obviously walk or take the Paris metro (see our guide to metropolitan) but scooters are a cool way to move around too.
Bird Scooters is my favorite company only because it is the first scooter I came upon and I have been using it ever since. You can download the app, pick up a scooter, and start going. It is super cheap and they are electric so clean energy.
Really really fun to use by the way if you are adventurous and coordinated.
What About Taking an Uber from the Airport?
At both CDG and ORY, I am going to get a taxi.
If you reserve a taxi in advance there is a 7€ additional fee which could make a taxi more expensive but both Charles de Gaulle and Paris Orly have taxi stands outside which move fast.
I can't imagine a scenario in which calling an Uber and waiting is faster than the taxi stand.
If you get a taxi from the stand, it is most likely going to be cheaper than an Uber.
According to the official Paris Airports website, taking a taxi from CDG to the right bank of Paris is 53€ and to the left bank is 58€.
ORY's official airport website states left bank voyages will cost 32€ and right bank 37€.
Transportation to Other Cities 
If you want to extend your trip to other cities beyond Paris, you might wonder if you should use the app or switch to another type of transportation. From the moment you leave Paris in your Uber, the ride becomes expensive. For example, if you want to go from Paris to Giverny (which is 43 miles) to visit the house of Claude Monet, the trip there will cost you more than 100 euros. If you take the train, the same trip will cost you below 20€.
If you're looking to venture outside of Paris for a more affordable price and local guided experiences, check out our Day Trips from Paris.
Other Paris Transportation Apps
A lot of different transportation apps are available in Paris. Some include:
Chauffeur Privé: This app, which is 100% made in France, is the leader on the French market just behind Uber. The app has two offers: Green and Berline, and includes services such as a free bottle of water and a phone charger. the price is also fixed in advance.
Marcel: With this app, you can make reservations in advance. The earlier you order your ride, the less expensive it is.