When we think of Paris, we naturally think of a romantic city with Amazing Food and Awesome Night Life. The options for eating, drinking and being entertained are infinite in the City of Lights. This guide will break down for you everything you need to know about Eating and the Nightlife in Paris.
---
Pro Tip: Planning what to do on your trip to Paris? Bookmark this post in your browser so you can easily find it when you're in the city. Check out our guide to Paris for more planning resources, our top Paris tours for a memorable trip, and how to spend a weekend in Paris.
Best Places To Eat and Where To Enjoy a Night Out in Paris
According to Statista data, in 2018, the number of establishments in the restaurant industry in France amounted to 161,466. That's a lot of places to eat! France also has more Michelin-star restaurants than any other country in the world. In Paris alone, there were 122 Michelin-star restaurants the last time I checked.
You'll not only have a lot to choose from when it comes to restaurants—food is also a big deal in France! Here, cheese is served for dessert and the country has approximately 1,600 types of cheese! For after-dinner entertainment, you can count on a fun night out. Paris is the birthplace of the cabaret and the can-can dance, after all!
Whether you've been to Paris five times or this is your first time, this guide covers everything you need to know about eating out and having fun at night. I cover some classic spots as well as some not-so-classic.
Paris is not called the City of Lights for nothing. When the sun goes down, the city truly comes to life and is ready to go all night long. So, get ready to discover the best places to eat and where to enjoy a fun night out! Here's what I'll cover:
Eating out in Paris: Best Places To Have Dinner
In the eating section of this Paris-at-night guide, I'll share my top two picks for each type of establishment you're likely to encounter in Paris. They all offer a very different dining experience. We've covered restaurants, bistros, brasseries, cafés, wine bars, and patisseries.
Restaurants in Paris
"Restaurant" is quite generic and includes everything from Michelin-star establishments to places with a more casual atmosphere. In general, a restaurant is where you will go for at least a three-course meal with no rush to eat.
L'Oiseau Blanc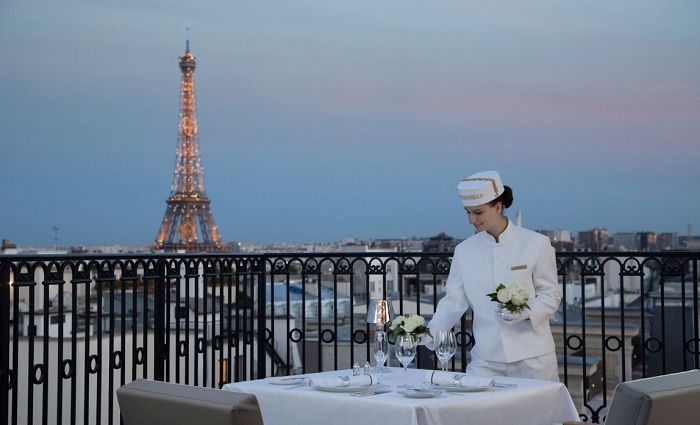 €€€€ | Restaurant | Fine Dining | Rooftop | Eiffel Tower Views
Inside of the 5-star palace hotel, Le Peninsula, you'll find the Michelin-star L'Oiseau Blanc restaurant. Enjoy a fine dining experience on a rooftop with full-on views of the Eiffel Tower and everything else!
The dress code is labeled as chic and elegant and many come dressed to kill. Not close enough to the Iron Lady? Find out how to enjoy a meal on the Eiffel Tower!
Address: 19 Avenue Kléber
Septime
€€€ | Restaurant | Relaxed and Rustic | Creative Dishes | Wine Pairings
Septime is low-key, but amazing. Their menu consists of "Carte Blanche" dining, which basically means it's a tasters menu of seven dishes. I highly recommend getting the wine tasting menu to compliment each dish. Enjoy creative dishes in a relaxed atmosphere.
Address: 80 Rue de Charonne
Bistros in Paris
Originally, bistros are family-owned joints serving local fare. They're known for being chaotic eateries with a robust crowd where everyone sits right next to each other.
Legend has it that the word originates from the Russian word pronounced the same, which means "fast"! Nowadays, you have big-name chefs who have taken over and reinvented the Bistro brand, but you still might be sharing a table with someone else.
Allard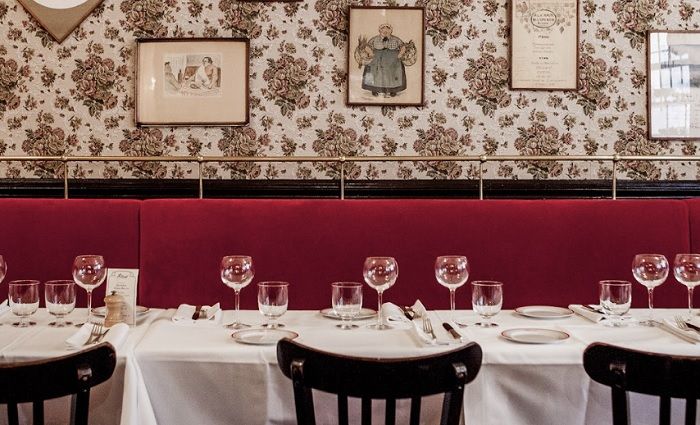 €€€ | Bistro | Traditional French Dishes | Warm Atmosphere
Originally a family restaurant, it was taken over by the king of French cuisine, Alain Ducasse. He wanted to take a break from Michelin-star dining and continue the French bistro tradition.
Make sure you try their signature dish—the Duck with olives. The food here is wonderful—even the baby potatoes melt in your mouth!
Address: 41, rue Saint-André des Arts
Le Petit Bouillon Pharamond
€€€ | Bistro | Traditional French Cuisine | Beautiful Old World Decor
I just love the decadent interior of this place! Of course, the food is also very good. Together, the decor and food make for a fantastic dining experience. If ever you wanted to try escargots, boeuf Bourguignon, or steak tartare, this is the right place.
Address: 24, Rue de la Grande Truanderie
Brasseries in Paris
The word "brasserie" in French means brewery and originally most of these establishments were owned by Alsatians from the eastern province of Alsace in the mountains. So, dishes tended to revolve around sausage, sauerkraut, and fresh beer. Today, you can still find some and while they have changed the food a bit, they're still big places and great for a group of friends.
Brasserie Bofinger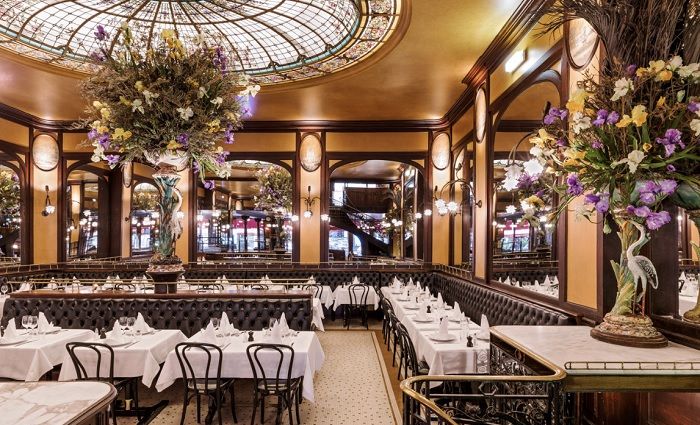 €€ | Brasserie | Alsatian Specialties | Belle Epoque Decor | Great Location
In Bofinger, enjoy the decadent Belle Epoque decor—and the food too, of course. This place has been serving food since 1864, so they must be doing something right!
Understandably, you'll find many tourists here, but many locals come here too. This is the place to come to experience the atmosphere of a classic French brasserie.
Address: 5-7 Rue de la Bastille
Brasserie Floderer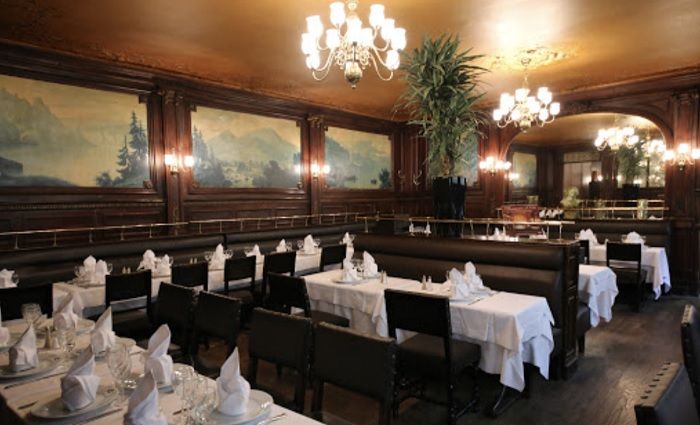 €€ | Brasserie | Alsatian Cuisine | Warm Atmosphere | Historic Establishment
This historic brasserie has been serving guests since 1918. You'll find dark wood-paneled walls and waiters dressed in the traditional long aprons when you enter this typical Alsatian establishment.
In fact, While you should of course try the typical Alsatian fare like sausages with sauerkraut, I would recommend oysters here—lots of them.
Address: 7 Court of the Small Stables
Cafés in Paris
Cafés are places you find on every corner of Paris. They're no frills with cheaper, down-to-earth food and they're often pen all day long from breakfast to late at night. You can order just a drink or have a whole meal and watch the world go by day or night.
Les Deux Magots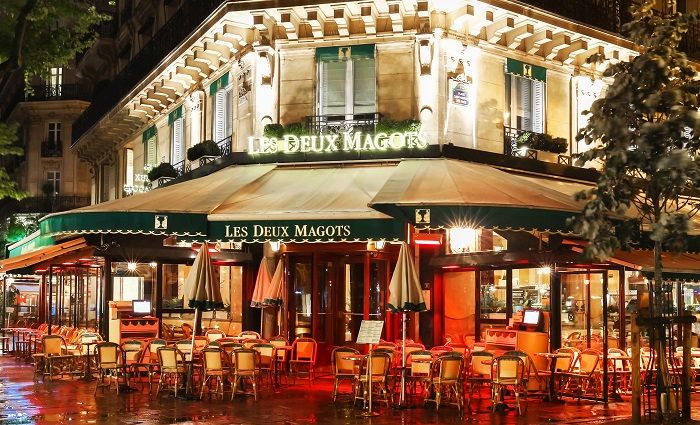 €€€ | Café | Traditional French Fare | Outdoor Seating | Historic Establishment
This café has been around for about 100 years and is quite famous. Back in the day, you would have seen the likes of Picasso and Hemingway hanging out here with a coffee or liquor of choice.
This iconic spot is open almost 24 hours a day, so you can get breakfast, lunch, or dinner and soak up the history.
Address: 6 Place Saint-Germain-des-Prés
Café Le Mabillon
€€€ | Café | Terrace | Vibrant Atmosphere | Great location
I used to go here, especially in the wintertime, for their awesome chocolat chaud (hot chocolate). The vibe is low-lit and lively with dark wood paneling and cushioned benches. You can also sit outside and enjoy either a drink or a whole meal. They're open 24/7, so if you find yourself hungry at 3 am, head on over!
Address: 164 Boulevard Saint-Germain
Wine Bars in Paris
As the name implies, wine bars are smaller, more intimate establishments where you can enjoy a glass or bottle of wine at a small table with some snacks. Generally, they'll be small plates of cheese and charcuterie. If you love wine, these bars are great places to enjoy the night a little longer with good company.
Bonvivant
€€ | Wine Bar | Steaks and Grills | Vibrant Atmosphere | Outdoor Seating
I happened to chance upon this place one night just walking down the street. It's a local's wine bar with a great wine selection you can enjoy by the glass or bottle. They also have a great menu mixing it up with the usual cheese, meats, and even ceviche when I was there.
They also have a bit more in terms of food, so you could get a nice steak to pair with your wine. If you want to hang out at a really chill, local place, Bonvivant is a good spot.
Address: 7 rue des écoles
11eme Domaine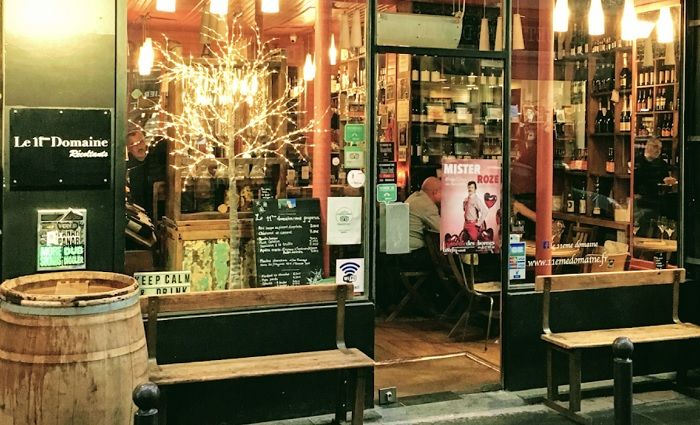 €€ | Wine Bar | Charcuterie | Warm Social Atmosphere | Friendly Staff
This is another small, local place with a great selection of wines. It's in the style of the old-school Bar a' Vins where the pace slows down a bit, you can have some intelligent conversation, and enjoy the finer things in life.
If you're looking for a relaxed place to go and enjoy fantastic wine and delicious charcuterie boards, this is it.
Address: 14 rue des Trois Bornes
Patisseries in Paris
Patisseries are traditionally pastry shops. Sometimes, there are tables so you can order and eat inside. Usually, it's just pick up and get out. From cakes to chocolates and everything else sweet, this is where you go to indulge in a treat.
Fouquet
€€€ | Patisserie | Upmarket | Luxury Confectionery | Historic Establishment
Making sweets since 1852, this upmarket confectionery is the place to go for luxury sweets. Everything looks beautiful and tastes delicious. From chocolates to caramels and fruit pâte, you can't go wrong. They also have four different locations, so there's no excuse not to go to one. You won't regret it!
Address: 36 rue Laffitte
Boulangerie Poilâne
€€ | Patisserie | Relaxed | Pastries and Baked Goods | Family Run
Poilâne is more of a bakery, but it's a great place to indulge your regular sweet tooth with their delicious pastries. Once you're there, you'll see it's also the place to come for your breads, croissants, and pies.
Address: 8 Rue du Cherche-Midi
Our Best Guided Tours of Paris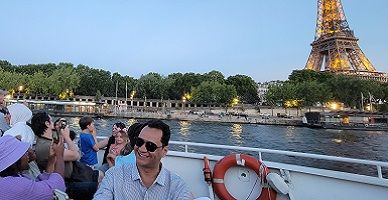 Likely to Sell out
Privileged Access Eiffel Tower Night Tour With Seine River Cruise
Sometimes the most amazing moments happen by chance. Other times, they are orchestrated by professionals. Our Eiffel Tower tour takes you on a cruise down the Seine River for incredible views of Notre-Dame and the Eiffel Tower. Champagne included, of course. Then you'll be guided to the Eiffel Tower, skip the long lines, and head up the elevator to the second floor for a night to remember.





See Prices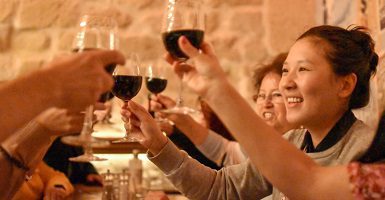 Top Selling
Ultimate Taste of Paris Food Tour in Le Marais
Embark on a culinary journey in Le Marais—one of the hippest neighborhoods in Paris. Most food tours in Paris offer cheese and wine, but we include a full, sit-down meal! Enjoy a feast of French cheeses, oysters, street food, boeuf bourguignon, crème brûlée, and more. This 3-hour food tour combines the best of Paris' culinary heritage and you won't find a better deal out there!





See Prices
Not ready to book a tour? Find out if Paris tours are worth it.
Nightlife in Paris: After Dinner Entertainment
Now you've had dinner, it's time to continue the soiree in the City of Lights! If you have no idea where to go or even what type of place to go to, don't worry. As always, we've got you covered. We'll break down the type of establishments you'll encounter when the sun goes down and my two top places to go in each category.
Cabarets in Paris
France invented this form of entertainment back in the 19th century. Cabaret consists of a show of some type, usually with women and usually topless. You can enjoy the show with just a drink, or sit down and have a meal during the show. If you haven't been before, it's definitely worth it!
Moulin Rouge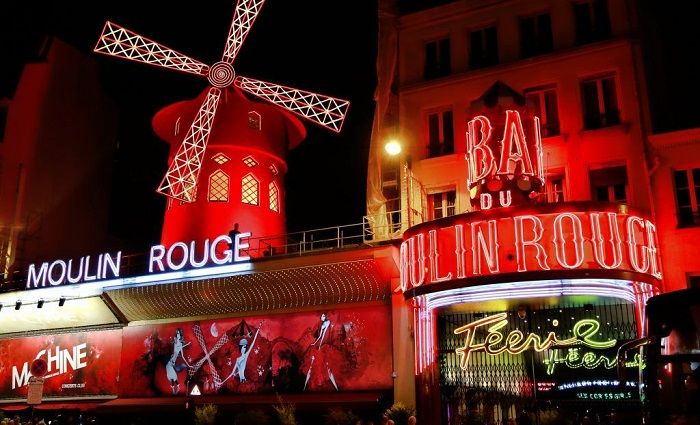 €€€ | Cabaret | Dinner Theatre | Exceptional Costumes | Historic Establishment
The famous Moulin Rouge was supposedly the first real cabaret show, dating back to the late 19th century. They have two shows a night and you can choose to have dinner with the earlier show. I recommend having dinner to make a night out of it. It's a classic Paris experience and the costumes are incredible.
Address: 82 Boulevard de Clichy
Crazy Horse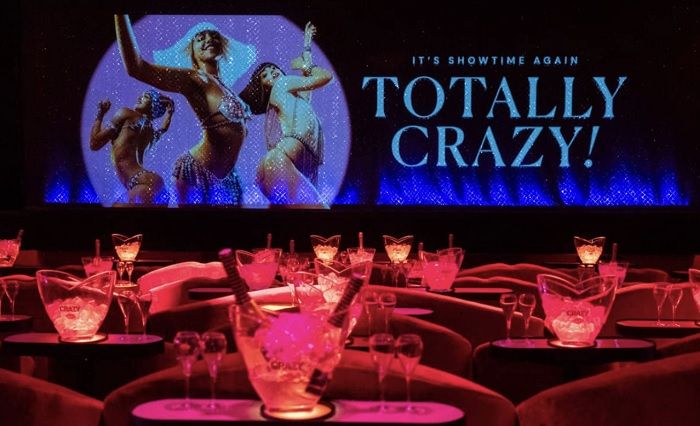 €€€ | Cabaret | Sexy High End Performance | Bar
The famous Crazy Horse cabaret is known as the sexiest show, meaning there'll be barely any clothes throughout the entire show. While there are no dining options here, it's usually sold out. If you're looking to experience cabaret in Paris, here's a tip: take your mom to the Moulin Rouge and your partner to Crazy Horse.
Address: 12 Avenue George V
Night Clubs in Paris
Night clubs in French are known as discotheques or Boite de Nuit and for those of you that just need to dance, there are plenty in Paris. Music is almost 100% techno. The trend used to be massive clubs on the fringes of the city, but the new trend is concentrating them in the city.
While the crowd you'll usually find in Paris clubs are in their 20s, there are quite a few clubs that cater to a bit more mature crowd. These two spots are quite different, but both are good spots to dance.
Rex Club
€€ | Night Club | Techno Music | Bar
The Rex Club has been around for a while. Truth be told, I haven't been here for a very long time. It was jamming back in 2000 and from what others have written, it still is. This is for techno lovers looking for a solid place to have some drinks and dance.
Address: 5 Boulevard Poissonnière
La Bellevilloise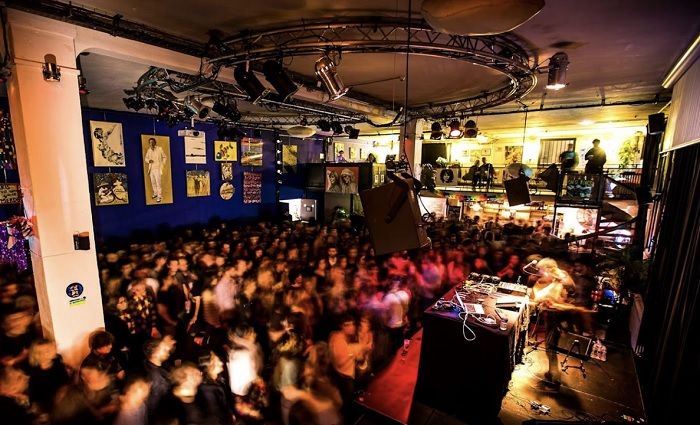 €€ | Hangout Spot | Range of Music | Dance Floor | Restaurants | Cultural Exhibitions
Originally a worker's co-operative, La Bellevilloise is a self-described cultural center. They have two floors that play various types of music ranging from the 80s to reggae and techno. But there's a lot more to do here than just dance. They also have two restaurants and do a Jazz Brunch every Sunday. It's a cool spot to hang out and catch a concert, see a film screening, or take in an exhibition.
Address: 19-21 Rue Boyer
Cocktail Bars / Speakeasies in Paris
Cocktail bars need no introduction. If you're not acquainted with a speakeasy, it's the reinvention of the cocktail bar during prohibition times in the States. The most famous cocktail bars will be in the 5-star Palace hotels in the city.
But if you're not looking to spend €30 on a cocktail, then there are plenty of nice establishments—you just have to know where to find them. I highly recommend the speakeasy vibe. Here are two spots to check out.
Le Bar de L'Hotel
€€€ | Cocktail Bar and Lounge | Comfortable Glamour | Hip Hangout
If you're looking for somewhere small, intimate, and serving really, really good cocktails, this is your place. This hotel also happens to be where Oscar Wilde lived and died, so it's a place with history. The plush couches and dimmed lights create the perfect atmosphere for a drink or two to reflect on life or enjoy comfortable glamour.
Address: 13 Rue des Beaux Arts
Little Red Door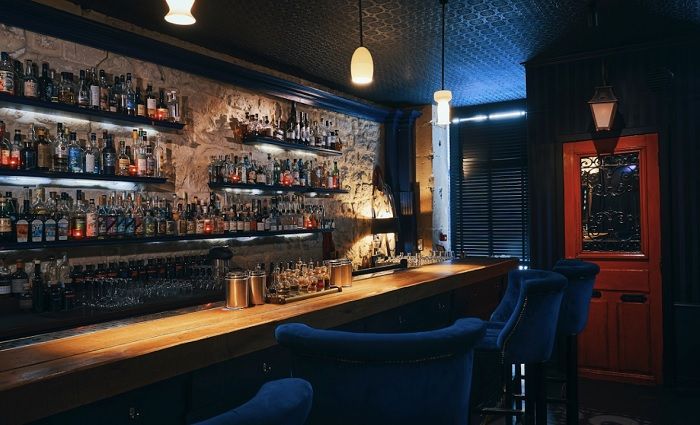 €€€ | Speakeasy | Cocktail Bar | Quirky | Cool Vibe | Creative Drinks
Yes, there actually is a little red door, but you don't use it to enter. This speakeasy has all the elements you're looking for: a poorly lit room and great drinks. The staff is super cool and will come over and discuss the various drinks they have. They may even have a seat to chat with you a bit longer. The Little Red Door is a cool, quirky spot with creative drinks where it's hard not to have a good time.
Address: 60 Rue Charlot
Jazz Bars in Paris
Paris is known internationally for its jazz scene. You'll find a handful of jazz bars in the city that are iconic and have been around for more than 50 years. It definitely makes for a cool experience. These are my two top picks for jazz lovers in Paris.
Duc des Lombards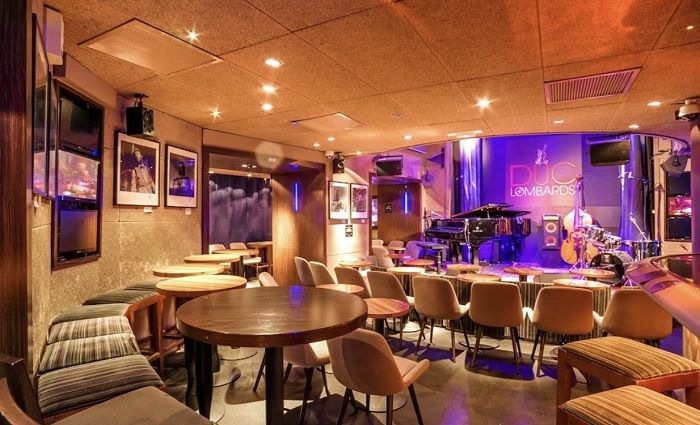 €€ | Jazz Club | Well Established | Intimate Setting | Diverse Artists
Duc des Lombards is an iconic jazz club where all aspiring jazz players dream about playing. If you like jazz, then don't miss this place. They have great food, great drinks, and, of course, amazing music.
Address: 42 Rue des Lombards
Le 38 Riv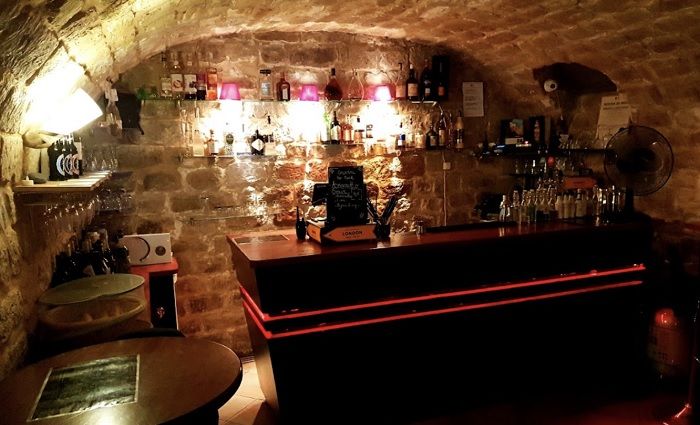 €€ | Jazz Club | Cozy | Exposed Brick Cellar Setting | Great Energy and Acoustics
This place is just cool. There's no other way to describe it. To get in you go down into a little cave and it feels like you've gone back in time.
The jam sessions are awesome and the acoustics are incredible. If you're into jazz, you'll enjoy this experience.
Address: 38 Rue de Rivoli
Pubs and Dive Bars in Paris
Pubs and dive bars are for the very informal drinker who's not looking for any of that fancy stuff. Be prepared for a simple drink without any interest in the aesthetics of the venue.
That said, the decor can be unique, eclectic, and interesting. You're likely to bump into locals and you might be surprised by the fun you have in the right place.
Stolly's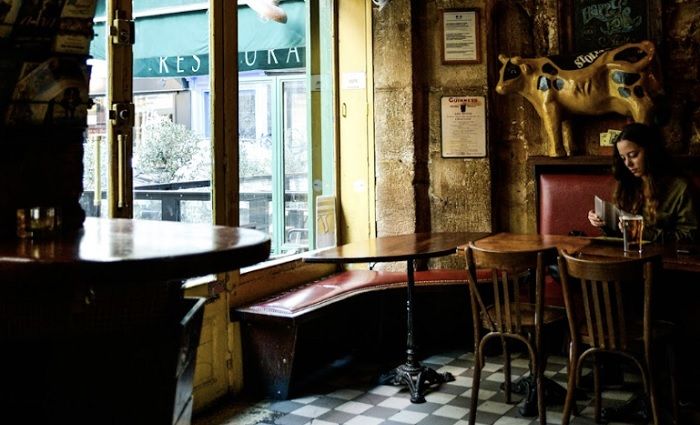 €€ | Irish Pub | Dive Bar Vibe | Sidewalk Seating | Lively Atmosphere
Stolly's is an Irish pub right in the middle of the cool Le Marais neighborhood—who would have thought? Drinks are cheap and the crowd is mixed with expats and locals.
You can cram inside this small place or take a seat out on the terrace. It gets pretty crowded and the rock music is loud—if that's your vibe, it sounds like a recipe for a good night.
Address: 16 Rue Cloche Percé
Le Pantalon Bar
€ | Dive Bar | Eclectic Decor | Lively Atmosphere | Great Prices
Le Pantalon is an eccentric bar in the Latin Quarter with cheap drinks. It's popular with art students and hipsters and the decor is pretty interesting. It seems everyone in here smokes, so be prepared for that. But if you've decided to go to a dive bar, what else would you expect? If you're in the area for dinner, check out where to eat in the Latin Quarter.
Address: 7 Rue Royer-Collard
Our Best Versailles and Paris Louvre Tours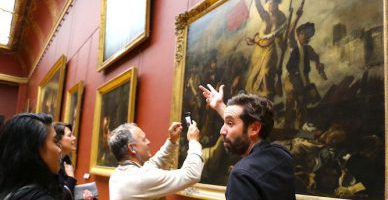 Top-Rated Tour
Secrets of the Louvre Museum Tour with Mona Lisa
The Louvre is the largest art museum on Earth and the crowning jewel of Paris, which is why it's on everyone's bucket list. Don't miss out on an incredible opportunity! Join a passionate guide for a tour of the most famous artwork at the Louvre. Skip-the-line admissions included.





See Prices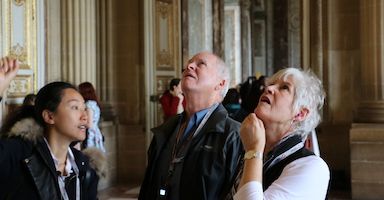 Likely to Sell Out
Skip-the-Line Palace of Versailles and Gardens Tour from Paris
Versailles isn't that difficult to get to by train, but why stress over the logistics? Meet a local guide in central Paris who will purchase your train tickets and ensure you get off at the right stop. Then enjoy a guided tour of the palace and the unforgettable gardens. Skip-the-line admissions included to the palace and gardens.





See Prices
Not ready to book a tour? Check out our best Paris tours to take and why.
How To Get Home After a Night Out in Paris
You've had an awesome night in Paris! Now, you need to get home. If you're heading out for a night on the town in a new city, have a plan to get home after. Save all of the relevant phone numbers, download the apps, and have a rough idea of the going rate for your chosen transport. Here are some tips to help you get back to your accommodation after a night out in Paris.
Uber
There is Uber in Paris and it works the same as everywhere else. Download the app and you'll see plenty of cars to take you home. It's a bit more expensive than a standard taxi, but a 10-minute ride would only cost you €1 to €2 more. If you're looking for more in-depth info on using Uber to get around Paris, check out our guide to Uber in Paris.
Taxi
Standard taxis can be found at various taxi stations, commonly found in front of any big hotel or hailed down on the street. Make sure you ask them before you get in if they accept credit cards if that's how you plan to pay. Also, unless you're coming from the airport, which has a fixed price, make sure they go by the meter and don't negotiate a price beforehand.
Metro
In general, this is the fastest way to get around the city as it avoids traffic. The ticket costs €1.90 and if you're going to take a few trips, then I recommend buying a carnet of 10 tickets for €14.90.
In the year that I lived in Paris and all the subsequent times that I've been back there, I've never had problems on the Metro even late at night. During the week, the last trains run around 1 am. On Fridays and Saturdays, the last train is usually at 2 am, but make sure you check when you're at the station.
Night Bus
If your night was really long and you find yourself on the street after 2 am or you don't like being underground, then Paris also has an extensive bus system to take you pretty much anywhere you need to go. When the metro closes, the Noctilien bus system takes over. It runs until 5:30 am when the metro opens back up again the following day.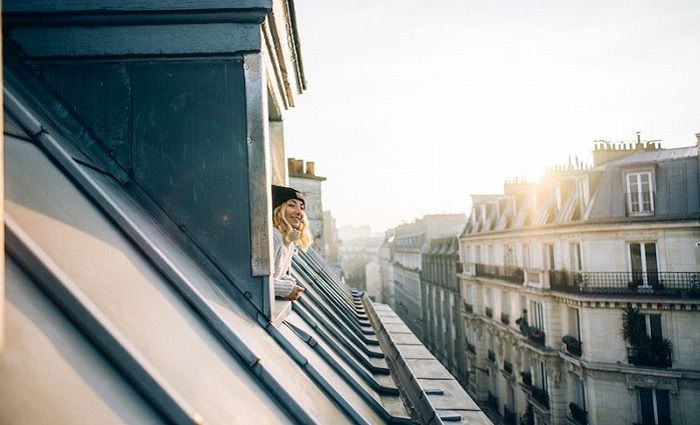 Find the best places to stay
Where To Stay in Paris
With a city as magnificent as Paris, it can be hard to find the perfect hotel at the perfect price. Explore the best hotels and places to stay in these incredible neighborhoods in Paris.