The Latin Quarter is one of the city's most charming and iconic neighborhoods, and you'll probably end up eating at least one of your meals here. Its streets overflow with restaurants and cafés, so how do you weed out the tourist traps? We're here to guide you to the best restaurants in the Latin Quarter of Paris.
---
Pro Tip: Planning where to eat on your trip to Paris? Bookmark this post in your browser so you can easily find it when you're hungry in the city. Check out our guide to Paris for more planning resources, our top Paris food tours for a memorable trip, and the foods you have to try in Paris.
Best Restaurants in the Latin Quarter of Paris
If you're in the iconic Latin Quarter of Paris, you may want to stop, enjoy a meal, and soak up the atmosphere. To help you navigate the tourist traps, we've put together this list of the top places to eat in Paris' Latin Quarter.
Le Méchoui du Prince
€€ | Moroccan Restaurant | Limited Outdoor Seating
You might miss this restaurant's entrance if you don't pay attention, but it's far from a hole in the wall! Le Méchoui du Prince is a family-run restaurant that has been serving quality Moroccan food in the Latin Quarter for nearly 50 years now. The owners describe walking inside as an authentic Arabian Nights experience because of their great decor and food.
You'll find traditional Moroccan fare on the menu, such as tagine and couscous, as well as a selection of North African wines. This is a great alternative to French food while on your trip and Moroccan food is one of the most popular ethnic foods in Paris. These guys do it right!
Address: 36 rue Monsieur le Prince
Bistro des Augustins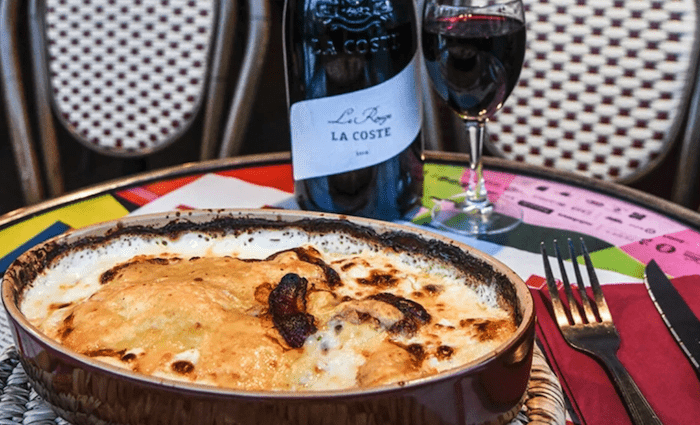 € | Bistro | Some Outdoor Seating
Surround yourself in an old-school Parisian bistro setting and celebrate because you're about to have some of the best gratin ever. This place specializes in French comfort food, so think of potatoes combined with cream, cheese, bacon, or chicken—delicious at any time of year.
The restaurant is very small and no-fuss with a handful of tables set up outside on the street. Because you'll be hard-pressed to find a more authentic bistro feel in the city, this is one of our favorite local spots and one of the best restaurants in Paris' Latin Quarter.
Address: 39 Quai des Grands Augustins 
Our Best Versailles and Paris Louvre Tours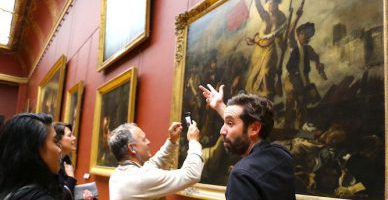 Top-Rated Tour
Secrets of the Louvre Museum Tour with Mona Lisa
The Louvre is the largest art museum on Earth and the crowning jewel of Paris, which is why it's on everyone's bucket list. Don't miss out on an incredible opportunity! Join a passionate guide for a tour of the most famous artwork at the Louvre. Skip-the-line admissions included.





See Prices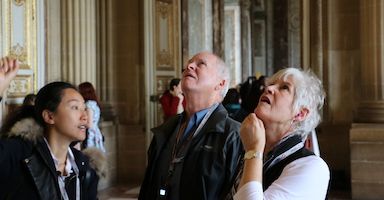 Likely to Sell Out
Skip-the-Line Palace of Versailles and Gardens Tour from Paris
Versailles isn't that difficult to get to by train, but why stress over the logistics? Meet a local guide in central Paris who will purchase your train tickets and ensure you get off at the right stop. Then enjoy a guided tour of the palace and the unforgettable gardens. Skip-the-line admissions included to the palace and gardens.





See Prices
Not ready to book a tour? Check out our best Paris tours to take and why.
Les Crêpes de Louis-Marie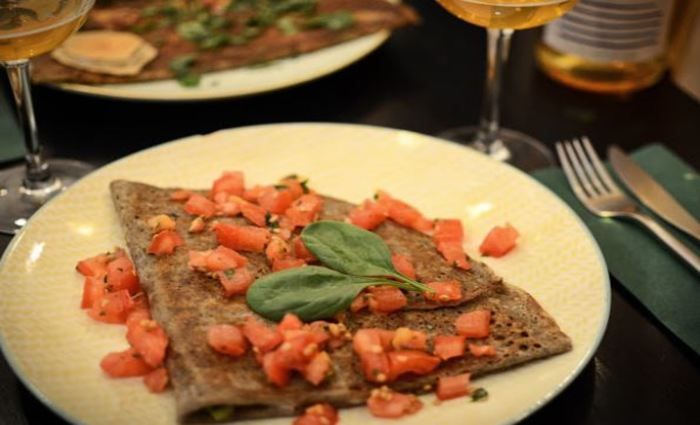 € | Crêpe Restaurant | Outdoor Seating | Family Friendly
If you can't decide whether you want a savory or sweet crêpe, head to this spot and try both! It's situated on one of the far ends of the Latin Quarter but worth the walk, especially since it's next to Place Monge and the Marché Mouffetard, two great open-air markets.
All of the crêpes are made fresh and there are vegetarian options available, so the menu will appeal to everyone in your group. The restaurant is casual and laid back, so it's also a great choice if you're traveling with kids. Don't forget to try some cider while you're there—the traditional pairing for crêpes!
Address: 1 Rue de l'Arbalète
Chez Gladines
€€ | French Restaurant | Family Friendly
Chez Gladines actually has five locations in Paris, but it's far from being considered a chain. They specialize in Southwestern French food with Basque flair, so expect more dishes with ingredients like duck, peppers, and Basque sauce (a blend of tomatoes, onions, peppers, and spices).
The restaurant has a relaxed and casual feel to it with generous portions. It's a great spot to head with kids or a group of travel partners.
Address: 44 Boulevard Saint-Germain
Kodawari Ramen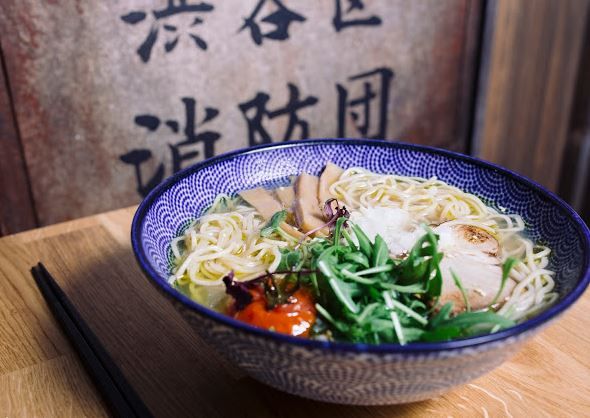 €€ | Japanese Restaurant | Great Ambiance | No Outdoor Seating
Kodawari Ramen is hands down one of the best and most authentic ramen restaurants in Paris. Because their noodles and broth are all homemade, you can expect fresh flavors every time.
Besides the food, the ambiance is unbeatable. You'll feel like you're in a hidden spot in historic Tokyo, with a bustling vibe and the chance to see your food being prepared right in front of you. Be prepared though—it's one of the best restaurants in the Latin Quarter of Paris and very popular! They don't take reservations, so arrive early or you'll have to wait in line.
Address: 29 rue Mazarine
Au Petit Suisse
€€ | French Brasserie | Some Outdoor Seating
This is the spot for traditional French bistro food—nothing too fancy, but it'll hit the spot. The croque monsieurs are always a good choice (a toasted ham and cheese sandwich) and so are their lambchops. Keep an eye out for their specials—they change on a daily basis, which you'll see on a black chalkboard, and they're always made with what's fresh from the market.
When the weather is nice, you can enjoy a meal and some wine on their patio, which is directly across the street from the famous Luxembourg Gardens. It doesn't get much more Parisian than that!
Address: 16 rue de Vaugirard
La Rôtisserie d'Argent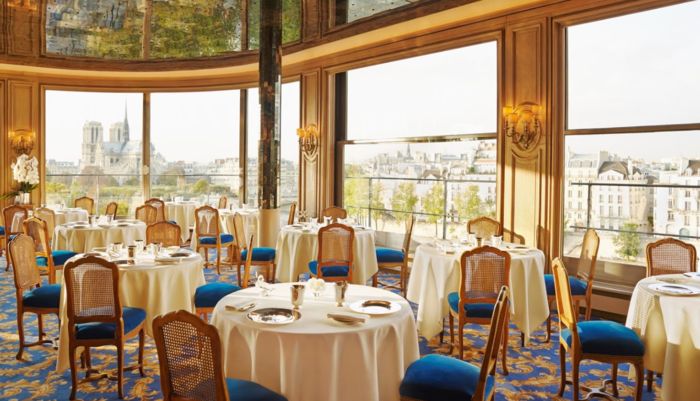 €€€€ | Elegant French Restaurant | Michelin Star | Incredible View
Want to splurge on an extremely fancy dinner in Paris or have an unforgettable evening of French cuisine? Look no further than La Rôtisserie d'Argent. This Michelin-star restaurant is famous for its food and amazing views of Notre Dame (the dining room is on the seventh floor).
A meal here can truly be described as a once-in-a-lifetime experience for many. If you're able to splurge and are thinking about celebrating a birthday or engagement while in Paris, we encourage you to make a reservation here well in advance.
This is without a doubt the best restaurant in Paris' Latin Quarter on this list. It has a Michelin star and an incredible view. That said, it's also the most expensive. If you can afford it, I would recommend you go!
Address: 19 Quai de la Tournelle
La Truffière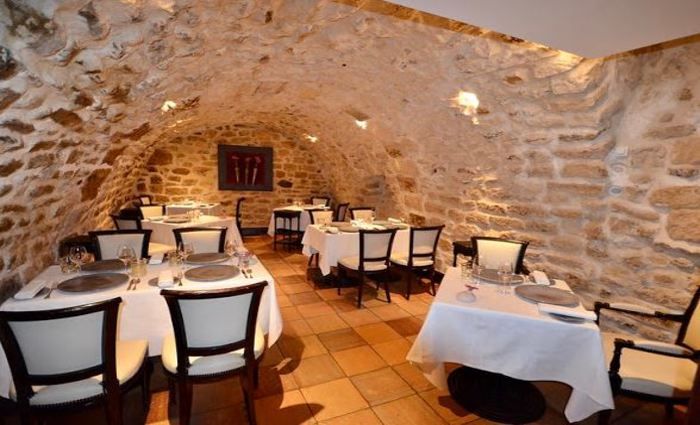 €€€€ | Elegant French Restaurant | For Truffle Lovers
La Truffière is dedicated to all things truffle! Their menu is creative and each dish comes with an impressive presentation, so you're left with a work of art on your plate. They also have an incredibly extensive, but certainly not cheap, wine list.
This spot is great for a date night or special evening in Paris, especially if you're a truffle lover! There are three dining areas located inside, with the most impressive being their vaulted cellar dating from the 17th century. Because it's not a large restaurant, we recommend calling ahead for reservations.
Address: 4 rue Blainville
Les Trublions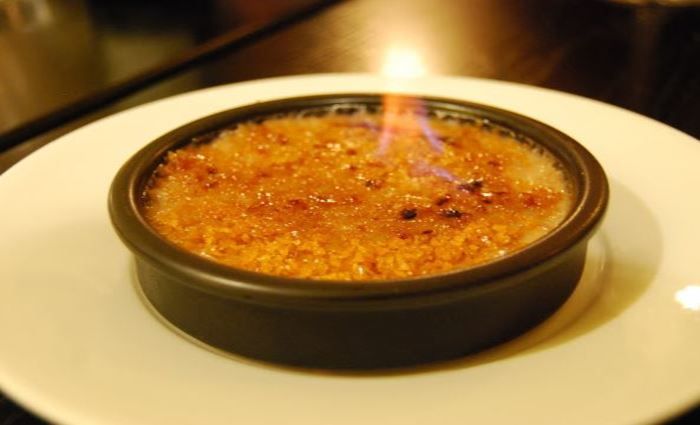 €€ | French Bistro | Limited Outdoor Seating
Les Trublions is a stylish yet cozy bistro run by a couple who strive to add a simple but personal touch to their restaurant's atmosphere. All of the food is made from scratch and the menu changes daily.
So, while the food options may appear limited, remember that's only because the chef is offering what's fresh. This is a creative spot bursting with flavor, so add it to your list!
Address: 34 rue de La Montagne Sainte-Geneviève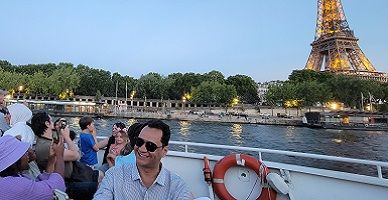 Likely to Sell out
Privileged Access Eiffel Night Tour with Seine River Cruise
Sometimes the most amazing moments happen by chance. Other times, they are orchestrated by professionals. In this case, you'll have an evening to remember as you cruise the Seine for an hour, sipping champagne and taking in the sites like Notre-Dame, the Louvre, and more. Afterwards, follow your guide past the long lines and take the elevator to the Eiffel Tower's second floor for an unforgettable view.





See Prices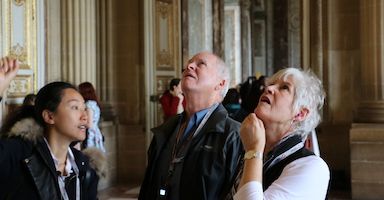 Likely to Sell Out
Skip the Line Palace of Versailles and Gardens Tour from Paris
Versailles isn't that difficult to get to by train, but why deal with the stress on your own? Our guide will meet you in central Paris, purchase your train tickets, and ensure you get off at the right stop in Versailles. With skip-the-line tickets, you'll bypass the crowds and get right into this incredible palace as your guide explains the most incredible (and controversial) history of France's favorite palace.





See Prices
Not ready to book a tour? Check out our best Paris tours to take and why.
La Crète
€€ | Greek Restaurant | Limited Outdoor Seating
Just a short walk from the famed Panthéon building you'll find La Crète. This restaurant has managed to remain out of the tourist limelight despite its incredibly close proximity to the charming Place Monge and Place de la Contrescarpe, so it's a great place to stop and refuel while exploring.
Head in if you're in the mood for top-notch Greek food like grilled skewers, fresh fish, and an amazing Greek salad. The decor is cozy and homey, and in the summertime, they open up the doors so you feel like you're eating outside.
Address: 85 rue Mouffetard
Le Petit Châtelet
€€ | French Restaurant | Some Outdoor Seating
Don't judge this place by its outside appearance or close proximity to the Notre Dame Cathedral, because it's anything but a tourist trap. Le Petit Châtelet has been passed on from father to son for four generations now, which is a symbol of the family's love for their restaurant.
The spot offers a cozy and comfortable place to sit down and has an open fireplace inside where you can watch the meat being grilled (which gives your dish a delicious smoky flavor). They offer some great two-course and three-course menu options as well. This is by far one of my top places to eat in the Latin Quarter!
Address: 39 Rue de la Bûcherie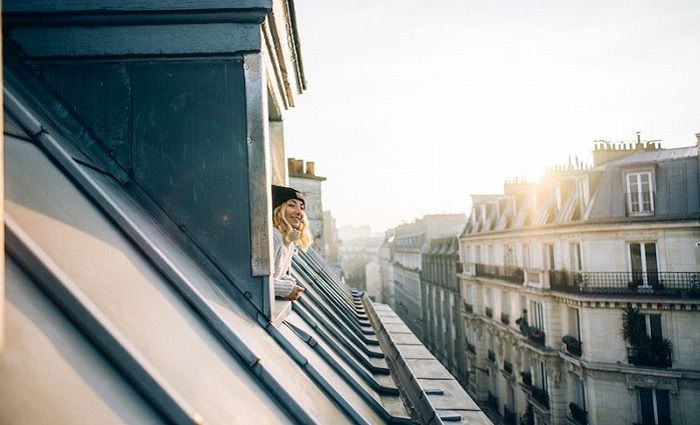 Find the best places to stay
Where To Stay in Paris
With a city as magnificent as Paris, it can be hard to find the perfect hotel at the perfect price. Explore the best hotels and places to stay in these incredible neighborhoods in Paris.