Taking a stroll on the Paris street dubbed the world's most famous avenue, you'll likely work up an appetite. When hunger strikes, use this list of my favorite restaurants near the Arc de Triomphe and Champs-Élysées to guide you!
---
Pro Tip: Planning where to eat on your trip to Paris? Bookmark this post in your browser so you can easily find it when you're hungry in the city. Check out our guide to Paris for more planning resources, our top Paris tours for a memorable trip, and the best French foods to eat in Paris.
Top Places To Eat Near the Arc de Triomphe and Champs-Élysées
The Avenue des Champs-Élysées is without a doubt the most famous street in Paris. While it's known for being a shopper's paradise, it's worth a stroll on the avenue even if shopping isn't your thing to check out one of Paris' largest monuments, the Arc de Triomphe.
You can climb the 284 steps to get to the top of the Arc de Triomphe, or simply admire it from street level. Side note: you can't cross the street to get to the middle of the Arc—you'll have to walk through an underground tunnel to get there.
This neighborhood is normally associated with luxury and wealth, but we've put together a list of the best restaurants near the Arc de Triomphe and Champs-Élysées to suit all types of budgets!
If you love food and travel, you'll definitely love going on a local food tour! Check out all our Paris food tours—they're a fantastic way to get to know a new city and enjoy a fun evening out.
Fouquet's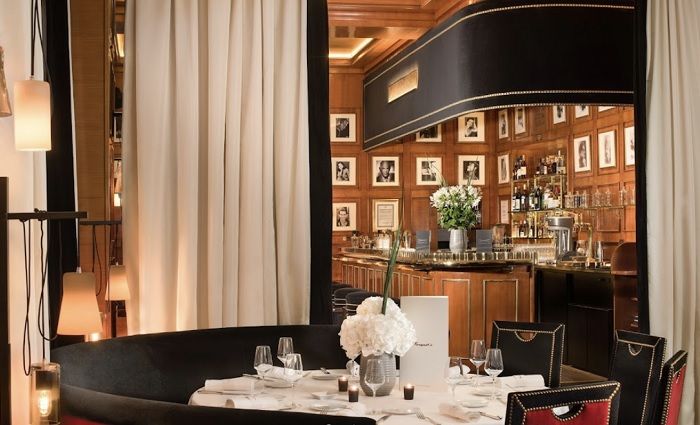 €€€€ | High End French Brasserie | Wine and Cocktails | Outdoor Seating
Founded in 1899, Fouquet's is a historic and famous high-end brasserie located right on the Champs-Élysées. Their two large terraces are excellent spots for people-watching while sipping on a glass of wine or a cocktail.
If you decide to have a meal in the dining room, you're likely to run into some VIP travelers or French politicians (former French President Nicolas Sarkozy famously celebrated his election victory at Fouquet's).
Eating at Fouquet's is perhaps more about the experience than the food. But there's no denying it's one of the most well-known spots to eat near the Champs-Élysées.
Address: 99 Avenue des Champs-Élysées
Le Sens Unique
€€ | French Cuisine | Duck Dishes | Relaxed Ambiance | Outdoor Seating
Le Sens Unique is the place to go if you want to try duck while in Paris. Their magret de canard (duck breast), confit de canard (duck confit), and foie gras are all excellent choices. For those who aren't into duck, the steak is also delicious.
Even though it's not far from the Champs-Élysées, the ambiance here is relaxed and homey. The servers are known for being welcoming, which isn't always a given in France! Reservations are recommended.
Address: 47 Rue de Ponthieu
Our Best Guided Tours of Paris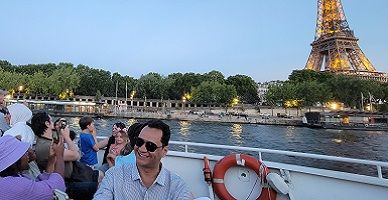 Likely to Sell out
Privileged Access Eiffel Tower Night Tour With Seine River Cruise
Sometimes the most amazing moments happen by chance. Other times, they are orchestrated by professionals. Our Eiffel Tower tour takes you on a cruise down the Seine River for incredible views of Notre-Dame and the Eiffel Tower. Champagne included, of course. Then you'll be guided to the Eiffel Tower, skip the long lines, and head up the elevator to the second floor for a night to remember.





See Prices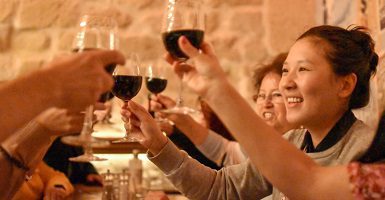 Top Selling
Ultimate Taste of Paris Food Tour in Le Marais
Embark on a culinary journey in Le Marais—one of the hippest neighborhoods in Paris. Most food tours in Paris offer cheese and wine, but we include a full, sit-down meal! Enjoy a feast of French cheeses, oysters, street food, boeuf bourguignon, crème brûlée, and more. This 3-hour food tour combines the best of Paris' culinary heritage and you won't find a better deal out there!





See Prices
Not ready to book a tour? Check out our best Paris tours to take and why.
Chez Gabrielle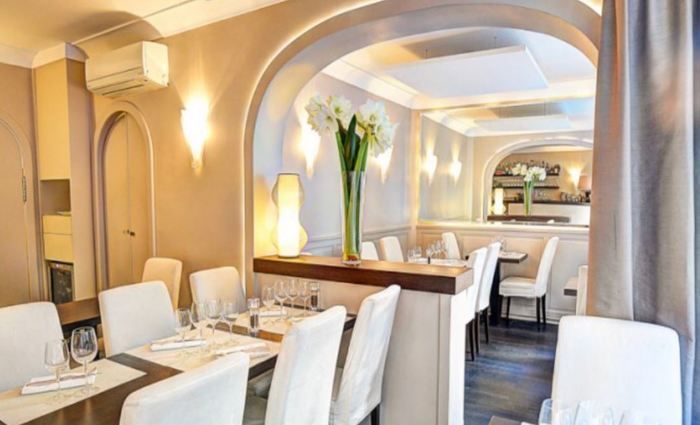 €€ | French Cuisine | Seafood | Terrace
A husband and wife team run Chez Gabrielle—the husband is the head chef and the wife manages the dining room. The restaurant is small with a cozy and welcoming ambiance, and all of the food is high quality.
They're known for their flambéed scallops, but they have great non-seafood dishes on the menu as well. This is the spot to pick if you're looking for a calm lunch or dinner with authentic French food!
Address: 7 Rue de l'Étoile
Bus Toqué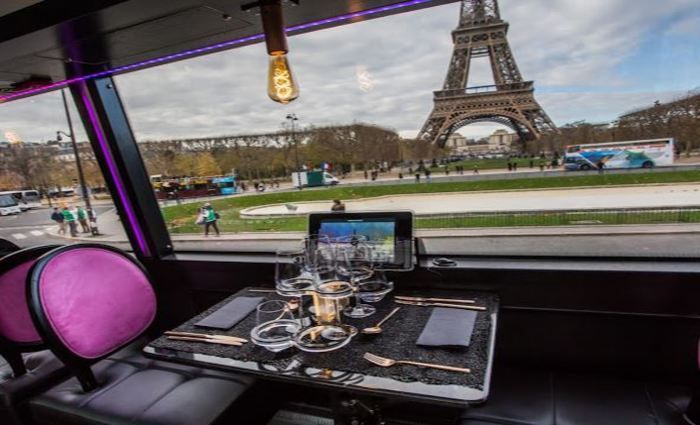 €€€ | French Cuisine | Five Course Meal | Paris Bus Tour | Unique Experience
We know what you're thinking, but trust us—this experience is much cooler than it might sound! On Bus Toqué, you'll be served a five-course French dinner while being driven around Paris in a fancy tour bus, complete with audio guide and everything.
While you'll obviously be dining with mostly tourists, the experience is unique and very fun. They have a variety of options, but if you purchase their "Paris by Night" dinner, the pick-up location is right on the Champs-Elysées, making this a potentially great way to end your afternoon of strolling around the Arc de Triomphe.
Address: 67 avenue des Champs Elysées
Le Cinq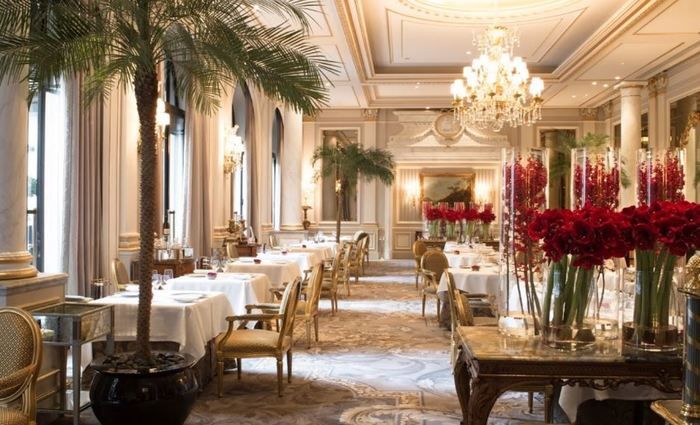 €€€€ | Fine Dining | 3 Michelin Stars
Le Cinq is a fine dining restaurant located in the elegant Four Seasons Hotel George V. With three Michelin stars, it goes without saying that the food here is phenomenal. The dining room is largely considered one of the most impressive dining rooms in Paris.
A night at Le Cinq is a once-in-a-lifetime experience for many, so it's the perfect place to celebrate a special occasion on your trip. We recommend making reservations well in advance, as travelers from around the world are dying to eat here. This is without a doubt the most expensive and the best place to eat on our list of restaurants near the Arc de Triomphe and Champs-Élysées.
Address: 31 Avenue George V
Le Brasier des Ternes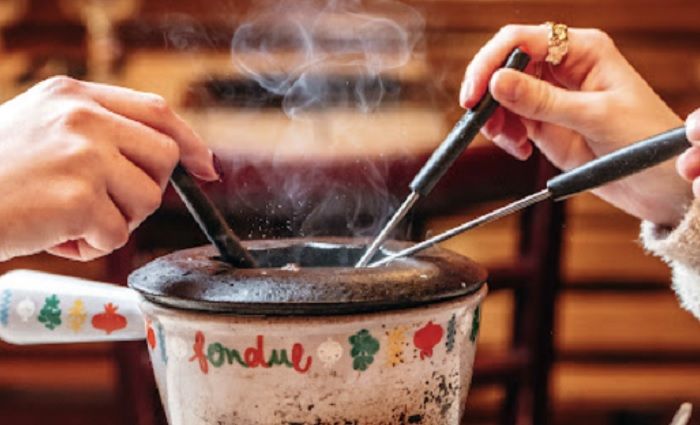 €€ | For Cheese Lovers | Fondue Restaurant | Casual
If melted cheese is your thing, head to Le Brasier des Ternes. They specialize in fondue, which is served with bread and meat to dip into the cheese. Their other specialty, raclette, is equally delicious. You melt your own raclette cheese, then spread it onto your choice of potatoes, meat, or bread. Trust us, you'll be full when you leave!
This restaurant is definitely on the modest and casual side, so no need to get dressed up. It's a nice choice for food you might not find too often back home, especially if you're visiting Paris in the wintertime and need something to warm you up.
Address: 58 Avenue des Ternes
Our Best Guided Tours of Paris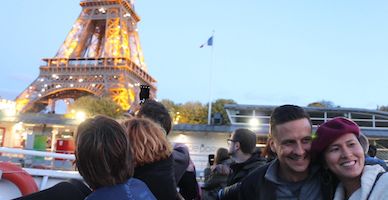 Likely to Sell out
Privileged Access Eiffel Tour with Champagne on the Seine
Sometimes the most amazing moments happen by chance. Other times, they are orchestrated by professionals. Our Eiffel tower tour cruises by the famed monument as it lights up and you drink champagne. After, you'll have tickets to enter the tower and ascend to the 2nd level with an elevator. Admissions included and we'll take care of the details… you simply pay and show up!





See Prices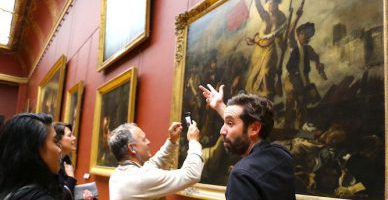 Top Selling
Secrets of the Louvre Museum Tour with Mona Lisa
The Louvre is the largest art museum on Earth and the crowning jewel of Paris. It embodies the French vigor for life. Join a passionate English speaking guide for a tour of the most famous artwork. Skip the line admissions included.





See Prices
Not ready to book a tour? Check out our best Paris tours to take and why.
Bensaï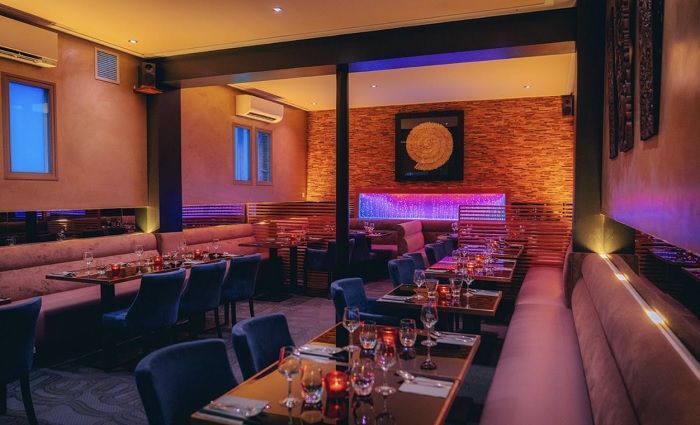 €€ | Thai and Japanese Fusion | Vegetarian Options | Cool Vibe 
If you're in the mood for Asian food, this Thai and Japanese fusion restaurant could be the place for you. They have an extensive menu filled with pad Thai, curries, sushi, and more.
The decor is chic and modern with purple and red lighting and they have great service. The prices are also very fair for the area, making this a good stop for those who don't want to spend too much.
Address: 161 Rue du Faubourg Saint-Honoré
Ladurée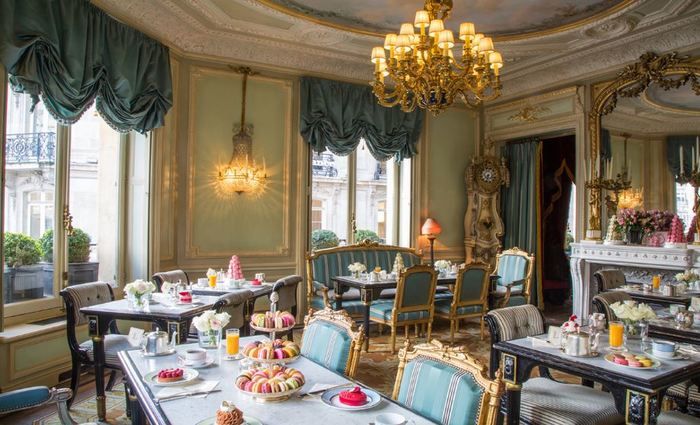 €€€ | French Tea Room | Macarons 
Ladurée is famous worldwide for their macarons or meringue-based cookies with ganache filling. They have a fancy tea room where you can sit and enjoy a variety of pastries and drinks, but they also have a long counter filled with hundreds of macarons where you can stop in and just pick up a few on the go.
You'll find macarons sold at many local shops and bakeries, but Ladurée has innovative flavors you won't easily find elsewhere, like blackcurrant-violet or rose-raspberry. They even have a macaron named the Marie-Antoinette Macaron: it's a blend of black tea from China and India, with hints of rose petals, citrus, and honey.
Address: 75 Avenue des Champs Elysées
Pleine Terre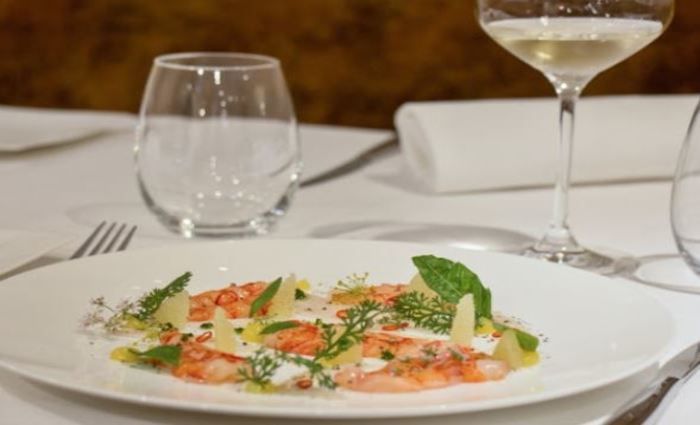 €€€ | French Cuisine | Hidden Gem | Creative Presentation | Original Dishes
Just a few minutes' walk off the Champs-Élysées, gourmet food and a warm welcome await you at Pleine Terre. The presentation and originality of their food are closer to what you'd expect of a Michelin-star restaurant but without the exorbitant prices.
The menu offers wood-fire grilled specialties like leg of lamb and prime rib. For dessert, they have an amazing banana puff pastry with caramel and vanilla. At the moment this place has managed to remain a hidden gem, and it definitely ranks as one of our best restaurants near the Arc de Triomphe and Champs-Élysées.
Address: 15 Rue de Bassano
Le Relais de l'Entrecôte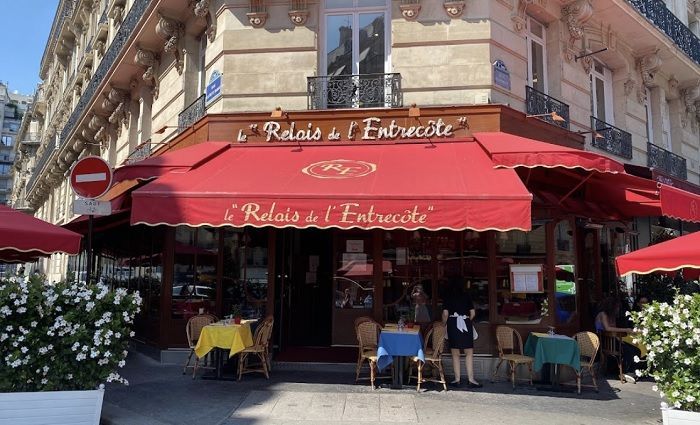 €€ | Steakhouse | Unlimited Steak Frites | Terrace
Le Relais de l'Entrecôte serves just one dish: France's iconic steak frites. While this might just sound like a fancy way to stay steak and fries, we promise you it's far from mediocre.
Once you sit down, you'll be asked how you like your meat cooked. From there, you'll be served their steak with secret sauce for as long as you want—it's unlimited!
Le Relais de l'Entrecôte has a few different locations in Paris, and it's very well-known among Parisians and tourists alike. You can't make reservations, so we highly recommend arriving early, otherwise you'll have to wait in line.
Address: 15 Rue Marbeuf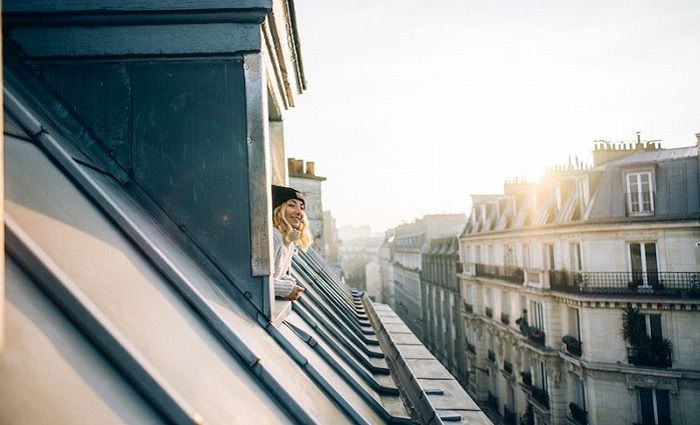 Find the best places to stay
Where To Stay in Paris
With a city as magnificent as Paris, it can be hard to find the perfect hotel at the perfect price. Explore the best hotels and places to stay in these incredible neighborhoods in Paris.