Heading to Paris and want to try something that is truly extraordinary? The food in Paris is already incredible, but why not try some especially unique restaurants? Here are the most unique and extraordinary dining experiences in Paris!
---
Pro Tip: Looking to enjoy the best food in Paris? Bookmark this post in your browser so you can easily find it when you're in the city. We recommend joining our Le Marais Food Tour to enjoy some local delicacies including falafel, oysters, and champagne. Also, check out our guide to Paris for more planning resources and the top things to do while in Paris.
Not Your Typical Restaurants in Paris
While we all love traditional French bistros, sometimes we need to spice things up. This list is for those of you who are always on the lookout for the next cool thing, who dare to go against the grain, and who want to have interesting stories to tell when they get back home. Read on to discover nine unique restaurants to try in Paris.
Dans le Noir?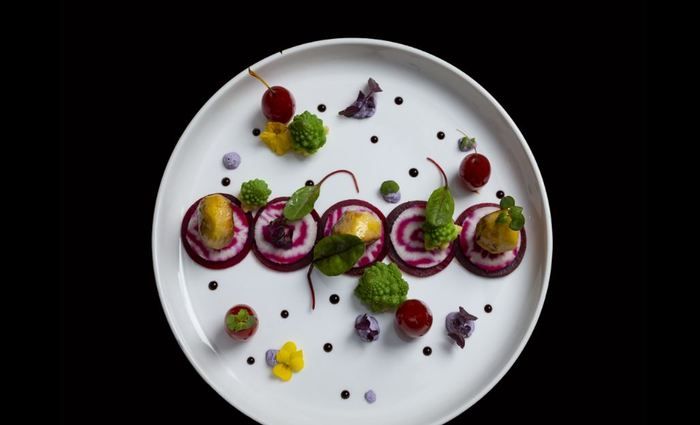 €€€ | Dining in the Dark | Surprise Menu
Dans le noir means "in the dark", which perfectly describes the main idea of this restaurant. Here, diners will literally eat in the dark, unable to see anything they're tasting. This is an incredible sensory experience because when you can't see, your senses of taste and smell are heightened.
Waiters will be present to guide you to tables and make sure everything goes smoothly, but we're not joking when we say you'll be eating in a pitch-dark room.
As far as food goes, 80% of their ingredients are certified organic, and the chef cares about making sustainable choices. While the food is good here, the emphasis is really on the dining-in-the-dark experience, so don't expect Michelin quality cuisine. This is one of our favorite unique restaurant experiences in Paris!
Address: 51 Rue Quincampoix
Bus Toqué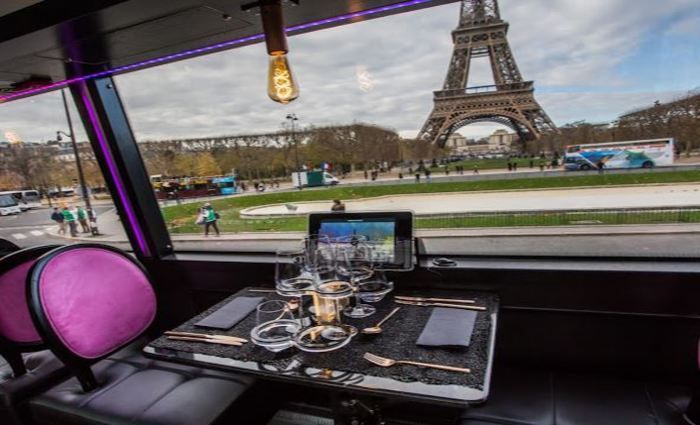 €€€ | Dinner by Bus Tour | French Cuisine
We know what you're thinking, but trust us–this experience is much cooler than it may sound! On Bus Toqué, you'll be served a five-course French dinner while being driven around Paris in a fancy tour bus, complete with an audio guide and all.
While you'll obviously be dining with mostly tourists, the experience is unique and very fun. They have a variety of options, but if you purchase their "Paris by Night" dinner, the pick-up location is right on the Champs-Elysées, making this a potentially great way to end your afternoon of strolling around the Arc de Triomphe.
Address: 67 avenue des Champs Elysées | Hours: "Paris by Night" dinner 8:30 pm – 10:30 pm
Our Best Guided Tours of Paris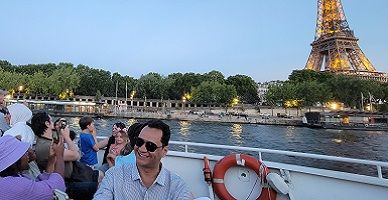 Likely to Sell out
Privileged Access Eiffel Tower Night Tour with Seine River Cruise
Sometimes the most amazing moments happen by chance. Other times, they are orchestrated by professionals. Our Eiffel tower tour cruises by the famed monument as it lights up and you drink champagne. After, you'll have tickets to enter the tower and ascend to the 2nd level with an elevator.





See Prices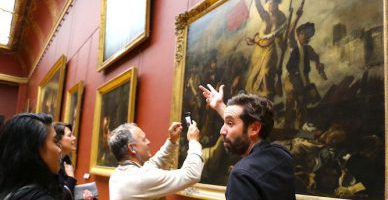 Top Selling
Secrets of the Louvre Museum Tour with Mona Lisa
The Louvre is the largest art museum on Earth and the crowning jewel of Paris. It embodies the French vigor for life. Join a passionate English speaking guide for a tour of the most famous artwork. Skip the line admissions included.





See Prices
Not ready to book a tour? Check out our Paris Guide for more resources.
Sur Un Arbre Perché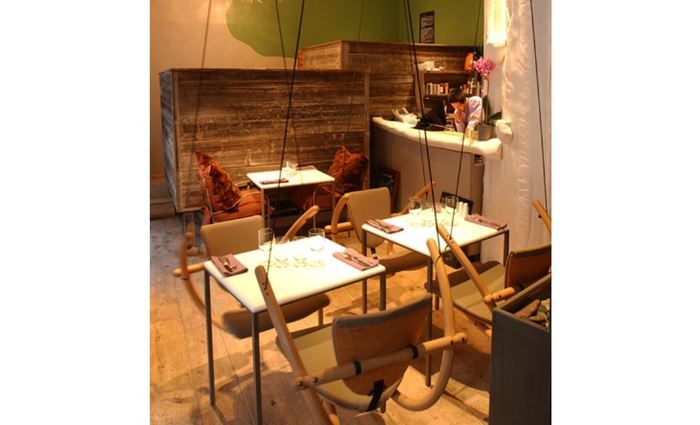 €€€ | Dinner With a Swing and a Massage
Have you ever thought of starting your meal with a massage? Well, that's possible at this cozy restaurant. Sur Un Arbre Perché offers shiatsu massages before your lunch or dinner. You'll get your massage in a separate room in the restaurant, and they're incredibly relaxing and quite a fun way to start your meal.
Another feature of this experience is that you can request to be seated at a table with swings instead of chairs. This unusual seating arrangement is a fun idea for couples or groups of friends traveling together who are looking for something different.
Address: 1 Rue du 4 septembre
La Felicità
€€ | Biggest Restaurant in Europe | Italian Food
This Italian spot is located in Station F, the world's largest startup campus. More than 1,000 startups call this place home, and in the middle of it all, there's a collection of eclectic restaurants waiting to be tried.
La Felicità is part of the infamous Big Mamma group, which serves unbeatable Neapolitan pizzas and pasta dishes at affordable prices. The entire space takes up over 48,000 square feet, making it the biggest restaurant space in Europe with eight kitchens and three bars (cocktails and a biergarten area).
On Friday and Saturday nights, they usually feature live music. There's also a cool zone featuring games like foosball and pinball machines. If you're looking to hang out with a hip and young crowd in an eclectic space with amazing pizza, this is your spot.
Address: 5 Rue Eugène Freyssinet
Le Wagon Bleu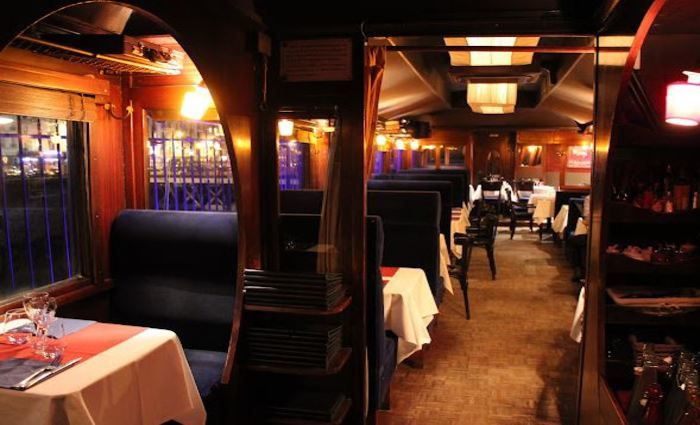 €€ | Dining On The Orient Express | Corsican Cuisine
Le Wagon Bleu is a restaurant set in a refurbished 1925 Orient Express train carriage. This is definitely an intimate space and makes for a great date night spot while on vacation.
The dark blue upholstery with the rich wood surroundings gives it an elegant old-school vibe that manages not to feel stuffy. On Friday and Saturday nights, Le Wagon Bleu becomes a dance space and small club.
The food here is also a bit unique. Le Wagon Bleu serves Corsican food (Corsica is a French island), which is not always easy to find, even in France. This means you'll see lots of seafood as well as Italian influences and meats on the menu. They also offer over 40 different Corsican wines.
Address: 7 Rue Boursault
Our Best Guided Tours of Paris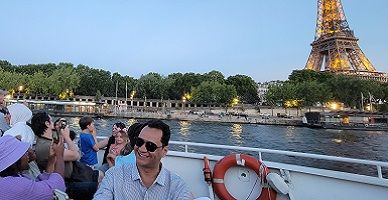 Likely to Sell out
Privileged Access Eiffel Tower Night Tour With Seine River Cruise
Sometimes the most amazing moments happen by chance. Other times, they are orchestrated by professionals. Our Eiffel Tower tour takes you on a cruise down the Seine River for incredible views of Notre-Dame and the Eiffel Tower. Champagne included, of course. Then you'll be guided to the Eiffel Tower, skip the long lines, and head up the elevator to the second floor for a night to remember.





See Prices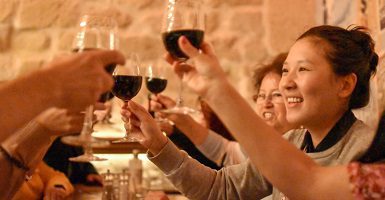 Top Selling
Ultimate Taste of Paris Food Tour in Le Marais
Embark on a culinary journey in Le Marais—one of the hippest neighborhoods in Paris. Most food tours in Paris offer cheese and wine, but we include a full, sit-down meal! Enjoy a feast of French cheeses, oysters, street food, boeuf bourguignon, crème brûlée, and more. This 3-hour food tour combines the best of Paris' culinary heritage and you won't find a better deal out there!





See Prices
Not ready to book a tour? Check out our Paris Guide for more resources.
Le Café des Chats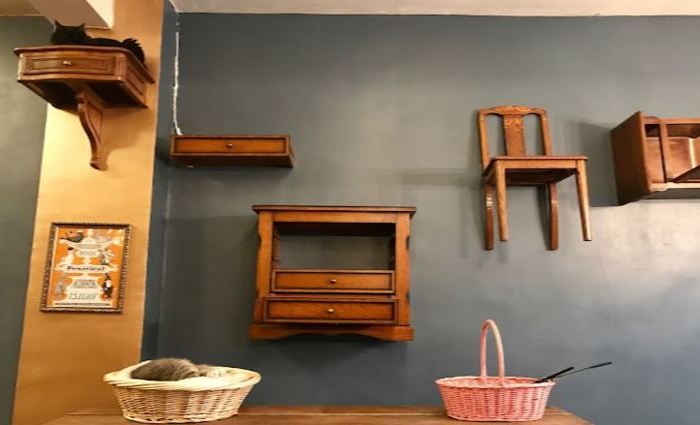 €€ | Cat Café | Coffe and Cake
Missing your pets while on vacation? Or maybe you just love cats? Come to Paris's one and only cat café located in the city's hipster neighborhood. Inside you'll find multiple cats napping, playing, or roaming around the café next to your table. They have even been known to hop on a few tables if you'll let them.
Besides the cats, the café has an antique vibe to it, with lots of furniture and books sprawled around. True to its name, Le Café des Chats is more a café than a restaurant, so we recommend coming here for light meals or a coffee.
Address: 9 Rue Sedaine
Le Jules Verne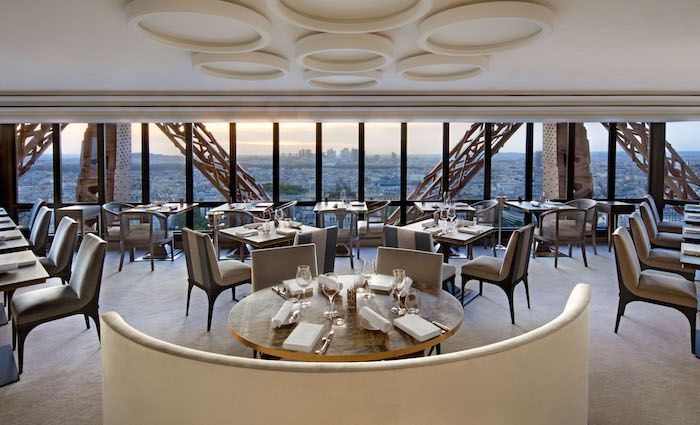 €€€€ | 1 Michelin Star | French Haute Cuisine | On the Eiffel Tower
What's more unique than eating in a restaurant on the Eiffel Tower? If you can get a reservation at Le Jules Verne, which is not easy, this is the ultimate dining experience.
Le Jules Verne is a 1-Michelin star restaurant located on the second floor of the Eiffel Tower. With panoramic views and great food, this is one of our favorite unique restaurants in Paris. Find out more about how to make a reservation at Le Jules Verne and other Eiffel Tower restaurants to book your spot.
Address: Eiffel Tower
Coco de Mer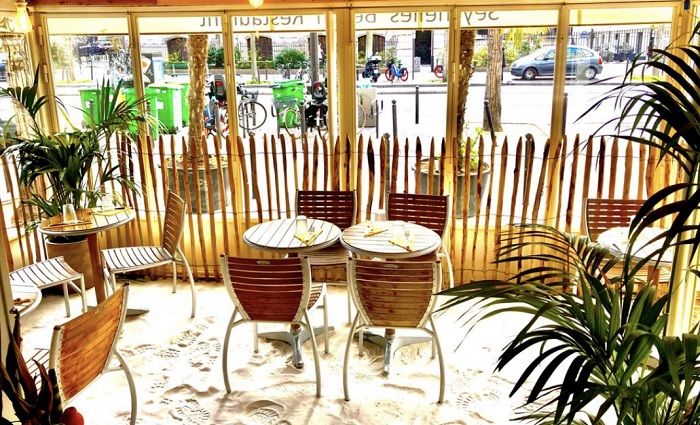 €€ | Dine With Your Feet in the Sand | Seychelles-Inspired Cuisine
Sometimes you need a bit of relaxation after walking around a big city all day. At Coco de Mer, the owners have designed the restaurant to make you feel like you're eating in the Seychelles.
Underneath all of the dining tables is a floor of sand you can literally sink your feet into, complete with pictures of tropical fish lining the walls. The food is also inspired by Seychelles cuisine, with options like beef curry, garlic prawns, and coconut cake for dessert. If you're a traveler who loves tropical vibes, this is a fun restaurant to try while in town.
Address: 34 Bd Saint-Marcel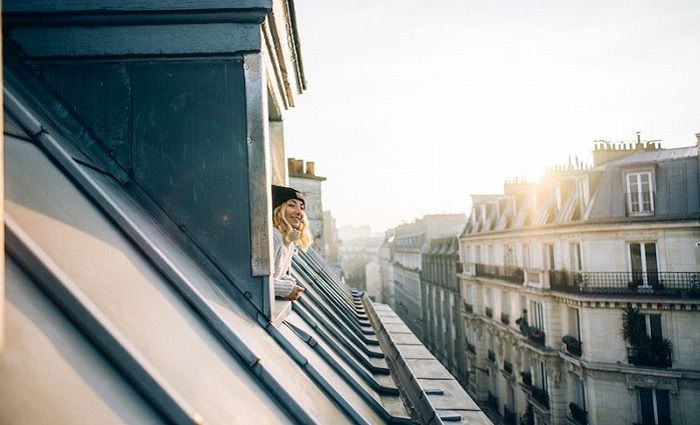 Find the best places to stay
Where To Stay in Paris
With a city as magnificent as Paris, it can be hard to find the perfect hotel at the perfect price. Explore the best hotels and places to stay in these incredible neighborhoods in Paris.