Heading to Paris and looking to plan a meal or eat at the Eiffel Tower? You are making the right decision as it is one of the most incredible experiences in all of Europe. Did you know there are more restaurants than just the Jules Verne? This guide breaks down where to eat at (on) the Eiffel Tower.
---
This article is dedicated to eating at the Eiffel Tower and by that, I mean literally on it. If you are looking for great places to eat nearby, check out our article on the Best Places to Eat Near the Eiffel Tower in Paris. Also, check out our beautiful page dedicated to the Eiffel Tower.
Where to Eat at the Eiffel Tower in Paris
The Eiffel Tower may look like a thin, wiry structure but at any given moment there could be up to 3000 people eating, drinking, or snapping selfies from 58 meters to 276 meters off the ground on Eiffel's three observation decks.
When I travel, I am a bit of a bon vivant. We all work hard so decompressing on vacation and enjoying the sweet fruits of your labor is super important. This is why I always say, "If you can, you should go inside." This goes for eating at Le 58 or Le Jules Verne – if you can.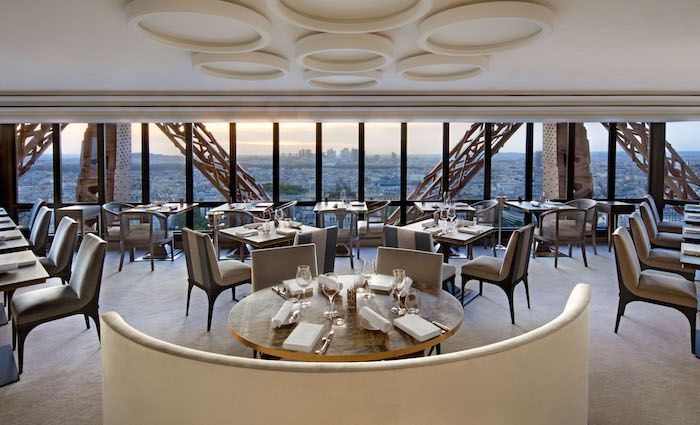 Going Up? Your Answer Should Be Yes!
Yes, you should make every effort possible to go up the Eiffel Tower. The tickets start at 10.40€. which is affordable enough for anyone who can afford a visit to Paris.
With the exception of 2020 given the reduced levels of tourism, don't think you can show up on a Saturday and say, "Two please!" These tickets are extremely difficult to obtain. This restaurant features multiple different dining facilities from indoor to outdoor and a bar.
Below you'll find the Eiffel Tower restuarant choices and at the very bottom the hours of operation and ticket costs are listed out.
"Le 58" Restaurants Eiffel Tower
This restaurant is currently closed. The website says that it will reopen at the beginning of 2021. For many who can't travel to Paris right now, it changes little. If you are looking to make a reservations, check the website frequently.
It is currently closed for renovations so expect a cool environment when it opens back up – the French are known for their style. The restaurant does two lunch services per day.
The price tag for your meal will sit around 75€ per person so it is something to consider. I am a bit of a bon vivant when I travel so I would reduce my hotel budget by 75€ and use those funds for this memorable experience. What do you get?
Priority access to 1st level of Eiffel Tower
A very high-quality meal crafted Thierry Marx who received two Michelin stars at Sur-Mesure
An experience you will not forget.
For me, it is a no-brainer. If you can plan ahead far enough to get the reservation, you should save the extra 150€ for you and another person to enjoy this experience.
Hours:
First at 12 and the second at 1:30. Pencil in a 80 to 90 minute dining experience.
Our Best Guided Tours of Paris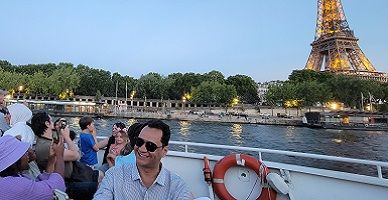 Likely to Sell out
Privileged Access Eiffel Tower Night Tour With Seine River Cruise
Sometimes the most amazing moments happen by chance. Other times, they are orchestrated by professionals. Our Eiffel Tower tour takes you on a cruise down the Seine River for incredible views of Notre-Dame and the Eiffel Tower. Champagne included, of course. Then you'll be guided to the Eiffel Tower, skip the long lines, and head up the elevator to the second floor for a night to remember.





See Prices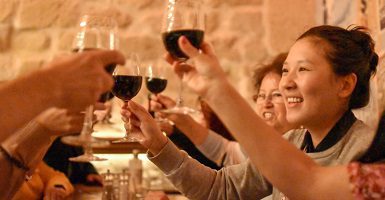 Top Selling
Ultimate Taste of Paris Food Tour in Le Marais
Embark on a culinary journey in Le Marais—one of the hippest neighborhoods in Paris. Most food tours in Paris offer cheese and wine, but we include a full, sit-down meal! Enjoy a feast of French cheeses, oysters, street food, boeuf bourguignon, crème brûlée, and more. This 3-hour food tour combines the best of Paris' culinary heritage and you won't find a better deal out there!





See Prices
Not ready to book a tour? Check out Paris Guide for more resources.
Le Jules Verne Michelin Star @ Eiffel Tower
The definition of bon vivant is a person who enjoys a sociable and luxurious lifestyle. The photo next to it had better be someone eating a meal at Jules Verne.
Again, I believe that if you can, you should. Spending 75€ is something that I believe anyone who can afford a trip to Paris can manage. Jules Vern, on the other hand, will run you 190€ – 230€ per person for dinner excluding beverages. A five-course and seven-course menu respectively.
This is a starting point as you are going to want a drink. So, if you can, you should. Let this be your reward for a successful year or positive life event but know going into it that you will spend a pretty penny.
They have a more affordable, he scoffs, menu at 105€ for lunch excluding beverages. It is a 3-course tasting menu that makes a very pleasant experience.
Eating at the Jules Verne is a special experience for anyone who can afford it. The restaurant has succeeded in receiving 1 Michelin star under all four chefs who have run Le Jules Verne.
Making a Reservation at Jules Verne:
You can go through their official website. They release timeslots 90 days in advance so forget about booking a year ahead.
You have two choices, the Main Rooms (looking at the city) and the Alcove (looking at the interior). Main Rooms obviously go first although the website tries to sell the benefits of the Alcove.
You can sit down for lunch at 12 to 1:30 at 15 minute intervals.
Dinner sit down times are 7, 7:15 & 7:30 pm. Expect a magnificant 3 hour dining experience for the 5 course menue and longer for the 7 course menu.
Bistro Buffet
Throughout the 1st & 2nd floors there are various buffets, snack bars and shops that will satisify your hunger or thirst. Exactly what you will expect from a stand-up counter service establishment. Definitely gets the job done.
Champagne A Bar
If you manage to get the coveted ticket to the summit or top tier, definitely put aside a few euros for a glass of champagne. There is a small bar that serves champagne named Champagne A Bar. Very straight-forward name with a very complex product; champagne!
Our Best Guided Tours of Paris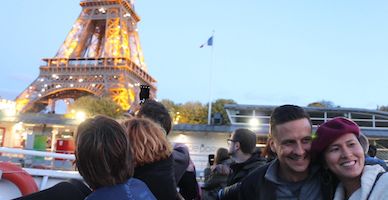 Likely to Sell out
Privileged Access Eiffel Tour with Champagne on the Seine
Sometimes the most amazing moments happen by chance. Other times, they are orchestrated by professionals. Our Eiffel tower tour cruises by the famed monument as it lights up and you drink champagne. After, you'll have tickets to enter the tower and ascend to the 2nd level with an elevator. Admissions included and we'll take care of the details… you simply pay and show up!





See Prices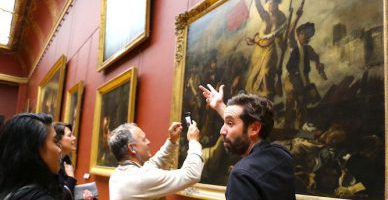 Top Selling
Secrets of the Louvre Museum Tour with Mona Lisa
The Louvre is the largest art museum on Earth and the crowning jewel of Paris. It embodies the French vigor for life. Join a passionate English speaking guide for a tour of the most famous artwork. Skip the line admissions included.





See Prices
Not ready to book a tour? Check out Paris Guide for more resources.
Eiffel Tower Opening Hours & Admissions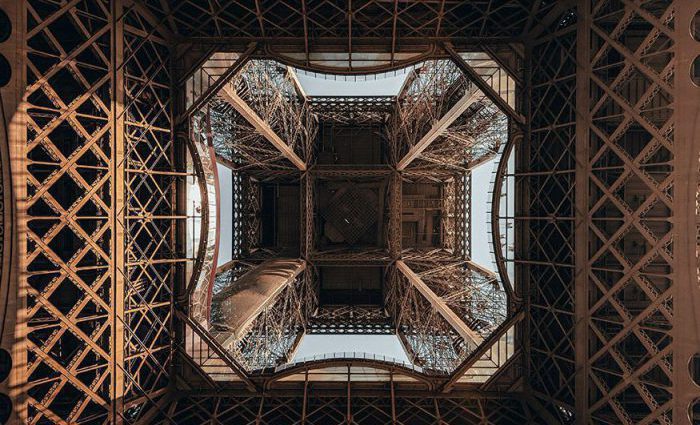 Address: Champ de Mars
Hours: 9am – 12:45am (daily)
The last ticket time to the top is 11 pm.
There are 5 different types of admission tickets for the Eiffel tower at varying prices:
| | | | |
| --- | --- | --- | --- |
| Eiffel Tower Tickets | Adults | Youth (12-24) | Child (4-11) |
| Stairs to 2nd Floor | 10.40€ | 5.20€ | 1.30€ |
| Elevator 2nd Floor | 16.60€ | 8.30€ | 2.00€ |
| Stairs to 2nd Fl, Elevator to Top | 19.70€ | 9.80€ | 2.50€ |
| Elevator to the summit | 25.90€ | 13.00€ | 3.20€ |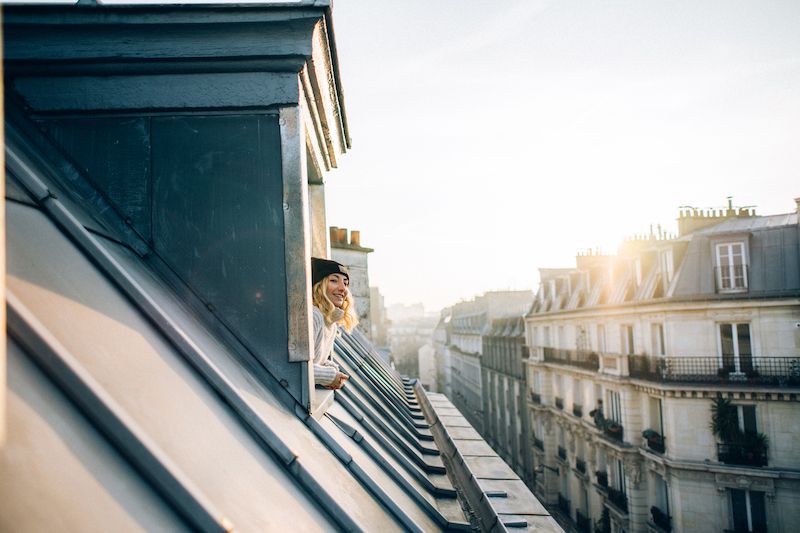 Find the best places to stay
Where To Stay in Paris
With a city as magnificent as Paris, it can be hard to find the perfect hotel at the perfect price. Explore the best hotels and places to stay in these incredible neighborhoods in Paris.