You've been planning your trip to Paris for months. You've booked your tours of the Louvre, Paris Catacombs, and the Palace of Versailles. You've found the best restaurants and your hotels are booked. Ready to order some food or ask for directions? Not to worry, we've put together some helpful French phrases fro travelers to help make your trip a little less stressful and a lot more fun.
---
Pro Tip: Planning what to do on your trip to Paris? Bookmark this post in your browser so you can easily find it when you're in the city. Check out our guide to Paris for more planning resources, our top Paris tours for a memorable trip, and how to see Paris in a day.
Helpful French Phrases for Travelers
You're headed to Paris, how exciting! If you've already figured out where to stay, researched cool places to eat in the city, and booked your tickets and tours for Paris' top attractions, there's really only one thing left to do. Learn some French!
You don't need to be fluent by the time you get off the plane, but it is a good idea to learn a few short phrases to help you interact with the locals and jump into your French adventure. Here are a few French phrases for travelers.
1. Bonjour (Hello)
Pronunciation: bahn-joor
This might seem obvious because even people who don't speak French often know what Bonjour means. However, what most non-French speakers don't know is how important saying bonjour actually is. If you approach French people without saying bonjour first, they may take offense.
For example, if you need to ask for directions, it is not enough to say "Excuse me, do you know…." A native French speaker will find this rude. Instead, make sure to say "Bonjour! Excuse me, do you know…"
It's a small touch that makes a huge difference. It's also important to say bonjour whenever you walk into any shop or restaurant. If you only have time to learn one French word before your trip, make sure it's this one.
2. Merci beaucoup (Thank you very much)
Pronunciation: mehr-see boh-koo
No matter where you travel in the world, being polite should always be at the top of your list. Saying merci beaucoup (thank you very much) is a small way to show a local that you're enjoying your time in France and that you took the time to learn some French words.
3. Excusez-moi (Excuse me) 
Pronunciation: ex-koo-say mwa
Whether you're in a crowded museum, on the metro, or in a restaurant, there's a high possibility you'll need to squeeze past someone, for example. Excusez-moi will come in handy and being polite will always get you further than not.
4. Au revoir! (Goodbye!)
Pronunciation: oh-rev-vwha
You know how to say hello, so it makes to know how to say goodbye! On your trip to Paris, you'll meet new people and it helps to be able to say the basic greetings
5. Parlez-vous Anglais? (Do you speak English?)
Pronunciation: par-lay-voo awn-glay
If you have limited French, odds are you'll have to try speaking with locals in English at some point. To show you've put in a little effort, try starting the conversation with one of the most helpful French phrases: parlez-vous anglais? Then, continue in English.
In Paris, most people working in restaurants and tourist locations usually speak English. However, this might not always be the case, especially if you travel to a smaller city outside of Paris. This is why it's important to have a few French words up your sleeve, just in case.
Our Best Versailles and Paris Louvre Tours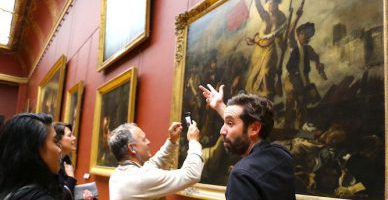 Top-Rated Tour
Secrets of the Louvre Museum Tour with Mona Lisa
The Louvre is the largest art museum on Earth and the crowning jewel of Paris, which is why it's on everyone's bucket list. Don't miss out on an incredible opportunity! Join a passionate guide for a tour of the most famous artwork at the Louvre. Skip-the-line admissions included.





See Prices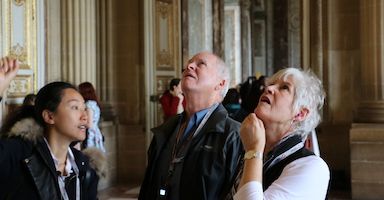 Likely to Sell Out
Skip-the-Line Palace of Versailles and Gardens Tour from Paris
Versailles isn't that difficult to get to by train, but why stress over the logistics? Meet a local guide in central Paris who will purchase your train tickets and ensure you get off at the right stop. Then enjoy a guided tour of the palace and the unforgettable gardens. Skip-the-line admissions included to the palace and gardens.





See Prices
Not ready to book a tour? Check out our best Paris tours to take and why.
6. Je voudrais… (I would like…)
Pronunciation: juh voo-dray (Pronounce the "J" sounds like you would the "S" in vision)
Ordering at a French restaurant doesn't have to be hard. If you want to give it a go, just remember the words je voudrais. That's how you start your order followed by the food or drink off the menu. It's as simple as that! These two words can also be used in other situations, such as at a metro station to purchase train tickets from a vendor or anything else "you would like."
7. L'addition, s'il vous plaît (Check, please)
Pronunciation: lih-ah-dih-see-ohn, sih-voo-play
You might imagine France as a place where you can sit at a café and eat, drink, and chat for hours on end. Well, you pretty much can! In France, a waiter will most likely not bring the check to your table at the end of your meal because you can sit at your table for hours until the restaurant closes.
Waiters won't try to push you out or throw dirty looks your way. When you're ready to pay and head out, say: l'addition, s'il vous plaît, which means "check, please." Otherwise, you could be waiting at your table for a while.
8. Où est…? (Where is…?)
Pronunciation: oo-eh
These two simple words will help you out most with directions. Où est means "where is" in French, and you can combine this phrase with many words while traveling. For example, to ask where the nearest metro station is located, you can say: Où est le métro? Or, if you're headed to a specific attraction, add the name after this phrase. Où est le Louvre?
9. Combien ça coûte? (How much does that cost?)
Pronunciation: Kohm-bee-ahn sah koot
It's a given that on your trip to France, you'll be doing some shopping. So, when you want to know how much something costs, ask: "Combien ça coûte?" In France, the amount on the price tag is the amount you'll pay, since by law, the tax is included in the posted price. One exception to this might be your hotel room, where a small local tax is sometimes added.
Pro Tip: Negotiating prices is not a common practice in France, so if you don't agree with a price, it's best to move along and shop elsewhere.
10. Je le prendrai! (I'll take it!)
Pronunciation: zhe le prawn-dray
This last one in our French phrases for travelers isn't strictly necessary, but it'll be a nice touch when interacting with a local while shopping. If you're happy with the price, say Je le prendrai and get ready to pay. Shopping in hand, go and enjoy Paris some more!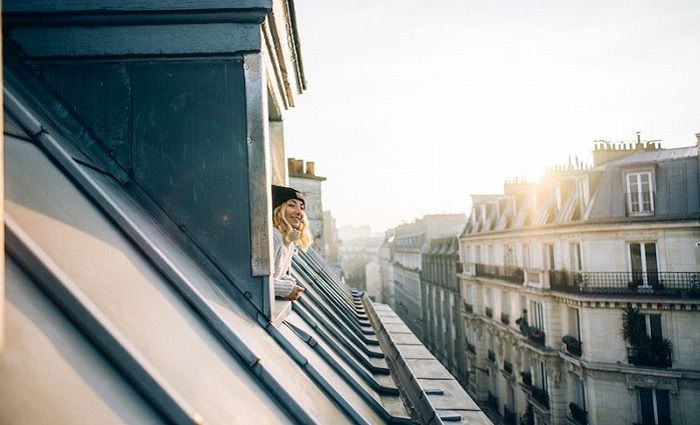 Find the best places to stay
Where To Stay in Paris
With a city as magnificent as Paris, it can be hard to find the perfect hotel at the perfect price. Explore the best hotels and places to stay in these incredible neighborhoods in Paris.