French cuisine is world-famous and top chefs from all around the world have set up their restaurants in Paris. Prepare your taste buds—we're taking a look at some of the best Michelin-star restaurants in Paris.
---
Pro Tip: Planning what to do on your trip to Paris? Bookmark this post in your browser so you can easily find it when you're in the city. Check out our guide to Paris for more planning resources, our top Paris tours for a memorable trip, and the best things to do in Paris.
The Top Michelin-Rated Restaurants in Paris
The Michelin Guide began awarding stars to fine dining establishments in France in 1926. Since then, Michelin Stars have become a renowned international rating system for exceptional cuisine.
In 2020, Paris was home to a whopping 119 Michelin-star restaurants, placing it second on the list of cities with the most Michelin-starred restaurants in the world (behind Tokyo). With so many quality dining options available, it's not easy to choose. We've listed some of our favorite Michelin-starred restaurants in the City of Lights to help you get a head start.
Looking for a refined food experience in Paris? We recommend joining our Super Expensive Paris Food Tour, where you'll be led by a guide who is either a sommelier, chef or a champagne producer. Feast on cocktails, caviar, soufflé, and more in some of Paris' most authentic and chic eateries. We promise you an unforgettable night!
Le Jules Verne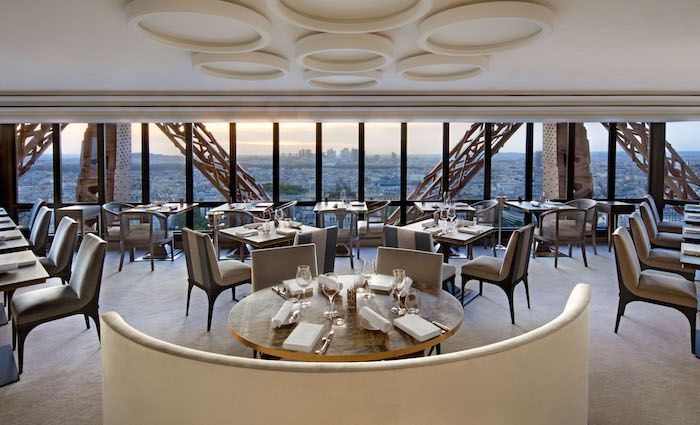 €€€ | French Cuisine | 1 Michelin Stars | Chef Frédéric Anton
Eating at the Eiffel Tower in Paris is anything but clichè, which is why it is first on our list to try. If you can get a reservation, which isn't easy, this is the ultimate dining experience. Le Jules Verne is a one Michelin-Star restaurant under head Chef Frédéric Anton who has earned three stars at Le Pre Catelan, another restaurant he owns.
I personally don't believe there is an overall better dining experience than having an elegant meal inside the Iron Lady while in Paris. Read our article on making a reservation at Le Jules Verne and other Eiffel Tower restaurants to book.
Location: The Eiffel Tower
---
Already in Paris? Purchase tickets and tours for the hottest destinations!
Not ready to book a tour? See if Paris tours are worth it.
Le Cinq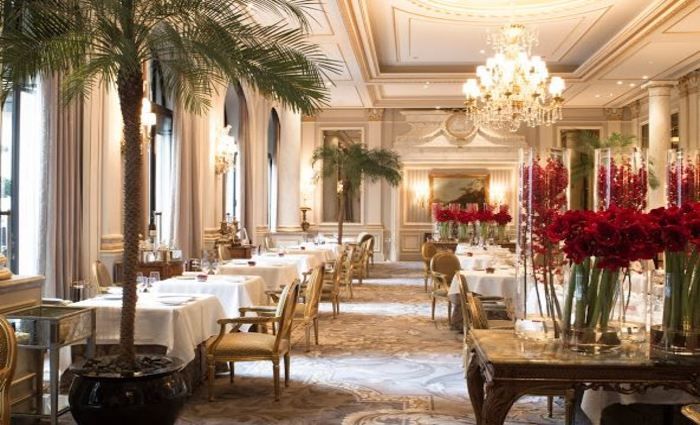 €€€€ | French Cuisine | 3 Michelin Stars
Le Cinq is a fine dining restaurant located in the elegant Four Seasons Hotel George V. With three Michelin stars, it goes without saying that the food here is phenomenal. The dining room is largely considered one of the most impressive in Paris.
A night at Le Cinq is a once-in-a-lifetime sort of experience for many, so it's the perfect place to celebrate a special occasion on your trip. We recommend making reservations well in advance, as travelers from around the world are dying to eat here. This is the quintessential fine dining experience and one of the best restaurants in Paris for high-quality food.
Address: 31 Avenue George V
Our Best Guided Tours of Paris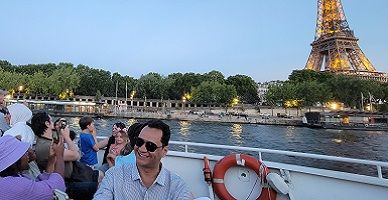 Likely to Sell out
Privileged Access Eiffel Tower Night Tour With Seine River Cruise
Sometimes the most amazing moments happen by chance. Other times, they are orchestrated by professionals. Our Eiffel Tower tour takes you on a cruise down the Seine River for incredible views of Notre-Dame and the Eiffel Tower. Champagne included, of course. Then you'll be guided to the Eiffel Tower, skip the long lines, and head up the elevator to the second floor for a night to remember.





See Prices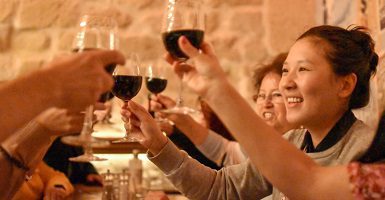 Top Selling
Ultimate Taste of Paris Food Tour in Le Marais
Embark on a culinary journey in Le Marais—one of the hippest neighborhoods in Paris. Most food tours in Paris offer cheese and wine, but we include a full, sit-down meal! Enjoy a feast of French cheeses, oysters, street food, boeuf bourguignon, crème brûlée, and more. This 3-hour food tour combines the best of Paris' culinary heritage and you won't find a better deal out there!





See Prices
Not ready to book a tour? Check out our best Paris tours to take and why.
L'Oiseau Blanc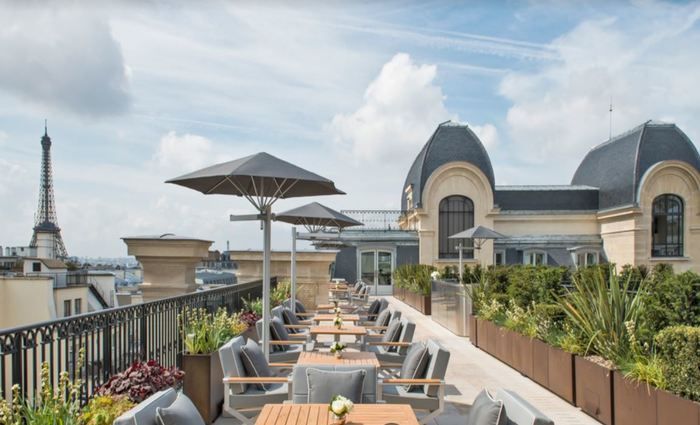 €€€ | French Cuisine | 1 Michelin Star | Rooftop Views
This chic restaurant is located on top of the luxurious Peninsula hotel. While it may not have been awarded as many Michelin stars as some of our other top picks, the combination of the high-quality food and jaw-dropping views make this one of our favorites.
Not only will you have a great view of Paris in general, but you'll have a truly fantastic view of the Eiffel Tower. Remember, if you make a dinner reservation, you'll be able to see the tower twinkling at night!
Another unique part of L' Oiseau Blanc is their decor theme. Dedicated to two French aviation pioneers, they even have a suspended replica of the plane the pilots used to attempt the first Trans-Atlantic non-stop crossing in the restaurant. It's not too often that you see a high-end restaurant with this kind of character, and we think it's a plus.
Address: 19 Avenue Kléber
Frenchie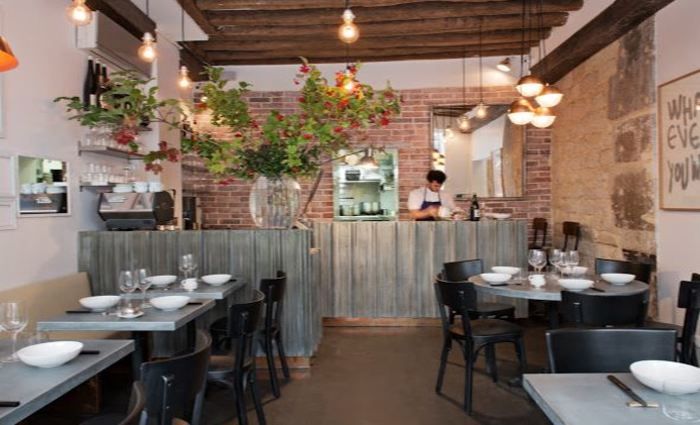 €€€ | French Cuisine | 1 Michelin Star
Frenchie is an intimate micro-restaurant where you'll feel cozy and comfortable. If you're feeling adventurous, go with the Carte Blanche option for dinner, where the chef will get creative with a five-course tasting menu personalized for that night.
Just down the street, the owner has also set up Frenchie Caviste, a wine bar serving natural wines. You can't go wrong with either spot, although the wine bar focuses on serving small plates.
It's worth noting that over the past few years Frenchie has become very popular, especially with those visiting from outside of Paris. Because of this and the restaurant's very small size, you'll definitely need to make a reservation in advance.
Address: 5 Rue du Nil
Le Meurice Alain Ducasse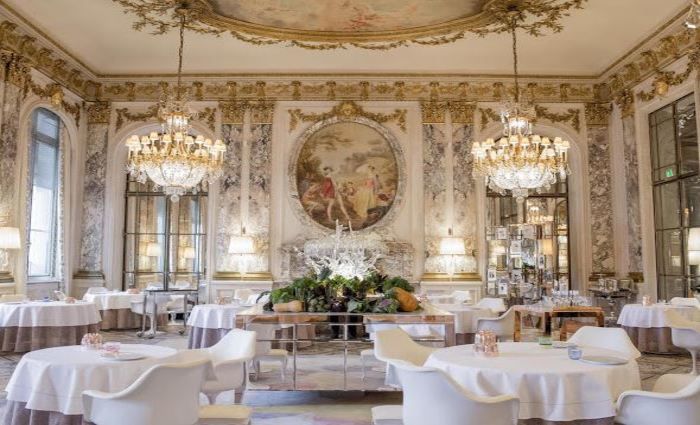 €€€€ | French Cuisine | 2 Michelin Stars | Palatial Vibes
Want to feel like you're strolling into a palace to eat food fit for a king? Look no further than Le Meurice. The dining room was inspired by one of the rooms in the Palace of Versailles, complete with antique mirrors, crystal chandeliers, and magnificent frescoes. The large windows overlook the Jardins des Tuileries.
The Michelin Guide has even dubbed Le Meurice "the archetype of the great French restaurant." Run by Alain Ducasse, one of the most decorated chefs in the world, their motto is preserving the authentic taste of each ingredient. You'll be able to order with your eyes closed here and still get something exceptional!
Address: 228 Rue de Rivoli
Les Canailles Ménilmontant
€€ | French Cuisine | Michelin Bib Gourmand
This spot doesn't have a Michelin Star (yet), but it does have Bib Gourmand status. What exactly is a Bib Gourmand restaurant? This Michelin rating is only given to eateries that offer two courses and a glass of wine or dessert for around $40—and of course, the food must be excellent.
Essentially, this is a restaurant delivering a high-quality dining experience at a reasonable price. Les Canailles Ménilmontant is a true French bistro. Located within walking distance of the famous Père Lachaise Cemetery, they serve classic French fare in a simple, homey setting.
Try their rump steak with Dauphine potatoes, the roasted rack of lamb with rosemary and mushrooms, or their house favorite dessert, a Grand Marnier soufflé. If you aren't able to splurge on a restaurant with Michelin stars, this is the next best thing.
Address:15 Rue des Panoyaux
Arpège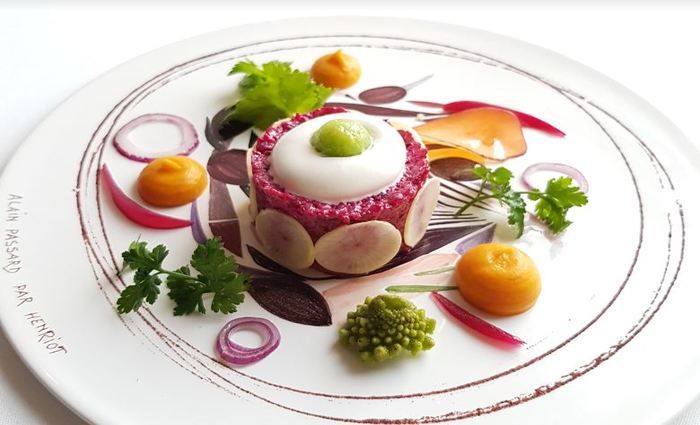 €€€€ | French Cuisine | 3 Michelin Stars | Vegetarians
Vegetarians looking for the ultimate dining experience, rejoice! Arpège is a restaurant boasting three Michelin Stars with a heavily vegetable-inspired menu. Arpège's Head Chef Alain Passard has even famously stated: "I want to elevate the humble vegetable to a grand cru."
All of the vegetables, fruits, and herbs used here are 100% natural and grown in three different gardens all owned by the restaurant and chef. While the highlight is the Garden Menu, they do also have a Land and Sea Menu for those looking for more than veggies. Dining here is a true culinary adventure and the flavors cultivated are among our favorites.
Address: 84 Rue de Varenne
Restaurant du Palais Royal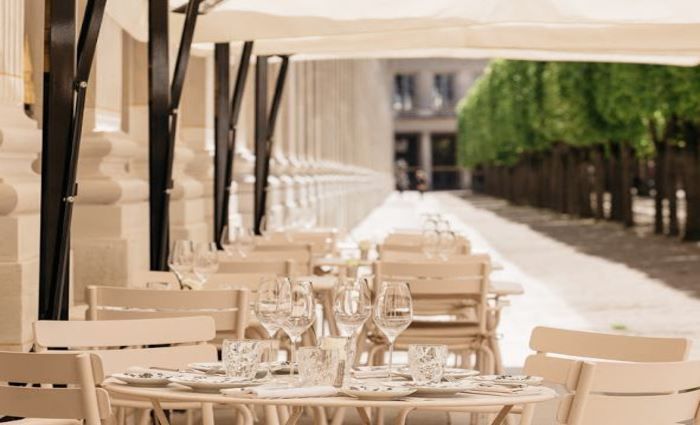 €€€€ | French Cuisine | 1 Michelin Star | Terrace Seating
Set in the heart of the Palais-Royal Gardens, at this one Michelin Star restaurant you'll be able to enjoy your meal outdoors if you wish. They have a tasting menu for €165, which is a great way to try a bit of everything.
The presentation and menu items are creative and impressive. If you happen to be visiting in the summer, they have jazz evenings on Thursdays, which is a real treat while you soak up the ambiance on the terrace.
Address: 110 Galerie de Valois
La Tour d'Argent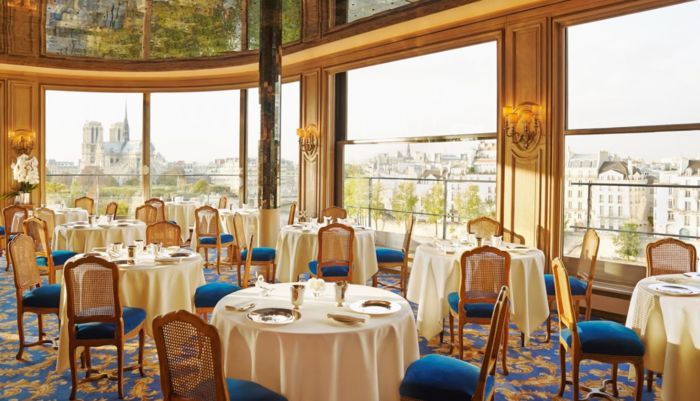 €€€€ | French Cuisine | 1 Michelin Star | Views of Notre Dame
This Michelin-star restaurant is famous for its food and amazing views of Notre Dame (the dining room is on the seventh floor). It's known as somewhat of an iconic spot in Paris.
While it may not have three Michelin stars, people have still been vying for reservations here for decades. Their wine cellar has almost 320,000 bottles, and some have even dubbed it one of the most beautiful wine cellars in the world. People dining at the Tour d'Argent are able to visit the cave with the restaurant's caviste, which is an amazing experience in itself.
Address: 17 Quai de la Tournelle
Our Best Versailles and Paris Louvre Tours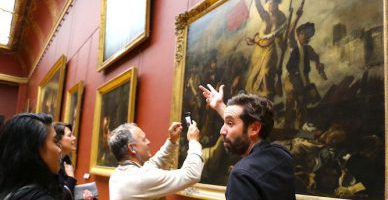 Top-Rated Tour
Secrets of the Louvre Museum Tour with Mona Lisa
The Louvre is the largest art museum on Earth and the crowning jewel of Paris, which is why it's on everyone's bucket list. Don't miss out on an incredible opportunity! Join a passionate guide for a tour of the most famous artwork at the Louvre. Skip-the-line admissions included.





See Prices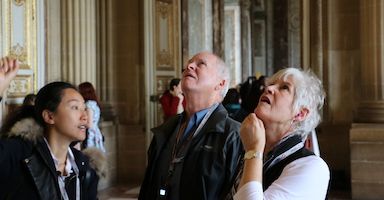 Likely to Sell Out
Skip-the-Line Palace of Versailles and Gardens Tour from Paris
Versailles isn't that difficult to get to by train, but why stress over the logistics? Meet a local guide in central Paris who will purchase your train tickets and ensure you get off at the right stop. Then enjoy a guided tour of the palace and the unforgettable gardens. Skip-the-line admissions included to the palace and gardens.





See Prices
Not ready to book a tour? Check out our best Paris tours to take and why.
David Toutain
€€€ | French Cuisine | 2 Michelin Stars | Creative Presentation
David Toutain has been wowing foodies in this restaurant since 2013, after building up his skills in other top kitchens in Paris. Commonly referred to as one of the most inventive chefs in Paris, his food reflects nearly unmatched creativity.
Those who love impressive presentations and tons of flavors will be in heaven. There are a variety of menu options available, including some that offer up to 15 courses.
Address: 29 Rue Surcouf
Le Pré Catalan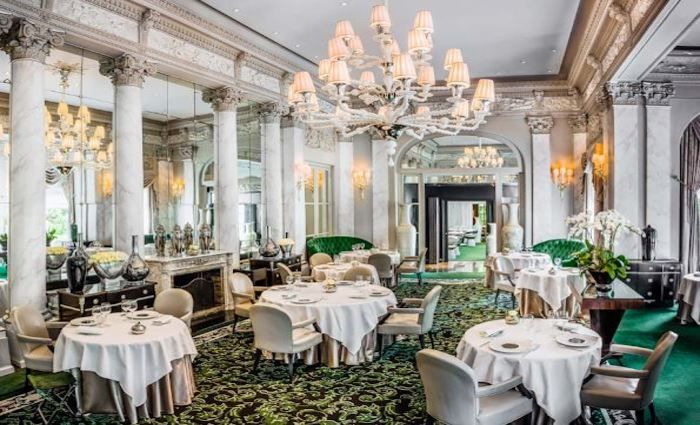 €€€€ | French Cuisine | 3 Michelin Stars | Set in Bois de Boulogne Park
Rounding out our list is another three Michelin-star restaurant. Set inside the Bois de Boulogne, one of Paris's biggest parks covering over 2,000 acres, the restaurant is housed inside a Napoleon III-style pavilion.
Langoustine ravioli is one of the most recommended main course dishes and is outstanding. For dessert, their "apple" is famous—it's a sugar sphere filled with apple cider mousse, Carambar candy ice cream, and more. This is a great option, especially if you're looking for a location that's in a less crowded area than the city center.
Address: Bois de Boulogne
Not ready to book a tour? Find out if Paris tours are worth it.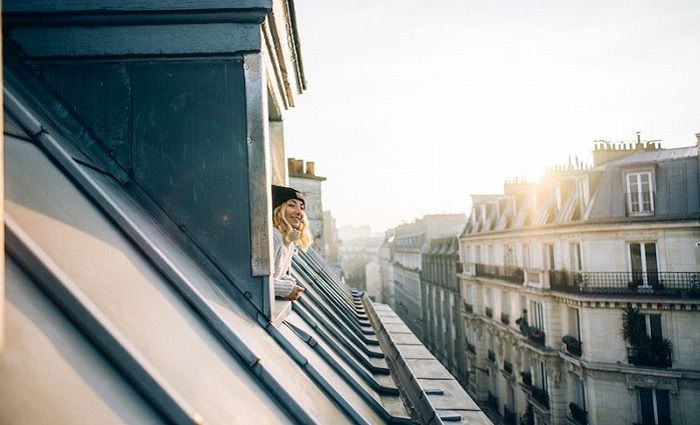 Find the best places to stay
Where To Stay in Paris
With a city as magnificent as Paris, it can be hard to find the perfect hotel at the perfect price. Explore the best hotels and places to stay in these incredible neighborhoods in Paris.