With 32 boroughs and 8 million people (who sometimes feel like most of them are on your Tube carriage), it's no wonder London can feel overwhelming. But it's possible to tick off all the big-hitting sights in just one day if you plan it right and hit the streets on foot. In this article, see London in a day with our itinerary.
---
Pro Tip: Planning what to do on your trip to London? Bookmark this post in your browser so you can easily find it when you're in the city. Check out our guide to London for more planning resources. If you're short on time, check out our London in a Day Tour for an easy and exciting day.
DIY London in a Day Itinerary
With this DIY itinerary, you can hit the streets on foot and see some of London's top attractions. You can follow our list stop-by-stop, or use it as a suggestion to pick and choose the sights you want to see most.
If you want a much more comprehensive list, check out our guide to the top things to do in London. Once you've worked up an appetite, as you most certainly will, see the best restaurants in London for some good options. Your exploration of London begins at the Tower of London!
Not ready to book a tour? Check out our article on the best London tours to take and why.
Tower of London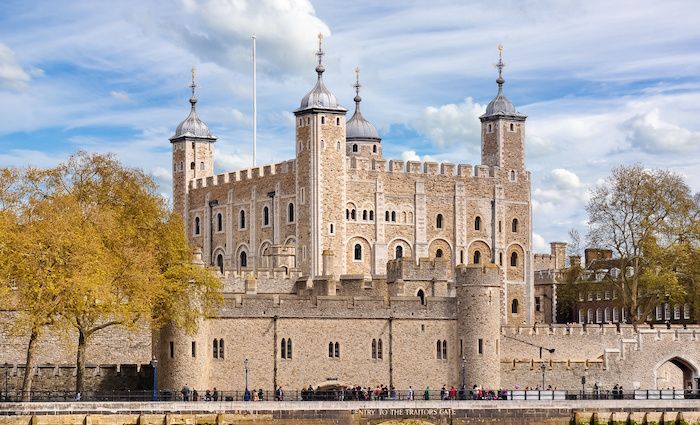 Over the centuries this stone tower has been a palace, a prison, a zoo, and an armoury. It's the home of The Crown Jewels and the spot where many "traitors"—and Anne Boleyn—lost their heads.
Make sure you chat to a Yeoman Warder of the tower (aka a Beefeater) and watch the ravens being fed by the Raven Master. Read more on what you need to know about how to visit the Tower of London or book a Tower of London tour to make sure you don't miss a thing.
Address: St Katharine's and Wapping | Hours: Monday – Sunday, 9 am – 5:30 pm
Not ready to book a tour? Check out our best Tower of London tours to take and why.
Tower Bridge
5-minute walk from Tower of London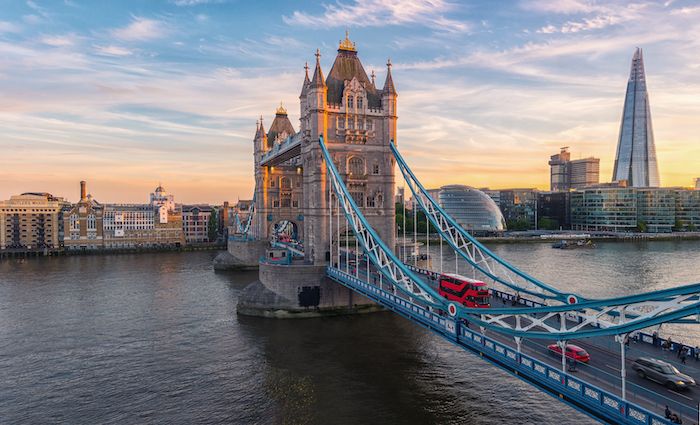 The city's most famous landmark is crossed by 400,000 people every day. You can go inside the Engine Rooms to visit an exhibition about the making of the bridge and take a trip up to the high-level walkways, which now have a glass floor to look down at the Thames below. Have a look online for the lift times to see when the bridge will be opening—it's quite a spectacle.
Address: Tower Bridge Rd | Hours: Monday – Sunday, 9:30 am – 6 pm
Borough Market
15-minute walk from Tower Bridge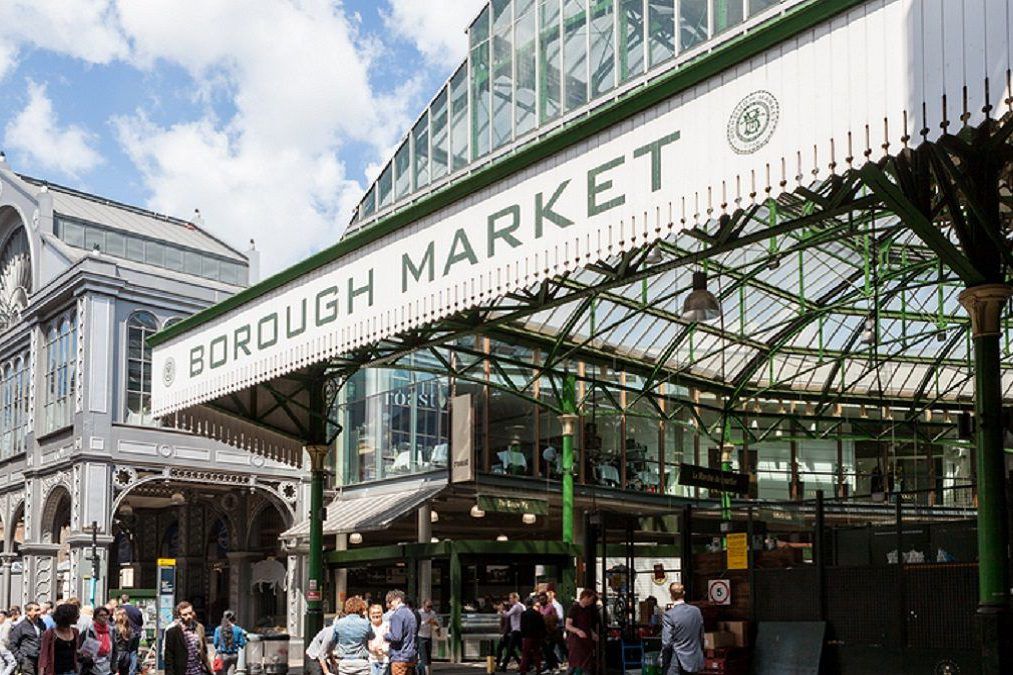 Grab some lunch at London's oldest food market. There's been trading near this spot since 1276 and these days you can sample snacks from all over the world, from Indian thalis to Korean bao. Or, join the queue for Padella—London's hottest pasta spot. Be sure to see our guide on what to see and eat at Borough Market.
Address: 8 Southwark St. | Hours: Monday – Friday 10 am – 5 pm; Saturday, 8 am – 6 pm; Sunday, 10 am – 3 pm
Shakespeare's Globe
7-minute walk from Borough Market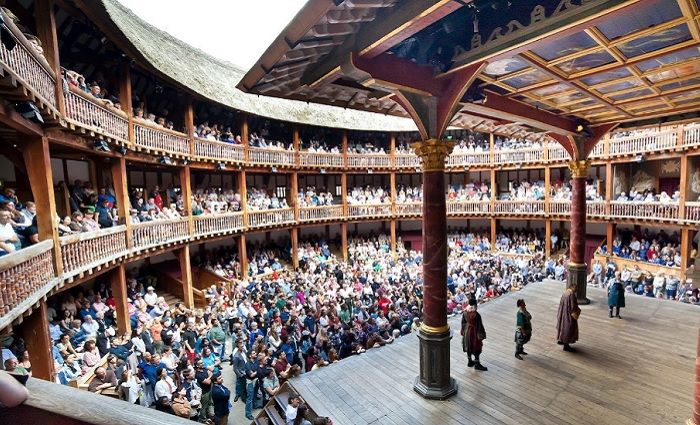 This recreation of Shakespeare's Elizabethan playhouse is the best place to catch one of the bard's plays, as well as new shows. The original theatre burned down during a cannon fire in a performance of Henry VIII in 1613.
The new version recreates the magic entirely, from hand-made costumes to the original building materials. Pick up a 'groundling' ticket for just £5. You'll have to stand up, but it's the best-value theatre ticket in town.
Address: 21 New Globe Walk | Hours: Open daily for tours 9:30 am – 5 pm, performance times vary.
Tate Modern
5-minute walk from Shakespeare's Globe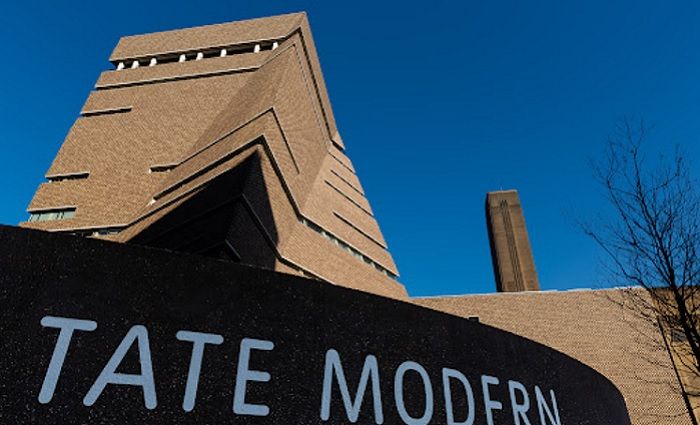 This imposing former power station dominates the Southbank and holds the UK's modern art collection. This is the place to find a Picasso, Duchamp, or Rothko.
Come witness the changing large-scale exhibition in the 26-meter tall Turbine Hall. End your visit soaking up the views of St. Paul's from the viewing terrace on the top floor.
Address: Bankside | Hours: Monday – Sunday, 10 am – 6 pm
The National Gallery
12-minute walk from Tate Modern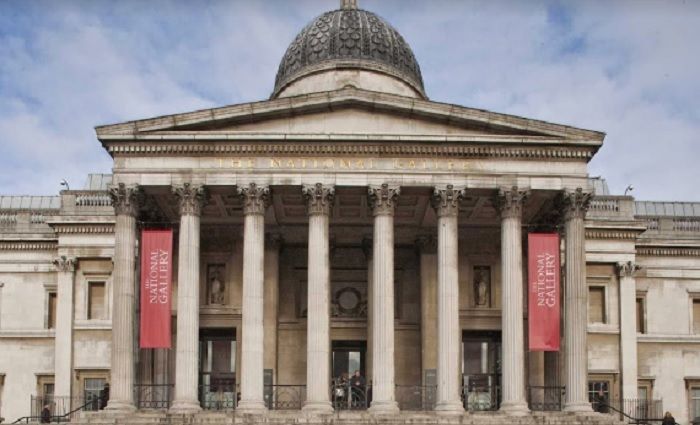 The National Gallery in Trafalgar Square opened its doors in 1838 and houses great works of art in Western European painting. Come to see highlights in the collection by Vermeer, Titian, and Monet, among others.
This gallery believes the art in its collection belongs to the people and as such, you can book to visit the gallery for free. Explore over 700 years of painting. If you fancy something to eat, the gallery boasts two restaurants and a lovely espresso bar.
Address: Trafalgar Square | Hours: Monday – Sunday, 10 am – 6 pm; Friday 10 am – 9 pm
London Eye
6-minute walk from The National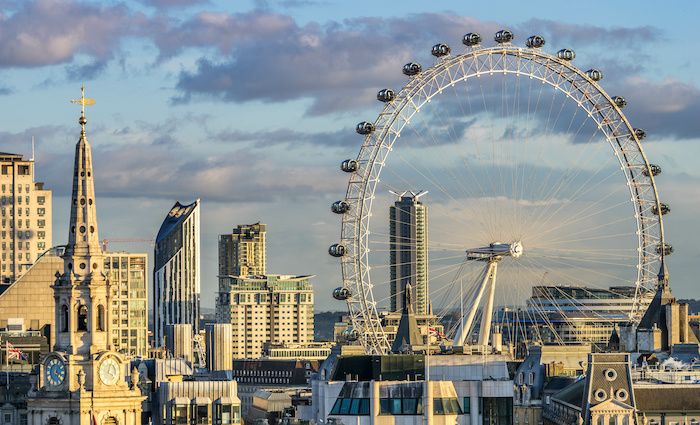 Europe's biggest Ferris wheel is also the UK's most visited attraction. You can see as far as Windsor Castle on a clear day, and it's also a great way to get a bird's eye view of the Southbank, all while travelling at a leisurely 0.6 miles per hour.
Address: Lambeth | Hours: Monday – Wednesday 10 am – 8:30 pm, Thursday – Sunday 10 am – 9:30 pm
Westminster Abbey
20-minute walk from London Eye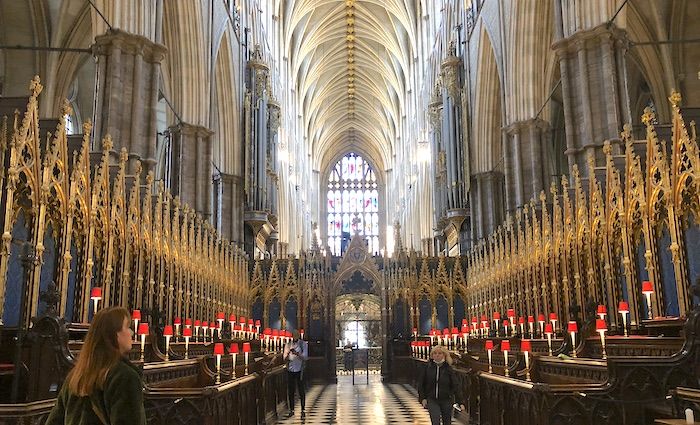 Built over a thousand years ago, this church is one of the UK's most famous religious buildings. In addition to royal coronations and weddings, the church is also the final resting place for thousands of notable English figures, such as Mary, Queen of Scots, Isaac Newton, and Stephen Hawking.
It costs £23 to visit the Abbey, which is open every day for visitors, except Sunday. Occasionally, some areas will be closed to the public since it is still an active church, so be sure to check their hours online before your visit. Find out more about how to visit Westminster Abbey. Or, book a guided Westminster Abbey tour with us for an easy and enjoyable visit.
Address: 20 Deans Yd, Westminster | Hours: Monday – Friday 9:30 am – 3:30 pm; Saturday 9:00 am – 3 pm; Sunday open for Services only
Not ready to book a tour? Check out our best Westminster Abbey tours to take and why.
Buckingham Palace
15-minute walk from Westminster Abbey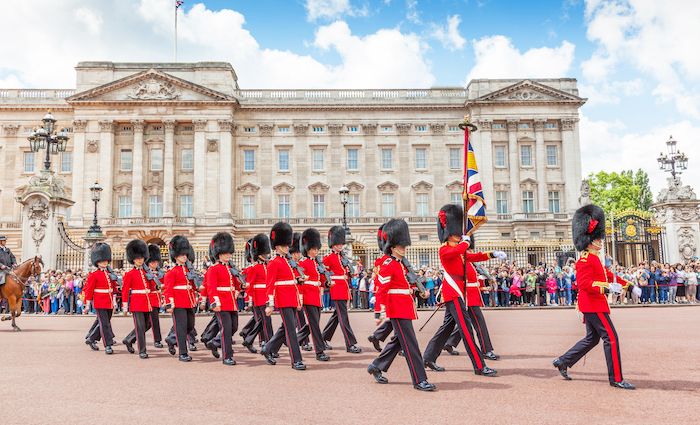 The royal residence has 775 rooms, and you can find out if Queen is at home by the flag billowing on top. If it's the Queen's Royal Standard she's in, if it's the Union Jack, Her Majesty is elsewhere.
During the summer months, you can tour the lavishly-furnished state rooms. Ensure you get a good spot for the changing of the guard ceremony, which normally takes place around 10:45 am. Check out how to visit Buckingham Palace.
Address: Westminster | Hours: 9:30 am – 6:30 pm (summer dates only)
The Ritz
8-minute walk from Buckingham Palace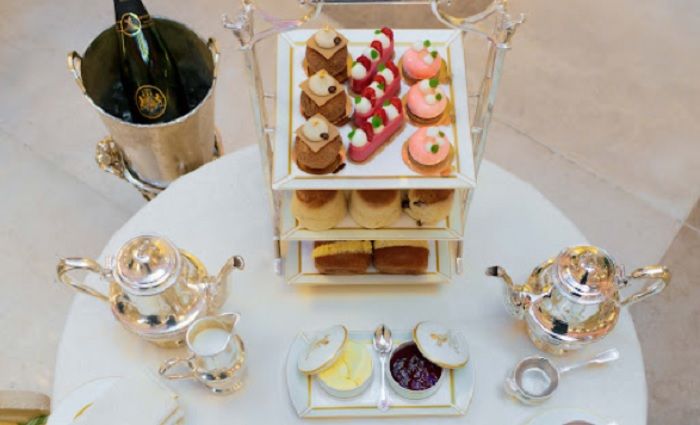 There's no place like The Ritz for afternoon tea. This London landmark opened in 1906 and became the hotel of choice for Winston Churchill, Jackie Onassis, and Charlie Chaplin. "Downton Abbey" and "Notting Hill' were both filmed here, and it's where The Queen celebrated her 80th birthday.
So, enjoy scones and cucumber sandwiches under the glittering chandeliers and feel like royalty. Dress the part though—the hotel has a strict dress code policy.
Address: 150 Piccadilly, St. James's | Hours: Afternoon Tea is served daily at 11:30 am, 1:30 pm, 3:30 pm, 5:30 pm, and 7:30 pm
Take a London in a Day Tour
Prefer to have someone show you around London on a walking tour? Be sure to check out our London in a Day tour. It includes a guided tour of Westminster Abbey, an exclusive view of the changing of the guard ceremony, a Thames river cruise, and a guided tour of the Tower of London.
Not ready to book a tour? Find out if London tours are worth it.