A trip to Westminster Abbey is a must on any trip to London for its long and illustrious history. To help you plan your trip, we've put together this guide on what to expect when you visit Westminster with a brief description of its fascinating history. Here's everything you need to know about how to visit Westminster Abbey.
---
Pro Tip: Planning what to do on your trip to London? Bookmark this post in your browser so you can easily find it when you're in the city. Check out our guide to London for more planning resources, our top London tours for a memorable trip, and how to see London in a day.
Visiting Westminster Abbey:
What We'll Cover
Westminster Abbey boasts 1,000 years of British history and is arguably the nation's most historic place of worship. It has been the coronation place for the UK's monarchs since 1066.
Many of the nation's royals, prime ministers, and celebrated writers, actors, and scientists are buried or commemorated here. In this guide to visiting Westminster Abbey, here's what we'll cover:
Westminster Abbey Opening Hours and Tickets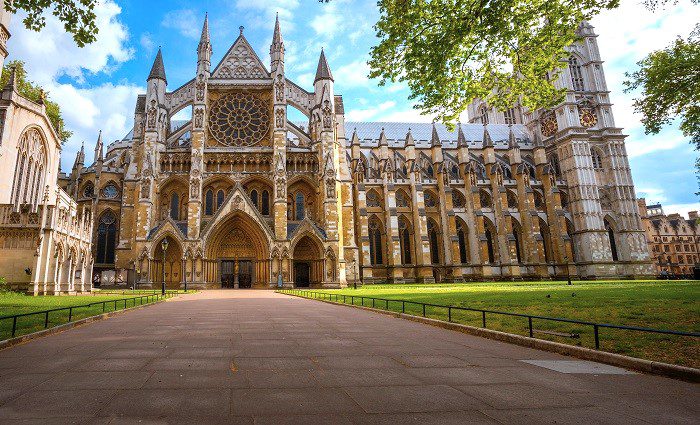 Westminster Abbey is open every day, but access to some spaces may be restricted if there are church services. Also, hours may be reduced accordingly.
Please note: Westminster Abbey will be closed to visitors from 25 April until 7 May 2023 to prepare for the King's Coronation.
Opening Hours:
Monday to Friday: 9:30 am – 3:30 pm
Saturday: 9 am – 1 pm
Sunday: Church Services
Tickets:
Adults £27
Seniors £24
Students £24
Child (6-17 years) £12
Child (0-5) Free
Families (1 adult, 1 child) £27
Address: 20 Deans Yd
Not ready to book a tour? Check out our best Westminster Abbey tours to take and why.
How Long To Spend at Westminster Abbey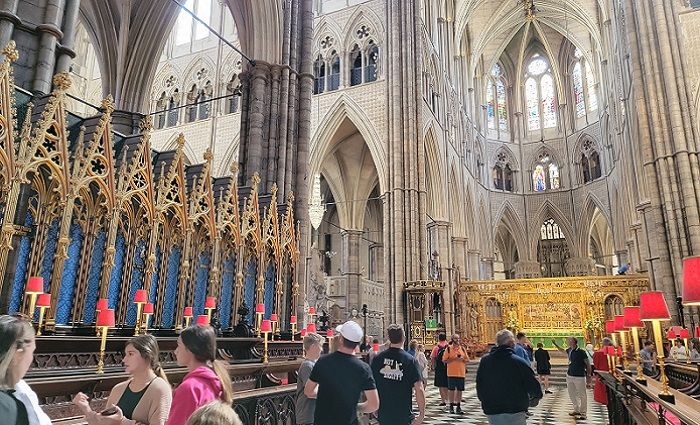 Short answer: 2 hours
If you include sit-downs and café breaks, it'll take you the full two hours. Bear in mind, there are over 3,000 public figures buried in this sizeable church. Also, you have to factor in many more memorials honouring important figures from British history. Moreover, some hallways are lined on both sides with statues and tombs. Although not all are recognizable names, the craftsmanship of the lavish tombs will have you lingering longer than you'd expect.
Actually, a number of the less well-known tombs are so large and grand that you'll find yourself drawn to them, expecting a historic figure to be buried there. Figuring it all out and identifying the historic Britons will take time, which is why seeing it with a guide is helpful.
Audio Guide
The audio guide, which is available for free on entry, will help you orientate yourself and learn about the Abbey's history. At the same time, it will encourage you to spend more time in each section. If you are short on cash definitely take an audio guide, but we highly recommend a guided tour with an expert guide passionate about this historic site and British history.
Seating
There's lots of seating close to the main entrance. Here you can take a break or even make notes if you're doing research. Seating is found near the following Abbey hotspots: The Choir, The High Altar, and Poets Corner. There's also seating in an area of the Abbey called The Nave. But it would be impractical to have seating in other areas because of how close they might be to these highly valued and, in some cases, fragile memorials.
Westminster Abbey Gardens
Another feature that might slow your visit is the beautiful Abbey gardens—but that's not such a bad thing. It's an ideal stop-off for some quiet reflection. Although not an essential part of the visit, many choose to check out this historic enclosed garden with views of the parliament buildings, fountain features, and a bronze statue of the Crucifixion. Interestingly, centuries ago, only monks were allowed here and grew fruit, vegetables, and healing herbs.
Popular London Tours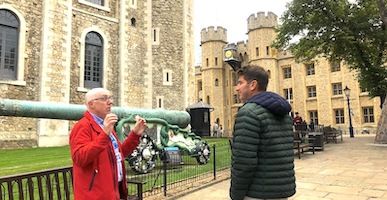 Best Selling Tour
Legends and Lore Tour of the Tower of London
How can you explore London's top attractions without getting overwhelmed? By joining this guided small group tour! With 1,000 years of history and acres of buildings, the Tower of London is easier to explore and understand with the help of your local guide. Best of all, you'll even see the famous crown jewels and have a boat ride down the River Thames.





See price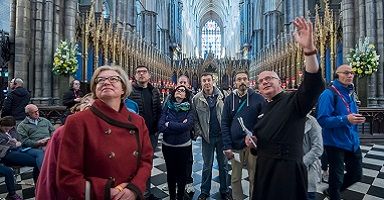 Top Selling Tour
London Walking Tour with Westminster Abbey and Changing of the Guard
This is the perfect tour for someone who wants to get to know the real Westminster Abbey. With skip-the-line entry, you get some quiet time in the nave of the abbey with your guide and small group before exploring the tombs of notable kings, queens, philosophers, and more. Depending on the day, you'll even get to see the Changing of the Guard ceremony at Buckingham Palace.





See price
Not ready to book a tour? Check out our article on the best London tours to take and why.
What To See in Westminster Abbey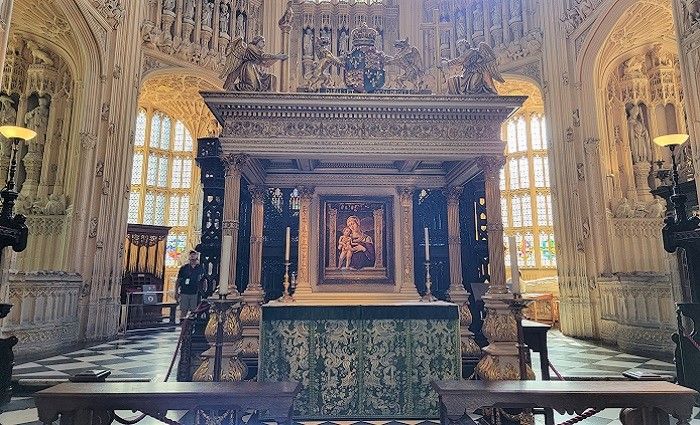 Westminster Abbey, as you'll see it today, has a history of around 750 years. There's a lot to discover within its walls. Here is a concise list of the top things to see in the Abbey. For more about what to see inside with more detailed descriptions, check out our article on the top things to see in Westminster Abbey.
The Grave of the Unknown Warrior
Coronation Chair
Poets Corner
The Queen's Window, by artist David Hockney
The Quire Screen
Tomb of Elizabeth I and Mary I
Pyx Chamber
Chapter House
Queen's Diamond Jubilee Galleries
The Lady Chapel
Westminster Abbey Tour Options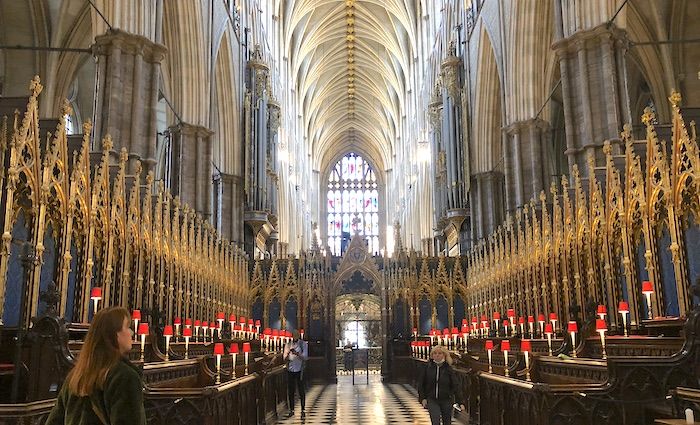 When I first planned my visit to Westminster Abbey I thought, "Do I really need a tour of a church?" Then, a friend told me the structure has been used for 1,000 years to coronate kings and is where basically every important Brit that has ever lived is buried. I decided to go with a tour and I was absolutely buzzing afterward.
The guide walked us through English history and the monarchs while bringing the structure to life. It was one of the most memorable experiences of my life. Here are our most popular guided tours with Westminster Abbey for a memorable experience of this historic landmark.
Our top-selling London tour is a must-do when you're traveling to the heart of the United Kingdom. Your local guides are highly qualified and can share an unreal amount of cool facts and stories about London's iconic sites and history. Starting at Westminster Abbey, you'll be amazed at just how much of London you can see on foot and on a Thames river cruise.
Your skip-the-line tickets help you maximize your time, and your guides know where the best spots to see the Changing of the Guard are found. Your final stop at the Tower of London brings London's more grisly history to life. It's the perfect place to end your busy day tour of London!
See tour itinerary, price, and description
Clients love our skip-the-line access to the famous Westminster Abbey where they can enjoy a few minutes of quiet time with their guide in the nave of the abbey before the public enters. There's more to see at Westminster than you think, so having a knowledgeable guide to lead you through the Quire, Poet's Corner, and more, is extremely helpful. And if the Changing of the Guard happens on the day of your tour, they'll be sure to help you see it from several vantage points.
See tour itinerary, price, and description
Not ready to book a tour? Check out our best Westminster Abbey tours to take and why.
Facts and History of Westminster Abbey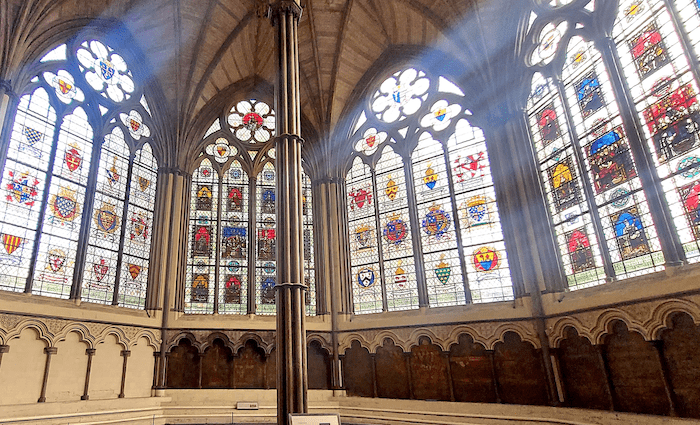 Since 1066, all Britain's monarchs have been coronated here.
The UK's Queen Elizabeth II was coronated here in 1953. Over 8,000 guests attended.
It has the oldest door in England, built in 1050.
The Pyx is the oldest room in London and was built in 1070. Later, it became the royal treasury.
Between 1245 and 1272, Henry III had his architects restructure the Abbey to what it looks like now. He favoured a French-Gothic style.
Author Charles Dickens, scientists Sir Isaac Newton and Stephen Hawking, and actor Sir Laurence Olivier are among the prominent figures buried here.
The Grave of the Unknown Warrior is the only grave that visitors are not allowed to walk on.
The John the Baptist Chapel contains the tallest memorial.
Oliver Cromwell was buried here, then dug up, and hung from Tyburn gallows in the London area, now known as Marble Arch.
The Westminster area is named after the Abbey and not the other way round. A minster is a monastic church and this abbey was in the west—therefore, Westminster.
Places To Eat Inside and Nearby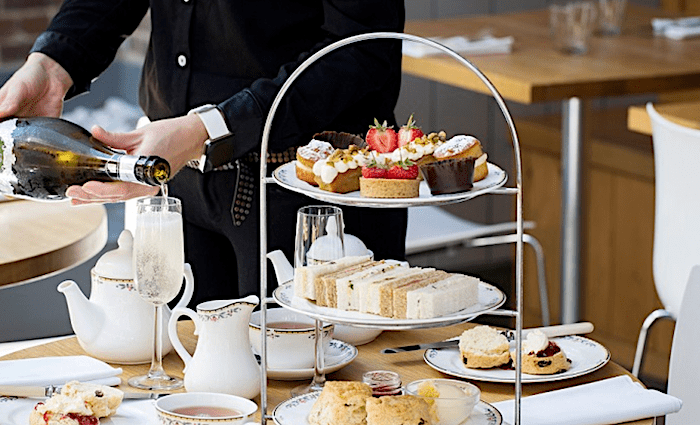 At some stage, you'll need a longer break and something to eat. At the furthest end of the Cloisters section of the Abbey, you'll find Cellarium Café. There are a couple more options nearby. If you're looking for more recommendations, check out our guide to the best restaurants near Westminster Abbey.
Inside The Abbey:
Cellarium Cafe and Terrace: ££ | Afternoon Tea—The furthest end of the Cloisters. In keeping with the architecture of the Abbey, it has ancient-looking oak doors but inside it is a modern space with a light, airy feel. There is a selection of loose-leaf teas, coffee, light lunches, and meals. Traditional English breakfast and snacks, light lunches, and main meals with a distinctly English touch. The Afternoon Tea with scones is a very 'English' option but alternatively, coffee, cappuccinos, lattes, and expressos.
Outside The Abbey:
Westminster Abbey Kiosk: £ | Light Snacks—As you'd expect, they sell lighter snacks than those found in the Cellarium Cafe. Mainly, sandwiches, hotdogs, cakes, and waffles. Also a selection of loose-leaf teas, coffee, cappuccinos, lattes, and expressos. You'll find it directly outside Westminster Abbey's west doors on a small stretch of road called The Sanctuary. It's easy to find, next door to the Westminster Abbey shop.
Café at Storey's Gate: ££ | Overlooking St. James's Park—It has a similar food selection as the Cellarium Café but with more of a green focus on health and sustainability. There's also the added perk of a pleasant outdoor area overlooking St. James's Park. The cafe building has historic links with King Charles II (1630-1685).