Segovia is more than worthy of its popular tourist status. But what if you only have a day to explore this medieval city? The good news is that the city is small enough to navigate on foot. With that in mind, I've put together the perfect plan to take the guesswork out of how to see Segovia in a day.
---
Pro Tip: It's easier to organize your trip when you have all your resources in one place. Bookmark this post along with our exciting Segovia tours from Madrid, how to visit the Alcázar of Segovia, and the top things to see in Segovia.
The Perfect Segovia In a Day Itinerary
Segovia sits on a plain north of Madrid at 3,723 feet above sea level. It is a city brimming with historical attractions, most notably, the Roman Aqueduct and the Alcázar fortress, which was once the home of Spain's most famous queen, Isabel. Today, Segovia more than lives up to this reputation as a tourist hotspot.
Depending on how you're traveling through Spain, you might only have a day to spend here, and it helps if you have expert guidance. Get it right, and even a single day can provide memories that last a lifetime. So, if you only have 24 hours, let us show you how to see the best of Segovia.
We'll guide you to all the major landmarks and even suggest where to eat. Segovia has a thriving food scene, which revolves around the amazing local produce including their famous suckling pig.
You can accomplish this entire itinerary on foot, so you don't need to worry about managing local transport. Although, you'll need to get a taxi from the station to our first stop if you arrive by train. Let's get started with your itinerary to see Segovia in a day.
Arrive in Segovia
Segovia is within easy access of Madrid by car or public transport. The train from Madrid-Chamartín-Clara Campoamor takes under 30 minutes and prices start at €14 one way. Head to the Renfe website for tickets.
You can access Segovia by car in 1.5 hours, depending on Madrid traffic. Go either via the A-6 and AP-61 or via the M-607. If you take the latter route, you can make a pit stop at Manzanares el Real to see the magnificent 15th-century castle.
The site is popular with Hollywood film-makers as chronicled in the 2019 Spanish documentary "Un Castillo de Película." Original stars including Charlton Heston, Sofía Loren, Clint Eastwood, Cary Grant, and Richard Burton all filmed there during their prime.
However you arrive in Segovia, we recommend starting our tour at 9:00 am when our first stop open its doors. That way you'll get the best out of the day, without too much of a rush!
Address: Segovia Train Station
Try Brazilian Coffee at YUM VEGGIE BAAAR & Specialty Coffee
20-minute taxi ride from Segovia train station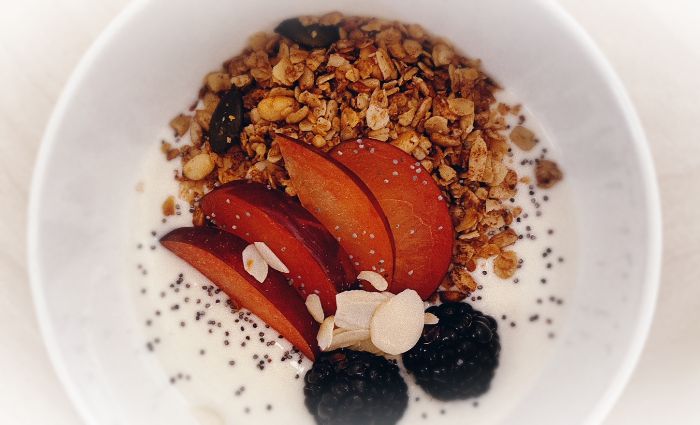 Give your day a kickstart with a great breakfast and the best tea and coffee in the city. Yum Bar offers a superb range of toasts and cereals, all with a healthy twist. What's more, they serve natural Brazilian Rancho Grande coffee in more than a dozen ways. And their choice of tea is equally impressive.
They also have a great selection of natural wines. But it might be a little early for that! (You'll enjoy some wine as you dine on your suckling pig at dinner though.) Otherwise, enjoy their eggs benedict, porridge with pears, chocolate, and hazelnuts, (so yum!) or another tasty morning dish.
And did we mention, Yum Baaar is one of the most veggie-friendly places in town? Their doors open at 9:00 am, Tuesday through Friday, and at 10:00 am on Saturday. So, get fueled up and ready for your day of sightseeing in Segovia.
Address: Pl. los Espejos, 3
Marvel at the Roman Aqueduct
5-minute walk from Yum Baaar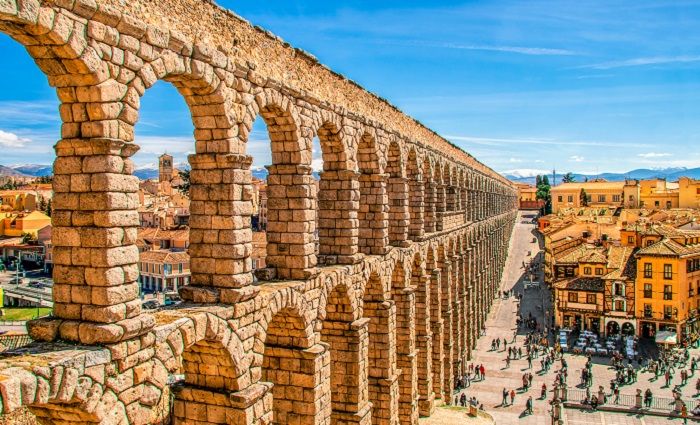 From Plaza los Espejos, enjoy the 400-meter stroll to Segovia's grandest monument. The circa 50 BC Roman aqueduct is a feat of engineering that attracts visitors from all over the world. It is two-tiers high at 92 feet and features more than 167 stone arches.
Although Roman in origin, a local legend (recorded by Frank Leslie's "Popular Monthly" in 1882) tells a different story. It states the devil built the aqueduct after doing a deal for the services of a local lady who caught his eye. But he failed to lay the final stone in time and complete the contract. This explains the "Puente del Diablo" (Devil's Bridge) name by which it is sometimes known locally.
The sheer majesty of the structure will leave you stunned—even more so when you consider that it was used as late as the 19th century. And you'll want to take photos from every angle. The tourist office next door has a wooden 3D model of the city that is also worth checking out.
Address: Plaza del Azoguejo, 1
Admire the Prickly Exterior of the Casa de los Picos
3-minute walk from the Aqueduct de Segovia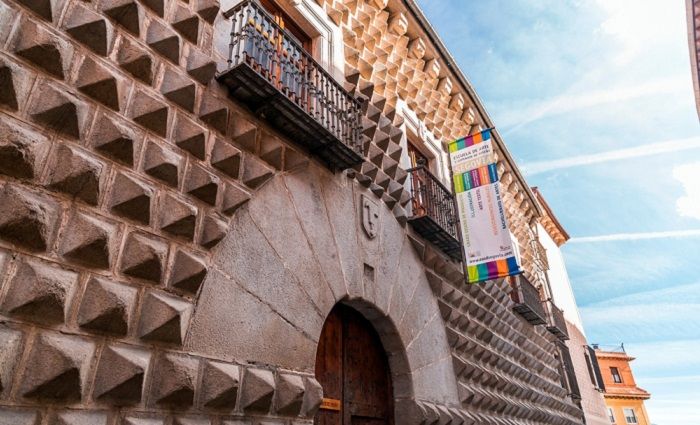 On your way to our next stop, the Jewish Quarter, you'll pass the Casa de los Picos. This former 15th-century mansion boasts a fortress-like facade made of granite pyramids.
Towards the end of the 15th century, Segovia's Governor, Juan de la Hoz, commissioned the building with its hostile exterior. According to "The Companion Guide to Madrid and Central Spain" by Alastair Boyd and Richard Oliver, he chose Juan and Enrique Gaus to complete the work.
They also happened to build the Palacio de los Duques del Infantando in Guadalajara. Both buildings share a similar façade. The building is now the home of Segovia's School of Applied Arts and Design and often hosts exhibitions.
The diamond stones create an imposing presence, which makes the building extremely photogenic. So, stop by for some snaps before heading to your next stop.
Address: C. Juan Bravo, 33
Explore the Jewish Quarter
6-minute walk from the Casa de los Picos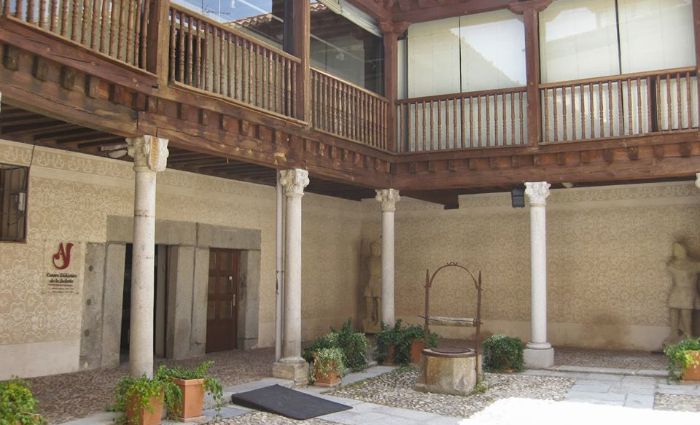 For the next part of your morning in Segovia, head to the city's old Jewish Quarter known as La Judería. Begin at the Jewish Quarter Education Centre (Centro Didáctico de la Judería) located on Juderia Vieja.
At the center, you'll discover how the Jewish community lived in the city before and after the reconquest. The building itself was once the home of Abraham "El Viejo" Seneor, the last crown rabbi of Castile, whose loyalty to Queen Isabel earned him promotion to the head of the royal household in 1480, according to historian Norman Roth.
Address:C. la Judería Vieja, 12
Walk the Ramparts at the Puerta de San Andres
3-minute walk from Centro Didáctico de la Judería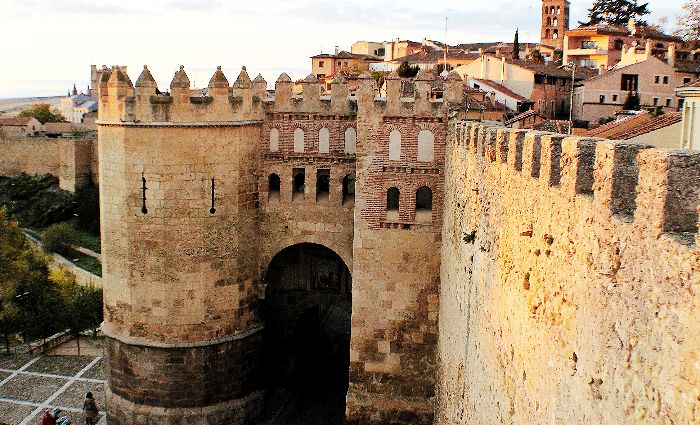 Take a stroll through the Jewish Quarter to the Puerta de San Andrés (San Andrés Gate). The gate is the best-preserved entrance to the walled area of the city, which transports you back to medieval times.
The strategic location of this former guardhouse is clear when look through the cross-shaped arrow slits at the open valley beyond. There's much to admire including the odd-shaped windows and decorative stonework.
You can explore the gate and city walls and there is information provided along the way. Entry is only €1. It is well worth it for the views and the history lesson.
Address: C. Martínez Campos | Hours: 10:30 am – 2:30 pm | Admission: €1
Sample the Fusion Tasting Menu at Casa Comala
9-minute walk from Puerta de San Andrés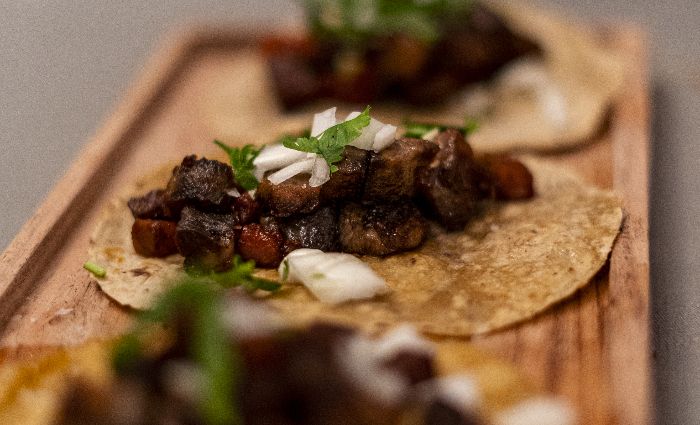 For a lunch break with a twist, head to Casa Comala. There, you'll find interesting mix of local and Mexican cuisine. The decor and vibe is perfect for a relaxed lunchtime meal and the menu will get you talking. The food is delicious and well-presented. And there is something for everyone on the menu.
Choose the tasting menu at €42 and the restaurant will donate €7 to the Spanish Commission for Refugee Aid (CEAR). This collaboration is yet another initiative that helps this restaurant stand out and is an easy way to give back while on vacation.
The tasting menu is a journey through Castilian and Mexican cooking and features an aperitif, cold starter, hot starter, fish, meat, dessert, a welcome drink, and a bottle of wine for every four persons. That is sure to fill you up for a busy afternoon ahead!
Address: C. la Judería Vieja, 5
Feel the Gothic Vibes at the Cathedral of Segovia
1-minute walk from Casa Comala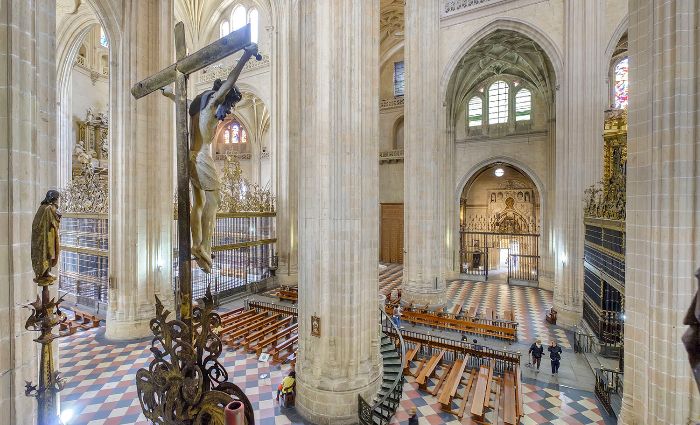 Segovia's cathedral is just a few steps from the restaurant. Work began in 1525 and ended in 1768. It replaced an earlier church, razed to the ground in the Comuneros Revolt of 1520, according to the 1995 International Dictionary of Historic Places. It was Spain's final major construction in the gothic style.
The exterior is notable for its pinnacled turrets and flying buttresses which exude the flamboyant style of later gothic work. The lengthy build time caused a switch to the Renaissance style. This is best represented by the presence of the dome instead of a spire on the building's crown.
The interior is simpler but no less intriguing thanks to the stained glass and artwork. You can enter from as little as €4 but we recommend paying €10 for a guided tour that includes the tower. It is worth the climb!
Address: C. Marqués del Arco, 1 | Hours: 9:30 am – 6:30 pm | Admission: From €4
Get a Royal Perspective at the Alcázar of Segovia
10-minute walk from the Cathedral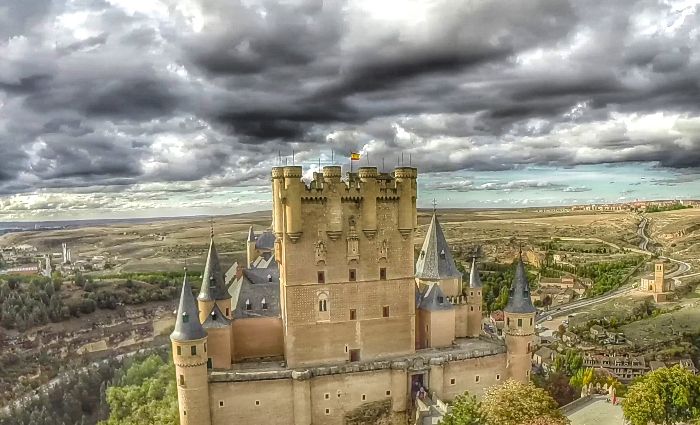 This medieval castle was the former home of Queen Isabel, Spain's most famous monarch crowned here in 1474. Historian Marilyn Stokstad reveals how it inspired the castle in Disney's 1938 Oscar-winning film "Snow White and the Seven Dwarfs."
As is the case with many ancient buildings, a fire ravaged the Alcázar in 1862, but expert craftsmen restored it to its former glory. C.H. Ramsay told the story of the fire in the 1874 book "A summer in Spain."
She explained how bored students of noble families stationed at the Alcázar, then a military college, set fire to the building. Their plan was to be "punished" with a transfer back to Madrid. But their plot failed, and they remained in the city. Nobody was punished as the student's families were too powerful to meddle with!
Today, there are stunning details everywhere you look. And the weapons and armoury bring a sense of the sinister ambience of the time around the reconquest. Head up to the tower and you can enjoy a Queen's-eye view of the city and surrounding landscape.
This is the one place in the city where you will face steep hills if you go on foot. And the streets are cobblestone, so beware if you have reduced mobility. However, there is a wheelchair-accessible entrance for the castle, but not the tower.
Address: Pl. Reina Victoria Eugenia | Hours: 10 am – 6:00 pm (subject to holidays) | Admission: from €9
Find the Holy Grail of Suckling Pig at Restaurante José María
15-minute walk from the Alcázar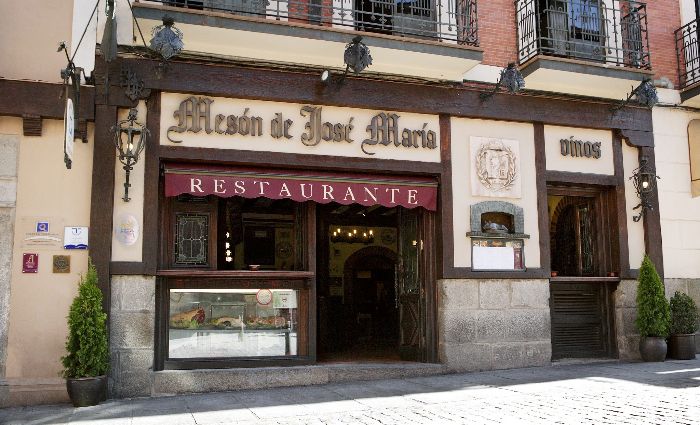 By now you must have worked up an appetite. And if you are a meat lover, what better time to sample the suckling pig—the icon of Segovian gastronomy. The best place in town to try this delicacy is Restaurant José María.
Why this place? Well, the owner is the chairman of the association for the promotion of the suckling pig of Segovia. He also breeds his own pigs and crafts his own wines to pair with it!
This place is so authentic it earned a mention in the Michelin guide. The locals also flock here in droves. As a result, you must book in advance to avoid disappointment.
If you don't fancy the pig, there's a menu is full of creative local dishes. There is no better place to end a day of sightseeing in Segovia.
Address: C. Cronista Lecea, 11
Enjoy Craft Beers Until The Early Hours At Bar Rubi
2-minute walk from the Restaurante José María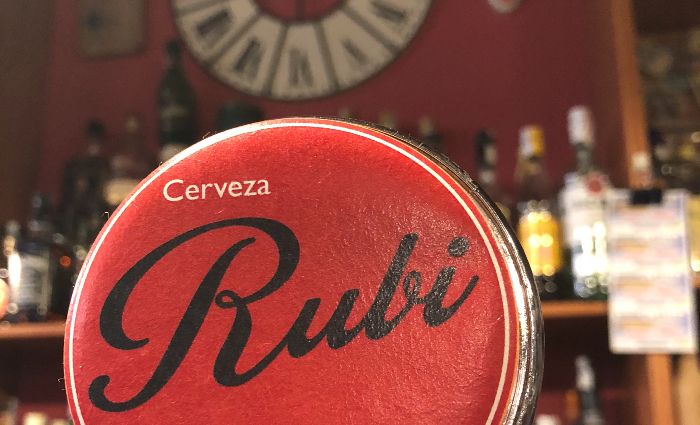 To end your day in Segovia like a true local, head over to Bar Rubi just off the main square. This small but popular bar has the best selection of craft beers in the city and plays great music late into the night. The bar attracts a mixed crowd of all ages and has a welcoming atmosphere that extends to tourists.
Bar Rubi is also the perfect place to discover local wines and they serve simple tapas dishes including local ham and cheese with each drink. Don't worry is the bar is busy, there is also a terrace just a few meters away in the Plaza Mayor. It opens until midnight on weekdays and until 2 am on Fridays and Saturdays.
Address: C. Escuderos, 4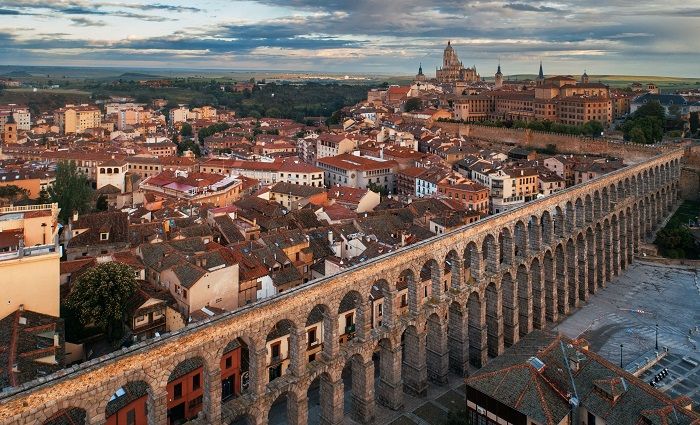 Find the best places to stay
Where To Stay in Segovia
Come to Segovia, Spain, to see the Roman Aqueduct, the Cathedral, and enchanting Alcázar. Find out where our local experts recommend staying in this ancient city. You'll find great hotel deals to make your stay memorable.