A trip to Paris is a trip worth planning, but planning it takes. There are tons of festive Christmas activities in Paris from the incredible hot chocolate and Christmas markets to the window displays at the Lafayette Galleries. Those are just a few things you should add to your list for how to spend Christmas in Paris.
---
Pro Tip: Planning what to do on your trip to Paris at Christmas? Bookmark this post in your browser so you can easily find it when you're in the city. Check out our guide to Paris for more planning resources, our curated list of tours in Paris at Christmas for a memorable trip, and how to spend a weekend in Paris.
Why You Should Spend Christmas in Paris
Paris is a breathtakingly beautiful city to visit at any time of year. Christmas in Paris, though, puts the city on a whole new level. The City of Lights truly lives up to its name as its streets are lined with all types of Christmas lights and decorations during the winter.
Restaurants begin serving up delicious winter specialties like boeuf bourguignon, raclette and soupe à l'oignon. To help you see some of the best Paris has to offer during the holiday season, we've put together a list of the top things to do for Christmas in Paris. And make sure to reserve one of our curated tours for Christmas! They often sell out fast!
Not ready to book a tour? Find out if Paris tours are worth it.
Explore the City's Christmas Markets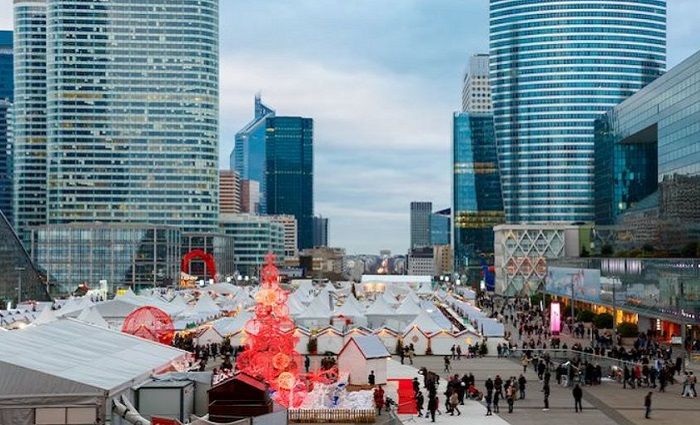 While Christmas markets aren't unique to Paris, they are one of the best ways to get in the holiday spirit. Wooden chalets packed with Christmas decorations, foods, mulled wine and all kinds of trinkets pop up throughout the city.
These markets are perfect places to pick up a special Christmas gift or simply enjoy the warm Christmas atmosphere. You can find some of the best Christmas markets in Paris in Notre Dame, Les Halles and Champs de Mars. And of course, check out the Christmas Village at La Défense for the biggest Christmas market in Paris.
Go Ice Skating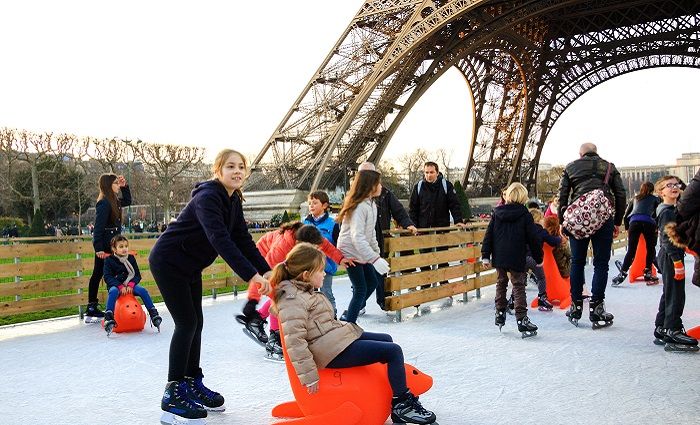 Get into the holiday spirit by bundling up in your winter coat and going for a spin on the ice. Only a few of the ice skating rinks in Paris for this year have been released.
Check out the Grand Palais de Glaces for the main skating scene. You can also enjoy ice skating right underneath the Eiffel tower to get the full Christmas in Paris experience. We will happily update you when more ice skating rinks are announced for this year!
Sip on Indulgent Hot Chocolate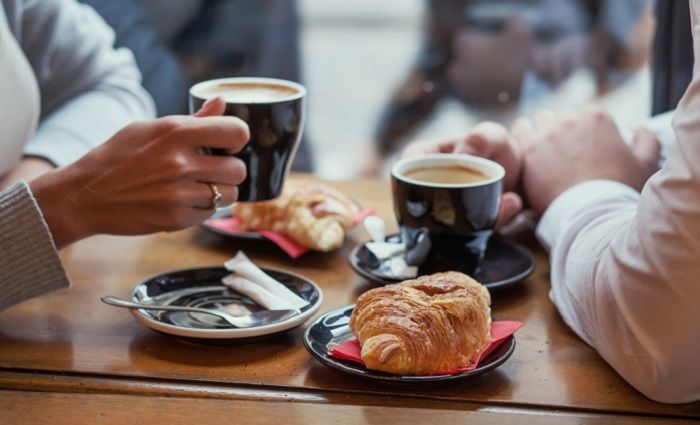 You probably enjoy hot chocolate at home made from a local or chain brand. We're here to tell you that they hold no comparison when it comes to a true, made-from-scratch hot chocolate using the finest French ingredients. Since it's going to be cold in Paris in the winter, you might as well stay warm and indulge yourself!
There are a few great places we recommend grabbing some fresh, steaming hot cocoa. First, we have to recommend chocolatier Jean-Paul Hévin, and we like the location near the Louvre. Another spot we can't miss is Crêperie Contemporaine 142, which is not far from the Eiffel Tower. The best thing about this restaurant is you can get incredible crepes with your hot chocolate. (Still drooling over their pear crepes!)
Take a Magical Stroll on the Champs-Elysées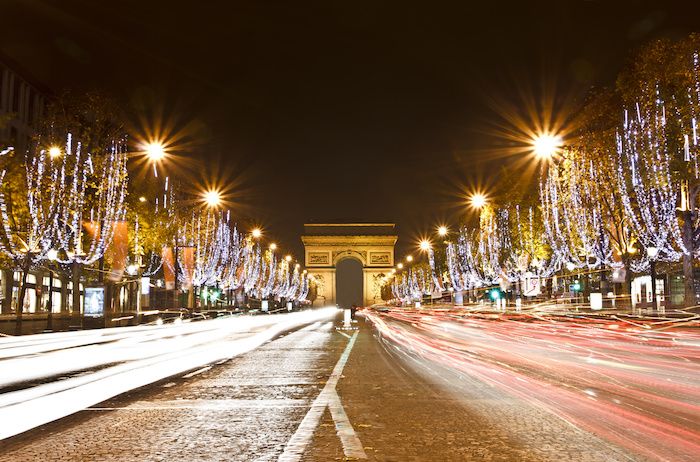 One of the best ways to soak up Paris's Christmas spirit is simply by walking its streets. The famous Avenue des Champs-Elysées, Avenue Montaigne and Bercy Village all present beautiful holiday displays with thousands of twinkling lights.
Our personal favorite spot for lights is Place Vendôme, one of Paris's most beautiful squares. Home to the Ritz hotel and high-end shopping, this area is the very definition of a chic Christmas in Paris!
Not ready to book a tour? Check out our Paris Guide for more resources.
Try Some Typical Parisian Christmas Food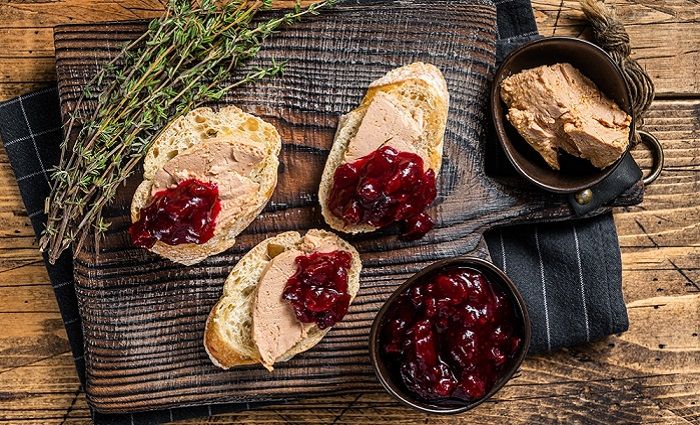 If you visit Paris during Christmas, you'll want to try some typical Parisian Christmas specialties. There are a few foods that you will likely see on every Parisian's Christmas dinner table.
The star of the show: foie gras! Usually served on toast, foie gras is the go-to Christmas appetizer for the French. Raw oysters and smoked salmon are also very popular. For dessert, restaurants often serve a Bûche de Noël, or yule log. This is a delicious chocolate cake rolled in a cylinder to resemble a log.
See the Galeries Lafayette Window Displays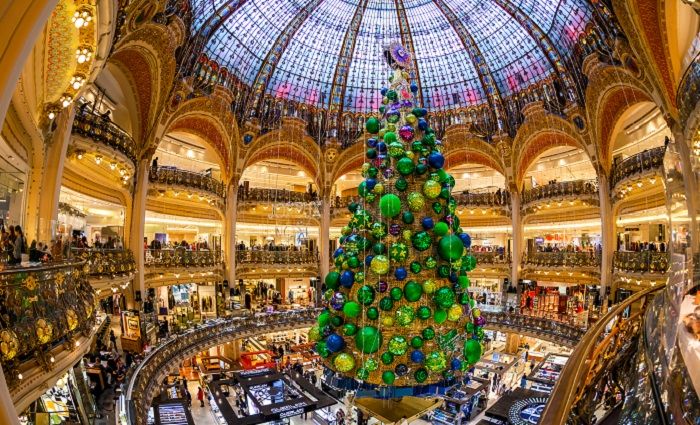 Paris's streets light up for the holidays, but many of its stores do, as well! This gives you a great excuse to window-shop, or as the French say, faire du lèche vitrines – which literally translates to "window-licking".
The Galeries Lafayette department store undoubtedly showcases the city's most infamous holiday window displays. From early November to early January, the multiple large windows lining the street filled with incredibly inventive displays, many with music.
If you stop by to look at the windows, don't forget to also step inside to admire the beautiful Christmas tree placed beneath the famous Galeries Lafayette dome every year.
Reserve Your Eiffel Tower or Versailles Tour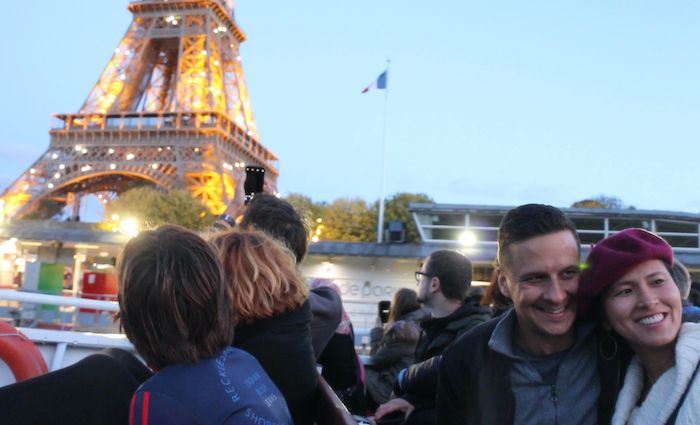 Whether you've been to Paris before or not, seeing some of the monuments in and around Paris is a must-do at Christmas. You can book a tour of the Louvre if you prefer to stay inside where it's dry and warm. Or choose a Seine River cruise (drink some hot chocolate too!) with elevator access to the Eiffel Tower. And you can always opt to see Versailles covered in a light layer of snow.
We've curated our list of perfect Christmas tours and activities to choose from as you plan your holiday travels. Click below to reserve your spot!
Not ready to book a tour? Check out our Paris Guide for more resources.
Prepare for the Weather
If there's one potential downside of visiting Paris during Christmas, it's the weather. While you're unlikely to see much snowfall during this period, December is still typically one of Paris's coldest months.
The average December temperature is about 40°F (4°C) and you'll likely see some rain at some point during your trip. But you don't have to see the cold as a negative. Depending on your point of view, it could actually add to the magic of Christmas in Paris!
We recommend packing layers and a good rain jacket so that you can prepare for the change in temperatures throughout the day.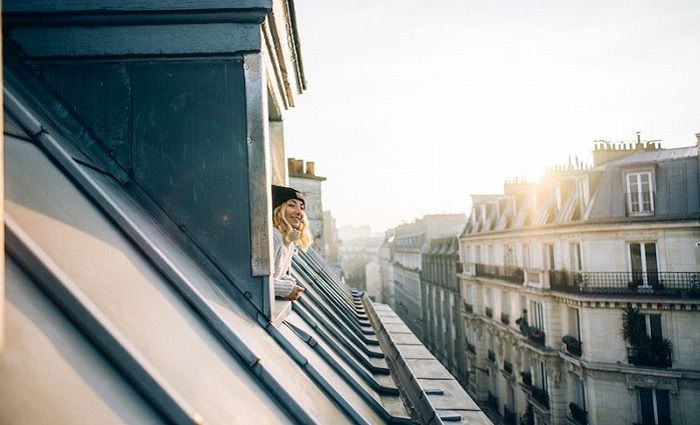 Find the best places to stay
Where To Stay in Paris
With a city as magnificent as Paris, it can be hard to find the perfect hotel at the perfect price. Explore the best hotels and places to stay in these incredible neighborhoods in Paris.