Champagne is the most prestigious sparkling wine in the world, and now you're in its birthplace! A trip to Paris is not complete without a glass of champagne (or maybe even a few). Read on to discover our list of where to drink champagne in Paris.
Pro Travel Tip: Looking to enjoy more champagne while in Paris? We recommend joining our Day Trip from Paris to the Champagne Region, where you'll visit authentic champagne caves, taste some bubbly, and explore more of France.
The 9 Best Champagne Spots in Paris
Did you know that champagne can only be called 'champagne' if it comes from the Champagne region in northern France? Everything else is just sparkling wine (or might have its own fancy name, like crémant, Prosecco, etc.)! Plus, only three grape varieties are permitted for champagne: Chardonnay, Pinot Noir and Pinot Meunier. To find out which one you like, we recommend enjoying a few glasses of bubbly on your trip. While many standard bars and cafés offer champagne on their menus, we recommend the following spots for an above-average experience.
Already in Paris? Book a last-minute food tour or tickets to the hottest museums.
Not ready to book a tour? See if Paris tours are worth it.
Champagne Bar
€€€ | Top of the Eiffel Tower
On the third and final floor of the Eiffel Tower, you'll find…a champagne bar! You can have a glass of white champagne or G.H.Mumm rosé champagne, depending on your taste buds. It doesn't get much more French than staring out at the view from the top of the Eiffel Tower while sipping on champagne!
The bar is open every day during high season (generally considered June to September), but only on weekends during low season.
Address: 3rd Floor of the Eiffel Tower | +33 8 92 70 12 39
Hours: Varies by time of year
Le Dokhan's Hotel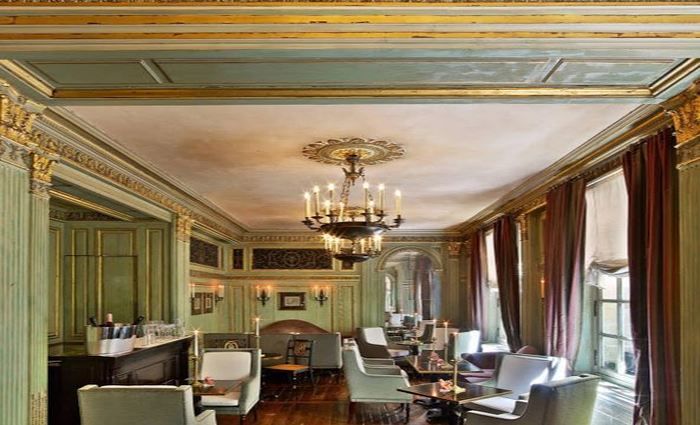 €€€ | Boutique Hotel Bar
Le Dokhan's Bar, a bar set inside Le Dokhan's Hotel, is by far the best place to go in the city if you're looking for champagne variety. The bar has the largest champagne menu in Paris, with 240 choices. Caviar, foie gras and other high end specialties are also available.
Besides the variety, this spot is also worth a stop for its gorgeous interior, decorated in the Belle Époque style. This is the perfect spot if you're looking for an intimate setting with your travel partner: green velvet armchairs line the fireplace, and after dusk, the room is lit by candlelight.
Address: 117 Rue Lauriston, 75116 Paris | +33 1 53 65 66 99
Hours: 6:00PM – 12:15AM | Every day
Our Best Guided Tours of Paris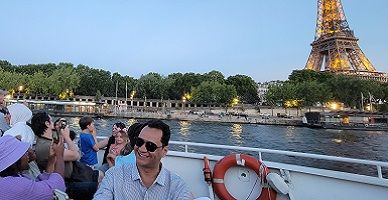 Likely to Sell out
Privileged Access Eiffel Tower Night Tour With Seine River Cruise
Sometimes the most amazing moments happen by chance. Other times, they are orchestrated by professionals. Our Eiffel Tower tour takes you on a cruise down the Seine River for incredible views of Notre-Dame and the Eiffel Tower. Champagne included, of course. Then you'll be guided to the Eiffel Tower, skip the long lines, and head up the elevator to the second floor for a night to remember.





See Prices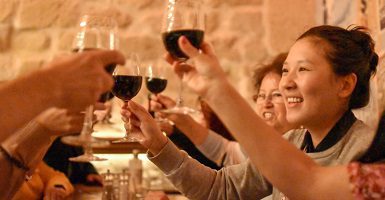 Top Selling
Ultimate Taste of Paris Food Tour in Le Marais
Embark on a culinary journey in Le Marais—one of the hippest neighborhoods in Paris. Most food tours in Paris offer cheese and wine, but we include a full, sit-down meal! Enjoy a feast of French cheeses, oysters, street food, boeuf bourguignon, crème brûlée, and more. This 3-hour food tour combines the best of Paris' culinary heritage and you won't find a better deal out there!





See Prices
Not ready to book a tour? Check out Paris Guide for more resources.
Dilettantes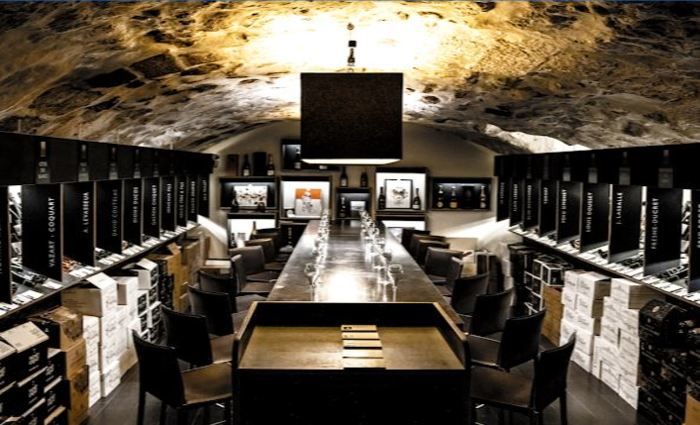 €€€ | Champagne Boutique & Tastings
This specialized champagne boutique set in the heart of Paris focuses on high quality champagne produced on small, family-owned estates. They work with 25 champagne producers to offer a variety of more than 130 champagnes for visitors. If you'd like to learn more about bubbly, you can try one of their two tasting options, or order one of their 'terroir' tasting flights and taste 3 champagnes by the glass.
Address: 22 Rue de Savoie, 75006 Paris | +33 1 70 69 98 68
Hours: Tues – Sat 11AM – 7:30PM | Thurs until 9PM
Ma Cave Fleury
€€ | Wine & Champagne Bar
If you like organic produce, Ma Cave Fleury should be your first stop. Jean-Pierre Fleury began working biodynamically in 1989, and today Fleury Champagnes are commonly regarded as pioneers of the biodynamic champagne movement (only about 1.5% of the vineyards in France's Champagne region are farmed biodynamically). Besides their biodynamic champagne, they also offer a small variety of organic or natural wines.
Morgane Fleury, daughter of Jean-Pierre, is often the sommelier in their wine bar. The atmosphere is friendly, welcoming and cozy. This is a great option if you want to try some champagne in a more relaxed environment.
Address: 177 Rue Saint-Denis, 75002 Paris | +33 1 40 28 03 39
Hours: 12PM – 7PM | Every day
French Paradox – Canard & Champagne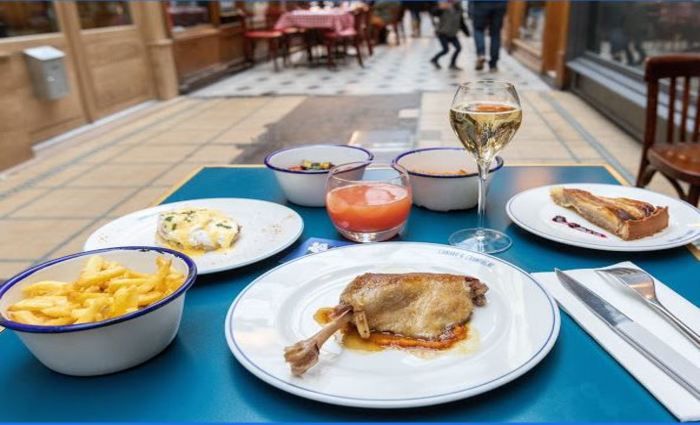 €€ | Restaurant
We've added this next spot, a restaurant, for those who like to enjoy their champagne with a meal. Here you can combine two of France's most famous specialties: champagne and canard (duck)! The restaurant is uniquely set in the Passage des Panoramas, one of Paris's famous passageways. Note that you should like duck if you come here since their main menu items are duck confit and duck breast (although they do offer a hamburger as well).
You can order food à la carte, or they offer some fun dinner combinations, such as a starter, main course and two glasses of champagne for 45 euros, or a starter, main course, dessert, and three glasses of champagne for 65 euros. All of their meat is sourced from France.
Address: 57 Passage des Panoramas, 75002 Paris | +33 9 83 30 06 86
Hours: Mon – Sun 12PM – 2:30PM | 7:30PM – 10:30PM
Already in Paris? Book a last-minute food tour or tickets to the hottest museums.
Not ready to book a tour? See if Paris tours are worth it.
Le Perchoir Ménilmontant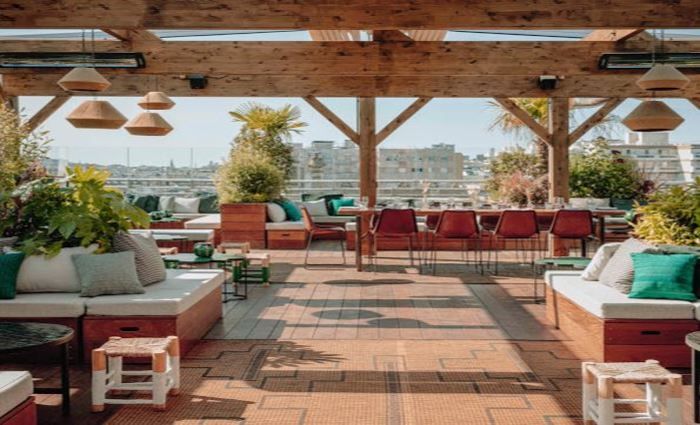 €€€ | Rooftop Bar
Le Perchoir is one of the best rooftop bars in Paris. While they have a few different locations, their original spot near the Ménilmontant metro is our favorite. Come in the afternoon when the weather is nice, or stop by in the evening to sip champagne with the hip crowd in the city. Either way you'll get a great view!
Address: 14 Rue Crespin du Gast, 75011 Paris | +33 1 83 62 64 22
Hours: Mon – Wed 6PM – 1AM | Thurs – Sun 4PM – 1AM
L'Extra Brut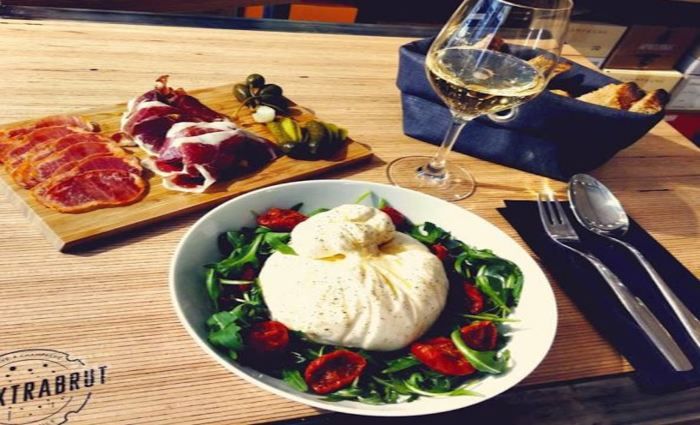 €€ | Champagne Cave & Bar | Some Outdoor Seating
A great place to grab some champagne which can be enjoyed at the bar or purchased for takeaway. L'Extra Brut sells champagne by the glass and also by the bottle, and they've got a great selection of chilled bottles available. The owner, Benoît, is incredibly friendly and speaks great English. This is the type of place where you don't need to be intimidated to ask questions about champagne!
L'Extra Brut also has a fun champagne workshop for groups of six or more people in case you happen to be traveling in a larger group.
Address: 19 Rue Condorcet, 75009 Paris | +33 1 42 00 56 80
Hours: Mon – Sun 12PM – 2:30PM | 7:30PM – 10:30PM
Our Best Versailles and Paris Louvre Tours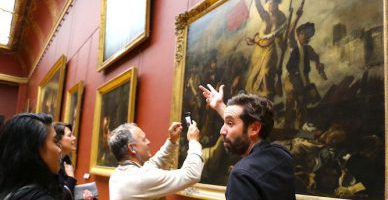 Top-Rated Tour
Secrets of the Louvre Museum Tour with Mona Lisa
The Louvre is the largest art museum on Earth and the crowning jewel of Paris, which is why it's on everyone's bucket list. Don't miss out on an incredible opportunity! Join a passionate guide for a tour of the most famous artwork at the Louvre. Skip-the-line admissions included.





See Prices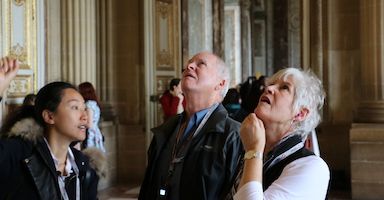 Likely to Sell Out
Skip-the-Line Palace of Versailles and Gardens Tour from Paris
Versailles isn't that difficult to get to by train, but why stress over the logistics? Meet a local guide in central Paris who will purchase your train tickets and ensure you get off at the right stop. Then enjoy a guided tour of the palace and the unforgettable gardens. Skip-the-line admissions included to the palace and gardens.





See Prices
Not ready to book a tour? Check out Paris Guide for more resources.
Les Ambassadeurs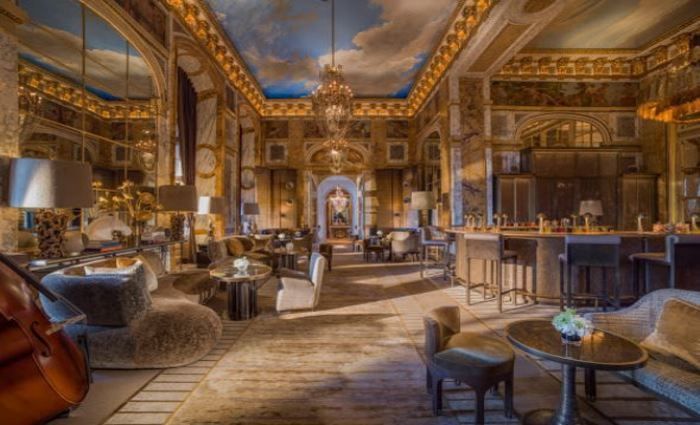 €€€€ | Elegant Hotel Bar
Les Ambassadeurs is a swanky bar located inside Hôtel de Crillon, one of Paris's luxury hotels. Soaring ceilings, marble and chandeliers create an ambiance of elegance and opulence that will leave you gazing in awe. While they have a nice cocktail list, their focus is champagne. They offer over 100 champagne references ranging from local small producers to famous labels. If you're willing to splurge, this is by far one of the best places on our list to enjoy champagne in Paris.
Address: 10 Place de la Concorde, 75008 Paris | +33 1 44 71 15 17
Hours: 12PM – 2AM | Every day
Flow Paris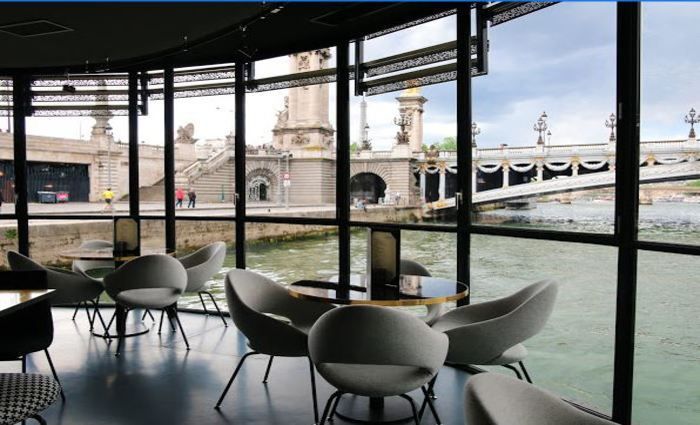 €€ | Bar on a Boat
This is one of the best places on our list if you're looking more for ambiance than variety. Flow is actually a floating barge (it stays in the same spot the whole time) located right next to Paris's most beautiful bridge, Pont Alexandre III. You can order a glass of champagne on the boat, which has both indoor an outdoor seating options, or you can order something from one of their tables which are set up on the dock next to the boat.
We recommend heading to Flow in the afternoon or early evening, before the crowds roll in, unless you're looking for more of a party atmosphere. If you get to Flow and it's too crowded, the Rosa Bonheur sur Seine boat right next to it is also a good option.
Address: 10 Place de la Concorde, 75008 Paris | +33 1 44 05 39 50
Hours: Dock: 9AM – 2AM | On Boat: 3PM – 2AM | Every day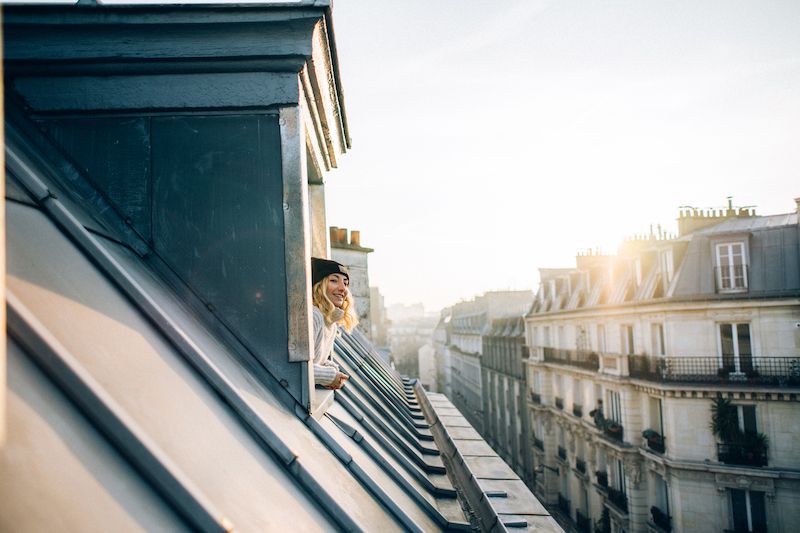 Find the best places to stay
Where To Stay in Paris
With a city as magnificent as Paris, it can be hard to find the perfect hotel at the perfect price. Explore the best hotels and places to stay in these incredible neighborhoods in Paris.