Cafés are synonymous with Paris, and your trip to France's capital won't be complete without visiting one. But in a city crawling with cafés, which one to choose? We've put together a list of the best cafés in Paris so you don't have to do the dirty work!
---
Pro Travel Tip: Looking to enjoy the best food in Paris? We recommend joining our Le Marais Food Tour and enjoy all of the local delicacies, including falafel, oysters and champagne.
The 11 Best Cafés in Paris
Cafés have played an important role in Paris ever since they began opening in the 1660s. Over the years, they've served as meeting spots for French revolutionaries, a place to write for philosophers and novelists, and – perhaps most importantly today – the ideal setting for a glass of wine and people watching.
You won't get through Paris (or you shouldn't, anyways) without stopping at a café at least once. Check out our list of the best cafés in Paris below.
Café de la Paix
€€€ | Historical | Some Outdoor Seating
Open since 1862, Café de la Paix is a historical institution in Paris. Its even literally been declared a historical monument by the French government! Its interior is beautifully decorated in the Napoléon III style, so you can expect to see a lot of gold, beautiful paintings and even skylights.
The café is located right next to the infamous Opéra Garnier, so sitting on the café's terrace means you'll have a close-up of one of Paris's most famous monuments. The food and drink are definitely on the expensive side, but we still recommend stopping in for one of their pastries and a coffee if you're in the area.
Address: 5 Place de l'Opéra, 75009 Paris | +33 1 40 07 36 36
Hours: 7AM – 11:30PM, Every day
Restaurant Paul
€€ | Traditional French | Some Outdoor Seating
Traditional French food and décor await you at this small café-restaurant. This is one of the few cafés set inside the small yet majestic Place Dauphine square, which by itself could put it on our list of the top cafés in Paris. If you stop in for lunch or a coffee in the afternoon, you'll likely be able to see a game of pétanque being played right in front of you.
We recommend their leg of lamb and veal for the main course, and the profiteroles for those who have a sweet tooth.
Address: 15 Place Dauphine, 75001 Paris | +33 1 43 54 21 48
Hours: Mon – Sat 12PM – 2:30PM | 7PM – 10PM
Le Procope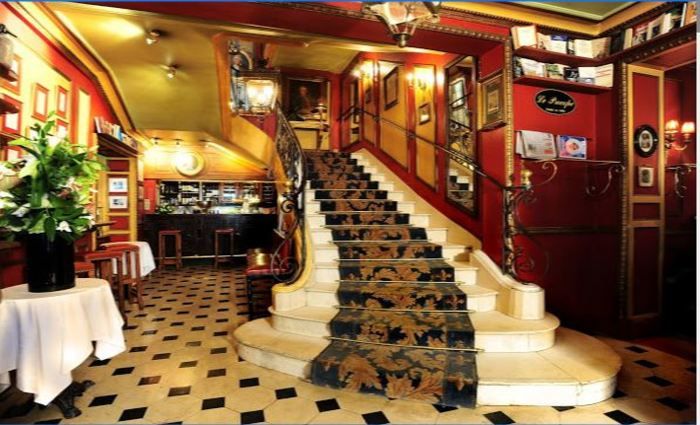 €€€ | Traditional French | Some Outdoor Seating
Le Procope is the oldest café in Paris, set in the idyllic 6th arrondissement. Sitting down here means sitting down in the shadows of some of France's most famed figures like revolutionary Robespierre or poet Verlaine.
While the prices are higher here due to the café's history, it's not nearly as expensive as one might imagine it could be to eat at Paris's oldest café. If you don't want to pay for a full meal, though, they have a nice tea room where you can have a smaller plate, as well as a back terrace for drinks.
Address: 13 Rue de l'Ancienne Comédie, 75006 Paris | +33 1 40 46 79 00
Hours: Sun – Wed 12PM – 12AM | Thurs – Sat 12PM – 1AM
Our Best Versailles and Paris Louvre Tours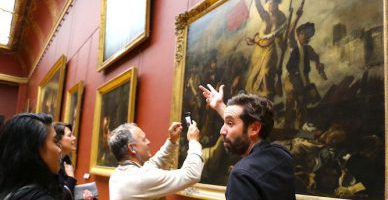 Top-Rated Tour
Secrets of the Louvre Museum Tour with Mona Lisa
The Louvre is the largest art museum on Earth and the crowning jewel of Paris, which is why it's on everyone's bucket list. Don't miss out on an incredible opportunity! Join a passionate guide for a tour of the most famous artwork at the Louvre. Skip-the-line admissions included.





See Prices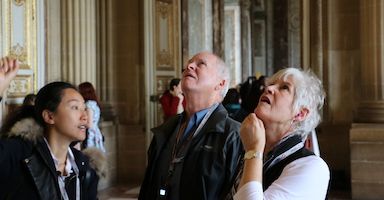 Likely to Sell Out
Skip-the-Line Palace of Versailles and Gardens Tour from Paris
Versailles isn't that difficult to get to by train, but why stress over the logistics? Meet a local guide in central Paris who will purchase your train tickets and ensure you get off at the right stop. Then enjoy a guided tour of the palace and the unforgettable gardens. Skip-the-line admissions included to the palace and gardens.





See Prices
Not ready to book a tour? Check out Paris Guide for more resources.
Le Hibou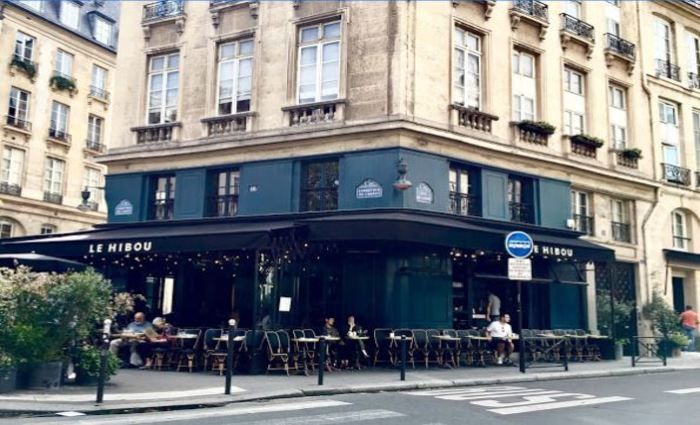 €€ | Modern French | Outdoor Seating
Le Hibou, literally 'the owl' in French, is a popular spot on Paris's Left Bank. They offer a variety of drinks and food, but have an especially good cocktail menu. They also have a nice breakfast deal where you can get a hot beverage, an orange juice and a croissant for seven euros. The ambiance is cozy yet modern, and they have fast service by Parisian standards.
Address: 16 Carrefour de l'Odéon, 75006 Paris | +33 1 43 54 96 91
Hours: Sun – Thurs 8AM – 2AM | Fri – Sat 8AM – 3AM
Bon Bouquet Café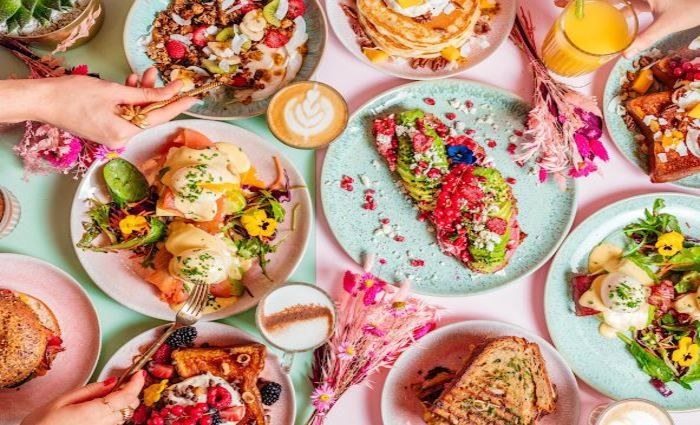 €€ | Brunch Plates | Limited Outdoor Seating
Where you can find brunch all day, every day! Head here for pancakes, avocado toast, granola bowls and more with a French touch. This small, picturesque café amid the busy Parisian streets is a great way to start your day, and one of the best quality brunches in the city.
Address: 29 Rue de Trévise, 75009 Paris | +33 1 43 54 96 91
Hours: 10AM – 3PM, Every day
La Fontaine de Belleville
€€ | Filtered Coffee Specialties | Some Outdoor Seating
You won't find a huge variety of coffee at La Fontaine de Belleville, but you will find quality filtered coffee as well as tasty espressos. The café is part of the Belleville Brûlerie group, whose three owners decided to specialize in filtered coffee. They also offer class Parisian bistro fare like croque monsieurs and cheese and meat plates.
This café is great for those who love to explore off the beaten path areas. Located near the Canal Saint-Martin, in Paris's modern artistic and hipster neighborhood, you likely won't find too many tourists here. The café is also within walking distance of Parc des Buttes-Chaumont, one of the city's best parks that travelers rarely see.
Address: 31-33 Rue Juliette Dodu, 75010 Paris | Tel: +33 9 81 75 54 54
Hours: Wed – Sun 8AM – 10PM
Café Hugo
€€ | Typical Parisian | Some Outdoor Seating
An excellent spot for a drink or some light food. Café Hugo enjoys a prime location in the Marais neighborhood, right next to the historic Place des Vosges. The style is typical Parisian, with classic colored bistro chairs set up outside for people watching.
Café Hugo offers a nice breakfast combination, and getting there early means you'll likely have the entire Place des Vosges to yourself. Another plus? The prices are very reasonable compared to other cafés in the area.
Address: 22 Place des Vosges, 75004 Paris | Tel: +33 1 42 72 64 04
Hours: 7AM – 2AM, Every day
Café Marly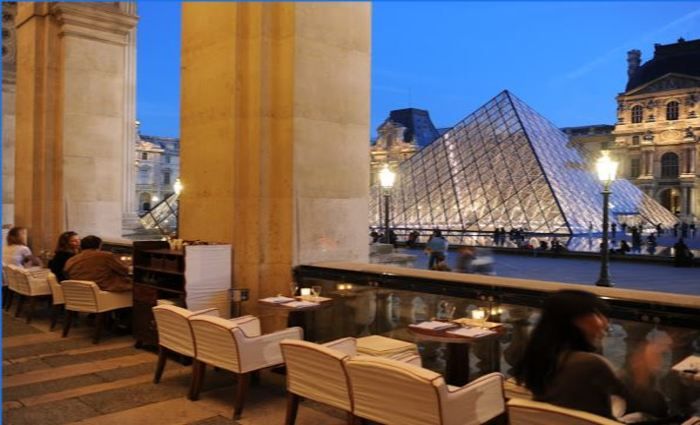 €€€€ | Upscale French | Some Outdoor Seating
As the saying goes, it's all about location, location, location. Café Marly sits directly in front of the Louvre Museum, with a perfect view of the pyramid. This is the ideal café to sit outside and relax at.
As one can imagine, the prices are pretty steep here. Still, this is a great spot to splurge on. Instead of coming for dinner, we recommend coming early for breakfast (when hardly anyone will be around the Louvre) or coming around sunset for great lighting along the pyramid. The ambiance is classy, but there's no need to dress up too much – they are used to serving people in their comfortable travel clothes.
Address: 93 Rue de Rivoli, 75001 Paris | Tel: +33 1 49 26 06 60
Hours: 8AM – 2AM, Every day
Our Best Guided Tours of Paris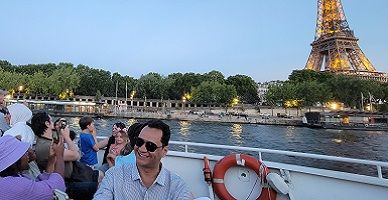 Likely to Sell out
Privileged Access Eiffel Tower Night Tour With Seine River Cruise
Sometimes the most amazing moments happen by chance. Other times, they are orchestrated by professionals. Our Eiffel Tower tour takes you on a cruise down the Seine River for incredible views of Notre-Dame and the Eiffel Tower. Champagne included, of course. Then you'll be guided to the Eiffel Tower, skip the long lines, and head up the elevator to the second floor for a night to remember.





See Prices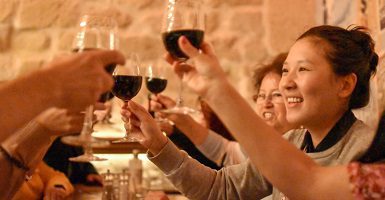 Top Selling
Ultimate Taste of Paris Food Tour in Le Marais
Embark on a culinary journey in Le Marais—one of the hippest neighborhoods in Paris. Most food tours in Paris offer cheese and wine, but we include a full, sit-down meal! Enjoy a feast of French cheeses, oysters, street food, boeuf bourguignon, crème brûlée, and more. This 3-hour food tour combines the best of Paris' culinary heritage and you won't find a better deal out there!





See Prices
Not ready to book a tour? Check out Paris Guide for more resources.
Carette
€€€ | Pastries | Some Outdoor Seating
If you've got a sweet tooth, Carette should be your next stop. Carette specializes in homemade pastries like macarons, éclairs and various tarts. For those who want something typically French, we suggest trying the Mont-Blanc pastry made with meringue and chestnut cream.
One fair warning – Carette may have quite a few tourists dining inside. That's because it's right across from the Trocadéro Plaza, which many consider to be the best viewpoint of the Eiffel Tower. While most places around here will be touristy, rest assured that the food at Carette meets local standards!
Address: 4 Place du Trocadéro et du 11 Novembre, 75016 Paris | Tel: +33 1 47 27 98 85
Hours: Mon – Fri 7AM – 7PM | Sat – Sun 7:30AM – 7AM
Les Deux Magots
€€€ | Traditional & Historical | Outdoor Seating
Les Deux Magots, along with Café de Flore which is right next door, is one of the oldest cafés in Paris. It's been a symbol of the city's artistic and literary life, and also a meeting place for famous figures like Picasso and Hemingway, since 1885. This iconic spot ranks as one of the top cafés on our list.
A drink here won't be cheap, but the quality combined with the ambiance and history make it worth it. We suggest trying their signature cocktail, Le Jazzy, which is a mix of Chambord, Veuve Clicquot Champagne and fresh raspberries.
Address: 6 Place Saint-Germain des Prés, 75006 Paris | Tel: +33 1 45 48 55 25
Hours: 7:30AM – 1AM, Every day
Le Moulin de la Galette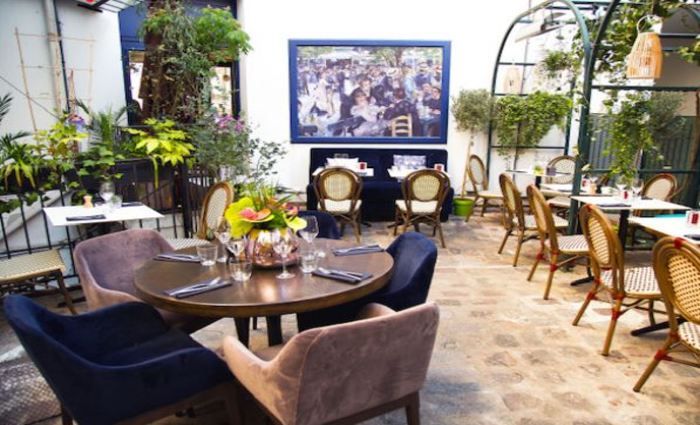 €€€ | Modern & Historical | Outdoor Seating
Taking a seat at Le Moulin de la Galette in Montmartre means great food but also impressive history. This place was once a windmill (moulin means 'windmill' in French), then a popular spot for drinking and dancing which famous painter Renoir featured in one of his masterpieces. Today you won't find anymore dancing, but you will find a modern restaurant serving up traditional French food. The manager recommends their sea bass dish, but you can't go wrong with a good boeuf bourguignon either!
Address: 83 Rue Lepic, 75018 | Tel: +33 1 46 06 84 77
Hours: Wed – Sun |12PM – 9PM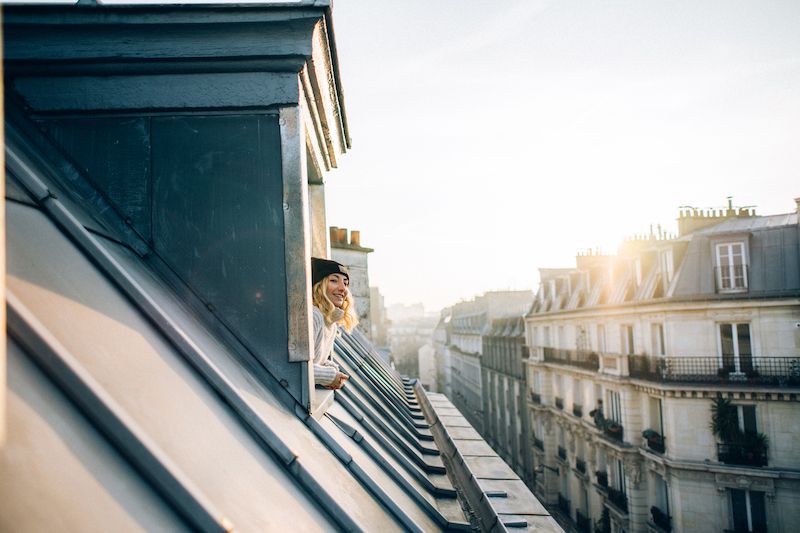 Find the best places to stay
Where To Stay in Paris
With a city as magnificent as Paris, it can be hard to find the perfect hotel at the perfect price. Explore the best hotels and places to stay in these incredible neighborhoods in Paris.