Windsor Castle is a historic fortress, royal palace, and family home. It's one of the official residences of Her Majesty Queen Elizabeth II and the longest inhabited castle in the world. Over a million visitors see Windsor Castle every year. 2022 marks the year that Queen Elizabeth will celebrate 70 years on the throne. The Platinum Jubilee of 2022 will be the first in history and people will no doubt want to know How to Visit Windsor Castle in 2022. With this article, you are prepared for an independent visit or ideally a guided tour of Windsor Castle.
---
Pro Tip: To best remember How to Visit Windsor Castle, bookmark helpful articles like this one in your browser so you can circle back to it when you are in London.
Tickets, Hours, Tours, and More! What We'll Cover
How to Visit Windsor Castle in 2022: Tickets, Hours, Tours, and More!
Windsor Castle is not open Tuesdays and Wednesdays
Opening times for Windsor Castle
Hours: Thursday – Monday 10 am to 5:15 pm (Closed Tuesdays & Wednesday)
1 March – 31 October Open 10:00, Last Admission 16:00, Closing Time 17:15
1 November – 28 February Open 10:00, Last Admission 15:00, Closing Time 16:15
Many State occasions happen at Windsor Castle, and therefore the Castle can be closed to the public on short notice.
The Castle is also closed on the following days:
25 December: closed
26 December: closed
To purchase tickets, you can buy them either at the ticket offices on-site or online.
Angel's Pro Tip: Book tickets well in advance
Opening times for St George's Chapel
Finally, keep in mind that St George's Chapel is a working church with a different schedule. For the most up-to-date information, and for times of worship or services, check out their site.
The Chapel is open to ticketed visitors of the Castle Monday, Thursday, Friday, and Saturday.
St George's Chapel also closes early on the following days:
23 December closes at 13.00
24 December closes at 13.00
Angel's Pro Tip: One of the best ways to experience the Chapel is to attend a service. If you are visiting on a Sunday, it's the only way to see the Chapel. You don't have to be religious to enjoy the service. I was recently there on a Sunday and attended a Mattins service which mainly was organ music and A Capella singing. The music was divine, but it made Gothic architecture come alive. To see what my visit was like, check out the stories on my Instagram.
If you do attend a service in the Chapel, line up 30 minutes before the service along with Castle Hill on the side of the Castle.
Tickets to Windsor Castle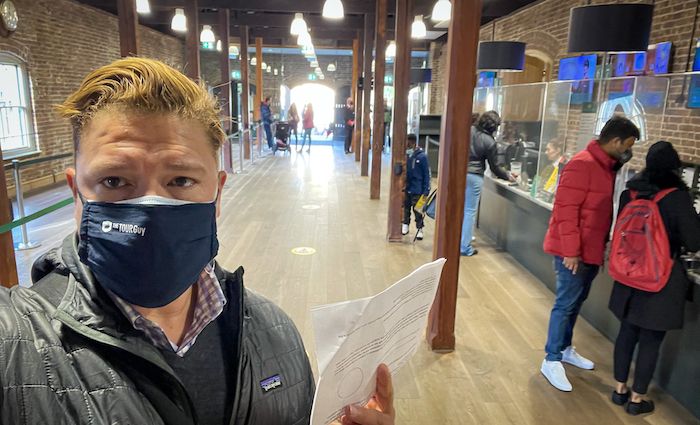 Admission: £23.50 per adult | £13.50 Children 5-16 | Free >5
Address: Windsor SL4 1NJ, United Kingdom
Family Pricing: £60.50 for 2 Adults and 3 Children.
Angel's Pro Tip: Skip the line by booking your ticket online ahead of time or getting more out of your visit by joining one of our small group tours of London, including Windsor.
How to Get to Windsor Castle from London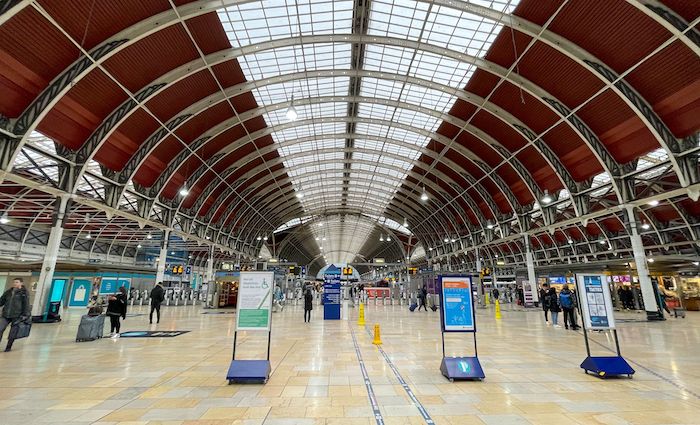 Located just 23 miles west of London, Windsor Castle is about an hour and twenty minutes west of London near Heathrow Airport. The small town around the castle is also called Windsor. The castle is easily accessible by car, train, or bus (named a motor coach in the UK).
By Train
From Paddington station in Central London, take any GWR train (GWR) headed to Slough. Purchase tickets from a machine at the station or on the GWR train app. From Slough, take the next train to Windsor & Eton Central, a 10-minute train ride. Exit the train station through a gallery of shops, and you will see Windsor Castle in front of you across the street. It is an easy 3-minute walk from the train station.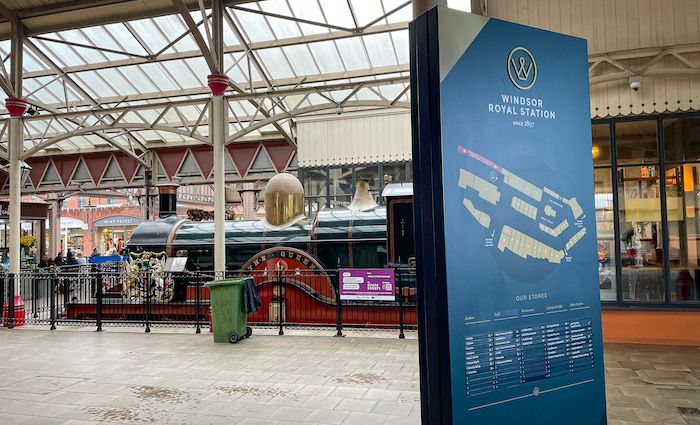 By Car or Bus (Coach)
It could take anywhere from 50 minutes to two hours by car depending on London traffic and how long it takes to get out of the city center. If you are driving from London to Oxford, Blenheim Palace, Stonehenge, or Highclere Castle (Downton Abbey), Windsor Castle is on the way, just on the other side of Heathrow Airport.
Pro Tip: If you do drive, get there early to find nearby parking. Parking fills up by noon.
How Much Time To Budget For Windsor Castle
Short Answer: at least 2 hours but 3 hours is best.
Angel's Pro Tip: I would recommend planning to spend a whole morning at Windsor to see it without rushing. The best way to approach the top things to see at Windsor Castle is by dividing the castle into two geographical sections, the upper and lower wards. I like to see the State Apartments inside the Castle first, then see St George's Chapel in the lower ward afterwards.
Do you have to be into Royalty to appreciate Windsor Castle?
No, any lover of art, history, or architecture will enjoy a visit to Windsor Castle. The state apartments have been open since 1848, when Queen Victoria opened them to the public. Various rooms are filled with priceless works of art by the old masters. St George's chapel is one of the finest examples of the English Gothic Perpendicular style. The castle itself is also a testament to 11th-century Norman military strategy.
As a traveler, I'm blown away by the different gifts to Her Majesty The Queen that is on display. This collection of foreign artefacts comes from the far reaches of the globe. Also, there are few places in the world where that many Holbeins, Van Dycks, and Reubens can surround one in just one room.
Famous Monuments, Art, and Rooms At Windsor Castle
Statue of Queen Victoria
The Round Tower
The Equestrian Statue of Charles II
The Waterloo Chamber
The Garter Throne Room
St. George's Hall
Queen Catherine of Braganza fresco by Verrio
Charles I by Van Dyck
Elizabeth I by William Scrots
Henry VIII by Holbein
Click the link to see our full list of The Top Things to see at Windsor Castle with explanations.
London and Windsor Castle Tour Options
If you are planning a trip to London, or a visit to Windsor Castle, you should highly consider a guided tour. The line-skipping benefits are fantastic, but there is much more value than that. Our professional guides will not only sort out all of the logistics but also inspire and inform to make history come to life. Our experts will discuss the essential points of British history and culture to help you make your trip fun.
Facts and History Of Windsor Castle
William the Conqueror built Windsor Castle shortly after his invasion in 1066
The location is a strategic military position overlooking the Thames Valley defending the West.
Positioned 23 miles west of London, or a day's march from the Tower of London in the days of William the Conqueror.
Windsor Castle is the oldest inhabited castle in the World.
King Henry I in 1110 was the first to live in the castle, and it was home to 39 Monarchs.
10 Monarchs are buried in St George's Chapel, with more Royals underneath the Royal Vault.
Major renovations happened in the 14th Century under Edward III, 17th Century under Charles II, and 19th Century under George IV.
St. George's Chapel is a Royal Peculiar, meaning it's under the direct jurisdiction of the Queen.
Windsor Castle is the location for Royal Weddings, with the first happening in 1121
Windsor Castle & St George's Chapel is the home of the Most Noble Order of the Garter, the older order of chivalry in England.