Have you even seen Florence if you don't visit Il Duomo? The iconic cathedral with its famous dome is right smack in the middle of the city. With a history of intrigue and famous personalities, you can't leave without seeing it. Here's everything you need to know to visit the Florence Cathedral from getting tickets to the best guided tours, what to see, and where to eat nearby.
---
Pro Tip: Planning your trip to Florence? Bookmark this post in your browser so you can easily find it when you need it. Also, check out our Florence Guide for more planning resources, our best Florence Duomo tours for a memorable trip, and the top things to do in Florence.
Visiting the Florence Cathedral: What We'll Cover
As the city's most iconic landmark and a highlight on our Florence tours, no trip to Florence would be complete without visiting the Cathedral of Santa Maria del Fiore, known affectionately as Il Duomo.
It was one of the largest churches in the 15th century and its construction took 140 years. It has a fascinating history that involves the Medici, plenty of scandal, and the engineering feat that is Brunelleschi's dome.
There's quite a bit to see and you can even climb the dome! In this guide, find out everything you need to know about how to visit the Florence cathedral. Here's what we'll cover:
Duomo Opening Hours and Tickets

You can visit the Florence cathedral for free, but you'll have to buy one of the three combined ticket passes to see the other areas of interest in the Duomo complex including the dome.
What many people don't realize is that the Duomo complex is more than just the church—there's also the Baptistry, Giotto's Bell Tower, and, inside the church itself, there's also a museum and the iconic dome high above. It's possible to visit them all.
Currently, you can choose between three different combined tickets depending on which areas you want to see. Each pass is valid for three calendar days starting from the date of the visit booked during the purchase process.
We recommend booking your tickets for the Duomo in advance. Here's what you need to know about opening hours and ticket passes for the Florence Cathedral, the dome, and other areas of interest:
Combined Ticket Passes:
Brunelleschi Pass: Full: €30 | Reduced: €12 | Includes all the monuments (Dome, Bell Tower, Museum, Baptistery, Santa Reparata)
Giotto Pass: Full: €20 | Reduced: €7 | Includes all monuments, except the Dome (Bell Tower, Museum, Baptistery, Santa Reparata)
Ghiberti Pass: Full: €15 | Reduced: €5 | Includes three monuments (Museum, Baptistery, Santa Reparata)
Opening Hours:
Cathedral Hours: Monday to Saturday, 10:15 am – 4:15 pm; Closed to tourist visits on Sunday | Admission: Free
Baptistery Hours: Monday to Sunday, 11:15 am – 5:15 pm, Last entry 5 pm.
Museum Hours: Mondays and weekends, 10:15 am – 7:30 pm. Last entry 3 pm.
Giotto's Bell Tower Hours: Daily (Monday-Sunday), 8:15 am – 7:45 pm. Last entry 6:45 pm.
Dome Hours: Weekdays (Monday – Friday), 8:15 am – 7:30 pm, last entry 6:45 pm; Saturdays, 8:15 am – 5:30 pm, last entry 4:30 pm; Sundays and public holidays, 12:45 pm – 5:30 pm, last entry 4:30 pm.
Address: Piazza del Duomo
Not ready to book a tour? Check out the best Florence tours to take and why.
How Long To Spend at the Duomo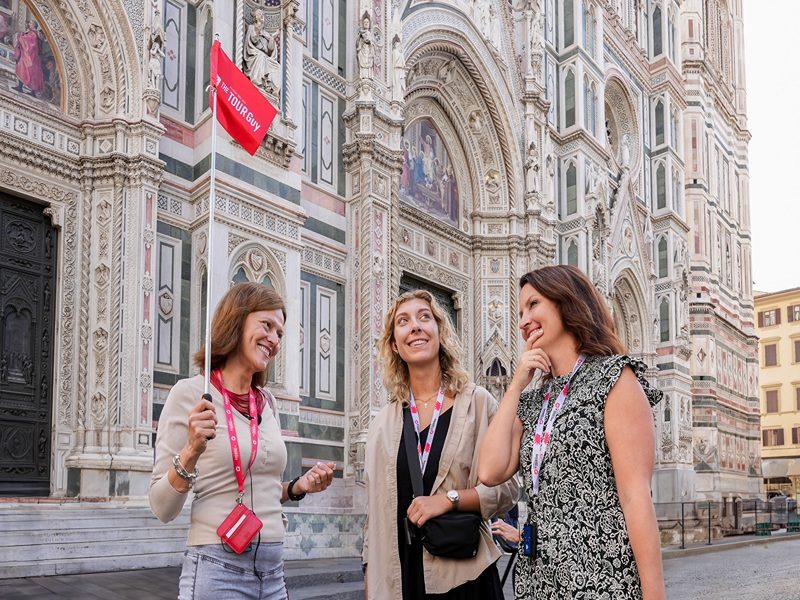 Short Answer: 1 hour
One hour will be enough depending on what you'd like to see. For example, if you only want to see the inside of the Cathedral, then I'd say 1 hour is sufficient, maybe even too much. On the other hand, if you want to visit more than the site or go to the dome, then you'll likely need at least 2 hours.
The architecture of the cathedral is Gothic in style. An important thing to know about Gothic churches is that their exteriors feature the most intricate of art details that exist; however, their interiors are not nearly as ornate. This is why most people are so surprised once they go in and discover the ornate style does not continue on the inside of the cathedral.
If you plan to climb the dome, bear in mind that there are 463 steps to conquer and there's no elevator. We recommend giving yourself at least 1.5 hours to climb the dome. Once you get to the top and see those views, you'll agree it's definitely worth it! That said, we do not recommend the dome for people suffering from heart problems, vertigo, or claustrophobia, or for pregnant women.
The Baptistery is very small so going inside will be a quick visit and 30 minutes is more than enough time. However, you'll probably spend about the same amount of time outside the building admiring those famous doors! More on that below.
How To Get To the Duomo
The Duomo is as centrally located in Florence as it gets and is easily accessible on foot from anywhere in the center. here are some estimated walking times from other top sites:
10-minute walk from Santa Maria Novella Train Station
8-minute from the Accademia Gallery
8-minute walk from Uffizi Gallery and Ponte Vecchio
25-minute walk from Piazzale Michelangelo
The Duomo is located in a massive square that is appropriately called Duomo Square (Piazza del Duomo). It will pop out at you suddenly as you walk down one of the surrounding narrow streets. All of a sudden, boom! The beautiful square opens up with Giotto's Bell Tower on the right and straight in front is the Baptistery. It's very easy to find.
Address: Piazza del Duomo
What To See at the Duomo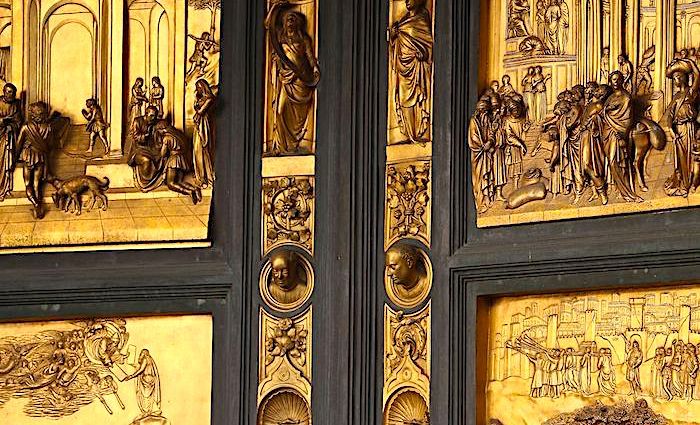 The Church
The Florence Cathedral is a must-see attraction and it would be very difficult to miss when you're in town. The Duomo is in the center and visible from much of the city. It is named the Cattedrale di Santa Maria del Fiore, which translates to the Cathedral of Saint Mary of the Flower. One could assume that the name refers to the flower and symbol of Florence—the Giglio or Red Lily/Iris.
The name Santa Maria del Fiore, however, is seldom used in Italy. Most simply refer to it as Il Duomo. The Duomo was designed in a very Tuscan/Florentine style. Green and white marble brings life to its facade and surfaces. It differs greatly from the Basilica of Rome in many ways. One is that it's completely detached from other buildings so you can walk 360 degrees around it.
By far the most famous moment in this cathedral's history was the murder of Giuliano dè Medici. On Sunday, April 26, 1478, the Pazzi family attempted to dethrone the Medici from power. The idea was to murder both Giuliano and Lorenzo the Great, but they failed to kill Lorenzo and were banished from Florence.
The Dome
The Opera del Duomo ran a competition in 1418, which was won by Filippo Brunelleschi. Work on the dome didn't start for another two years and many thought it impossible, but the Medici family pressed on and Brunelleschi completed it in 1434.
The dome, which was the first of its magnitude since the Pantheon, was masterfully built to withstand lightning, earthquakes, and the passage of time. To this day, people stare in awe at how something so gigantic could have been built so long ago…and still be intact!
To fully appreciate the dome, we have to understand a few things about the architect. Filippo Brunelleschi was a goldsmith and sculptor by trade. He had no formal training as either an architect or an engineer. When he won, Florentines were expecting a top-class architect to cap their beloved Duomo, but instead, they got an artist who works gold.
The other important factor is that the design didn't call for flying buttresses as most Gothic churches had at the time. Luckily, Brunelleschi had an idea to solve that. He would build two domes—one inside the other. This technique had never been utilized in dome construction before and to this day is still regarded as a remarkable engineering achievement.
The Baptistery
The Baptistry doors are attached to the Baptistry of St. John in Florence. This is directly in front of the Florence Cathedral (Il Duomo). It's so close to the cathedral and has such a similar design that it appears to be the same structure but it's a church of its own and considered a minor basilica.
The structure is one of the oldest in Florence, dating back to the late 11th century. The building is recognized in popular culture for three sets of doors but mostly the east doors, which are the best. The doors were designed and constructed by Lorenzo Ghiberti and his workshop and took 27 years to complete.
The main reason is that they were done in the early 15th century when art was excelling at a breakneck pace. This was basically when the Renaissance was becoming the Renaissance. Many new techniques were being developed, including better uses of space and perspective. Ghiberti was already a local celebrity for his designs on the north doors and these would be his masterpiece.
His time was well spent–these doors are commonly referred to as the "Gates of Paradise," which was coined by Michelangelo himself. Vasari, one of Florence's greatest artists and art critics, described them in his book "Lives of the Artists" as, "undeniably perfect in every way and must rank as the finest masterpiece ever created."
The Museum
In 1296, the Opera del Duomo or Cathedral Workshop was founded by the republic of Florence to build the church and bell tower. Once these architectural wonders were finished in the mid-15th century, the task of the opera shifted to conserving the above-mentioned monuments.
In 1891, they created a museum to house all of the statues and artwork they removed from the church and Baptistery over the centuries. The space dedicated to this endeavor is massive, with over 64,000 square feet (6,000 meters) on multiple floors to house over 750 works of art.
Spanning more than 700 years of artists, it's safe to say that here you'll find one of the biggest concentrations of Florentine artwork. There are pieces by masters such as Donatello's wooden statue of a penitent Saint Mary Magdelene. You'll also find Ghiberti's original doors for the Baptistery, otherwise known as the Gates of Paradise.
Many people don't know that you can even find a statue by Michelangelo. It was a pieta that he created later in his life which he was supposedly carving for his own tomb. There's damage to his left leg and arm, which according to legend, was self-inflicted due to his frustration with his failing skills as he aged.
Duomo Tour Options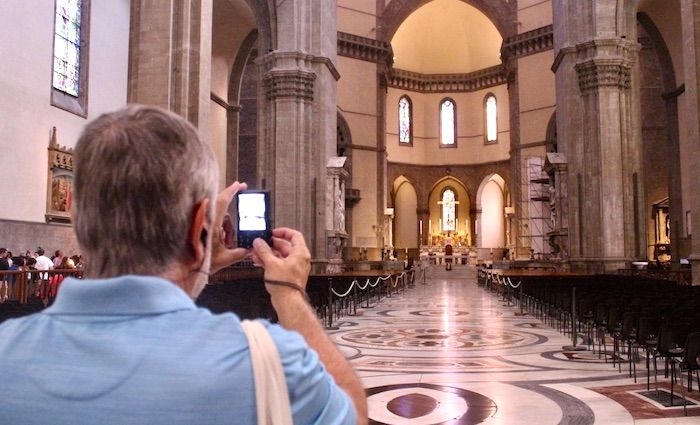 ---
When it comes to an iconic monument like Florence's Duomo, there's always a lot of history to explore. On a tour, your guide will share stories about the period, place, people, and relevant artistic movement so you have the context you need to truly appreciate the monument.
This is what makes guided tours so invaluable when visiting a new city! Our local guides are passionate about what they do—so no boring moments on our tours! Not to mention tours also save you tons of time on the logistics of seeing top sites.
If you want the full Duomo experience, we recommend taking our Florence Duomo Tour and Dome Climb with secret terraces and skip-the-line access.
Gothic-style churches are often most ornate on the exterior. So, you might want to take one of our Florence walking tours that include the city's other top architectural sights and galleries along with a tour of the exterior of the Duomo.
It all depends on your interests and time flexibility! Here are a few of our top-rated Florence Duomo tours:
What's more iconic than climbing to the top of the famous Florence Duomo to see the Renaissance city from the best viewpoint? Don't wait to book this tour of the dome and secret terraces of the Florence Cathedral.
If you're a more active traveler, it's the perfect way to get to know Florence's beloved cathedral and explore areas that the general public isn't allowed to see.
See tour itinerary, price, and description
This is our most popular tour in Florence. It includes skip-the-line admission to the David and Accademia for a guided visit. Your English-speaking guide will then take you to see the Duomo, Cathedral of Santa Maria del Fiore, from the outside.
You'll also see the Baptistry Doors, Piazza della Signoria, Ponte Vecchio, Dante's District, the Bronze Boar, Leather Market, and Orsanmichele Church. There's always time for a gelato stop too!
See tour itinerary, price, and description
Make the most of your trip to Florence by getting to know the most beloved sites in a single day. With skip-the-line tickets and a fun, local guide, you can breeze through the Accademia and Uffizi galleries, see the Florence Duomo from the outside, and visit the famous Ponte Vecchio.
You'll also enjoy stops at the neighborhood where Dante grew up and learn about the Medici family who shaped Florence into the city we know today. It's a fantastic way to spend a day in Florence exploring the best galleries and architecture.
See tour itinerary, price, and description
This is the private version of our Florence Walking Tour with the Statue of David listed above. It comes at a higher price but your group will be the only people with the guide. This is a great option for anyone who enjoys a customizable experience.
See tour itinerary, price, and description
Not ready to book a tour? Check out the best Florence tours to take and why.
Places To Eat Nearby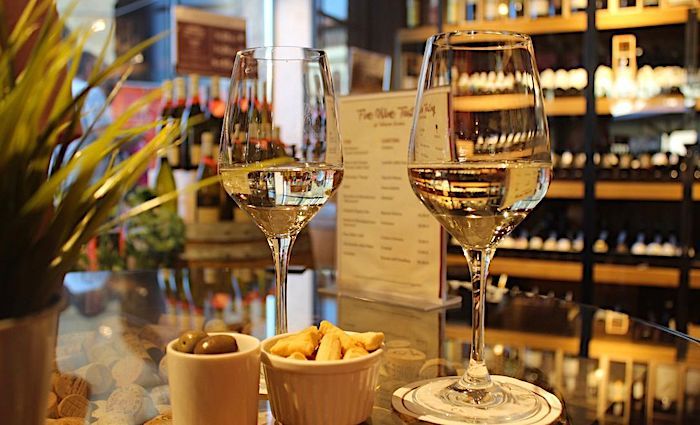 When visiting the Duomo, you'll likely work up an appetite! it's a good idea to have a few solid restaurant recommendations, so you can have a great meal nearby.
For the foodies, we also have a great Florence local food tour in popular Santo Spirito.
Here are a few great places to eat near the Duomo. For more options, check out the best restaurants near the Florence Cathedral.
Coquinarius: €€ | Great Atmosphere—Authentic cuisine right in the middle of Florence. People love the Pear ravioli. They also have an extensive wine list!
La Ménagère: €€ | Chic Bistro—They serve coffee, breakfast, and lunch. It's perfect if you're looking for a break from pizza and pasta or a substantial breakfast.
Trattoria Dall'Oste Chianineria: €€ | Steak House—Florence is famous for the Bistecca Fiorentina (Florentine Steak). This is the place to go to try it!
Trattoria Mario: € | Tuscan Cuisine—A no-frills, local spot for lunch and dinner. When eating here, you'll feel like a local.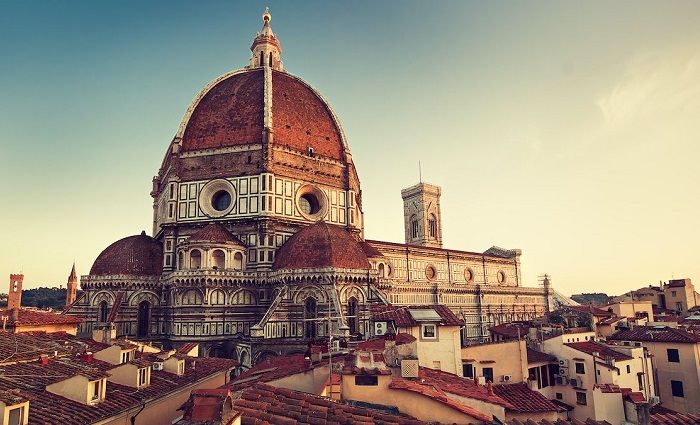 Find the best places to stay
Where To Stay in Florence
Florence has a small historical center packed with iconic landmarks to explore. Plan where to stay in the best neighborhoods in this beautiful city.