No matter your budget, traveling can get expensive. London is one of the most expensive cities in the world. Dining out, hotels, and essential attractions can wreak havoc on travel expenses. One way to save money is to integrate some free activities into your schedule. We've curated a list of great free things to do in London.
---
Pro Tip: Planning a trip to London? Bookmark this article in your browser, so you can circle back to it while strolling down the streets of London town. Also, don't miss our walking tours of London, our guide to London for more planning resources, and how to see London in a day.
Top Free Things To do in London
There are quite a few cool things to do in London that won't cost you a penny. Would you believe that all public museums in London are free? They are, and it's crazy when you consider that you'll pay up to €25 to see the same level of artwork in Barcelona, Paris, or Rome. Here are the top free things to do in London.
10. The National Portrait Gallery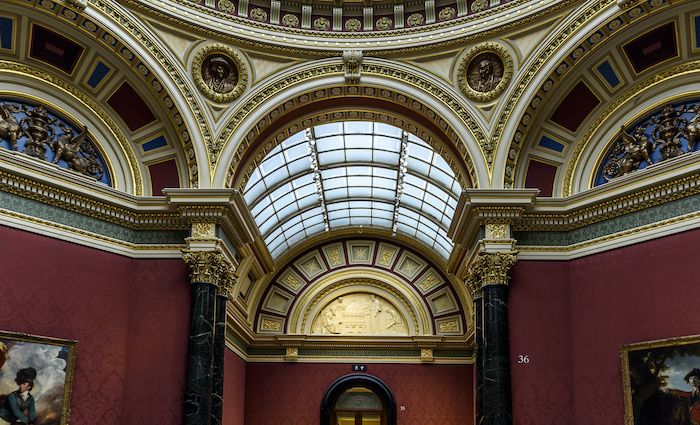 Opening in 1856, this is the first portrait gallery in the world. You'll get a good look at the most important historical figures in Britain—it's like being face-to-face with all of the famous kings and queens of England! Visiting this small gallery is a great experience and, of course, a free thing to do in London.
Address: St. Martins Pl, Charing Cross
9. The National Gallery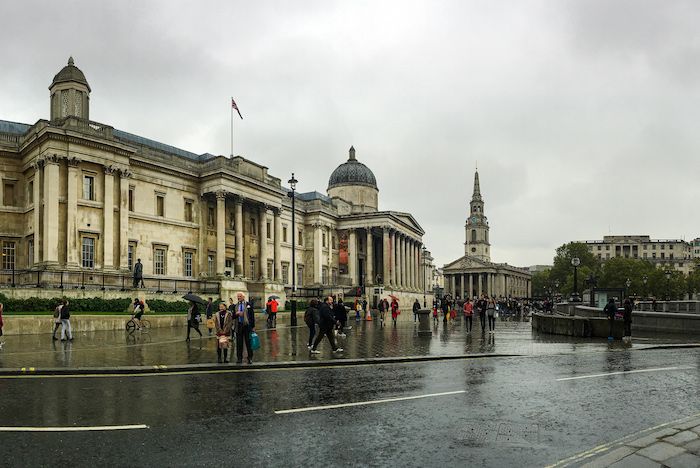 The National Gallery is in the center of London, facing Trafalgar Square. Compared to the major museums in continental Europe, this collection is much smaller. It houses the works of artists from Giotto to Cezanne.
It's not every day that travelers can pop in and easily admire art from most of the old masters. After time in the museum, you can enjoy afternoon tea in the café next door.
Address: Trafalgar Square
Popular London Tours
Popular London Tours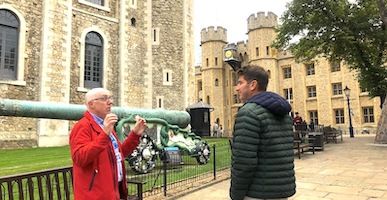 Best Selling Tour
Legends and Lore Tour of the Tower of London
How can you explore London's top attractions without getting overwhelmed? By joining this guided small group tour! With 1,000 years of history and acres of buildings, the Tower of London is easier to explore and understand with the help of your local guide. Best of all, you'll even see the famous crown jewels and have a boat ride down the River Thames.





See price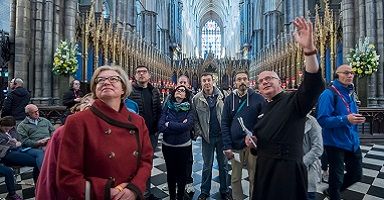 Top Selling Tour
London Walking Tour with Westminster Abbey and Changing of the Guard
This is the perfect tour for someone who wants to get to know the real Westminster Abbey. With skip-the-line entry, you get some quiet time in the nave of the abbey with your guide and small group before exploring the tombs of notable kings, queens, philosophers, and more. Depending on the day, you'll even get to see the Changing of the Guard ceremony at Buckingham Palace.





See price
Not ready to book a tour? Check out our article on the best London tours to take and why.
8. Changing of the Guard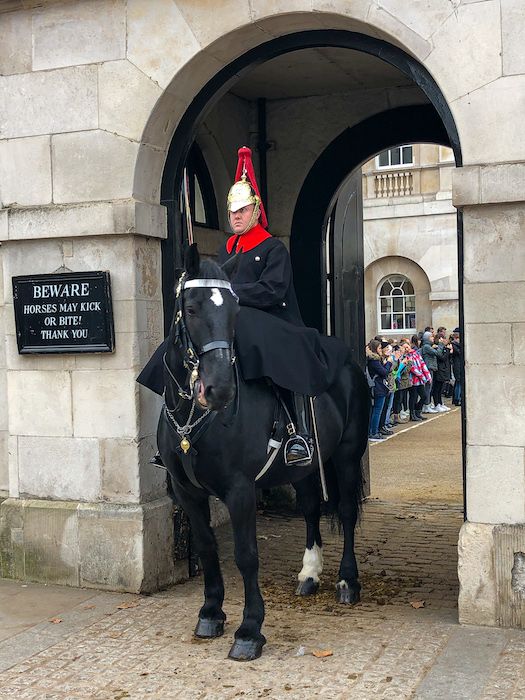 Every day at 11 am in the early summer (otherwise, four times a week), the Queen's Guard performs a time-honored ceremony in front of Buckingham Palace. The new replacement guards march with a band to relieve the old guards.
The best place to see the changing of the guard is from the Victoria Memorial in front of Buckingham Palace, which is completely free to do! You can also watch from St. James's Palace at 10 am. 
Alternatively, experience the changing of the Life Guards at the Horse Guards Parade. With their shiny breastplates and white plumed helmets, the mounted cavalry unit has stood guard since 1660. If you like horses and fewer crowds, this is the ceremony for you. The Queen's Life Guard changes every day at 11 am. 
Location: St James's Palace | Buckingham Palace | Horse Guards Parade
7. People Watching at Picadilly Circus
While the continent may have its giant squares, London has circuses or circles. Picadilly Circus is at the junction of Picadilly, Regent Street, Haymarket, and Shaftsbury Avenue. That means you're a stone's throw away from some premiere shopping. Over 100 million people go through the area every year.
Legend has it that if you stay there long enough, you'll see the whole world pass by. So, it's an incredible place to go people-watching! The famous statue of Eros sits on top of the Shaftesbury memorial. The iconic electronic advertisements have covered the area since 1910. 
Address: Picadilly Circus
6. Window Shopping in Historic Districts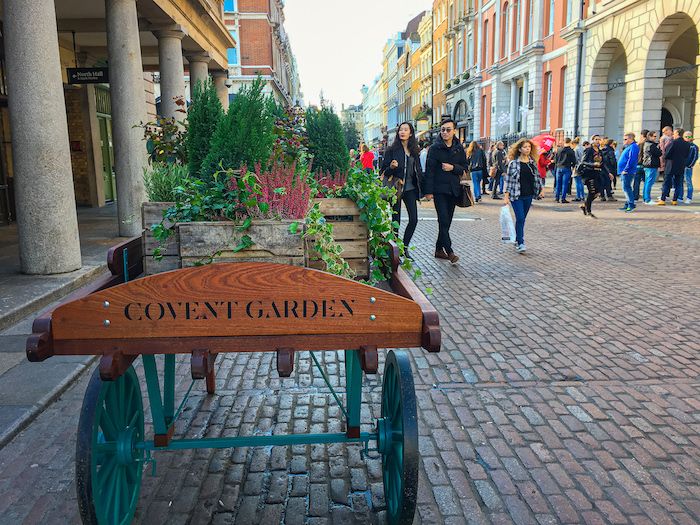 People from all over the world visit London to shop in its iconic and very fine department stores. Visiting stores like Liberty, Fortnum & Masons, and Harrods is an experience all to itself.
Travelers can choose to stroll down Regent Street, Jermyn Street, Oxford Street, and Bond Street to look admire the beautifully curated displays and, unless you're tempted to make a purchase, it's another free thing to do. 
Covent Garden is an excellent place to people watch and it's great for shopping. Several boutique shops line the square adding to the lively atmosphere.
Location: Covent Garden | Regent Street | Jermyn Street
5. Walking London's Royal Parks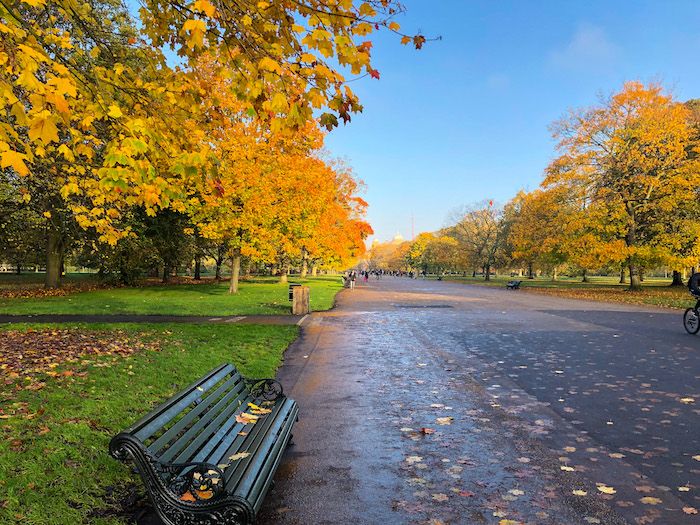 London has no shortage of green spaces for travelers to enjoy for free. There are several Royal Parks in central London where you can take a casual stroll. Head to Hyde Park, St James, and Regent's Park. They are royal parks because the land once belonged to the king or queen.
Visiting these parks is a great way to quickly escape the urban side of London. All of the parks are family and dog-friendly. There are several walking and cycling paths to enjoy.
If the weather is right, you'll see many Londoners flock to the parks to get some fresh air or enjoy a picnic. Visiting parks is one of the best free things to do in London because you'll kill two birds with one stone. First, you'll spend time enjoying the more local side of life in London without spending money. Second, you'll get to walk off the fish and chips!
Location: Hyde Park | St James's Park | Regent's Park
Not ready to book a tour? Check out our article on the best London tours to take and why.
4. Kensington Palace Gardens
Kensington Gardens is now the Western half of Hyde Park. This beautiful part of the park includes the Albert Memorial, Peter Pan Statue, and of course, Kensington Palace. This famous Royal residence has been home to Queen Victoria, Princess Diana, Prince William, and Prince Harry.
Next to the Palace is the sunken garden, built in 1908 and modeled after Hampton Court Palace. It's a nice quiet spot to rest under royal grandeur. You might recognize this garden as the site of the announcement of the engagement of HRH Prince Harry, The Duke of Sussex, to Miss Megan Markle. 
Address: Kensington Palace, Kensington
3. Brompton Oratory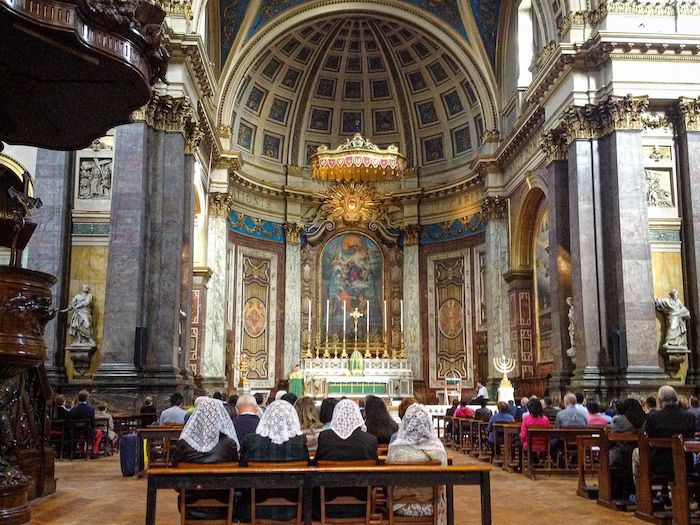 Officially, the 19th-century church is known as the London Oratory. It is the second-largest Catholic church in London. The nave of the London Oratory is wider than St. Paul's Cathedral.
When I called London home, this was my parish church. The architecture and ambiance will instantly transport visitors to Rome. Even though the church was built in 1884, the architecture is unequivocally Italian baroque. Music lovers should try to attend mass to hear the stunning choir accompanied by London's most crucial organ in the post-World War II era. 
Address: Brompton Road, Knightstbridge
2. British Museum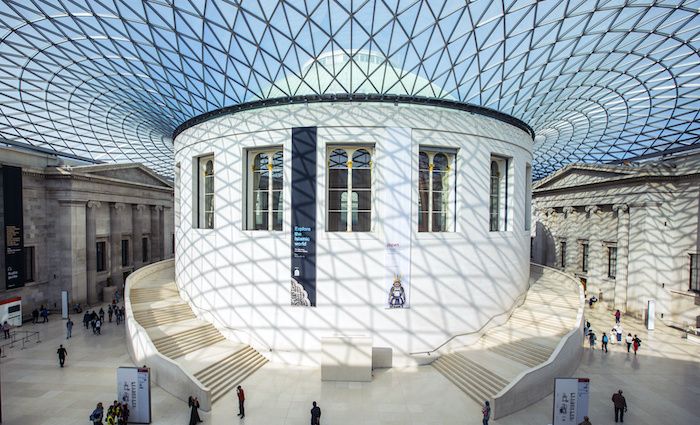 The British Museum is the best free museum on the planet. Travelers can discover two million years of history and culture. The museum is massive and crowded, so have a game plan to see your favorite civilization first.
Some of the most famous and ancient pieces like the Rosetta Stone, Bust of Ramses, and Parthenon sculptures all reside in this incredible free museum. 
The British Museum is one of the best museums in the world, which is why it's hard to believe you can visit it completely free of charge. This is our pick for the top free museum to visit in London.
Address: Great Russell Street, Bloomsbury
Check Out Our Best Day Trips from London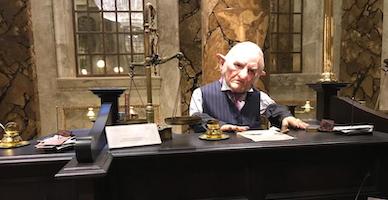 Top-Rated Tour
The Magic of Harry Potter: Warner Bros Studios & Walking Tour of London
On this full-day Harry Potter experience, immerse yourself in the world of witchcraft and wizardry. With your expert, Harry Potter loving guide, explore the filming sights in London before heading to Warner Bros Studios by Private Coach. See the real Hogwarts, Sorting Hat and more on this memorable experience.





Starting at €149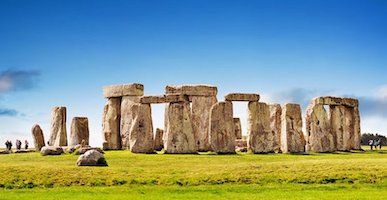 Top-Rated Tour
Windsor Castle, Stonehenge and Bath Day Trip from London
Join this full-day trip from London for the ultimate day through British history and culture with an expert guide. At Windsor Castle, skip the lines and see how the English Royals live. At Stonehenge, immerse yourself in the mystery of the 4000-year-old Neolithic structures. Lastly in Bath, take in the Roman Baths from the first century AD, the best symbol of Roman Britain.





Starting at €149
Not ready to book a tour? Check out our article on the best London tours to take and why.
1. Choral Evensong at Westminster Abbey or St. Pauls Cathedral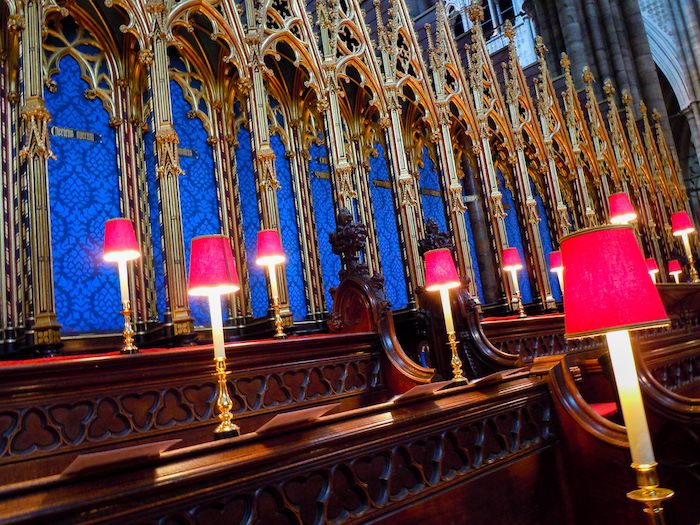 Evensong is a Christian service in the Anglican tradition. A full choral evensong is a treat because most of the liturgy is musical. In the Catholic tradition, this service is traditionally called Vespers. It allows listeners time for restful contemplation–travelers, the religious, and atheists alike. All under the splendor of amazing architecture.
At Westminster Abbey, the Evensong service is Monday, Tuesday, Thursday, and Friday at 5 pm. If you line up early, by 4 pm, you'll likely get to sit in the choir of the Abbey. At St. Paul's Cathedral, choral evensong is every Monday to Saturday at 5 pm.
Location: Westminster Abbey | St. Paul's Cathedral