Whether you're coming for a romantic getaway or a family adventure, spending New Year's Eve in London to celebrate the New Year is a fantastic idea. London offers even more entertaining activities during the holidays, from ice skating and Christmas markets to city tours and elegant dinners. Read on to discover the unmissable experiences that will make your New Year's Eve in London unforgettable!
---
Pro Tip: Planning what to do on your trip to London? Bookmark this post in your browser so you can easily find it when you're in the city. Check out our guide to London for more planning resources, our top London tours for a memorable trip, and how to see London in a day.
The 8 Best Things to do on New Year's Eve in London
So, you've decided it's worth heading to London for New Year's Eve. Great choice! London is a city that knows how to throw a party, and there's something for everyone no matter your budget.
Trafalgar Square is the most iconic place to spend New Year's Eve. It's where everyone gets together to party. There is even an official fireworks show over the Thames River. While in London, you can't skip some of the holiday attractions still available during this time. Of course, you'll also need to splurge on a dinner that will leave a lasting impression as the best meal of your life.
So, hop into our list of things you can choose to do on New Year's Eve in London! We hope you have a fantastic time ringing in the new year!
Pro Tip: Public transportation in London runs special overnight services for the Tube (subway) and buses in London. All public transport is open on New Year's Eve.
Not ready to book a tour? Check out our best London tours to take and why.
1. Celebrate New Year's in London in Trafalgar Square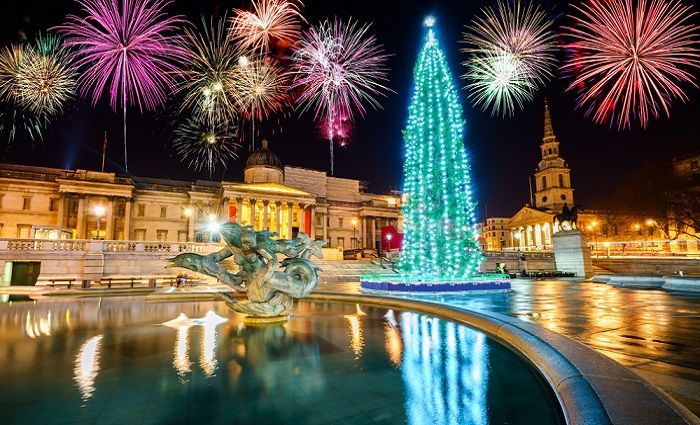 If you want to spend your New Year's Eve surrounded by people from all over the world and Londoners, head to Trafalgar Square. This iconic location is the epicenter of the midnight countdown in London.
Trafalgar Square is one of the main squares in Central London and the National Gallery sits imposingly just behind the square. Historically, this is where Londoners gather to celebrate, mourn, and protest. It has a Times Square-like atmosphere during New Year's Eve.
Just know that it will be crowded as it's the central point for celebrating in the city. It's best to take the tube and avoid taking a taxi due to traffic congestion.
2. Splurge on a Fancy Cocktail Bar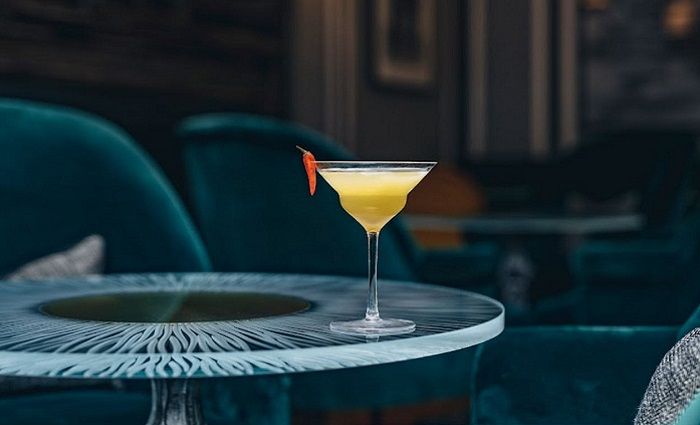 London has some of the best cocktail bars in the world. Five out of the top 50 cocktail bars are in London, and many are in stunning locations that offer incredible views or exquisite surroundings.
The Donovan Bar, located in Brown's Hotel in Mayfair, is my go-to in London. Expertly crafted cocktails are served by a team of mixologists led by the Italian great Salvatore Calabrese. Look around when you arrive—I might be in the corner enjoying the most perfect Negroni you can hope to have in London.
Their Vesper Martini is whopping £200. Why? Well, it's made from the original Ian Fleming recipe and uses ingredients from the 1950s.
The American Bar in the Savoy Hotel is another classic cocktail bar in London. It opened in 1893 and was a regular haunt of Winston Churchill. The Savoy Hotel also has many great events planned around New Year's Eve.
Need even more ideas? Well, don't miss the Sky Garden pictured above if you're looking for a cocktail bar with a view.
3. See the Official Fireworks Show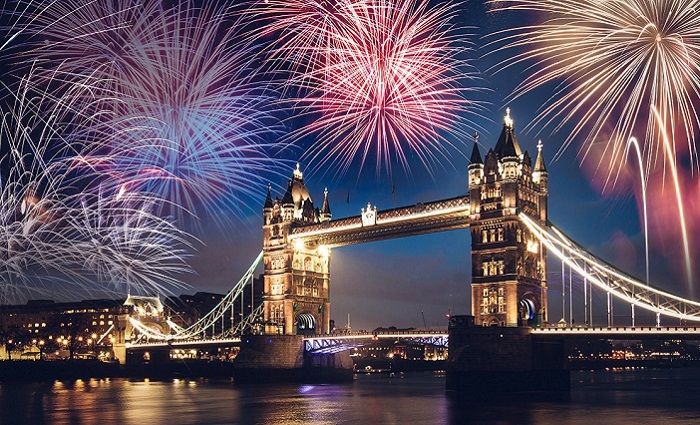 After a long absence due to the COVID-19 pandemic, the London Fireworks Show over the Thames River is back. This spectacle is the biggest fireworks show in London to celebrate the New Year.
The event takes place near the London Eye and requires tickets. Tickets are £15 each with several official viewing sections are along the Thames River. The fireworks are only viewable from the ticketed areas, so plan ahead if this activity is one you just have to do.
4. Experience a Show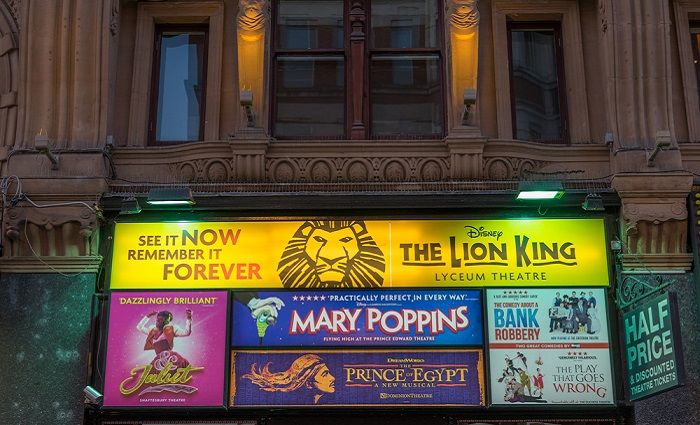 The West End Theater District in London offer theater performances at a fraction of the cost of New York's Broadway. The world renowned theaters put on dazzling spectacles and there are many musicals and plays to choose from.
There is also a slate of shows dedicated to the Christmas season. Pantomimes and Christmas shows are part of the theater tradition in London during this time of year, and most theaters will have a matinee performance on New Year's Eve in London. It's perfect if you're here with kids and need to keep them entertained for part of the day.
To get the best deals—and avoid any possible counterfeit tickets—purchase tickets directly from the theater or from the TKTS booth in Leicester Square.
5. Get to Know London's Best Attractions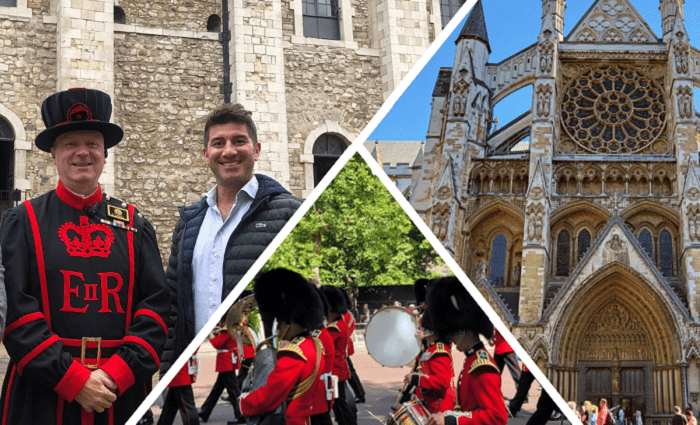 London is a huge city to explore, but there are a few sites that are must-see attractions. Fortunately, you can even see them in a single day, with plenty of time to get ready for your night on the town.
Explore London's most popular church, Westminster Abbey, before heading for a view of Buckingham Palace and the Changing of the Guard. A sightseeing cruise down the Thames takes you to the Tower of London where you'll learn about London's more gruesome history. Spot the infamous ravens and Beefeaters here and head inside to see the Crown Jewels too.
Or you can just book a tour of Westminster or Tower of London separately if you'd rather not spend the day touring. Either way, don't miss your chance to spend your New Year's Eve day in London seeing the sites.
Not ready to book a tour? Find out if London tours are worth it.
6. Take the Whole Family to the Natural History Museum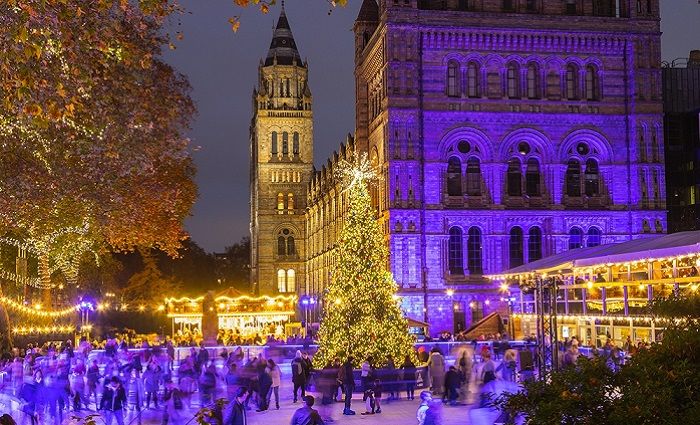 The Natural History Museum is one of the many free museums in London that is family friendly. School-aged children especially love the larger-than-life exhibits on dinosaurs, and their display of a Diplodocus Dinosaur was the first to go on display in 1905!
Directly outside of the museum, there is also a carousel and an ice skating rink during the holiday season. For New Year's Eve, you can party inside the museum during their Jurassic Party. The ticketed event includes live performances, DJs, a silent disco, gallery access, and drinks.
The event was sold out in 2019, so get your tickets fast!
7. Ice Skating at Sommerset House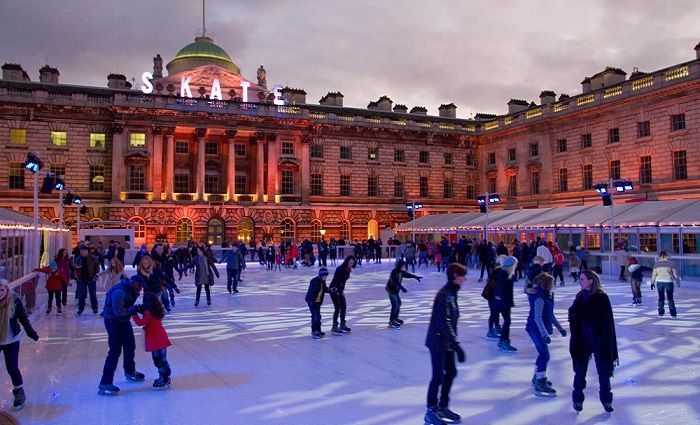 Somerset House is a grand 18th-century house that is now a public space. During the holiday season, there is an ice skating rink in the central courtyard and a 40-foot Christmas tree. It's like being at NYC's Rockefeller Center, but in London!
Ice skating at Somerset House during the holidays is now part of the London tradition. On New Year's Eve, the skating session is usually open from 10 am – 4 pm.
At 7 pm on New Year's Eve, a special ticketed event begins at Somerset House on New Year's Eve. The event includes food, a DJ, ice skating, and views of the London New Year's Eve fireworks show.
8. Shopping and Afternoon Tea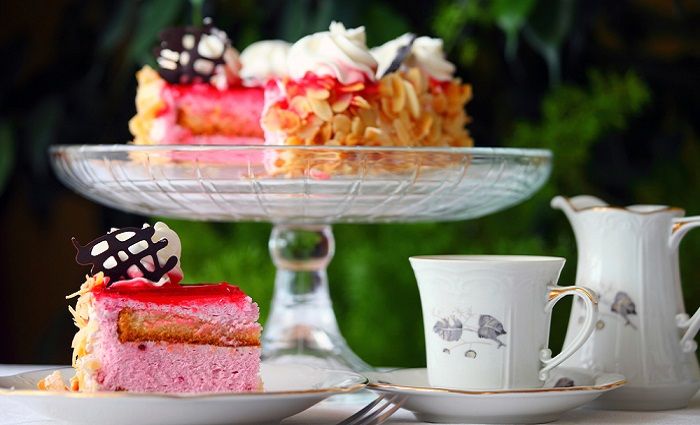 You can start your celebration early with shopping and indulging in afternoon tea. The major shopping areas in London are Covent Garden, Regent Street, Piccadilly, and Oxford Street. The good news is that if you are near one of those streets, you are close to one of my recommended places for afternoon tea.
Major stores like Fortnum & Mason have their shops decked out for the holidays. Afternoon tea is another British classic available on New Year's Eve. This is a great option for those who don't want to stay out late or deal with crowds at restaurants.
Not ready to book a tour? Find out if London tours are worth it.