Looking to celebrate Thanksgiving in the most traditional way possible while visiting Paris? Though the cuisine in Paris is delicious, Thanksgiving isn't really Thanksgiving without the traditional carb-filled meal. Even if you're in Paris during the holiday, you shouldn't have to miss out on your fall feast.  So, we've decided to put together the perfect guide for spending Thanksgiving in Paris. 
---
Pro Tip: Planning a holiday to Paris are you? Bookmark this post in your browser in a "Paris" folder along with our post on what not to miss at the Louvre museum. The folder can act as your virtual guidebook on the go! 
Also, its great to wander around and pop sit for a coffee but you're going to want some structure to your trip.  Check out our best guided tours to take in Paris this way you can get the local perspective. 
Weather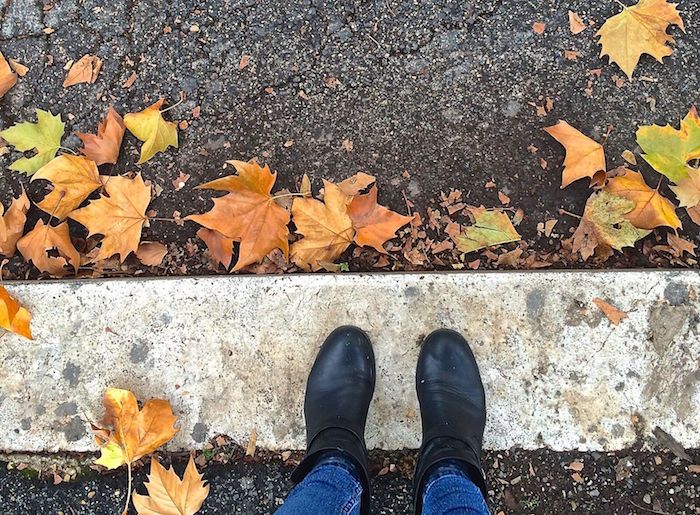 Thanksgiving is actually a good time to visit Paris. Although the weather is cold, the city is far less crowded.
Also, prices go down in Paris during this time of the year, from accommodation to flights.
If you're visiting Paris in November, then make sure to pack warm clothes. Temperatures can go from 42ºF to 50ºF (5-10ºC).
We suggest bringing gloves and an umbrella to ultra-prepare for any weather that might come your way.
Things to do
Although it may not be the perfect weather for enjoying outdoor activities, there are many things to do in Paris during November.
Visiting the world's largest museum is one of them. The Louvre Museum is the perfect place to visit during colder days in Paris.
If you're looking for the best way to visit the Louvre, join one of our expert guides on our Insightful Louvre Tour and follow them while they bring history back to life.
Dare to explore Paris's undergrounds! The Paris Catacombs are one of the most interesting sights to visit in Paris.
Filled with bones from more than 6 million Parisians, these catacombs have many stories to tell.
They are known for their labyrinth-like tunnels. But don't worry, our savvy guides will lead the way on our Paris catacombs tour and amaze you with stories that few may know!
Visit the Christmas lights on Champs-Elysées is always special. This year they'll go up the day before Thanksgiving, so make sure to take a stroll through this Avenue and startle yourself with the beautiful illuminations.
If you're visiting Paris during Christmas then don't miss our post about things to do during Christmas in Paris.
Our Best Guided Tours of Paris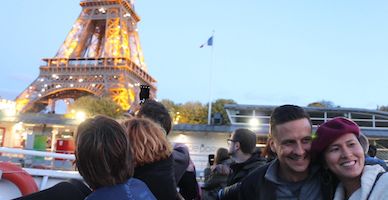 Likely to Sell out
Privileged Access Eiffel Tour with Champagne on the Seine
Sometimes the most amazing moments happen by chance. Other times, they are orchestrated by professionals. Our Eiffel tower tour cruises by the famed monument as it lights up and you drink champagne. After, you'll have tickets to enter the tower and ascend to the 2nd level with an elevator. Admissions included and we'll take care of the details… you simply pay and show up!





See Prices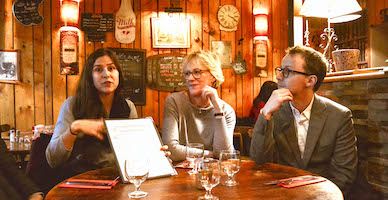 Top Selling
Le Marais Paris Food Tour with Champagne & Local French Food!
Embark on a culinary journey in Le Marais, one of the hippest neighborhoods in Paris. Enjoy a feast of French cheese, street food, boeuf bourguignon and crème brûlée, and more. This three-hour food tour combines the best of Paris' culinary heritage.





See Prices
Thanksgiving dinner in Paris
Now, let's get to the important stuff! Where can you go for a traditional Thanksgiving in Paris?
Of course, this American tradition cannot be complete without a roasted turkey dinner. Here is our selection of the best restaurants for a traditional Thanksgiving dinner in Paris:
Breakfast in America
The name basically says it all. This restaurant serves typical American food, perfect for Thanksgiving.
They have two locations, one in the Latin Quarter near Notre-Dame and another in Le Marais.
Address 1: 17 rue des Ecoles | Address 2: 4 rue Malher | Tel Latin Quarter: 01 43 54 50 28 | Tel Le Marais: 01 42 72 40 21| Cost: €€ | Website: https://breakfast-in-america.com/ | Reservations: No | Email: [email protected]
Ô Chateau
This year, Ô Chateau will offer a three course menu. Expect a tasty Thanksgiving turkey with mac and cheese for your main course.
For dessert, get excited for a delicious pecan pie topped with ice cream. This menu includes a wine pairing list, which you can choose 3 wines and 1 champagne.
Turkey, mac, pie, wine, what else can a person need?
Address: 68 rue Jean Jacques Rousseau | Tel: +33 (0)1.44.73.97.80 | Cost: €€€ | Website: www.o-chateau.com | Reservations: Yes | Email: [email protected]
Hard Rock Cafe, Paris
The Hard Rock Cafe is a great place to spend Thanksgiving in Paris. This year, the Hard Rock will serve a tasty Thanksgiving meal complete with your favorites.
Prepare for a delicious roasted turkey with chestnut stuffing and mashed potatoes, followed by a heavenly pumpkin pie with whipped cream. Can't get more traditional than this!
Address:  14, boulevard Montmartre | Tel: +331-5324-6000 | Cost: €€ | Website: https://www.hardrock.com/cafes/paris/  | Reservations: Yes | Email: [email protected]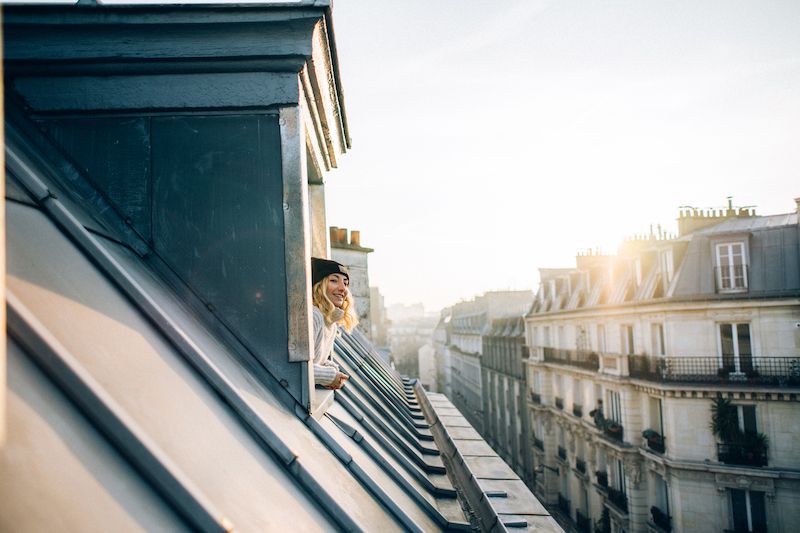 Find the best places to stay
Where to Stay in Paris
With a city as magnificent as Paris, it can be hard to find the perfect hotel at the perfect price. Explore the best hotels and places to stay in these incredible neighborhoods in Paris.
---
I Want More Paris!
Not sure what to do in Paris? Check out our step-by-step guide about how to do Paris in a Day. If you'd rather let us guide you, check out our Paris tours.
Parlez-Vous Francais? Learn some of the most important French phrases before your trip to Paris.