Épernay, France hasn't always been the Champagne city. The once religious city in the Marne department in Northern France was home to monks, priests, and nuns who ran the town until the city fell into the hands of the Counts of Champagne. Since then, Champagne connoisseurs from all over the world consider Épernay a beacon to flock to with over 300 Champagne crus to taste. Épernay also features some of France's most beautiful architecture and gardens. Here's your guide to the history and top attractions of Épernay!
---
Hey, we sell tours too!

While the information provided in this post is free, we also sell tours at reasonable prices. On your Paris vacation, there's no reason to have to wait in long lines and tour the attractions with masses of people. Luckily, we provide skip the line Paris tours that will allow you to make the most out of your stay. After a day of seeing the main sights like the Louvre and the Paris Catacombs, why not check out one of our Paris day trips? On our Day Trip from Paris to the Champagne Region, you will be able to explore the intricate process of curating Champagne while also visiting some charming local towns.
9. Theatre Gabrielle-Dorziat
Épernay's own Gabrielle-Dorziat gave this theatre its name after she started her roots and began her acting career on this theatre's stage. The Theatre Gabrielle-Dorziat withstood the fires and bombings of World War I and served as a place of relief and relaxation during Épernay's tense times. The theatre showcases various performances to this date, such as dance, jazz, classical music and famous dramas. Check out the listings and if any interest you, come watch a show on this historical stage.
8. Hôtel-Dieu de Château-Thierry
Although the name deceives most into thinking it would be a luxurious place to check-in at at first glance, this building once operated as a hospital and hospice center for poor people. The Augustinian nuns fully operated the building from the early 14th century to the death of its last nun in 1966. Over the years of operation, the nuns and wealthy patrons of the hospital had the building expanded and remodeled. Because of this, you will see a mixture of the original architecture as well as embroidered paintings and religious sculptures. Now, the hospital serves as a museum where guests can walk through, learn about historic medicine and view the cells in which nuns slept.
7. Champagne Houses
Champagne houses are huge 19th century mansions that have been converted into Champagne crus. The two most notable ones to check out are the Moët & Chandon house and the Perrier-Jouët house. Both houses have neat underground cellars that you can tour. Word of advice though, watch out for the humidity you may experience. Although the humidity is great for the storing and fermenting process of Champagne, it's horrible for hair that is faint of frizz.
The De Castellane House is another great choice to opt into for a tasting! Founded in 1895, the Champagne from this house is nicknamed 'the most mysterious Champagne'. The most intriguing part when visiting this house is not the Champagne itself but an exhibit called the 'Label Room' where you can see all 500 of De Castallene's labels throughout history on display.
6. Portail Saint-Martin
The Portail Saint-Martin dates all the way back to 1540. It's the oldest monument in Épernay and the last remains of the Abbey of Saint-Martin. What's left is a tourist attraction that showcases a wide variety of stonework that can still be recognized in its incredible architecture. The stonework includes cherubs, Hercules, and animals–most notably, a salamander which is said to have been a personal emblem for the church reign of Francis 1.
5. Avenue de Champagne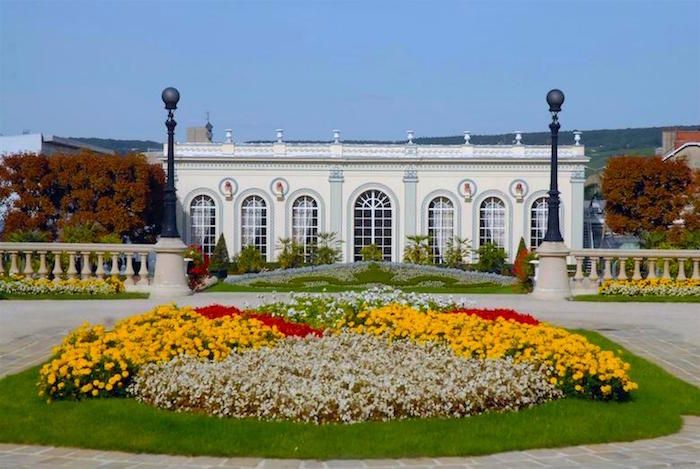 As the main focus in Épernay, the subject of Champagne has been reeling people in to come visit and have a taste for themselves over the past century. When people visit Épernay, one of the first places they check out, among many, is the Avenue of Champagne. The Champagne almost distracts you from noticing the beautiful architecture that can be seen above ground and below, throughout the underground tunnels that stretch for miles storing racks of maturing wine and champagne. Along with the Avenue of Champagne, Épernay has wide variety of other historic sights that double as Champagne crus!
4. Jardin Botanique de la Presle
This botanical garden started out as a private nursery 20 years ago, but then opened to the public in 2001. The Jardin Botanique features a variety a plants from Kyrgyzstan, Eastern Turkey, the Balkans and Spain's Sierra Nevada. While guests are surrounded by the sights and scents of over 500 different types of Roses, there is a labyrinth that they can solve.
3. Reims, France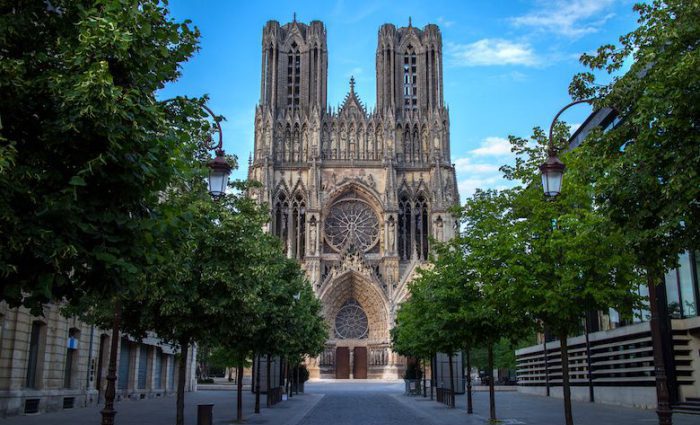 Though a little north of Épernay, Reims, France is also a great place to travel to and continue the ultimate Champagne tour! Since both Épernay and Reims are overflowing with opportunities to taste a wide array of Champagnes, The Paris Guy offers day trips to both towns in one tour. If you are of the adventurous type and love to try new things, especially drinks– this is definitely for you. The Champagne Region Day Trip from Paris includes seeing some of the attractions listed above as well as lots of Champagne and delicious food.
2. The Abbaye Saint Pierre d'Hautvillers
Also in Reims is The Abbaye Saint-Pierre d'Hautvillers. Champagne connoisseurs travel specifically to this Abbaye to pay their respects to Dom Pérignon. Pérignon was a pioneer in the Champagne industry and a Benedictine monk who paved the way for a more modernized and perfected process of Champagne-making. You can see why Champagne lovers would come from all over to visit his tomb and pay their respects.
1. The Local Eats
As far as the cuisine goes, there are endless places to grab a bite to eat or have a sit down meal in Épernay. La Grillade Gourmande and Patisserie Vincent Dallet are some great places to name a few. La Grillade Gourmande is fine dining, so go here to sample Champagne selections and prepare yourself for a fancy and delicious meal that fits the price. The cuisine is French and European and they also have vegetarian options. Lastly, you can't forgo dessert! Patisserie Vincent Dallet has a wide variety of pastries to choose from. The aroma and desserts featured through the display will have you thinking that your hardest decision in life will be picking in between the macarons or chocolate mousse. Save yourself the torture and opt for both, 'when in Épernay' is the saying, right?
Épernay, France, although filled with mostly Champagne, is also made up of amazing architecture and is rich in historical and religious background. Oh! And cheese. Though a very small part of Épernay is often overlooked, Brie cheese actually originates a little outside of Épernay, France. While you are tasting the Champagne and viewing the architecture, have some Brie on the side as well.
---
I Want More Paris!
Not sure what to do in Paris? Check out our step-by-step guide about how to do Paris in a Day. If you'd rather let us guide you, check out our Paris tours.
Parlez-Vous Francais? Learn some of the most important French phrases before your trip to Paris.