Planning to improve your knowledge of Rennaisance art by admiring artworks by Raphael, but unsure what famous artwork you should see? Don't worry: we are Raphael experts, so we have you covered. Here are the most famous paintings you should not miss when trying to understand Raphael!
---
The 12 Most Famous Artworks By Raphael
To understand art, we must understand the artist and his journey. So, before we dig into the paintings, here is a brief biography of Raphael. Raffaello Sanzio was born in Urbino (1483). He was the son of Giovanni Santi, who was also a painter and poet working for Federico da Montefeltro.
Raphael started his education as an artist with Perugino in 1495. From 1504 until 1508, he moved to Florence, where he discovered the work of Michelangelo and Leonardo, which influenced him strongly. In 1508, he settled in Rome, and in 1517, Pope Leo X made Raphael superintendent of antiquities in Rome. Raphael died in 1520, aged 37. You can still visit his tomb at the Pantheon.
Claudio Merlo stated that Raphael learned to blend colors by studying the works of Leonardo. Besides, he learned to draw using spiral and pyramid compositions from observing Michelangelo. In this way, Raphael became an expert in depicting naturalism, classicism, and composition. Also, he mastered the clarity of the forms and strokes of color.
With this repertoire, he earned his spot as one of the three great masters of the renaissance alongside his most inspirational artists Leonardo and Michelangelo. Finally, Raphael's work became extremely influential for the later generations of modern artists, particularly the pre-Raphaelite Brotherhood in the 19th century.
Now that you have a better idea of who was Raphael and his life, let's take a look at his artwork. I chose to do a chronological list, so it is easier for you to see the development of his art and his journey as an artist.
12. Madonna and Child with the Book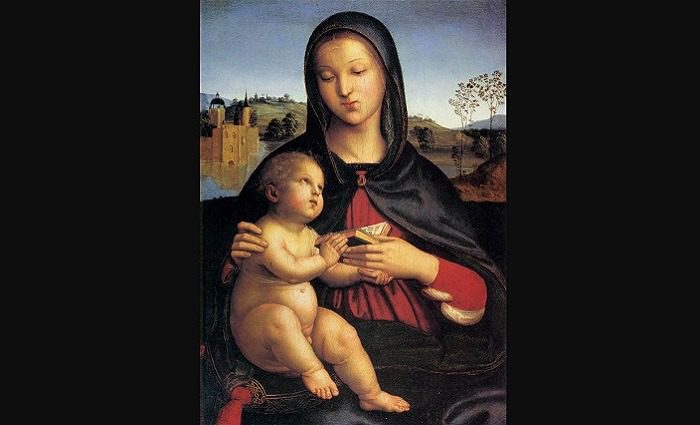 1502-1503 | Oil on wooden panel | Norton Simon Museum (Pasadena, California)
The Virgin Mary (Madonna) appears seated with baby Jesus on her lap on the side and holding a prayer book. The use of color and form is important in this painting: the blue mantle of the Virgin frames the scene and draws the viewer in. Raphael depicted the Madonna with an expression of tenderness to humanize her otherwise divine aura.

Raphael painted this just when he was 19 years old. He was finishing his formation under Perugio and in the process of moving to Florence. The significance of this painting is that this would become the staple of his work. Straight after this painting, Raphael will paint 17 Madonnas. According to Julia Briggs, madonnas became the proverbial bread and butter work that sustained Raphael for a long time.
The Madonna was an iconic piece of art of the Renaissance. Therefore, by mastering this piece, Raphael showed early on his knowledge of references and the quality of his work.
11. Madonna of the Pinks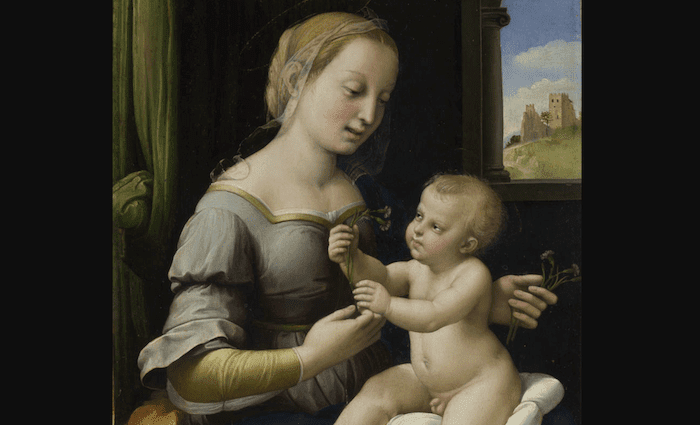 1506-1507 | Oil on yew | The National Gallery (London)
Unlike the previous Madonna, Raphael changes the depiction of the figures by adding dynamism and more human and real interaction between them. In fact, it resonates with the Benois Madonna by Leonardo da Vinci.
Furthermore, Raphael positions carnations in the center of the painting, between the virgin mary and christ. This is the key topic of the painting, which is better seen in its original name in Italian: La Madonna dei Garofani. Garofani means carnations. The carnation is a plan with symbolic meaning in Christian rituals. According to Jenni Davis, it reflects the divine love between the divine mother and her son. Also, it alludes to the Passion of Christ.
Roy, Spring, and Plazzotta state this painting is also significant because it uses a much simpler color palette than what is usual for Raphael. This simplicity made historians and conservationists believe for a long time that it was a copy, a fake, or the work of other artists. However, in 1991, Renaissance expert Sir Nicholas Penny confirmed its originality.
10. The Deposition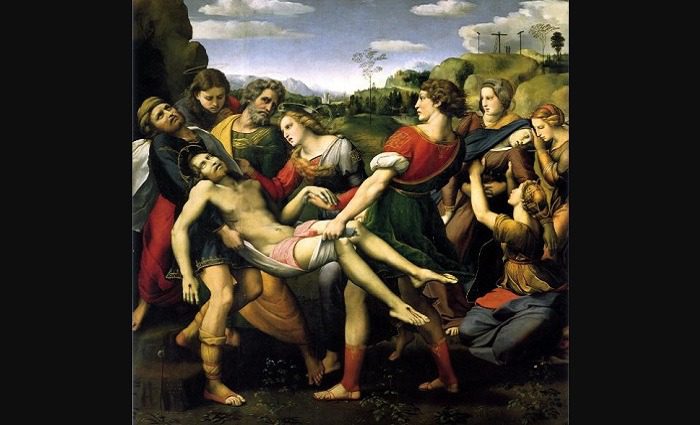 1507 | Oil on wood | Galleria Borghese (Rome) | Alternative names: Pala Baglione, Borghese Entombment or The Entombment
This is the central panel of a three-part altarpiece commissioned by Atalanta Baglioni of Perugia to commemorate her slain son Grifonetto. This resonates with the topic of the death and burial of Christ. This is a visionary painting in terms of composition and use of color. According to Frank Stella, it will influence the masters of tenebrism nearly a century later.
You can see the diagonal line that takes the figures and the viewer to the center of the scene, which is the dead body of Christ. Dramatic realism surrounds the scene. Also, it creates contrast with the bucolic and tender expressions of the previous Madonna.
But if you truly want to understand this piece, you need to understand its context. Italian society was violent since the Condottiere wars of the later middle ages. Moreover, the Baglioni family were condottiere themselves (captains of mercenary troops). Therefore, they lived in a dangerous environment that caused their son's death. So the Deposition, in a way, reflects this brutal death with Jesus echoing Grifonetto.
9. The School of Athens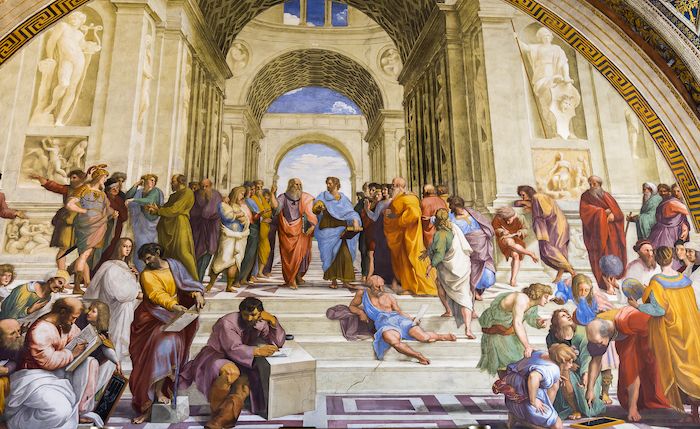 1509-1511 | Fresco | Raphael Rooms (Vatican City)
This is one of the main frescos of the Stanza della Segnatura: one of the 4 rooms decorated with Raphael's work at the Vatican. The School of Athens depicts ancient and contemporary thinkers and philosophers. The central figures are Aristotle and Plato. If you look closely, you will see that Raphael depicted Plato like Leonardo Da Vinci whom he admired. Moreover, Raphael painted himself in the fresco wearing a black cap.
We know from his biography by Vasari that he did some rework after seeing Michelangelo's Sistine Chapel that was being painted at the same time. So he changed the composition of the figures in his fresco. Apparently, Raphael found Michaelangelo inspirational (though Vasari hints that his fellow great master did not seem to appreciate the gesture). The most remarkable aspect of this painting is the use of perspective and space to create different figures, narratives, and hierarchies.
Raphael addresses here philosophy as the main subject which is a key topic during Renaissance. Moreover, this fresco is in a room that celebrates wisdom. In the Renaissance, man is driven by logic, scientific advancements, and a deep connection with the ancient classical past. And this fresco encompasses all these aspects. This is also the reason why this is my favorite painting by Raphael. Because it packs such a deep understanding of human nature.
8. The Parnassus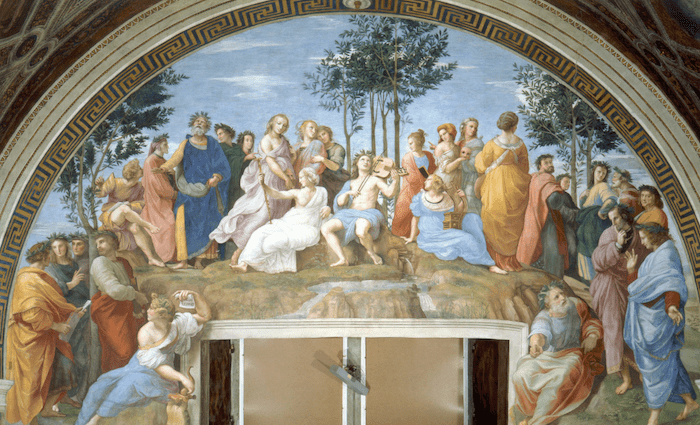 1509-1511 | Fresco | Apostolic Palace (Vatican City)
This fresco is the in same room as The School of Athens. In fact, Raphael worked on it straight after finishing the previous fresco.
The piece portrays Apollo as the god of the arts, with the 9 muses, 9 roman poets, and 9 contemporary humanists alongside him. Symmetry was very important in Renaissance art: as the muses were 9, the rest of the elements in this piece had to follow suit to be equal in proportion and hierarchy.
According to Alexis R. Culotta, the lunette painting in this fresco depicts poetry because, for Raphael, this was the most important literary expression. Along with the other works in this room, The Parnassus represents the epitome of human knowledge.
7. The Triumph of Galatea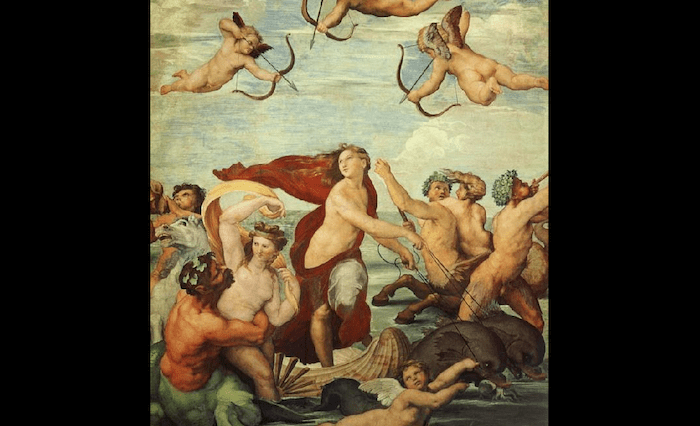 1512 | Fresco | Villa Farnesina (Rome)
This fresco depicts the Nereid Galatea from Greek mythology, triumphant in a chariot drive my dolphins. This painting highlights Raphael's best virtues as a painter. These are the bodies imbued with movement through their spiral composition, and the masterful use of color to define space, shape, and movement.
According to Paoletti and Radke, Galatea was Raphael's own interpretation and borrowing of Botticelli's The Birth of Venus. This is important because Galatea was one of the first pieces done for Agostino Chigi. Therefore, creating such a precise, and fresh piece of art that still took the recent masters as a reference would have been a great way to impress new patrons and secure future work.
6. Chigi Chapel
c.1512-1516 | Architecture Design | Alternative Name: Chapel of the Madonna of Loreto | Basilica de Santa Maria del Popolo (Rome) | Free
This is the only religious building preserved where he worked as an architect. There are 2 sources of inspiration for Raphael's design: St Peter's Basilica and the Pantheon. In fact, this chapel is like a mini Pantheon for Raphael's patron.
However, the most significant design that Raphael did for this chapel, besides the architectural work, is the decoration of the dome. It contains a beautiful mosaic of the creation of the world. Raphael, once again, brings together ancient mythology and combines it with Christian myth. There are many more elements in this chapel that are noteworthy. However, Raphael died before its completion, and many artists after him added to this chapel.
Patronage was a very important aspect of Raphael's art and his career. Furthermore, being a patron was a sign that you were a person of wealth, style, and knowledge of trends at the time. It was a symbol of status both for the commissioner and the artist. According to Sheryl E Reiss, Agostino Chigi was Raphael's most important secular patron and commissioner of this chapel. Besides, a great part of Raphael's work in Rome outside of the Vatican was thanks to this wealthy banker.
5. Sistine Madonna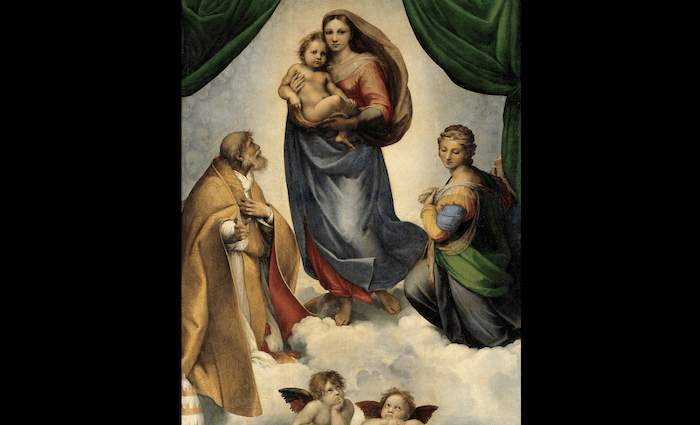 c.1513-1514 | Oil on canvas | Alternative Name: Madonna di San Sisto | Gemäldegalerie Alte Meister (Dresden)
Here, the Virgin holds Jesus, with St Sistus and st Barbara on the sides and the putti or cherubs at the bottom. According to Julia Briggs, these putti are iconic in their own right. Furthermore, this is one of the latest Maddona's that Raphael painted. You can see the evolution from the previous ones. For example, the color saturation demonstrates he had been heavily influenced by Venetian art schools of the time and mastered this technique.
According to Kleinbub, an interpretation for this painting is that this Madonna is an apparition related to Sistus' ascension into heaven himself. He points out the ethereal feel given to the scene by the clouds and movement of the robes. In addition, the Virgin is directly looking at the viewer as if holding us participants of this vision. Finally, this is one of the only 2 oil on canvas paintings he did.
Pope Julius II commissioned the painting to commemorate his late uncle Pope Sixtus IV. Originally it resided at the church of San Sisto (Piacenza).
4. Portrait of Baldassare Castiglione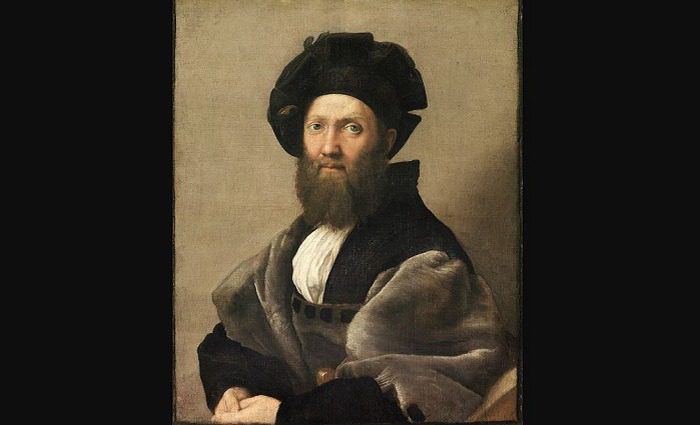 1514-1515 | Oil on canvas | Louvre (Paris)
This depicts Baldassare Castiglione, a prominent Italian courtier, and author. In fact, Raphael and Baldassare were good friends. The portrait shows the man wearing somber clothes and a kind yet restrained gesture. Although this is a far less colorful palette than what we are used to from others of Raphael's paintings, these colors speak of the person depicted, his personality, and his status. In addition, this is the only other oil on canvas that Raphael made.
According to Norbert Schneider, Baldassare had just written a book about the manner and sense of dress that a cultured man and courtier should cultivate. In this way, Castiglione's portrait makes him appear elegant yet powerful, subtle yet majestic, which Raphael highlights with the soft yet well-defined curvatures of the clothing.
This is considered one of the most influential portraits in art, particularly for painting male figures. The composition and demeanor that Raphael portrays will influence the work of great artists such as Titian and Rubens. According to Jones and Penny, this work also breaks a pattern with other works from Raphael. The context and execution of this painting suggest this may have been a personal work done in appreciation of his friend or as a favor for Castiglione to send back home. Because of his job as a courtier, he spent a long time in Rome away from his family, whom he missed dearly, as it shows in his writings.
3. The Raphael Cartoons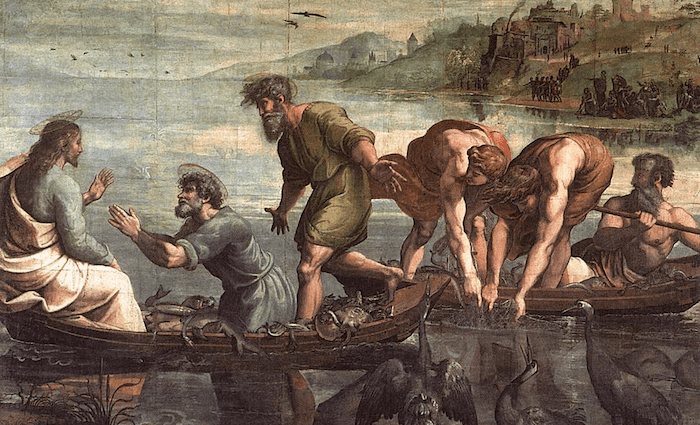 1515-1516 | Drawings | Victoria & Albert Museum (London)
The surviving cartoons (7 out of 10) are full-scale designs for tapestries commissioned by Pope Leo X to go in the Sistine Chapel. They are considered treasures of Renaissance art and a turning point in Raphael's career. In fact, the importance of these cartoons is apparent throughout the 18th and 19th centuries. This is because they became some of the most popular pieces of art translated into prints. Regarding the tapestries themselves, these are no longer in the chapel, but you can now see them in the Gallery of Tapestries (Vatican Museums).
According to Paul Joannides, these pieces are of much higher craftsmanship than other pieces covered in this article. He says this is because when Raphael was working on these pieces, both he and the pope saw them as the highest priority in their list of works to complete. So the artist focused to obtain the greatest results. The depictions taken from the gospels and the acts of the apostles display a heroic and austere simplicity that really set them apart from the rest of the works Raphael will produce from this moment on.
To understand these works in full, we need to understand their patron. Pope Leo X had made it his personal mission to make his mark in the Sistine Chapel, which was already full of the work and influences of other popes. So these tapestries were crucial for his status as a pontiff. Moreover, Raphael had a huge challenge ahead of himself.
By creating these designs, Raphael had to somehow mimic the style of the rest of the chapel. Besides, he had to consider that the loom would produce the reverse image of his paintings. This presented an ordeal for all parties involved. But it also shows the importance of status for Renaissance popes and their patronage of masters such as Raphael.
2. La Fornarina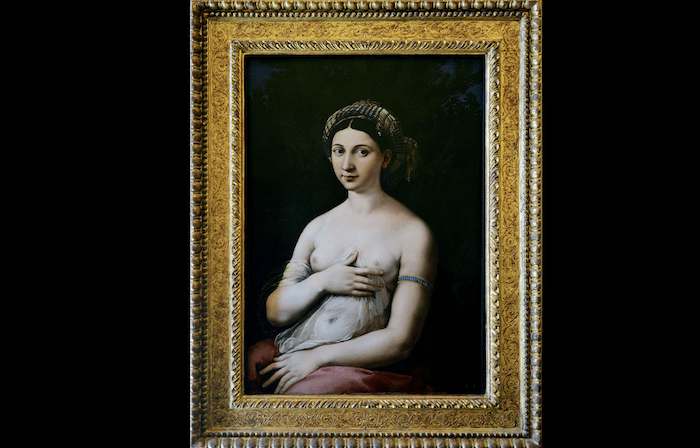 1518-1519 | Oil on wood | Alternative Name: Portrait of a Young Woman | Galleria Nazionale d'Arte Antica (Rome)
This is a painting of a young woman partially nude with a thin and revealing veil covering her abdomen. She also wears a colorful turban on her dark hair and a red skirt covering her lower body. This is a painting like no other amongst Rapahel's collection.
According to Jill Berk Jiminez, the artist didn't depict anything as explicit as this semi-naked woman. The name La Fornarina (the baker's daughter) comes from one of the interpretations regarding her identity. Jimenez proposes that the woman was Margherita Luti, daughter of a baker from Siena, who may have been Raphael's lover.
Joanna Woods-Marsden provides an alternative reading of this portrait as a generic depiction of the Renaissance ideal of female beauty. She highlights the physical appearance of the woman. This is similar to the Venus pudica from ancient Greece and Rome, where Venus appears nude and attempts to cover her breasts. Other theories consider that this may be a portrait of women living in the margins of society: witches and prostitutes.
1. Transfiguration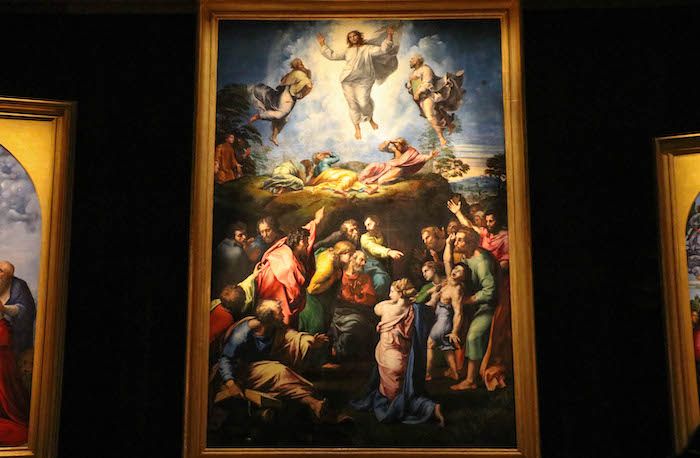 1516-1520 | Tempera wood | Pinacoteca Vaticana (Vatican City)
This painting shows the transfiguration of Jesus. According to Christian K. Kleinbub, this painting reflects Raphael's internal religious dialogue and a curiosity for the actual physicality of the transfiguration miracle. Kleinbub states that the body of Christ appears to be of different sizes and proportions to the rest in the painting, which suggests a change in style, perspective, and creative process. In fact, many art historians consider the transfiguration a precursor for Mannerism techniques of the late 16th century, such as the stylized, contorted bodies and the Baroque chiaroscuro technique.
 In Christian liturgy, transfiguration is one of the miracles of Christ, where he becomes a radiant divine figure on top of a mountain where he and some of his disciples are praying. Moreover, it is considered one of the greatest miracles because, unlike the rest, this one actually happens to him, symbolizing his divine perfection.
This, in a way, is a metamorphosis, which hails references to Greek mythology so beautifully incorporated already by Raphael in his previous paintings. Interestingly, transfiguration is a much more popular topic for religious art in the eastern and orthodox Christian tradition than Western Christianity. Moreover, the majority of western transfiguration depictions date from the Renaissance before Raphael's own work, which highlights the uniqueness of this painting. 
Finally, this painting is special because Raphael died while still working on it. The future pope Clement VII commissioned the painting to be the altarpiece for Narbonne Cathedral in France. But as Raphael died and the work remained incomplete, the patron kept it.
Now that you have completed your journey of Raphel's masterpieces, you are ready to travel to some of the finest art galleries and museums in the world. See you there!