Considering a trip to Barcelona but not sure what there is to see? The city is full of massive monuments that draw crowds and hidden gems that only locals know about. This list details the top attractions and hidden gems of Barcelona that you shouldn't miss on your trip!
---
Pro Tip: Planning your trip to Barcelona? Bookmark this post in your browser so you can easily find it when you're in the city. See our comprehensive guide to Barcelona for more planning resources and our top Barcelona tours for a memorable trip. They have thousands of five-star reviews from customers that loved our tour guides.
Best Monuments, Attractions, and Things to Do in Barcelona
Barcelona is one of Spain and Europe's top destinations for many reasons. Visitors love coming to the capital of Catalonia because of how much the city and surrounding region have to offer in terms of attractions and things to do. In this list, you'll discover the top attractions and things to do in Barcelona.
---
15. Pass by El Gatto de Botero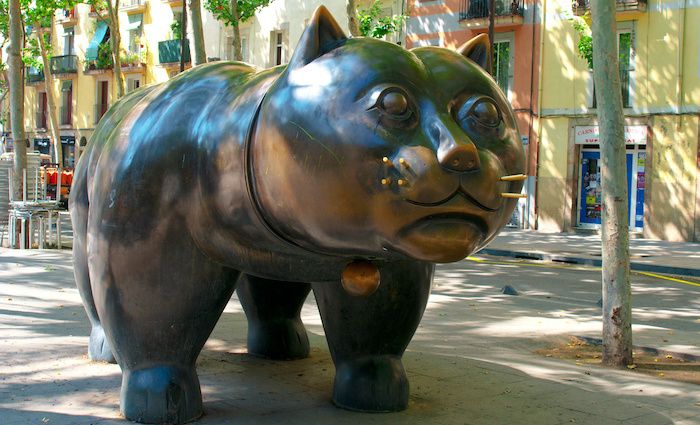 El Gato de Botero is a very fun and cute statue of a cat by an artist named Fernando Botero. The larger-than-life statue is located in the El Raval neighborhood of Barcelona and is a local icon.
If you had to choose between this cat and Park Güell, I would recommend Park Güell. That said, it is a cool statue and something you should definitely pass by if you're in the area.
Address: Rambla del Raval
14. Spend Some Time at Montjuïc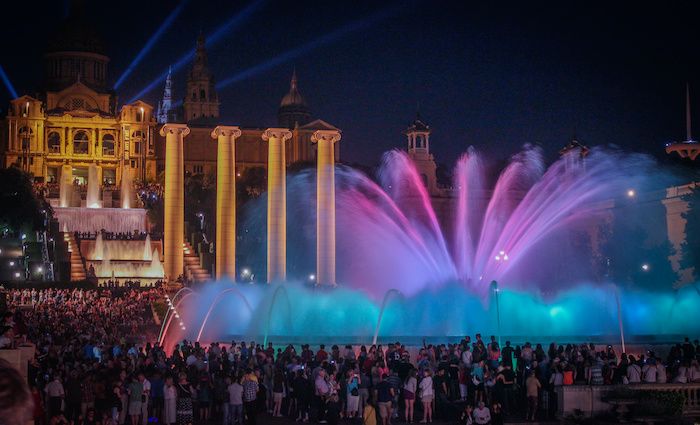 Depending on how many days you have planned for your visit to Barcelona, you should consider Montjuïc for a few hours. It's a public park and home to its own array of attractions within Barcelona.
Here are a few things to do in Montjuïc:
Take a cable car ride to the top
Palau Nacional
El Jardin Botanico
Font Magica (really cool fountain, see above image)
Parc de l'Espanya Industrial
Poble Espanyol
Location: Montjuïc
Check Out Our Top Barcelona Tours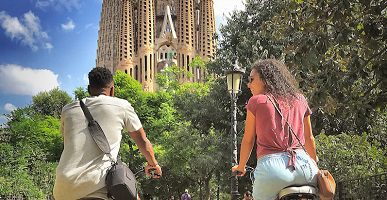 Top Rated Tour
Barcelona in a Half Day by Electric Bike
With your local storytelling guide, explore the neighborhoods, top attractions, and cultural hidden gems across Barcelona. Pass by the Sagrada Familia, Casa Mila, and Casa Batllo taking in the amazing works of Gaudi throughout the city. Glide through the Barceloneta and Gothic Quarters before heading to the Olympic Village on your Electric Bike. Bike Rental Included.





Starting at €65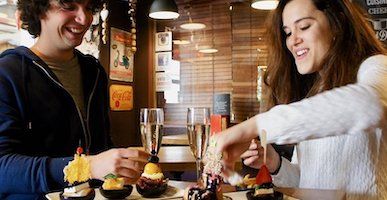 Likely to Sell Out
Barcelona Food & Wine Tour with a Local Sommelier
Head on a culinary journey with a licensed Sommelier, sampling the best dishes, wines, and ingredients that make Barcelona a foodie paradise. Enjoy the authentic dishes representing the diversity and deliciousness of Spain's many regions. Immerse yourself in two of the city's top neighborhoods, for an evening of tapas, dinner, dessert and plenty of wine!





Starting at €75
Not ready to book a tour? Check out the best Barcelona tours to take and why.
13. Explore Nearby Vineyards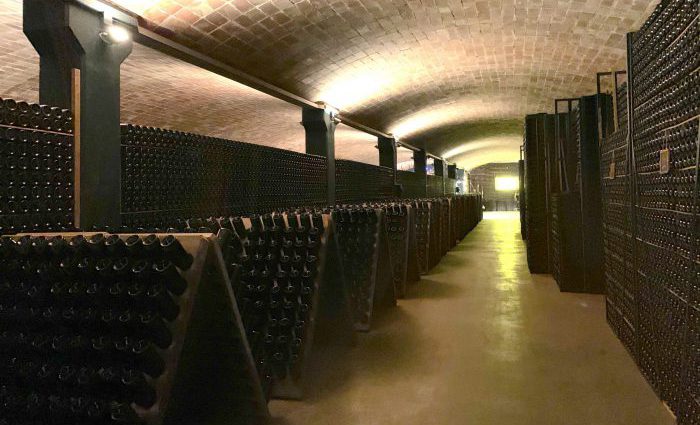 One thing Spain is known for is wine, and Barcelona is not far from some of Spain's most beautiful vineyards. I highly recommend setting a day aside to venture off into the Spanish countryside to visit a vineyard. Some of the most popular varietals from the area are Alella, Conca de Barberà, Montsant, Penedès, and Priorat.
12. Have a Drink in Bar Marsella
Every historic city has a historic bar. In Barcelona, it's Bar Marsella. Now, historic bars all have one thing in common—Ernest Hemingway drank there. Bar Marsella does a little better than just Hemingway—Picasso drank there too.
Bar Marsella is in the El Raval district, just a few blocks south of La Rambla. It's a pretty unassuming bar, which is likely why Hemingway frequented it, and it's by no means Barcelona's number one attraction but a good excuse to have a drink any time of the day. It's particularly well known for absinthe if you're up for it.
Address: Carrer de Sant Pau, 65
11. See Casa Milà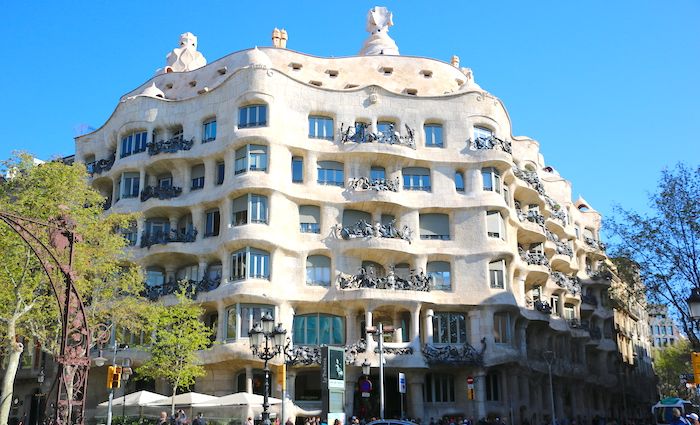 Casa Milà is a luxury palace designed by Antoni Gaudí for Roser Segimón (rich widow) and Pere Milà (party boy). They bought the building, demolished it, and commissioned Gaudí to create what would become Casa Milà.
The building was not intended for single-ownership but instead to be luxury apartments. It was nicknamed La Pedrera before construction finished, which translates to "the stone quarry." This is due to the unusual Flintstones-style facade.
While the building received heavy criticism, it was extremely innovative for a turn-of-the-century structure (1912). It offered open floor plans far before HGTV popularized them and even an underground parking garage.
Address: Passeig de Gràcia, 92
10. Visit Casa Batllò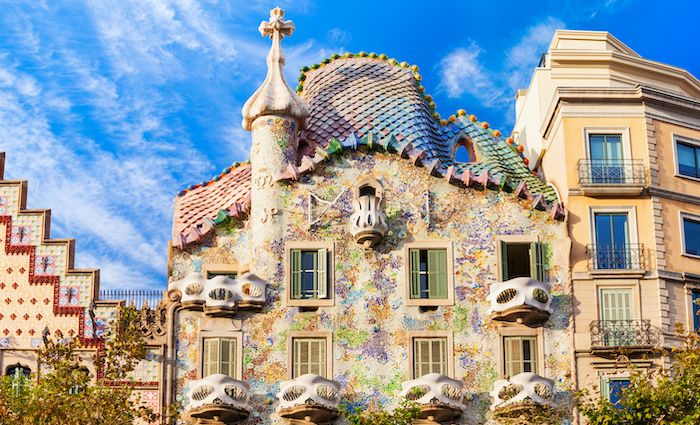 Casa Batllò, located within walking distance of the above Casa Milà, is another architectural wonder from Antonio Gaudí. Unlike Milà, Batllò is a renovation and not a new construction.
The structure is incredibly innovative in almost every way imaginable. It almost looks as if a massive iguana is trying to hide in front of a perfectly normal apartment building. From the rainbow colors to the textures of the roof, it is a work of art…and possibly hallucinogenics.
The building was the personal home of the Batlló family until 1954 when an insurance company purchased it and set up offices. The building was sold again to private owners and is used for events as well as to be visited as a museum.
Significant restorations were done since the 1980s, which is a gift to society. The vibrant colors and unique style make Casa Battlò one of Barcelona's most outstanding attractions.
Address: Passeig de Gracia, 43
9. Get Lost in the Maze at Parc del Laberint d'Horta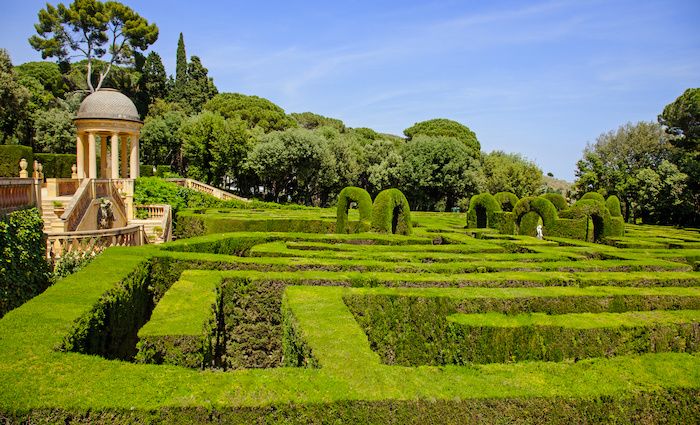 Yes, the park contains a real labyrinth. No, you will not see David Bowie there. It's actually quite difficult but there appear to be no dead-ends so eventually, you'll find a way out. If you're visiting Barcelona for a second time or just want to do something out of the ordinary, this is perfect.
The shrubs are above head-high and form a maze that's difficult to navigate but not so hard that you should be worried about your safety. It's a lovely area and you can easily get there by Barcelona's metro system. It's one of the coolest and most different things to do in Barcelona.
Address: Passeig dels Castanyers, 1
8. Take a Walk in the Citadel Park (Parc de la Ciutadella)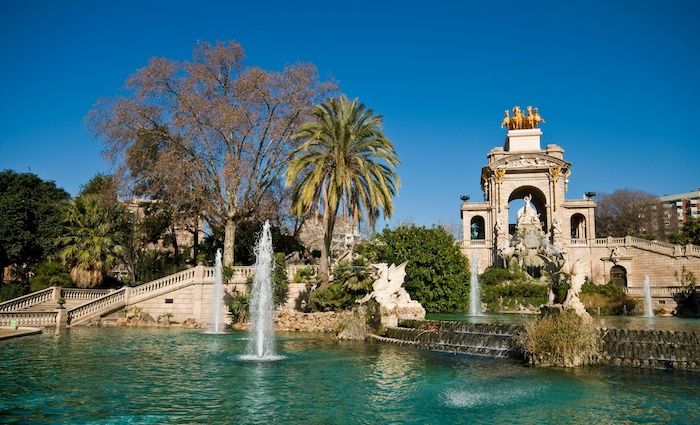 Parc de la Ciutadella, or Citadel Park, is Barcelona's most central large green space and quite impressive as far as parks go. It's located in Ciutat Vella north of the Bari Gothic.
The park, which is now a peaceful green space, has some rather violent origins. When Phillip V of Spain took over Barcelona and Catalonia in 1714, he built a fortress in its center and named it the Citadel.
The fortress was built to maintain control over the city of Barcelona and did so for some time. Today, it is mostly a peaceful green space. However, in 2018 and 2019, it had to be closed during certain periods to stop riots.
Riots!? Yes, for the same reason it was built. Catalonia has been fighting for independence since its succession in 1714, and when there are protests they normally happen in this very park.
Address: Passeig de Picasso, 21
Popular Barcelona Tours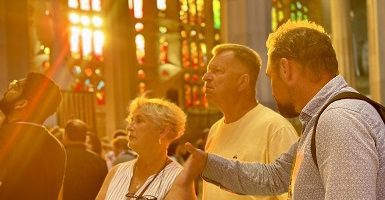 Best Selling Tour
Unbeatable Barcelona in a Day Tour

Our Barcelona in a Day tour covers all the major attractions plus hidden gems. This walking tour includes Sagrada Familia, Casa Batlló, Casa Mila, the Gothic quarter, Park Güell, and transportation to reach the more remote sites. You get skip the line entry and a passionate guide too!





See Prices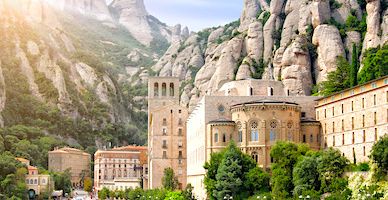 Day Trip
Full Day Trip to Montserrat from Barcelona with Winery & 3-Course Lunch
Enjoy a day away from Barcelona on this trip to a magical place nestled on a mountain top above the clouds. Experience Montserrat where the myth comes to life before visiting an amazing winery in the hills for lunch and wine tasting at an organic vineyard.





See Prices
Not ready to book a tour? Check out our Barcelona Guide for more resources.
7. Stroll Through the Streets of La Rambla (and El Raval)
La Rambla is the center street in Barcelona and you've probably heard of it before. It divides Bari Gothic from El Raval—not that these neighborhoods are fighting.
The street is known for shops, restaurants, and partying. It is lined with trees and extremely pleasant during the day. At night, it gets a little seedy but as long as you're on your best behavior it should be fine.
Address: La Rambla
6. Take the Funicular to the Top of Tibidabo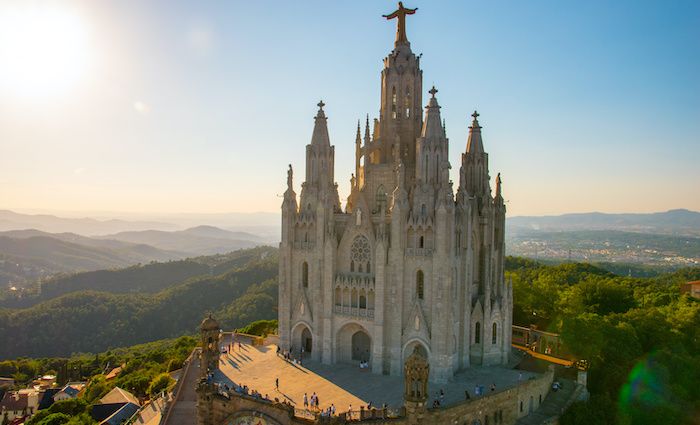 If you stand on the beach of Barcelona, get in a car, and drive west, you'll leave the city and find yourself at a beautiful green mountain—Tibidabo. Well, at least one of the mountains you'll see is.
At the very top of Tibidabo is the Temple of the Sacred Heart of Jesus. It is a minor basilica that is beautiful regardless of your religious background. The best way to visit is to take the funicular to the top. It is really scenic and a cool experience you won't soon forget.
Fun Tip: There is a Ferris wheel at the top. If you're not afraid of heights, it's definitely something to mentally prepare yourself to do. It's by no means the world's tallest Ferris wheels but I have yet to see another at a higher altitude.
Address: Tibidabo Funicular
5. Enter Foodie Heaven at La Boqueria Market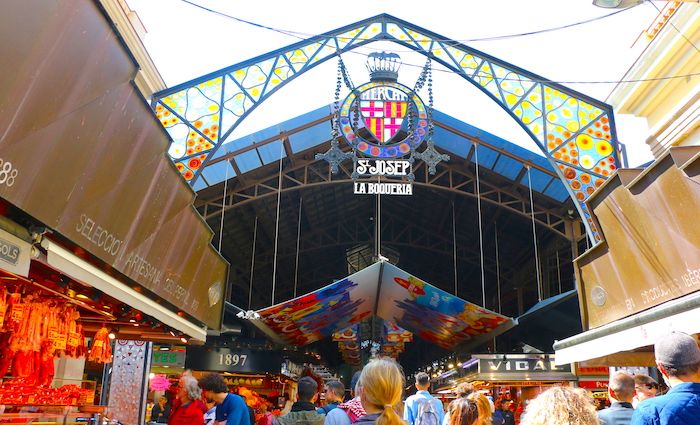 La Boqueria is Barcelona's premier covered market. It's a massive market, which means there are tons of options inside. You can go there to get high-quality jamón (ham) to go or some seriously delicious street food.
Address: La Rambla, 91
Popular Barcelona Tours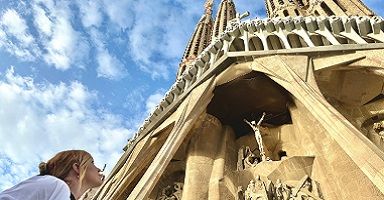 Best Selling Tour
Skip the Line Sagrada Familia Tour
Sagrada Familia is a three-sided gothic masterpiece designed by visionary Antonio Gaudí which has yet to be finished. The church is nearing completion and a wonderful display of color and architecture. Visit with a passionate local guide and skip the lines for admission!





See Prices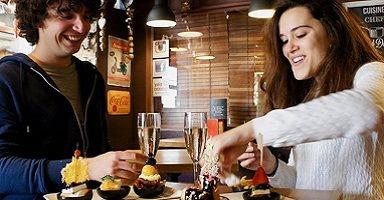 Customer Favorite
Barcelona Food & Wine Tour with Local Sommelier
We can't think of a better way to explore a city than to eat your way through it, and there will be enough tapas and wine to discover a lot of Barcelona! Join us on a delicious discovery of the Gothic quarter – one of Barcelona's most vibrant areas!





See Prices
Not ready to book a tour? Check out our article on the best Barcelona tours to take and why.
4. Marvel the Barcelona Cathedral From Inside and Out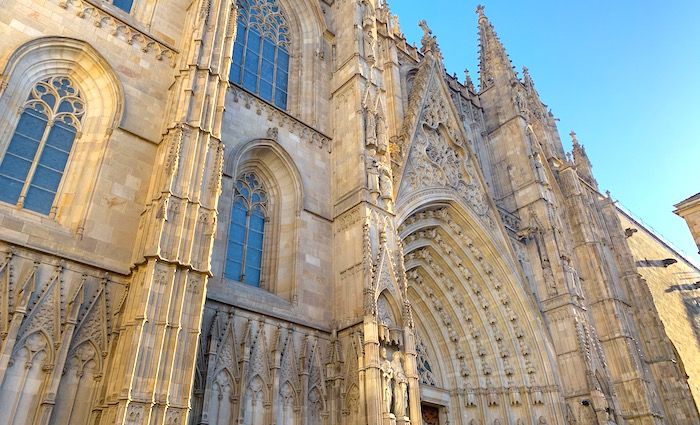 The Cathedral of the Holy Cross and Saint Eulalia or Barcelona Cathedral is the principal Roman Catholic church of Barcelona. The cathedral was completed in 1448 after over 200 years of construction.
That said, the facade you see today was not built until the 19th century. The facade was relatively plain up until then but now is clearly neo-Gothic, which fits in nicely with the Bari Gothic neighborhood.
Like Paris, you'll find many gargoyles on the roof of the cathedral as well as animals, including a unicorn! The structure is ornate and magnificent both inside and out, which is why this is one of the top monuments and attractions in Barcelona.
While you're in the area, check out the beautiful Pont del Bisbe and other ancient Roman architectural sights on Calle del Bisbe.
Address: Pla de la Seu
3. Do a Day Trip To Montserrat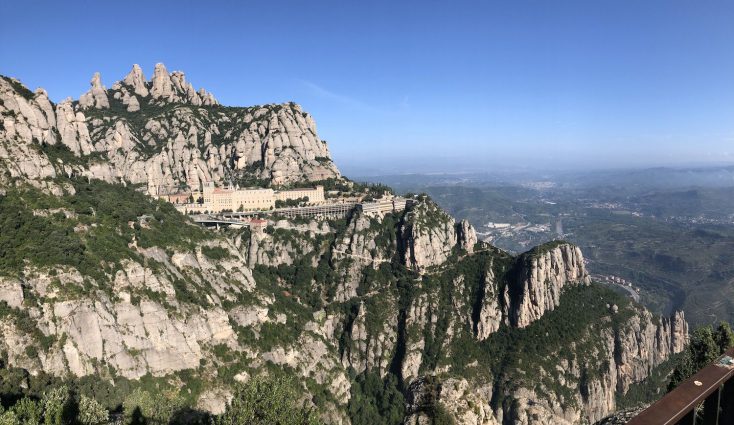 Montserrat is an incredible mountain-top town just under an hour's drive from Barcelona, which makes it one of the most popular day trips from Barcelona. The area is sought after and famous for many reasons.
The location, on the side of a mountain, affords stunning views. There is also a significant historical site, the Benedictine Monastery, which is almost a thousand years old. You'll find tons of cool tables to purchase local goods.
There are many more reasons to visit, but the mountain that Montserrat calls home is oddly shaped in a beautiful way. Check out our day trip to Montserrat from Barcelona for your next visit!
Location: Montserrat
Not ready to book a tour? Check out our article on the best Barcelona tours to take and why.
2. Relax in Gaudi's Park Güell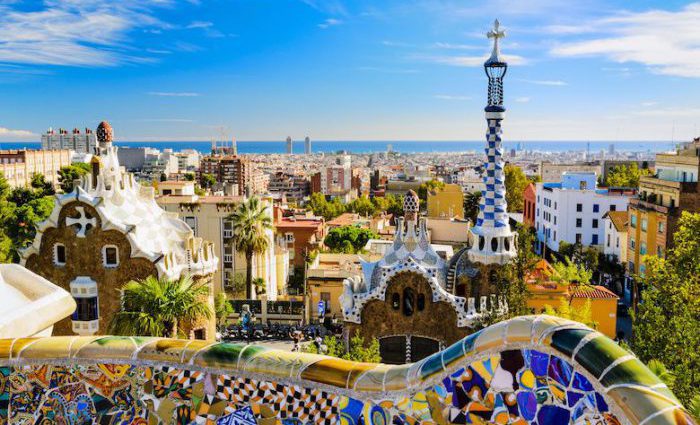 Park Güell, like much of Barcelona, is a colorful compilation of architecture and green spaces in the La Salut neighborhood of Barcelona. The park, one of Gaudi's early works, is as colorful as it is architecturally rich.
The area was originally an unsuccessful housing complex brought to the city by Count Eusebi Güell. There were only two houses built. The first was for Count Güell and the second was to be a model home of sorts. After no buyers made offers, Güell suggested Gaudi purchase it which he did in 1906.
There's much more to see in the area and it's number two in Barcelona for a reason. You can join us on our Barcelona full-day tour which includes Park Güell.
Address: Park Guell
Not ready to book a tour? Check out our Barcelona Guide for more resources.
1. Feast Your Eyes on La Sagrada Familia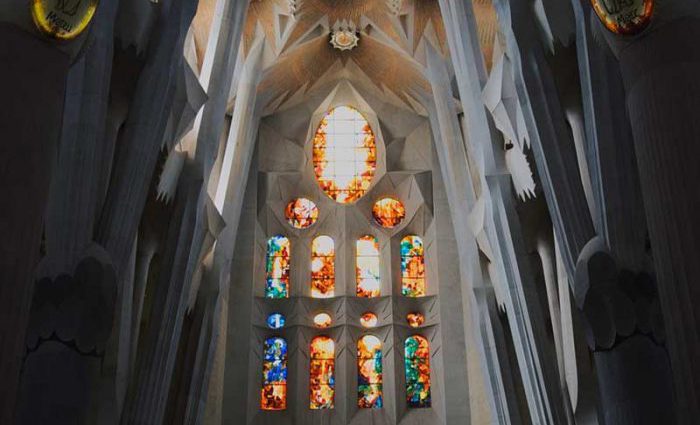 It may sound and feel a bit anti-climatic to finish with Sagrada Familia but it is undoubtedly the number one attraction in Barcelona. Antonio Gaudi had his work cut out for him with this unique and iconic church. Definitely, this exquisite work of art is something to have on your radar when traveling to Barcelona.
If you're going to visit Sagrada Familia, consider taking a guided small group tour of Sagrada Familia. The history behind this structure goes far beyond the surface. Passionate local guides will explain the many layers of meaning to this monument and why it has taken so long to construct. Trust us, you won't want to miss a single detail in Barcelona's Sagrada Familia.
Address: Carrer del Mallorca, 401
Not ready to book a tour? Check out our article on the best Barcelona tours to take and why.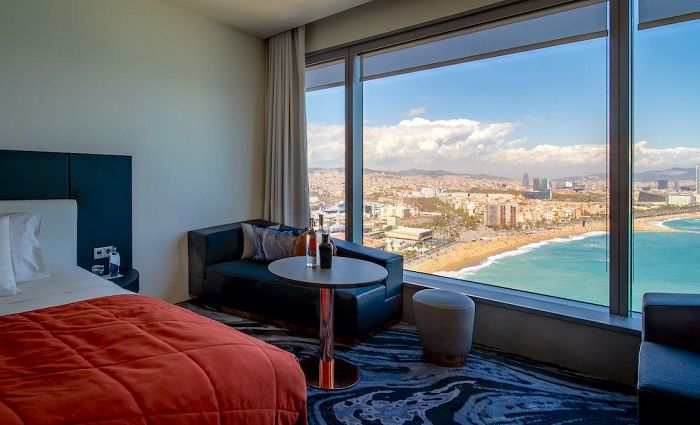 Find the best places to stay
Where to Stay in Barcelona
A great hotel at a great price has become the norm in this internet era. Our article explains what areas are the best in Barcelona so you can get a great deal on the perfect location!