Barcelona has tons going for it. Great food, lots of sunshine, happy locals, and lots to do which is why so many people visit the city each year. This is why we've built this article full of fun, interesting, and educational thing to do in Barcelona. This way you can add substance to your trip and ultimately make it more memorable!
---
Best Things To See and Do While Visiting Barcelona
Pro Tip: This article is a treasure trove of cool activities which is why it would be wise to bookmark it in your browser. Also, check out our dedicated page on Barcelona with more tips!
18. Museu Nacional d'Art de Catalunya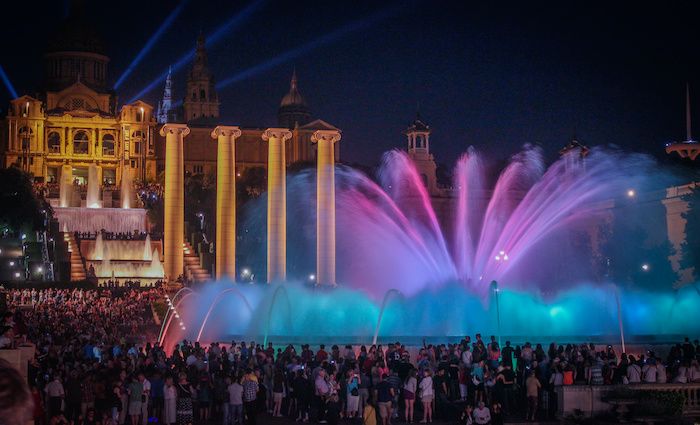 For Everyone
Museum Nacional d'Art de Catalunya is a well-rounded gallery to visit in Barcelona. It is by far the most comprehensive museum in Barcelona with art from the Romanesque period, Gothic, Renaissance and Baroque, all the way up to Modern and even Photography.
It is also located on Montjuïc which is a large hill and viewpoint in Barcelona in the historic Palau Nacional. This makes the visit all the better.
Address: Palau Nacional
Admission Cost: 12€
17. Eat Calçots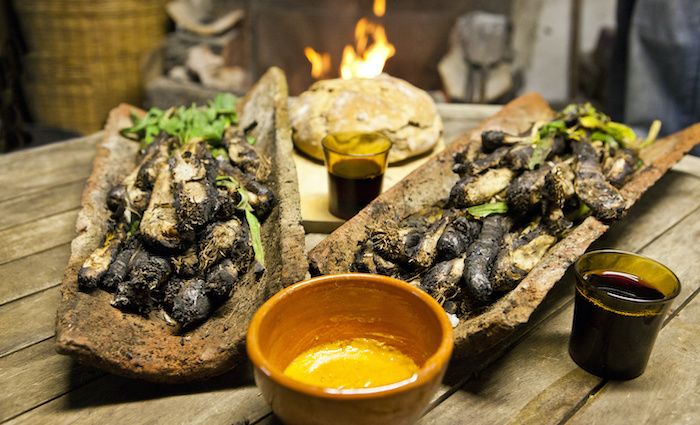 I need to throw it out there that Pan Con Tomate is about the lamest dish ever invented, which to me seems obvious. It is tomato rubbed on bread with EVOO. In my opinion, Italian bruschetta puts this to shame. That said, Calçots are very good.
Calçots (specially grown long white onions) are a seasonal crop harvested only from the late fall to early springtime. For this reason, you cannot get them year-round. This typical Catalonian dish is one of the most enjoyable culinary experiences because you are allowed to get messy when you eat them!
Grilled directly over flames the outsides of the onions are charred almost completely black and to eat them you must pull this crusty layer of the carbonized onion off to get to the smokey soft tasty onion beneath and smother it a lovely special Romesco like sauce.
16. Bike Around Barcelona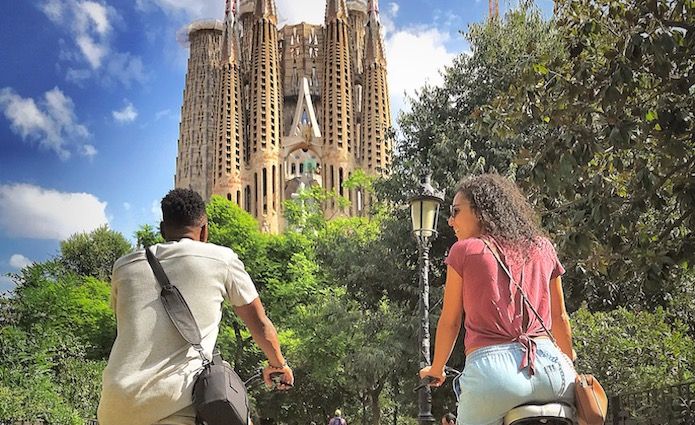 Barcelona is a larger city that is spread out, but generally flat which makes it perfect for a bike tour. Worried about the heat? We have partnered with locals who run electric bike tours so when you want to get the exercise you can, but when you want to cool off you can as well! See our bike tours below.
15. El Gatto de Botero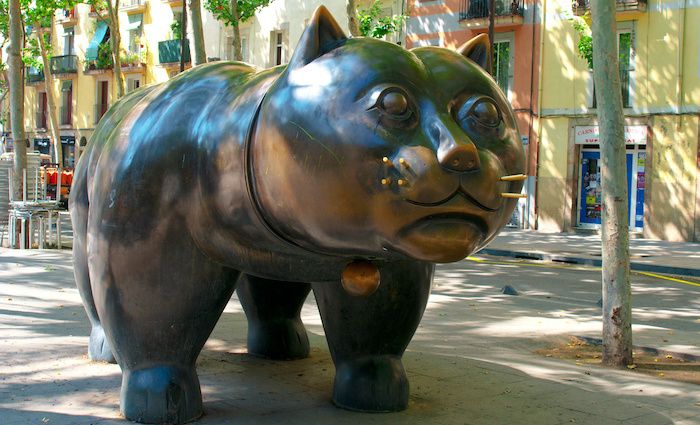 El Gato de Botero is a very fun and cute statue of a cat by an artist named Fernando Botero. The larger-than-life statue is located in the El Raval neighborhood of Barcelona and is a local icon. If you had to choose between this cat and Park Güell, I would recommend Park Güell. That said, it is a cool statue and something you should definitely pass by if you are in El Raval.
14. See Barcelona from the Water on a Sailboat Tour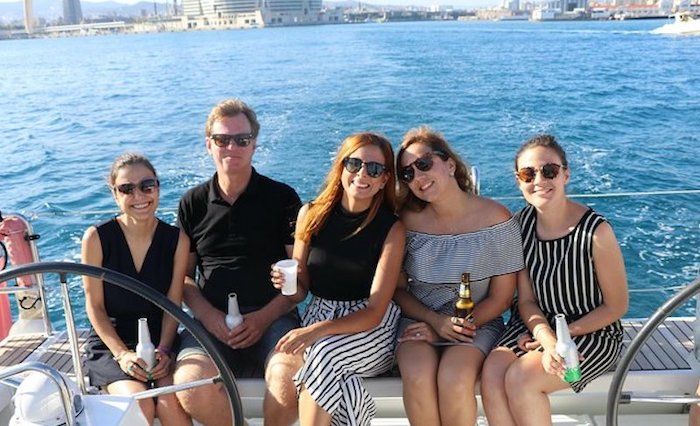 When traveling to a warm seaside destination I tend to take advantage by booking some sort of boat excursion. Finding the best ones can be tough which is why we took the time to find the best captains with the highest-rated boat and sailboat tours. Barcelona is perfect for this type of activity since the weather is nice, the city has many ports, and drinks are flowing!
13. Find Your Inner "Pan" or "David Bowie"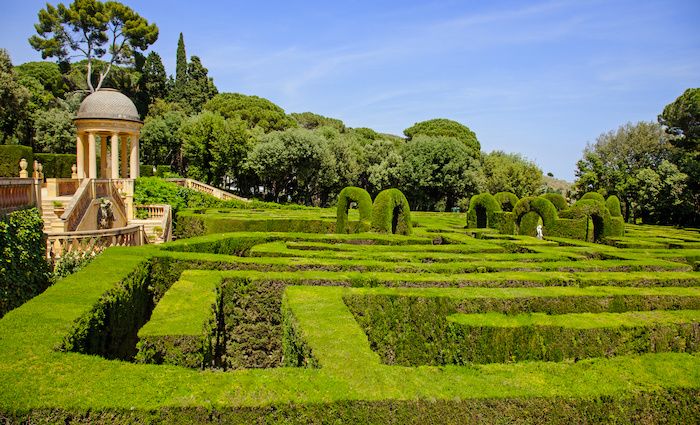 Yes, the park contains a real labyrinth which I personally think is mega-cool. Yes, it is actually difficult but there appear to be no "dead-ends" so eventually, you will get out! No, you won't see David Bowie since he passed away in 2016, but this may be the best place to channel his inner spirit.
If you are visiting for your second time in Barcelona or just want to do something out of the ordinary, this is perfect. The shrubs are above head high and form a difficult maze to navigate but not so hard that you should be worried about your safety. It is a lovely area and connected by Barcelona's metro system. One of the coolest and most different things to do in Barcelona.
Address: Passeig dels Castanyers, 1
12. Visit Catalonian Vineyards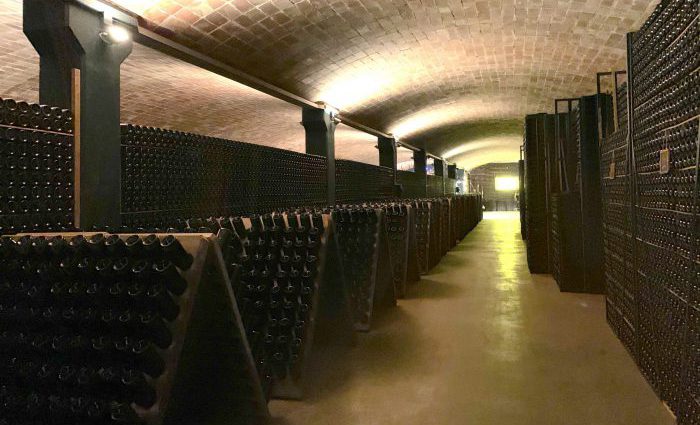 One thing Spain is known for is wine and Barcelona is not far from Spain's most beautiful vineyard. I highly recommend setting a day aside to venture off into the Spanish countryside to visit a vineyard. Some of the most popular varietals from the area are Alella, Conca de Barberà, Montsant, Penedès, and Priorat.
11. Try Escalivada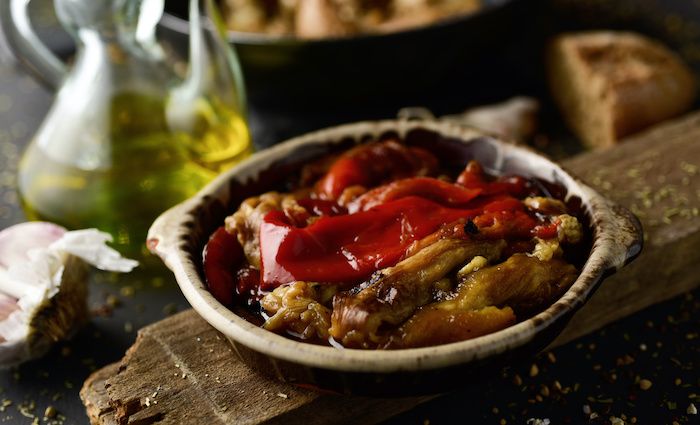 Something that is taken for granted in many countries is roasted vegetables. Vegetables can be so incredibly flavorful and ordering them should be mandatory at every meal which brings me to Escalivada.
"Escalivada" is a typical Catalonian dish which locals often agree on while ordering tapas. Carefully roasted peppers, eggplant, and onions area sliced finely and placed on a large plate. There is plenty of fresh Olive Oil and in some cases a touch of fresh garlic which gives it a kick.
Vegetarians may love this dish because it combines rich flavors and smoky flavors derived from roasting them over coal. All the peels are carefully removed so that you don't have to eat bits of charred vegetable skins.
10. Park Güell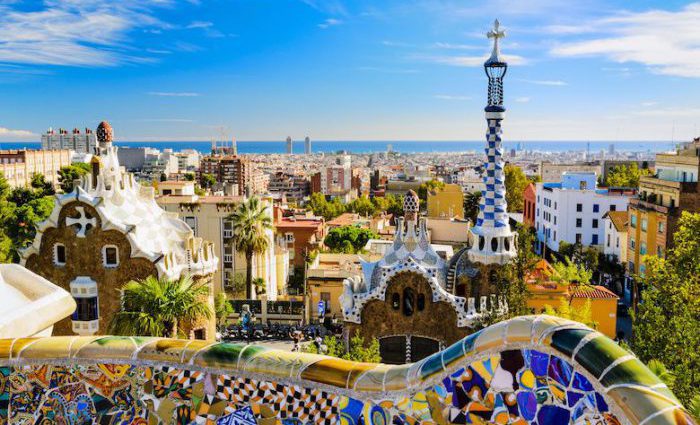 Antonio Gaudí
Park Güell, like much of Barcelona, is a colorful compilation of architecture and green spaces in the La Salut neighborhood of Barcelona. The park, one of Gaudi's early works, is as colorful as it is architecturally rich.
The area was originally an unsuccessful housing complex brought to the city by Count Eusebi Güell. There were two houses built. The first was for Count Güell and the second was to be a model home of sorts. After no buyers made offers Güell suggested Gaudi purchase it and he did in 1906.
There is much to be seen in the area and it is number 2 in Barcelona for a reason. You can join us on our Barcelona full-day tour which includes Park Güell.
Address: Park Guell
9. Pour One Out ? for Hemmingway at Bar Marsella
Every historic city has a historic bar and in Barcelona, it is Bar Marsella. Now, historic bars all have one thing in common—Ernest Hemingway drank there. Bar Marsella does a little better than just Hemingway, Picasso drank there too.
Bar Marsella is in the El Raval district just a few blocks south of la Rambla. It is a pretty unassuming bar which is likely why Hemingway frequented it. It is not Barcelona's #1 attraction but a good excuse to have a drink any time of the day.
Address: Carrer de Sant Pau, 65
Hours: 6 pm – 1 am | Closed Wednesday
8. Eat Seafood Paella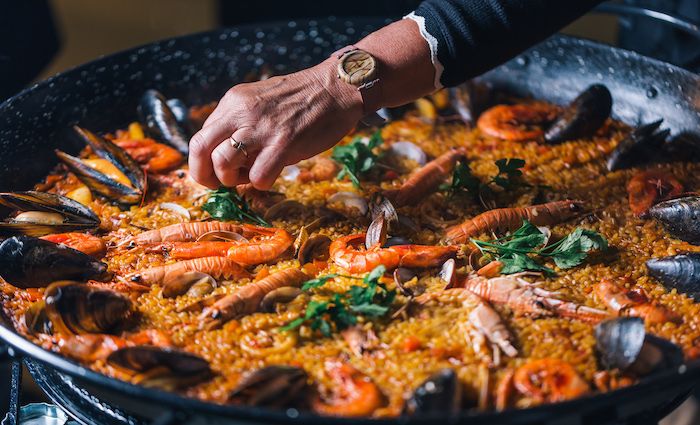 As a well-known destination for foodies, Barcelona offers up some of the best Paellas you can find in Spain. While Valencia is definitely the capital of Spanish Paella Barcelona is no slouch in the rice department. The dish is prepared with the special Bomba rice in Barcelona. The different rice makes Barcelona a great place to enjoy Paella!
The dish is a combination of shellfish and seafood cooked together with a tomato sauce base. A "sofrito", fish stock, and rice is combined to make one of the great dishes of Spanish cuisine. Those who are not fans of seafood don't need to despair as most restaurants specialize in meat and vegetable Paella as well.
7. Take a Tour to Montserrat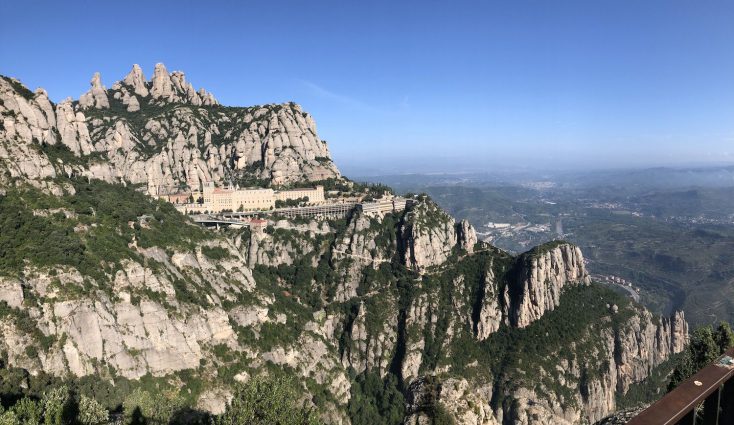 Montserrat is an incredible mountain top town just under an hour's drive from Barcelona which makes it one of the most popular day trips from Barcelona. The area is so sought after and famous for many reasons.
First, it is on the side of a mountain with stunning views. Second, the Benedictine Monastery is almost a thousand years old which makes it a significant historical site. Also, there are tons of cool tables to purchase local goods. Lastly, there are many more reasons but the mountain/rock that Montserrat calls home is oddly shaped in a beautiful way.
Check out our day trip to Montserrat from Barcelona for your next visit!
Location: Montserrat
6. Expore La Boqueria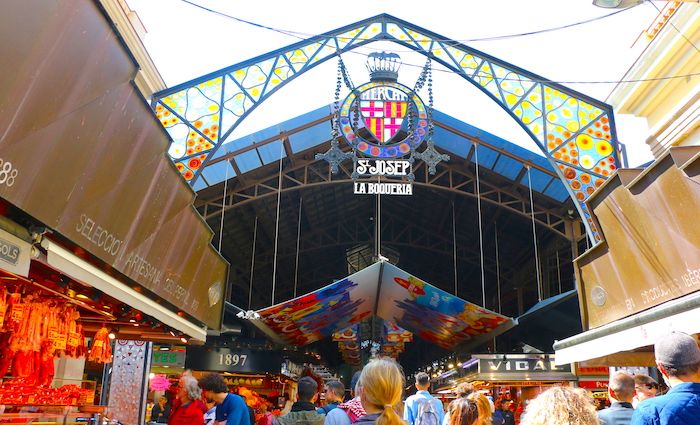 La Boqueria is Barcelona's premier covered market. It is a massive market which means there are tons of options inside. You can go there to get high-quality jamón to go or some seriously delicious street food.
Address: La Rambla, 91
5. Take Down Some Jamón Iberico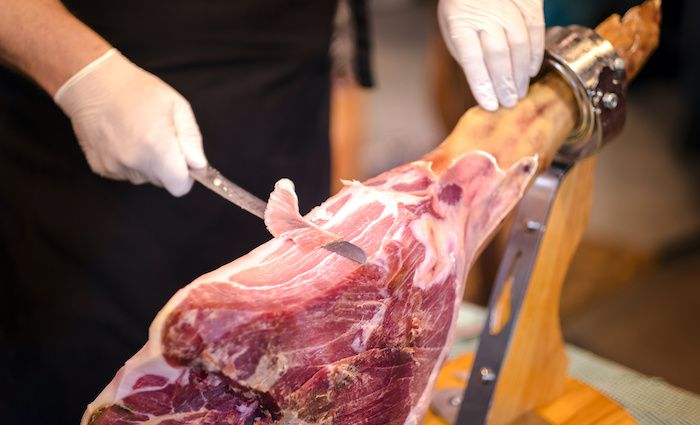 Spanish cured Iberian ham is well known around the world and for good reason. In my humble opinion, it is one of the tastiest things you can eat on the entire planet.
There are many grades of Spanish cured ham which can be confusing even for locals. A general rule is that the more expensive it is the better the quality.
I recommend that you head to one of the local markets like the famous Boqueria to try Jamon. Try and purchase it directly from jamon and cheese stands. More comfortable enjoying a nice restaurant or tapas bar? Then don't forget to order a plate of the famous Catalan bread with tomato along with it!
4. Barcelona Cathedral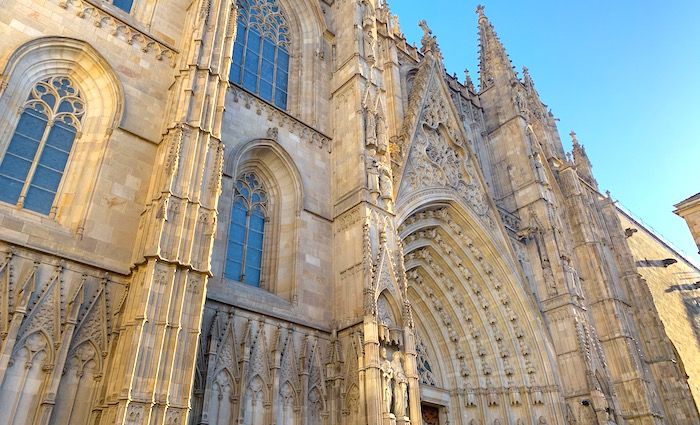 The Cathedral of the Holy Cross and Saint Eulalia aka Barcelona Cathedral is the principal Roman Catholic church of Barcelona. The cathedral was completed in 1448 after 200 years+ of construction.
That said, the facade you see today was not built until the 19th century. The facade was relatively plain up until then but now is clearly neo-Gothic which fits in nicely with Bari Gothic neighborhood.
Like Paris, you'll find many gargoyles on the roof of the cathedral as well as animals including a unicorn!
The structure is ornate and magnificent both inside and out which is why this is at the top of our list of Barcelona's top monuments and attractions.
Address: Pla de la Seu
3. Make the Pilgrimage to Tibidabo and the Temple of the Sacred Heart of Jesus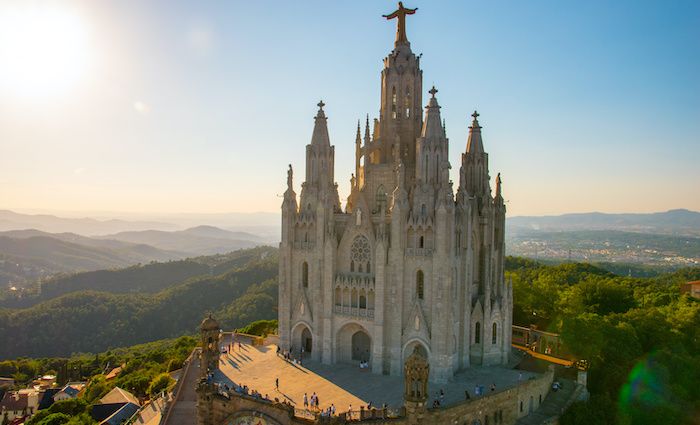 Religious or not, any massive structure on top of a mountain is pretty cool. If you stand on the beach of Barcelona, get in a car and drive west you will leave the city and abruptly be met by a beautiful green mountain. That mountain is known as Tibidabo which is Spanish for a really big green mountain (that isn't true at all).
What is true is that at the very top of Tibidabo is the Temple of the Sacred Heart of Jesus, which is impressive to say the least. It is a minor basilica that is beautiful regardless of your religious background.
The best way to visit is to take the funicular to the top. It is really scenic and a cool experience that will definitely gain a place in your long-term memory.
Fun Tip: There is a Ferris wheel randomly at the top. If you are not afraid of heights it is definitely something to mentally prepare yourself to do! It is not by any means the world's tallest Ferris wheels but I have yet to see another at a higher altitude.
Address of Tibidabo Funicular: Plaça del Doctor Andreu
2. Visit Citadel Park (Parc de la Ciutadella)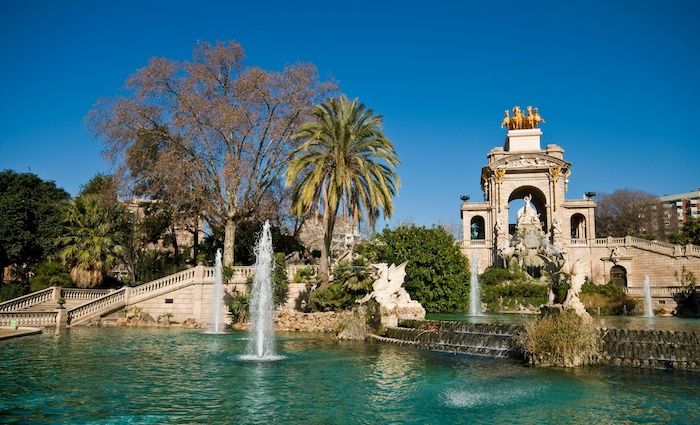 Parc de la Ciutadella aka Citadel Park is Barcelona's most central large green space and quite impressive as far as parks go. It is located in Ciutat Vella north of the Barri Gothic.
The park, which is now a peaceful green space, has some rather violent origins. When Phillip V of Spain took over Barcelona and Catalonia in 1714 he built a fortress in its center and named it the Citadel.
The fortress was built to maintain control over the city of Barcelona and did so for some time. Today, it is mostly a peaceful green space but in 2018 and 2019 it had to be closed during certain periods to stop riots.
Riots!? Yes, for the same reason it was built. Catalonia has been fighting for independence since its succession in 1714 and when there are protests they normally happen in this very park.
Address: Passeig de Picasso, 21
1. Take a Tour of La Sagrada Familia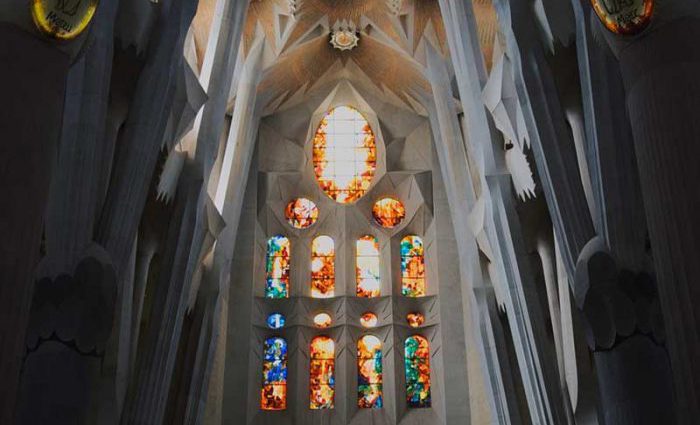 The Main Event
Sagrada Familia is more of an attraction than a museum but we feel so strongly about it that no Barcelona "top" list should go without it. Antonio Gaudi had his work cut out for him with this unique and iconic church – redefining what "gothic" means. Definitely, something to have on your radar when traveling to Barcelona.
If you're going to visit Sagrada Familia consider taking a guided small group tour of Sagrada Familia. The history behind this structure goes far beneath the surface. Passionate local guides will explain the meaning and why it has taken so long to construct!
Address: Carrer del Mallorca, 401