Rhodes is certainly one of the most famous islands In Greece. Every year, thousands of people choose to visit it in order to enjoy the Greek sun, the Aegean Sea, and the Greek nightlife. However, there are plenty more top things to do in Rhodes.
---
Pro Tip: Bookmarks are the key to organizing a great trip. So, bookmark this post in a "Greece" folder in your browser. This way you can circle back to it while you are traveling.
The Best Things To Do In Rhodes
Above all, Rhodes is one of the biggest islands in Greece. That is to say, once you visit it, there are a lot of attractions to see, places to visit, and activities to do. For example, there are significant museums and archaeological places, amazing beaches with crystal clear seawater, and so many restaurants, bars, and clubs to spend all night long. Most important, in Rhodes, you will find luxury hotels to stay at.
Therefore, we gathered the top things to do in Rhodes, so as to be easy for you to visit this unique destination. You can also check the "Where To Stay In Rhodes" article to get an idea of the best places to stay in Rhodes.
11. Wine Tasting In Rhodes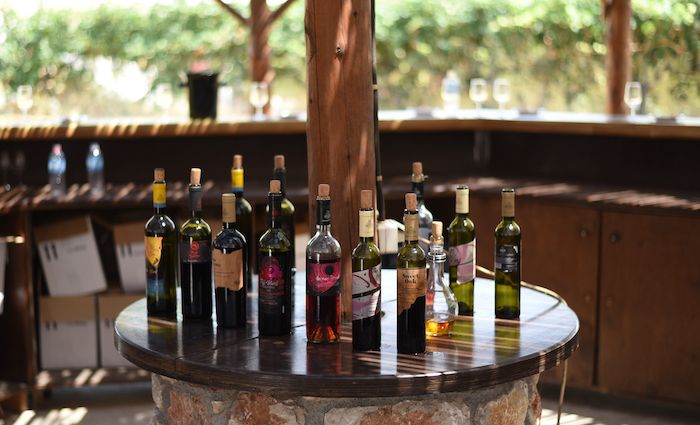 It is said that Rhodes is the first place where vines were grown. Also, in ancient times, people from Rhodes were selling wine in the Mediterranean. The history of wine in Rhodes is long and it will certainly surprise you.
For this reason, it is a great opportunity to have a wine tasting experience. Besides, you will easily find enough wineries that offer unique wine varieties. So, if you choose to have such an activity, you may want to book a winery tour and wine tasting in Kounaki Wines.
10. Exploring Traganou Beach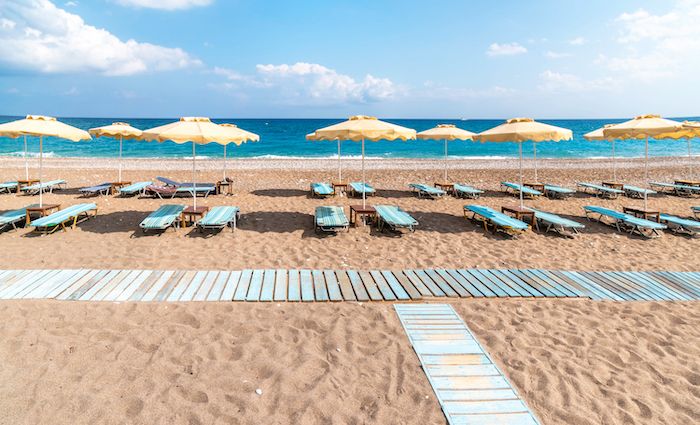 Traganou Beach is certainly a unique landscape. Above all, you don't have to worry about all the necessary equipment as the beach is well-organized with umbrellas and sunbeds. That is to say, you are ready to enjoy your day.
Further, apart from the little pebbles on the beach and the crystal clear seawater, in Traganou Beach, you will discover something wonderful. To clarify, there is a spot with some caves. This is certainly a great place if you don't want to choose the organized spot on the beach.
How to get to Traganou Beach
9. Visiting Kallithea Springs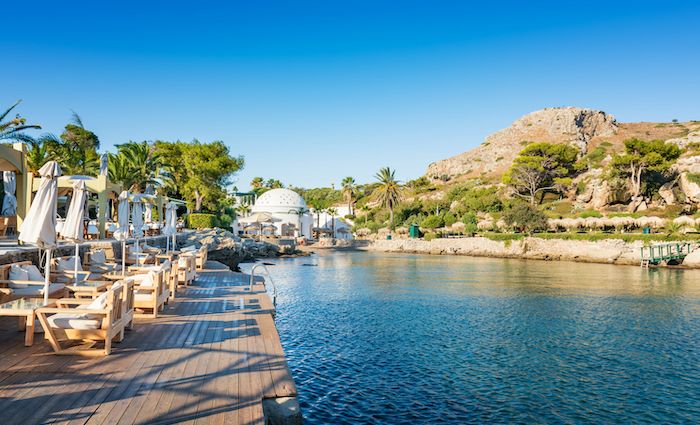 In Rhodes, Kallithea Springs is certainly a famous attraction. To clarify, it is a small bay with wonderful seawater. Here, you will find an organized place where you can spend the whole day. So, it is an amazing idea to spend at least one day of your holidays there.
That is to say, there are beautiful gardens, a cafe to enjoy a cup of cold coffee relaxing with the lounge music. It is a very luxurious place and for this reason, everyone who travels to Rhodes chooses to visit it.
Here you will find some useful information.
8. Trip To Halki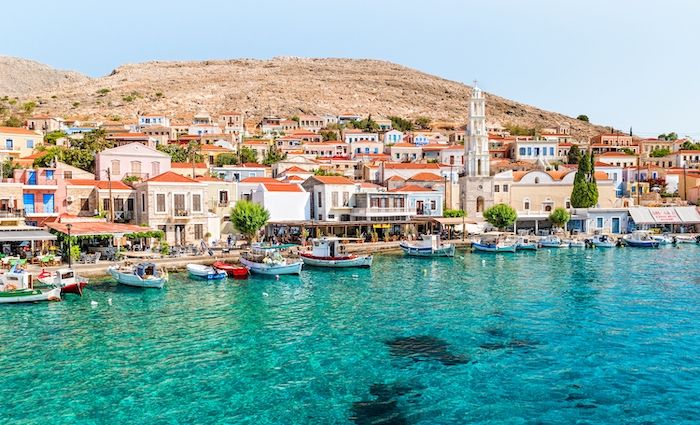 A daily trip to Halki is a great idea if you choose Rhodes for your holidays. This little island is almost next to Rhodes. It is a really picturesque island with beautiful and traditional alleys. Here, you will have the chance to relax and come in touch with the locals.
Above all, there are some very beautiful beaches, historical monuments and restaurants to spend your day in. Therefore, if you decide to visit Halki, Gretour will certainly help you organize this memorable trip. So, this is another top thing to do in Rhodes.
7. Eat Sea Food Dishes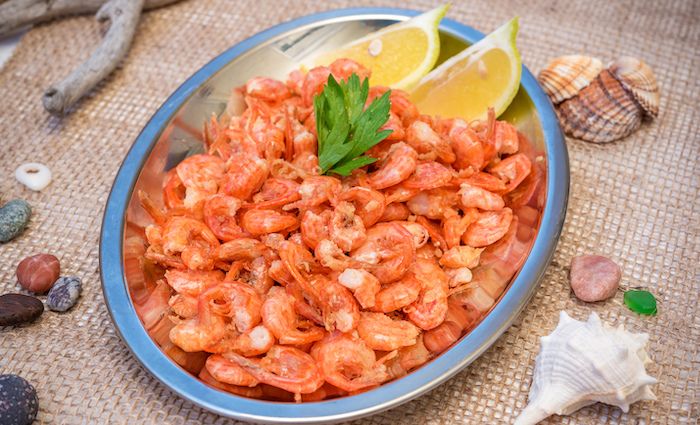 Another reason why I love Rhodes is because of the fresh seafood dishes restaurants offer. As you spend your holidays on a Greek island, tasting a seafood dish is certainly a must. Above all, all fish and seafood are always fresh and well-cooked.
So, if you want to enjoy such a lunch or dinner, you can make a reservation at Cesar Meze Bar. The restaurant owns many awards and it combines fine dishes with an excellent place in order to enjoy your day.
Also, take a look at my article on the top foods to try in Greece.
6. Nightlife In Faliraki
During your holidays, you will certainly want to have fun and meet the nightlife of the place that you visit. Nightlife in Rhodes is an easy thing as you can find so many clubs and bars to spend the whole night in.
Above all, the most popular place for enjoying the nightlife is Faliraki. Here you can choose among many different bars and clubs. My favorite one is Bondi Bar Faliraki mainly because of the friendly staff and the amazing cocktails.
5. Relax In Anthony Quinn Beach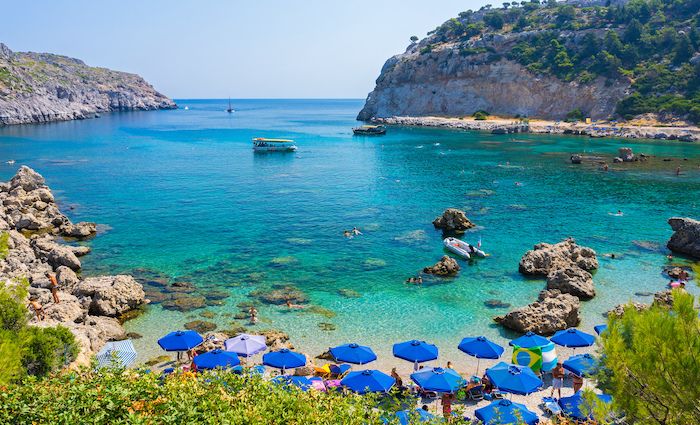 In Rhodes, you will certainly find several beaches to spend your daytime. However, one of the most beautiful beaches on the island is Anthony Quinn Beach. If you wonder why is it called that way, it is because many scenes of "Guns of Navarone" motion film were filmed here.
Most important, it is a beautiful, little, sandy beach in a small bay next to Faliraki village. It is an organized beach, so, you will find some umbrellas and sunbeds there. Don't miss the chance to visit it as you will admire the amazing scenery.
How to get to Anthony Quinn Beach
4. Staying At A Luxury Hotel
A top thing to do in Rhodes is certainly staying at a luxury hotel. Staying at a hotel in Rhodes is a total experience. On this island, you can find some of the most amazing hotels in Greece.
For example, you can choose to stay at Mitsis Alila Resort & Spa. To clarify, it is a hotel offering numerous luxury amenities, like multiple pools and restaurants, a private beach, a spa center, and even a children's club.
For more, check out my article on Where to Stay in Rhodes to understand not only which hotels are great, but what area is best for you!
3. Enjoying The View From Lindos Acropolis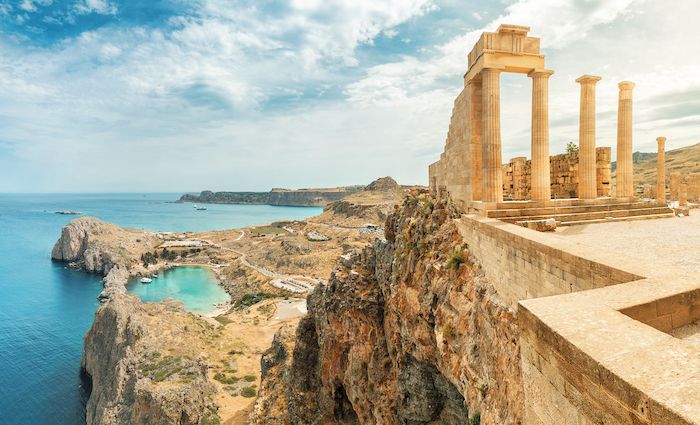 One of the most significant attractions in Rhodes is the Acropolis of Lindos. To clarify, it is an archaeological site located in the highest spot of Lindos village. Above all, the monument is really well-preserved. So, it is worth a visit!
Further, the breathtaking view will certainly amaze you. To clarify, you can admire the Aegean Sea. Moreover, the air is so refreshing here. Finally, you can find further information about tickets and hours here.
How to get to Lindos Acropolis
2. Visiting The Palace Of The Grand Master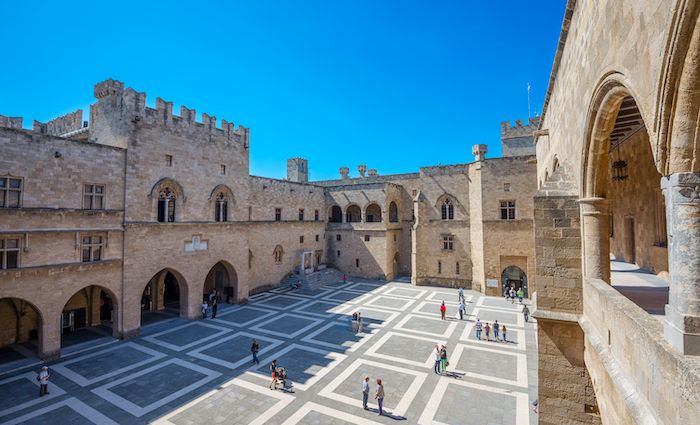 Another must-visit attraction in Rhodes is the Palace Of The Grand Master. This is certainly among the top things to do in Rhodes. To clarify, the Palace is one of the most significant monuments from the Knights' era.
Above all, it is a unique and beautiful Palace that is really well-preserved. So, you will be able to walk in its large spaces and rooms, admire the statues all around, and come in touch with this distant era. If you wish to visit it, you can find more information here.
How to get to The Palace Of The Grand Master
1. Walking Into The Medieval Town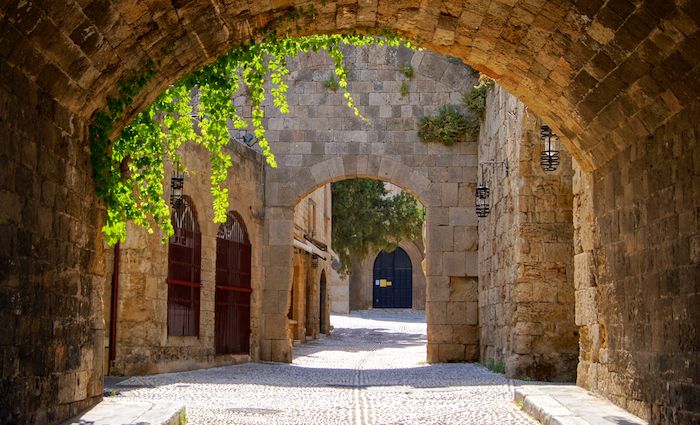 Just as you arrive in Rhodes, a wonderful old town is here to welcome you. That is to say, one of the most amazing activities in Rhodes is to spend time walking in Medieval Town. Besides, it will be a unique experience.
Here you will find the beautiful Knights Street and you will admire the architecture of a distant era. If you feel tired, there are several cafes to relax and enjoy a cup of cold coffee. My happy place in Rhodes' old town is Auvergne Cafe where I can also have a tasty lunch as well.