Traditional Greek cuisine is based entirely on Mediterranean cuisine. That is to say, all dishes are prepared mainly with oil, salt, various aromatics, and pure products. No visit to Greece would be complete without a thorough exploration of these traditional Greek dishes.
---
Pro Tip: It's easier to organize your trip when you have all your resources in one place. Create a browser folder and bookmark this post along with our guide to Athens for more planning resources, our top Athens tours for an easy way to see the best of this historic city, plus the top things to do in Athens.
The Top 15 Foods To Eat In Greece
Greece is a fantastic place to explore Mediterranean cuisine—one of the best cuisines in the world. A lot of countries follow this nutritional diet apart from Greece and it has been inscribed as an intangible cultural heritage of UNESCO.
With that in mind, be sure to try as many traditional Greek dishes as you can on your next trip to Greece! If you love food and travel, you'll love going on a local food tour. Check out our Athens food tours.
Not ready to book a tour? Check out all there is to do in Athens.
15. Koulouri Thessalonikis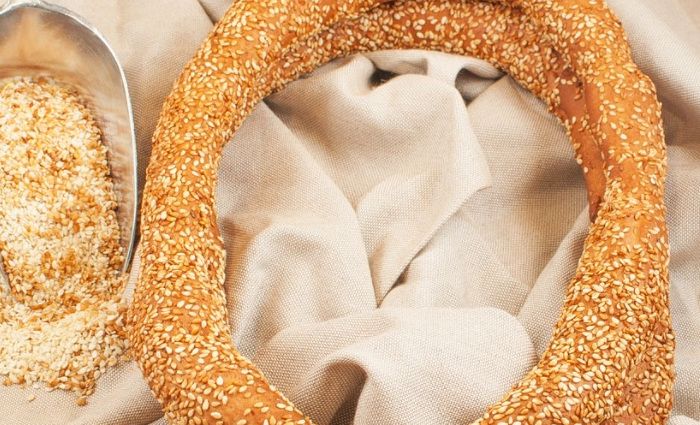 Koulouri Thessalonikis is a round bread roll from Thessaloniki and an ideal choice for a light breakfast. You can buy them from bakeries or street vendors in Thessaloniki, but it's a snack you'll find everywhere in Greece.
Nowadays, there are even several types of koulouri. Apart from the classic koulouri, you can try koulouri with raisins, koulouri with chocolate, or even koulouri with cream cheese. Of course, don't forget to have a cup of Greek coffee with your koulouri.
Where to get Koulouri: Koulourades Agiou Markou
14. Bougatsa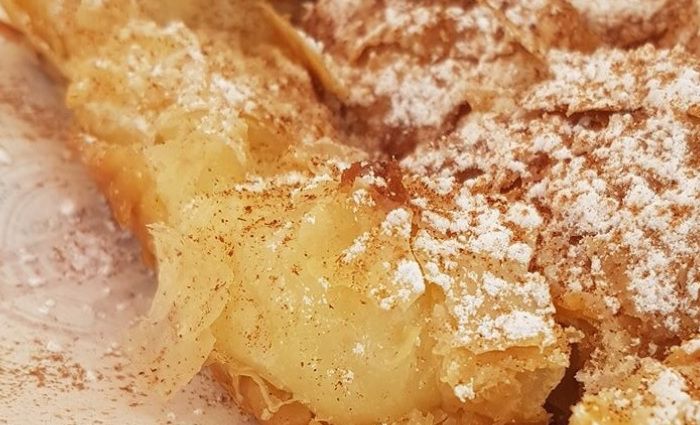 Another option for breakfast is bougatsa. It comes with a sweet semolina cream, powdered sugar, and cinnamon. Bougatsa is a dessert that refugees from Asia Minor brought to Greece. Since then it has become a firm favorite.
Traditionally, you'll find bougatsa in Thessaloniki, but it's available everywhere else in Greece at bakeries or at places that specialize in bougatsa. Besides sweet cream, bougatsa come with other fillings as well. For example, you can try bougatsa with cheese or even with minced meat.
Where to get Bougatsa: Bougatsa Bantis
13. Greek Salad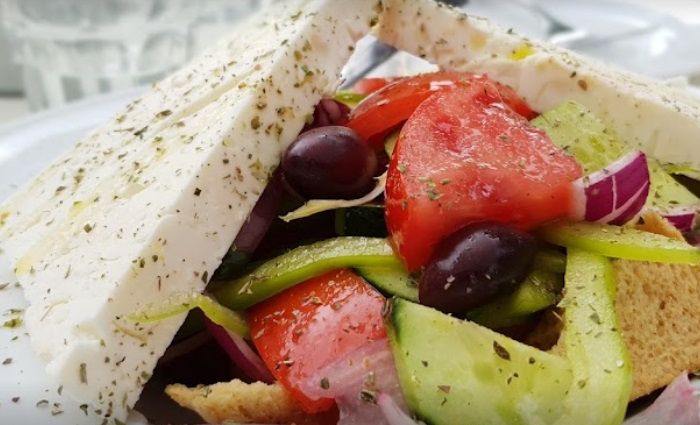 Can you even say you've been to Greece if you don't have a Greek salad? While it's mainly a summer salad, you can get it all year round. Naturally, it's our favorite salad! It comes with many delicious and fresh ingredients you'd expect from a salad, such as tomato, cucumber, olives, and onion. But what makes a Greek salad special is the tasty feta cheese, with olive oil, and capers.
Every single tavern in Greece will offer this traditional Greek salad. Don't forget to start your meal by ordering a Greek salad. Just keep in mind that it's a dish for everyone at the table—not an individual dish.
Where to get Greek salad: Lostre Kuzina
Check Out Our Best Food Tours of Athens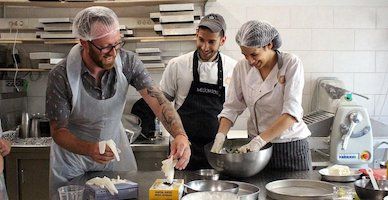 Top Rated Tour
Athens Cooking Class with Dinner and Rooftop View of the Acropolis
From delicious baked spanakopita to classic tzatziki sauce, join this cooking class to prepare authentic Greek recipes with an expert chef. With stunning views looking over the Acropolis, enjoy a 3-course dinner of your creations on this memorable experience in the Greek capital. Bring home the recipes and show your newfound culinary skills, along with amazing photos of the food and views.





Starting at €71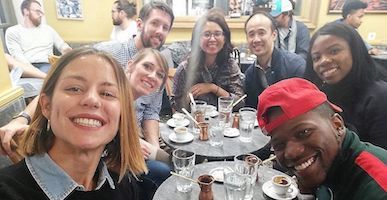 Likely to Sell Out
Athens "Locals" Food Tour in Monastiraki

Explore the gastronomic world of Athens through the city's central market. Enjoy homemade pastries, authentic wines, cheeses, honey-soaked donuts and much more. Your local guide will lead you through the best spots in the lively Monastiraki neighborhood for a delicious experience in Athens.





Starting at €68
Not ready to book a tour? Explore our Athens Guide for more resources.
12. Fava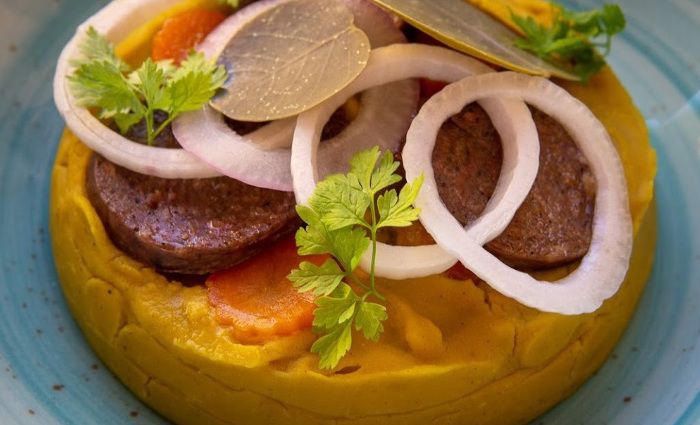 Here's another salad to try. Fava is a legume that once cooked has the appearance of puree. This cold salad is accompanied by olive oil and onions. Fava is a traditional dish from Santorini island. So, when you visit Santorini, ask for some fava to accompany your meal. Also, remember to try a glass of local wine.
Where to get it: Krinaki
11. Tzatziki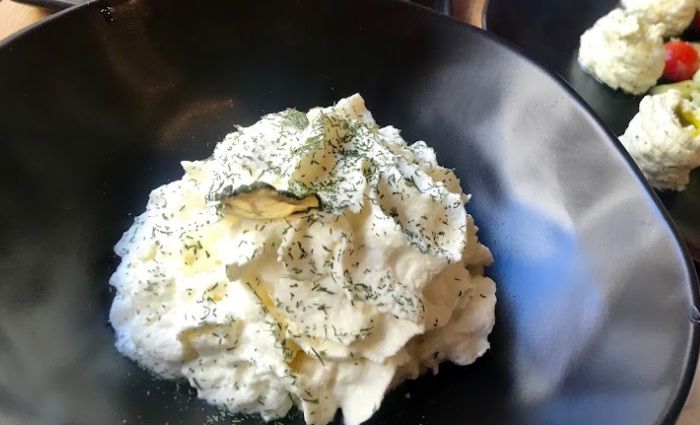 Tzatziki is known around the globe. So, it's another food you can't leave Greece without tasting. Typically, it's a side dish or appetizer that pairs really well with meat main meals.
Tzatziki is made of yogurt, cucumber, garlic, and olive oil. Because of the garlic, you may need some extra water after lunch. But it's delicious and totally worth it.
Where to get it: Paneri
10. Roasted Feta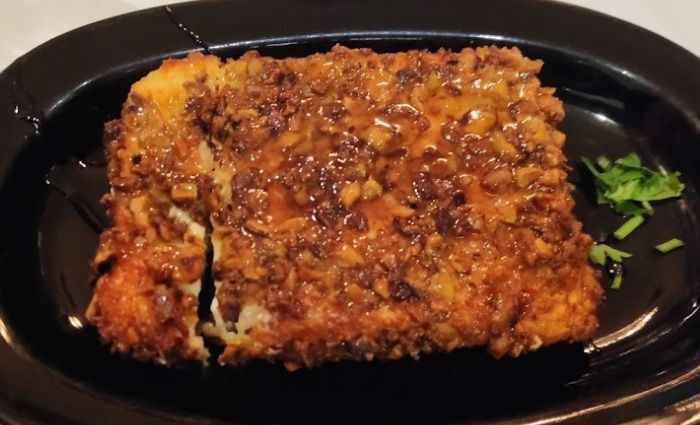 If you want to try something different, this is it—roasted feta. You'll see it on the menu of several taverns, especially in northern Greece. Feta is a type of white cheese produced mainly in northern Greece and made exclusively from sheep or goat's milk.
Roasted feta is also a side dish and is usually served with honey, sesame, and peanuts of Aegina. Once you try it, you'll certainly adore it!
Where to get it: To Steki Tis Pareas
9. Dolmadakia Gialanji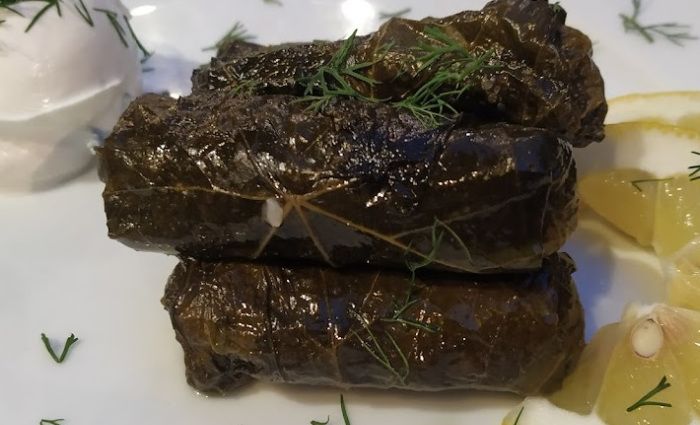 Dolmadakia Gialanji is another traditional appetizer that refugees from Asia Minor brought to Greece. The Turkish call it gialanji, which means "false," because they don't contain minced meat.
However, we Greeks are used to making them with vine leaves filled with rice, olive oil, and lemon. It's one of the most delicious choices, especially in the summer. You can combine this meze with a glass of ouzo. You'll mainly find traditional dolmadakia gialanji in Thessaloniki.
Where to get it: Rouga
8. Antikristo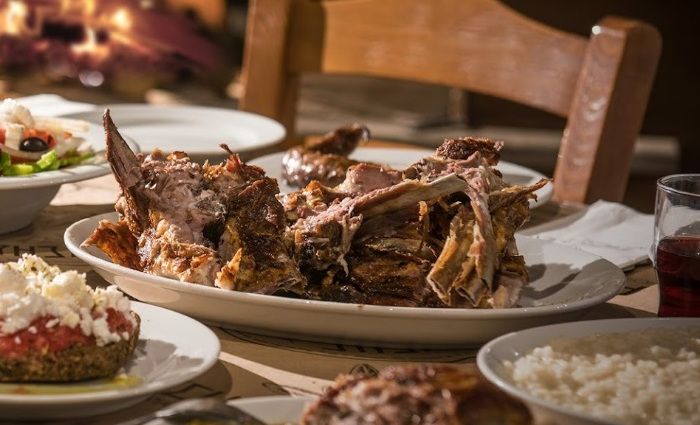 If you love eating lamb, then antikristo is for you. This is a traditional recipe from Crete. Antikristo means "opposite". Cretans cook it by making a pit in the soil where they light a fire and place the lamb in a circle on the spit facing each other—hence the name.
This way of cooking comes from ancient times and residents of ancient Crete would follow this recipe when they wanted to make sacrifices to the gods. That means antikristo lamb was their top choice when it came to food. Today, you can pair your antikristo with a glass of wine or raki, which is the Cretan drink.
Where to get it: Petousis Restaurant
7. Pastitsada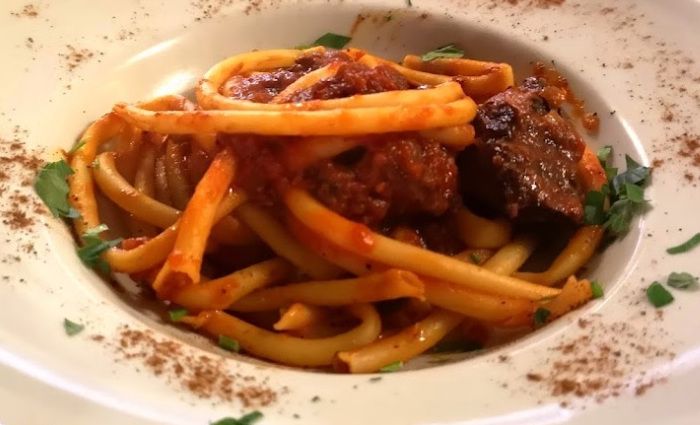 Pastitsada is a traditional dish served in Corfu. Its basic ingredients are meat and thick spaghetti. But many women from Corfu villages prefer to add some cinnamon while cooking, which makes it different.
You'll find traditional meat dishes everywhere in Greece. However, pastitsada is special for its spice mixture of cinnamon, grated clove, allspice, nutmeg, and cumin typically added. They also use red wine and vinegar for the sauce. Another difference in Corfu is that the meat is cooked in butter not oil. It all makes for a delicious meal Corfu-style.
Where to get it: Aegli Restaurant
6. Traditional Pies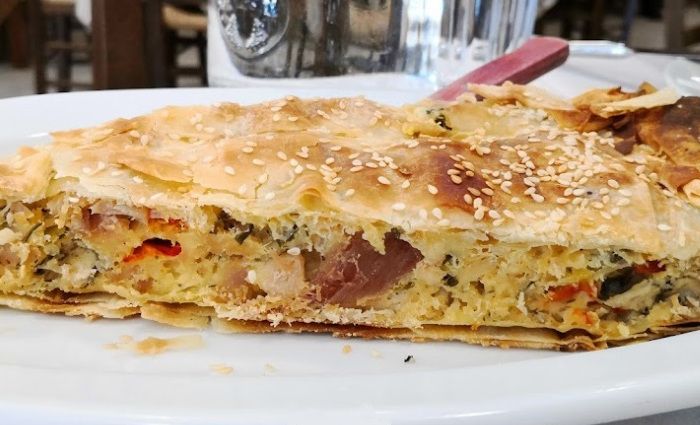 If you have the chance to pass through Epirus, then you have to taste some traditional pies. Locals in Epirus cook many types of pies, like Kasiopita, Kothropita, Kimadopita, Pepeki, Kasata, and Blatsaria. Also, if you visit Tzoumerka or Zagorochoria, tasting pies is a must.
The locals in Epirus still use traditional recipes for their pies. So, don't hesitate to ask them which pies to try and they'll suggest the right mouthwatering pie for you.
Where to get it: Fyssa Roufa
Popular Athens Tours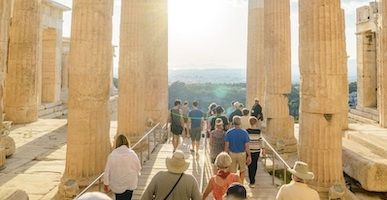 Top Rated Tour
Skip the Line Acropolis Tour with Parthenon and Museum

Towering above the modern city of Athens, explore the ancient forum home to the relics of Classical Greece. From the world's oldest theatre to the iconic Parthenon, the Acropolis is a beacon of civilization and philosophy. Head back in time to the time of Plato and Socrates on this Skip-the-Line tour.





Starting at €80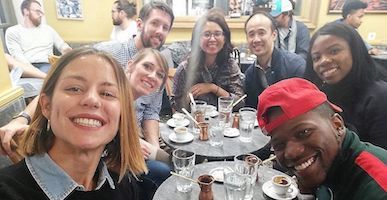 Likely to Sell Out
Athens "Locals" Food Tour in Monastiraki

Explore the gastronomic world of Athens through the city's central market. Enjoy homemade pastries, authentic wines, cheeses, honey-soaked donuts and much more. Your local guide will lead you through the best spots in the lively Monastiraki neighborhood for a delicious experience in Athens.





Starting at €68
Not ready to book a tour? Explore our Athens Guide for more info.
5. Spetsofai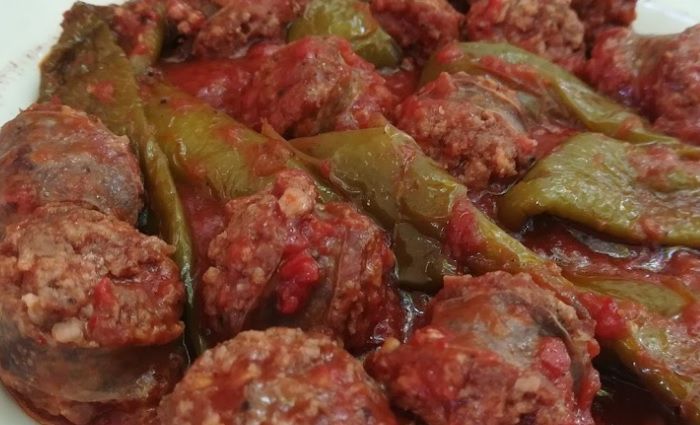 Another great option for a traditional dish is spetsofai. From Pelion (Volos), spetsofai is cooked with sausages, Florina's peppers, eggplant, zucchini, onions, and tomatoes. It often comes with either rice or fried potatoes.
Greece is a producer of great livestock. So, local chefs choose Greek meat to make their sausages, which gives it its flavor. You can pair your spetsofai with a glass of wine or ouzo while tasting this incredible dish.
Where to get it: Kritsa Restaurant
4. Spaghetti With Shrimp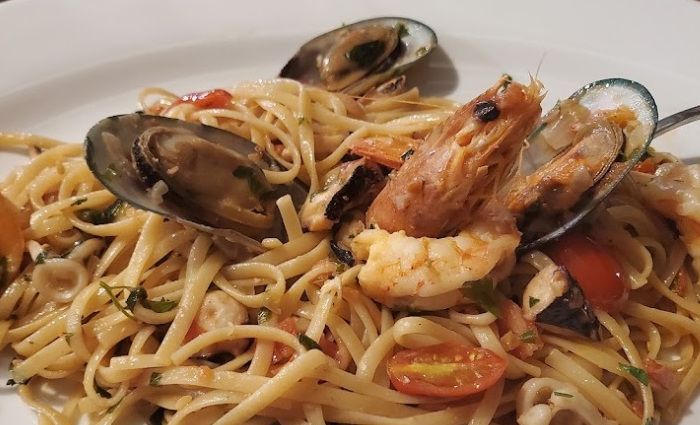 Spaghetti with shrimp is a popular dish not only in Greece but in many countries around the world. However, if you're going to Rhodes, you have to try it here. Fishermen in Rhodes produce fresh shrimp every day, so many restaurants will make their homemade pasta with fresh shrimp.
For this reason, spaghetti with shrimp will be unique in Rhodes. Also, in the traditional recipe, chefs also add some ouzo, which gives it its unique flavor.
Where to get it: Orexi Rustic Cuisine
3. Loukoumades With Honey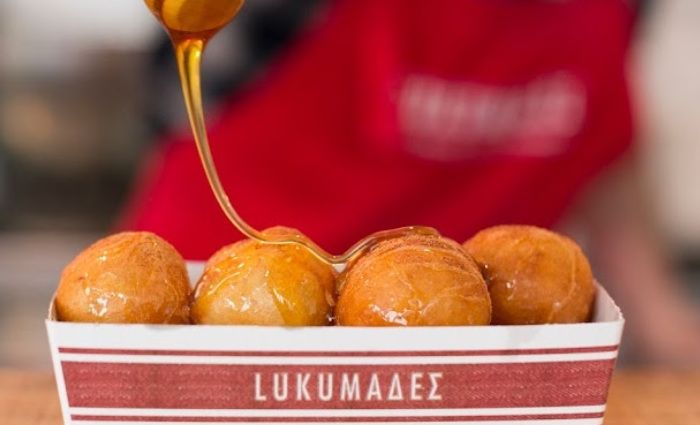 After your lunch, try some loukoumades with honey. Loukoumades are a light dessert made with sugar, lemon, honey, flour, and cornflour. They're like donuts but they aren't filled with anything.
Some people like adding cinnamon and sesame while others prefer them with some chocolate. So, it's up to you to decide what you'd prefer from these options. Whatever you do, though, get some traditional loukoumades in Thessaloniki.
Where to get it: Lukumades
2. Künefe Peyniri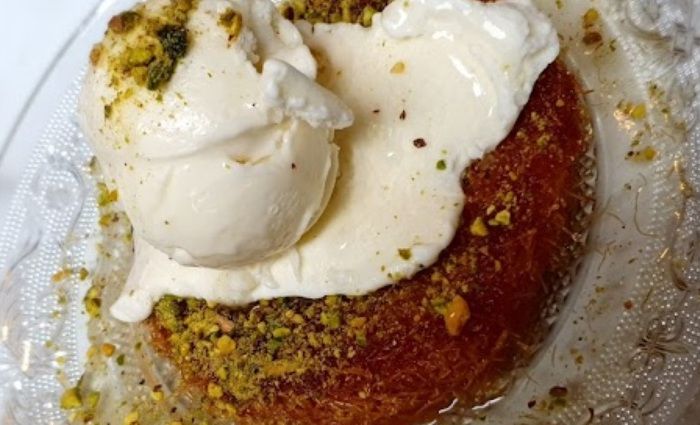 Künefe peyniri is a sweet refugees brought from Istanbul to Greece. Like all these sweets, its characteristic is that it's syrupy. It goes really well with your favorite ice cream and is especially nice in the summer. I recommend Kaimaki ice cream when you try it.
All these sweets belong to the Greek cultural heritage from Asia Minor and we continue to keep the tradition. If you have the chance, celebrate the tradition with us by trying some künefe peyniri.
Where to get it: Zoubourlou
1. Souvlaki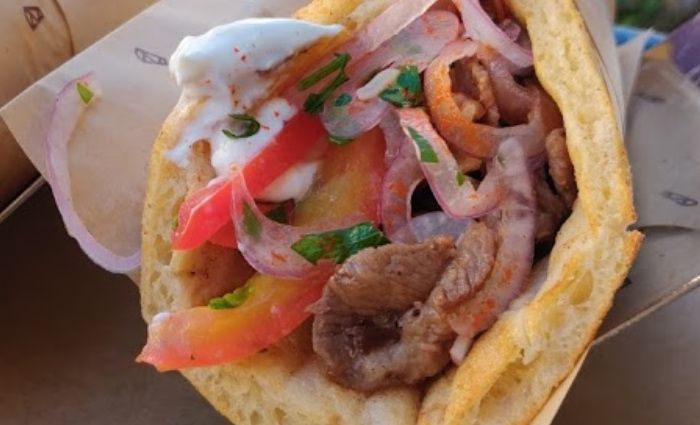 In the top spot is the most popular Greek food, souvlaki. You can get it absolutely anywhere in Greece. It's a full meal, so if you're a bit hungry at night, go with the souvlaki. It's a quick and easy option you can eat with your hands like a sandwich. Choose between pork, chicken, or kebab, and wash it down with a Greek beer.
Where to get it: Hoocut
Not ready to book a tour? Explore our Athens Guide for more info.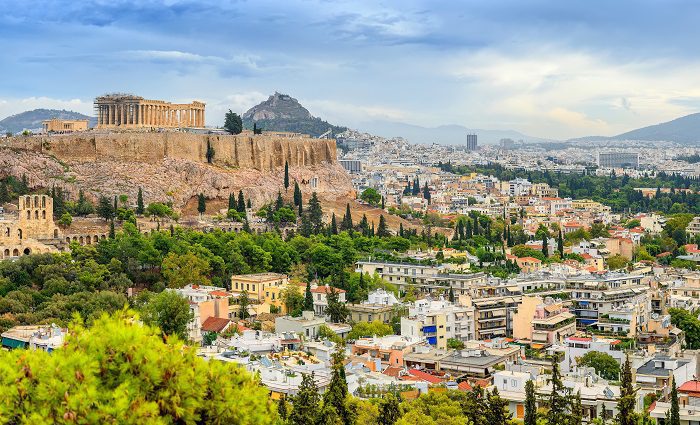 Find the best places to stay
Where To Stay in Athens
A great hotel at a great price has become the norm in this internet era. Our article explains what areas are the best in Athens, so you can get a great deal in the perfect location!