The Met is one of New York's most popular cultural destinations. Located on the Upper East Side near Central Park, the neighborhood around the Met is bustling with plenty of other things to see and do—and many great places to dine. There happen to be several food options within the museum itself, but if you want to explore the area a bit, it's also nice to wander to a nearby eatery before or after visiting the museum. For some tips on the best restaurants near the Met Museum, read on!
---
11 Amazing Places to Eat Near NYC's Met Museum
The Met is an enormous place. It spans time periods from pre-history through to today, and the halls are packed with arresting and intriguing art objects. It's the kind of museum that works up an appetite, and that's where we come in! For those looking to grab a bite before or after a trip to the world-famous museum, check out our top picks below.
Café Sabarsky
$$ | Museum Restaurant | Traditional Viennese Cuisine | Breakfast, Lunch and Dinner | Amazing Desserts
Hop from one museum to the next with a meal at the Neue Gallerie's Café Sabarsky. Inspired by traditional Viennese cafes, this restaurant features period decor, musical performances, and a rich menu with especially delectable pastries. Best of all, it's just two blocks north of The Met.
The cafe is open for breakfast, lunch and dinner, with reservations only open for dinner. While the salmon and Bavarian sausage are always worth a try, you can't leave Café Sabarsky without having at least one dessert. And, if you can only choose one, make sure it's the Sachertorte, a classic Viennese chocolate cake.
Address: 1048 Fifth Avenue, New York, NY
The Mark by Jean-Georges
$$$$ | Eclectic Menu | Elegant Dining Room | Great Outdoor Seating
Just a few short blocks from the Met, The Mark is for those looking for a unique, upscale dining experience. The menu will satisfy any palate–even the pickiest of eaters–but will also meet the high expectations of the foodies among us.
There is caviar alongside pizza, Special K cereal, and Norwegian smoked salmon. Whether you want to elevate your breakfast, lunch, dinner or go for a cocktail after a stroll through the Met's many corridors, The Mark is a can't-go-wrong kind of place.
Address: 25 E 77th Street, New York, NY
Flex Mussels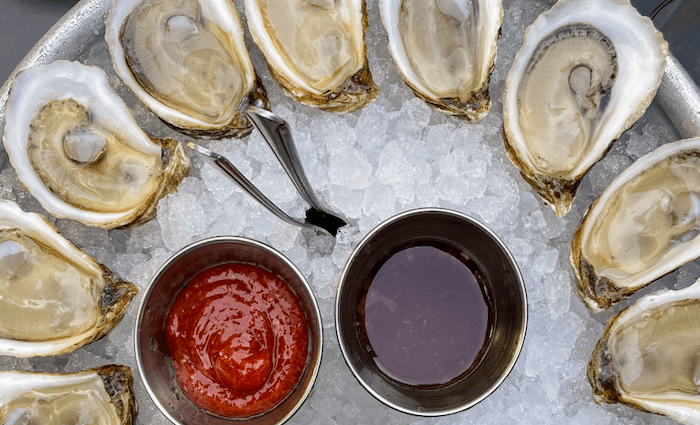 $$$ | Seafood | Great for Groups | Delicious Raw Bar Menu | Unexpected Combinations
Located east of the Met, Flex Mussels is a no-frills seafood restaurant with the goods fit for a queen. What started as a shack on the Prince Edward Islands—famous for their shellfish—Flex Mussels offers, as you might have guessed, plenty of variations of mussels (steamed, dijon, bisque, etc.) as well as many other delicious seafood combinations.
Oysters, ceviche, and sashimi all make an appearance on the menu, and each dish is as good as the next. For those who aren't fans of the raw bar, there are other fruits de mer to indulge in, such as the lobster roll, chicken dish, or Caesar salad.
This is definitely a place that lends itself well to big group dinners—some of the raw bar dishes do come in buckets, after all. But it can be just as fun for a quick lunch or casual date night. The wine doesn't disappoint either, so be sure to indulge in a glass of something crisp to wash down those mollusks.
Address: 174 E 82 Street, New York, NY
Uva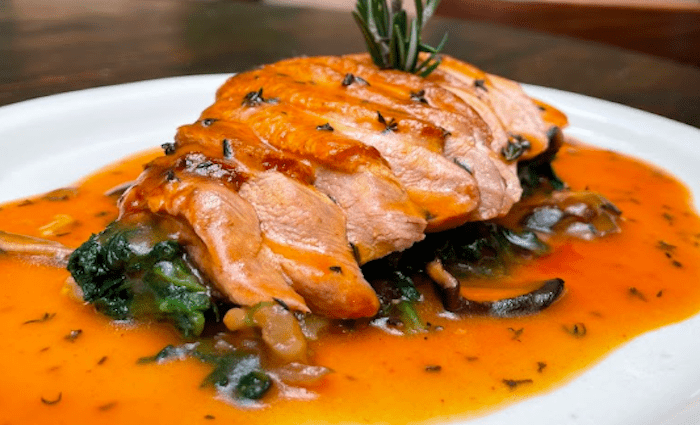 $$$ | Italian | Rustic | No-Frills | Cozy Atmosphere
One meal at this cozy Italian spot, and you'll understand why it's an Upper East Sider's go-to. While this is a bit further from the Met than some of the other restaurants on this list (about 15 minutes on foot), it's worth the journey east. The best part about Uva is that it always delivers.
It's one of those places where you can always get a reservation, it's never too loud, the food is always good, and the wine list is varied and accessible. Will it blow your mind? No, but it's not aiming for that. Let's face it, the Met can be exhausting, and sometimes you just want a solid meal at a not-too-crazy price. Hit up Uva. They even have a festive backyard in summer, if that's something you look for.
Address: 1486 2nd Ave, New York, NY
Levain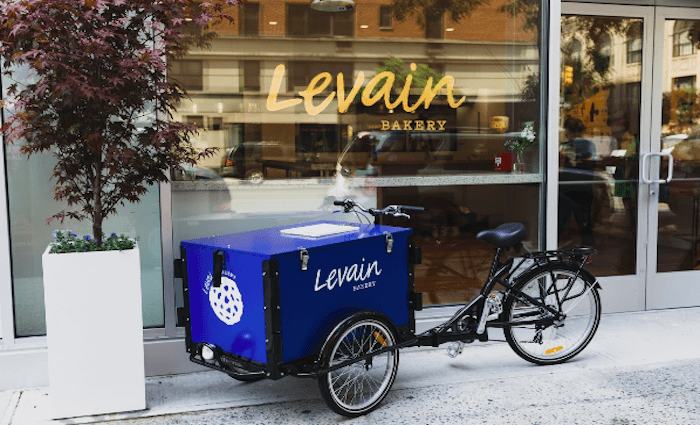 $ | Bakery | Amazing Cookies | Dessert | Casual
While not technically a restaurant, Levain still deserves a spot on this list. A few blocks east of the Met, this bakery serves up some of the most talked-about cookies in the city. They do offer other items like muffins, pound cakes, and savory breads, but their cookies—more closely reminiscent of scones in both texture and size—are what made this eatery's name.
Two-Chip Chocolate Chip, Dark Chocolate Chip, Oatmeal Raisin are some of the menu highlights, and they even have gluten-free choices. While the cookies aren't the cheapest in town ($5 a pop), they're so large, they can definitely be split two, if not three, ways. After all, you've just had a world-class cultural experience. Reward yourself with a sweet treat from Levain.
Address: 1484 3rd Avenue, New York, NY
Casa Birria
$ | Food Truck | Mexican | Traditional Cuisine | Good for Lunch
Another spot that is not technically a restaurant, Casa Birria is a local food truck but nevertheless holds its own against every eatery on this list. Known, in particular, for its birria, a traditional Mexican stew often used in tacos, Casa Birria also serves up quesadillas, tostadas, and a variety of Mexican drinks.
It can often be found on the corner of 86th and 3rd Avenue, a few blocks east of the Met, where loyal fans line up to grab three tacos for $10—cash only. If you're looking for a quick and gobsmackingly good bite before or after a trip to the museum, this is the spot for you.
Address: 184 East 86th Street, New York, NY
Pastrami Queen
$ | Kosher Deli | Casual Setting | Amazing Sandwiches | Great for Breakfast or Lunch
As the name suggests, Pastrami Queen is the sandwich spot near the Met. A kosher deli that's been a neighborhood institution since the 1950s, Pastrami Queen doesn't just deliver on the Anthony Bourdain-approved pastrami. Pretty much any one of their gigantic sandwiches are delicious, and its a great way to fuel up before or after a stroll around the Met. A casual lunch spot great for a quick bite or a sit-down lunch, Pastrami Queen feels–and tastes–like quintessential New York.
Address: 1125 Lexington Avenue, New York, NY
Loeb Boathouse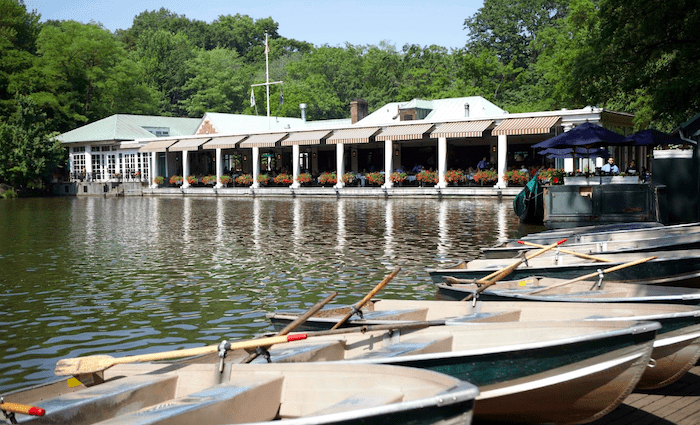 $$$ | Waterfront Views | Al Fresco Dining | Brunch, Lunch and Cocktails Only
Just a ten minute walk south through Central Park, the Loeb Boathouse is iconic. It's been referenced in countless TV shows and movies and boasts one of the best views in the park. The waterfront patio extends out onto Central Park's lake, and diners can watch rowboats drift by and turtles sun themselves in the warm months.
But the view isn't the only reason this place has been around for nearly 70 years. The food is upscale, yet the vibe is laid back. Open only for brunch, lunch, and bar service, the menu features staples of American dining with a few unexpected twists, like fish and chips or stuffed French toast. Come for the atmosphere, stay for the cheesecake.
Address: Park Drive North, East 72nd Street, New York
Via Quadronno
$$ | Rustic Italian | Neighborhood Favorite | Great Cappuccinos | Famous Paninis
Via Quadronno is a short walk south of the Met. It serves a delicious breakfast, lunch, and dinner, but is best known for its cappuccinos and paninis. It's the kind of place where you can drop in for a quick coffee break or enjoy a sumptuous, drawn-out lunch, where you will definitely be dining next to locals, and is certainly a favorite among the neighborhood crew. If you're looking for elevated Italian, this probably isn't the place. But the food is nothing to sniff at either. Think classic rustic meals with a dash of the unexpected.
Address: 25 E 73rd Street, New York, NY
Sistina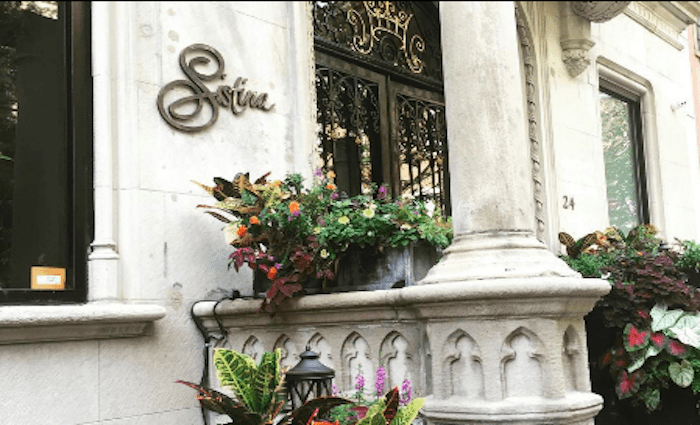 $$$ | Italian | Upscale | Old-World Decor
One of the closer restaurants to the Met, Sistina is less than one block away. This is a place that feels more like walking into someone's apartment building than a restaurant. Housed in a charming building on a quiet side street, Sistina is an intimate spot great for smaller groups. A large window in the back makes it feel even homier, and the decor is old-world and intriguing. Food is classic and consistently good, and the wine list is notoriously extensive.
Address: 24 East 81st Street, New York, NY
The Simone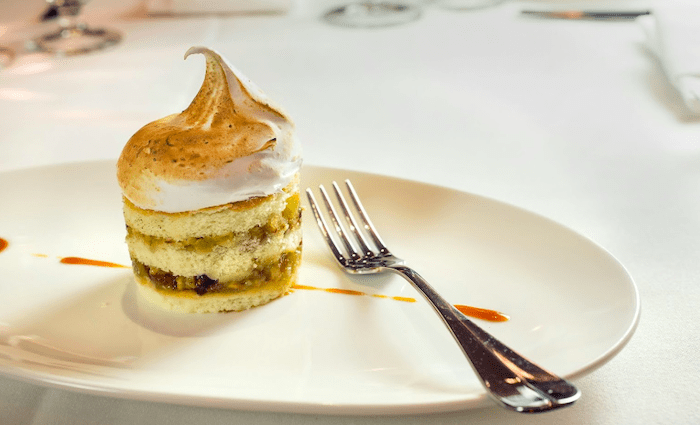 $$$$ | French | Upscale | Traditional Cuisine | Intimate Bistro Setting
Another favorite of Upper East Siders, The Simone is the local neighborhood French bistro. The dishes are classic continental—goat cheese soufflé, pan-roasted duck breast, and filet mignon all make an appearance. Owned by a husband and wife duo, this cozy restaurant manages to present an elevated dining experience without feeling stuffy. Just a few blocks east of the Met, The Simone is a great option for afternoon drinks or dinner. Be sure to give one (or two, or three) of the delicious dessert options a try!
Address: 151 East 82nd Street, New York, NY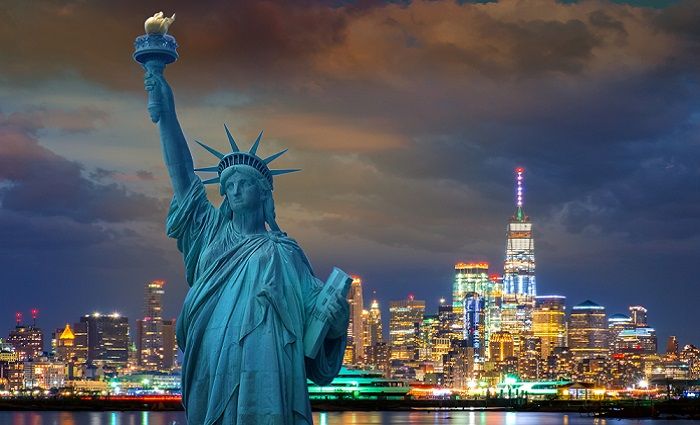 Find the best places to stay
Where to Stay in NYC
New York City is the center of the universe to those who adore this iconic city. Choose the best neighborhood to stay in as you plan your upcoming trip to the Big Apple.