Whether you're looking for a boutique experience or are all about location, there are plenty of great hotel options in Brooklyn, New York. More affordable and less crowded than neighboring Manhattan, these options deliver style without skimping on amenities. If you're planning a trip to this borough, here's our list of the best hotels in the Brooklyn.
---
Pro Tip: Planning your trip to NYC? Bookmark this post in your browser so you can easily find it when you're in the city. See our guide to Brooklyn for more planning resources, our best NYC tours for a memorable trip, and fun things to do in Brooklyn.
The 11 Best Places to Stay in Brooklyn This Year
Some say Manhattan is dead, and if that's true, then Brooklyn is its replacement. With an unbeatable food scene, high-quality cultural offerings and neighborhood vibes, Brooklyn is a great place to stay when visiting New York City.
While the number of hotels is far less than in Manhattan—and most are concentrated in the areas of Williamsburg and Downtown Brooklyn—there are still plenty of great options that run the gamut from luxury to affordable and trendy to no-frills. So whatever you're planning for your next vacation, be sure to check out hotels in the better borough.
Our Partnership with Booking.com. If you like our content, please book by clicking on our Booking.com links. The price is the same for you and we get a small commission that helps support our blog. We've partnered with Booking.com because they have the most options, great prices, and a solid loyalty program. Just about every hotel is on Booking so our recommendations are not incentivized.
Wythe Hotel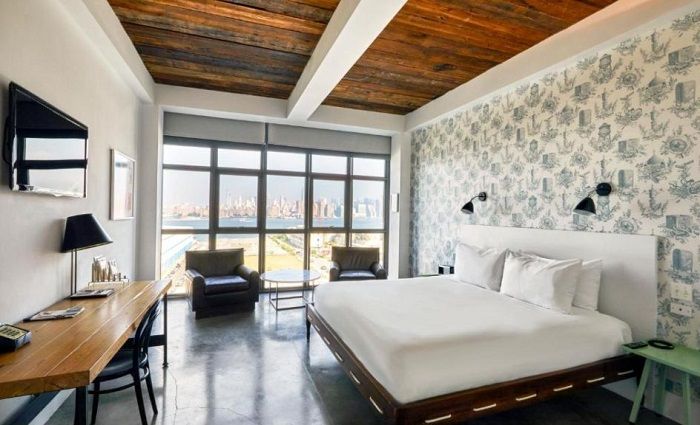 $$$+ | 4 Star | Very Hip | Great Restaurant Options | Unique Decor
The Wythe is located near other popular hotels like the William Vale and McCarren Hotel and occupies a converted factory in the heart of Williamsburg. Details like reclaimed wood and patterned wallpaper give this spot a hipster vibe and the overall feel is similarly casual yet sophisticated.
The on-site restaurant, Le Crocodile, serves brasserie-style French food and is a popular spot for visitors as well as locals. The hotel as a whole definitely serves up a classic Williamsburg vibe as many of us locals imagine it, yet it doesn't offer the other additional amenities that some of its neighboring hotels do, like a pool. Still, this is a great option if you are looking to spend some time in the 'Burg.
Hotel Le Bleu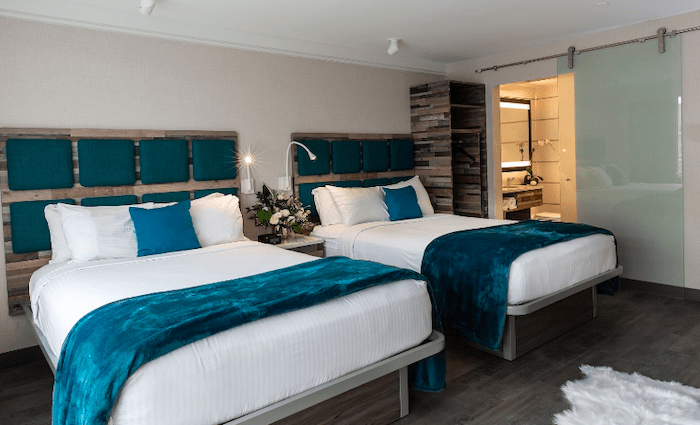 $$ | 3 Star | Great Location | In-Room Work Stations
While relatively no-frills, Hotel Le Bleu is an amazing location for those wanting to explore Brooklyn itself. Located between Gowanus and Park Slope, the hotel is within walking distance of popular hotspots like Pig Beach BBQ, as well as cultural highlights such as Prospect Park and the Brooklyn Museum.
The hotel is clean and the bathrooms were renovated fairly recently, but there aren't many other amenities to speak of. However, they do cater to business travelers with well-equipped in-room work stations as well as a fully outfitted business center. A gym pass and concierge services are also available.
The 1 Hotel Brooklyn Bridge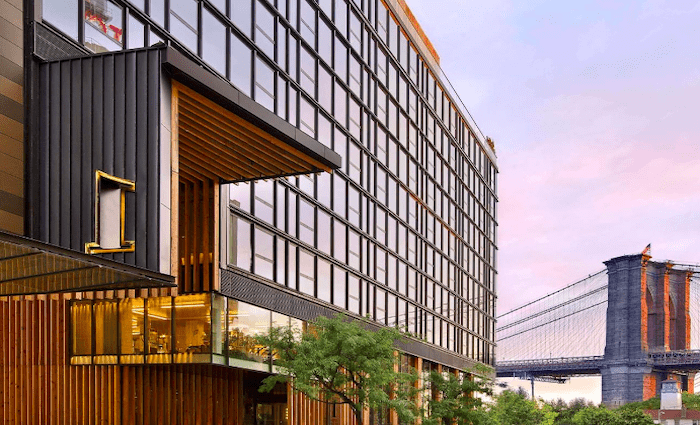 $$$$ | 5 Star | Rooftop Pool | Stunning Views | Amazing Location
Located in the hip and happening neighborhood of Dumbo, the 1 Hotel Brooklyn Bridge is an experience for the Instagram era. Prepare for moss-covered decor, floor-to-ceiling windows, and a crowd that knows how to dress.
The best part about this place, however, is the bustling rooftop. Up here you will find breathtaking views of the Manhattan and Brooklyn bridges, a buzzing bar scene, and a huge pool. Other amenities include group fitness classes, personal training sessions, several on-site dining options and a busy events calendar.
It is worth noting that for those looking for peace and quiet, this lively hotel may not be the best option. On the other hand, for those looking for fun and festivity, the 1 Hotel is an unbeatable choice. Find our other list of hotels with pools here.
NU Hotel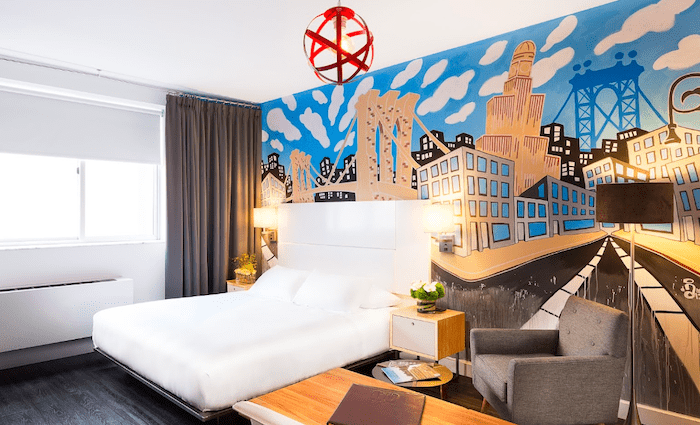 $$+ | 3 Star | Boutique Hotel | Funky Decor
If you're looking to explore many different areas of Brooklyn, NU Hotel is a great option. Its location allows for easy access to several different subway lines, and it is within walking distance to many popular attractions.
While there are only basic amenities such as Wi-Fi, a fitness center and bar, the staff are friendly and the rooms are up-to-date and clean. The decor is funky, with touches like in-room hammocks and colorful murals that brighten the space. Breakfast is the only meal available, though the hotel is close to plenty of excellent dining options.
Franklin Guesthouse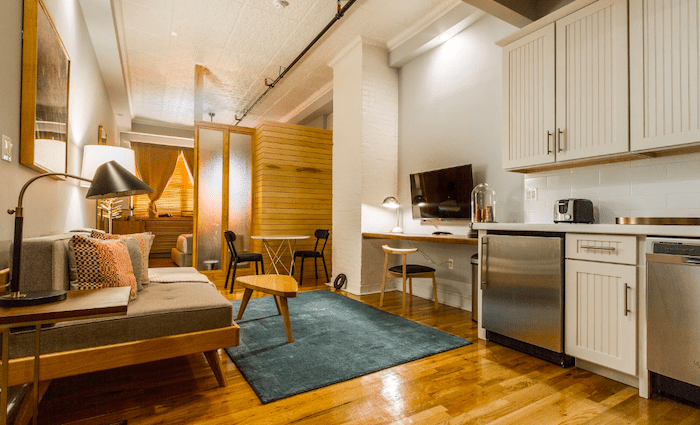 $$$+ | 3 Star | Boutique Hotel | Kitchenettes in Rooms
Staying at Franklin Guesthouse almost feels like getting your own studio apartment. While on-site amenities are less than some hotels, each room does come equipped with a kitchenette, plenty of space, and clean marble bathrooms. That's quite a bonus in New York City! The vibe of the hotel is low-key; the decor is modern but not overdone.
Dining options come in the form of Madre—a fusion restaurant open for dinner each night. While the Greenpoint neighborhood can be difficult to get to and from, as there is a lack of public transportation within the neighborhood, it's still an incredibly popular and vibrant area of Brooklyn. Those who have come to NYC before will especially appreciate getting to see a less central area of town.
Williamsburg Hotel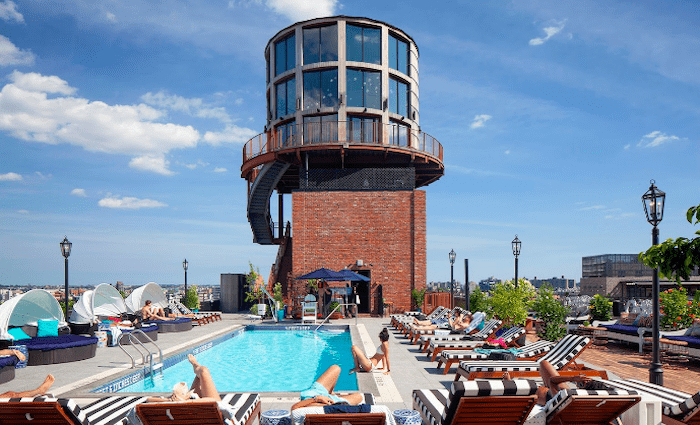 $$$ | 5 Star | Rooftop Pool | Trendy | Great Location | Delicious Food
The Williamsburg Hotel is a neighborhood favorite easily recognizable by the glass watertower bar that overlooks the pool. Besides its central location in the neighborhood of Williamsburg, the hotel is also just one subway stop from Manhattan, making it an excellent choice for those looking to spend time in both boroughs.
Clean, stylish rooms offer guests floor-to-ceiling windows with great views of the city skyline. The hotel is also particularly well known for its on-site restaurant that's open for breakfast, lunch and dinner. The menu, which is vast, is also affordable, and hotel guests can order food to their room, the patio or even the rooftop if they prefer.
The William Vale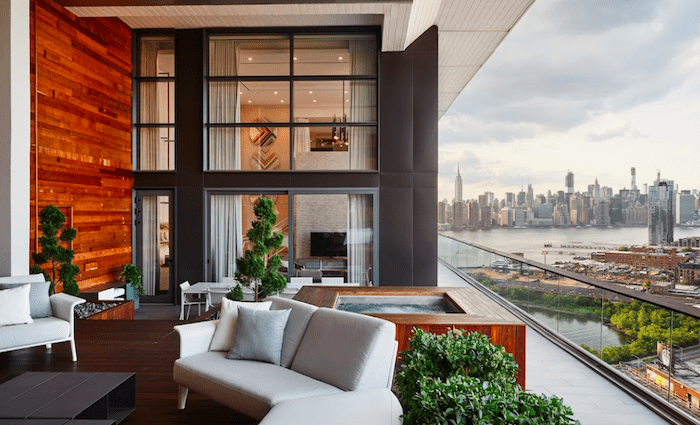 $$$+ | 5 Star | Rooftop Pool | Boutique Hotel | Hip Scene
The William Vale is a central gathering point in the neighborhood of Williamsburg. It is popular with both travelers and locals alike and has one of the busiest rooftops in the borough. The vibe is hip and fashion-forward, and the hotel is great for a great meal, pool party, or an overnight stay.
Dining options are varied, from a sit-down Italian restaurant called Leuca to Mister Dips, which is a seasonal Airstream that serves burgers and cones. Guests can also grab a quick bite at Westlight or drinks by the pool. Other amenities include a spa and a seasonal ice skating rink that's open all winter long.
The Box House Hotel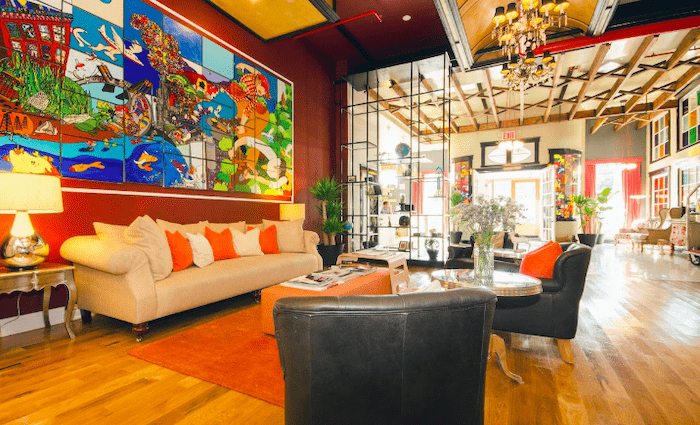 $$ | 3 Star | On-Site Gym | Excellent Restaurant | Beautiful Rooftop Views
Another Greenpoint boutique hotel, the Box House Hotel might remind you of the Franklin Guesthouse, which shouldn't be surprising since they're owned by the same developers. Located in a converted factory, the Box House Hotel leans into the industrial setting while still exuding comfort.
The rooms are spacious and decorated with bright details and artful touches, and the rooftop is one of the best in the borough. Another fun element is the hotel's driver, who will take guests anywhere within a mile of the hotel in an old-fashioned yellow cab.
What this hotel gets especially rave reviews for, however, is its restaurant the Brooklyn Lantern. It's open daily for all three meals and is not only delicious, but relatively budget-friendly.
McCarren Hotel and Pool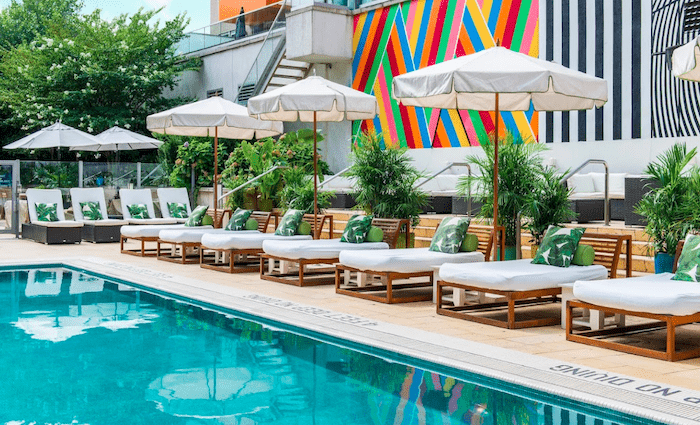 $$+ | 4 Star | Rooftop Pool | Amazing Location | Very Trendy | Local Favorite
Located right on McCarren Park, a central site of Williamsburg, the McCarren Hotel and Pool is an incredibly trendy retreat. The rooms are some of the nicest of all the places on this list of Brooklyn hotels, and the bathrooms are spectacular. Amenities include rooftop dining options and a happening poolside bar.
The pool is a popular weekend draw during warmer months and can definitely get rowdy throughout the day. This brings a bit of a party vibe to the hotel, which may not be what travelers with young children are looking for. However, if you are looking for fun and festivity, this is a great place to spend some time.
Ace Hotel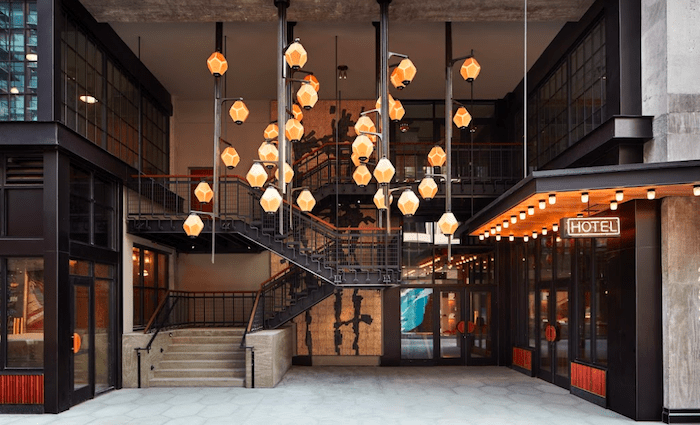 $$$ | 4 Star | On-Site Events | Hip Bar Scene
The Ace Hotel is one of the bigger hotels in Brooklyn, and it draws a mix of the business crowd, tourists, and locals. The aesthetic is close to Scandinavian design sensibility but with pops of color. Meanwhile, the rooms are spacious and—if on the north side—come with excellent views.
The lobby is vast and can feel more like a co-working space than an entryway as there are many nooks and crannies to relax in or get some work done. It is also where many on-site events happen such as art exhibits and pop-up wine tastings.
As far as dining goes, there is a lobby bar and an in-house restaurant. The restaurant is open for breakfast, lunch and dinner and stands out as one of the area's few good options (most eateries are a bit of a walk from the Ace). There are also a number of spaces for events and private parties for those looking to host a gathering.
The Hilton Brooklyn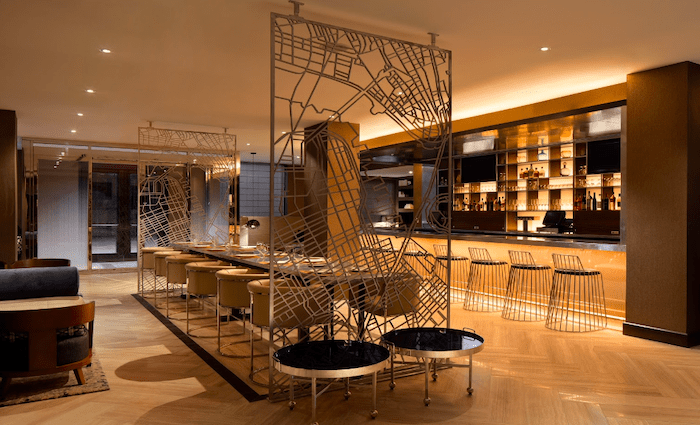 $ | 4 Star | Central Location | Business Center
Even though the Hilton Brooklyn is a chain, it offers a reliable stay in a central location. Located in between many great sites such as the Brooklyn Heights Promenade, the Brooklyn Bridge, Dumbo, and access to many subway lines, this is a great fit for travelers looking for convenience and dependability.
While its more sterile than some of the funkier Brooklyn boutique hotels, it offers well-kept rooms, a restaurant and fitness center. If traveling for business, this is also a great place to stay, not to mention for those who prefer to add to their Hilton rewards program.