Heading to Florence and want advice on how to get around the city? SPOILER ALERT: The best way to get around this little village is to walk. That said, there are some times where you may need a taxi, bus or train to get from place to place. This article will give you all the tips you need to get around Florence.
---
Pro Tip: If you are arriving in Florence by car or train it is a good idea to bookmark this article. It could come in handy in the future. Also, walking is the best way to get around but nobody said the city was easy to navigate. The best way to get your bearings is to join a guide for a half-day tour of Florence. You'll learn about all the cool structures in the city and feel more comfortable getting around.
How to Get Around Florence: All the Tips You'll Need!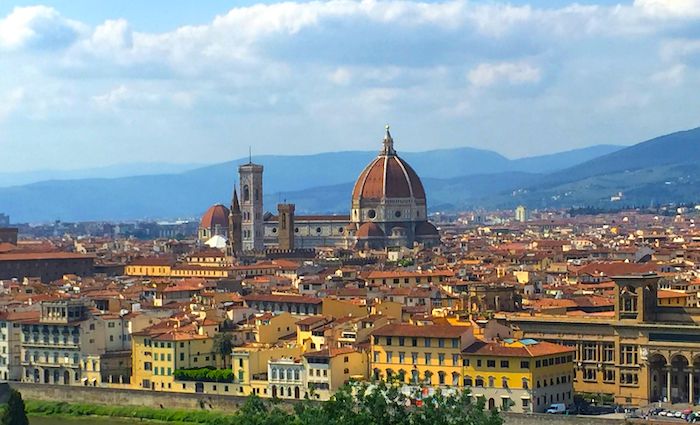 What is the Florence train station? If you arrive with a rental car where do you normally drop it off or park? What about getting to Piazzale Michelangelo or vineyards surrounding Florence?
There are a lot of questions that need to be answered; even in a pedestrian city. Here we go.
Frequently Asked Questions about Arriving in Florence
Do People speak English in Florence?
Yes. In most main cities in Italy, if you are in the historical center, you will find that most people speak enough English to answer basic questions.
What is the name of the main Florence train station?
Stazione Santa Maria Novella. It is named after the nearby church.
Is Santa Maria Novella the only train station?
No. There are a few and it is likely if you are arriving by train that you'll stop at one of the minor stations prior. My recommendation is to ask someone or wait until you see "Santa Maria Novella" on the tv inside the train to get off.
Is there a subway system in Florence?
No, there is no subway system in Florence unless you are talking about the sandwich shop.
If you arrive by rental car, what do you do?
Check with your rental car agency, but every time I have dropped off a car in Florence I left it at the parking garage in S.M. Novella train station.
---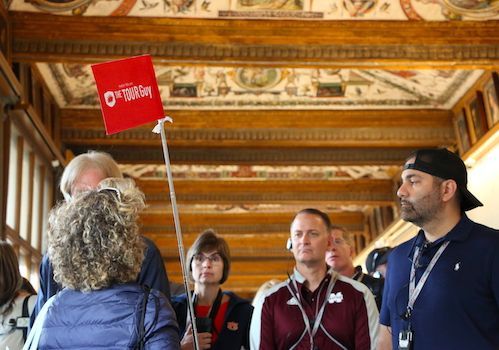 ---
Can you drive in the center of Florence?
No, absolutely not unless you have a resident pass. There are cameras in the historical centers of Italian cities that will give you a ticket. This makes renting vehicles a little intimidating in Italy but don't stress too much. If you rent a car you should have google maps activated on your phone and the map won't lead you through a "ZTL" camera. Also, the ZTL (Zona Traffica Limitata – zone of limited traffic) is extremely obvious. You'll see a big camera and a sign that says "ZTL".
Are there taxis in Florence?
Yes and you'll be able to find them everywhere. You always pay by the meter.
Is there Uber in Florence?
No, unlike Rome and other Italian cities there is no Uber in Florence. You can read more about it including which Italian cities do have Uber in our article – Is Uber in Italy?
Is Florence Easy to Navigate?
Yes, it is pretty easy to navigate once you understand the main roads going through Florence but I doubt you'll have the city figured out in a few days. The best bet is to turn on data on your phone if your provider has an affordable plan or do it the way people have been doing it since Lord Byron – get a map.
What is Oltrarno?
It means across the Arno river. Sort of like "Trastevere" in Rome which means across the Tiber river. It is a cool area with many viewpoints. It is also the home to the Pitti Palace & Boboli Gardens where the Medici lived.
How do you get to Piazzale Michelangelo?
By foot is about 20 minutes from Ponte Vecchio. It is a viewpoint so imagine you'll be going uphill but it's not bad. If you have issues walking, bus 12 will get you to the top the cheapest. Otherwise, you can pay for a taxi which can be found all over.
Do you need mass transit to get to any of the main attractions in Florence?
No, you don't need mass transit. To get from the Pitti Palace, which is in Oltrarno, to Accademia on the opposite side of the city you will walk 20 minutes. You'll pass by all the main attractions on that walk such as Ponte Vecchio, Uffizi, Palazzo Vecchio, and il Duomo.
What if I am disabled?
If you have someone to push you then you should be fine for all the central attractions like the Uffizi, Accademia, Pitti Palace and more.
---
---