Florence is a city that deserves much more than 48 hours, but if you are visiting for the first time you're going to want to see other nearby destinations as well. That is why I recommend 48 hours in Florence to get a taste of the city before planning a longer and more immersive trip!
---
Day 1
Gonna have a big first day and breath in Accademia, Uffizi, as well as some of the open-air sites1
Piazza Della Repubblica
We had a quick coffee at Caffe Concerto Paszkowski, which has basically been in this location since the square was re-done in the 19th century, before diving into the city.
Travelers often believe that "Authentic" is ONLY down a little winding cobblestone street with mom in the kitchen and dad tending to guests. That is definitely great, but fancy can be authentic too.
Paskowski was a Polish Brewery that opened in the 19th century which was converted to a cafe in the early 20th century. In 1991 it was proclaimed a national landmark in Italy!
The place often has live music, an amazing ambiance is in an incredible location, and will likely cost less than your drive-through Starbucks at home. You'll definitely find some tourist traps in the main squares, but is really nice doesn't make it a tourist trap. Treat yourself, you're on vacation.
Accademia
If I am going to Florence I am going to pop into see David by Michelangelo. It is situated inside Galleria dell'Accademia which literally always has a massive lineup. I went to Florence a few weeks after Italy opened back up and couldn't believe how long the line was.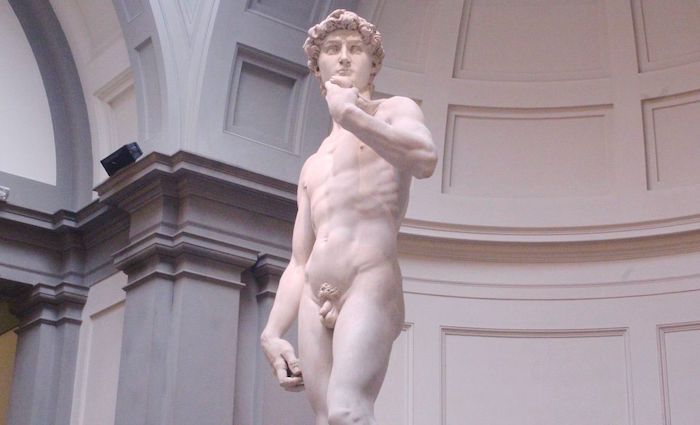 We run tours of Accademia that cover other parts of the city such as Piazza della Republica, the Duomo, the Baptistry & Doors, Bronze Boar, Orsanmichele Church, Ponte Vecchio, and other destinations.
Michelangelo's David is a masterpiece. He literally carved it out of a piece of marble that was discarded by other master sculptors because it was too difficult to work with.
The beauty and detail of David are beyond explanation. The best way to sum it up is with Michelangelo's passion. When he saw the block of marble he was emotionally attached to it like a father trying to save a child from drowning.
He said that he did not carve or create David, but instead David was locked inside the stone and Michelangelo hammered at it until he was free. To his point, David was always inside the marble and it just took the world's greatest sculptor who had ever lived to unleash him.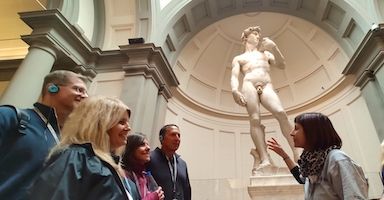 Best Selling Tour
Florence Walking Tour with Statue of David
Michelangelo is considered the greatest Renaissance artist and the David statue is widely known as his masterpiece. Join our English speaking guide as you skip the line to Accademia and see David. Then venture out to see the center of Florence including the Duomo (outside), Baptistry Doors, Leather Market, and more. Admissions included.





See Prices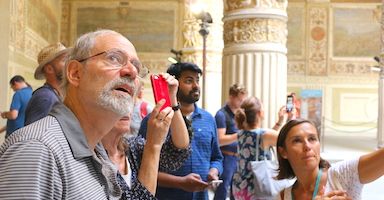 Top Rated Tour
Skip the line Uffizi Gallery Tour
The Uffizi Gallery is the most visited museum in Florence for good reason. Join our English speaking licensed Uffizi guide for a journey through the Medician Renaissance. Learn all the stories behind the very art that brought our world out of the darkness. All admissions included.





See Prices
Bronze Boar
While I love art & history, I have to admit that I like folklore and superstition more which is why I always visit "Porcellino". Il Porcellino, or the Bronze Boar, is a bronze copy of a bronze copy of a Roman marble copy of a Greek bronze boar.
Not following me? Well, the Greeks were the original artists of western civilization and famously "Hellenized" other cultures. While the Romans may have conquered the Greeks, the Romans assimilated more to Greek culture than vice versa.

It is called Hellenization and any culture that came into contact with the Greeks was Hellenized. The Greeks made a lot of bronze sculptures and the Romans took them as spoils of war, but would melt them down and use the bronze, but not before creating marble copies.
The Roman marble copy was purchased over a thousand years later by the Medici who made a bronze copy. Later, another bronze copy was created and that is why you see it today.
You'll notice the boar's nose is finely polished by all the people rubbing its nose, but that is only the first step in the tradition. Once you rub the nose which is how you can get to know the boar, you need to grab a coin and place it on the boar's tongue.
You let it slide off the tongue and hopefully it will fall between the grate below the boar's mouth. If it falls into the grate you have good luck for the day. If not, bad luck. Sounds easy, right? I managed to fudge it up twice!
Lampredotto & Trippa (L'Antico Trippaio)
I am going to give it to you straight. You haven't been to Florence unless you have eaten Lampredotto and/or Trippa. Not everything in Italy is sunshine and pizzas – sometimes you gotta eat a cow stomach slow cooked with herbs and served on a sammie. You don't have to eat the whole thing, but you have to try it.
You're going to want that with a beer which may or may not be the most enjoyable part of the experience. I went with an Ichnusa non-filtrata, which is a Sardinian non-filtered beer.

When I am filming I normally drink every night and wake up early in the morning, which creates a sort of sleep exhaustion & hangover cocktail. Needless to say, it doesn't go well with cow stomach, but I got it done.
I met up with one of my travel buddies Angel and we had a lot of fun with it.
Uffizi
Right around the corner from my favorite Lampredotto cart is the Uffizi Gallery. Just like Academia, I am not going to pass through Florence without going inside.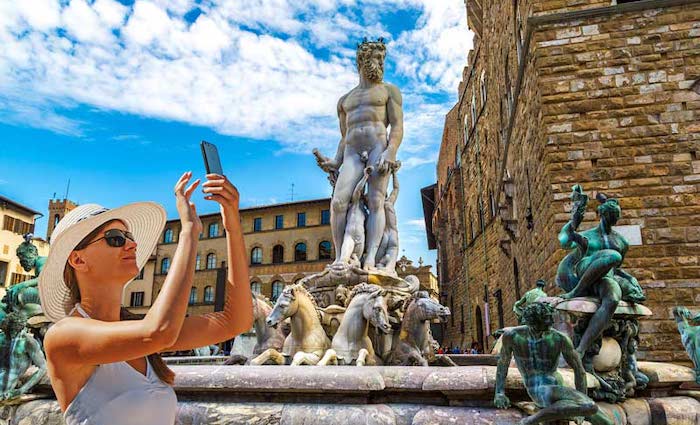 I have a special relationship with the Birth of Venus and I must visit it on any trip through Florence. Prior to seeing it for the first time, I was not an art person at all. That said, standing in front of the Birth of Venus inspired me to leave behind Wall Street and start a tour company. One glance at Boticellli's masterpiece and you may go from little interest in art to completely obsessed with it.
This museum 100% warrants a guided tour. We offer a small group tour, which is an incredible value, as well as a private tour, which is the ultimate experience.
We met up with Elena, one of the first tour guides I ever worked with, and she took us through the gallery.
Our Uffizi tours last from 2 to 2.5 hours and cover the "must-see" artwork from the proto-renaissance and Renaissance.
Gurdulù
We all needed something to help us get through the pandemic– I am sure you have something and mine was Gurdulu in Florence. I read about them early on and couldn't wait to try them out. When travel resumed in the summer of 2021, I reached out to Gurdulu and they were super cool.
Many people agree that Italian food is the best daily cuisine on Earth but acknowledge that the french have superior and more evolved cooking techniques. Gurdulu is Italian food cooked with French techniques.
The chefs came from Michelin backgrounds but wanted to create an affordable but swanky location which in my opinion, they accomplished.
Abbey of San Miniato & Piazzale Michelangelo
At this point, we had eaten an early dinner and drank plenty of wine so Angel we headed over to some of Florence's viewpoints for what was a powerful experience.
We then walked our way down to the far more crowded Piazzale Michelangelo. Here there is a beer cart where you can buy drinks and watch one of the world's most amazing sunsets.
This was on June 27th, the evening before Italy would lift their outdoor mask mandate and the energy was high. It felt like one more important step in the journey towards reopening.
'
Tours of Chianti & Florence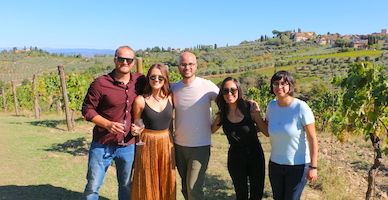 Top Rated Experience
Chianti Day Trip from Florence with Vineyard Lunch
Want to have an epic experience in Tuscany? Remove the guesswork and logistics by joining us on a day trip to Chianti from Florence including Siena. Transportation, lunch, and lots of wine included!





See Prices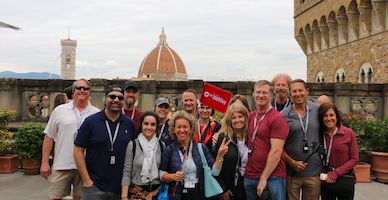 Best Selling Tour
Florence in a Day Combo Tour with David & Uffizi
This tour is your best value in Florence. See Michelangelo's David statue in the Accademia Gallery with a licensed guide and the Uffizi Gallery. It also visits the Florence Cathedral (outside), Baptistry Doors, Ponte Vecchio, and more. All your admissions are included to skip the lines and visit these great museums with an English-speaking guide.





See Prices
Day 2
On day 2 we focused on individual masterpieces like the Duomo, Brancacci Chapel, and the Boboli Gardens.
Brancacci Chapel | Santa Maria del Carmine Church
We started Day 2 by visiting the Brancacci Chapel which is often referred to as the Sistine Chapel of the early renaissance.
It is much smaller than the Sistine Chapel and less dramatic, but of profound importance for many reasons, but I will speak of two.
First, it shows an important step in art history. The artist Masaccio begins to build a stronger narrative in this series of new & old testament scenes. The most basic explanation is that Masaccio paints each figure individually instead of as a collective. Why is that important?
Each figure carries different emotions and symbolism but feeds into a more complex narrative with more dimension.
Cathedral of Santa Maria del Fiore "Il Duomo"
After the Brancacci Chapel we hoofed across town to go inside the Duomo. Why should you go inside of the Duomo? I am a big advocate of "going inside" in general, but the lines can be terrible. This is why you should always book in advance.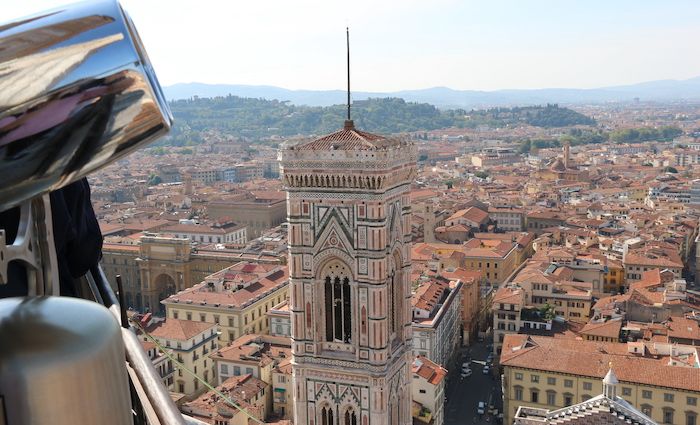 That said, The duomo is a Tuscany-style cathedral which means the interior is not as dramatic and opulent as a Roman church or Basilica. The main draw is the frescoes inside Brunelleschi's dome and climbing the dome which is amazing.
We didn't end up climbing the dome, but would only recommend entering if you can climb the dome. That said, if you are an art fanatic, the interior frescoes of the divine comedy are… divine.
Mercato Centrale
At this point, we were ready to eat. I really can't go to Florence without passing by Mercato Centrale so that was our next stop.
If you are more into "Street food" authentic then da Nerbone is your place. These guys are the salt of the Earth and I love them. They make typical Florentine food which is cheap and tastes great.
From there, we took a short afternoon break back at the hotel. Italy gets really hot in the afternoon and the evenings are beautiful. For this reason, I recommend gathering some energy when the temperature is at its highest. We took a break from 2 to 4 and then headed over to the Pitti Palace.
It was still incredibly hot, but we were rested and ready.
Pitti Palace
When you think of Florence, what family comes to mind? Yep, the Medici! The Pitti Palace was the residence of the Medici through their prime and what a palace it is. A gorgeous building situated on over 110 acres is known as the Boboli Gardens.
That means their palace and grounds were around the same size as the Vatican City which is a country!
Since we were short on time, we skipped the palace and explored the gardens a bit which were really cool.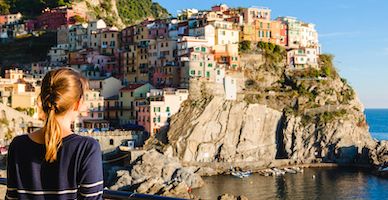 Top Rated Tour
Cinque Terre Tour with Locally Produced Limoncino Tasting from La Spezia
With a fun and expert tour leader, discover the villages of the breathtaking Cinque Terre. You can also sunbathe on the beach and learn the differences between Limoncino and Limoncello. Decide for yourself which spirit reigns supreme!





Starting at €49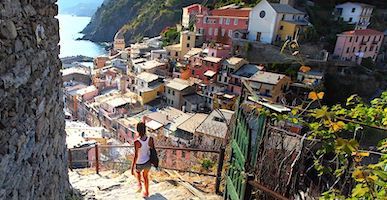 Top Rated Tour
Cinque Terre Hiking Tour from La Spezia

One of Italy's most treasured gems and a UNESCO World Heritage Site, Cinque Terre is a Must See on your trip to Tuscany. On this excursion, travel in an air-conditioned private coach directly from central Florence for a truly memorable experience in a small group with an expert tour leader.





Starting at €55
Carduccio
Once completed, we were ready for a little break and randomly passed by a great find; il Carduccio!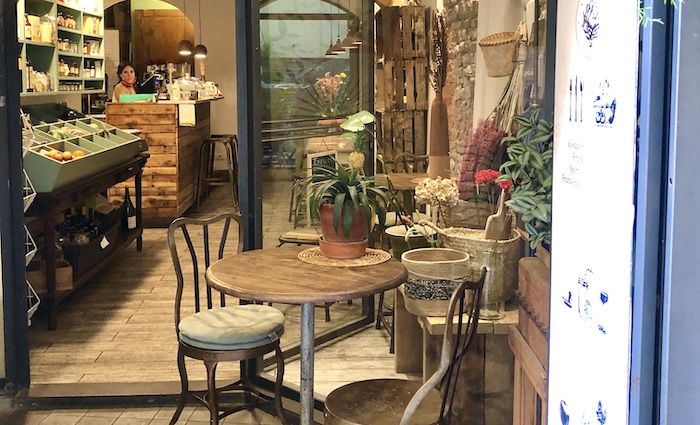 We were literally walking by the place when we were stopped by the cool aroma coming from inside. It just smelt refreshing.
We stopped in and ordered a couple of shakes, which we didn't film since we were so thirsty, but they were delicious. The place also has great salads and other breakfast and lunch items. A great option if you are looking for a break from pizza and pasta!
La Terrazza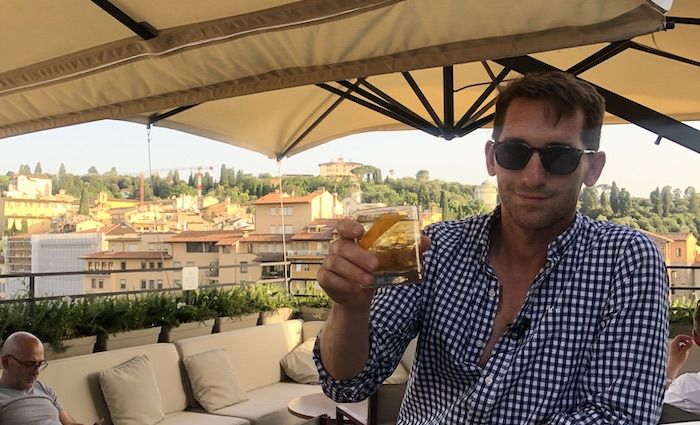 During the pandemic, I started a cool conversation with the people at La Terrazza, a cool rooftop bar in Florence, and was excited to try it out.
Why did I care so much? Well, there are plenty of rooftop bars in Florence, but as a history nerd, I was particularly excited to see the Ponte Vecchio and Vasari Corridor from that close up.
The rooftop is literally right next to the bridge. The guy from Assassin's Creed could make that jump no problem!
Pizza @ Berbere
In my opinion, Pizza is not something I normally associate with Florence, but I had a craving that I couldn't kick so we got pizza for dinner.
I really wanted to try out this place called Berbere and I am happy I did. It was really tasty, cheap, and they had good apps.

The trick to eating pizza in Italy is that you should get a ton of apps and share the pizza. This way you don't feel overly full or super unhealthy.